Who doesn't love a charcuterie board? The possibilities of what you can create are nearly endless. BUT, to make sure you're making the best board, here are the best crackers for charcuterie board.
This post may contain affiliate links, meaning I may earn a small commission when you click on the links and make a purchase. I will never recommend a product that I don't support 100%.
What is a charcuterie board?
A charcuterie board is a collection of cured meats and cheeses. It's accompanied by crackers, fruits, vegetables, olives, dips, spreads and so on.
They've gained massive popularity in recent years, and you can often see spin-offs like brunch boards, grocery store-specific boards (like this ALDI charcuterie board), or this Mediterranean board.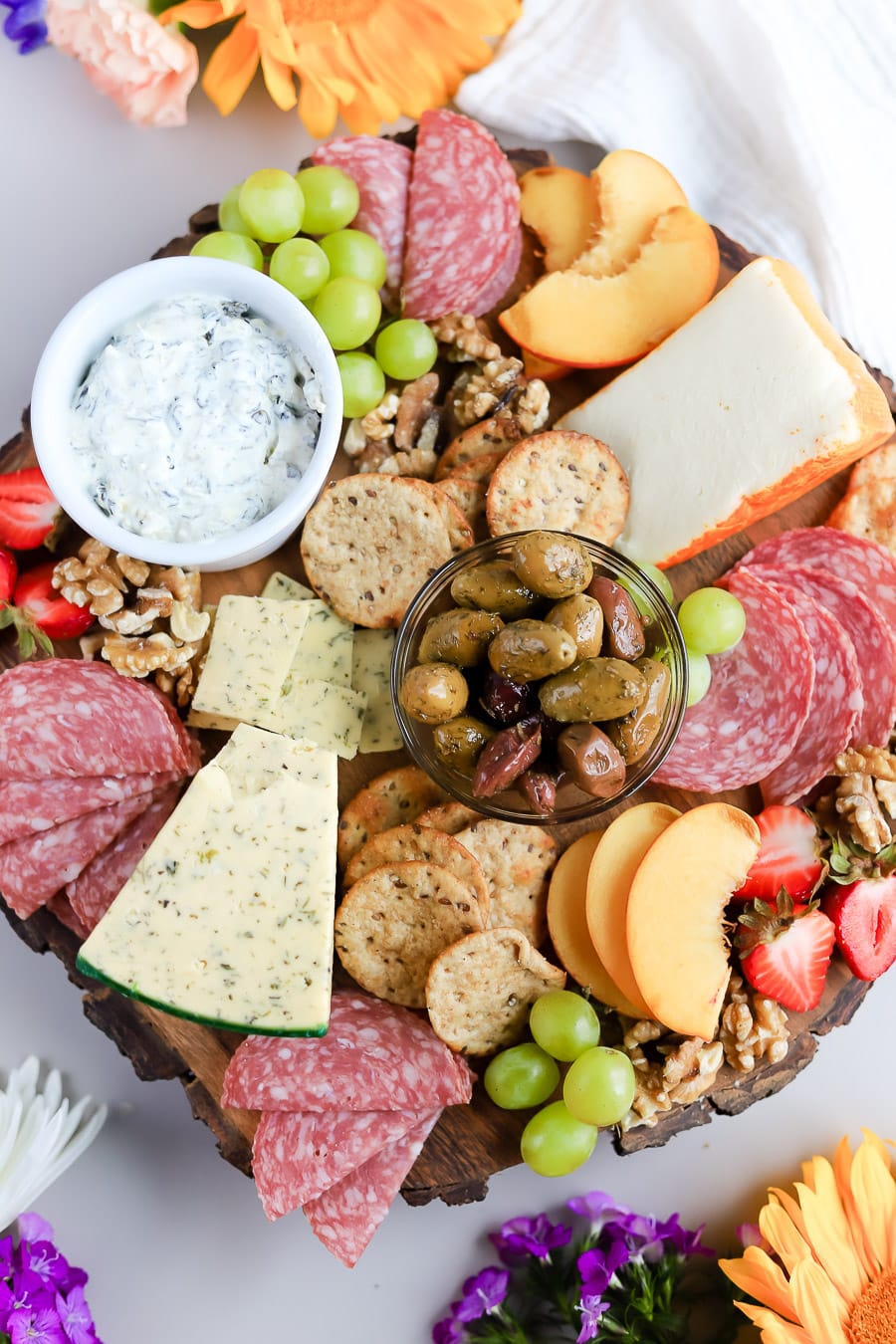 How to make a charcuterie board
1. Find your go-to charcuterie board.
What I mean by that is to find your literal board. I like having 2 go-to boards, one small board, and one larger board. If you're looking to create a HUUUUUUGE spread, you can lay down parchment paper over a counter or table.
2. Place your cheeses on your board.
I typically use square boards so I like placing cheeses in the corners. If you use a circle board, you can still place the cheeses on the outskirts of the circle and place them diagonally across from one another. Include a variety of cheeses, like soft cheeses, creamy cheeses, aged cheeses, sharp cheeses, and hard cheeses. When I'm including different types of cheese on my charcuterie board, here are some of my go-tos.
Blue Cheese
Brie Cheese
Sharp Cheddar Cheese
Parmesan Cheese
Havarti Cheese
3. Place your meats down.
Pick a variety of meats. But, don't place all the meat down at once. I like to put down different cuts next to cheeses they'd pair well with. For example, I like to put some hot capocollo next to a honey goat cheese. The hot with the honey made for a killer combo. So, place a few slices of meat next to or near each one of your cheeses.
4. Add anything that's going to be held in a container, like jelly, olives, or dips.
This is when I place anything in a container. Dips, olives, jams/jellies, or other spreads like tapenade. Similar to the meats, I like to place each thing next to a cheese where it would make sense to pair it with. For example, I placed the apricot preserves next to the brie cheese. You could also place it next to the cheddar cheese, too.
5. Time to "color" as I call it... add in your fresh produce!
Take all your produce and start to fill in your board to add vibrancy and really make it pop! I like taking advantage of in-season produce, or cucumbers and peppers are always a great go-to veggie option.
Now that you know ow to build the perfect charcuterie board, let's dive into this list of the best crackers for charcuterie.
Best crackers for charcuterie board
Choosing the right crackers for your charcuterie board is essential! They are like the cherry on top of the sundae, they can add additional visual appeal, and really elevate the flavor of all the goodness that's on your charcuterie board.
There are so many different types of crackers, so it could be difficult when picking which ones are best for your next charcuterie board.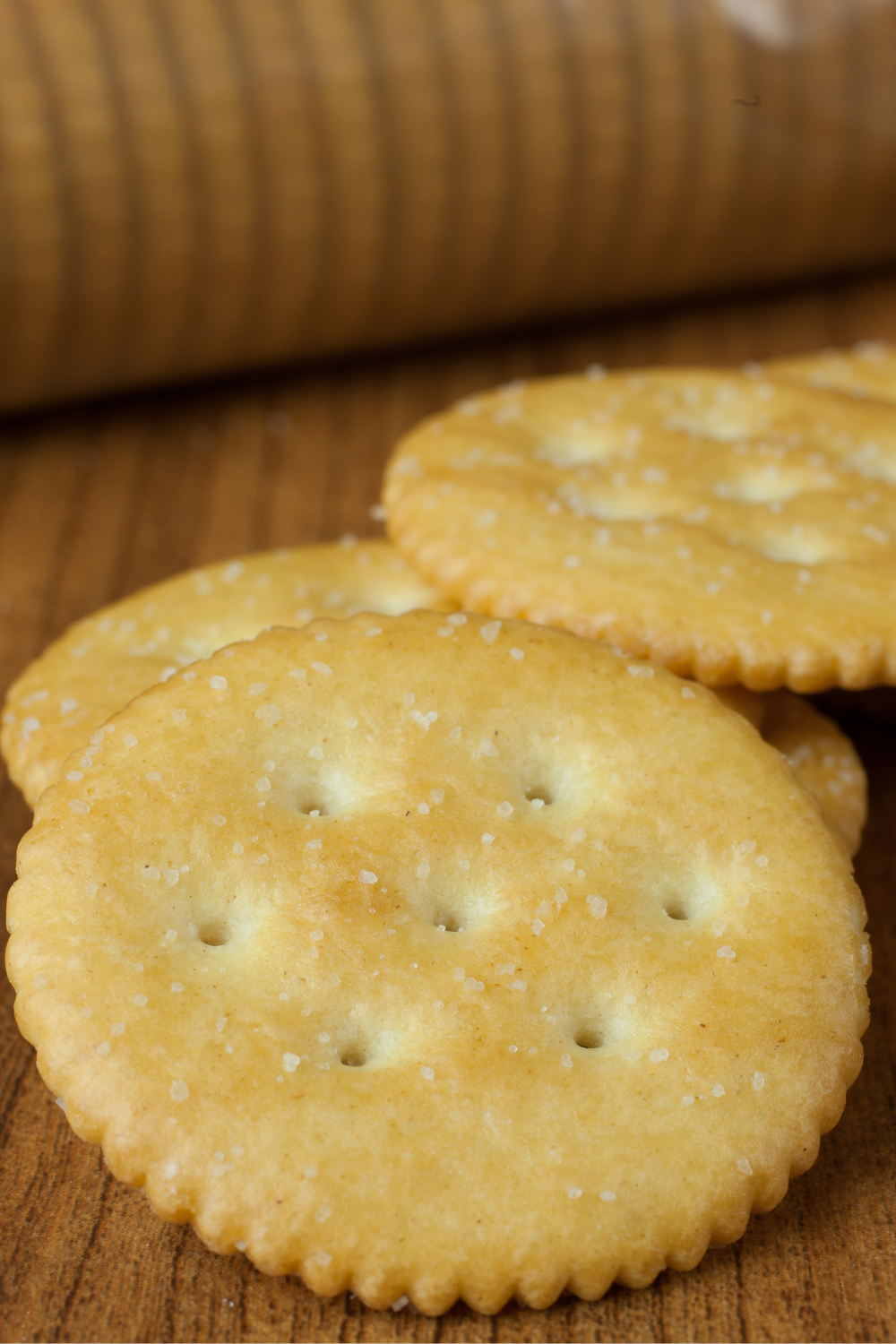 Buttery crackers, like Ritz crackers, are a classic cracker. The buttery flavor makes them so delicious to pair with so many meats and cheeses, however, they are a bit fragile! I would recommend pairing butter crackers with semi-hard cheeses. A sharp cheddar is a good choice!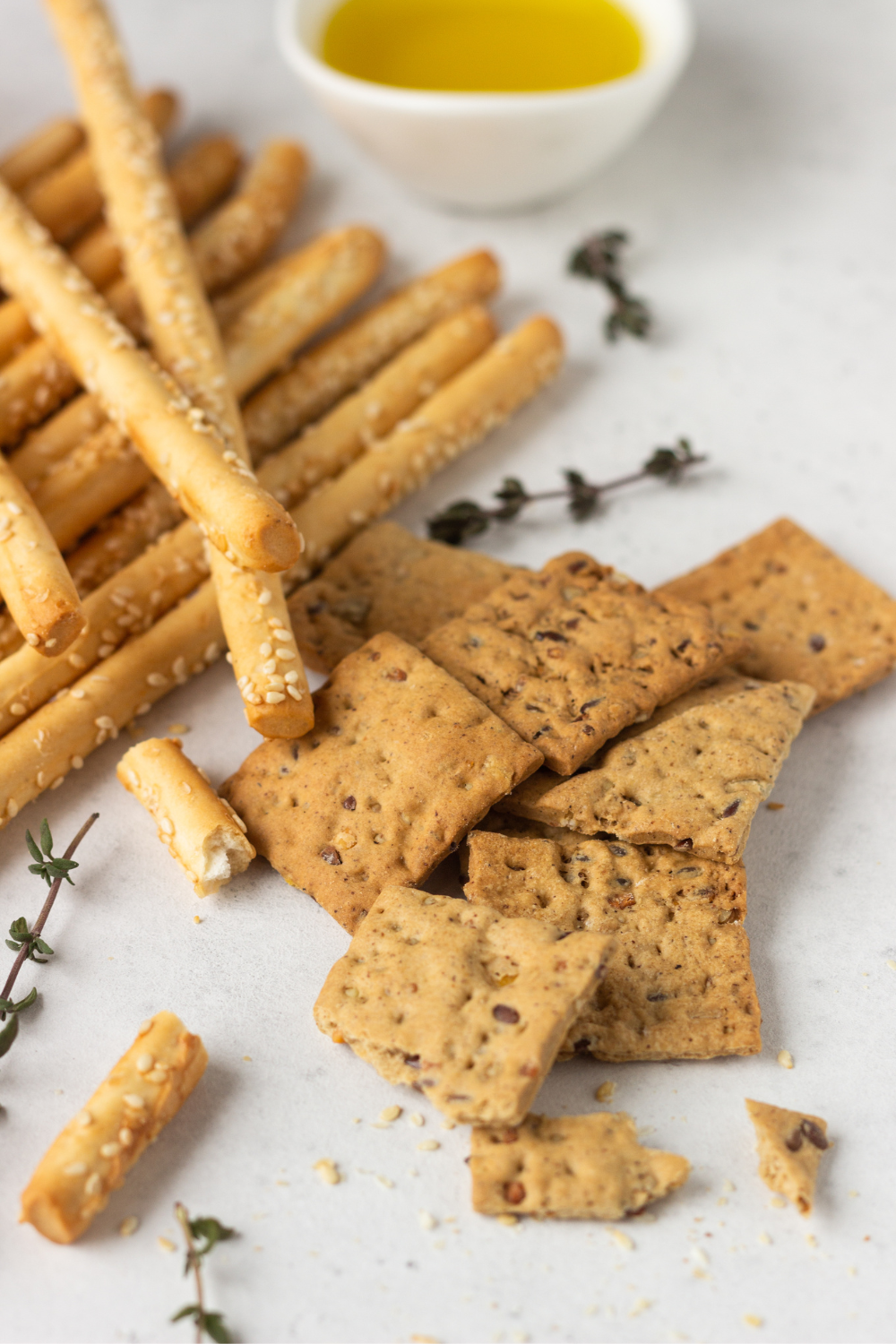 Multigrain crackers, like Crunchmaster, are some of my favorite crackers. Whole grains give such a hearty flavor, and if you are looking for the kind of crackers that have a bit more health benefits, opt for multigrain crackers! The various grains and the whole wheat flour add fiber, vitamins, and minerals as opposed to a plain cracker.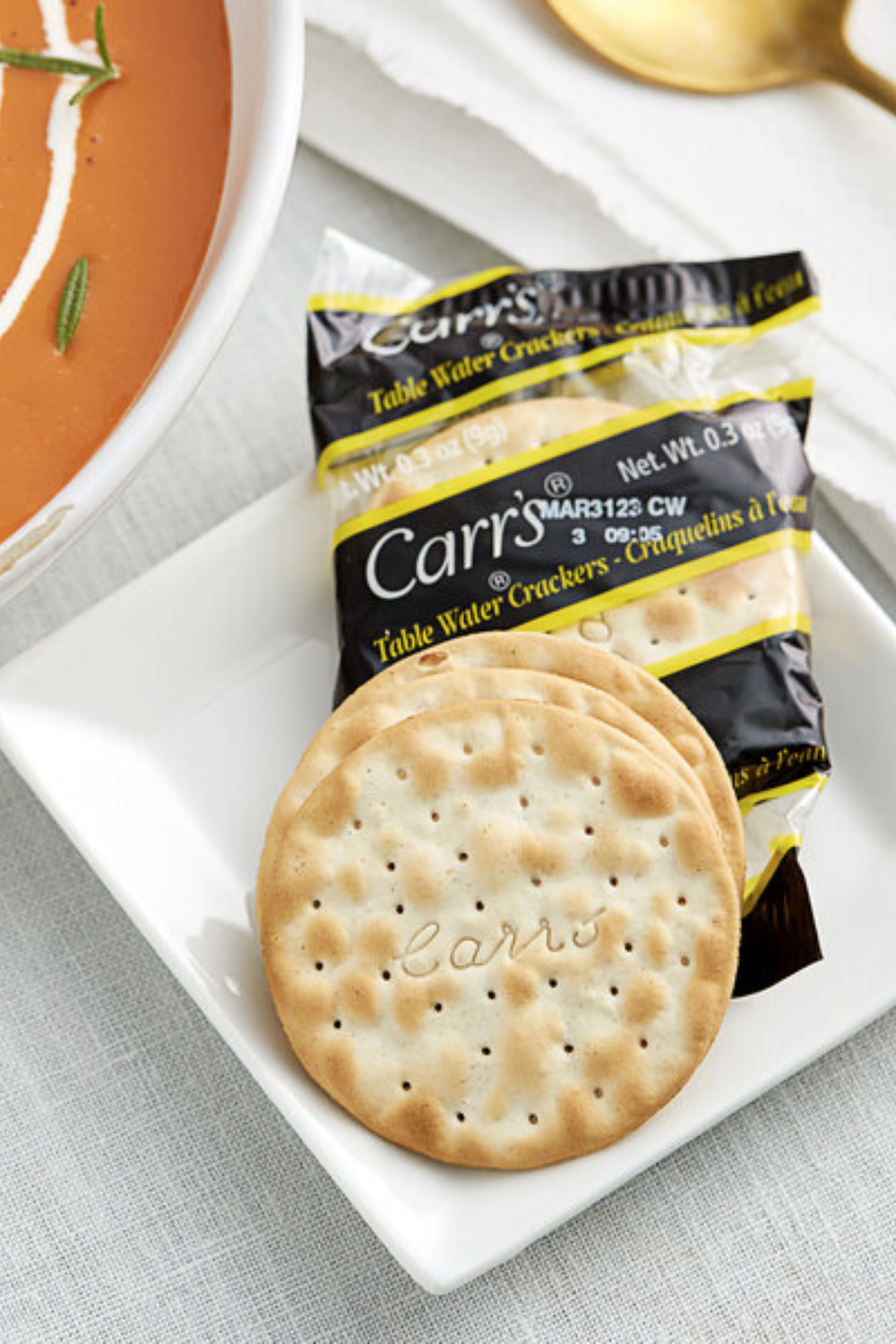 Water crackers, like Carr's Table Water Crackers, are the perfect canvas for all the goodness that is on your cheeseboard. They have such a mild flavor so they can pair with anything on your cheese board. Plus, they are crispy crackers, adding a great texture to the perfect charcuterie bite. If you are going for one type of cracker for your board, this is an excellent choice.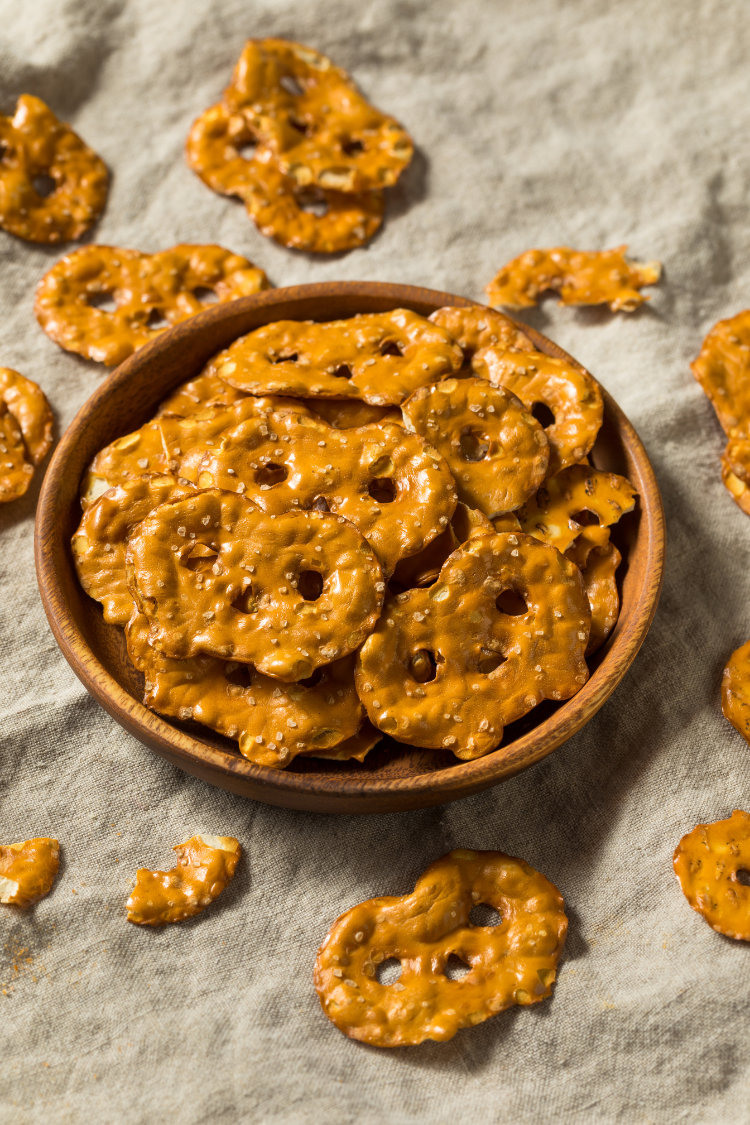 Pretzels, like Preztel Crisps, are also a great option that aren't crackers! They still give that crispy texture and sea salt flavor. The crunchy texture makes it perfect to pair with semi-soft or mild cheeses, like brie cheese, cream cheese, or havarti cheese, or it's the perfect pairing for any savory dips you may have on the board like hummus.
Gluten-free crackers,​ like Simple Mills, are also great options to appeal to those with different dietary restrictions. That way, you can make sure everyone can enjoy the charcuterie board.
How to arrange crackers on a charcuterie board
You have your artisan crackers picked out for your charcuterie board, but now you have to figure out how to arrange them.
The Fan. Take a few crackers, depending on the type of cracker, I would suggest bunches of 3-5 crackers. Simply take the crackers, spread them into a fan-like pattern, and place them around your board.
The River.​ Arrange your crackers in a river-like "row" along the board. This river can be long, or short, depending on your board design.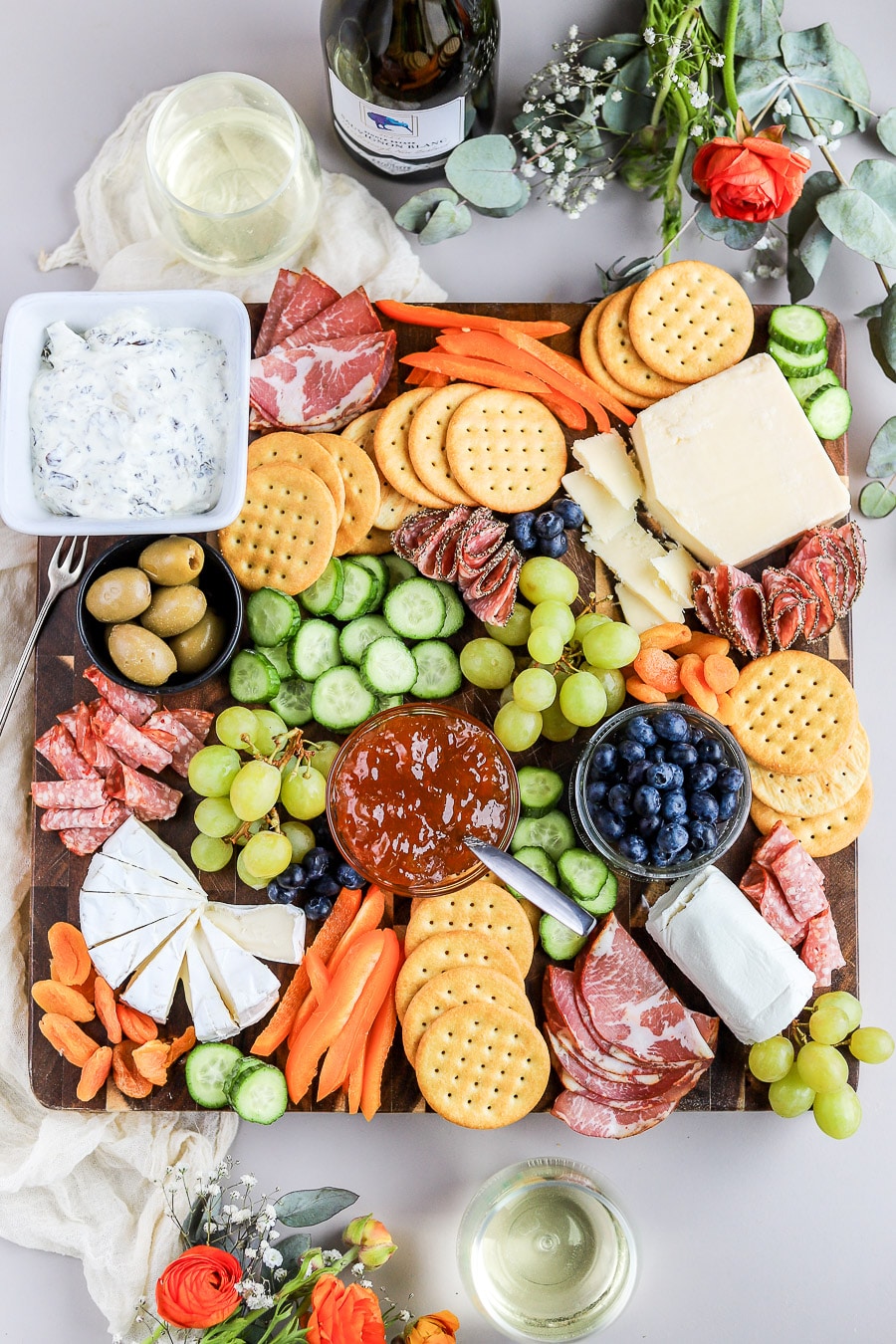 Pairing crackers with charcuterie board ingredients
Cheese pairings. Think of your cracker and cheese pairing as the softer the cheese, the more delicate the cracker can be. For example, pair brie cheese with a water cracker and pair a slice of parmesan cheese with a sourdough cracker.
Meat pairings. Meat and cracker pairings are very similar to cheese and cracker pairings. If you have a flavorful slice of meat, like a black pepper salami, pair it with a bold-flavored cracker. The strong flavor of the meat can withstand the strong flavor of the cracker.
How many crackers do you need for a charcuterie board?
​I like to offer 1-2 different types of crackers for each charcuterie board. One neutral cracker, like a water cracker, and then one flavorful cracker, like a roasted garlic bagel chip. The different flavors of the crackers allows for the perfect pairing combinations.
Amazon charcuterie must-haves
This wood cutting board has a handle, so it is so easy to make this in your kitchen and carry to wherever you are serving this.
You'll also want to be sure that you have a set of charcuterie utensils, this one from Amazon has mini tongs, spoons, forks, knives, etc.!
Pin it for later!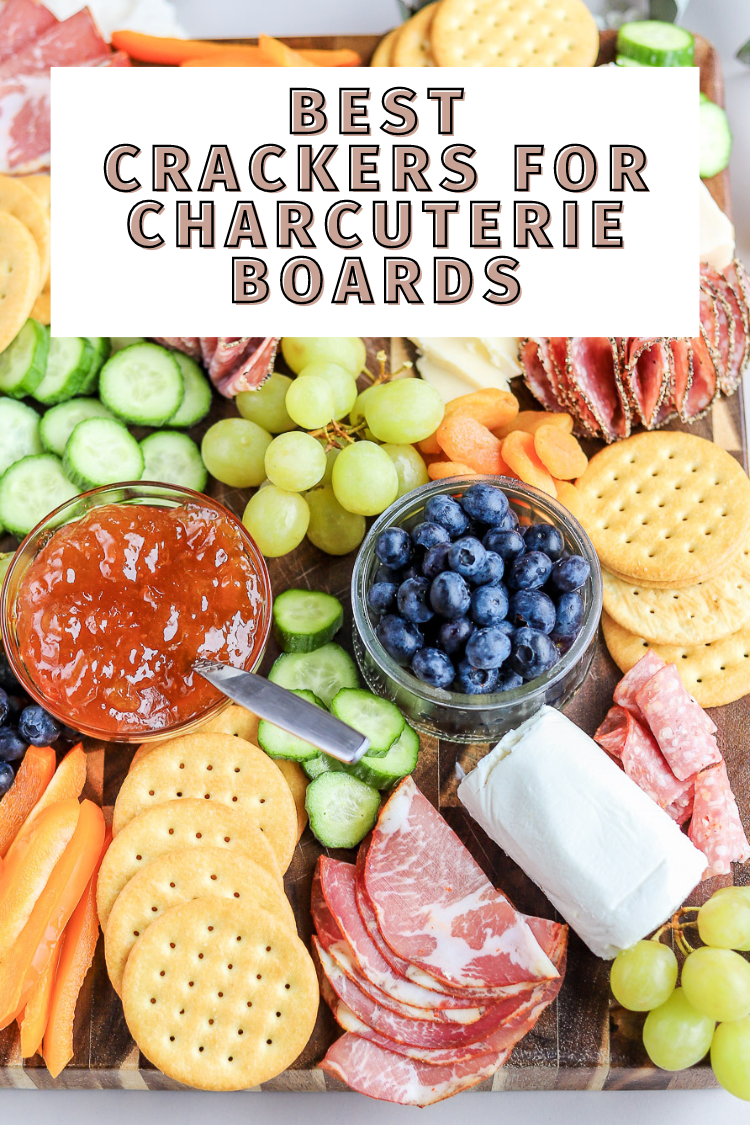 Charcuterie board ideas