If you don't already know, I absolutely adore my air fryer. I've been wanting to make easy air fryer donuts for a while now. However, I haven't quite mustered up the courage to bake with yeast yet. So, I wanted to make air fryer donuts using Grands Biscuits.
Air Fryer Glazed Donuts
Like I said, I made these air fryer glazed donuts with canned biscuits. Full disclaimer, they do taste like canned biscuits were put in the air fryer. However, they are crispy on the outside and soft on the inside. If you're going for that real homemade donut recipe, you can try Sally's Baking Addiction's recipe for homemade glazed donuts. I also used her glaze recipe when making these! I halved the recipe since a can of biscuits only makes 8 donuts. It was the perfect amount.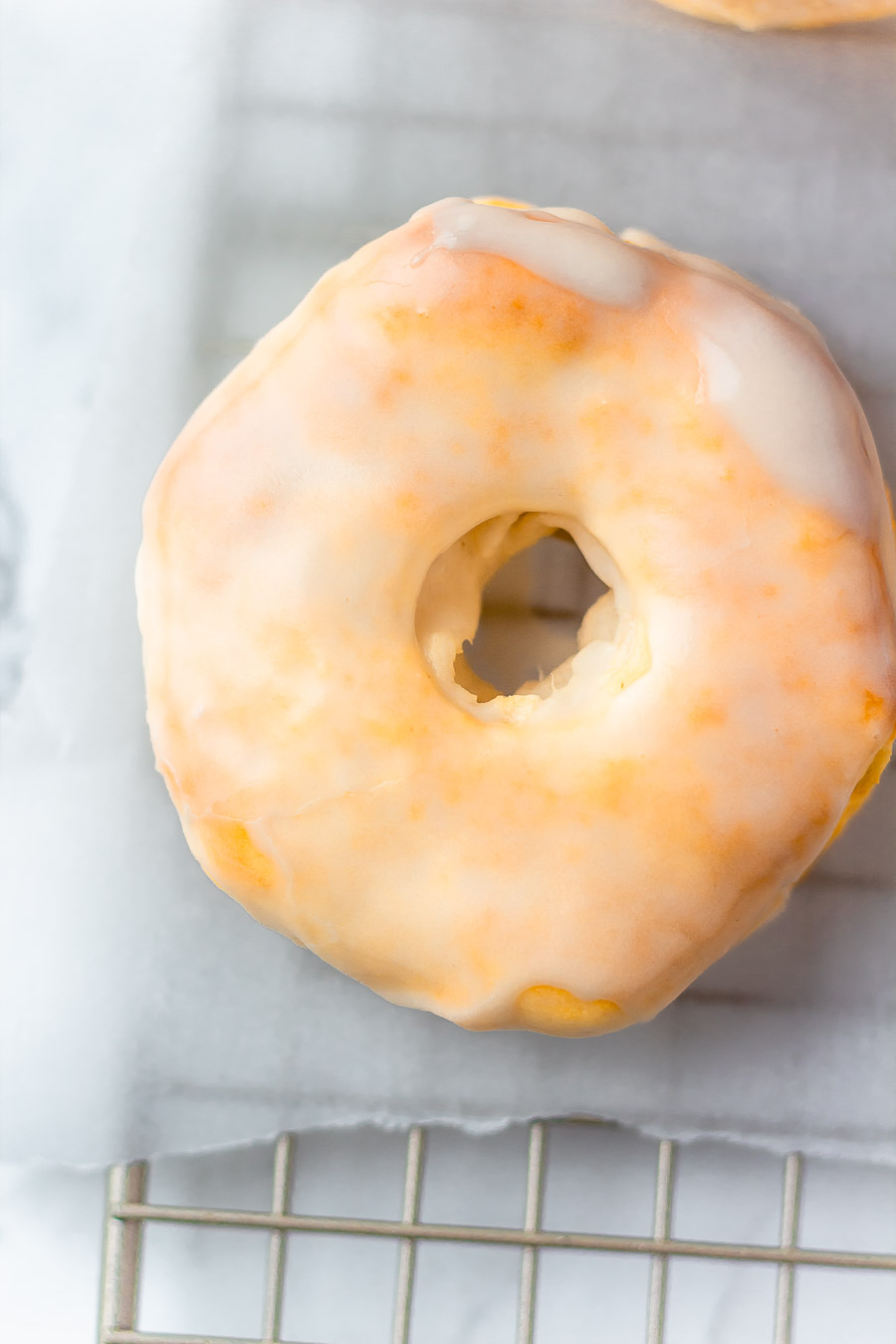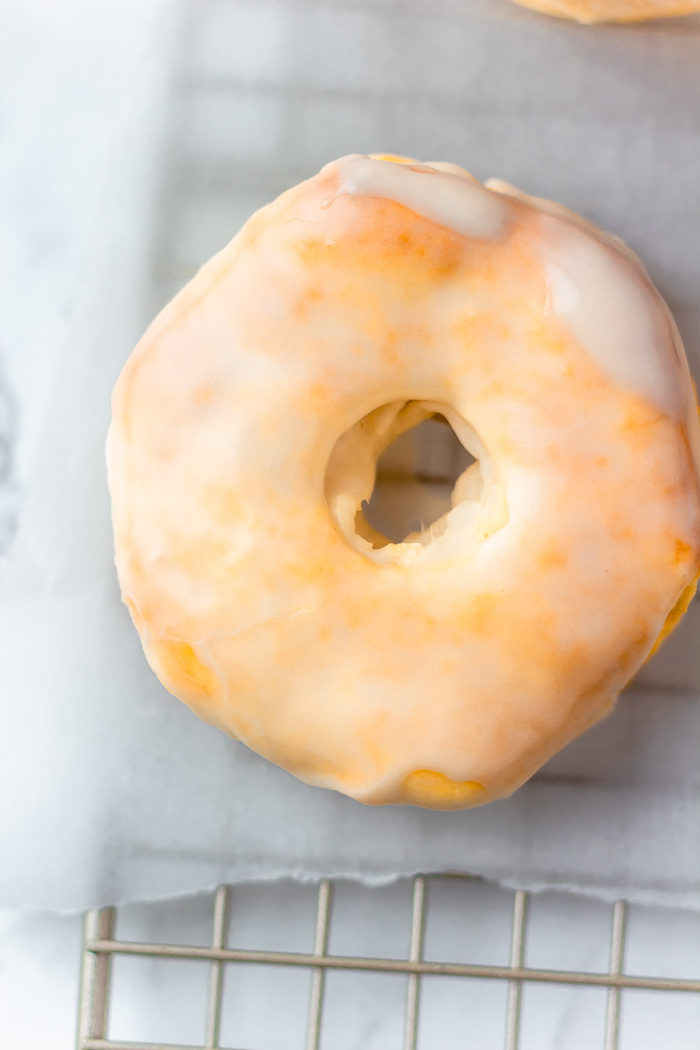 What do you need for these easy air fryer donuts?
I'm not kidding around when I say they're so easy.
Canned Biscuits
A Cooking Oil, such as Coconut Oil Spray
Powdered Sugar
Milk or Cream
Vanilla Extract
Need some subsitutions?
Cooking Oil - you can always use melted butter to brush or spoon over the biscuits while in the air fryer basket.
Milk or Cream - feel free to use whatever milk you prefer, or try adding a touch of coffee creamer. Especially if you love the seasonal flavors, I have Peppermint Mocha in my fridge right now and that would make a great lightly flavored glaze.
Vanilla Extract - you can use honey or maple syrup instead.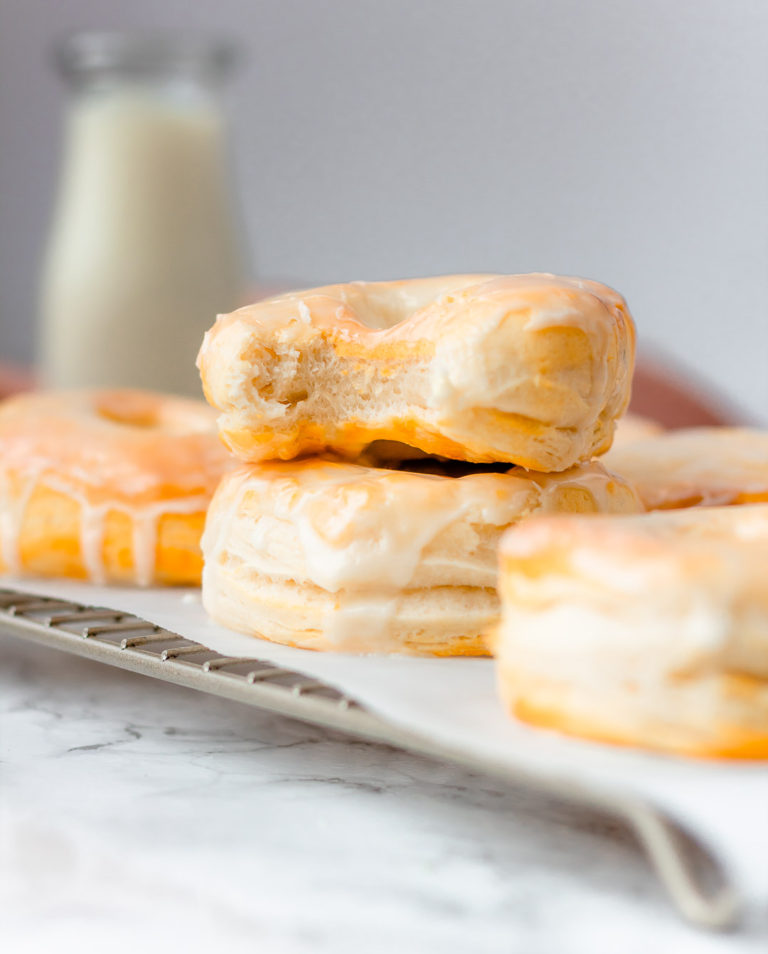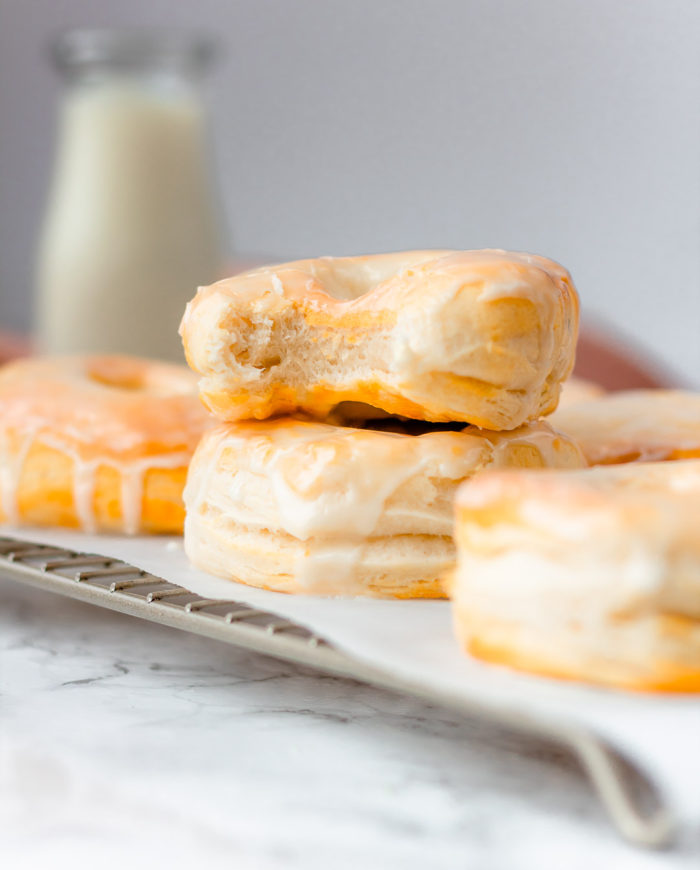 How do you make donuts in the air fryer?
One of the many benefits of making air fryer donuts using Grands Biscuits is not only the fact that you can make donuts without yeast, but they cook in 4-5 minutes. Then the vanilla glaze is so easy to whip up. You'll have a great weekend brunch recipe whipped up in no time!
Preheat your air fryer to 350
Using a piping tip, or just a knife, cut a small circle into the middle of the donut.
Spray your air fryer basket with oil, and then place 3 - 4 donuts in it. Spray the donuts with oil and cook for 4 minutes.
While your first batch of donuts are "frying" whip up your vanilla glaze.
Once your donuts are out of the fryer, using a spatula, take them out and put them onto a cookie sheet or cooling rack. IF you use a cooling rack, put parchment paper, aluminum foil or something under it to catch the glaze drippings.
Because these are biscuits, you CANNOT dip them into the glaze like you would a normal donut. These have layers and they will separate. You'll have half the donut in the glaze and half in your hand when you try to pull it out.
Using a spoon, spoon your glaze over each donut. Repeat for the next batch of donuts, and enjoy!
You can also use the "donut holes" and air fry them for 3 minutes.
Pin it for later!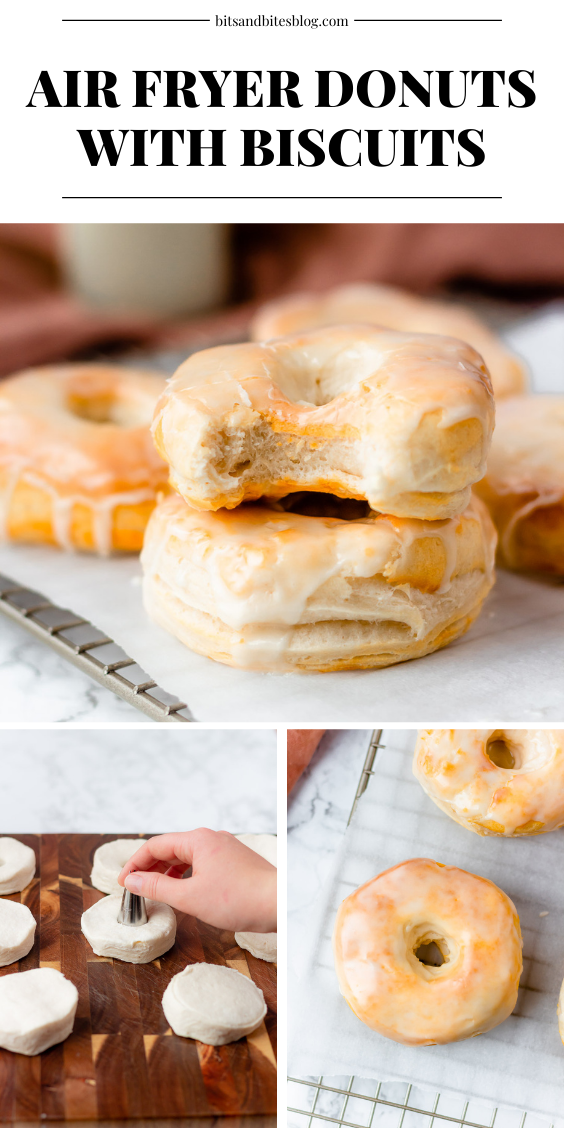 Some of my best easy air fryer recipes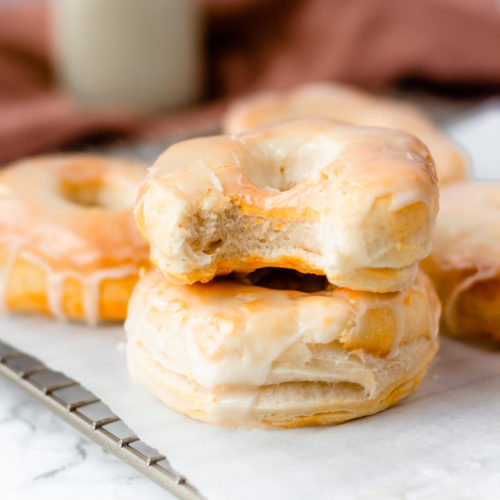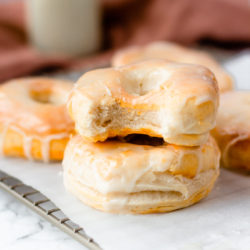 AIR FRYER DONUTS WITH BISCUITS
These easy air fryer donuts with biscuits are going to be one of your favorite air fryer recipes and go-to weekend brunch recipes.
Equipment
air fryer

piping tip OR knife

cooling rack OR cookie sheet

spatula

small bowl

whisk OR fork
Ingredients
For the Donuts
1

can

refridgerated biscuits

cooking spray or 1 tbsp melted butter
For the Vanilla Glaze
¾

c.

powdered sugar

1-2

tbsp

heavy cream or milk

½

tsp

vanilla extract
Instructions
Preheat your air fryer to 350°F

Take your biscuits out of the can and using the wide end of your piping tip or knife, cut a hole in the center of your biscuits. You can keep the extra dough to make donut holes after.

Once your biscuits are cut into donuts and your air fryer is preheated, spray your basket with oil. Place your donuts in the basket 3-4 at a time and spray those with oil, or brush with butter.

Cook for 4 minutes at 350°F.

While cooking, whisk together your ingredients for your glaze.

Once that batch of biscuits is complete, place them on a cookie sheet or cooling rack. Spoon your glaze over them.

Repeat steps 3-6 until all donuts are cooked.