Who doesn't love a good charcuterie board? They're such an easy way to feed guests, whether you have a crowd or just a friend coming over, there's nothing a grazing board isn't perfect for. Here are some of my tips and tricks for making the best brunch charcuterie board.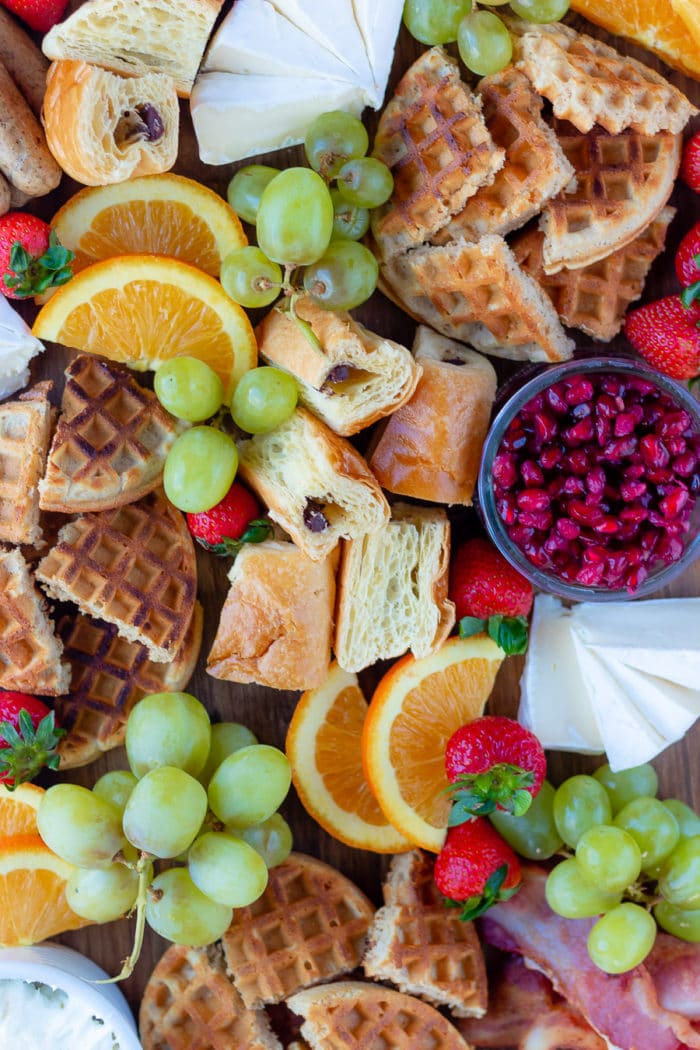 How to make the best breakfast graze board…
If you want to make the best breakfast graze board, you need a solid foundation. Meaning, you need to make sure you have a big enough board, some cute little ramekins or bowls, any forks, knives and spoons you'll need for people to easily serve themselves from the board. Here are some of my favorite charcuterie board essentials.
I like to have a few different boards to choose from depending on how big or small of a crowd you are serving. Here are two boards that are a great middle-ground that can easily serve a party, or a few people.
I love a wooden serving board with handles for easy transportation
A lazy susan also is a complete game changer when you're serving charcuterie boards. It is perfect to avoid the awkward reach in the middle of a conversation, all you have to do is twist the board and whatever you're craving is right in front of you.
If you're trying to serve a massive breakfast charcuterie board, I recommend just putting down parchment paper on your table and assembling it right on there!
Here are more charcuterie boards that I love.

You always need ramekins, bowls and other serving utensils no matter what type of board you make, but especially if you're trying to make a breakfast charcuterie board. Between jelly, cream cheese, syrups and fresh fruit, you will for sure need bowls to separate different components of your board.
I like to see if I can reuse any jars or containers, but I also have a collection of white and black serving bowls, like this 3oz white bowl from Target. This wooden trio bowl set is also great for an array of jellies or cream cheese!
Another spot I always love to find little bowls at is the thrift store. I've found cute, vintage pieces and also Crate and Barrel pieces that add so much personality to the board.
Here are some more of my favorite charcuterie board serving utensils.

Can you serve charcuterie for brunch?
Uh YES. You absolutely can serve a charcuterie board for brunch! They are so easy to make, and the possibilities are nearly endless. If you're having a party, making a brunch platter is one of the easiest ways to feed countless tastes and preferences. Plus, it makes for a way more casual atmosphere where your guests can graze when they want to, leaving you with the time to socialize with guests and not worry about cooking anything when people are over.
Because we've all been there where we forget something is cooking because you get so wrapped up in having fun at your own party.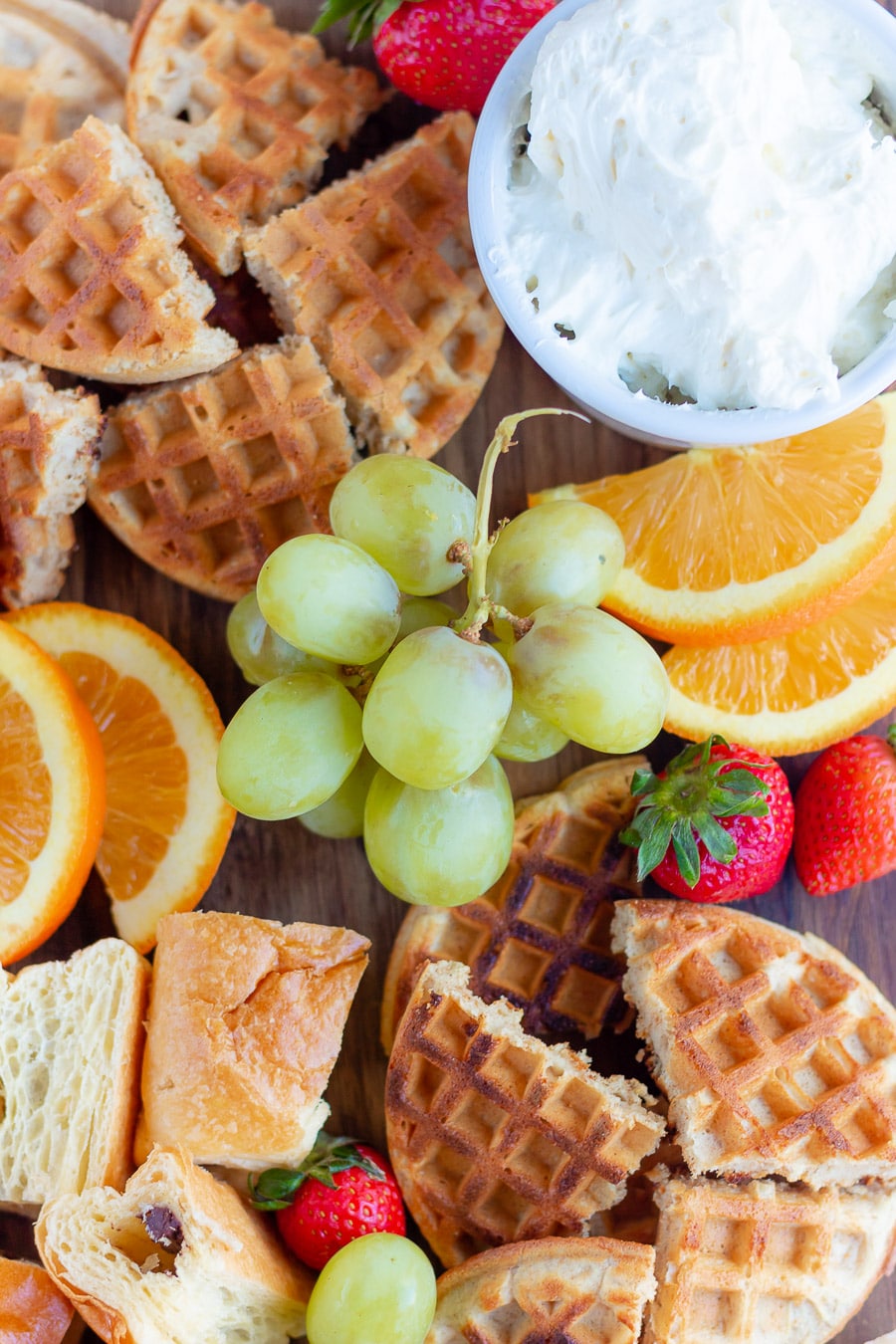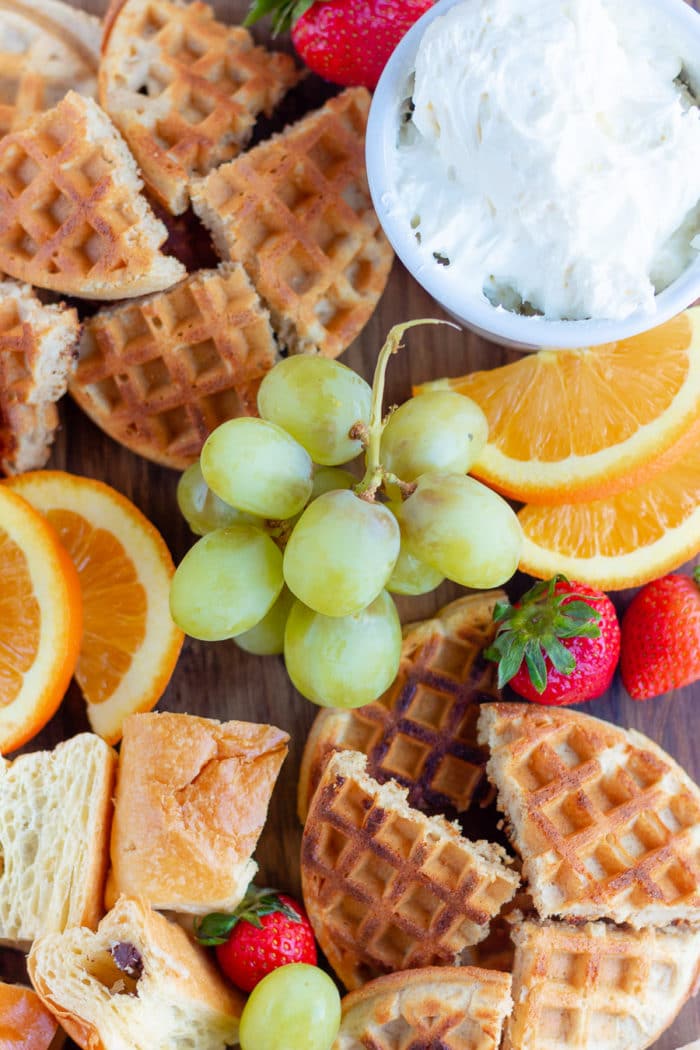 What do you put on a breakfast grazing board?
Like I said, the possibilities are nearly endless. You can use this as a "clean out the fridge" board where you can throw together what you have and make it adorably presentable. You can also go out and buy all your favorite breakfast foods to put onto a brunch grazing board. Here's what I included on this particular board.
Frozen Waffles, I used Kodiak Cake Waffles. I love their waffles, plus there's a little bit of extra protein compared to regular waffles.
Chocolate Croissonts from Aldi. These were pretty good, not the best store-bought croissants I've had, but not terrible!
Appleton Farms Thick Sliced Bacon from Aldi. It is the BEST store-bought bacon, ever. If they have the black pepper crusted bacon, you need to buy that!
NeverAny! Chicken Breakfast Sausage from Aldi. I prefer this breakfast sausage, but you can use whatever breakfast sausage is your favorite!
Whipped Cream Cheese. It is so much easier to spread whipped cream cheese and it is a complete game-changer when you're serving bagels or waffles.
Brie Cheese. Brie cheese is such a good breakfast cheese... and I mean a good cheese overall... WHO AM I KIDDING?
Strawberry Jelly. This is my favorite jelly so, naturally, I am serving strawberry jelly. I love the waffle, whipped cream cheese and strawberry jelly combo. You can include a trio of jellies and spreads to give your brunch board some options.
Fresh Fruit. Who doesn't love fresh fruit, especially in the morning. I included strawberries, oranges, green grapes and pomegranate seeds. You can take advantage of in-season produce, or include your favorite fruits. Plus, they can double as mimosa garnishes, too.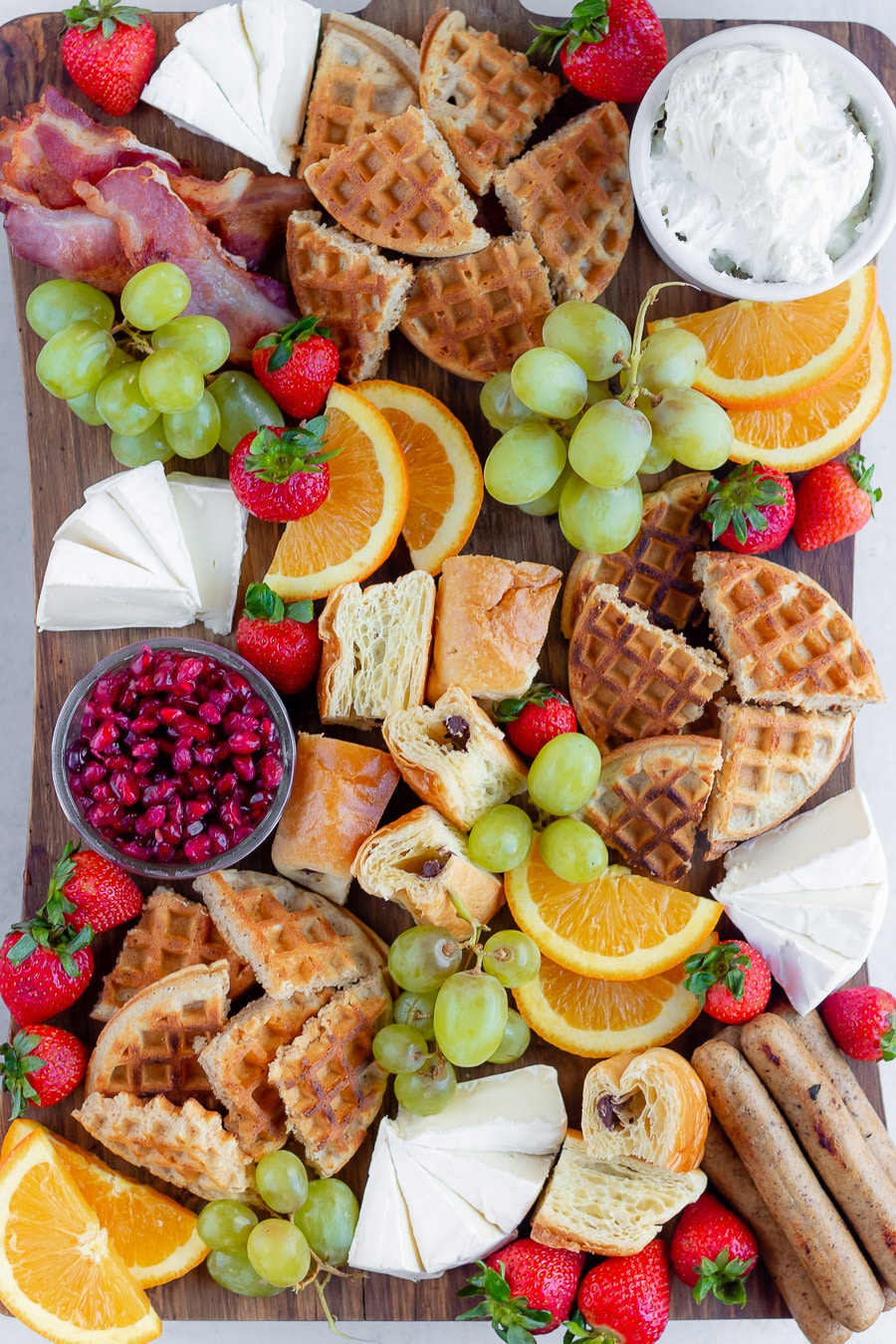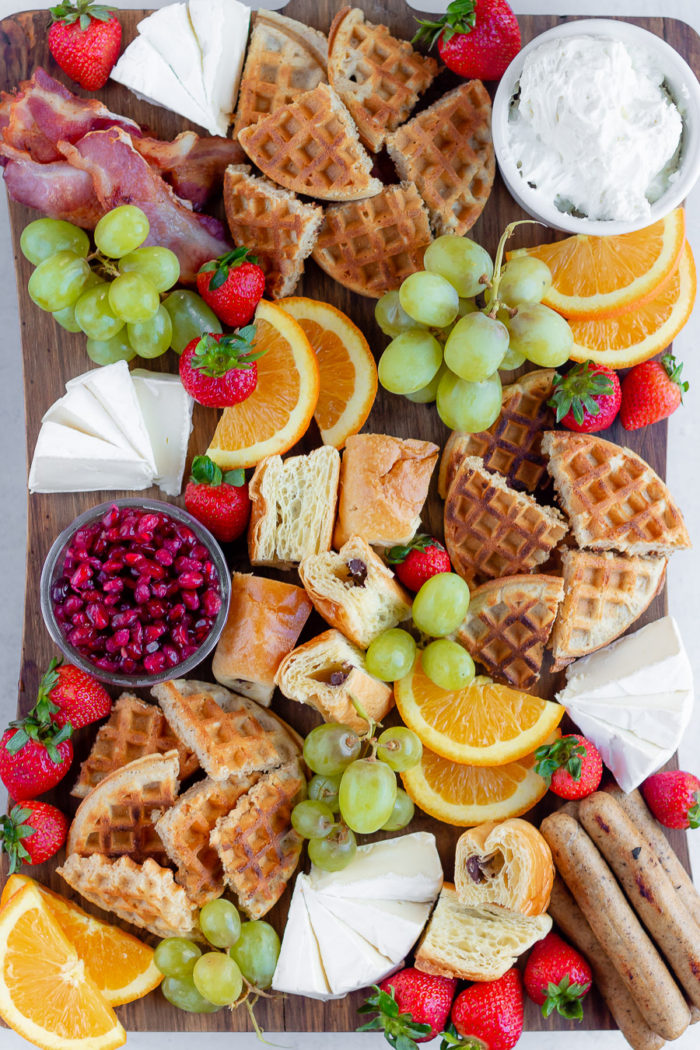 Different breakfast charcuterie board ideas…
This brunch charcuterie board is just one of the MILLION combinations you can put together when making a breakfast platter. Here are some of my favorite ideas that I've found across the internet that could spark some inspiration for you!
This Bagel and Lox Board from Lena's Kitchen is what DREAMS are made of. I love bagel and lox, this board looks heavenly. If you're serving this, I would recommend having your toaster nearby, which may mean you'll have to relocate it. That way, people can cook their bagels and have fresh, toasted bagels to assemble their bagel and lox.
I don't like pre-toasted bagels, so I know it's a bit more work, but I think it is totally worth it.
Staying on the topic of bagels this Ultimate Bagel Board from The Two Bite Club has just about anything you'll need to assemble the ultimate bagel. If you combine the bagel and lox board with this ultimate bagel board, that is the ULTIMATE ultimate bagel board.
If waffles are your thing, this Waffle Brunch Board from Crowded Kitchen is a waffle lover's ideal breakfast. The waffle or pancake board would be so cute for a birthday breakfast with some candles and fun birthday decor.
Satisfy all those pancake cravings when you serve this Pancake Brunch Board from Completely Delicious.
Want some more brunch recipes to complete your brunch charcuterie board?
Every brunch needs a mimosa, and these are some of my favorite breakfast recipes from the blog.
Pin it for later!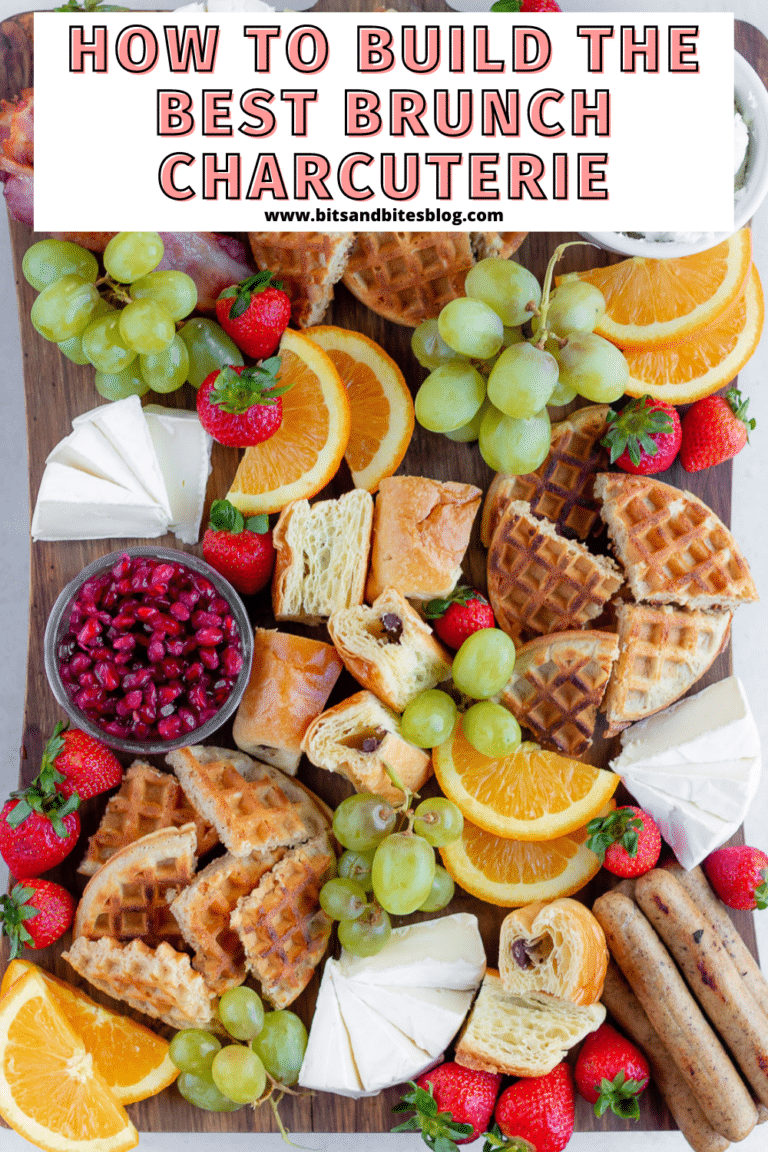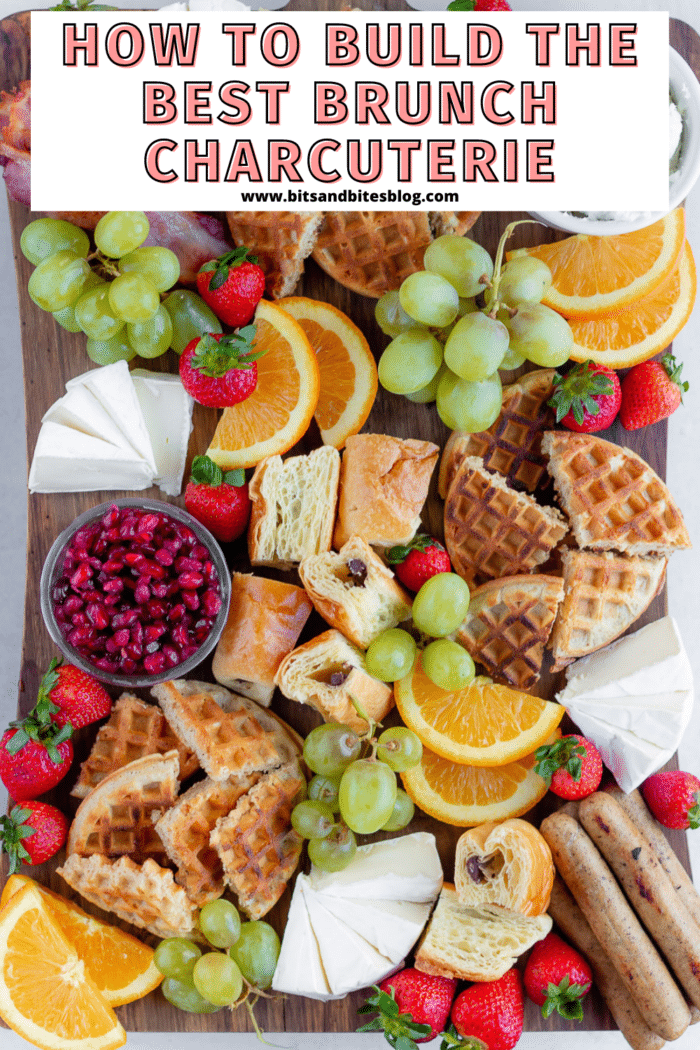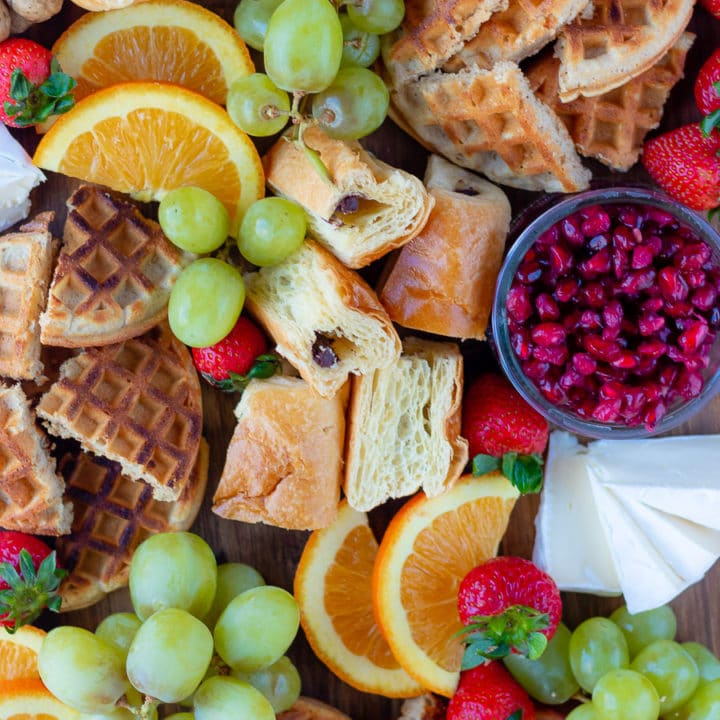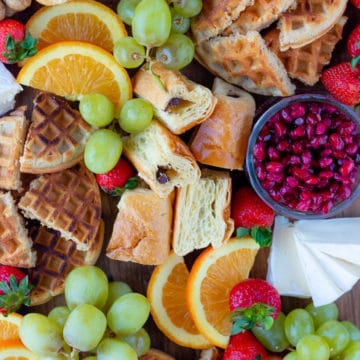 Brunch Charcuterie Board
If you're having a party, making a brunch platter is one of the easiest ways to feed countless tastes and preferences.
Ingredients
5

waffles

toasted and cut into quarters

5

strips of bacon

cooked and cut in half

1

container

chicken sausage

cooked

1

wheel

brie cheese

sliced

½

cup

whipped cream cheese

¼

cup

strawberry jelly

3-4

cups

fresh fruit