I love making seasonal charcuterie boards, and this fall charcuterie board is so perfect and full of fall flavors! It's easy to put together and you have a little bit of everything.
This post may contain affiliate links, meaning I may earn a small commission when you click on the links and make a purchase. I will never recommend a product that I don't support 100%.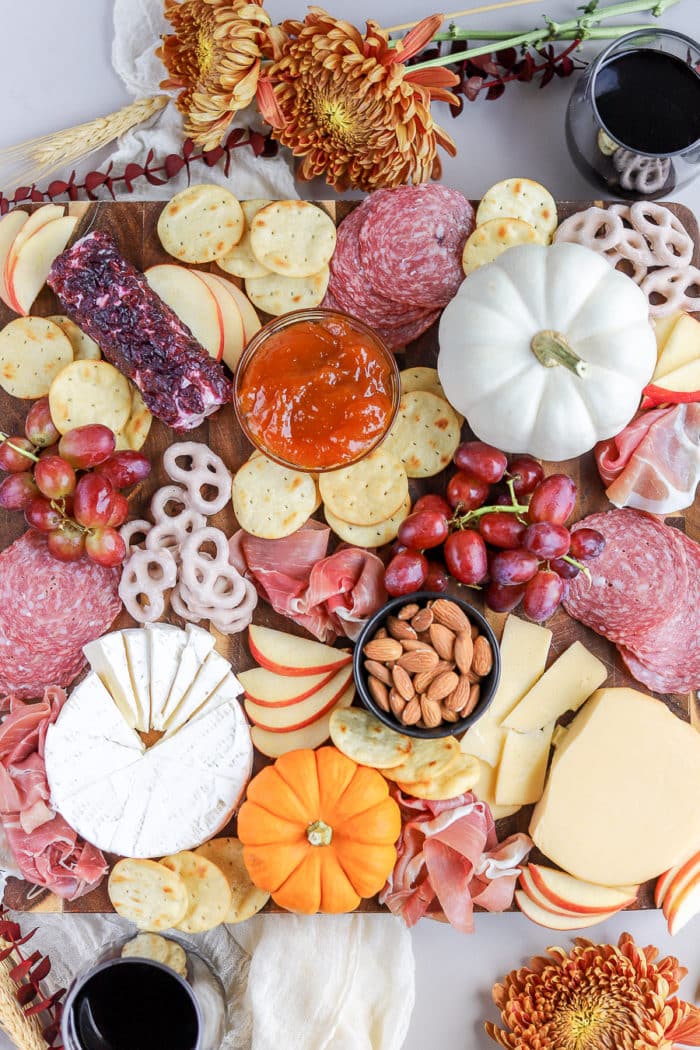 A seasonal charcuterie board for fall? Just what everyone needs.
It's the best appetizer. Seriously! No cooking is required, you can play around with fall flavors and include a little bit of everything!
Have some fun with it! Buy in-season produce you normally wouldn't, try some new cheeses and seasonal grocery store finds.
It incorporates all the fall flavors. There are seriously so many fun seasonal items out in stores for fall. Incorporate all your favorite sweet and savory fall flavors and products.
What is charcuterie?
Charcuterie, technically, is a French term for a specific way of preparing meats like bacon, ham, and sausage. It's primarily meant for pork products.
Clearly, now, the term charcuterie gets thrown around with almost any season/holiday when it comes to a grazing appetizer board.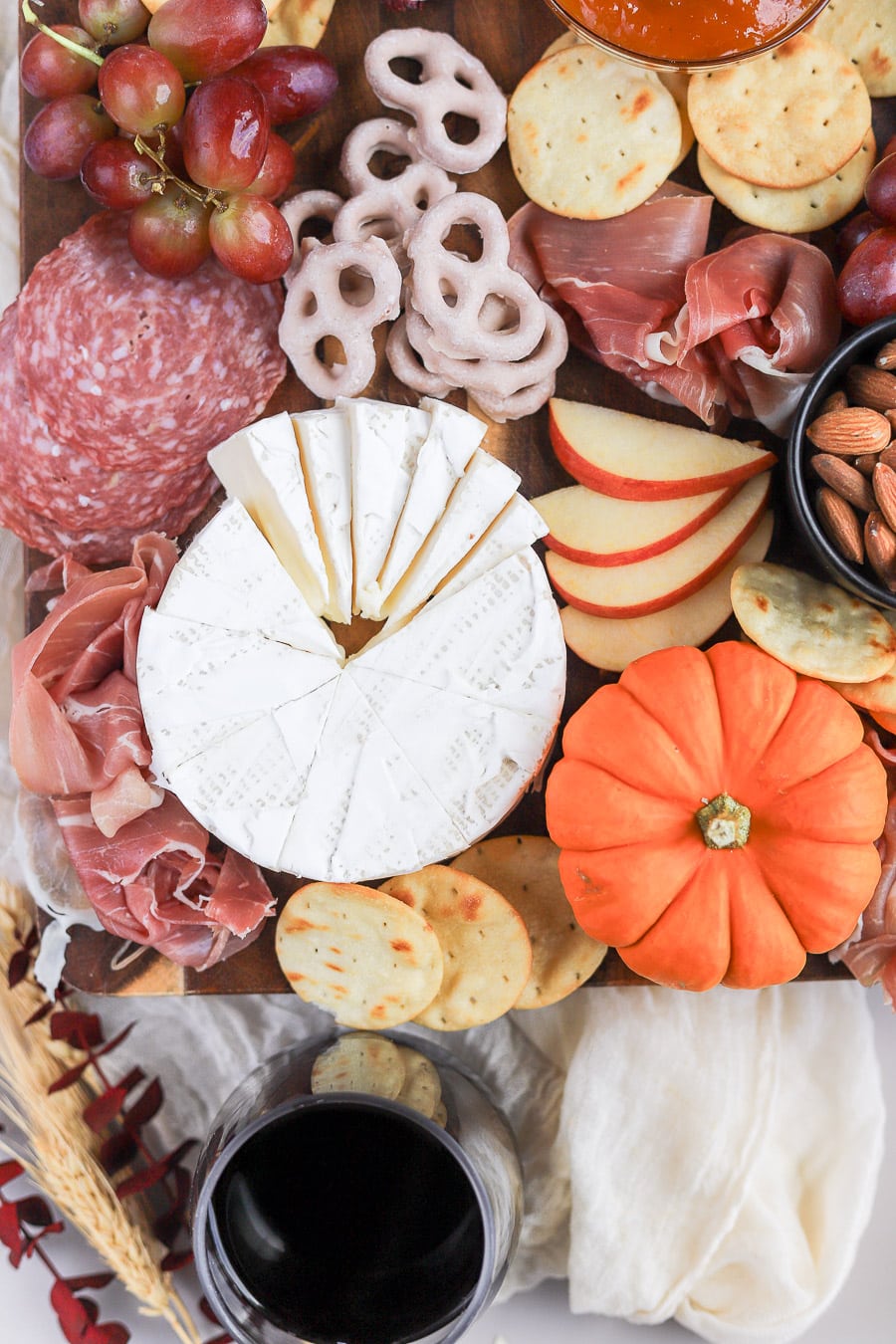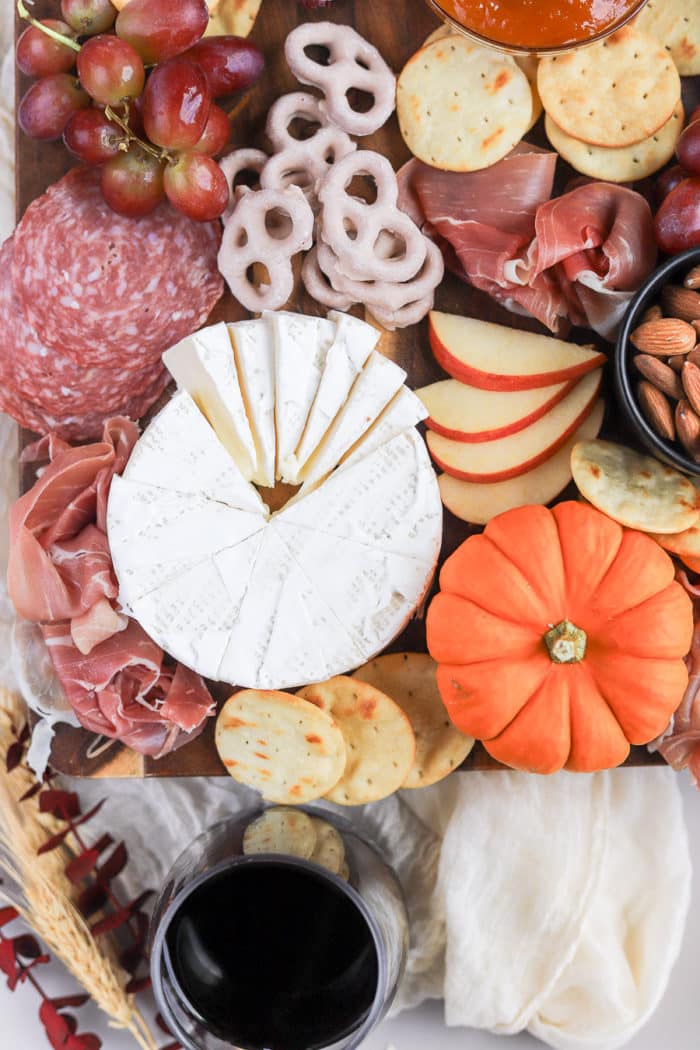 What produce is in season during fall?
Here are some of my favorite fall produces to include in a board.
Fruits in season in the fall
Apples
Figs
Grapes
Pears
Pomegranates
Vegetables in season in the fall
Beets
Broccoli
Celery
Peppers
Sweet Potatoes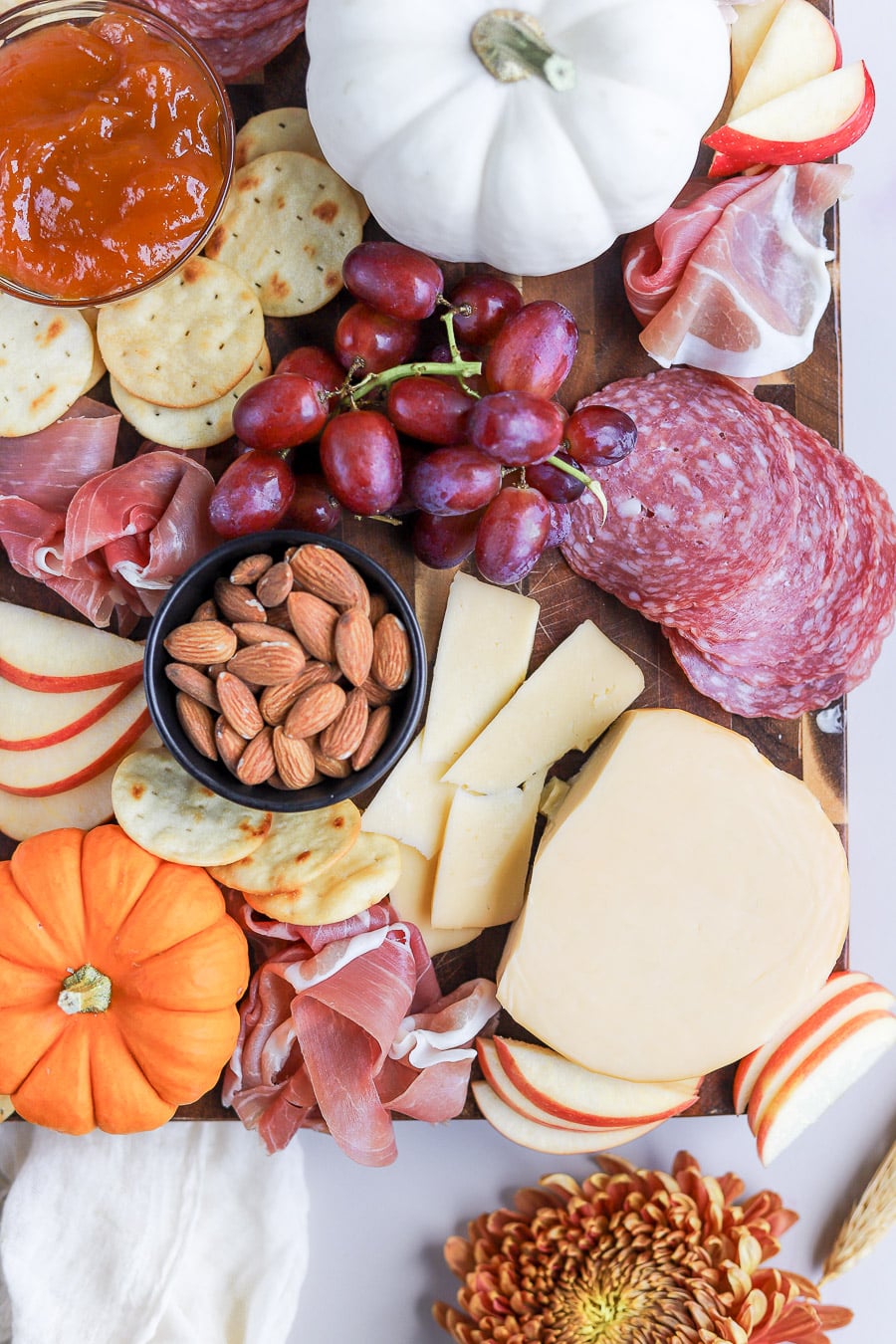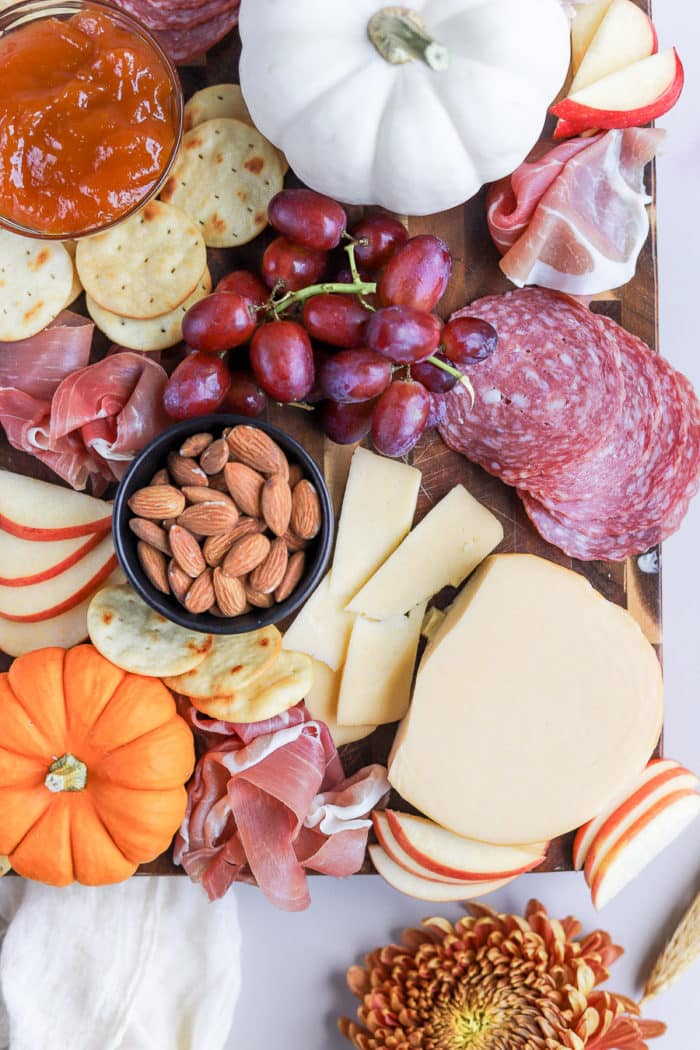 What goes on a fall charcuterie board?
Here's what I included in my fall charcuterie board.
Brie Cheese - I always include brie cheese on any charcuterie board I make.
Cinnamon Cranberry Goat Cheese - I always find this at ALDI or Trader Joe's, but you can find a similar product at nearly any grocery store.
Applewood Smoked Gouda - I love the smokiness of this gouda with fruits like apples, or even meats like salami.
Proscuitto and Salami - prosciutto goes great with lots of produce, like apples and pears. Salami is one of my favorites to include in any charcuterie.
Grapes and Apples - these are two fruits that are in season and perfect for charcuterie boards.
Pumpkin Butter - this + brie is so delicious. I like to include this pumpkin butter as opposed to a jam/jelly for a seasonal twist.
Apple Cinnamon Yogurt Covered Pretzels - this is a fall ALDI find, and they are so good! They are sweet and delicious. You can include any fall pretzel, cracker or snack find.
Almonds - I always include a nut mix of some sort, there are lots of seasonal options, like pumpkin spice almonds, to include.
Crackers - this is a must, of course!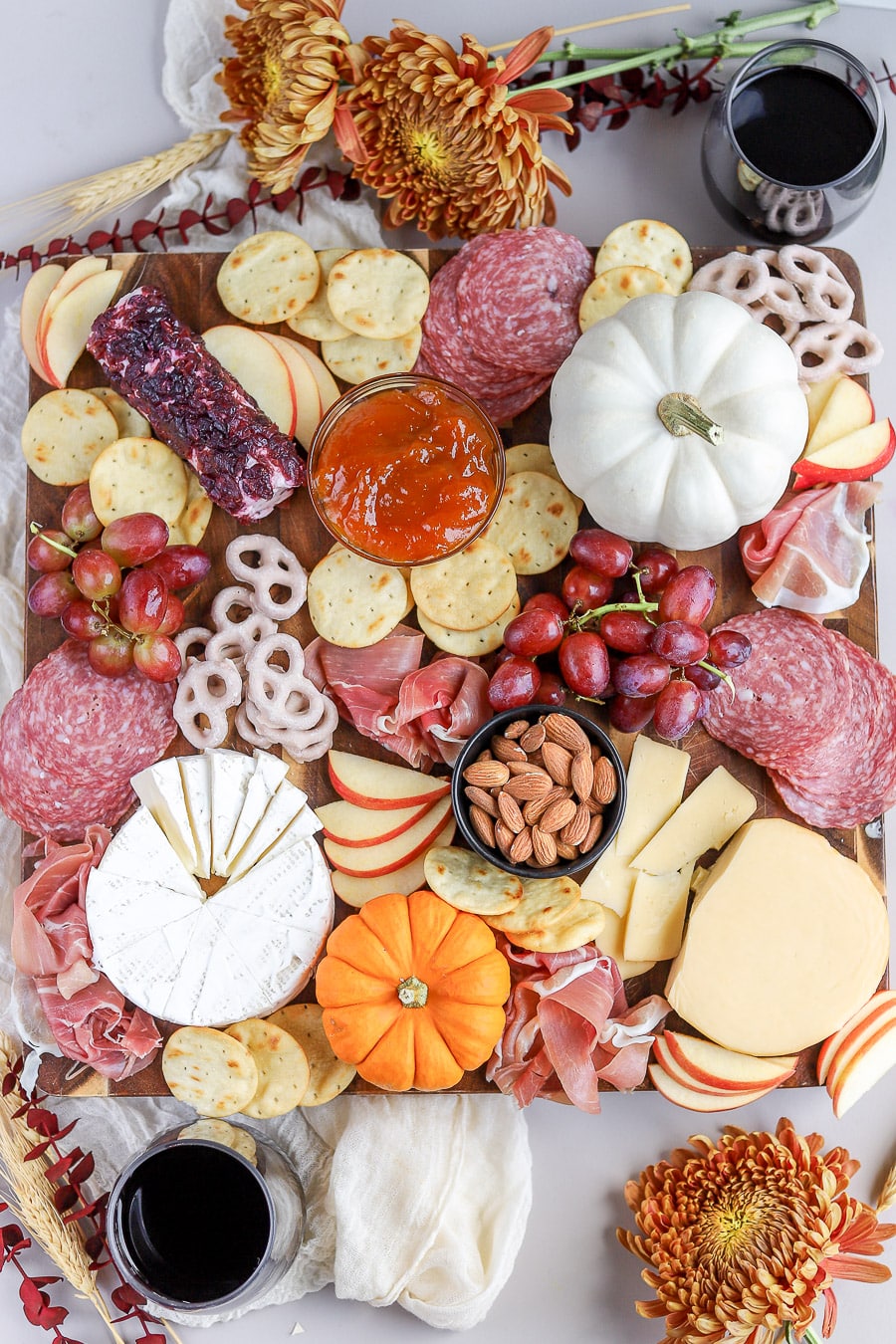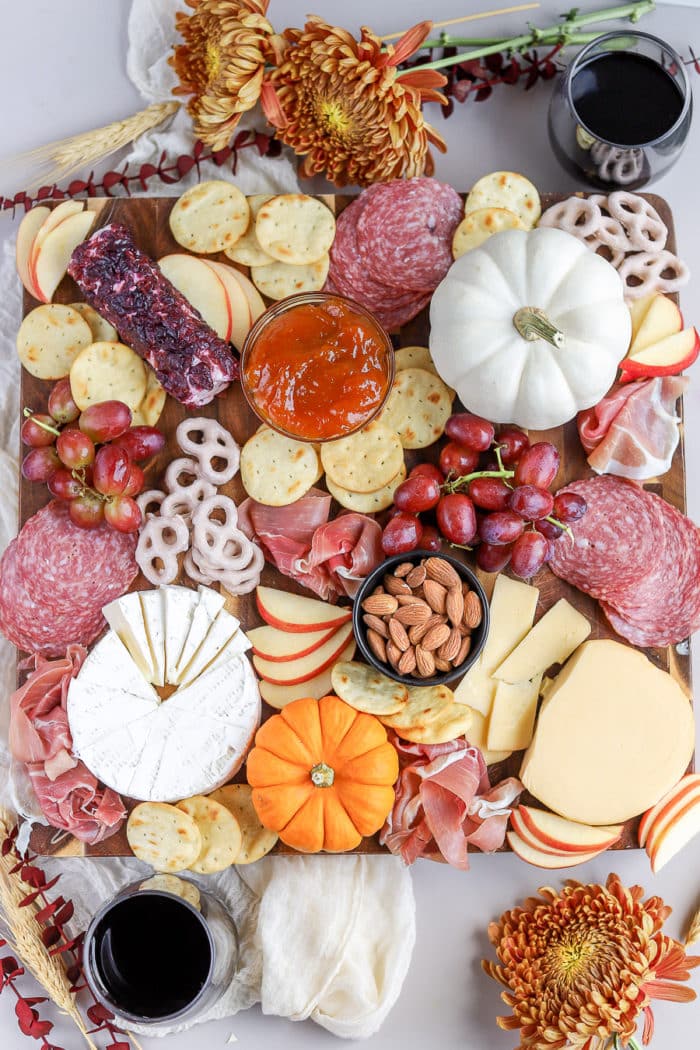 How to make a fall charcuterie board.
Here's the method behind my charcuterie board making madness.
1. Find your go-to charcuterie board.
What I mean by that is to find your literal board. I like having 2 go-to boards, one small board, and one larger board. If you're looking to create a HUUUUUUGE spread, you can lay down parchment paper over a counter or table.
2. Place your cheeses on your board.
I typically use square boards so I like placing cheeses in the corners. If you use a circle board, you can still place the cheeses on the outskirts of the circle and place them diagonally across from one another.
3. Place your meats down.
Now, I don't place all the meat down at once. I like to put down different cuts next to cheeses they'd pair well with.
4. Add in anything that's going to be held in a container, like jelly, olives or dips.
This is when I place anything in a container. Dips, olives, jams/jellies, or other spreads like tapenade. Similar to the meats, I like to place each thing next to a cheese where it would make sense to pair it.
5. Time to "color" as I call it... add in your fresh produce!
Take all your produce and start to fill in your board to add vibrancy and really make it pop! I like taking advantage of in-season produce, or cucumbers and peppers are always a great go-to veggie option.
6. Add in your crackers, or your "vehicles" as some people call them.
I am personally ok with not making too much room for the crackers, mainly because I want to ensure I have enough room for all the goodies. If you need to, keep crackers on a plate nearby!
7. Finish filling in any blank spots with nuts, dried fruit or anything else you'd like to add.
You want your board FULL and that means borderline no blank spaces. Nuts, dried fruit or any small produce like blueberries make for the perfect space fillers.
How far in advance can you make a charcuterie board?
I wouldn't recommend making a charcuterie board more than an hour in advance. If you need to make it earlier, I recommend making it, wrapping it in plastic wrap and storing it in the fridge.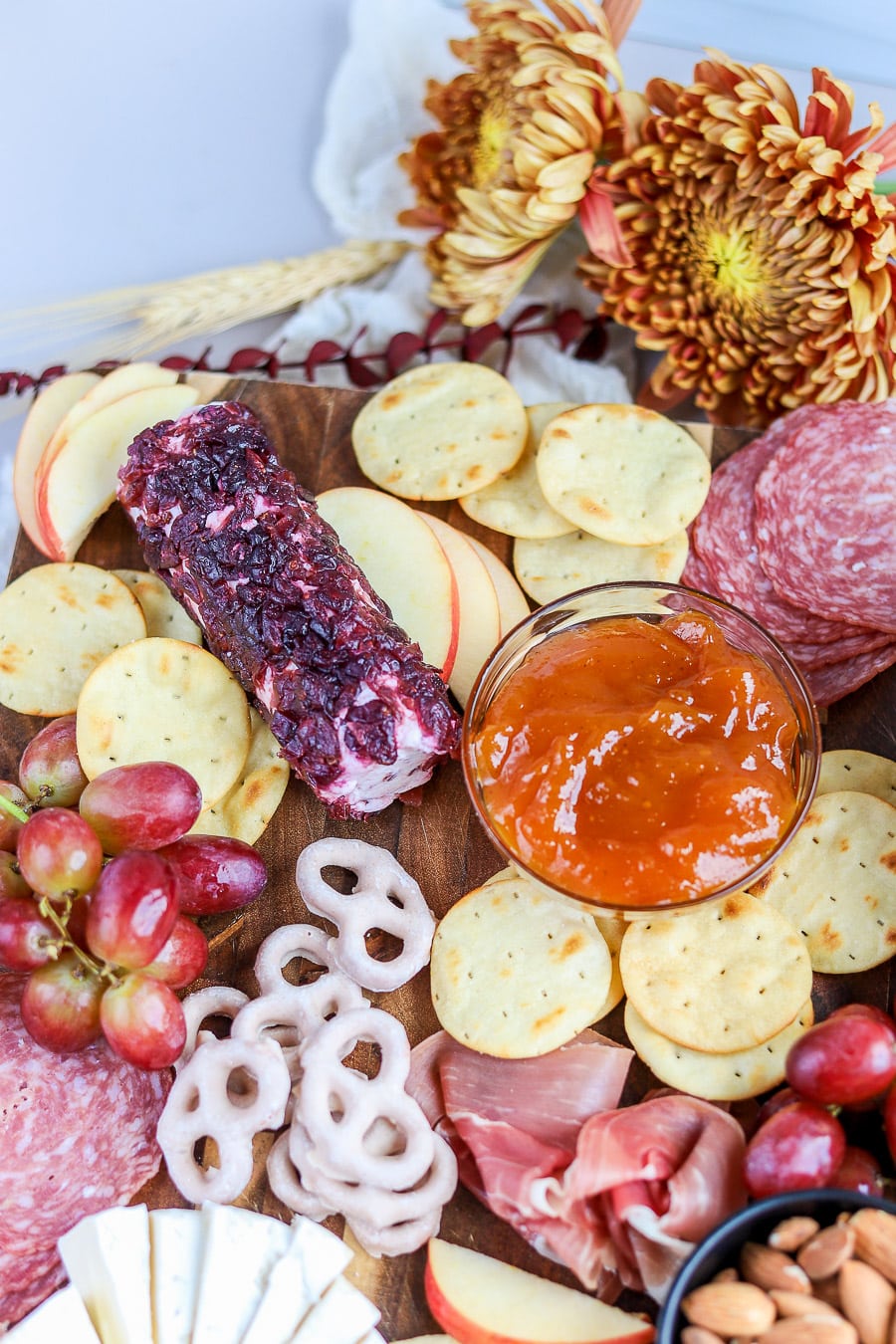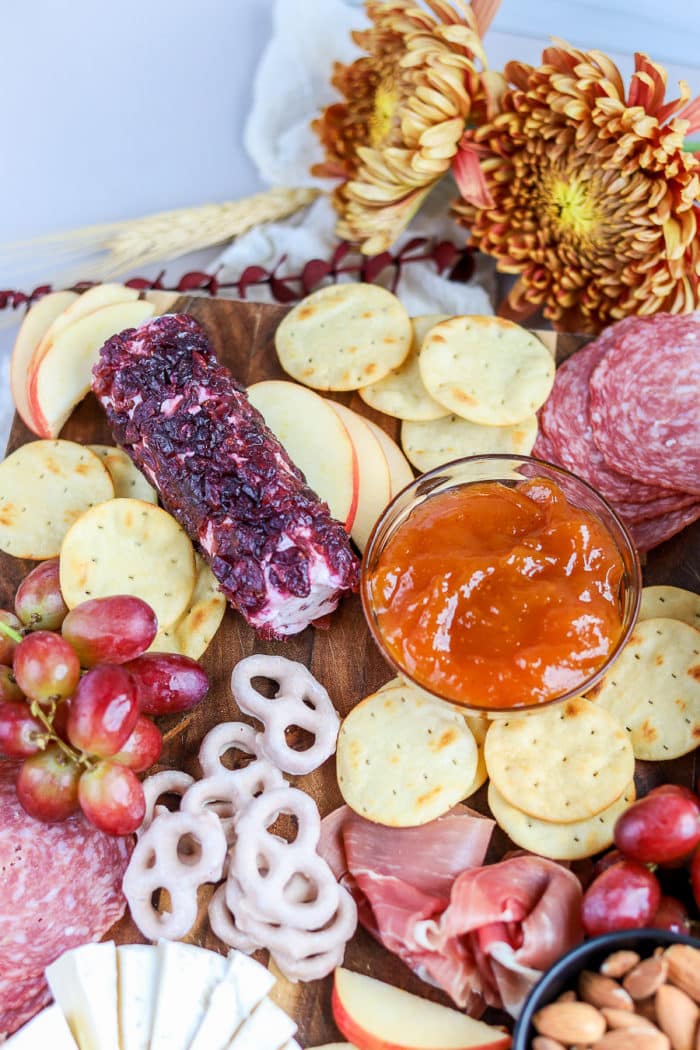 How long can a charcuterie board sit out?
I wouldn't recommend having a board sit out for longer than 2 hours.
Here are some helpful Amazon home finds you may want for these recipes
Pin it for later!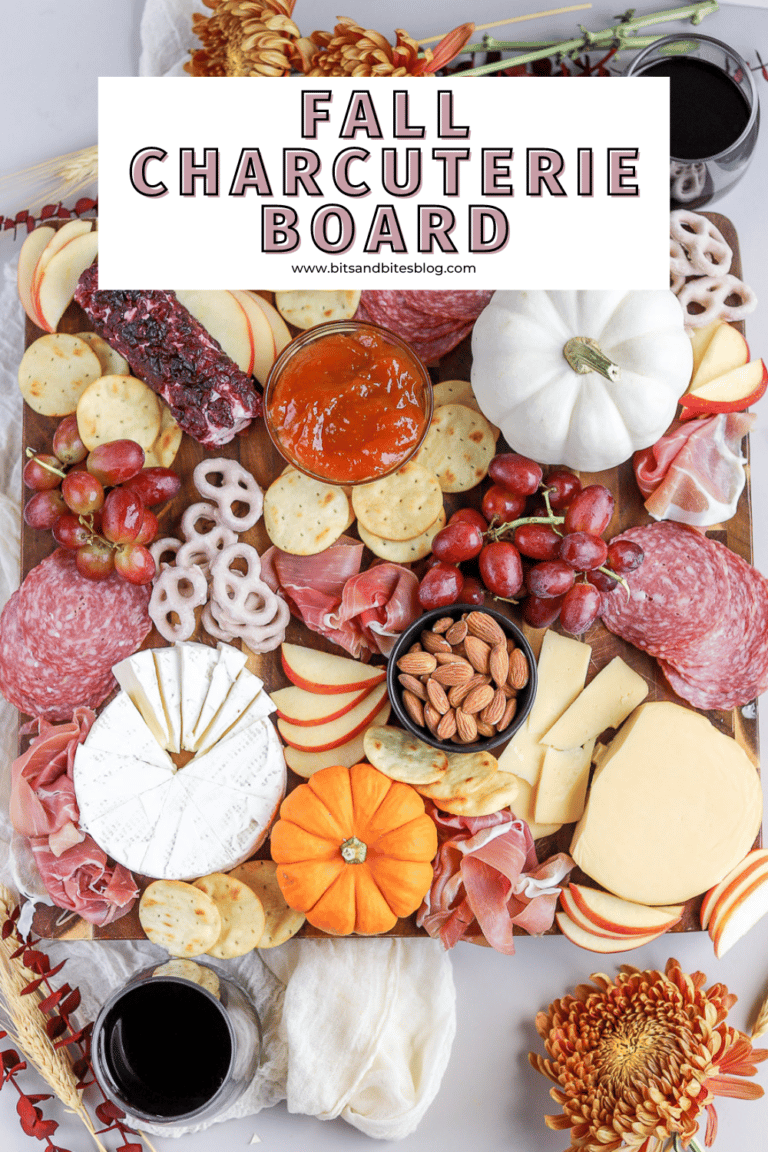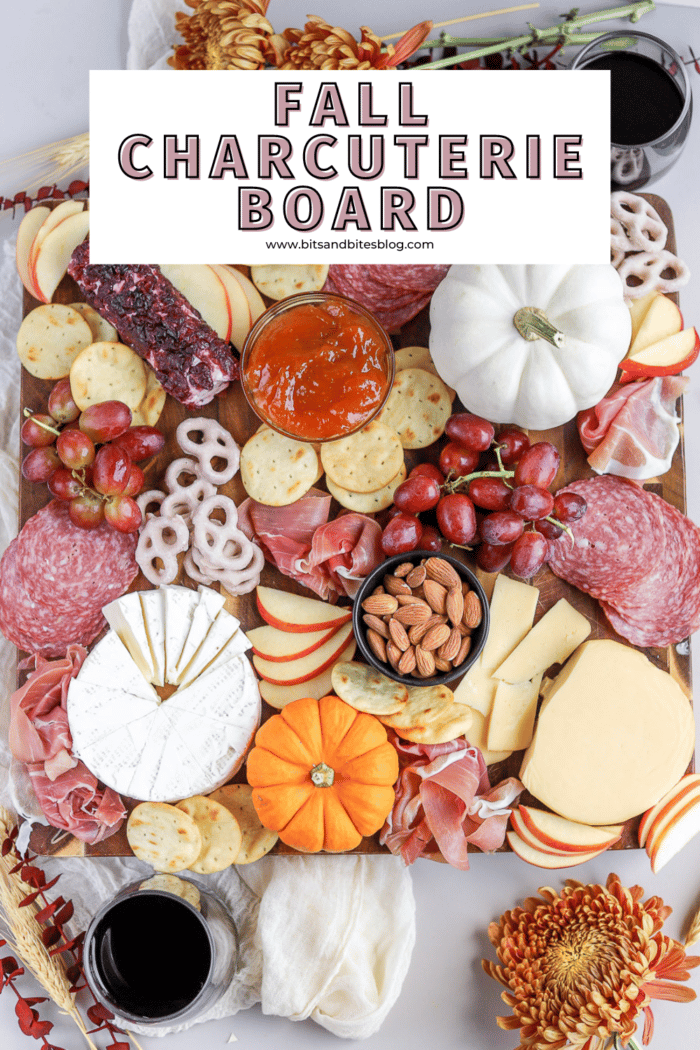 Want some more charcuterie board ideas?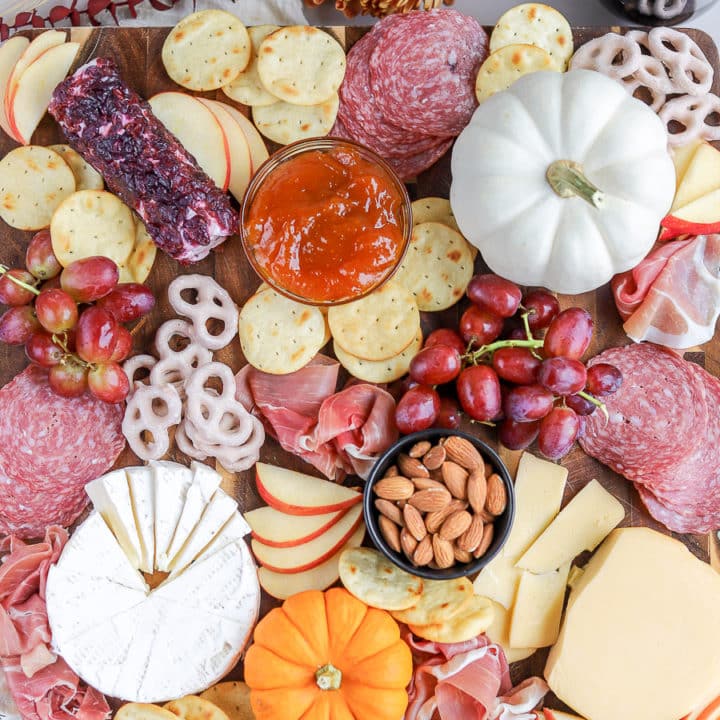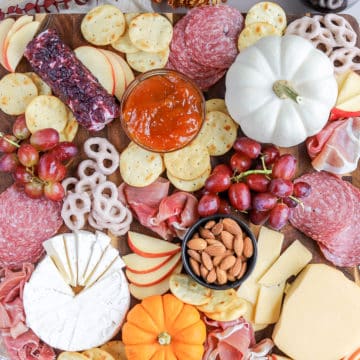 Fall Charcuterie Board
I love making seasonal charcuterie boards, and this fall charcuterie board is so perfect and full of fall flavors! It's easy to put together and you have a little bit of everything.
Ingredients
Cheeses
Brie Cheese

Cinnamon Cranberry Goat Cheese

Applewood Smoked Gouda
Sweet Snacks
Apple Cinnamon Yogurt Pretzels