I have seen these paint and baking powder vases on TikTok so often. It's seriously taking water-based acrylic paint and baking powder and using that combination to paint thrifted (or just old) vases you have and then it turns into this beautiful DIY ceramic vase. Truly looks like a piece of pottery, I'm obsessed! Here are all the details on this Faux Ceramic Vases DIY project.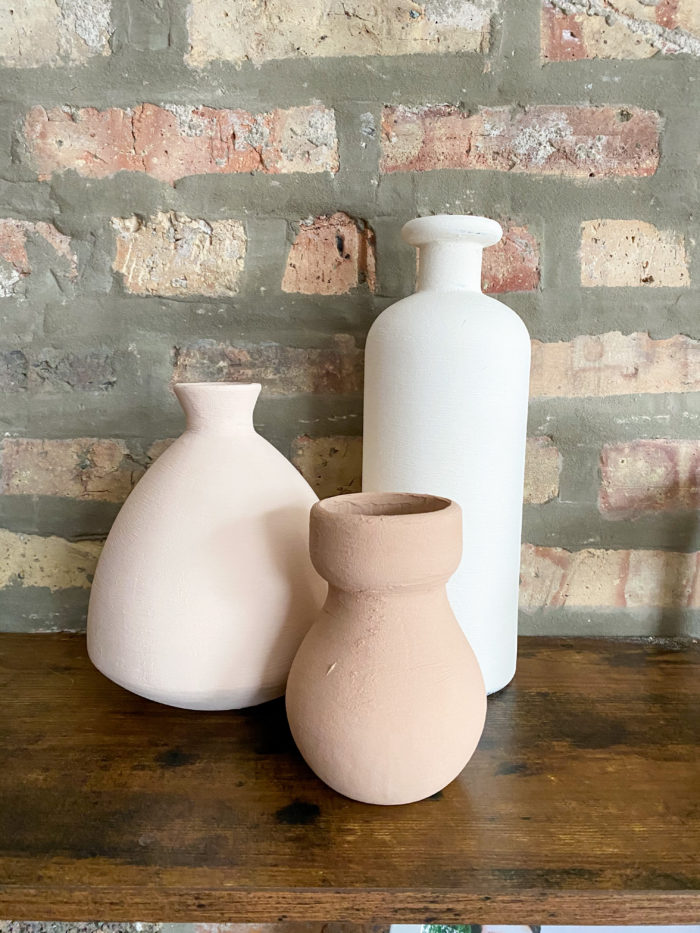 HOW TO MAKE GLASS LOOK LIKE CERAMIC
Turning a glass vase to ceramic is way easier than you think, BUT, there is room for mistakes. I tried this DIY ceramic vase painting once before this go around, and I did not like how the vases turned out. I took to TikTok and the comment section on the video I posted was amaaaazing. I took their advice and the second time around, they turned out SO much better! Here are my top tips.
Wash your vases and let them dry fully.
Use paint and baking powder, not paint and baking soda.
Use a foam brush, I used the 1-inch size.
Use water-based paint. Matte is preferred, but not necessary. I used the Vanilla and Golden Brown CraftSmart colors.
When mixing the paint + baking powder, add about 1 spoonful to an entire container of paint. You'll want your mixture to look like a mousse. Seriously.
Paint horizontally, this will make your glass vase look more "pottery" like and give it that true ceramic look.
Use thin coats of paint.
Allow for your paint to dry in between coats! The first coat dries within like 15 minutes, but between the 2nd and 3rd coat (if necessary) you'll want to let it dry at least 20-30 minutes.
Allow for your DIY ceramic vases, once done painting, to dry for a few hours. I left mine sitting on my kitchen table overnight.
FAVORITE THRIFT STORES IN CHICAGO
If you're local and wondering some of my favorite thrift stores in Chicago, here's a list! I got these three vases from Salvation Army.
Salvation Army -- 2270 N Clybourn Ave, Chicago, IL 60614
Village Discount Outlet -- there are a ton of Chicago locations, just search for the nearest one!
Mount Sinai Resale Shop -- 2902 N Clark St, Chicago, IL 60657
The Brown Elephant -- again there are multiple locations, you can find more info at their website.
SUPPLIES NEEDED FOR THIS FAUX CERAMIC VASES DIY PROJECT
Vases
Water-Based Acrylic Paint
Baking Powder
Foam Brush
Bowl for mixing
Garbage bag, blanket, newspaper to place under the spot you're going to be painting
STEPS FOR DIY CERAMIC VASE
Wash and dry your vases
In your bowl, mix together 1 container of paint + 2 tablespoons of baking powder.
You'll notice the mousse texture starting to form, if it isn't, add a little more baking powder until you have that mousse texture.
Using your foam brush, begin painting, horizontally, a thin layer. Allow your first layer to dry for 10-15 minutes. It's ok if you can still see the vase under that first layer, the thinner the better! You don't want it to be chunky.
Paint your 2nd layer, and if you notice you'll need a 3rd coat of paint, wait about 20-30 minutes.
Once you're finally done, let it dry for a couple hours, or overnight.
PIN IT FOR LATER!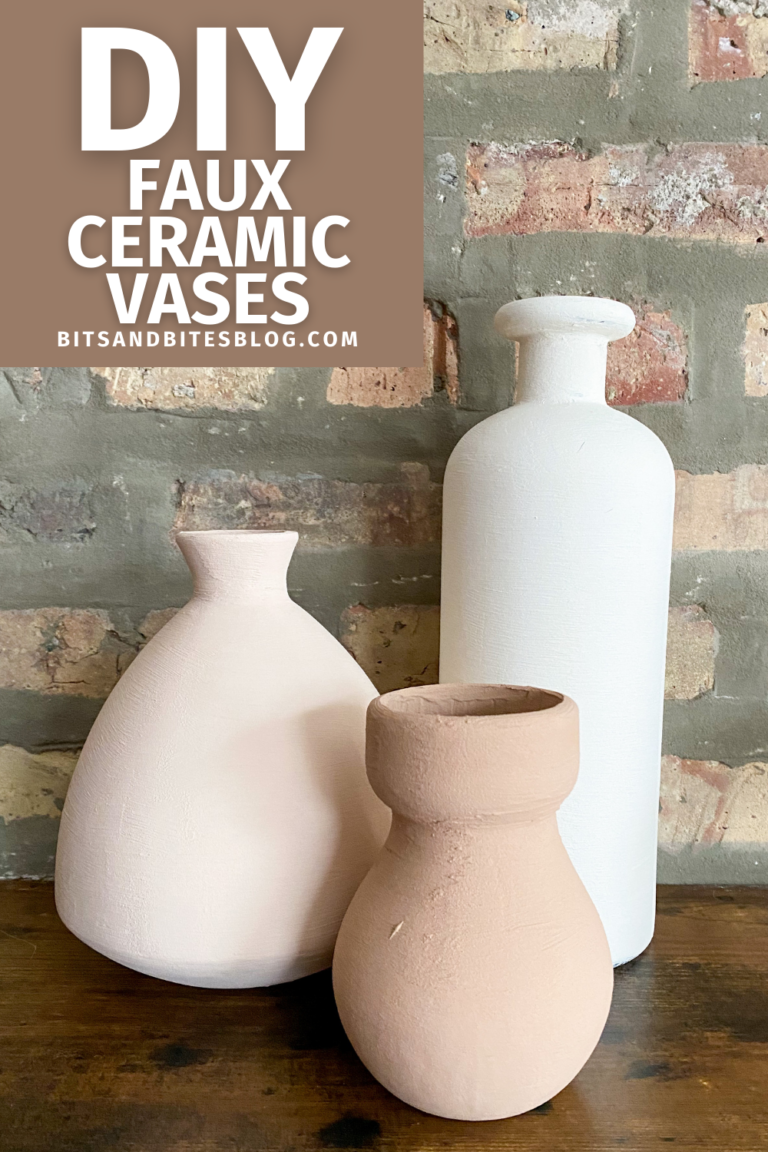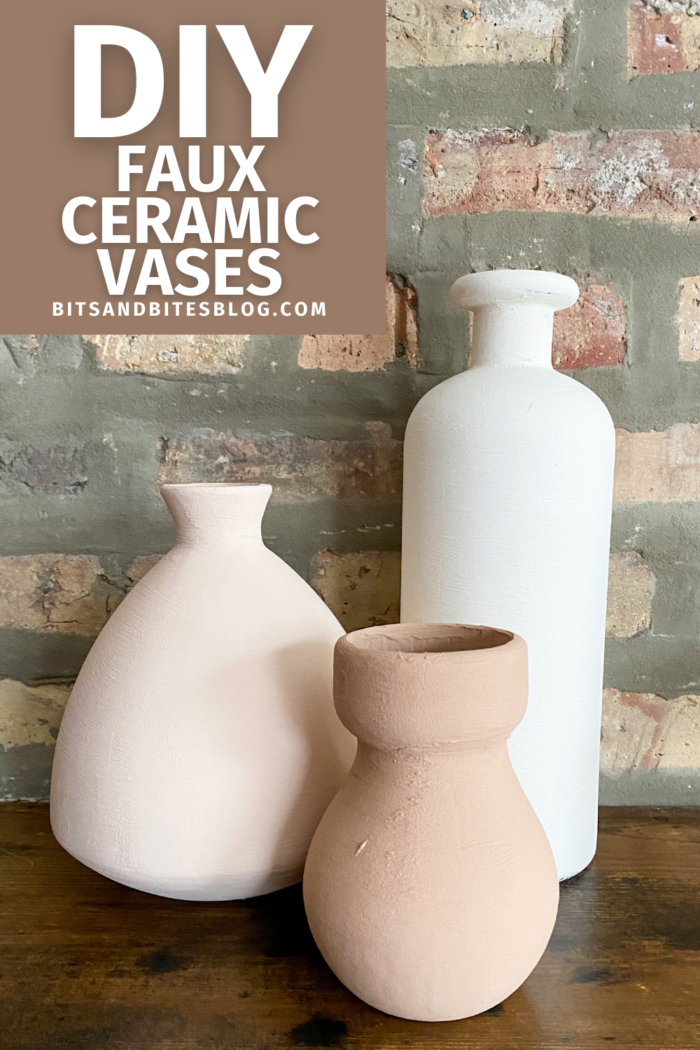 WANT MORE AFFORDABLE DIY HOME PROJECTS?