Antipasto vs Charcuterie, what's the difference? Or are they actually the same thing? Let's compare the two.
This post may contain affiliate links, meaning I may earn a small commission when you click on the links and make a purchase. I will never recommend a product that I don't support 100%.
Antipasto vs Charcuterie: the difference between the two
Although an antipasto board is very similar to a charcuterie board, and both are delicious appetizer ideas, there are some distinct differences.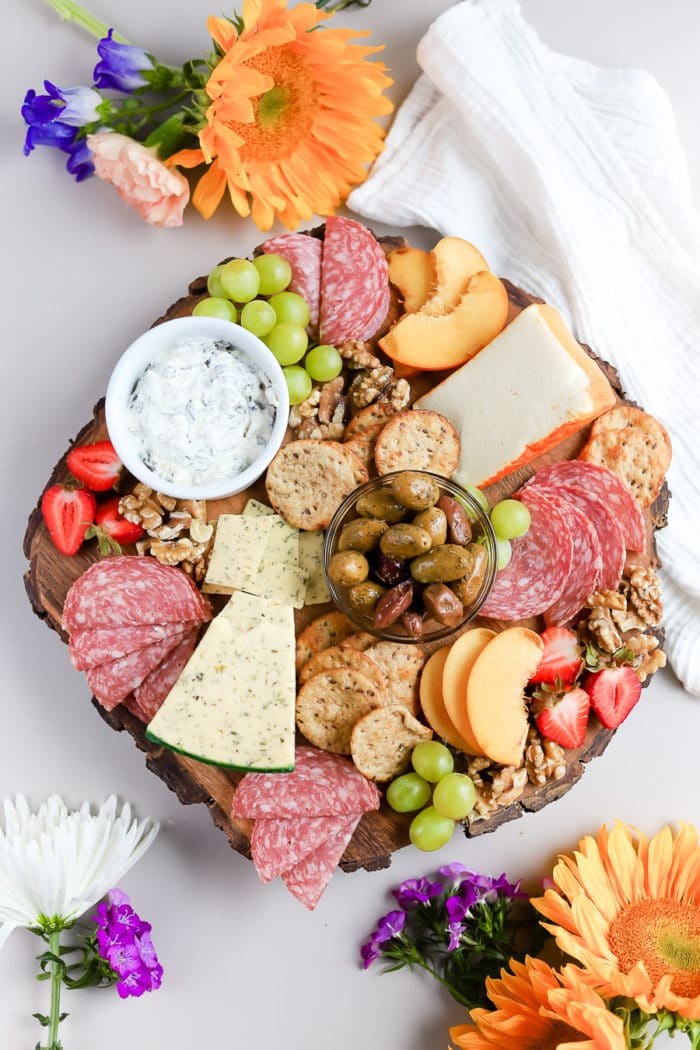 What is charcuterie?
The word charcuterie, pronounced "shaar-koo-tr-ee," is a French word meaning a spread of prepared meats such as bacon, sausage, and ham. However, in today's world a "charcuterie board" has gotten a very different meaning.
What Foods Are Usually Included In Charcuterie?
A traditional charcuterie platter includes cured meats like bacon, salami, ham, etc. Here's a list of some fun food items to include on a charcuterie board.
Meats: think salami, prosciutto or serrano ham.
Soft Cheeses: think brie cheese, goat cheese, feta cheese, fresh mozzarella balls, cream cheese or blue cheese.
Hard Cheeses: think parmigiano reggiano, cheddar, or grueyere.
Fruits: think of dried fruit like dried apricots or fresh fruits like strawberries or blackberries.
Veggies: think red peppers, cucumbers, celery, or carrots.
Salty: think of a variety of olives, pickles, artichoke hearts, or capers.
Sweet: think jams or honey.
Bread/Crackers: think baguette slices or sea salt crackers.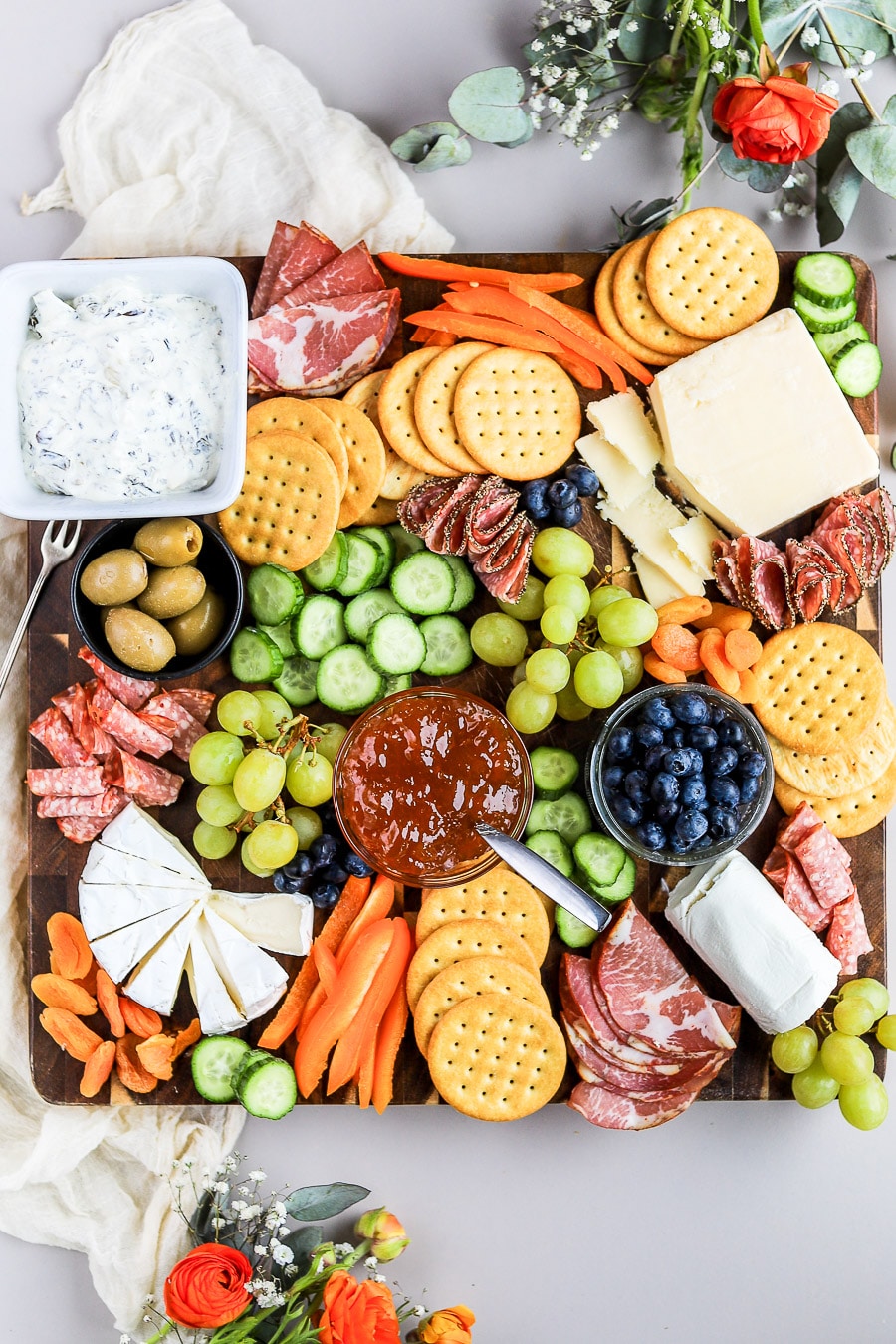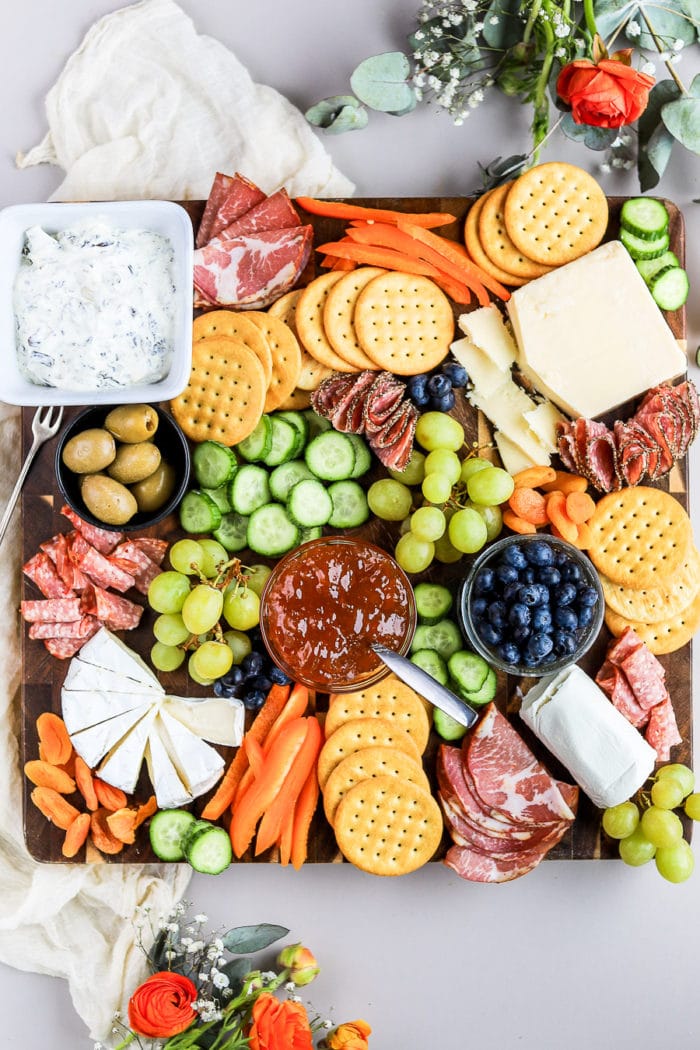 Shopping for a charcuterie board
Luckily, you can find almost anything at your local grocery store. My favorite store to shop at if I'm making these large spreads is ALDI. They have some great, quality items for such affordable prices. But the best part of making these is the creativity! You can go to your local market, farmer's markets or any other fun stores you may live by for the ultimate charcuterie board.
Is a charcuterie board a cheese platter?
People use them interchangeably, but they aren't technically the same thing. I think charcuterie is more of an all-encompassing term rather than "cheese platter." Nonetheless, they are both a great way to start a meal.
Charcuterie board inspiration
If you're looking to get a little bit creative with your cheese platters, or charcuterie boards, there are so many fun ideas! You don't have to stick with the meats and cheeses route. Here are some of my favorite charcuterie board inspirations.
What is Antipasto?
Traditional antipasto is the first course of an Italian meal. It's an Italian tradition and you eat it before your main course. It's the perfect way to start any meal.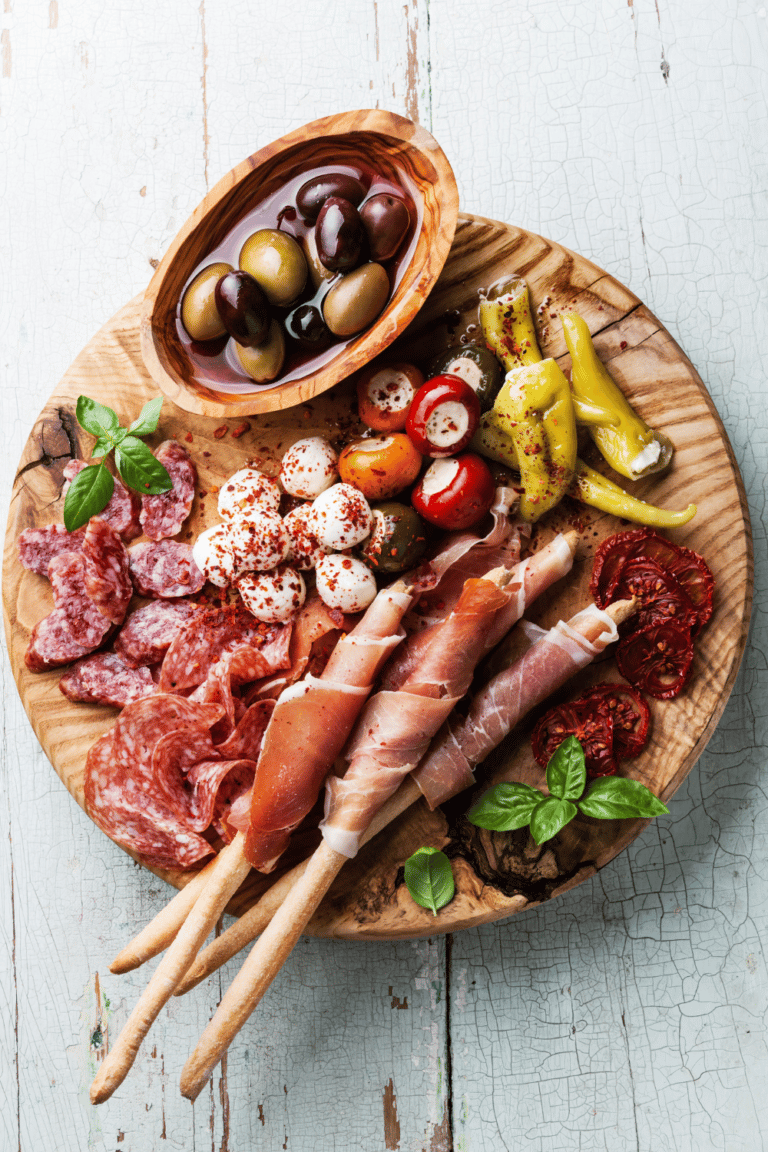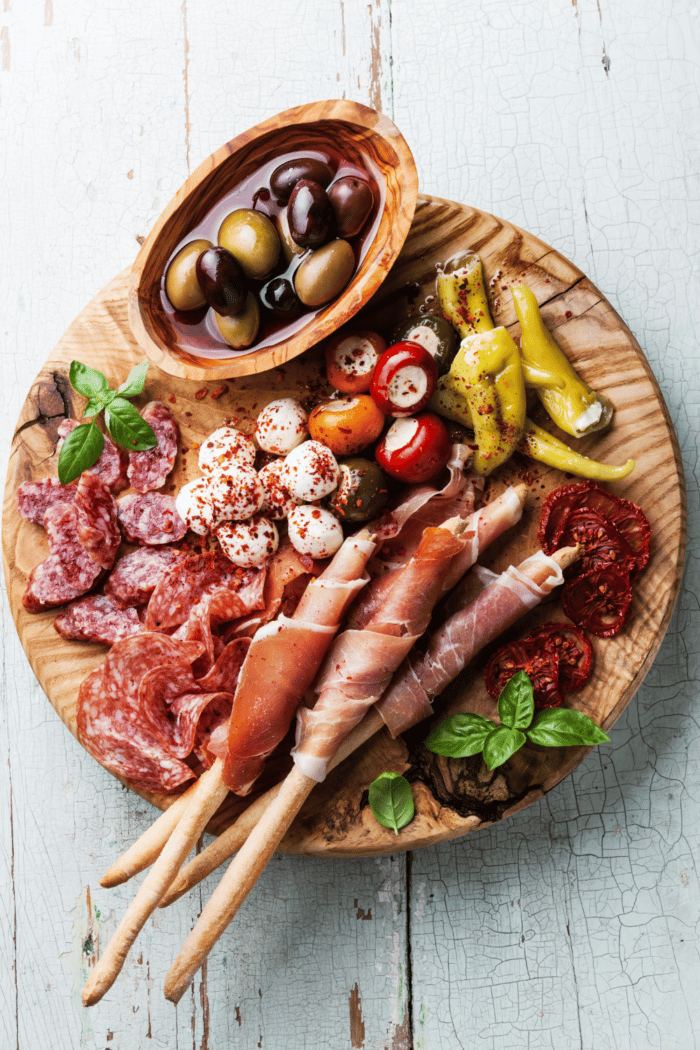 Why do Italians say antipasto?
Antipasto is derived from the Latin root of "anti" meaning before and "pastus" meaning meal. So, it's called antipasto because it comes at the start of the meal.
Which is correct antipasti or antipasto?
You might hear these two words being thrown around when discussing an Italian antipasto dish. Antipasti is the plural version of antipasto.
Foods Are Usually Included In Antipasto?
The antipasto course is created of different portions of foods like olives, cheeses, and meats. If you want to create a classic antipasto platter, you'll want to arrange foods in a sort of tapas-style set of nibbles. You'll want to pick all your favorite Italian snacks, here are some ideas to get you started to create the perfect antipasto platter.
Meats: think genoa salami, parma ham, speck, or mortadella.
Italian cheeses: think mozzarella, provolone cheese, gorgonzola, burrata, parmesan cheese or asiago.
Olive oil, balsamic vinegar in a small bowl for a dip.
A variety of olives.
Roasted red peppers
Marinated Cannellini Beans
Sun-dried tomatoes
Pepperoncini
Northern Italy vs. Southern Italy Antipasti Platters
Depending on the region of Italy you are in depends on what foods you include on your antipasti plate.
Northern Italy antipasto style items focus on their location to the Swiss Alps. You'll see a lot of dairy-forward items such as fresh mozzarella, polenta fritta, lots of herbs like basil and heads of fennel, and more meats like cured pork.
Southern Italy antipasto style items focus on their coastal cuisine and have lots of Mediterranean influence. You'll see lots of creamy cheeses, anchovies, artichokes, perfectly ripe tomatoes, and olives.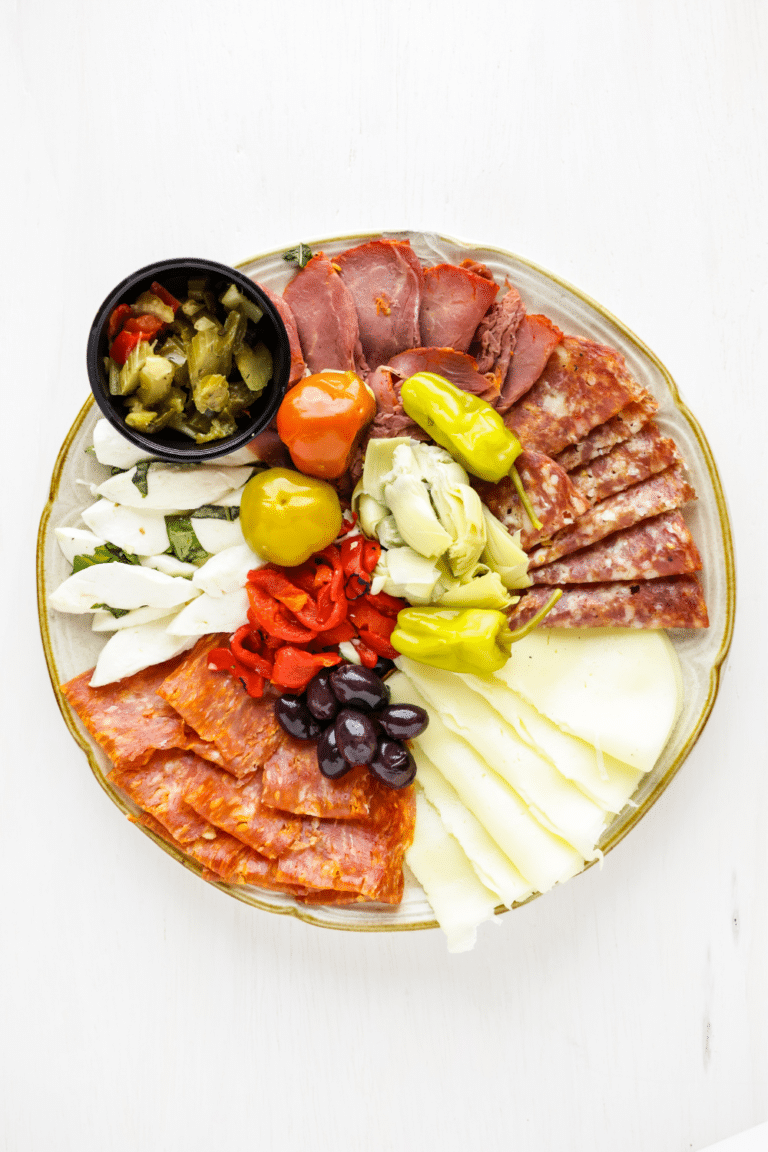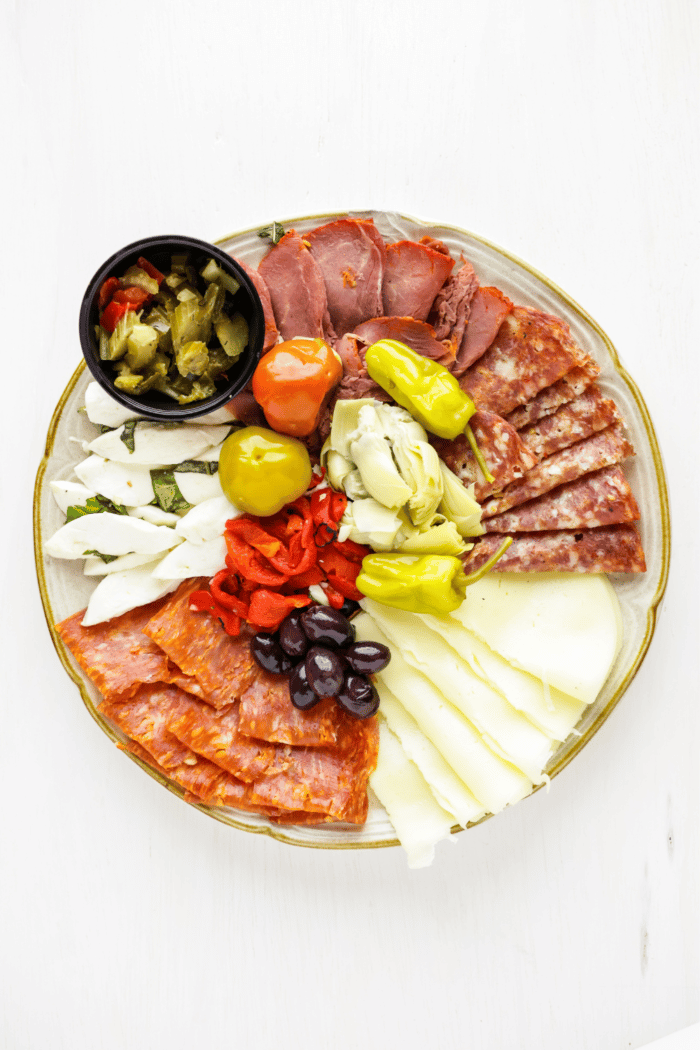 Antipasto vs. Charcuterie: is there a main difference?
The main difference comes into play when you're discussing traditional charcuterie. A traditional charcuterie doesn't have olives, fruits, veggies and other items on the board. But how the French term "charcuterie" has evolved and how we make charcuterie boards today, antipasto and charcuterie boards are incredibly similar, just originating from different parts of the world.
When to eat antipasto vs. charcuterie
You'll want to eat either of these before a meal, but you can absolutely turn it into a grazing style supper. I love having a great charcuterie feast or getting into an antipasto-for-dinner habit. It's so much fun to have so many different flavors and swap that out for your main meal. You can definitely leave these sitting out, it's ok if things get room temperature, but you don't want it sitting out for much longer than 2 hours.
What you'll need to make antipasto or charcuterie boards
Serving boards. You'll need a large platter, I always prefer the look of a wooden board or a marble board. If you want a good cheese board, you need a good foundation. Here are some of my favorites!

Serving trays. In order to have organization and separation, I recommend having a stash of ramekins and little serving dishes to put olives, dips, spreads, and cheeses in.

Pin it for later!