This Halloween candy charcuterie board is such a fun way to creatively display candy for all your Halloween parties this year. It's a perfect dessert charcuterie board for the occasion.
This post may contain affiliate links, meaning I may earn a small commission when you click on the links and make a purchase. I will never recommend a product that I don't support 100%.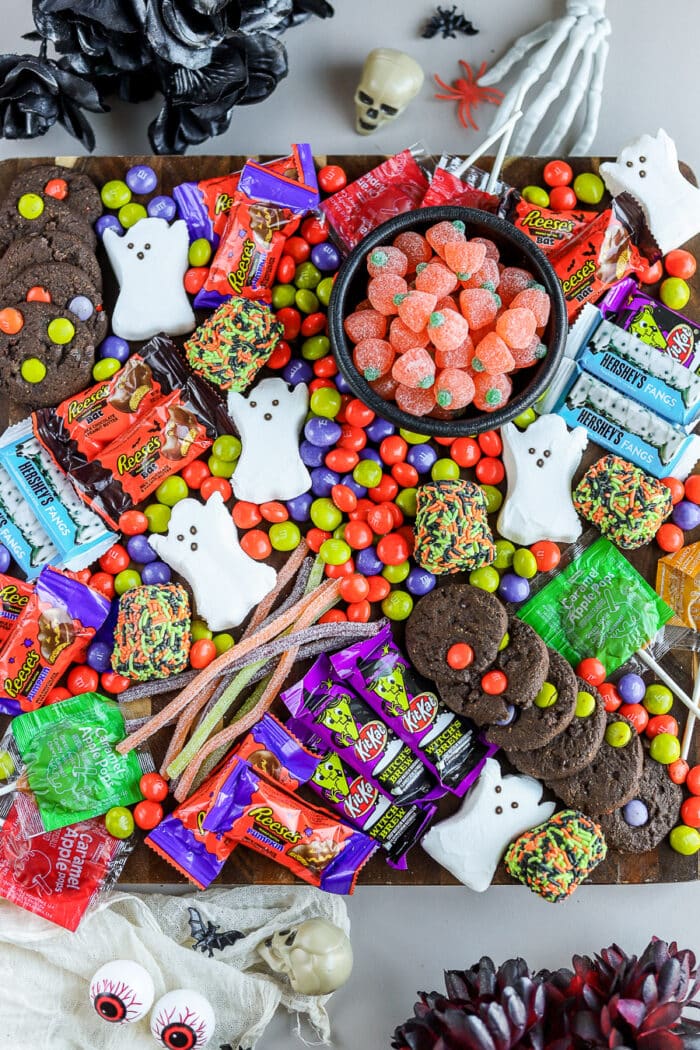 You'll love this candy charcuterie board for Halloween
How cute is it?! It's the ultimate Halloween candy display! With the variety of colors that Halloween candy has, this is the perfect way to incorporate your favorite candy into a festive display. It's so easy to look so festive for Halloween with all the candy and decor.
It's such an easy dessert display. Get all your favorite treats, and Halloween decorations and put them together for this candy platter. It'll take any Halloween festivities to the next level.
It's perfect for any party! Whether you're hosting an adults-only party, or you're having a party for your kids, this is such a great way to display Halloween candy no matter what ages you're hosting.
How to make a Halloween candy charcuterie board
Making a Halloween candy board is so simple to do in just a few easy steps, and it's so perfect for the holiday season. The best thing is that you can find anything you need all at your local grocery store.
1. Pick your candy
This is the best part. You get to pick your favorite candies, cookies, and other sweets to put together this sweet Halloween charcuterie board. You'll definitely want a combination of chocolate and fruity sweets. Here's what I included.
Hershey's Halloween Lovers Snack Size Pack - this pack has Reese's Pumpkins, KitKat Witches Brew, Hershey's Sfangs, Reese's Bats, and KitKat Breaking Bones. It was the perfect combination.
Chips Deluxe with M&M Halloween Cookies - I love Chips Deluxe with M&Ms. They are one of my favorite store-bought cookies, and I was so happy to see them with a Halloween version at my local Jewel.
Peanut Butter M&Ms - of course, you have to include M&Ms. Peanut butter M&Ms are a favorite of mine, so I opted for that. However, in the Halloween section of your store, you will be able to find bags of Halloween-colored M&Ms, and you can pick out your favorite variety.
Caramel Apple Suckers. I feel like these get a bad rap, but I love these!! I got the variety pack to add some more color and flavors to the board.
Jet Puff Stuffed Puffs Marshmallows - these were too cute, I had to get them! Honestly, they're pretty delicious, too.
Ghost Peeps - I know people don't love Peeps, but to add a cute, yet edible, Halloween decor to the board, I think Peeps are a must!
Sour Punch Straws - it's always good to include a little sour on the Halloween candy board for those who love their sour candies.
Gummy Pumpkins - these are basically orange slices, reshaped for the Halloween season, and I absolutely love these (and orange slices.)
2. Set your "anchors"
The "anchors" will be any smaller candy that isn't individually wrapped, like M&Ms, jelly beans, Swedish fish, gummy pumpkins, etc., into small bowls. Set these in the corner of your serving tray, wooden board, or ceramic platter. Next, take the rest of your favorite Halloween candies and start filling in the board.
3. Add some decor.
An easy way to add even more festive flare to your candy charcuterie board is to add some decor! Think plastic spiders, skeleton hands, eyeballs, or any other decor you can find at the store. If you're looking for affordable decor to use for this, check out Dollar Tree for your next party.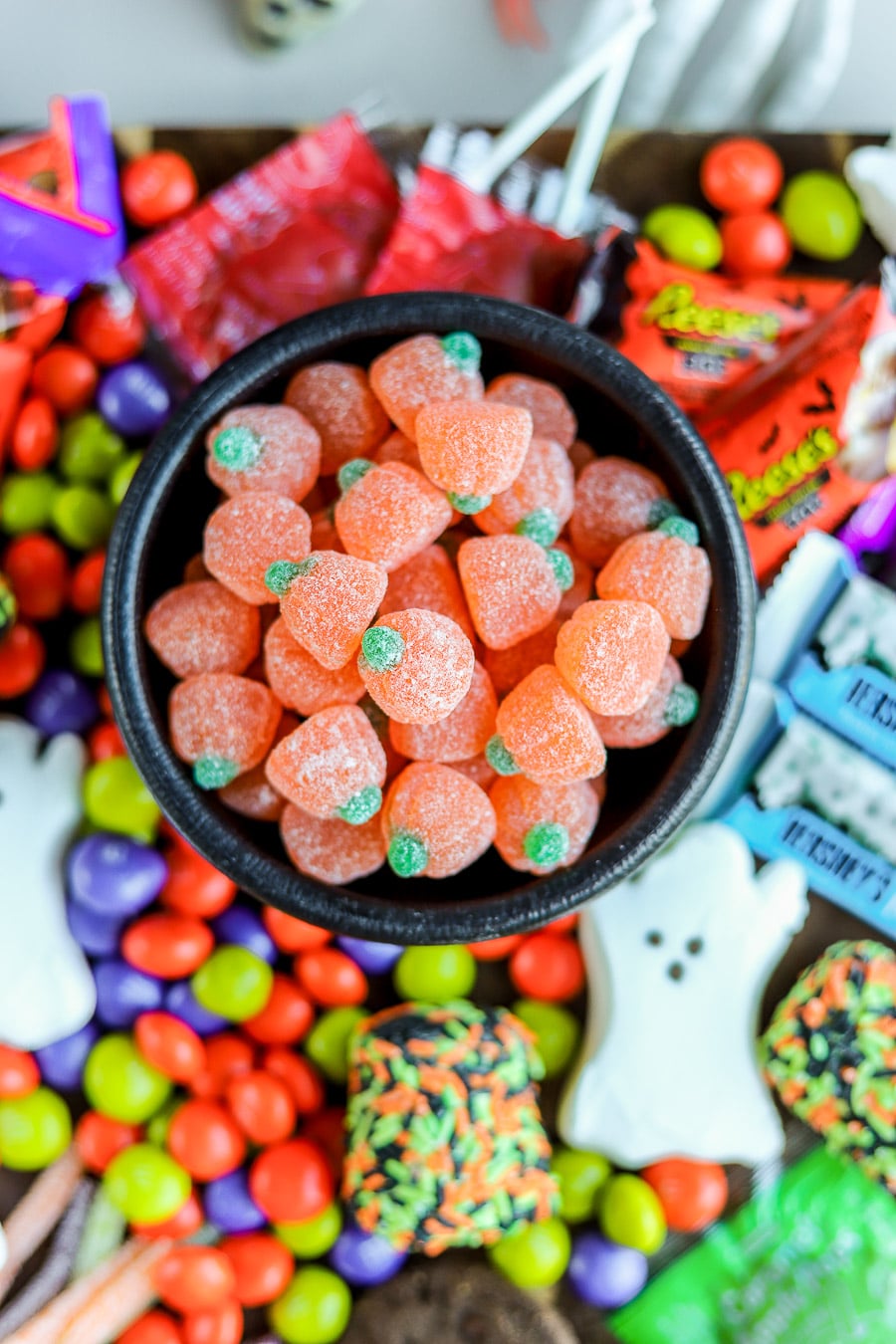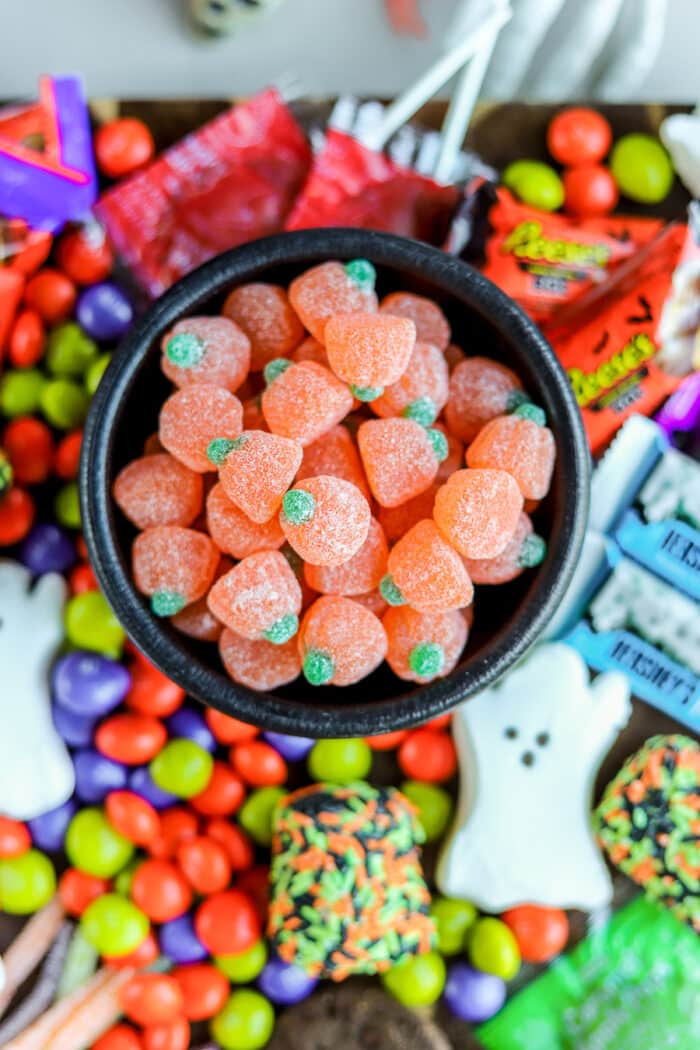 Other sweet treats to include for this dessert charcuterie?
You'll want to make sure you have not only different types of candies but also some other delicious Halloween-themed treats. Here's a list of other candies and sweet treats to include on a Halloween dessert board!
Halloween Cupcakes
Halloween Sugar Cookies
Gummy Worms
Halloween Oreos
Gummy Eyeballs
Candy Corn
Sour Patch Kids
Nerds Candy Corn
Skittles
Peach Rings
How much candy should you include?
It's hard to really measure the exact candy for a chocolate charcuterie board. Especially since the candy doesn't all come in the same-sized bags and whatnot. Here's a rough outline of what I would recommend.
Chocolate Candy - for a smaller board, buy 1 small variety pack, like the Hershey's Halloween Lovers Snack Size pack, that was perfect, I had about 3 pieces that didn't make it on this board. For a larger board, I would buy either 2 small variety packs or one large one.
Fruity Candy - similar to chocolate candy, I would buy 1 small variety pack or a variety of fruity candy like I did. I bought the Sour Patch straws, Ghost Peeps and orange pumpkin gummies. I always like to include one sour option when it comes to "fruity" candy.
Fillers - in my normal charcuterie boards, I always include nuts and dried fruit as "fillers." For this, I'll suggest you use M&Ms or Skittles as filler. You can buy both or choose one or the other, like me!
Cookies - no matter what size of the board, I recommend only choosing 1 cookie option.
Then any other Halloween favorites you find in the store, feel free to add! The fun thing about these, especially candy charcuterie boards, is the creative freedom.
In reality, it won't be the worst thing if you have some leftovers of your favorite Halloween candy. Alternatively, you can set plastic baggies out by the candy charcuterie board and have people make their own little treat bags to take home!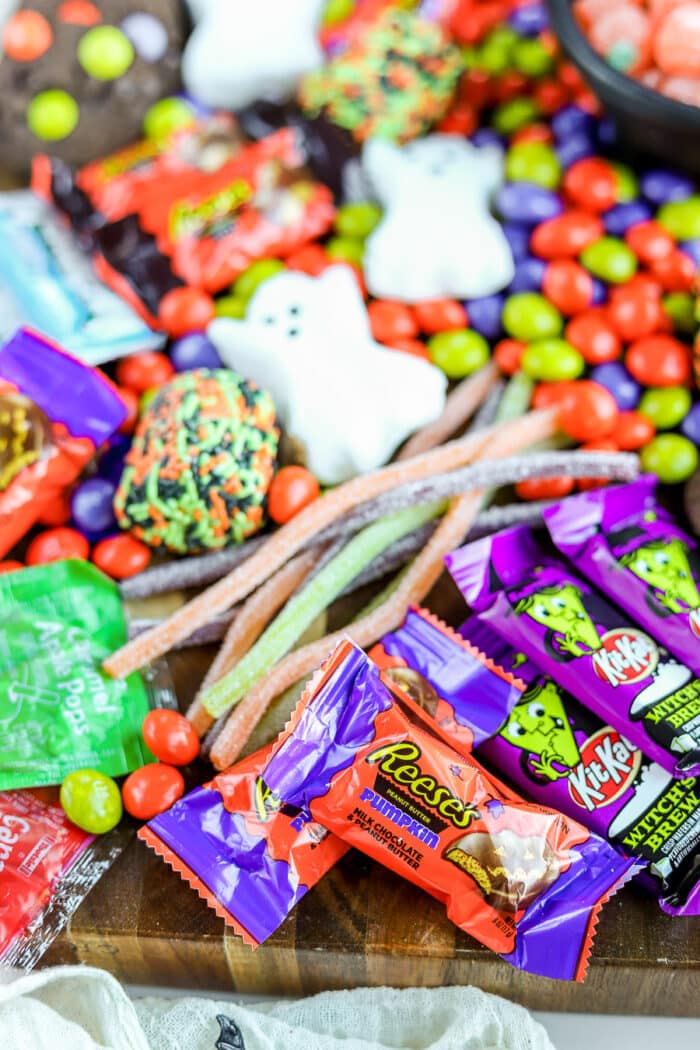 What type of board is best for a charcuterie board?
I always recommend a large wooden cutting board. Obviously, for a candy charcuterie, you're not cutting anything, but it's nice to have only one go-to charcuterie board! Target and TJ Maxx currently have some fun options for Halloween-themed serving trays.
Here are some helpful Amazon home finds you may want.
Pin it for later!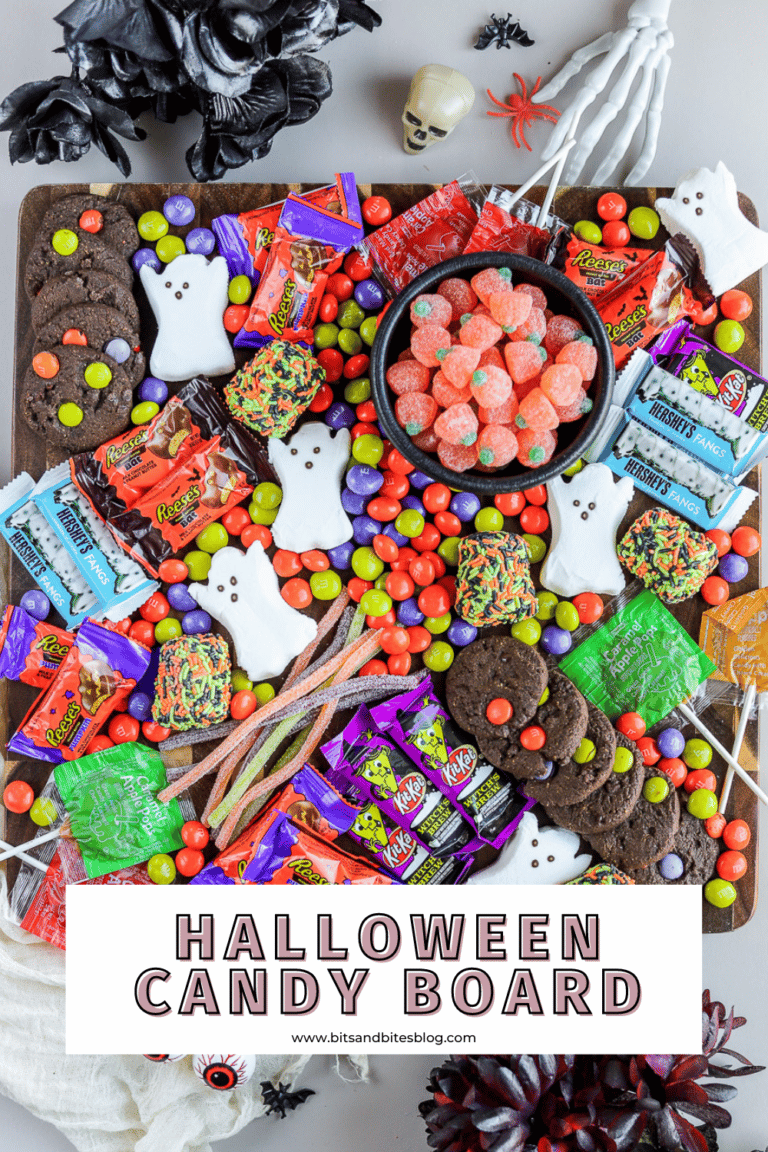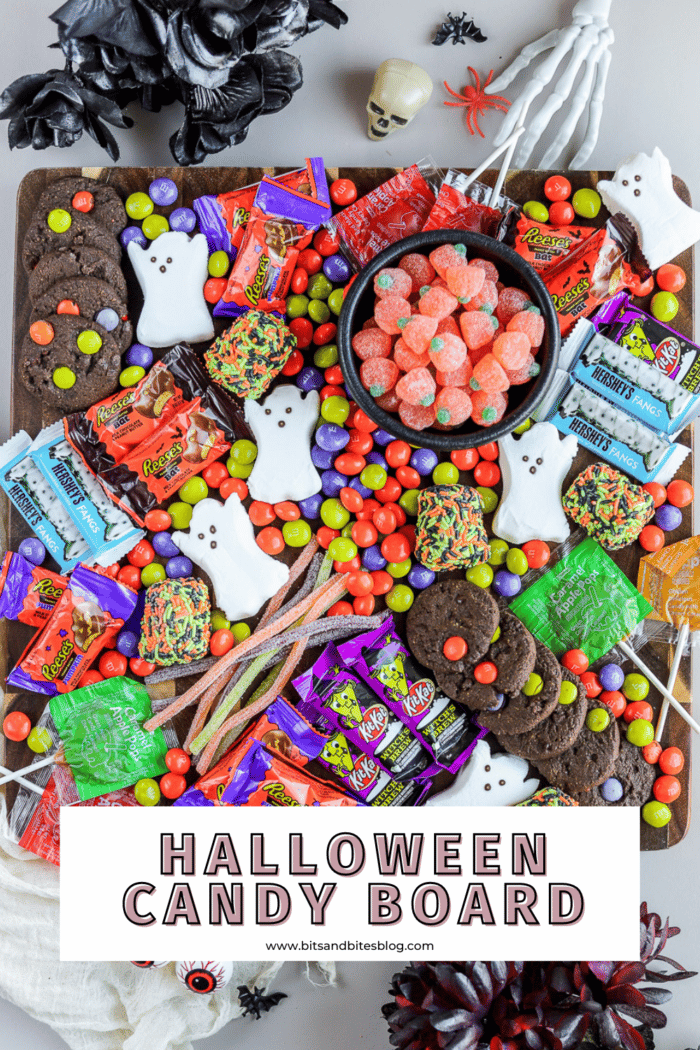 Want some more charcuterie board inspiration?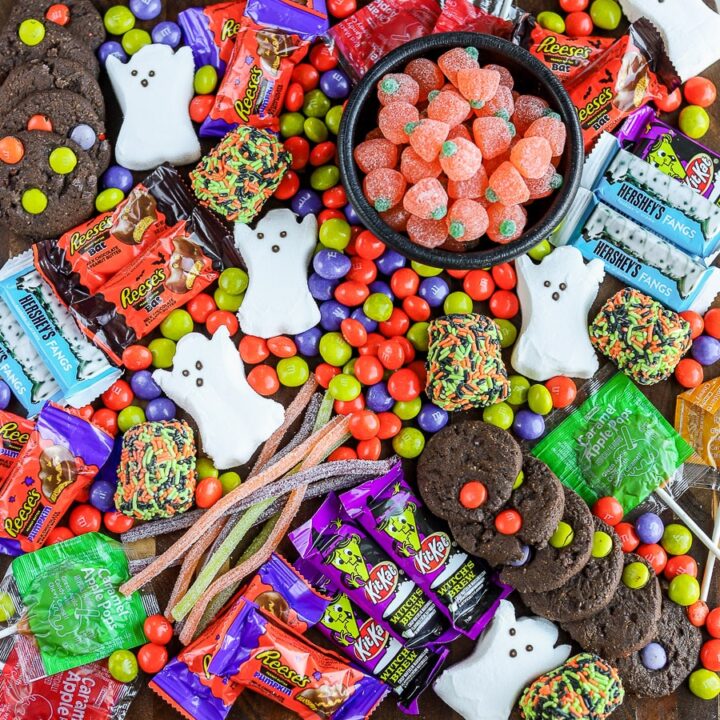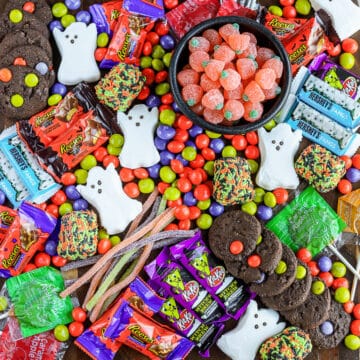 Halloween Candy Charcuterie Board
This Halloween candy charcuterie board is an adorable way to display candy for all your Halloween parties this year. It's a perfect dessert charcuterie board for the occasion.
Ingredients
Hershey's Halloween Lovers Snack Size Pack

Chips Deluxe with M&M Halloween Cookies

Peanut Butter M&Ms

Caramel Apple Suckers

Jet Puff Stuffed Puffs Marshmallows

Ghost Peeps

Sour Punch Straws

Gummy Pumpkins