I love a good summer charcuterie board. With fresh produce from farmer's markets and summer BBQs, they are such a simple summer appetizer to put together. Here's how to put together a summer charcuterie board.
This post may contain affiliate links, meaning I may earn a small commission when you click on the links and make a purchase. I will never recommend a product that I don't support 100%.
You'll love making this summer charcuterie board.
It's easy to make. No cooking is required! Gather all your favorite things and put them together to make the perfect charcuterie board for summer. There's truly no wrong way to make one.
It takes advantage of all the in-season produce. I love using all of the fresh fruits and veggies for this summer cheese board, I'm sharing some of my favorites below.
It's perfect for any occasion. Whether you're going to a pool party, backyard BBQ, 4th of July party, or anything in between, this is perfect for all summer gatherings!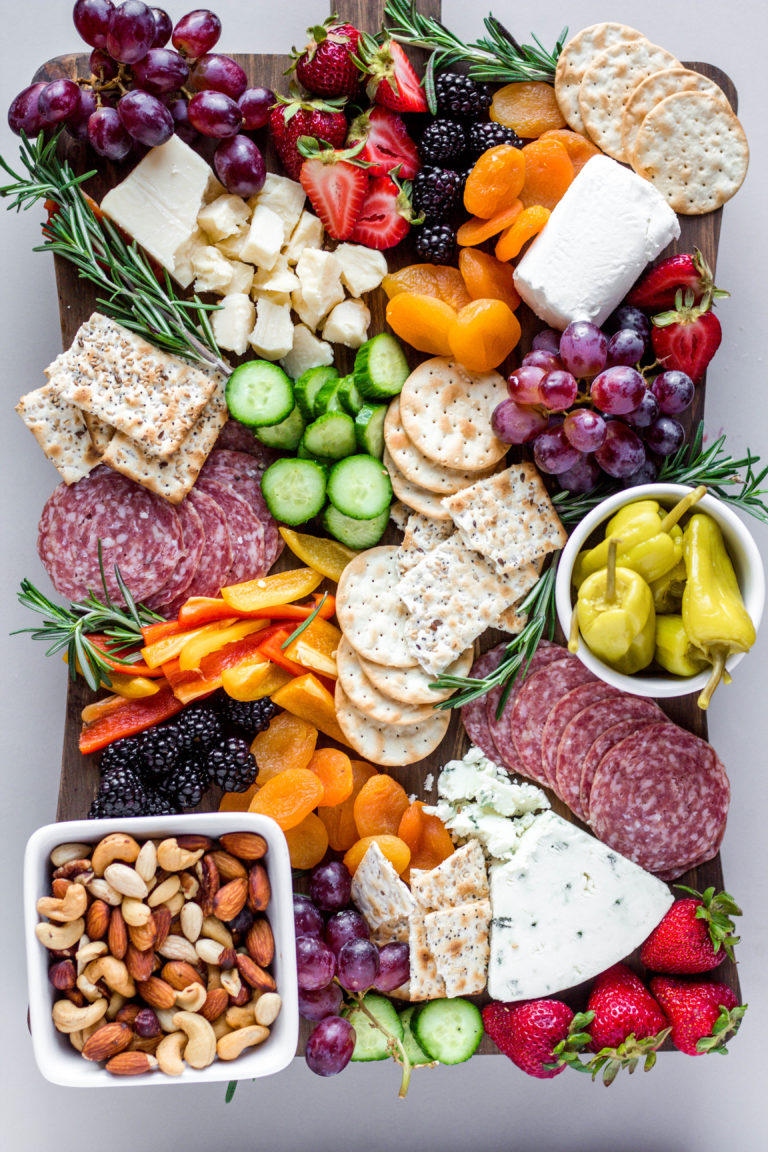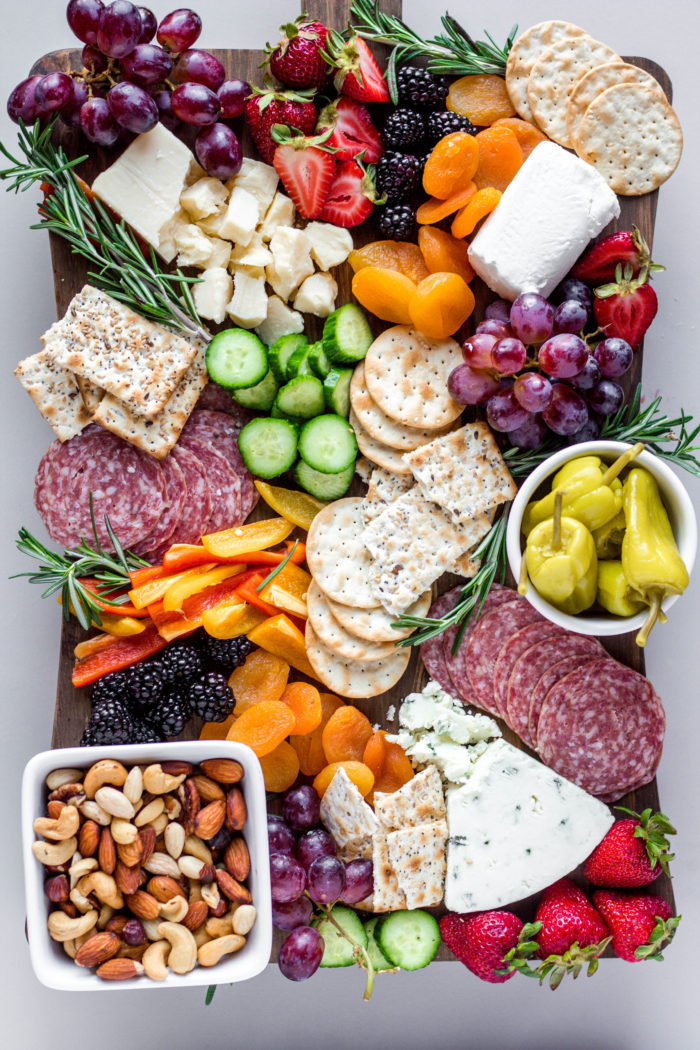 What Is A Charcuterie Board
​A traditional charcuterie board is a collection of dried cured meats and cheeses with some other goodies. However, the term "charcuterie board" has been broadened so much in recent years (like having a brunch charcuterie or a Halloween charcuterie) that it's really and truly up for your interpretation.
What Elements Make Up A Charcuterie Board
Cheese. You'll want to include a variety of cheeses, for a summer charcuterie board, some of my favorites are blue cheese, honey goat cheese, a wheel of brie, white cheddar, herbed havarti, or parmesan are all great options.
Meats. I feel like summer sausage is an absolute must, but proscuitto and salami are always great choices.
Produce. This is a great way to not only take advantage of seasonal fruits but also add a pop of color to your gorgeous charcuterie board. Peaches, apricots, and other stone fruit are always delicious, as well as strawberries, blueberries, or cherries. If you're looking to go the savory route, add in veggies like cherry tomatoes, celery, cucumbers, or carrots. Don't be afraid of dried fruit, either! That makes a great addition to any good charcuterie board.
Nuts. I always include a nut mix on my charcuterie board. It's a perfect way to fill any gaps at the very end of making your board.
Pickled Snacks. Think olives or pickles. I always include either one of those on a cheese platter.
Dips and Spreads. To really round out the pairing of everything, I love adding a jam, dip or spread on the board. Think fig jam, strawberry jelly, spicy honey, hummus, or tzatziki.
Crackers. I love plain old buttery crackers for a charcuterie board, baguette slices, or pita chips are another great option.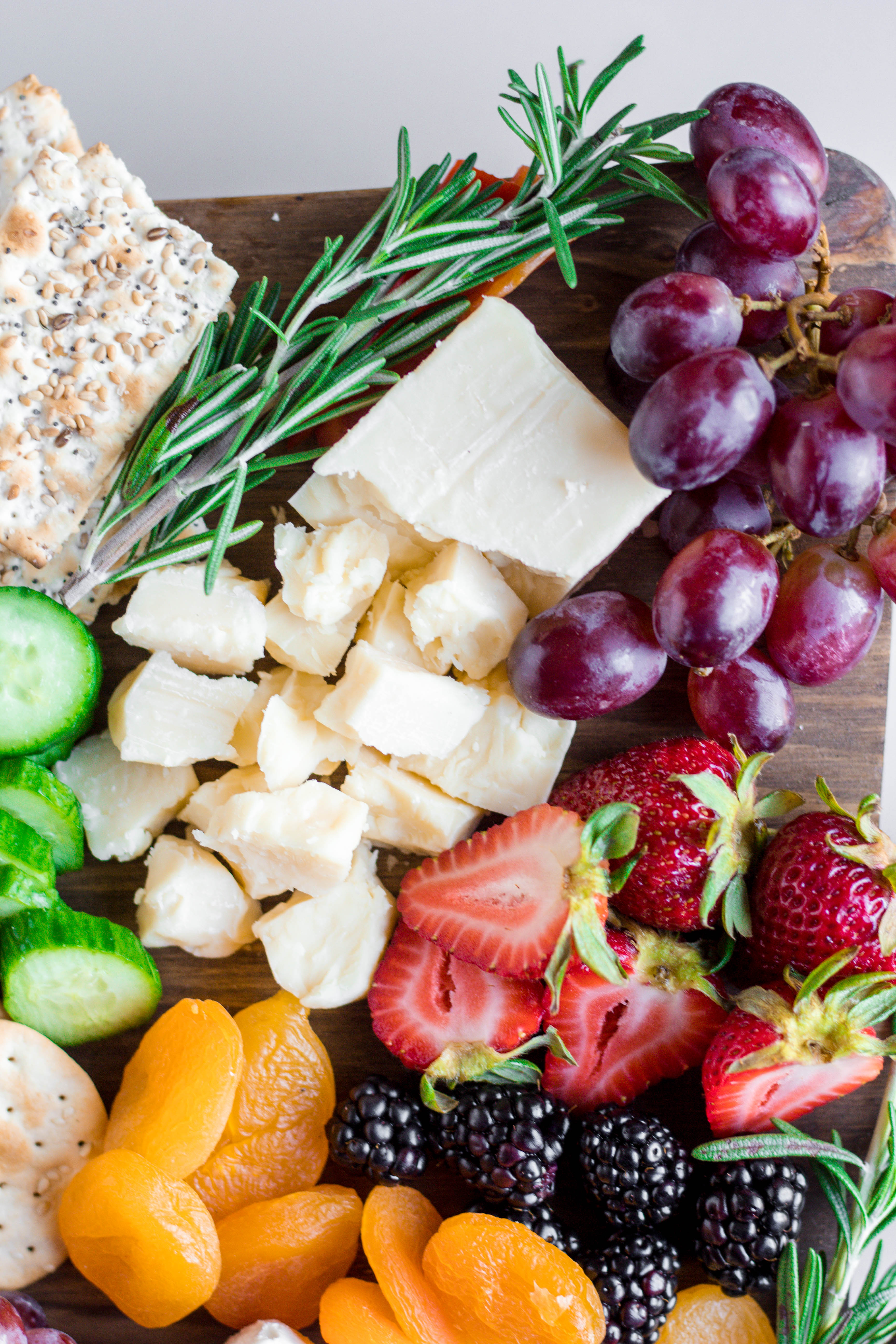 How to Create the Perfect Summer Charcuterie Board
​Here's my step-by-step guide for building the most gorgeous summer charcuterie board.
The first step is arranging your variety of cheeses since these will probably be the larger items on the board. I like to put the different types of cheeses in the corners of the board to serve as sort of "anchor" points for everything else and that way the different cheeses can be arranged with other items that they pair well with. I typically like to go with 1 soft cheese, 1 semi-hard cheese, and 1 hard cheese.
Next, I arrange the meat products. Knowing there is really no "wrong" combination of meat and cheese, I always make sure to add a few slices next to each cheese.
After that, I arrange any dips/spread or anything that needs to be served in a container like small bowls or jars.
After you have the foundation of your typical charcuterie board, now is the "coloring" part, as I call it. Add all your favorite summer fruits and garden-fresh veggies throughout your board. Always be sure that the fruits and veggies are washed, sliced (if necessary), and ready to consume. The produce is what really makes it a beautiful charcuterie board. I like pairing sweet fruits with cheeses like brie, goat, or cheddar. Fresh vegetables pair with just about anything but I love them by an herbed havarti, cheddar cheese or manchego.
Next, fill in the gaps with your favorite crackers. I never worry too much about putting too many on a charcuterie plate, you can always reload as needed!
Finally, it's time to fill in any and all gaps with nuts. This is such an easy way to top off your board and really make it look full and bountiful.
​With those simple steps, you'll be on your way to building the best summer charcuterie board!
Types of Cheeses for a Summer Board
Soft Cheeses:​ feta, brie, ricotta camembert, or blue cheese
Semi-Hard Cheeses:​ gouda, cheddar, havarti, provolone, or manchego
Hard Cheeses:​ parmesan, asiago, or pecorino.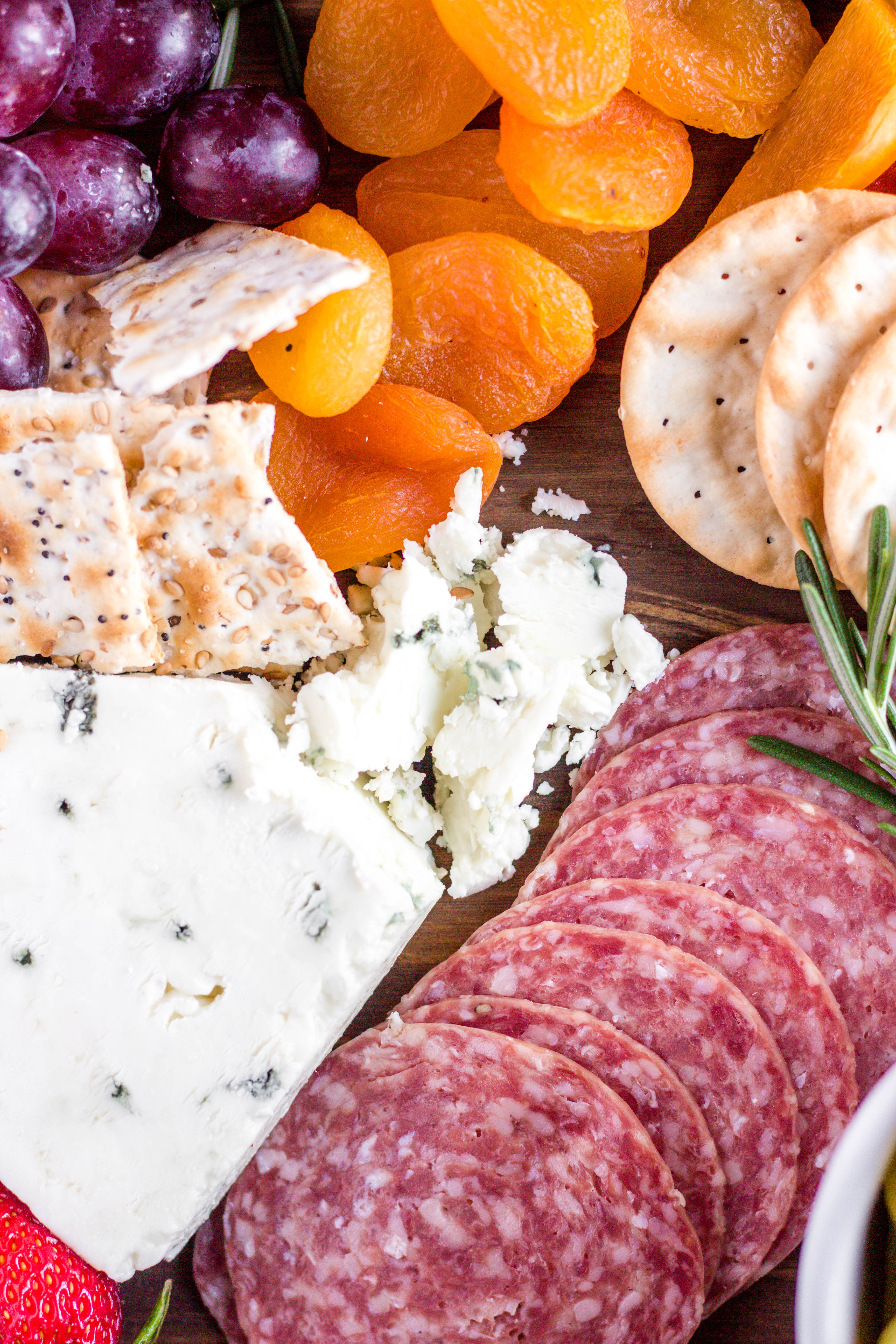 Charcuterie board ideas and tips
Here are the best tips for creating this easy summer charcuterie board.
Odd numbers.​ Work in odd numbers to give your board a more organic feel.
Edible flowers. ​If you really want to up your charcuterie board game, try edible flowers or fresh herbs to bring in some color and additional organic elements.
Make a list, and check it twice. The last thing you want when you're making a charcuterie board is to forget something. So, make an organized list and be sure to get everything in one grocery run.
FAQ
What are summer cheeses?
Goat cheese, brie, cheddar, gouda, and parmesan are all cheeses that pair great with in-season produce.
How long is a charcuterie board good for?
​Do not leave a board out for longer than 2 hours.
Amazon charcuterie board finds
You'll want a wooden charcuterie board. I prefer wood over marble, I just like how things cut better on a wooden board.
​I love having cheese knives to go with the cheeses, so each cheese gets its own knife and each knife is made to cut each cheese in the best possible way.
Pin it for later!