This easy sausage and rice one pot casserole is one of my favorite weeknight meals to make. There is plenty of servings in this sausage and rice recipe, so whether you're cooking for two and want leftovers as an easy meal prepping idea or you're looking for a healthy dinner idea for the family, this is it.
WHAT KIND OF SAUSAGE SHOULD I USE FOR THIS ONE POT SAUSAGE AND RICE RECIPE?
That's the great thing about this recipe, that is entirely up to you! Any pre-cooked sausage, for example, Amylu has a wide selection of chicken sausages. You just want to make sure that it's not entirely "raw" like how you may buy Italian Sausage.
There are lots of different pre-cooked options so you can make this into a pork sausage and rice recipe or an Italian sausage and rice recipe. I personally love using andouille sausage or kielbasa. I find the flavors are perfect for the chili seasoning that's used.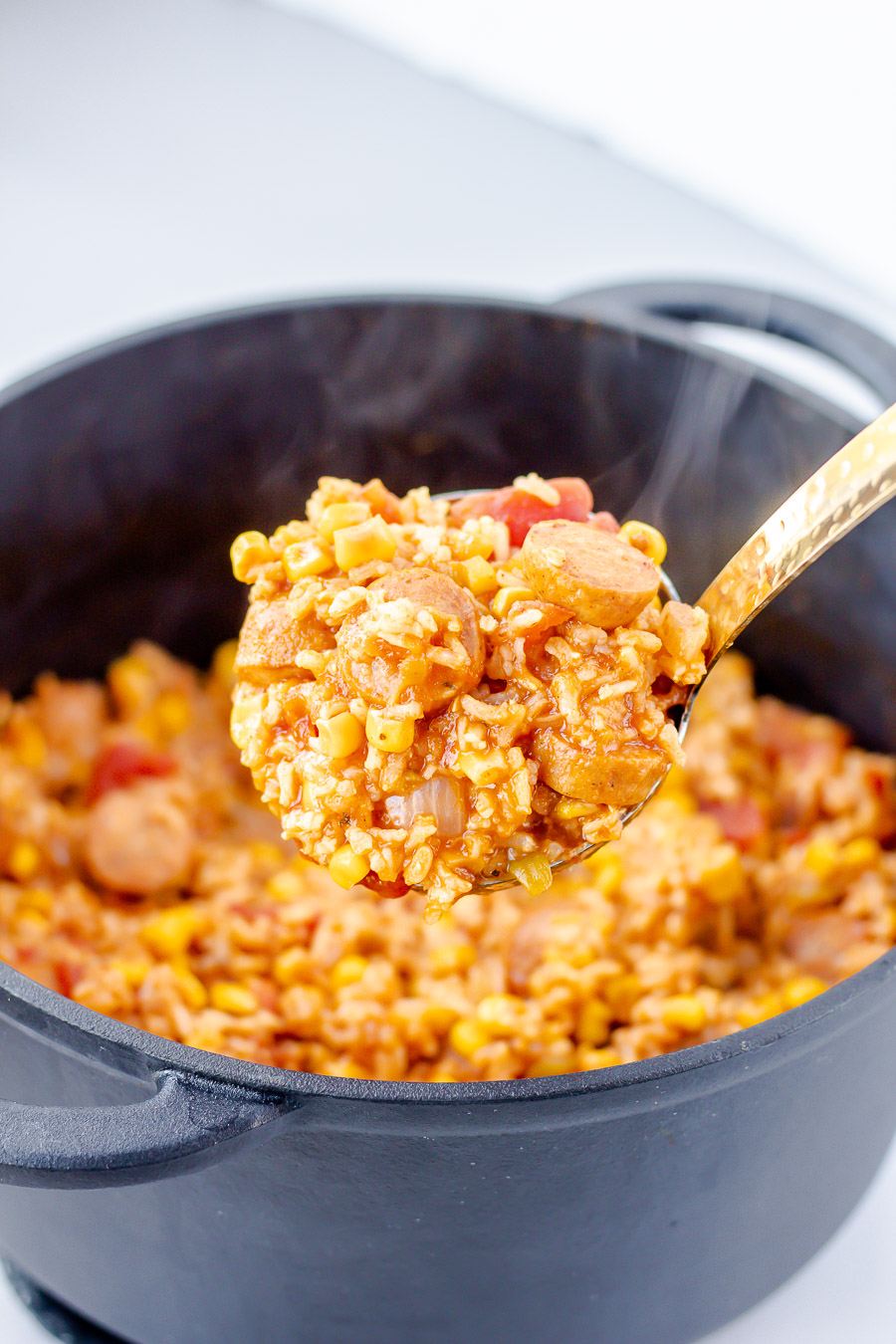 CAN I MAKE THIS AS A SAUSAGE AND RICE SKILLET RECIPE?
Yes! You absolutely can make this as a sausage and rice skillet recipe. Just be sure that you have a lid that fits whatever skillet you're wanting to cook in.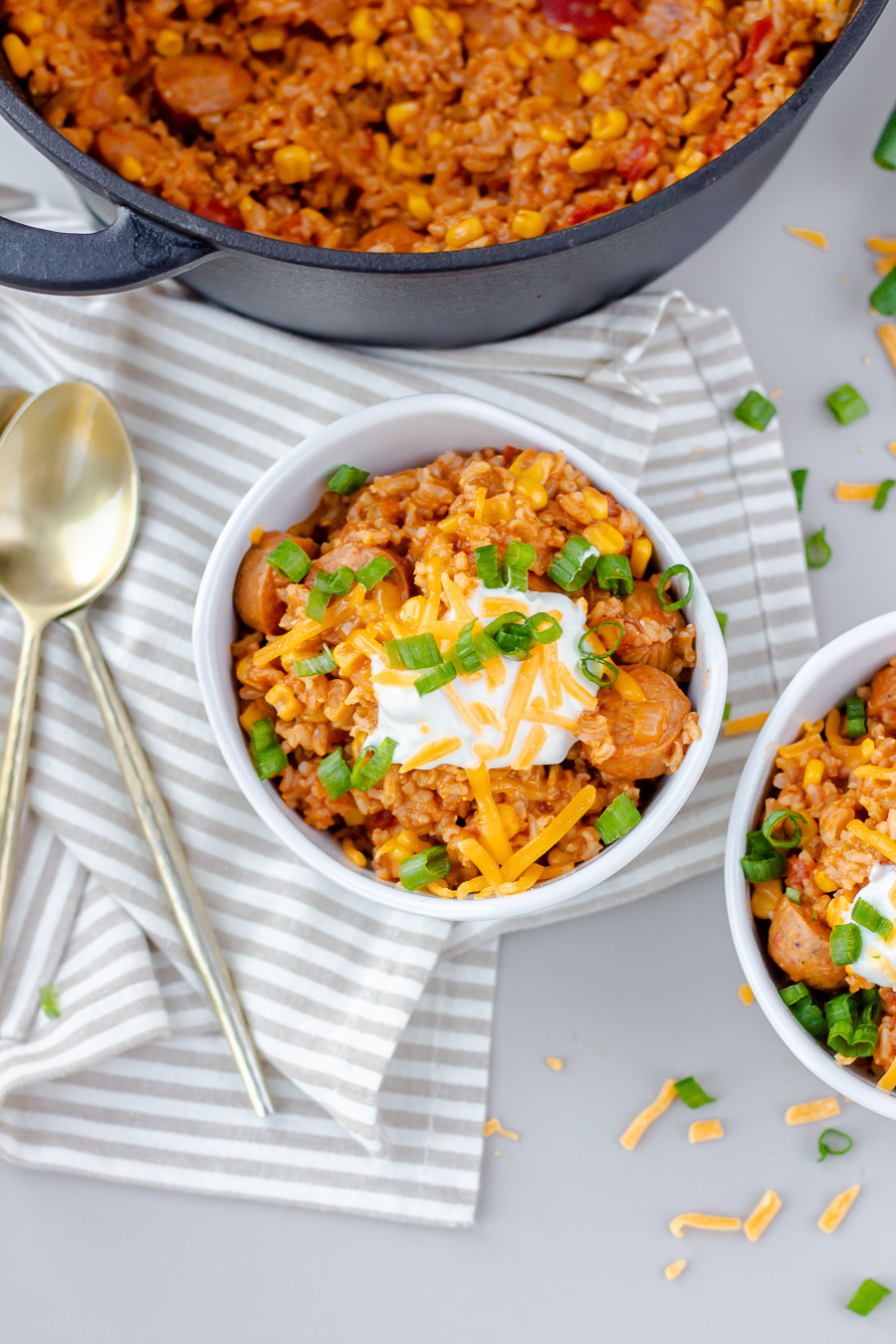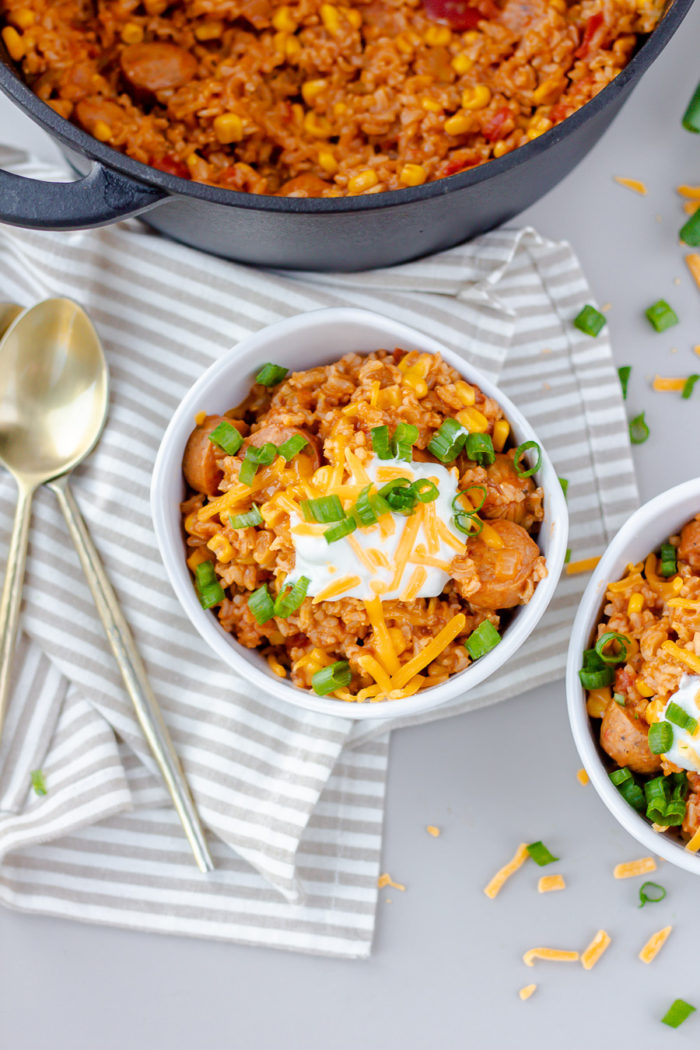 WHAT VEGETABLES CAN I INCLUDE IN THIS EASY SAUSAGE AND RICE CASSEROLE?
In my recipe, I have onions, corn, and a can of fire-roasted diced tomatoes. However, you can also include green, red, or yellow peppers, a jalapeno if you want to spice things up, or a can of green chiles. Those are the only vegetables that I've added while making this easy sausage and rice casserole, and they're all so good!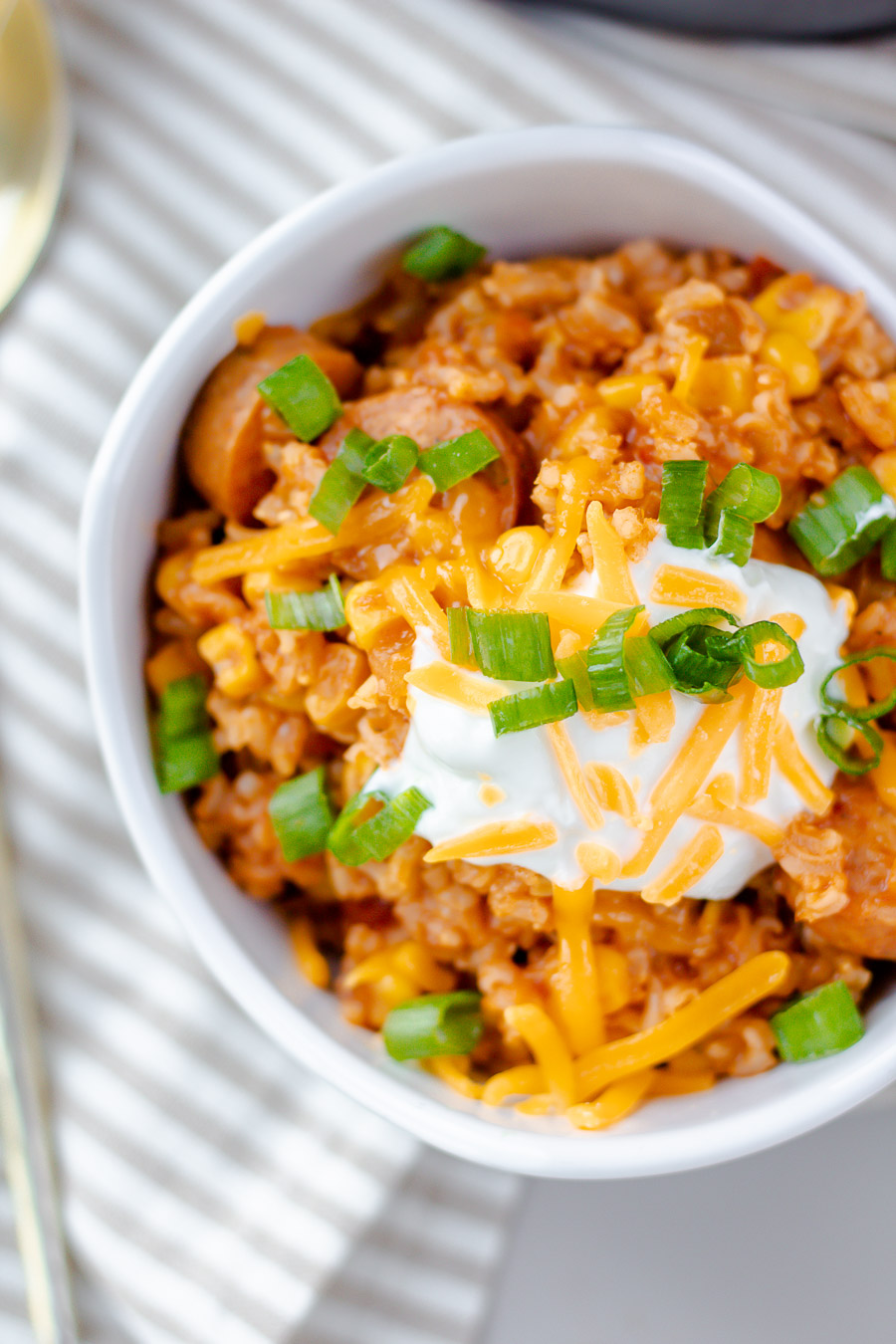 INGREDIENTS + VARIATIONS
1 Onion
2-3 Cloves Garlic
2 tbsp Olive Oil

substitution: any butter or oil you prefer to cook with

1 can of Corn, drained
2 tbsp Tomato Paste
1 14.5 oz. can Fire Roasted Diced Tomatoes

substitution: you can sub for regular diced tomatoes if you cannot find or you do not have fire-roasted

1 Package (should be around 11 oz) Pre-Cooked Sausage
2 cups Chicken Broth

substitution: you can also use beef or veggie stock if that's what you have on hand

Seasonings: Chili Powder, Cumin, Paprika, Oregano, Salt & Pepper
1 cup Brown or White Rice

substitution: you can cook whatever rice/quinoa you prefer

Topping Options: Greek Yogurt, Sour Cream, Shredded Cheddar Cheese, Green Onion, Cilantro, Diced Onions.
DIRECTIONS
In your cast iron dutch oven, heat up your 2 tbsp of oil. Dice your onion and mince your garlic. Pour your onion and garlic into the pan and over medium heat, cook until your onions are translucent. About 5 minutes.
Add in your corn and stir.
Add 2 tablespoons of tomato paste and stir until well mixed and caramelized. The tomato paste will turn a darker red that's how you know!
Add in your 1 can of diced tomatoes and your chicken sausages (sliced.)
Add in your seasonings. Start with 1 tsp paprika, 1 tsp cumin, 1 tbsp chili powder, and 1 tsp of pepper. Wait to add the salt since broth brings such a salty component, I always salt my soups, chilis, etc. at the end.
Add in 2 cups of chicken broth and 1 cup of rice.
Bring to a boil over medium-high heat, uncovered.
Once it is boiling, cover and cook for 20-30 minutes until all the chicken broth has been absorbed.
I like to top mine with Greek Yogurt and shredded cheddar cheese.
WANT MORE EASY WEEKNIGHT DINNER IDEAS?
YOU CAN PIN THE RECIPE, HERE!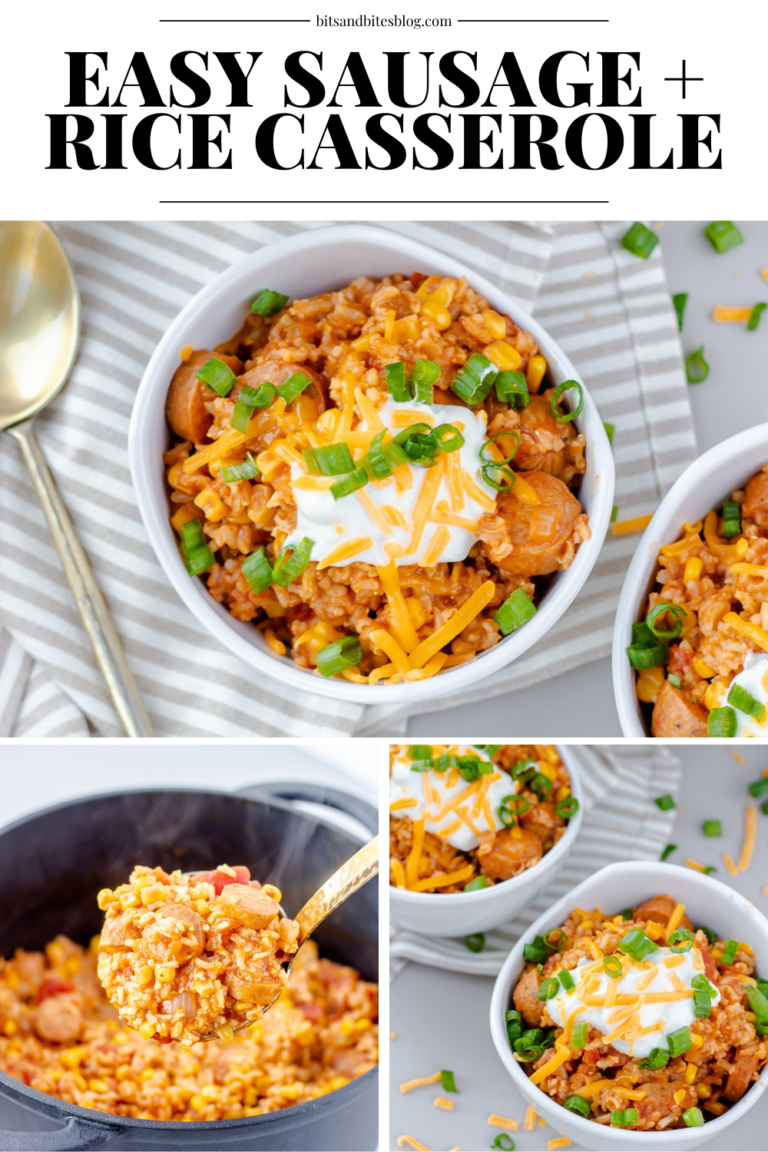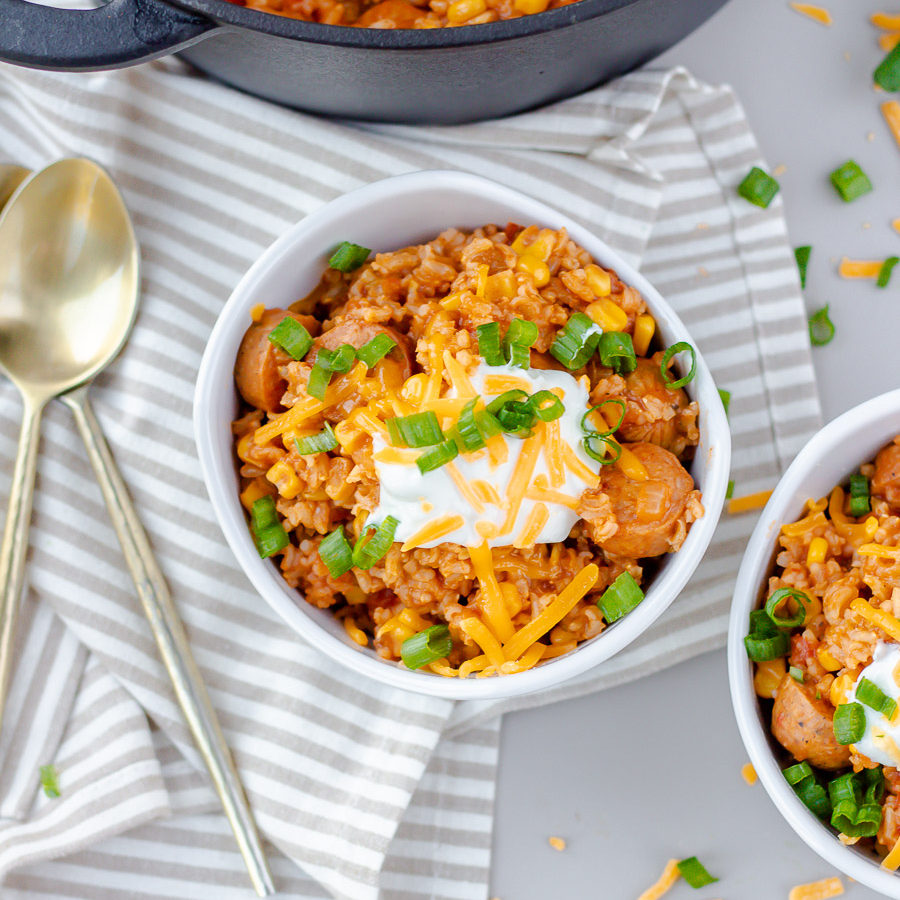 EASY SAUSAGE AND RICE ONE POT CASSEROLE
This easy sausage and rice one pot casserole will soon be your favorite weeknight meal. It's cozy and it's such an easy healthy dinner recipe!
Ingredients
2

tbsp

olive oil

1

yellow onion

diced

2

cloves

garlic

1

can

whole kernel corn

drained

2

tbsp

tomato paste

1

14.5 oz. can

fire-roasted diced tomatoes

1

tsp

paprika, cumin, oregano + black pepper

1 tsp EACH

1

tbsp

chili powder

2

c.

chicken broth

1

c.

brown or white rice

uncooked

salt

to taste
Instructions
in a dutch oven or large skillet, heat your oil and saute you onions + garlic over medium heat. Once your onions are translucent, add in your drained corn.

Stir together, then add in your 2 tbsp of tomato paste. Mix until caramelized, aka until the paste turns a darker color. Should be 2-3 minutes.

Add in your diced tomatoes and sliced chicken sausage along with your seasonings.

Mix well and stir in your chicken broth + rice.

Bring to a boil over medium-high heat, uncovered. Once it's boiling, cover your pot and cook for 20-30 minutes, until the rice is fully cooked and the chicken broth is absorbed.

I like to top mine with greek yogurt, cheddar cheese and scallions, but top with your favorites and enjoy!