This easy stir fry sauce without cornstarch is such an easy homemade sauce for a quick veggie-packed weeknight dinner.
This post may contain affiliate links, meaning I may earn a small commission when you click on the links and make a purchase. I will never recommend a product that I don't support 100%.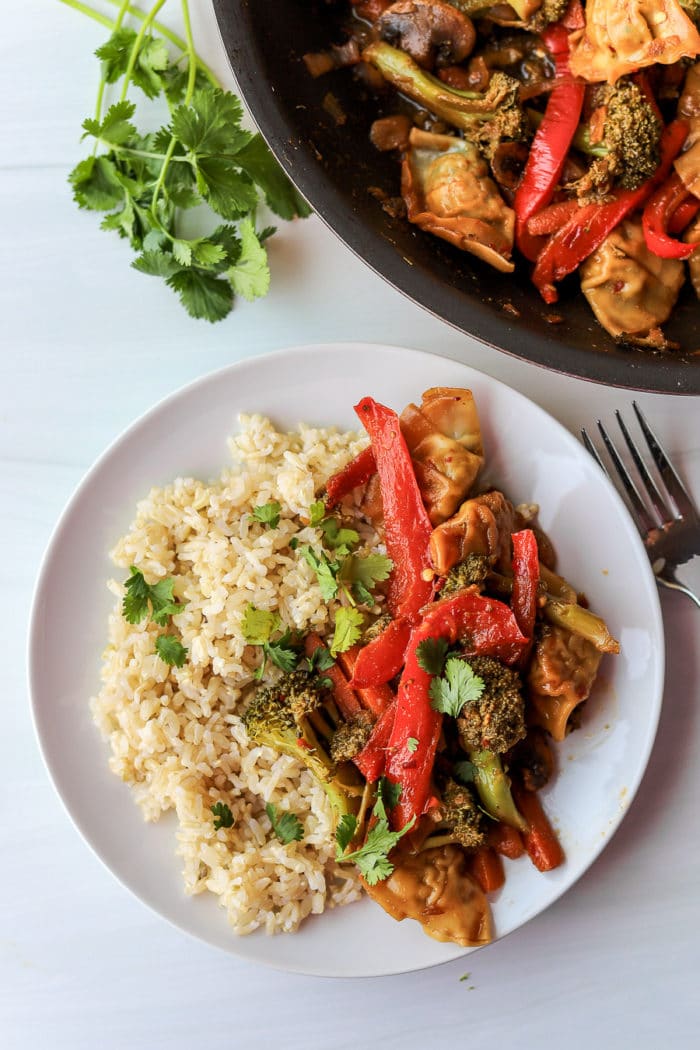 Jump to:
You are going to love making stir fry with this easy stir fry sauce without cornstarch.
It's only 6 ingredients. I'm going to guess at least 5 of the 6 ingredients are all pantry staples, too. If sesame oil isn't in your cabinet, I highly recommend purchasing it. It adds such a great nutty flavor that traditional neutral oils, like avocado, don't.
It's SO flavorful. I like my stir fry with a bit of spice, so that's why you see the amount of red pepper flakes as you do. This homemade sauce adds so much flavor to your stir fry veggies.
It's a fool-proof recipe. When you're not playing with cornstarch, there's truly no way to ruin this recipe. You don't have to worry about making it too thick, over boiling the cornstarch, you'll get the best stir fry every time.
Do I need cornstarch for stir fry sauce?
No! You absolutely don't. I don't use cornstarch in this recipe. I recommend pouring the sauce in when you start cooking the noodles so it really cooks into the veggies and you aren't left with a super runny sauce.
However, if you do have it and like a little thicker of a sauce, mix 1 tbsp hot water with 1 tbsp corn starch and incorporate it right at the very end.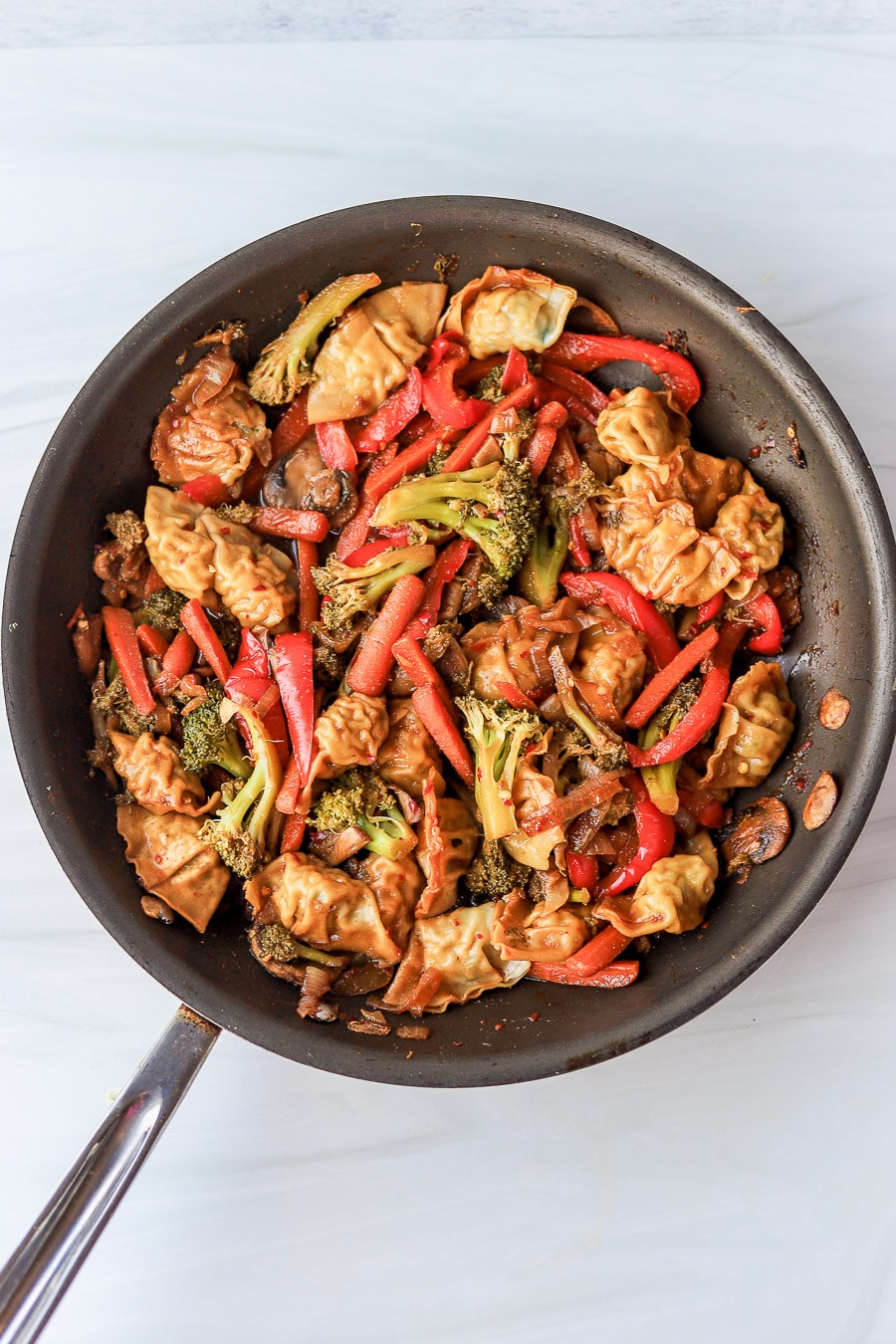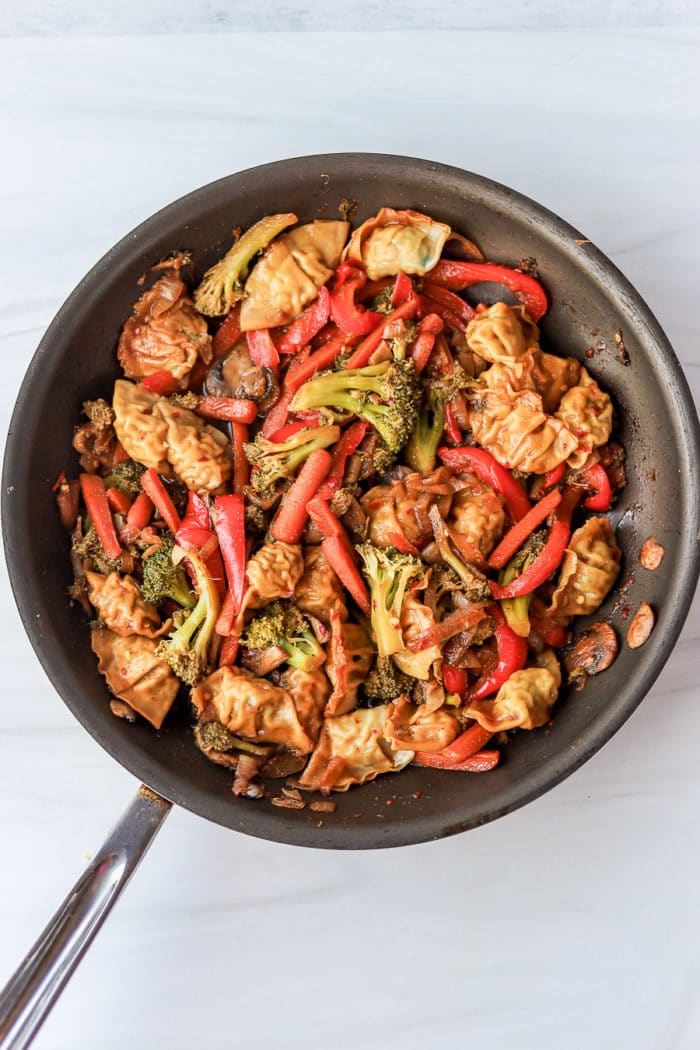 What can I add to stir fry for flavor?
There are truly so many things you can add to stir fry for flavor. Here's a list of some of my favorites. This recipe does not call for all of these ingredients, but it is always fun to play with flavors once you get confident in making your own homemade stir fry sauce.
Soy Sauce, of course.
Garlic
Ginger
Red Pepper Flakes
Sriracha
Oyster Sauce
Rice Vinegar
Sesame Oil
Basil
Lime
What should I add to my stir fry?
This is totally up to you. If you're busy and looking for a truly easy dinner recipe, I recommend buying a bag of frozen stir fry veggies. Costco has a massive bag that I always love keeping in the freezer. I use about 5 cups of veggies, and then I incorporate about a pound of protein like chicken.
Here are some fresh and/or canned stir fry vegetable ideas.
Broccoli
Onion
Red, Yellow or Green Pepper
Mushrooms
Sugar Snap Peas
Green or Purple Cabbage
Carrots
Green Beans
Mini Corn
Water Chestnuts
Additionally, here are some of my favorite proteins to add to stir fry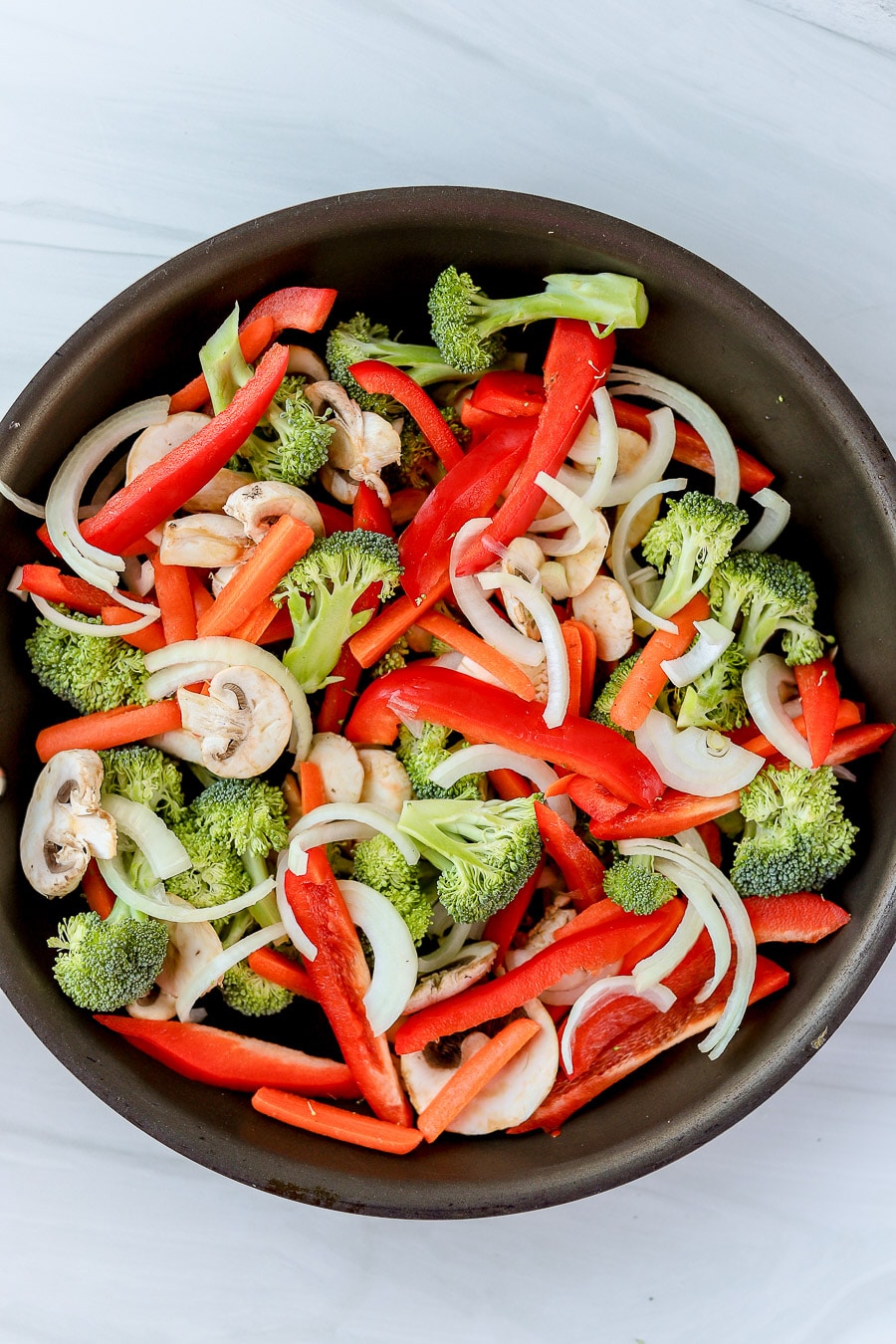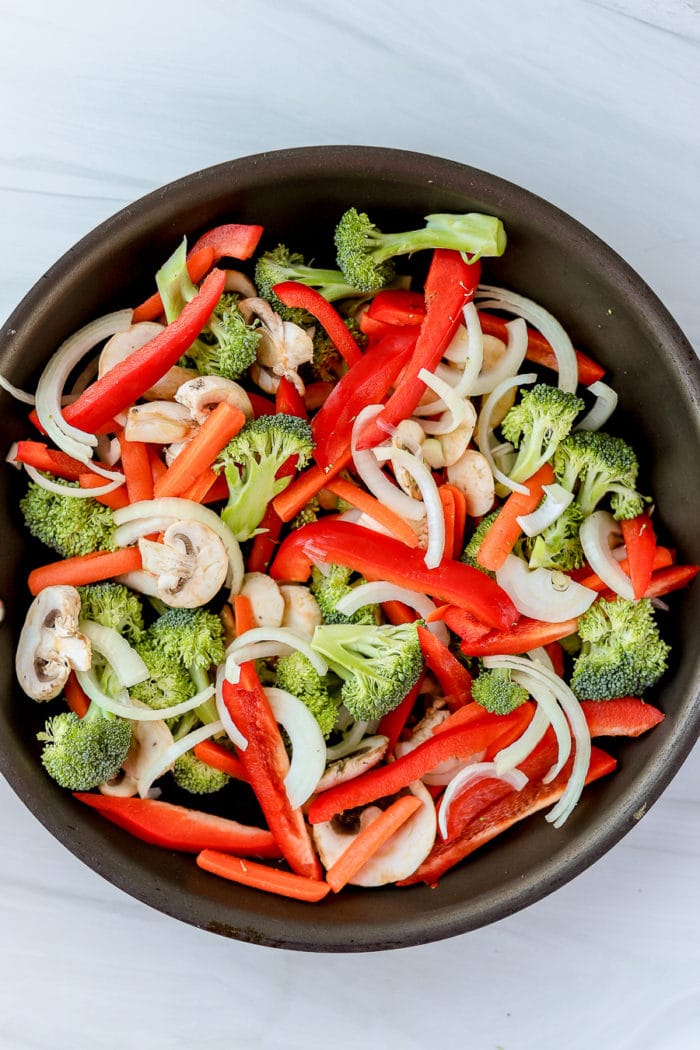 Easy stir fry sauce ingredients
Here's what you'll need to make this easy homemade sauce recipe.
Soy Sauce - you can use whatever brand you like. If you prefer low-sodium, that works, too! Alternatively, if you're gluten-free you can use options like Tamari or Coconut Aminos.
Fresh Lime Juice - if you don't have limes, you can use oranges, too. However, I highly recommend having limes for this recipe.
Granulated Garlic - if you want to use fresh garlic, don't let me stop you! I like suggesting granulated garlic since it's more shelf-stable.
Ground Ginger - again, if you have or prefer to use fresh ginger, you can absolutely use that, too.
Red Pepper Flakes - or truly any spice agent you'd prefer to add. If you want to swap out red pepper flakes for Sriracha, go right ahead.
Sesame Oil - if you don't have sesame oil, you can use any oil. However, sesame oil adds such a nice, nutty flavor, I highly recommend purchasing for any future recipes.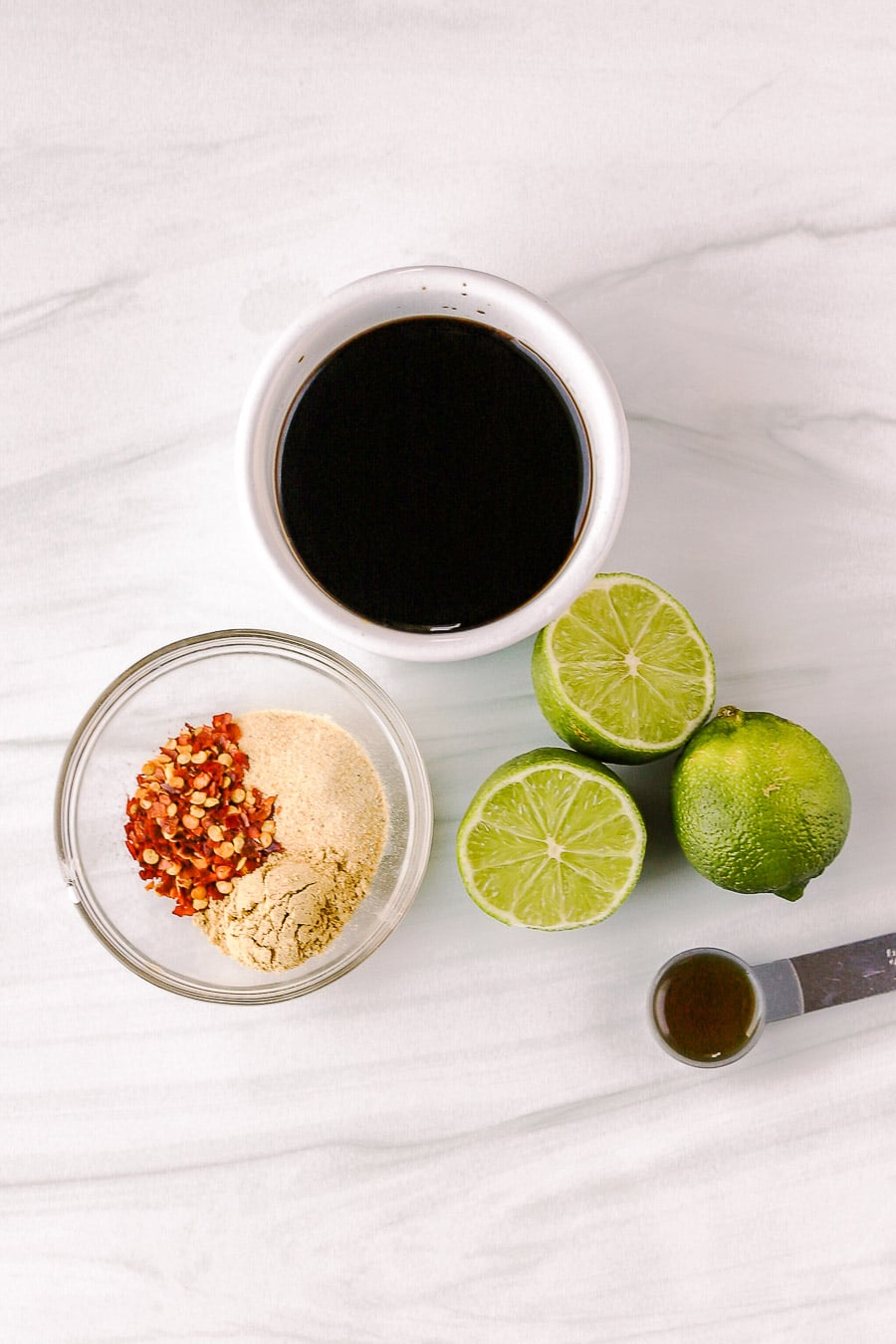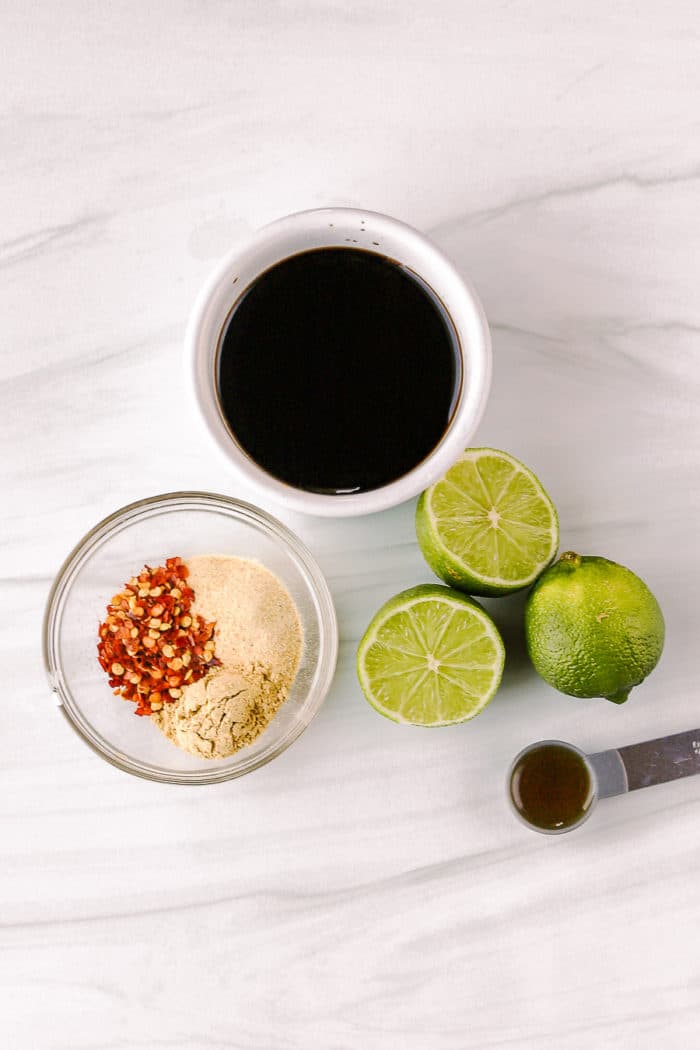 How to make stir fry sauce from scratch
When I say this truly can't get any easier, it truly cannot.
In a mixing bowl or large measuring cup add all your ingredients.
Give it a good whisk.
Pour over your stir fry veggies and let the sauce cook with the veggies.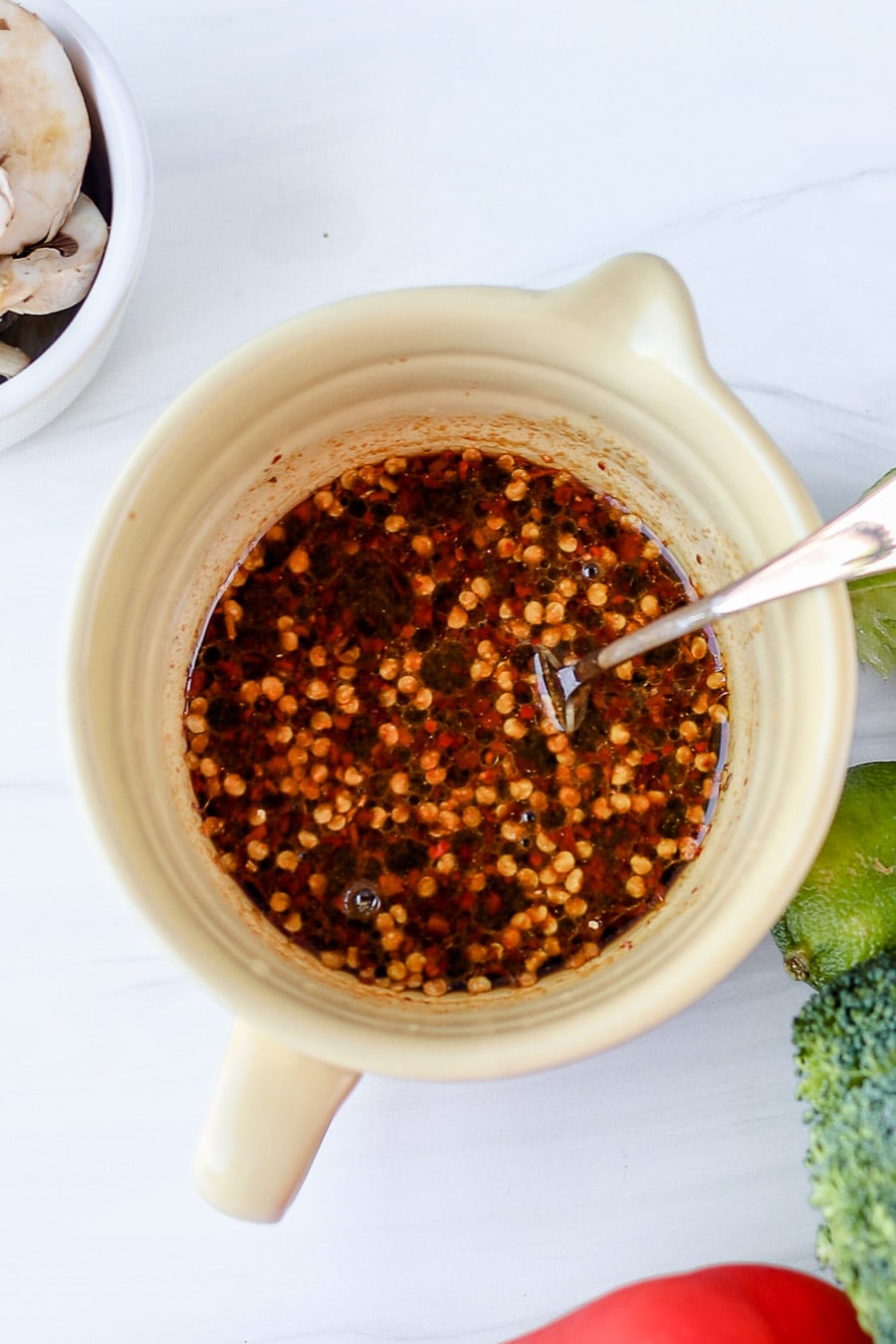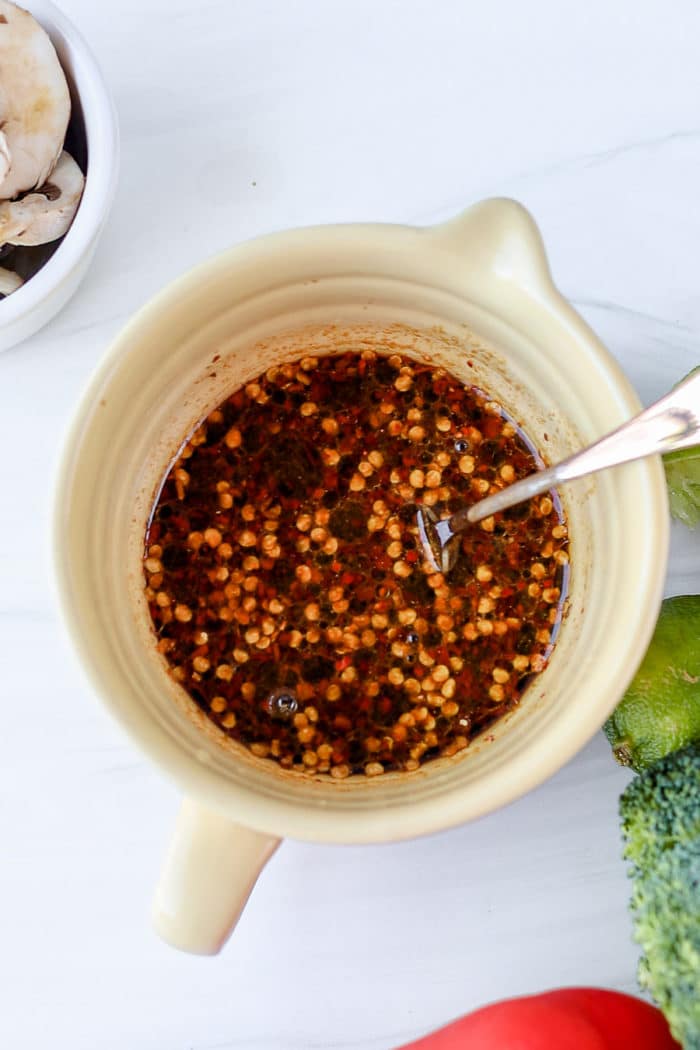 Here's what you'll need to make this easy stir fry sauce.
Glass Measuring Cup - having a lip on the bowl you're mixing the sauce in makes sure that there's no spillage and extra mess happening.
Mini Whisks - seem useless, but they're actually incredibly useful in the kitchen!
Cast Iron Wok - if you really want to take your homemade stir fry to the next level.
Other commonly asked questions...
What can I use instead of soy sauce?
There are a couple options, if you're gluten-free or trying to avoid soy you can use Tamari or Coconut Aminos.
Can I make stir fry sauce gluten-free?
Yes! Simply use Tamari or Coconut Aminos.
Can I make this a low sodium stir fry sauce?
Yes! You can either use low-sodium soy sauce or use ¼ cup soy sauce and ¼ cup water.
How many servings does this make?
This serves about 4-5 adults.
How should I store this sauce for later?
I recommend storing it in the fridge in a mason jar.
Pin it for later!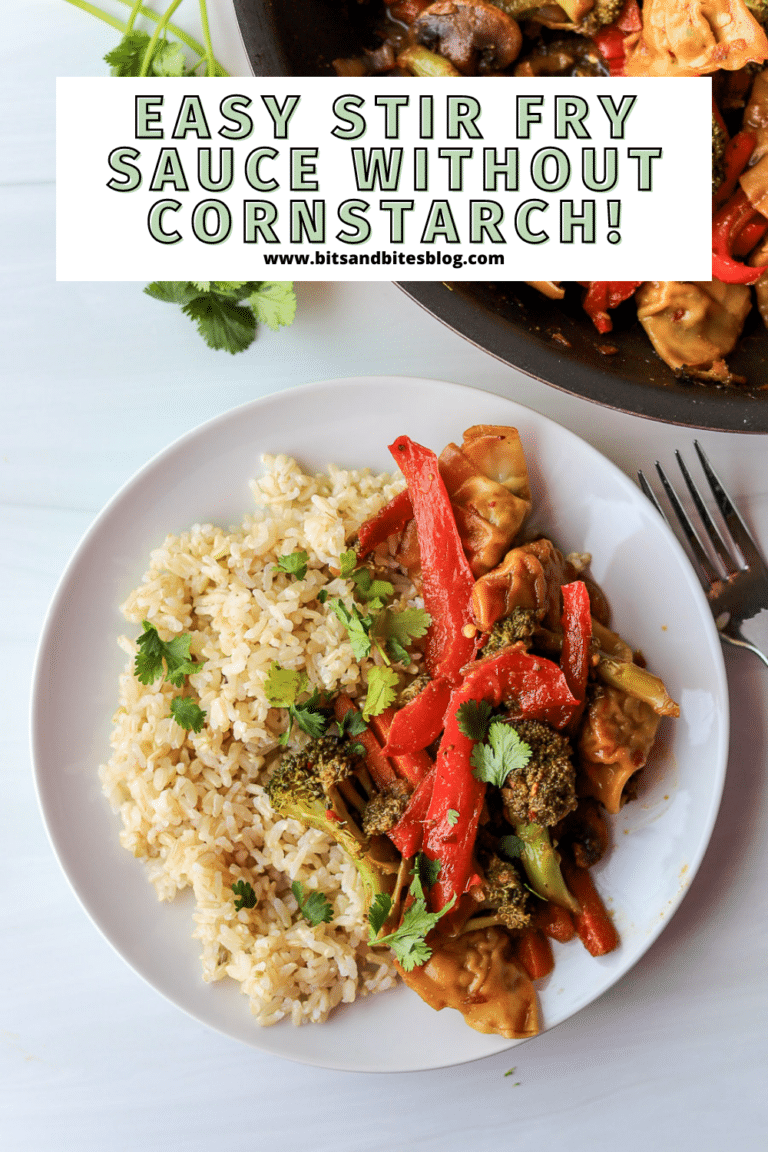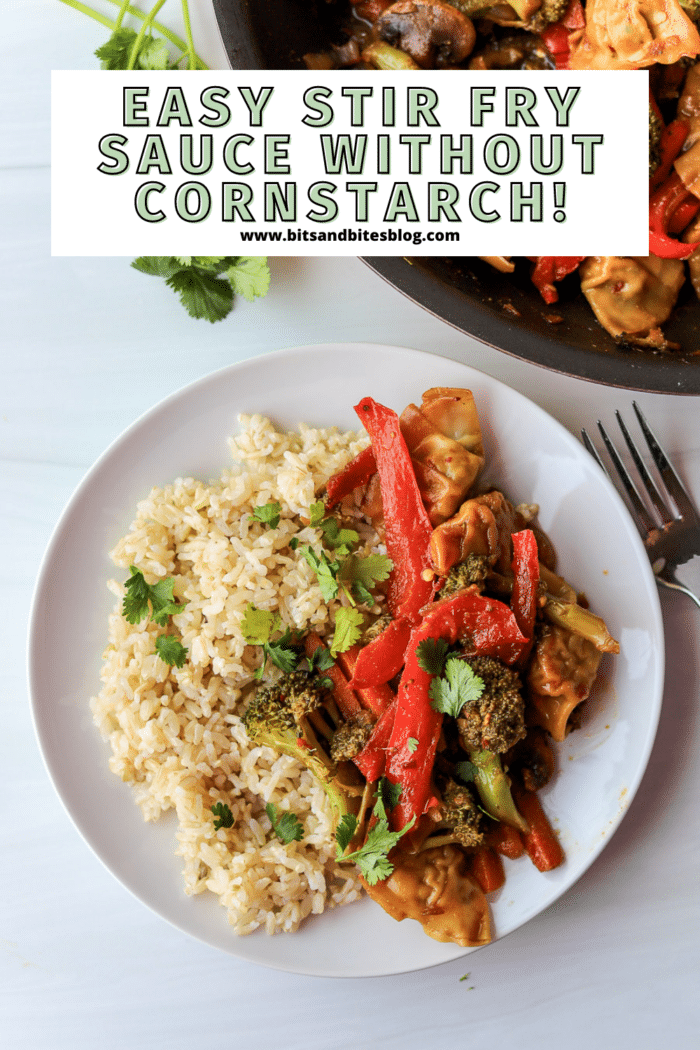 Want more easy dinner recipes?
Sausage and Rice One Pot Casserole
Spicy Chicken Curry with Greek Yogurt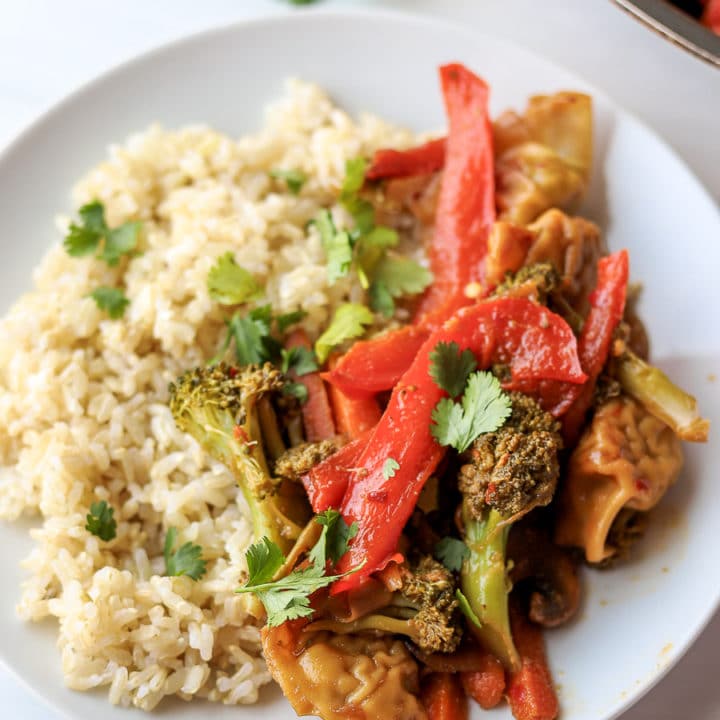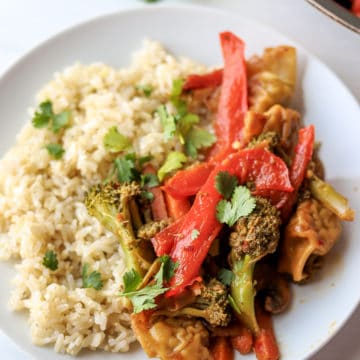 Easy Stir Fry Sauce without Cornstarch
This easy stir fry sauce without cornstarch is such an easy homemade sauce for a quick veggie-packed weeknight dinner.
Ingredients
½

c.

soy sauce

1

tbsp

garlic powder

or 2-3 fresh cloves, minced

1

tsp

granulated ginger

or ½ inch ginger, grated

½

tsp

red pepper flakes

1

lime

juiced

2

tbsp

sesame oil

optional, 1 tbsp for the sauce 1 tbsp to sautee your veggies + protein
Instructions
In a mason jar, pour in all your ingredients. Secure the lid and shake until combined.

Cook your favorite stir fry recipe + enjoy!