These cheeseburger bowls are one of my favorite dinner recipes. I've been making these regularly for years, and if you haven't tried these healthy burger bowls, you will absolutely include them in your weeknight dinner recipe rotation.
This post may contain affiliate links, meaning I may earn a small commission when you click on the links and make a purchase. I will never recommend a product that I don't support 100%.
You'll love these cheeseburger bowls
It's easy to make. These burger salads require almost no cooking, and very little prep time, which is just another reason why this is one of my favorite meals to make when I need something quick and flavorful.
They're delicious. I don't know about you, but I love cheeseburgers, and even though these are burger bowls, you still get all the flavors of a burger.
They're versatile. You can include all of your favorite burger toppings, from bacon to red onion, and anything else, I've included some variation ideas for you below!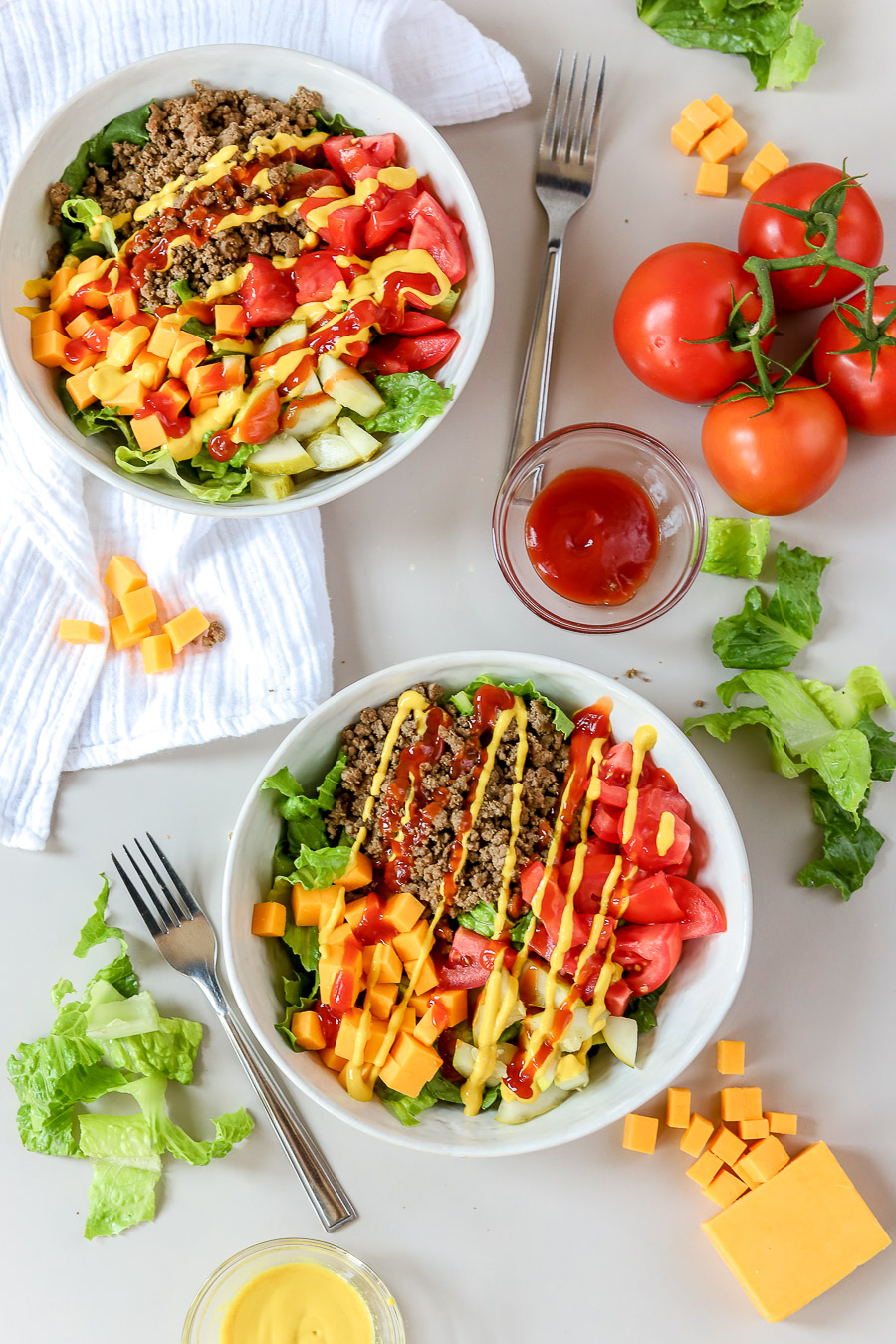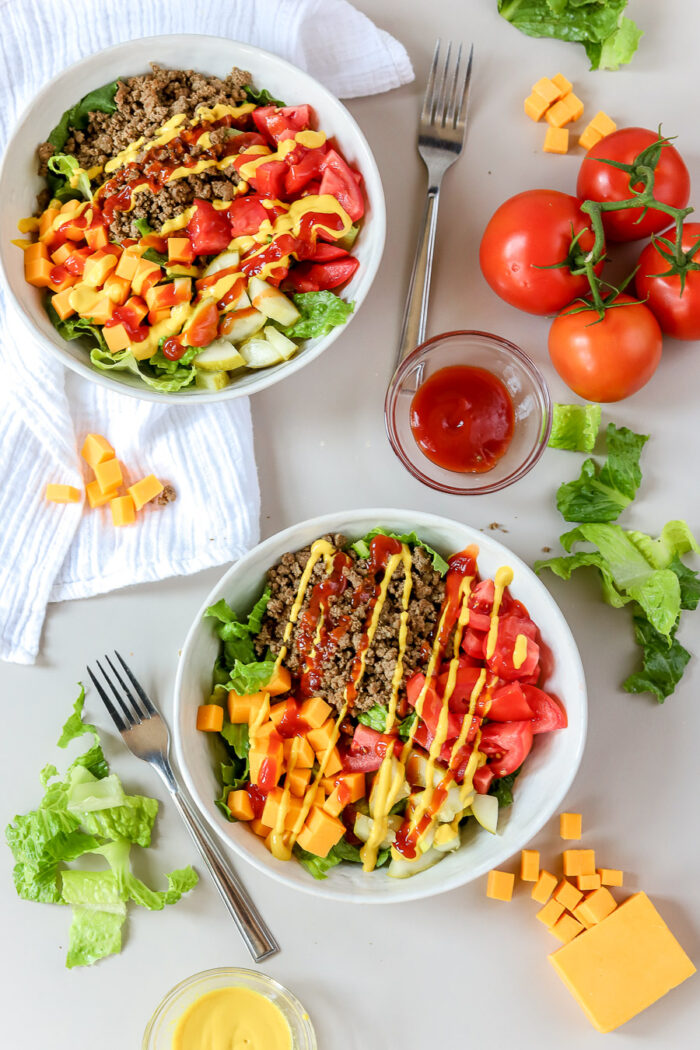 Are these cheeseburger bowls healthy?
Yes, they are! I use lean ground beef for these loaded burger bowls, but you can use whatever ground meat you prefer.
Ingredients
Lean Ground Beef. I buy organic 96/4 ground beef from the grocery store, but you can use whatever ground beef you prefer, or even other ground meats like ground chicken or turkey. I opt for cooking the ground beef in a frying pan and making ground beef crumbles, however, you can cook ground beef patties and place the patties on top of this cheeseburger bowl recipe, too.
Romaine Lettuce. This will be the base of your salad, you can use romaine lettuce, spring mix, or whatever greens you'd prefer.
Tomatoes. I love a sweet, juicy tomato on top of my burger, so of course, I'm going to include these in my burger bowl.
Dill Pickles. Similar to tomatoes, I love pickles, and they are absolutely necessary on top of a burger, in my opinion.
Onions. Pick your favorite onions and dice them up small and include some in your bowl.
Cheese. I like cheddar cheese, but you can use your favorite cheese!
Ketchup. What's a cheeseburger without some ketchup?
Mustard. Mustard is one of my favorite condiments, so I absolutely included some in this bowl.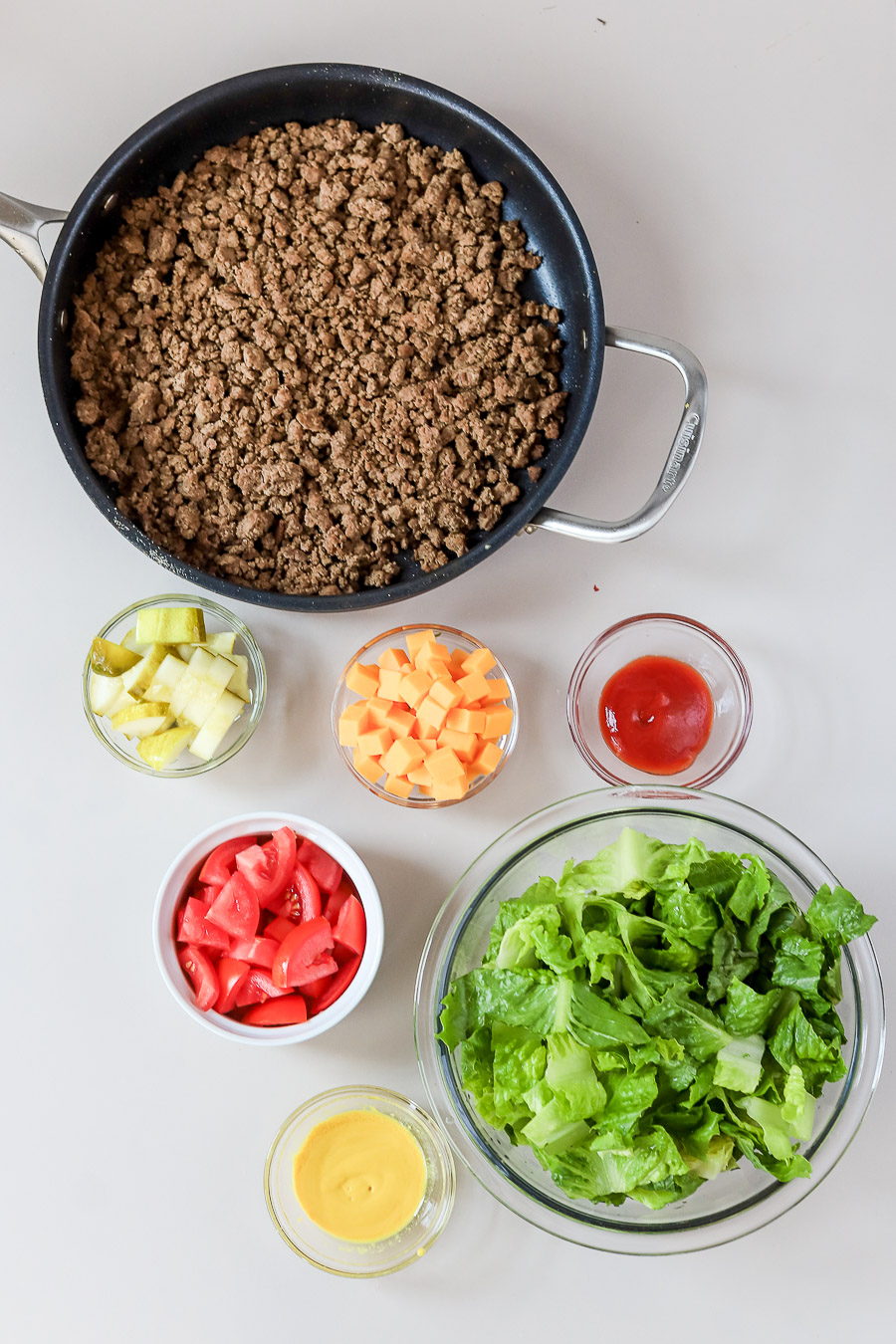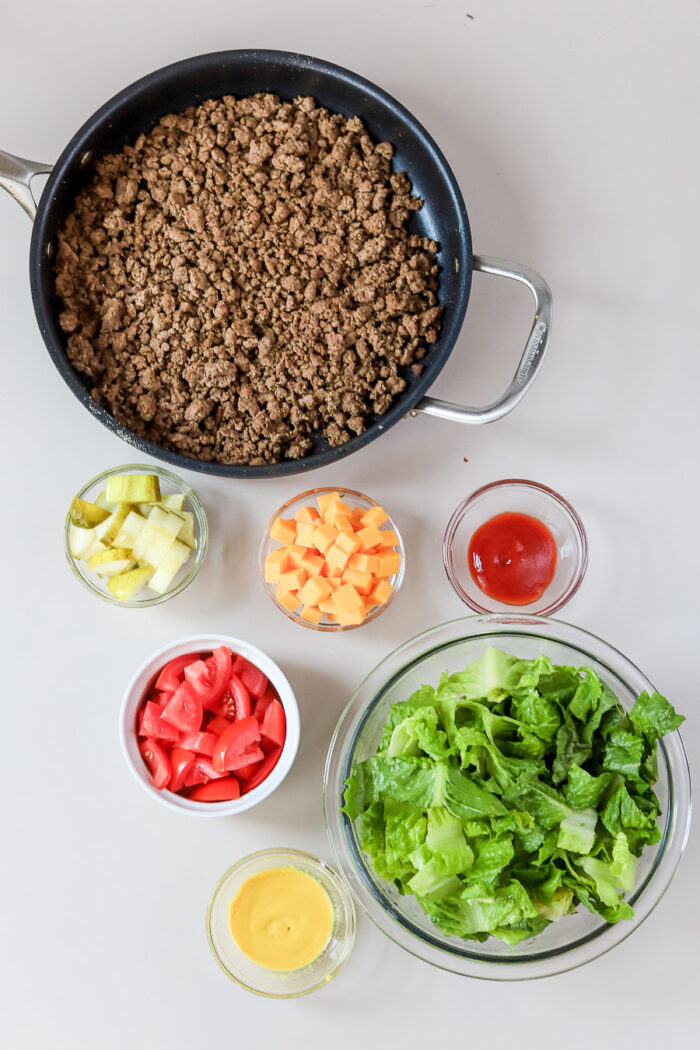 Seasoning your ground beef for burgers
You'll want to be sure to season your ground beef whether you're making these low carb burger bowls or regular cheeseburgers. Here's what I recommend for the best seasoning combo for the most flavorful ground beef.
Garlic Powder
Onion Powder
Worcestershire Sauce
Salt
Black Pepper
How to make cheeseburger bowls
In a large skillet, cook your ground beef over medium-high heat with the suggested seasonings above.
While your ground beef is cooking, prep your ingredients by slicing and dicing the produce, cheese, and any other toppings.
Drain your cooked ground beef of any fat, and assemble your bowls: lettuce, ground beef, tomatoes, onions, pickles, cheese, ketchup, and mustard.
Enjoy!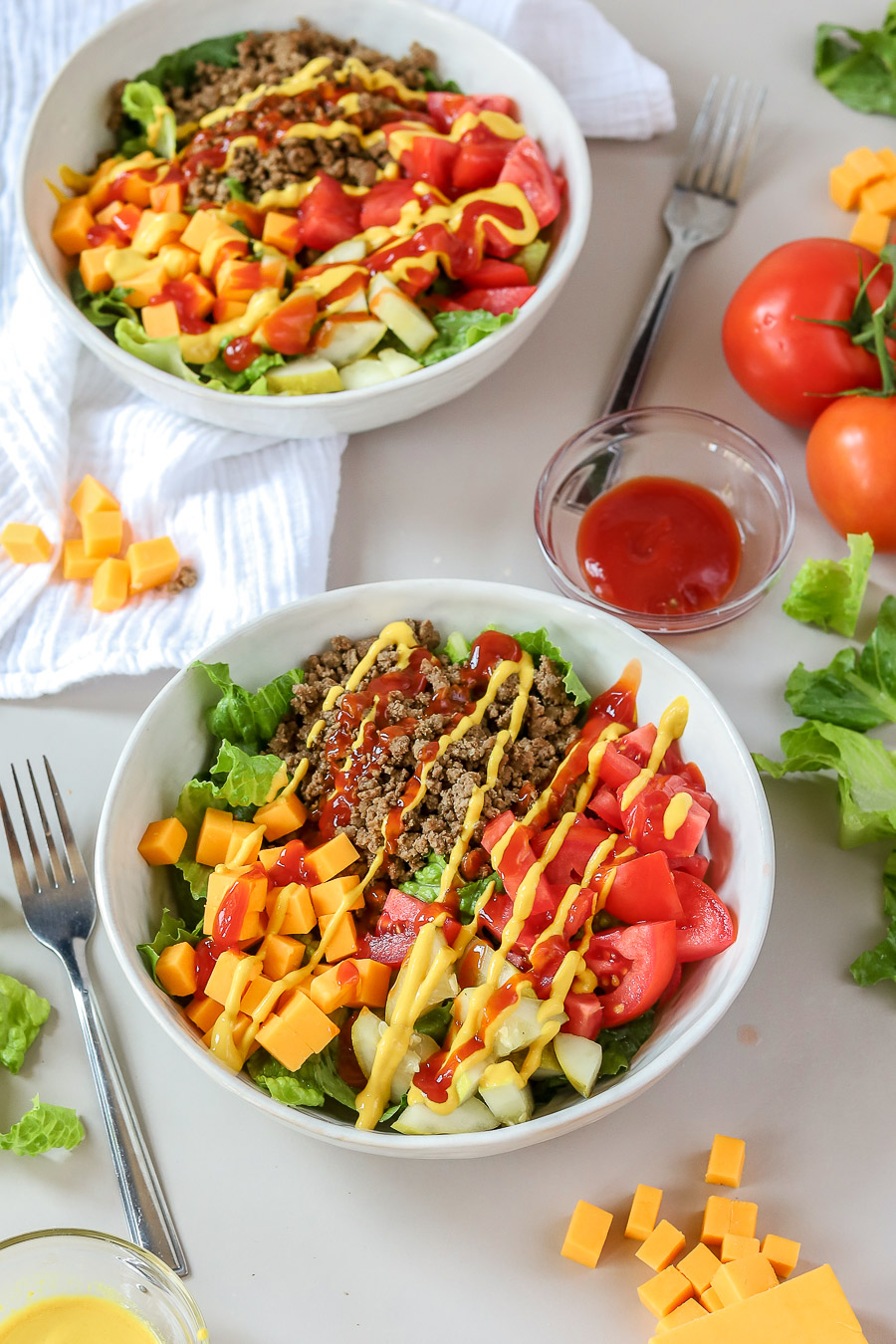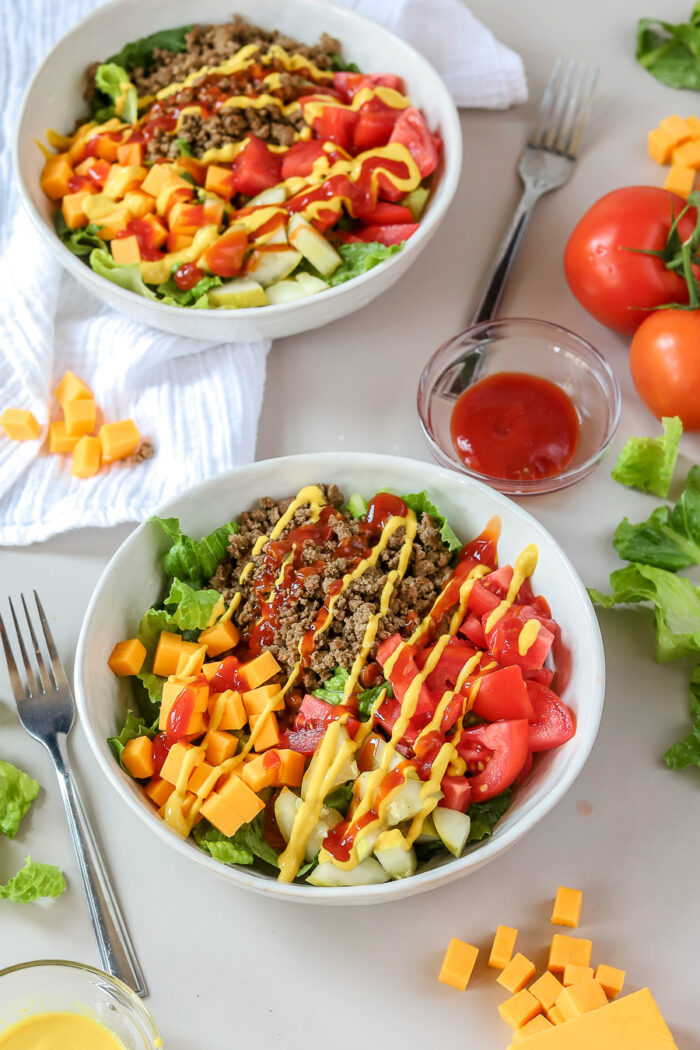 Substitutions and variations
Bacon Cheeseburger Bowls. Love a good bacon cheeseburger? Add some diced crispy bacon to the top of your bowl.
Special Sauce. You know "the" burger sauce? Big Mac sauce? Shake Shack sauce? You can easily make this into a Big Mac salad with some homemade burger sauce. All you need is ¼ cup mayo (or Greek yogurt), 1 tablespoon ketchup, ½ teaspoon yellow mustard, and 1 tablespoon pickle relish.
Veggie Burgers. If you don't eat meat, this is such an easy recipe to turn vegetarian! Just grab your favorite veggie burger and re-create this cheeseburger salad.
Fresh Veggies. You really don't have to stick with traditional cheeseburger toppings. You can grab all your favorite veggies and really build this salad up. A green bell pepper, celery, iceberg lettuce, and jalapenos are all great options.
How to store cheeseburger bowls
I recommend storing these cheeseburger bowls in an airtight container. However, if you want the best leftover results, the best way to store them would be in separate containers so the lettuce stays crisp, and all the ingredients stay fresh.
How to meal prep these cheeseburger bowls
You can absolutely make these into meal prep cheeseburger bowls! I recommend preparing all the ingredients, storing them in separate containers, and assembling them when you are ready to eat these cheeseburger bowls.
Amazon kitchen finds
I love making these in a shallow salad bowl, and I bet you will, too!
Pin it for later!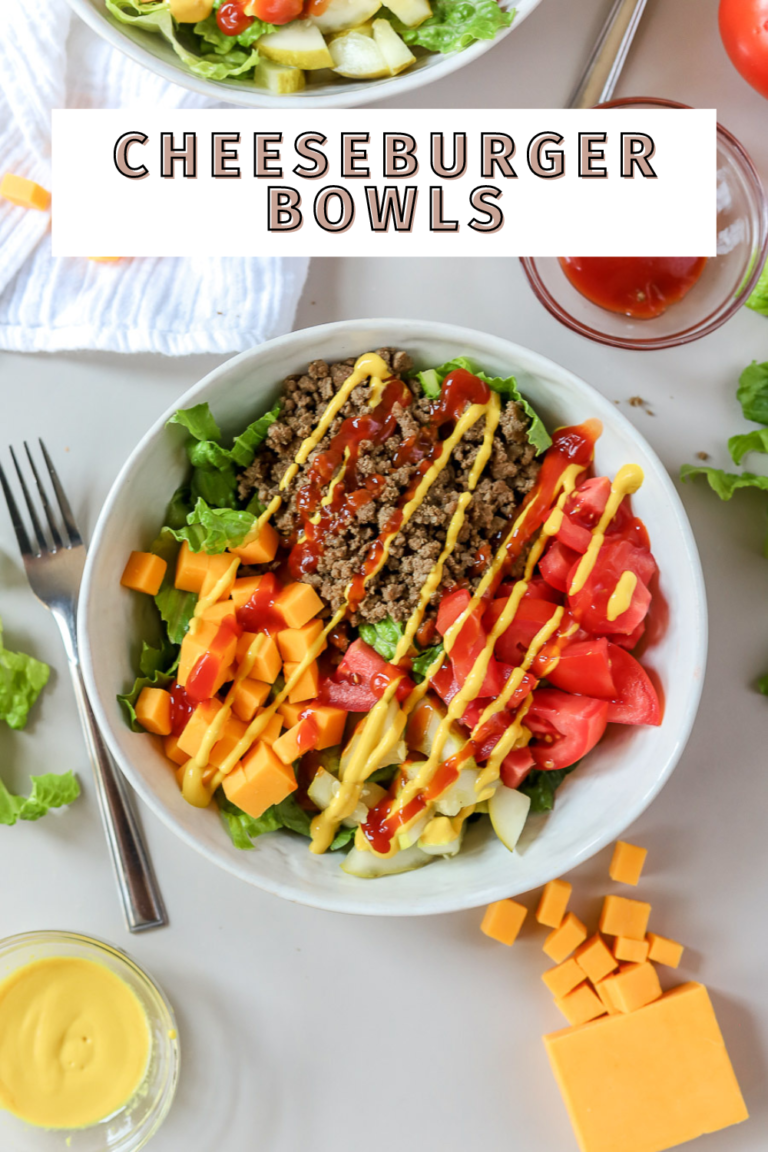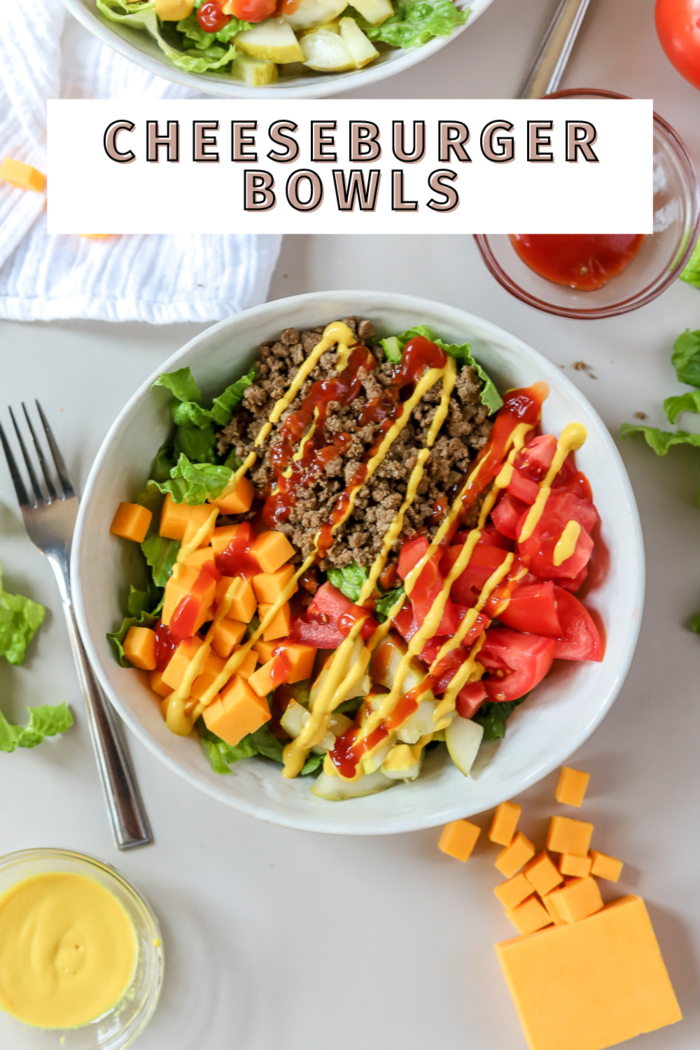 Want more easy dinner recipes?