This spicy and easy chicken curry with Greek yogurt is a new favorite dinner. It's a one-pot meal, so easy to cook, and makes for great leftovers (if you end up having any!)
This post may contain affiliate links, meaning I may earn a small commission when you click on the links and make a purchase. I will never recommend a product that I don't support 100%.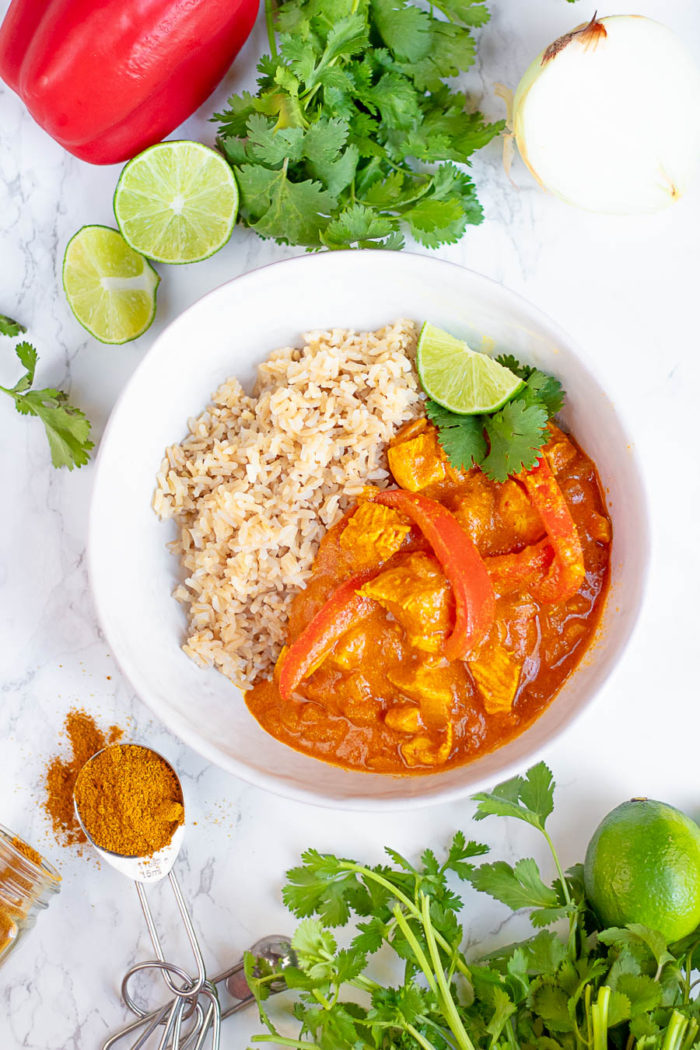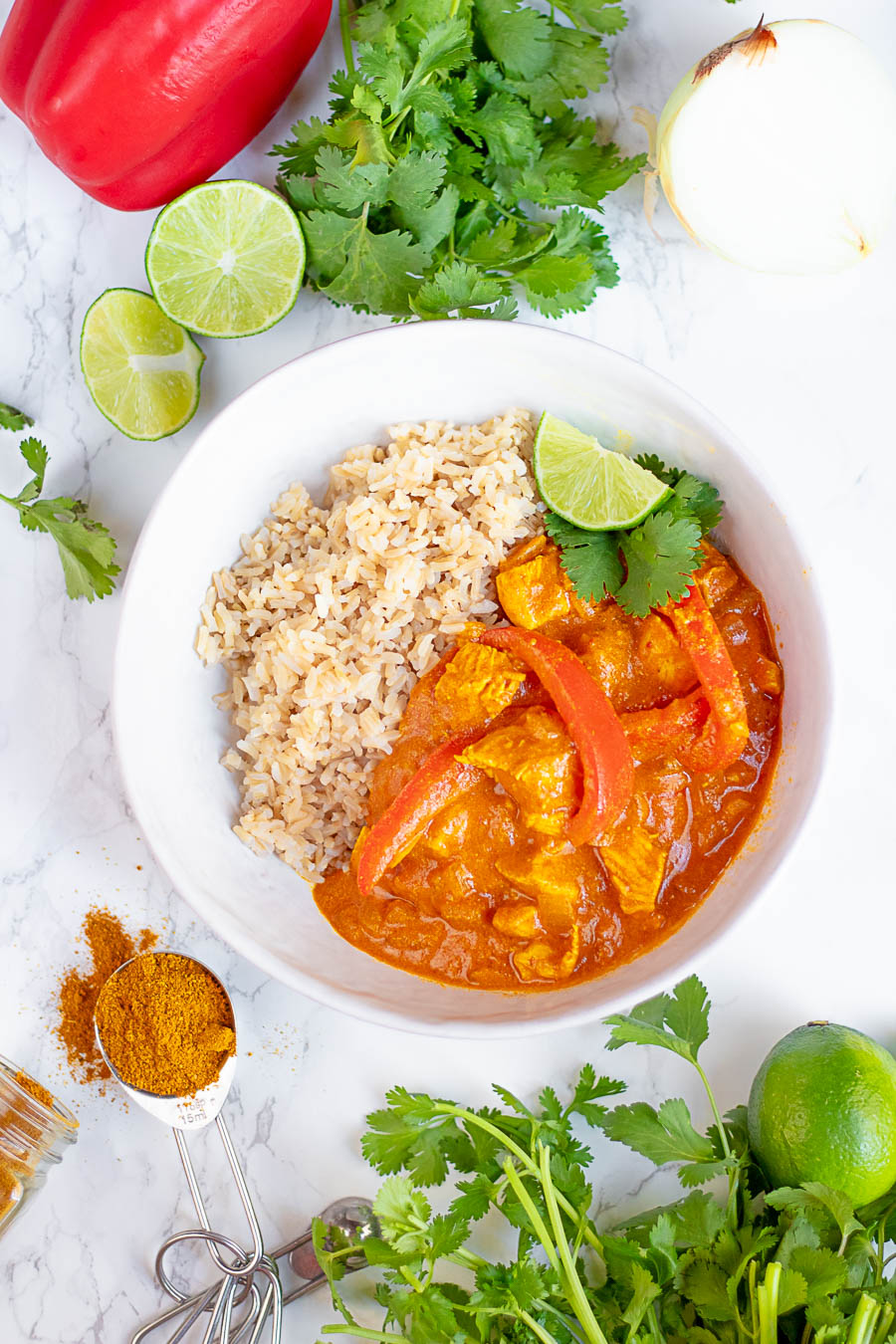 Jump to:
You'll love this spicy chicken curry with greek yogurt.
It's easy to make. It's such an easy and approachable weeknight meal, you'll love putting this into your dinner rotation.
It makes great leftovers. I love a good BOGO meal. This meal is great when it's fresh off the stove, but it's also so delicious as leftovers, too.
It's customizable. You can add any and all of your favorite veggies and customize your spice level, too.
Ingredients
Chicken: I use boneless, skinless chicken breasts chopped into little, about half-inch, squares

Substitute: If you're vegetarian, or not a chicken fan, you can use chickpeas instead!

Onions: I used 1 ½ onions in this recipe. Onions are one product I always have an ample amount on hand, I put them in everything!
Garlic: I used 3-4 fresh cloves of garlic. If you don't have garlic, you can use 1 tsp of granulated garlic. If you don't keep garlic in your spice cabinet, order that -ish right now.
Ginger: I used about ½ inch of freshly grated ginger. I've been on a huge fresh ginger kick with throwing it in smoothies and recipes, like this, wherever I can. If you don't have fresh ginger, you can use 1 tsp ground ginger from your spice cabinet.
Curry Powder: Once you have this in your spice cabinet, you will add it to SO much. Joanna Gaines has a phenomenal Curry Chicken Salad recipe that will not disappoint.
Red Pepper Flakes: I only used ½ tsp, because I added a decent amount of Sriracha right at the end of cooking. Between those two spices, this chicken curry recipe carries a KICK.
Tomato Paste: I only used about 2 tbsp of tomato paste, which is NOT the entire little can!! Want another recipe to use the rest of your paste? My Sausage Tortellini Soup is a great recipe utilizing all shelf-stable and freezer friendly ingredients!
Water: It's in the list of ingredients, so I can't leave it out. But I don't have much to say other than to include it in the recipe, and try to drink a gallon a day. (That's what I challenge myself to.)
Greek Yogurt: I used plain 0% fat Chiobani. As I was reading through tips on cooking Indian inspired cuisine with Greek yogurt, I saw a tip that you should whisk together a little bit of your water with the yogurt, and make sure your heat is on low when you add it.
Red Pepper: I slice up 1-2 red peppers, and add them at the very very very end of cooking. I like them to have a little bit of crunch still, yet not be totally raw.
Sriracha: Pour as much as your heart desires. Remember, you can always add more. I would say I used about a tablespoon.
Lime: I squeeze about half a lime into the dish right before I serve it, then I top it with more lime, for some lil extra vitamin C.
Cilantro: Personally, this is purely a garnish. If you don't have cilantro, don't sweat it.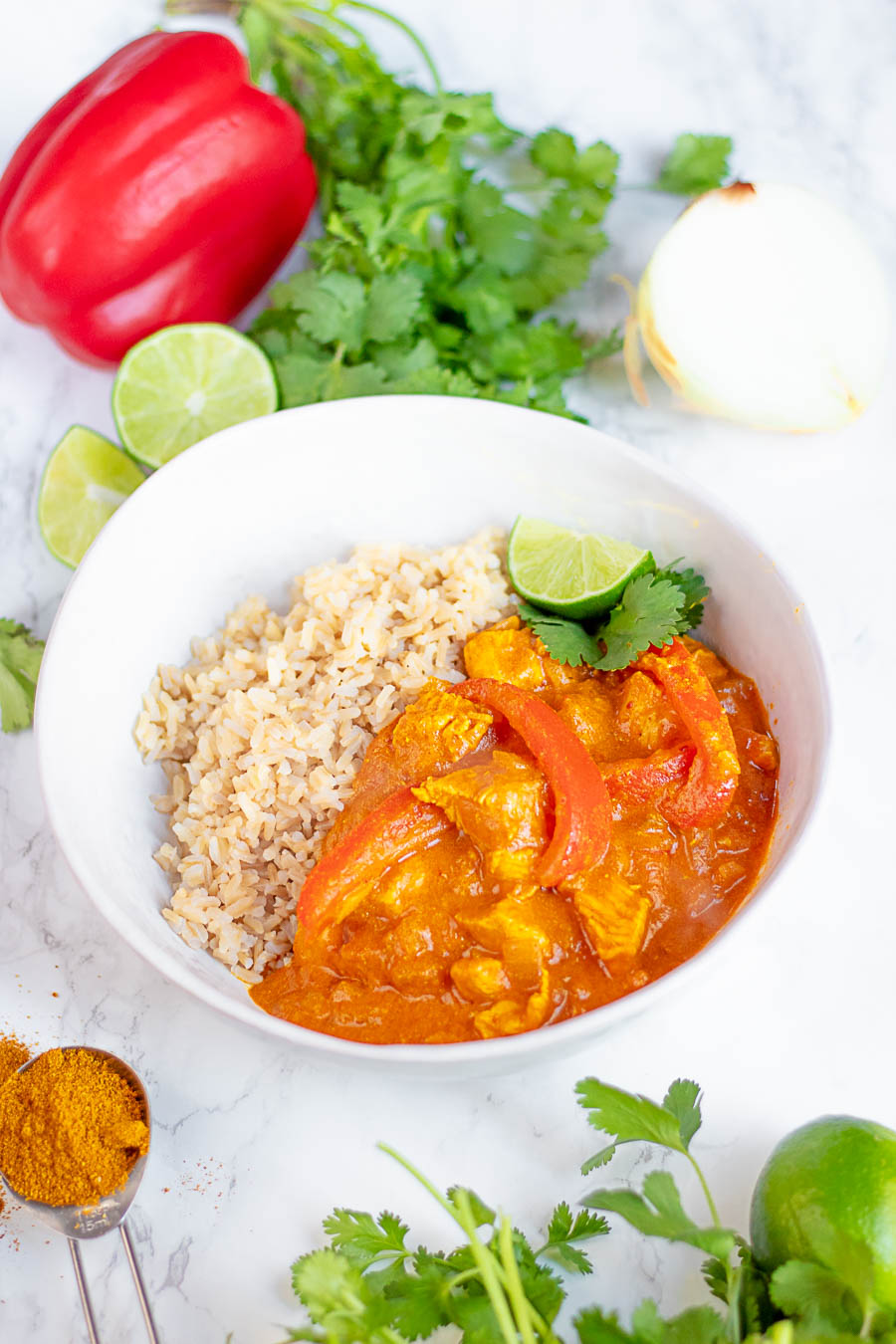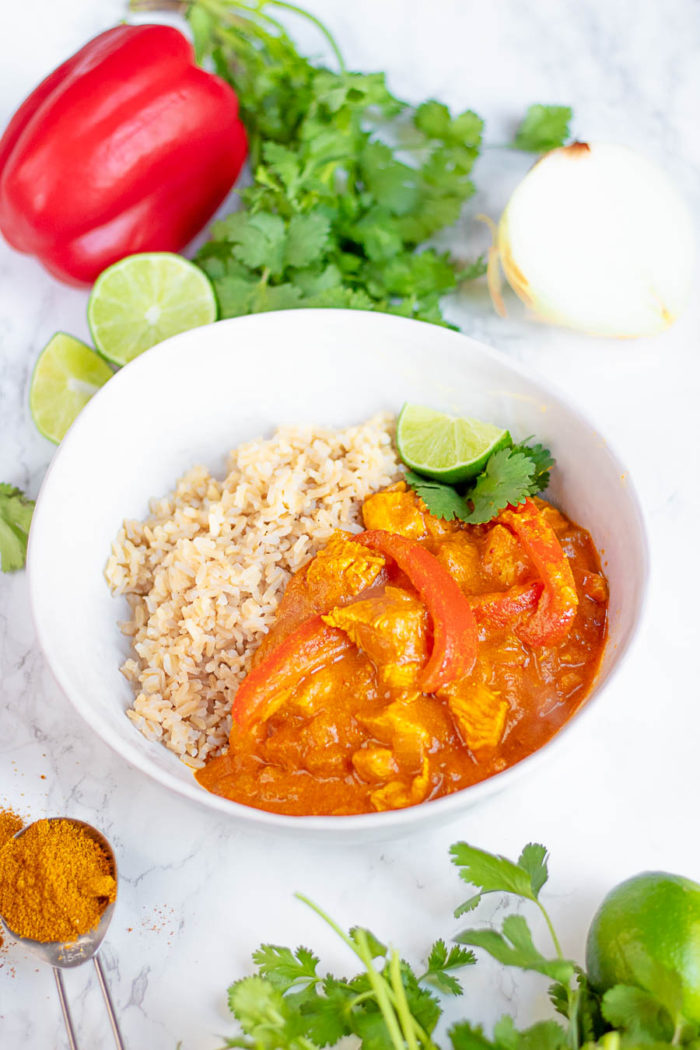 Swapping Greek yogurt to make coconut chicken curry
You can absolutely swap Greek Yogurt with coconut milk! When I first made this recipe, I followed the one from Delish, and it called for a can of coconut milk! If you do wish to use coconut milk, I would follow their water + milk measurements. This recipe calls for a bit more water because of the thickness of Greek yogurt.
I'm not a super huge fan of anything coconut... and by that I mean I despise anything coconut. It tastes like I'm just eating SPF out of the tube. Which stinks because so many fun tropical drinks have coconut. OH WELL. Champagne/first world problems. This recipe with the coconut milk wasn't terrible, but it was just a bit too rich for me.
How to stop yogurt from splitting?
You'll want to add a bit of cornstarch to your recipe if your Greek yogurt is splitting in the sauce.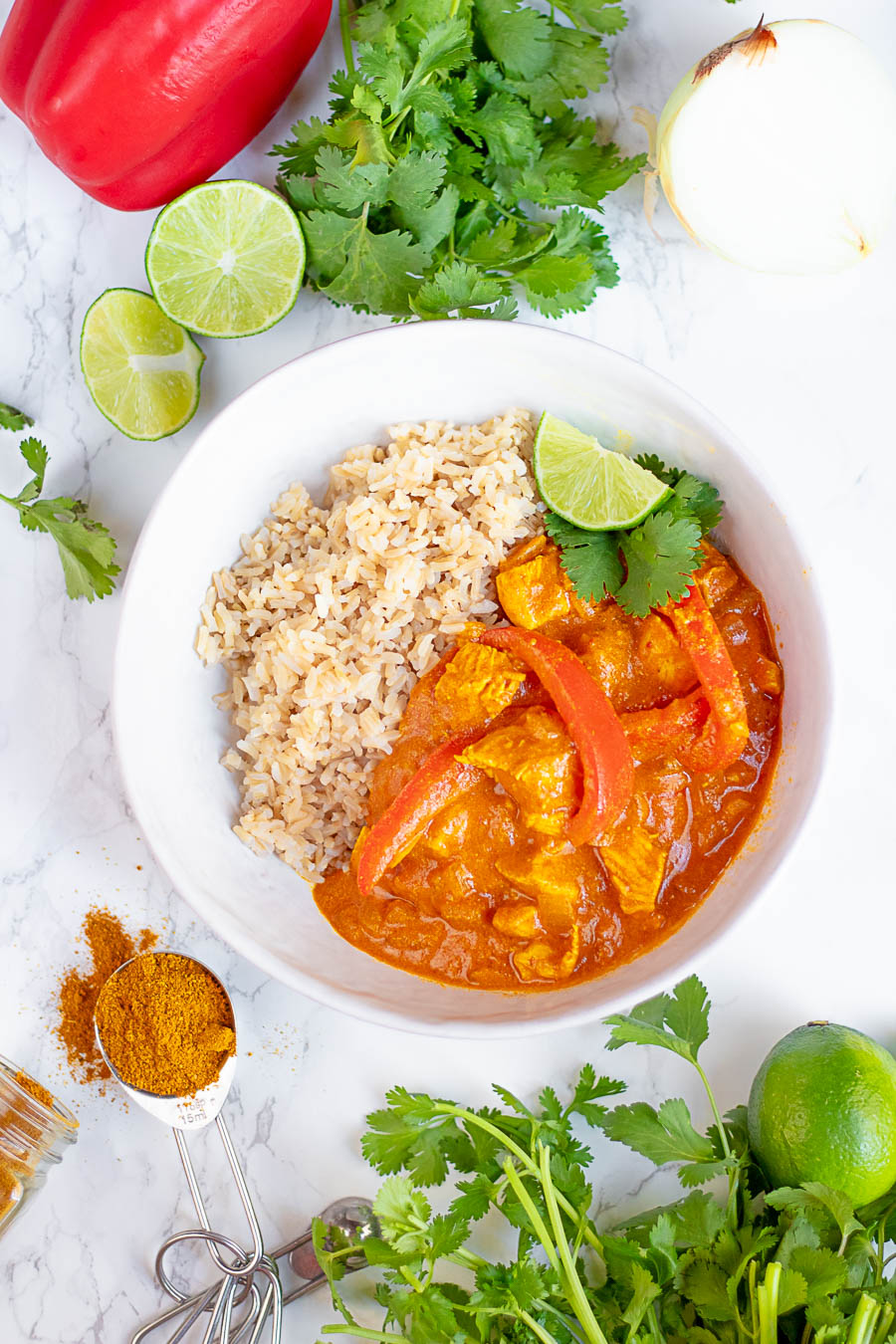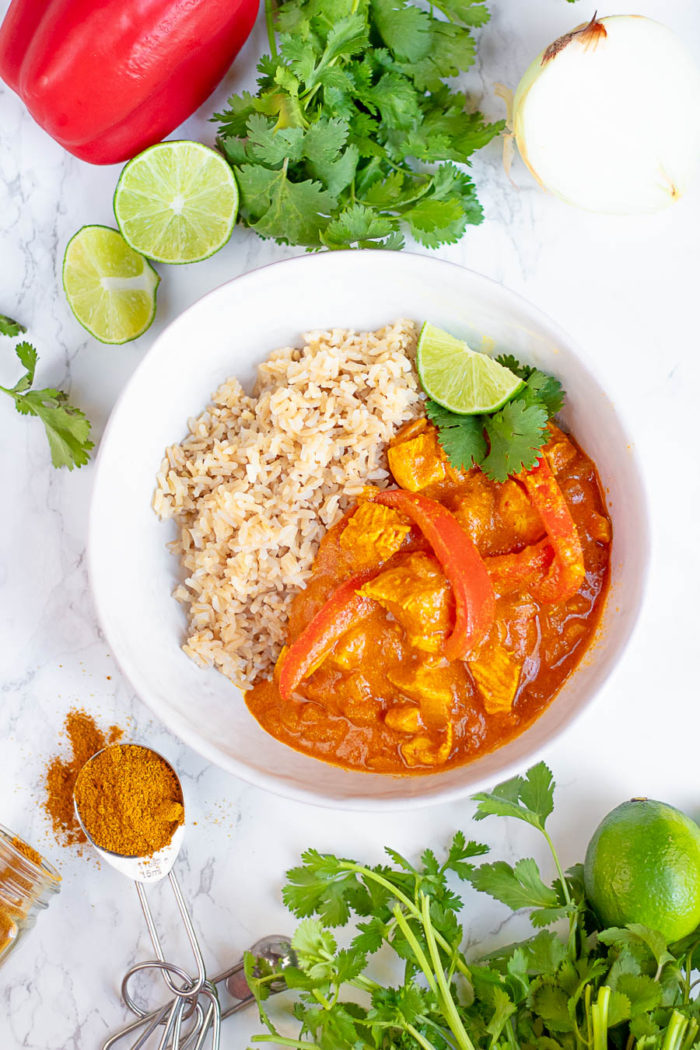 Amazon home finds
You'll absolutely want a large frying pan with a lid for this recipe.
You can also find curry powder in your grocery store, or you can order it on Amazon!
Pin it for later!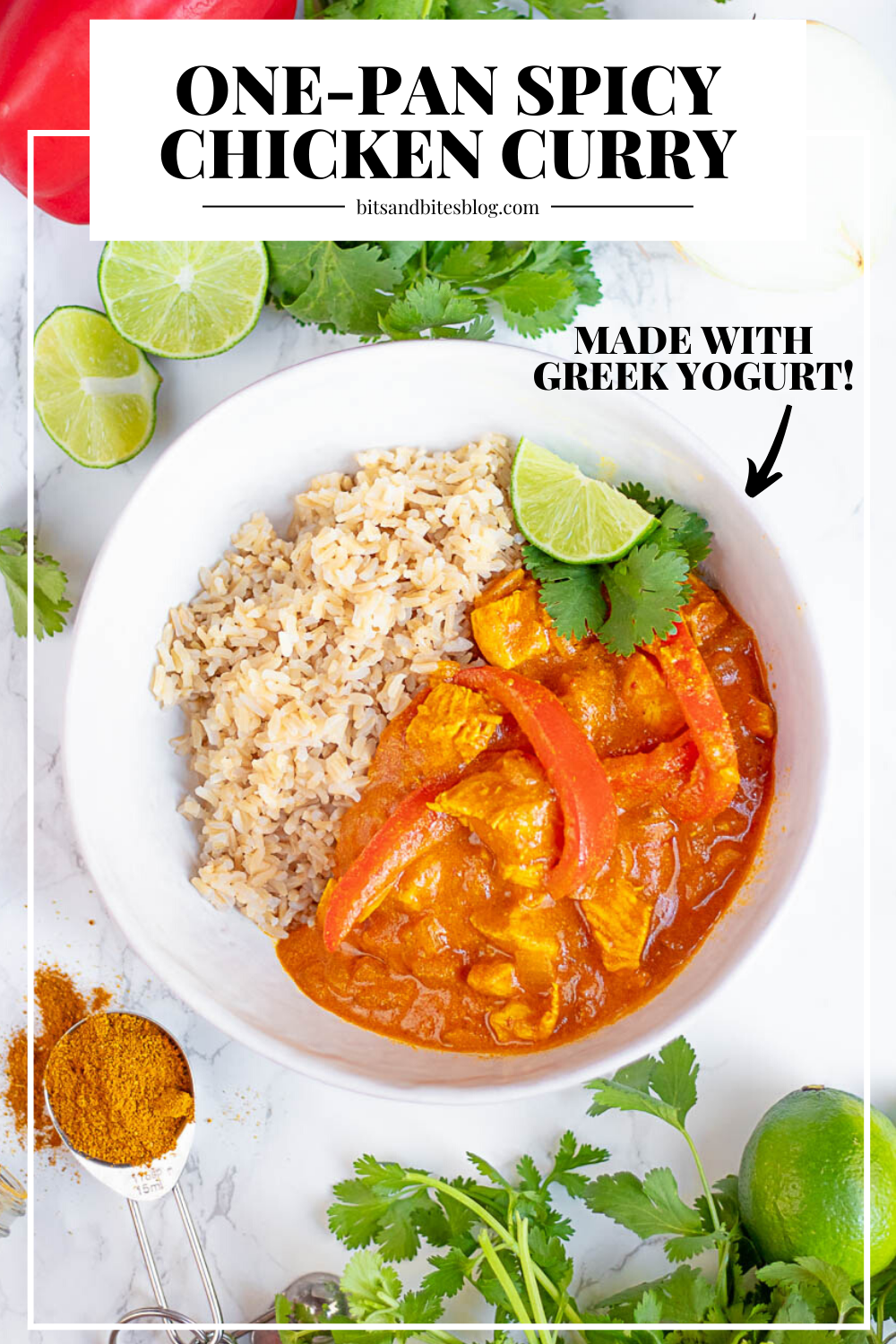 Want more easy weeknight dinner recipes?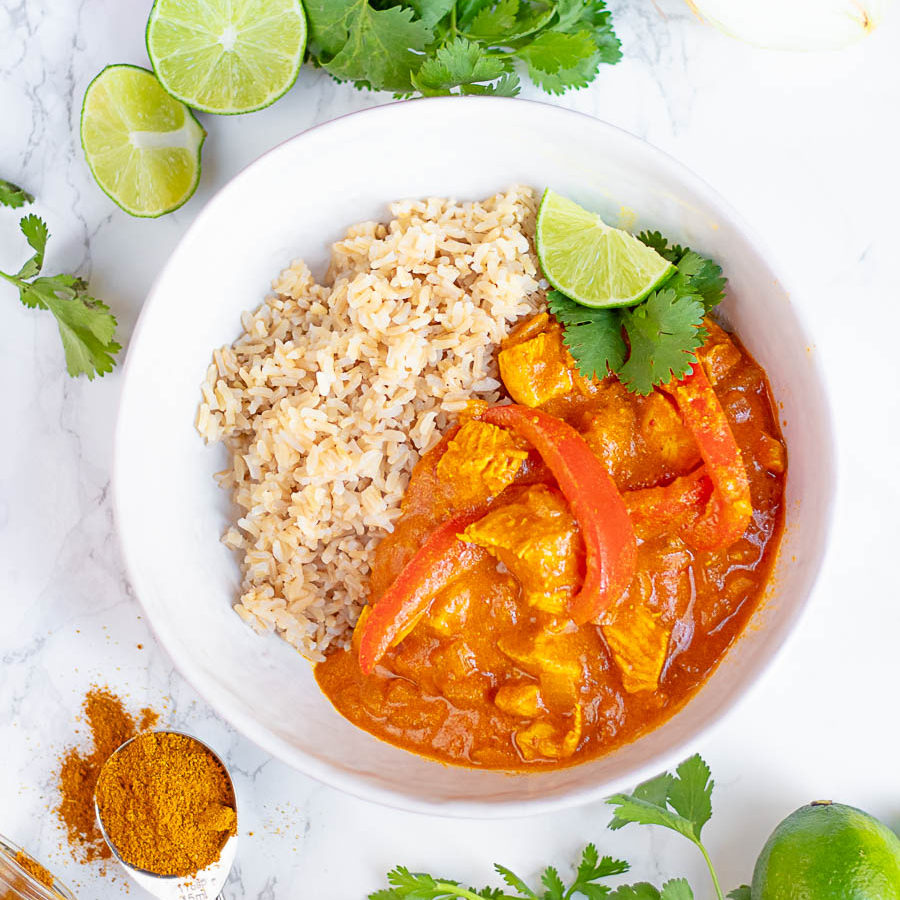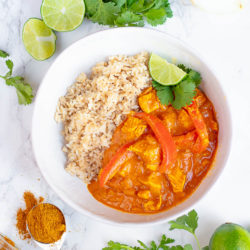 Spicy Chicken Curry with Greek Yogurt
Ingredients
2

tbsp

oil or butter

1 ½

onions

diced

3-4

cloves

garlic

minced

½

inch

ginger

grated

2

tbsp

curry powder

½

tsp

red pepper flakes

2

tbsp

tomato paste

¾

c

water

1

5.3 oz container

greek yogurt

plain, non-fat

1

lb

chicken

diced into ½-1 inch thick pieces

1-2

red peppers

sliced

1

tbsp

sriracha

or less

½

lime

juiced

lime wedge + cilantro

to garnish, optional

rice, of choice

cooked
Instructions
follow the instructions on your rice of choice, and cook it accordingly.

in your large frying pan, heat up 2 tbsp of oil for about 3 minutes. add in your diced onions. sauté for about 4-5 minutes over medium-low heat.

once your onions are just about translucent, add in your minced garlic and grated ginger. mix together and cook for an additional 4-5 minutes.

add in your curry powder and red pepper flakes. stir until your curry powder is combined and you have a rich orange color. mix in your tomato paste and until well combined. cook for about 3 minutes.

bring your heat to low, and add in your greek yogurt and water. bring that to a simmer, and once that is simmering, add in your diced chicken breasts.

bring your heat to medium-low and cook for about 7 minutes. once 7 minutes pass, add in your red peppers, sriracha and lime. Cook for an additional 3-5 minutes (depending on how thick your chicken is).

check to make sure your chicken is fully cooked, then once it is, serve it over rice and enjoy!