If you love cheese boards and your favorite grocery store is Trader Joe's, then this step-by-step guide to building the best Trader Joe's charcuterie board is for you! They have so many fun and different products, I'm sharing all my favorites plus some tips.
This post may contain affiliate links, meaning I may earn a small commission when you click on the links and make a purchase. I will never recommend a product that I don't support 100%.
If you love Trader Joe's, you'll love this Trader Joe's Charcuterie Board
It's affordable. If you're looking for an inexpensive charcuterie board, Trader Joe's is one of my favorite places to shop for this!
It's so fun to create. Trader Joe's has many different types of cheeses and other great products, whether seasonal or evergreen. You can really have fun creating a different cheese platter every time.
It's perfect for every time of year. An epic charcuterie board is ideal for literally any celebration or gathering.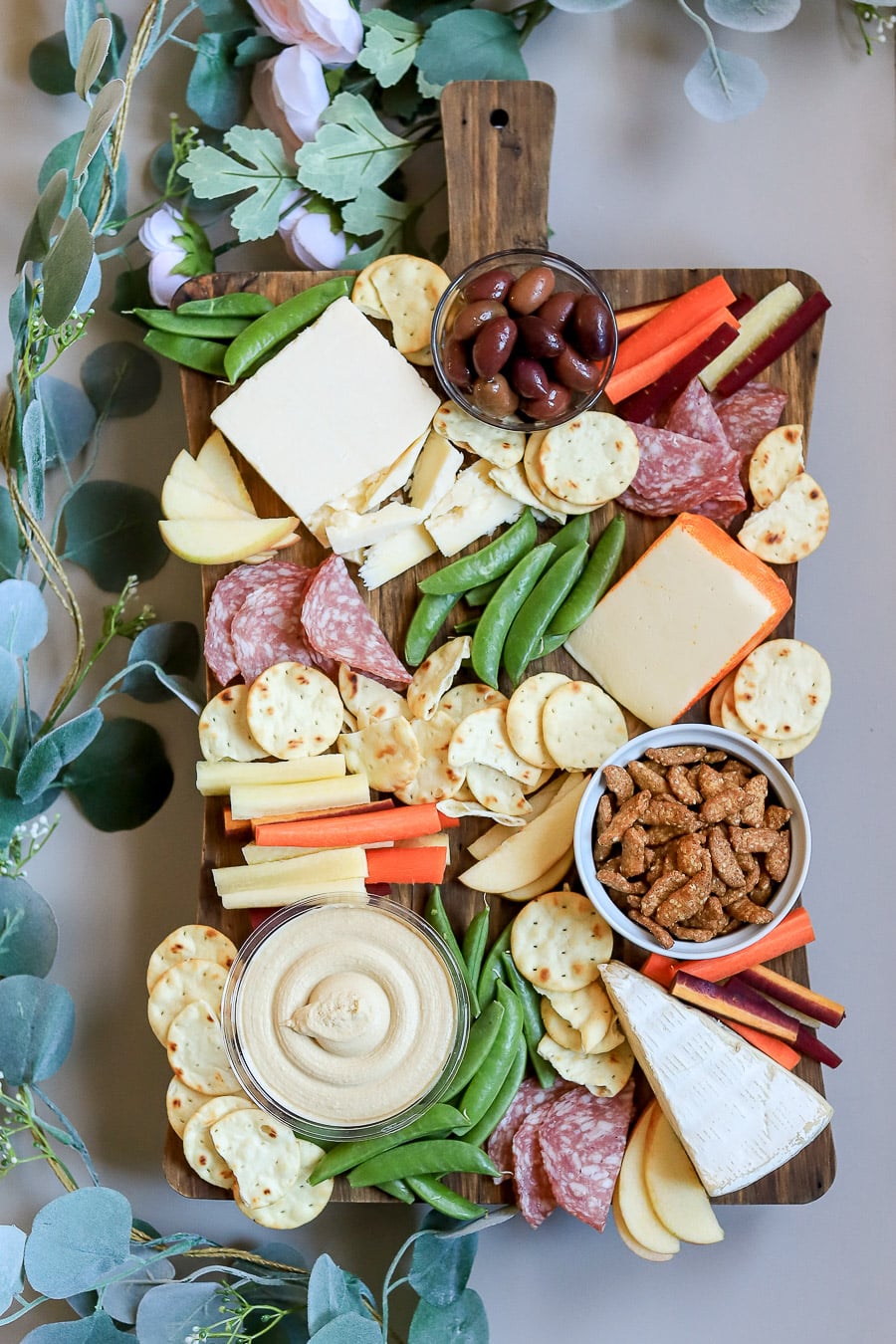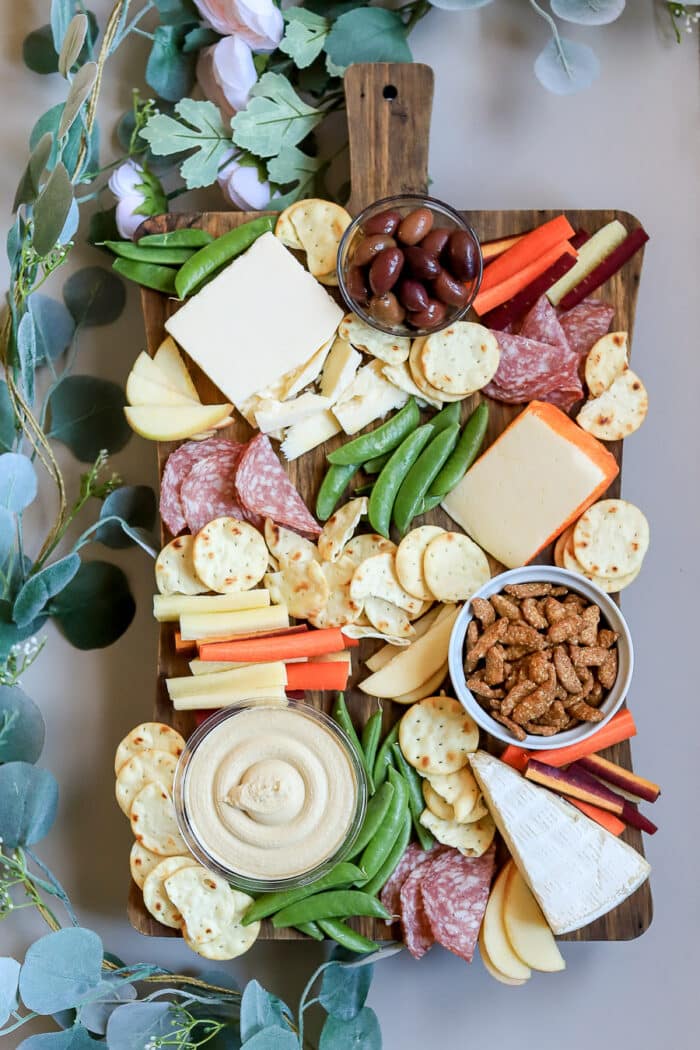 Best Trader Joe's Cheese for Charcuterie
Trader Joe's has such a great cheese selection, here are a few options that make for a good charcuterie board.
Hard cheese finds
Trader Joe's Toscano Cheese with Black Pepper
Toscano Cheese Soaked in Chardonnay (seasonal)
Unexpected Cheddar ( this might be the best Trader Joe's cheese... or at least one of them!)
Parmesan Reggiano
Cheddar Cheese with Caramelized Onions
Manchego
Raw Milk Cave Aged Le Crueyre
Cheddar & Gruyere Melange Cheese
Semi-Hard cheese finds
Spicy Buffalo Cheddar
Cheddar Cheese with Scotch Bonnet Chili Peppers
Italian Truffle Cheese
New Zealand Sharp Cheddar
Soft cheese finds
Triple or Double Cream Brie
Triple Cream Brie with Green Peppercorns
Chevre Goat Cheese
Chevre Honey Goat Cheese
Blue Cheese Wedge
Cambozola - This is also one of my favorite Trader Joe's cheeses, I describe it as if brie and blue cheese had a baby. It's such delicious creamy cheese.
Fresh cheese finds
All Natural Fresh Mozzarella Cheese
​Spreadable cheeses
Syra Soaked Toscano Cheese Spread & Dip
Unexpected Cheddar Cheese Spread
Pub Cheese
Onion & Chive Cream Cheese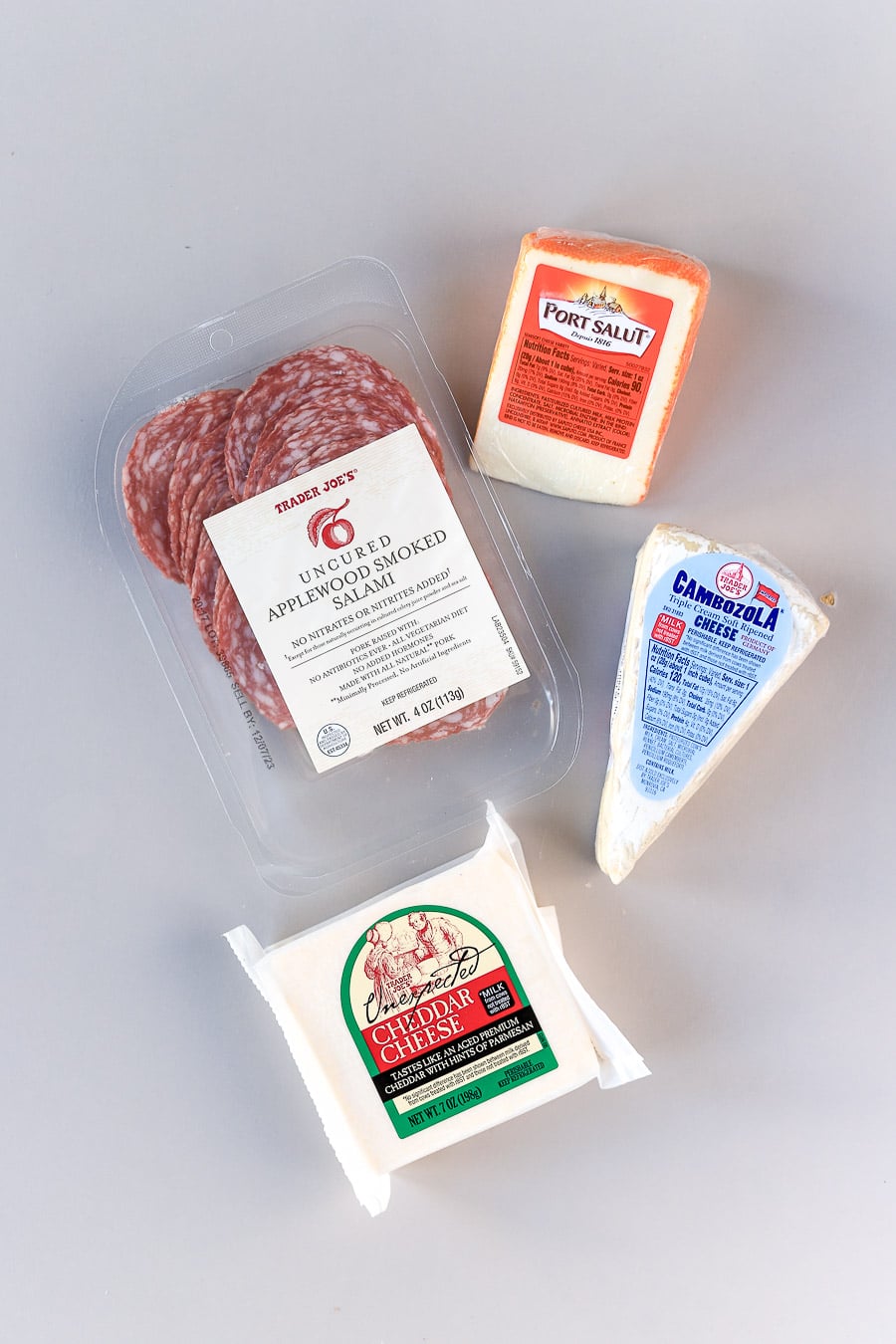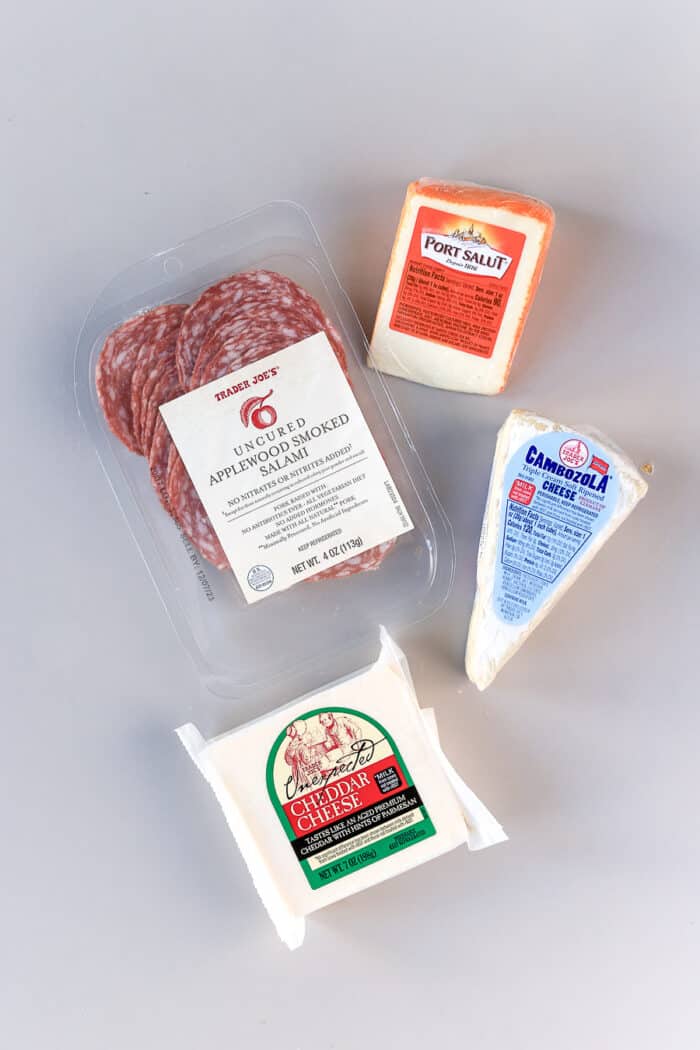 Trader Joes Charcuterie Meat
Of course, a perfect charcuterie board needs charcuterie meat! Here are some great meat options you can pick up from your local Trader Joe's.
Sliced Proscuitto
Salame di Parma Mild Salami -- these are perfect to make salami roses and take your board to the next level.
Chianti Red Wine Artisan Salami
Truffle Salami
Deli meats like oven-roasted turkey breast, ham, or roast beef.
Trader Joe's Salami Variety Pack.
Other Trader Joe's Products
There are a ton of fun Trader Joe's products to create a beautiful board. Here are some of my favorite things.
Fresh Fruit/Veggies - you really want to take advantage of seasonal fruits and veggies.

Berries like strawberries and blueberries
Apples
Peppers
Stone fruit like peaches and apricots
Pomegranate seeds

Dried Fruits

Dried Mango
Freeze-Dried Berry Medley

Jams/Jellies

Strawberry jam
Apricot jam
Sweet pepper jelly
Pumpkin butter - this is perfect for the holiday season.
Trader Joe's Fig Butter

Spreads/Dips

Roasted Garlic Hummus
Vegan Kale Pesto
Elote Dip
Vegan Caramelized Onion Dip
Spinach & Artichoke Dip

Crackers/Chips

Sweet Plantain Chips
Slighty Coated Dark Chocolate Covered Almonds
Organic Garlic or Plain Naan Crackers
Super Seedy Cheese Snack Bites
Pretzel Slims
Organic Corn Chip Dippers
Fig & Olive Crisps
Cauliflower Crisps Snacks
White Cheddar Truffle Oil Chips

Nuts

Crunchi Chili Onion Peanuts
Buffalo Style Seasoned Almonds
Thai Lime & Chili Cashews
Garlic & Onion Pistachios
Olive & Herbs Mixed Nuts
Marcona Almonds

Olives, Pickles, Finger Foods, etc.

Garlic & Jalapeno Stuffed Olives
Kalamata Olives
Cornichon Pickles
Olive Tapenade
Trader Joes Cheese Board ingredients
Here's a full shopping list of all the Trader Joe's products I included in this easy charcuterie board.
Unexpected Cheddar - this is one of my personal favorites
Port Salute
Cambozola
Uncured Salami
Organic Carrots - this is a great addition to add some really great color.
Honeycrisp Apple
Sugar Snap Peas
Sesame Sticks
Kalamata Olives
Pita Bread Crackers - these are sturdy, have the slightest hint of sea salt, and are a perfect complement to a tasty cheese board.
I put together a downloadable grocery list to help you make the perfect board. Click here to download it!unexpect
How to put together a charcuterie board
The cheeses. A good rule of thumb is to have a minimum of 2 kinds of cheese at least. Of course, the more people you have, the more cheese you'll need. Luckily TJ's has a great variety of cheeses that come at such a reasonable price. Start with placing your cheeses in the outer corners of your board. If you have a round board, place them in the perimeter.
The meats. Trader Joe's offers some great and affordable charcuterie meat options. I really like the Trader Joe's brand proscuitto or uncured salami. I like to arrange the meats next to the cheeses so that they would pair best with them. I like to do small groups, typically 3 slices of meat in every bunch.
The bowls. You'll want to transfer your dips, olives, and spreads into small bowls and place them around your board.
The color. Add in your produce! Similar to the meats, I put the fruits and veggies next to the cheeses/dips that they would pair best with. For example, I'll put strawberry jam and proscuitto near brie cheese along with fresh sliced strawberries. I'll put sliced apples with cheddar cheese, and carrots with hummus.
The crackers. I personally think pita bread crackers are the best crackers for this appetizer board, they don't taste like cardboard, but they go with every single cheese combination you can make.
The filling in. This is when I fill in all the empty space. I fill it in with nuts, dried fruits, or extra fruits/veggies.
Pin it for later!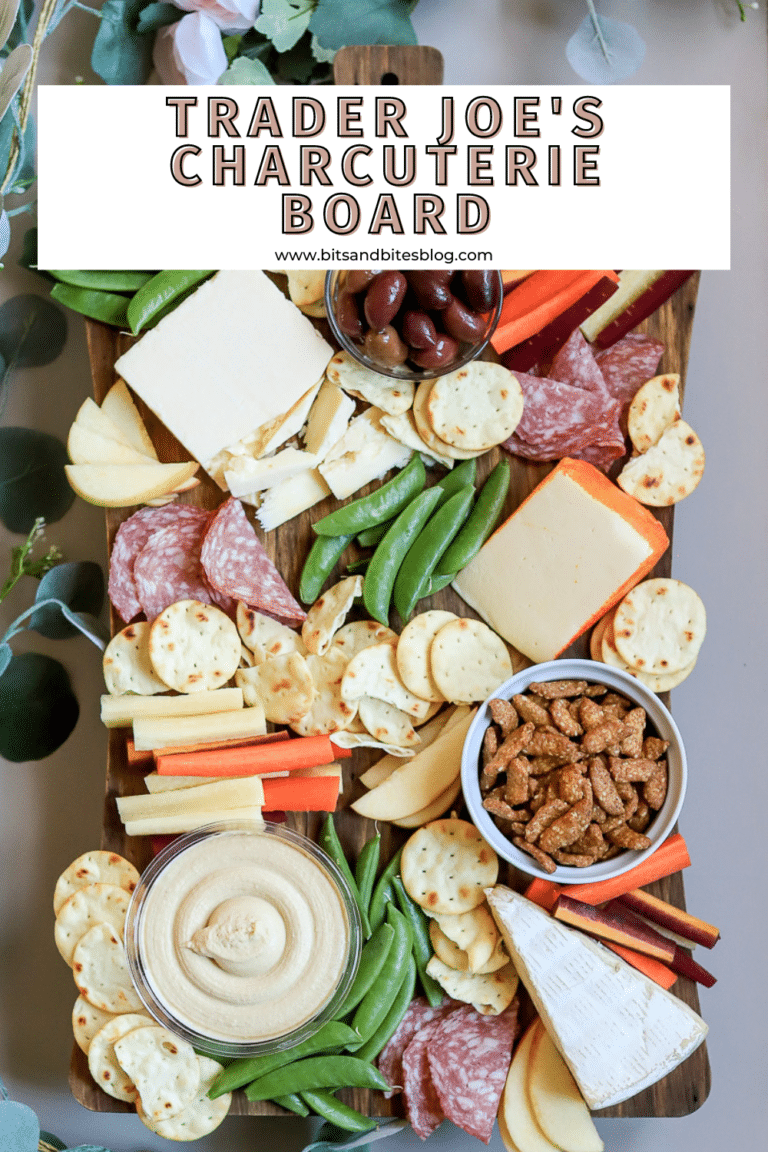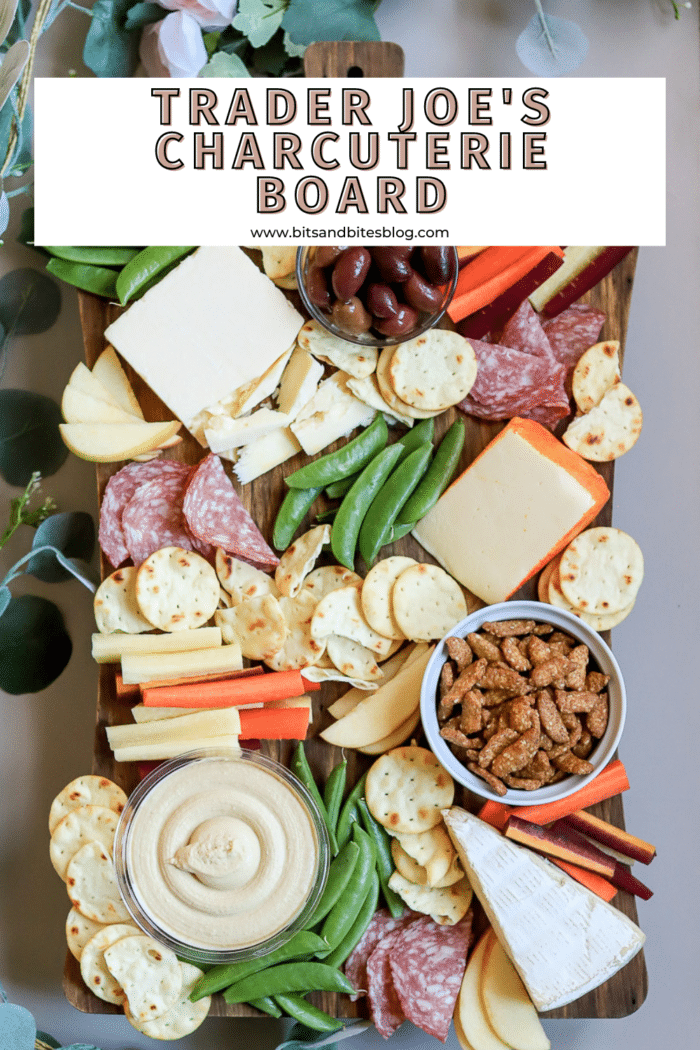 Charcuterie Board Ideas