I love a good Aperol Spritz, especially in the summertime. But, to add a fun and summery twist to the traditional Aperol Spritz recipe, meet the Peach Aperol Spritz!
This post may contain affiliate links, meaning I may earn a small commission when you click on the links and make a purchase. I will never recommend a product that I don't support 100%.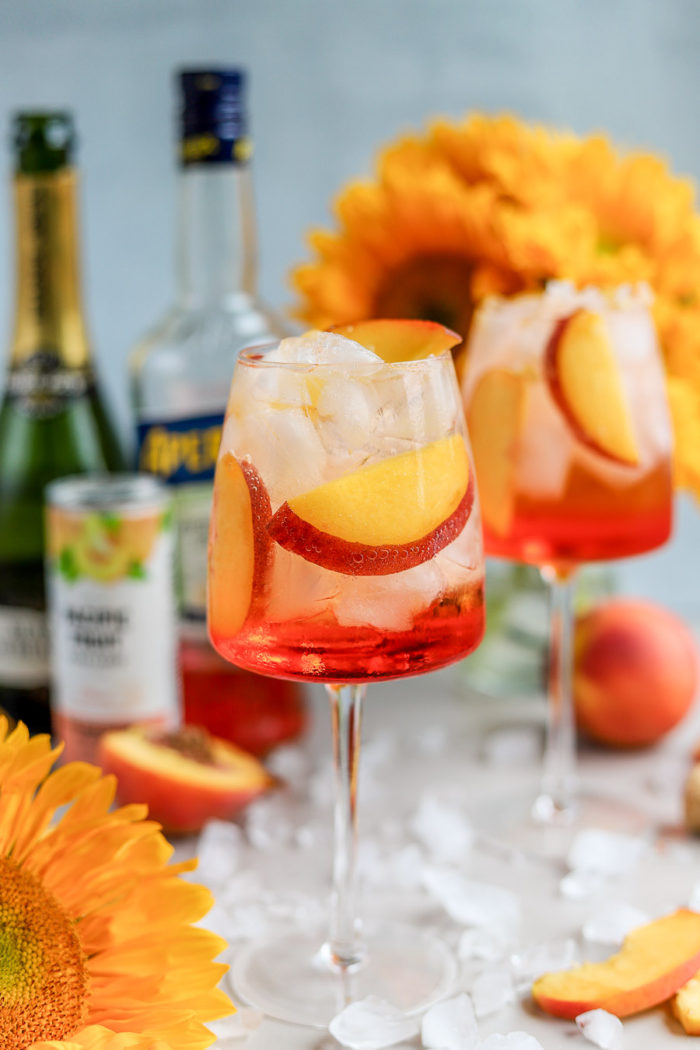 Jump to:
If you love Aperol Spritzes, you will LOVE this peach spritz. 
I mean, how photogenic is this drink? Hello, Instagram. You will want to snap all the photos of this drink, it is so stunning! Luckily, there are no mixologist skills required for this, the Aperol and peach slices do the job.
It's just as simple to make! This peach Aperol spritz doesn't stray too far from the traditional Aperol spritz recipe, just a simple addition of peach liquor and ta-da!
It's slightly sweeter than the traditional Aperol spritz. If Aperol is a bit too bitter for your liking, try this sparkling wine cocktail recipe! The peach adds a hint of sweetness you don't get in the traditional recipe.
What kind of alcohol is Aperol?
Aperol is an apéritif liqueur.
Ok, then what is an apéritif liqueur?
An apéritif liqueur is a low alcohol liqueur meant to stimulate the appetite before a meal. These drinks are intended to be on the dryer side, rather than sweet. They are also low alcohol-by-volume, Aperol is an apéritif liqueur at 11% ABV.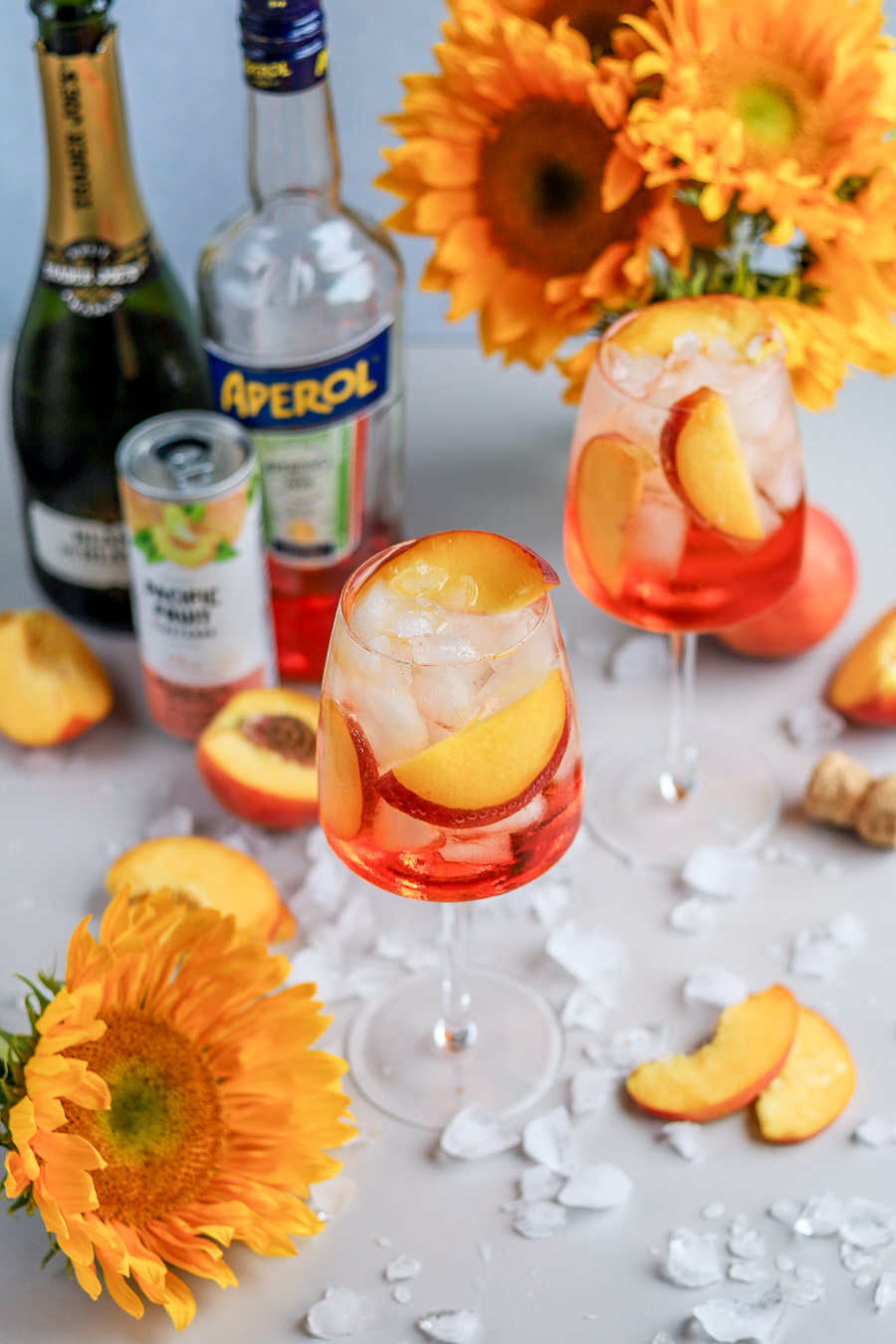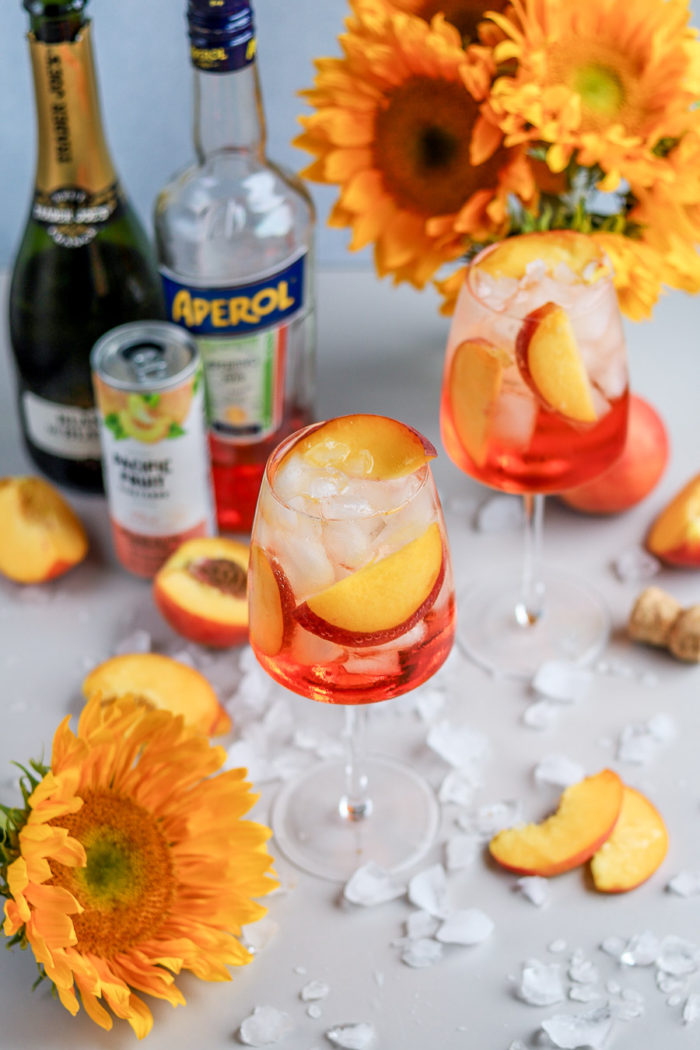 What does Aperol taste like?
Aperol has a slightly bitter taste mixed with an orange, citrusy flavor. I would best describe it as a bitter orange Tictac if that helps.
Here's what you'll need for this peach cocktail.
Peach Liqueur. This is what gives your Aperol Spritz its peach flavor. If you don't want to add peach liqueur, you can also add in peach syrup.
Aperol. Of course, you need Aperol, and no there are no real substitutes or other brands of Aperol. Aperol is just simply Aperol.
Sparkling Wine. I opt for a cheaper sparkling wine, because, let's be honest, I opt for cheaper stuff regularly... it's not just this recipe that's different... LOL. I love Kirkland Prosecco ($8) or ALDI Prosecco ($10).
Club Soda. If you want to add more peach flavor to your drink, you can always buy peach-flavored sparkling water! I love using flavored sparkling water in Aperol Spritz recipes to add a hint of flavor.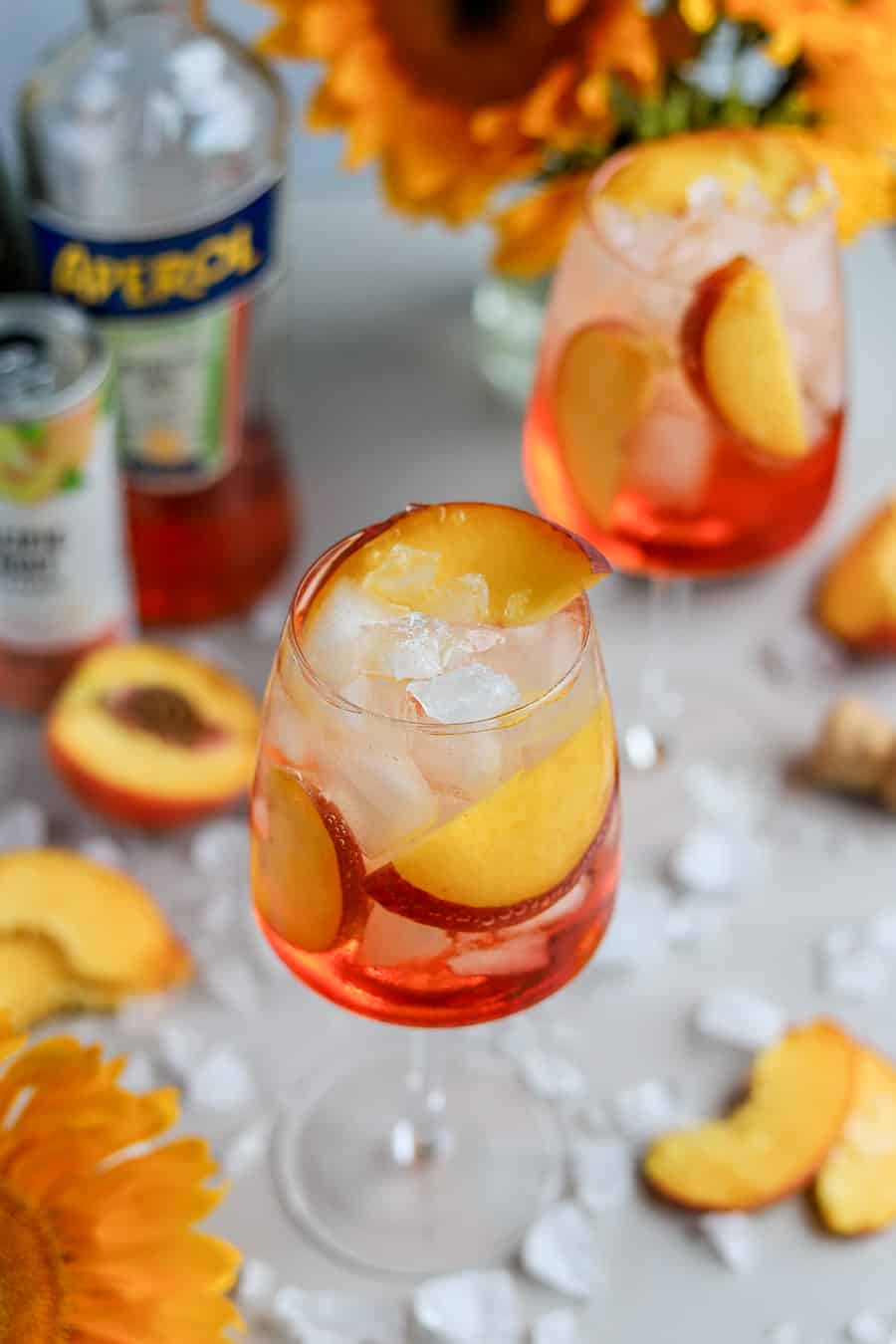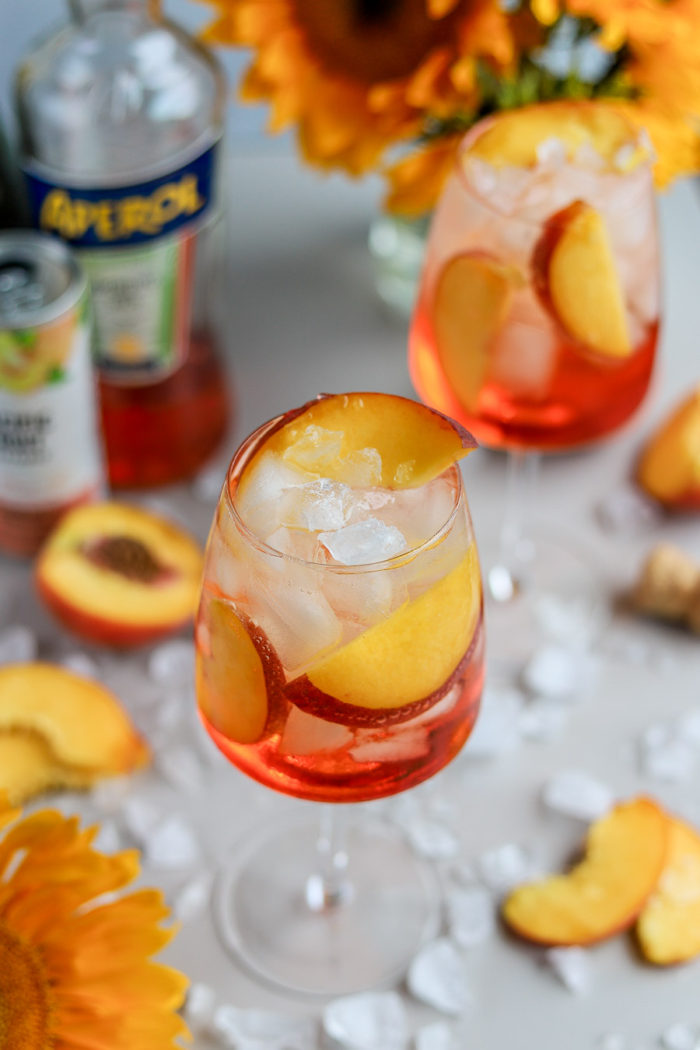 What prosecco is best with Aperol?
Kirkland (Costco brand) prosecco or ALDI prosecco are my two favorites. Since you're not drinking the prosecco straight, I always recommend using a cheaper prosecco. I mean, I drink cheap prosecco straight, too, don't get me wrong.
What can I use instead of prosecco in Aperol Spritz?
No prosecco? No problem! Here's a list of things you can use instead of prosecco in an Aperol Spritz.
Seltzers. I've made a handful of Aperol Spritz without prosecco, but using seltzers instead! My favorite seltzers for this are High Noon (pineapple or mango) or the ALDI Wine Seltzers (strawberry, pineapple or peach flavor.)
Ginger Beer. You can simply mix together Aperol and ginger beer for a super zesty low-alcohol cocktail.
Dry White Wine. You can use your favorite dry white wine instead of prosecco, you'll just rely on that sparkling water for the fizz.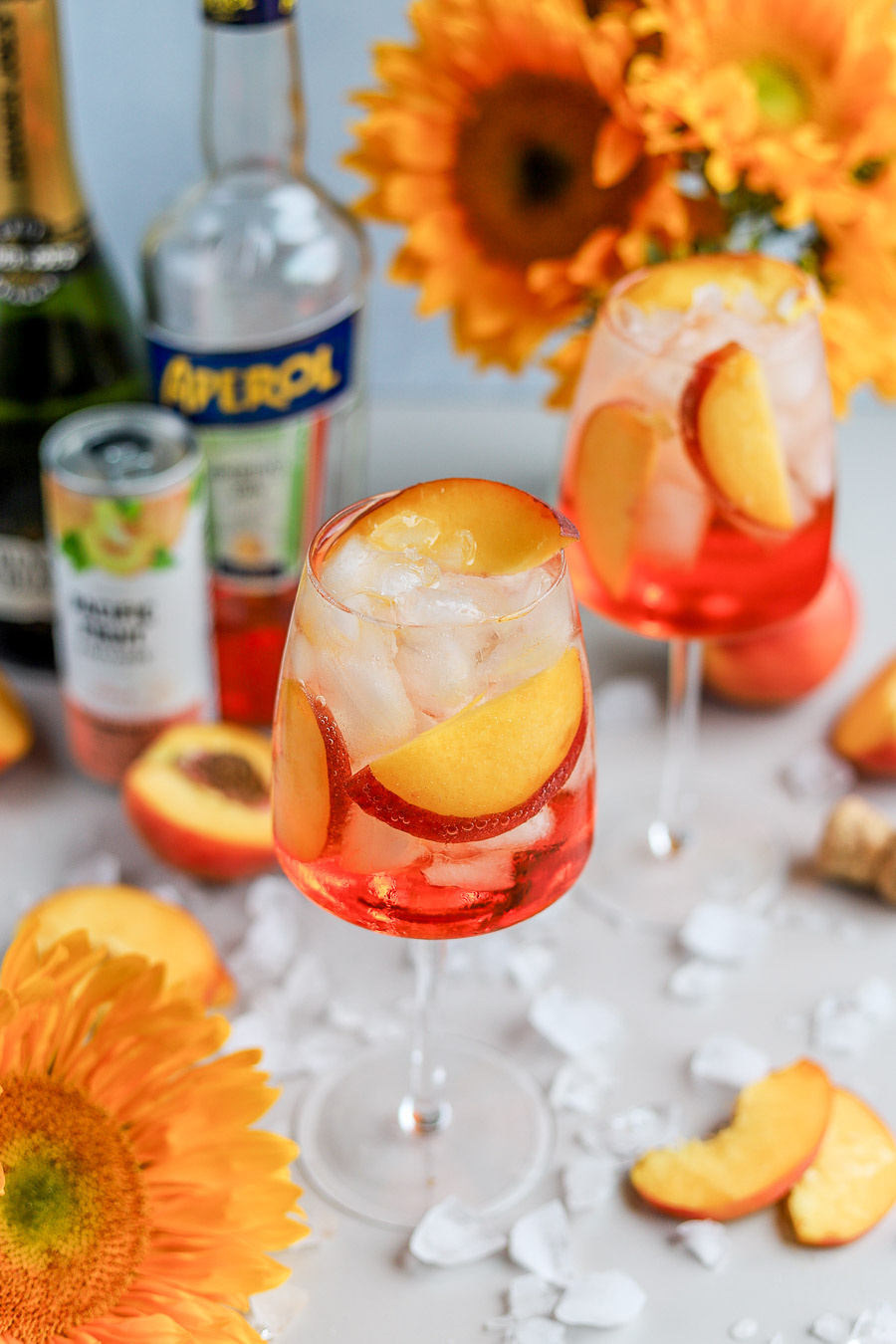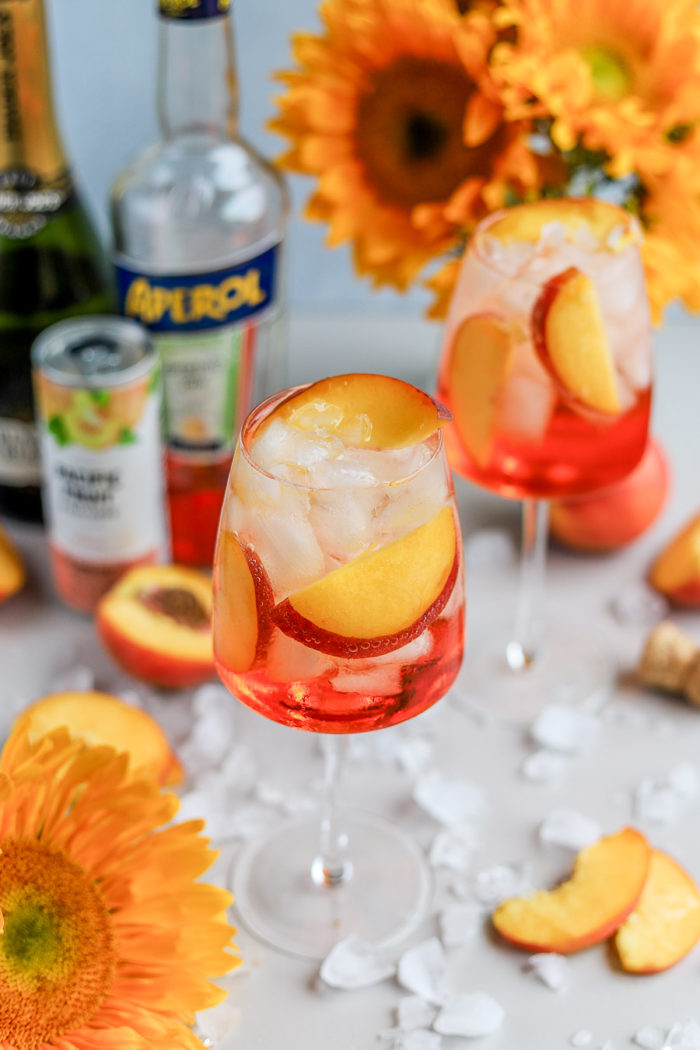 How to mix an Aperol Spritz, the 3 2 1 Aperol Spritz
If you want an easy way to remember how to make the perfect Aperol Spritz every time, just remember the 3-2-1 method. 3 parts prosecco, 2 parts Aperol, 1 part club soda. Except for this recipe, you'll also add 1 part of peach liqueur!
Here are some helpful Amazon finds for this recipe!
Other commonly asked questions
What's an Aperol alternative?
I haven't found an Aperol alternative that gives you the same taste as Aperol. However, you can always swap Aperol for Campari and make a Campari Spritz.
Is Aperol the same as Campari?
Nope! They have completely different tastes. Aperol is sweeter and has a more orange flavor whereas Campari is more bitter and has a more berry flavor.
Pin it for later!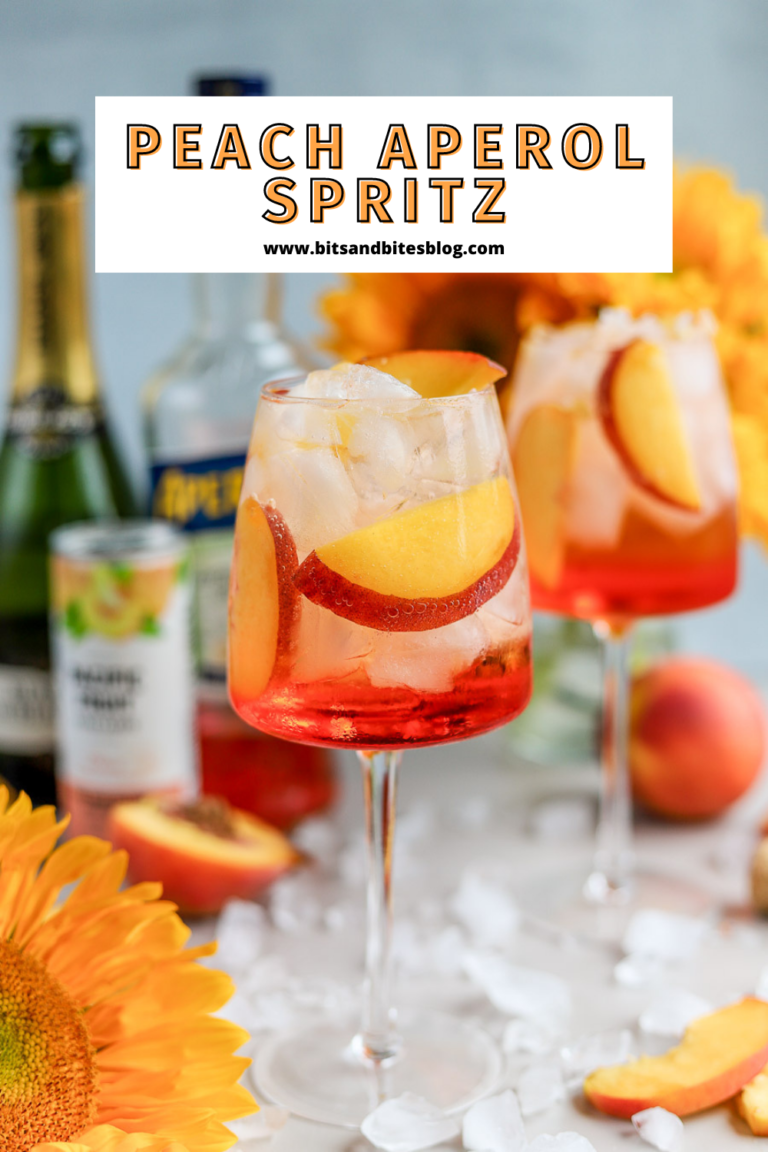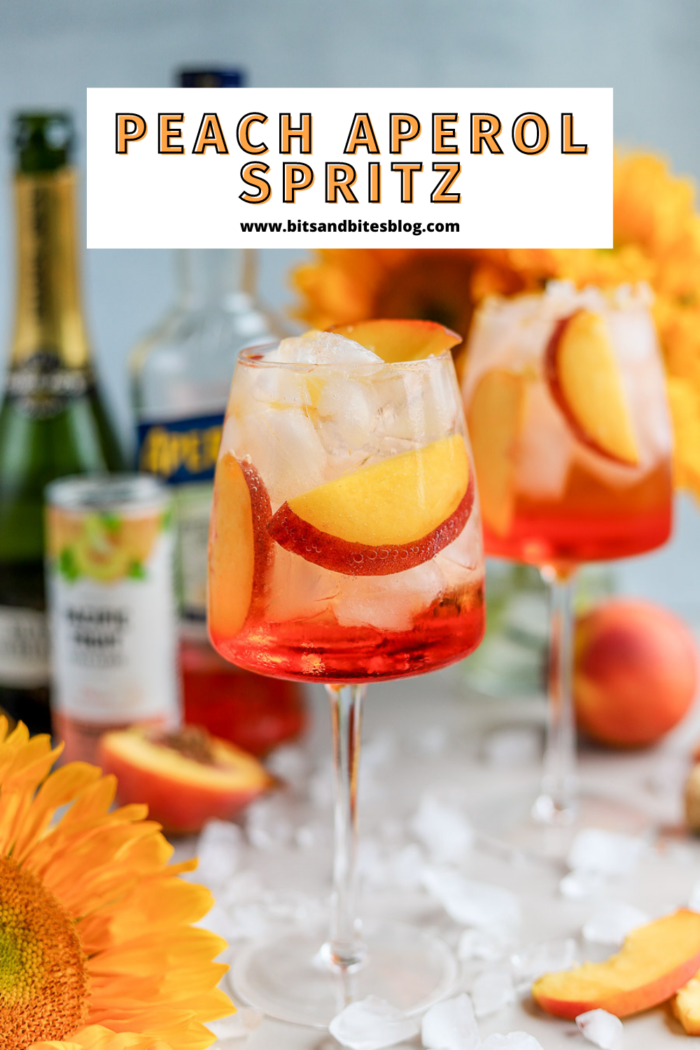 Like this recipe? Here are some other fun cocktails I think you'd love!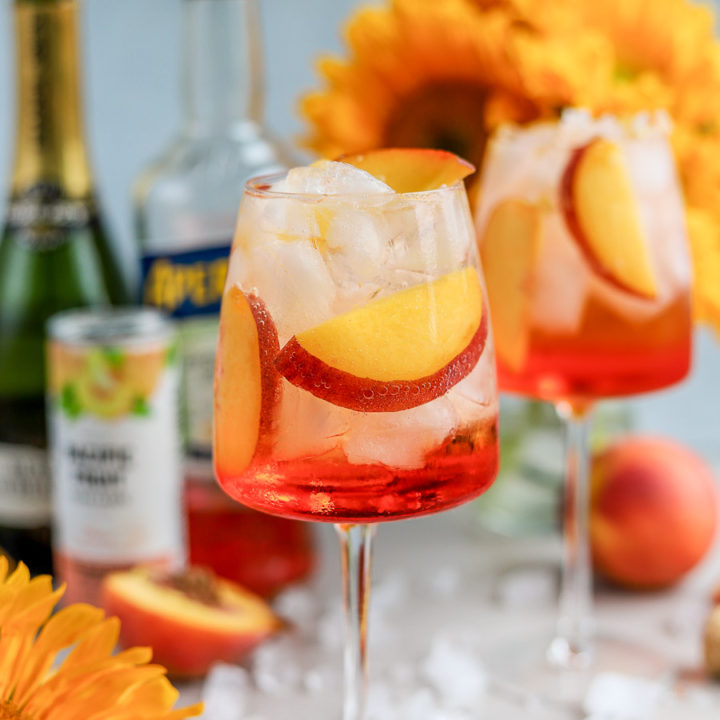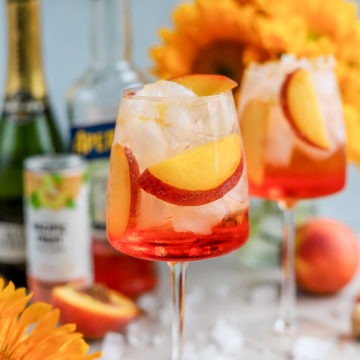 Peach Aperol Spritz
I love a good Aperol Spritz, especially in the summertime. But, to add a fun and summery twist to the traditional Aperol Spritz recipe, meet the Peach Aperol Spritz!
Ingredients
3

oz.

Prosecco

2

oz.

Aperol

1

oz.

Peach Liqueur or Syrup

1

oz.

Club Soda

2-3

Peach Slices
Instructions
In a wine glass over ice, pour in all 4 of your ingredients.

Garnish with peach slices and serve with a straw.