This mango mimosa is such a refreshing, tropical twist on the traditional mimosa recipe. You'll absolutely love it!
This post may contain affiliate links which means I may earn a small commission when you click on the links and make a purchase. I will never recommend a product that I don't support 100%.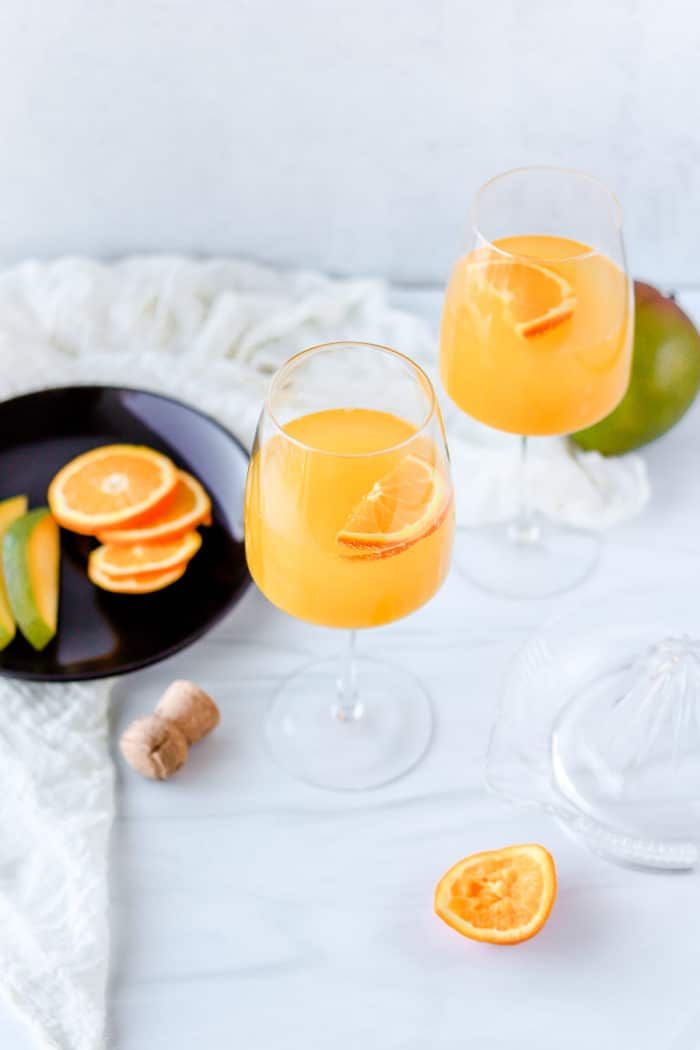 This is such a fun twist on a traditional mimosa recipe
I love a good, fresh mimosa and this mimosa recipe with mango puree doesn't disappoint. The mimosa juice is easy to buy and add to your mimosa bar for your next party!
Ok first and foremost, what is a mimosa?
If you Google "what is a mimosa" it'll tell you it's a cocktail that is made up of equal parts orange juice and champagne. But, I mean, I'm more of a 90/10 type of gal. But hey, you do you, regardless a mimosa is a staple brunch cocktail recipe.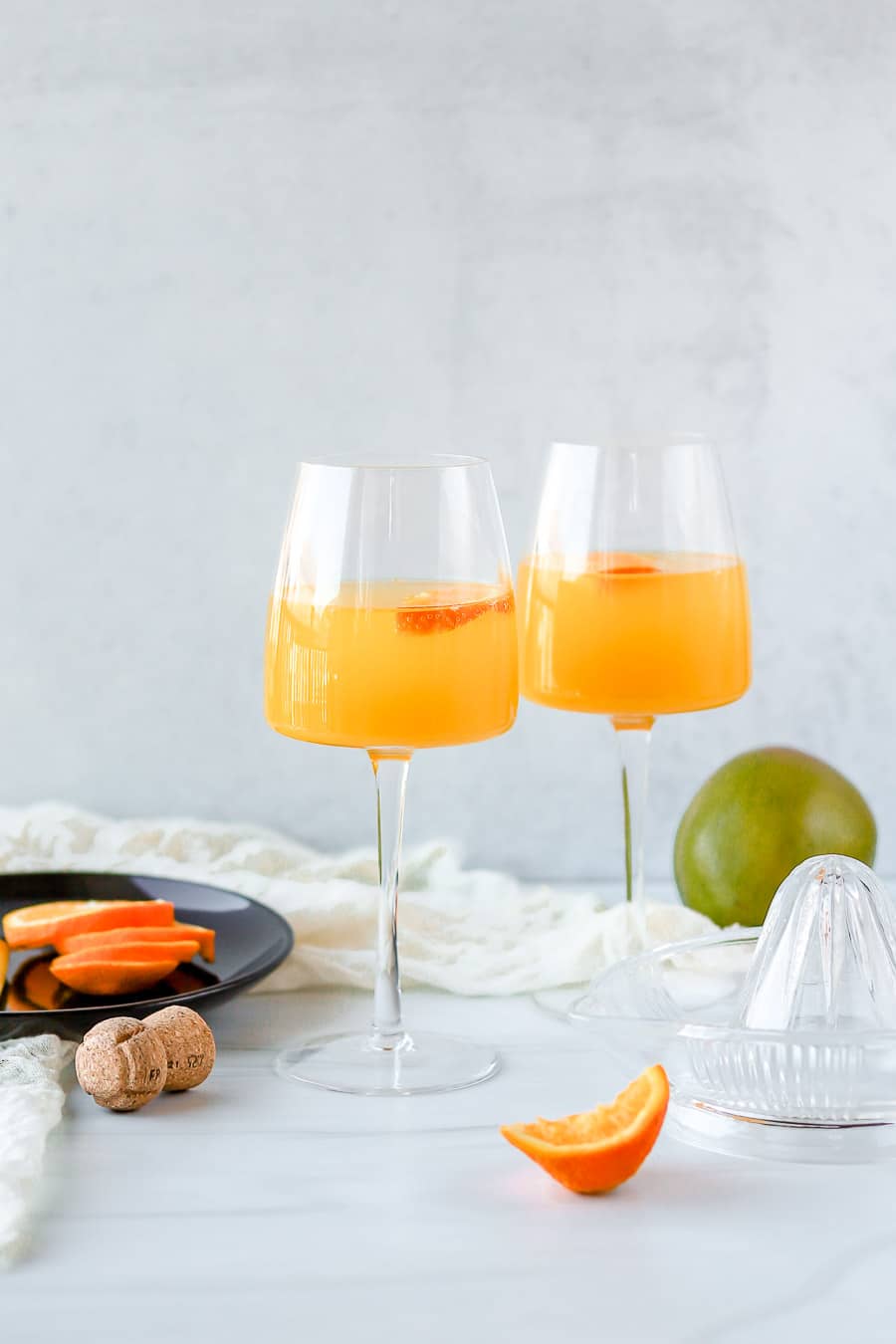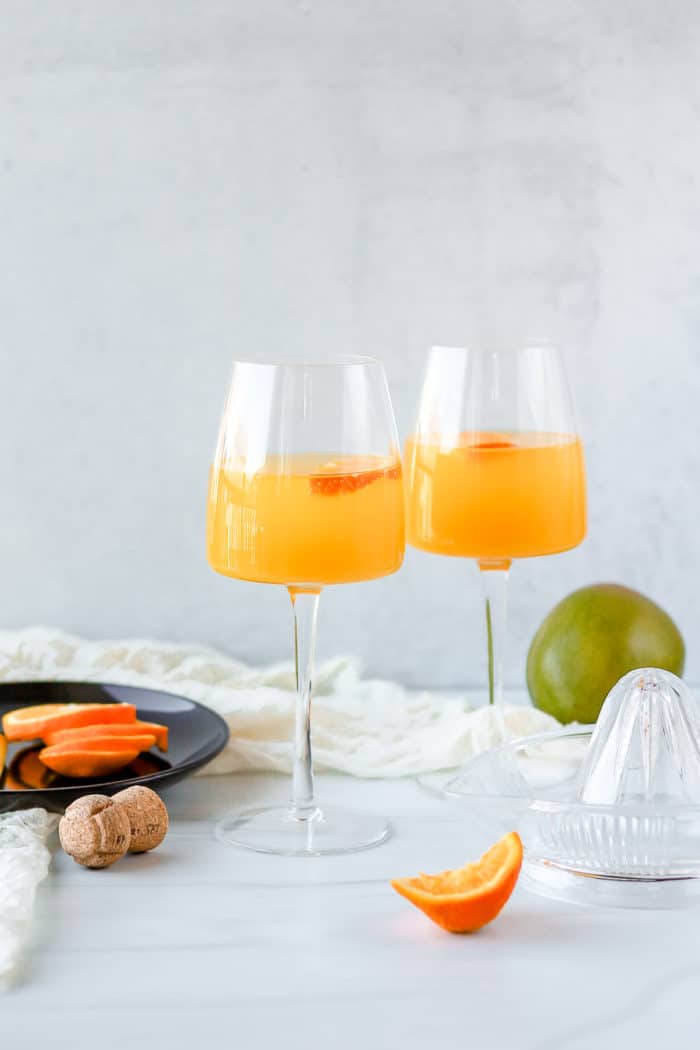 What is the best alcohol for mimosas?
Get yourself a bubbly. I typically make prosecco mimosas because I love Costco's $6 prosecco. You can use either prosecco or champagne. Either way, I recommend using a "brut" which means dry. When you're looking for a bottle of bubbly to buy, it'll say "brut" on the label, it's very clear for you if you're doubting your wine picking skills.
Because you're disguising the taste of the champagne with mango juice, or orange juice in the traditional recipe, you don't need to get a very expensive bottle of prosecco or champagne.
Here's the best prosecco for mimosas, in my humble opinion
Now, don't get it twisted, I'm pretty low-key when it comes to wine, and you rarely see me buying myself a bottle of anything over $10. We're champagne taste on a beer budget here, people.
Costco/Kirkland - for $6 you absolutely cannot go wrong. I keep my Costco membership strictly for this prosecco.
ALDI Belletti Prosecco - for $8, if your ALDI sells wine and you're not a frequent Costo goer, or you don't have a membership, I love this prosecco.
Mionetta Prosecco - is around $13 and can be found at your larger grocery stores and liquor stores.
La Marca Prosecco - is around $14 and similar to Mionetta, it can be found in a wide range of stores, including Target!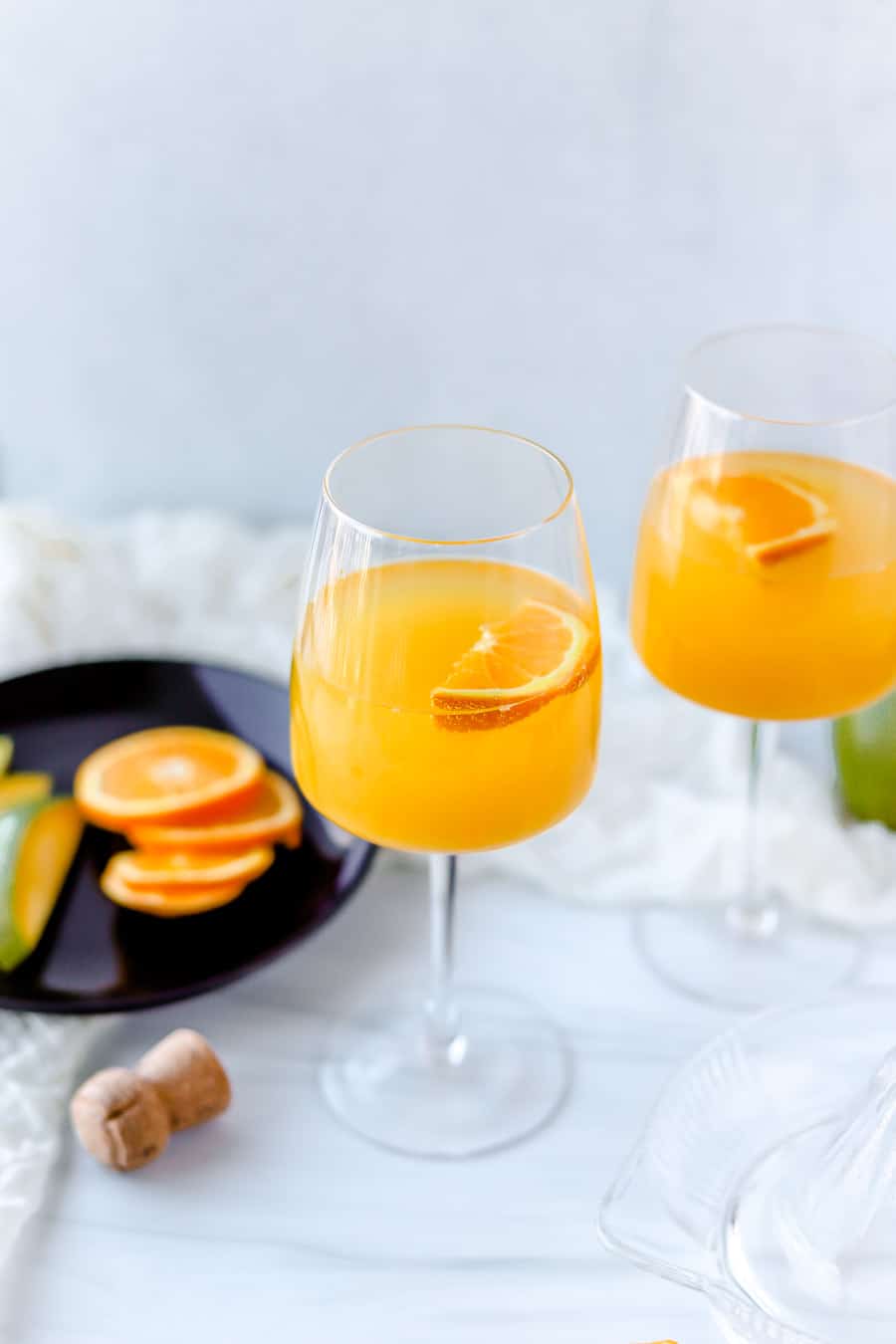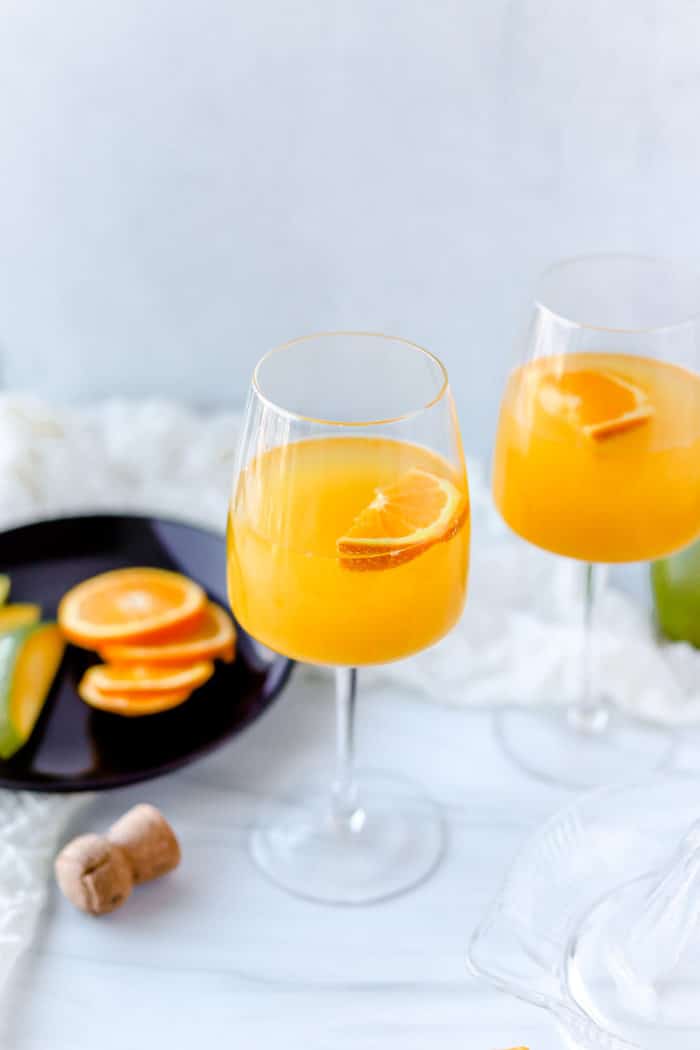 Ingredients Needed
The ingredient list for this mimosa cocktail recipe couldn't be any simpler.
Prosecco
Mango Juice - I love using Bolthouse Farms, but you can use whatever mango juice you like!
How to make this mango mimosa recipe
Like I said earlier, I like my ratio bout 90/10... 90% prosecco and 10% juice. You can make your mimosa anywhere from a 50/50 ratio to a 99/1 ratio!
In your champagne flute or wine glass, pour anywhere from 2 - 4 oz. of chapagne or proesecco.
Top with mimosa juice.
Cheers!
Serve these mimosas in the cutest glassware, it makes them taste 10000x better.
Am I wrong that cute champagne flutes for mimosas make them taste better? I mean, it's science... right?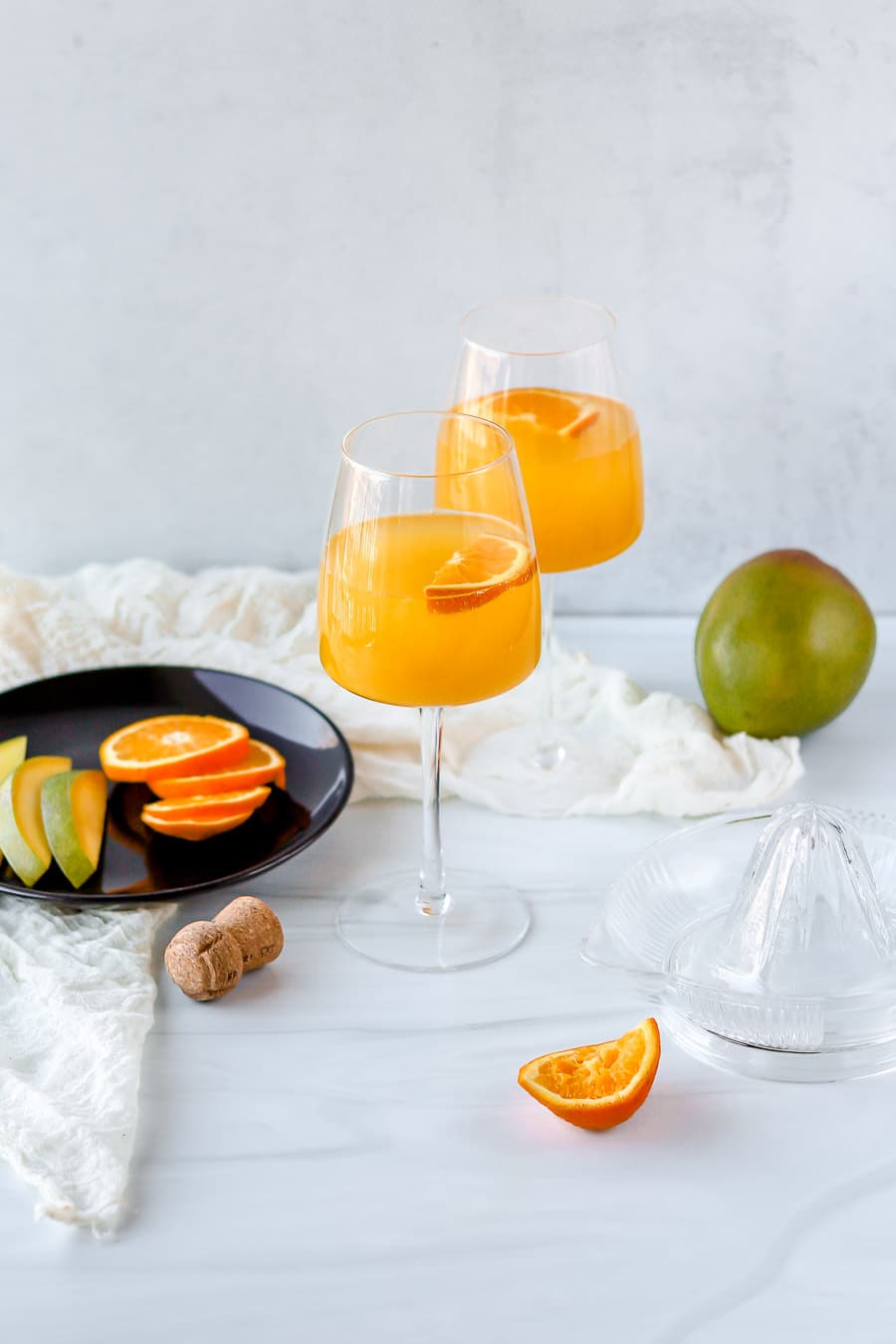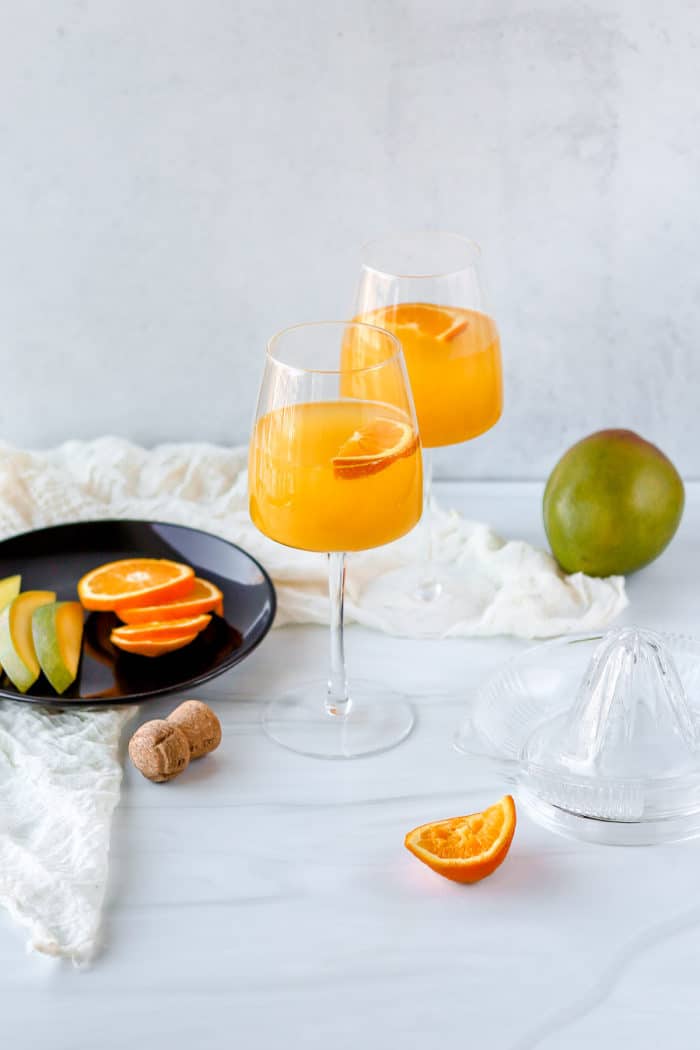 Here are some tips for making the best mimosas
Always, always, always have your prosecco, or champagne, and juice chilled! Nobody wants a room temperature mimosa.
Have some fresh fruit to garnish your cocktail with!
Use fresh juice whenever possible. You can use brands like Bolthouse Farms for fresh mango juice, so you don't have to make your own mango puree for mimosas.
Didn't finish a bottle of bubbly? I am obsessed with this champagne preserver off Amazon!
How does this recipe compare to the mango mimosa from ALDI?
These taste EXACTLY like the mango mimosas from ALDI which is great, because you can't find them in stores all the time!
Can you add pineapple juice to make this a mango pineapple mimosa?
Uhhhh YES. Those will taste like the most delicious tropical mimosas.
Want some more fun cocktail recipes?
Pin it for later!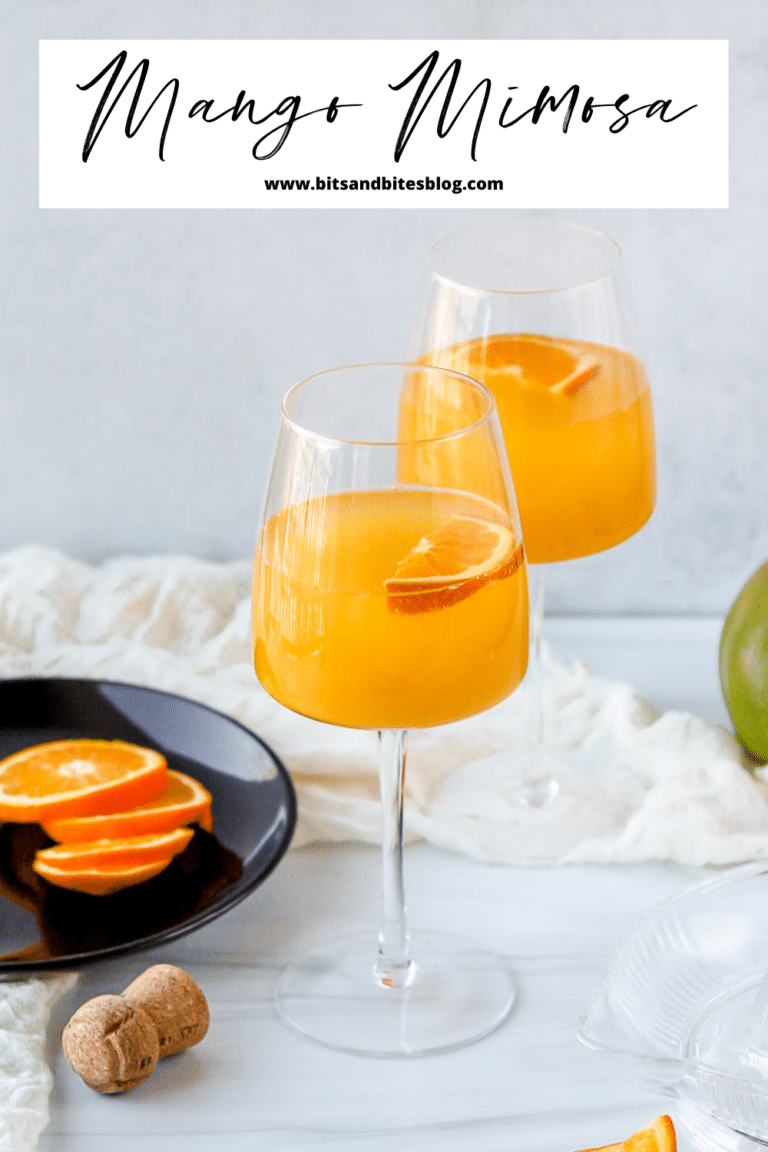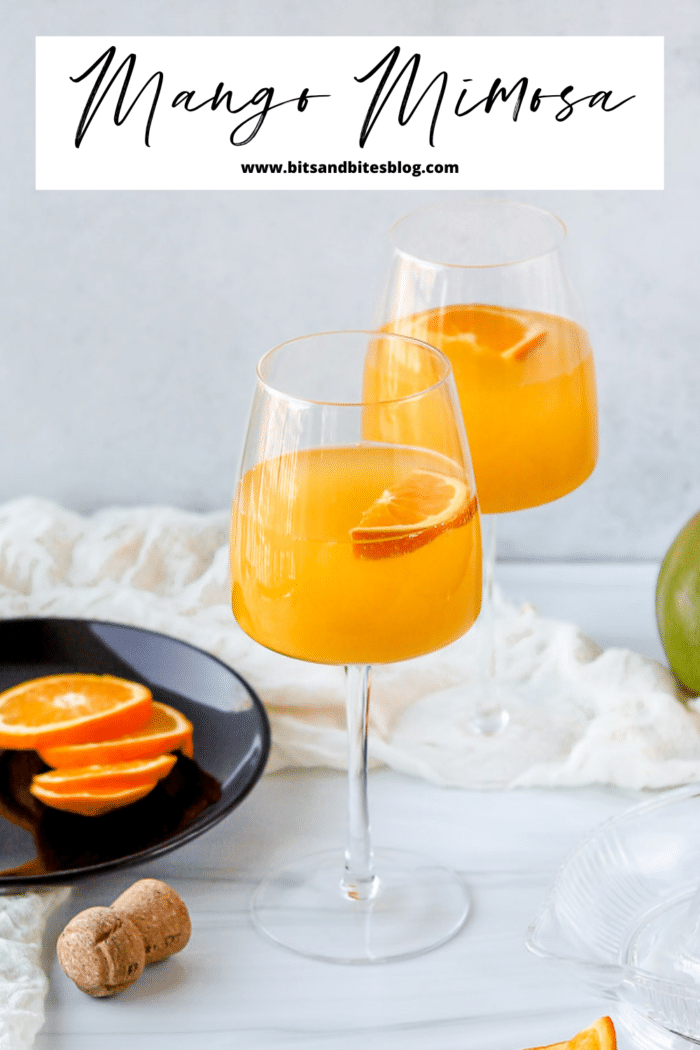 Want more fun cocktail recipes?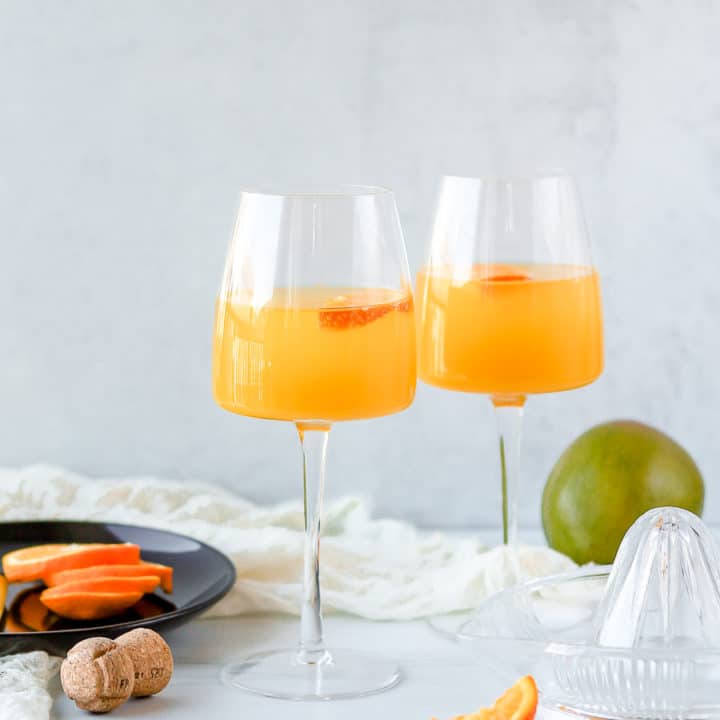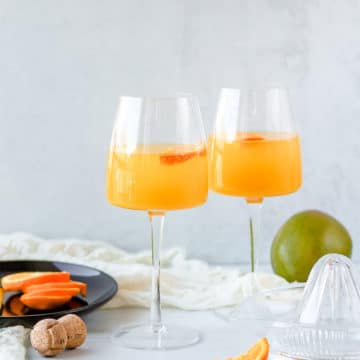 Mango Mimosa
This mango mimosa is such a refreshing, tropical twist on the traditional mimosa recipe. You'll absolutely love it!
Ingredients
2-4

oz.

Prosecco or Champagne

3-1

oz.

Mango Juice
Instructions
In a champagne flute, pour in your prosecco or champagne.