Orzo is such a versatile type of pasta. I love using it in pasta bake recipes or salad recipes for the summer. However, what happens when you don't have orzo? You need an orzo substitute! Here's a list of the best alternatives.
This post may contain affiliate links, meaning I may earn a small commission when you click on the links and make a purchase. I will never recommend a product that I don't support 100%.
What is Orzo
Orzo pasta is a small, rice-shaped pasta made from semolina flour. It is classified as a "pastina" or "little pasta" in Italian cuisine, however, it is used in a variety of dishes ranging from Italian cuisine to Mediterranean cuisine to American recipes. You'll commonly see orzo in recipes like soup, rice pilaf, or pasta salads.
Orzo is a versatile pasta because of the fact that the semolina flour it is made with is high in protein, so it holds up great in recipes with longer cooking times like soups, casseroles, etc. It's a tiny pasta that can hold its own in all of your favorite comfort recipes.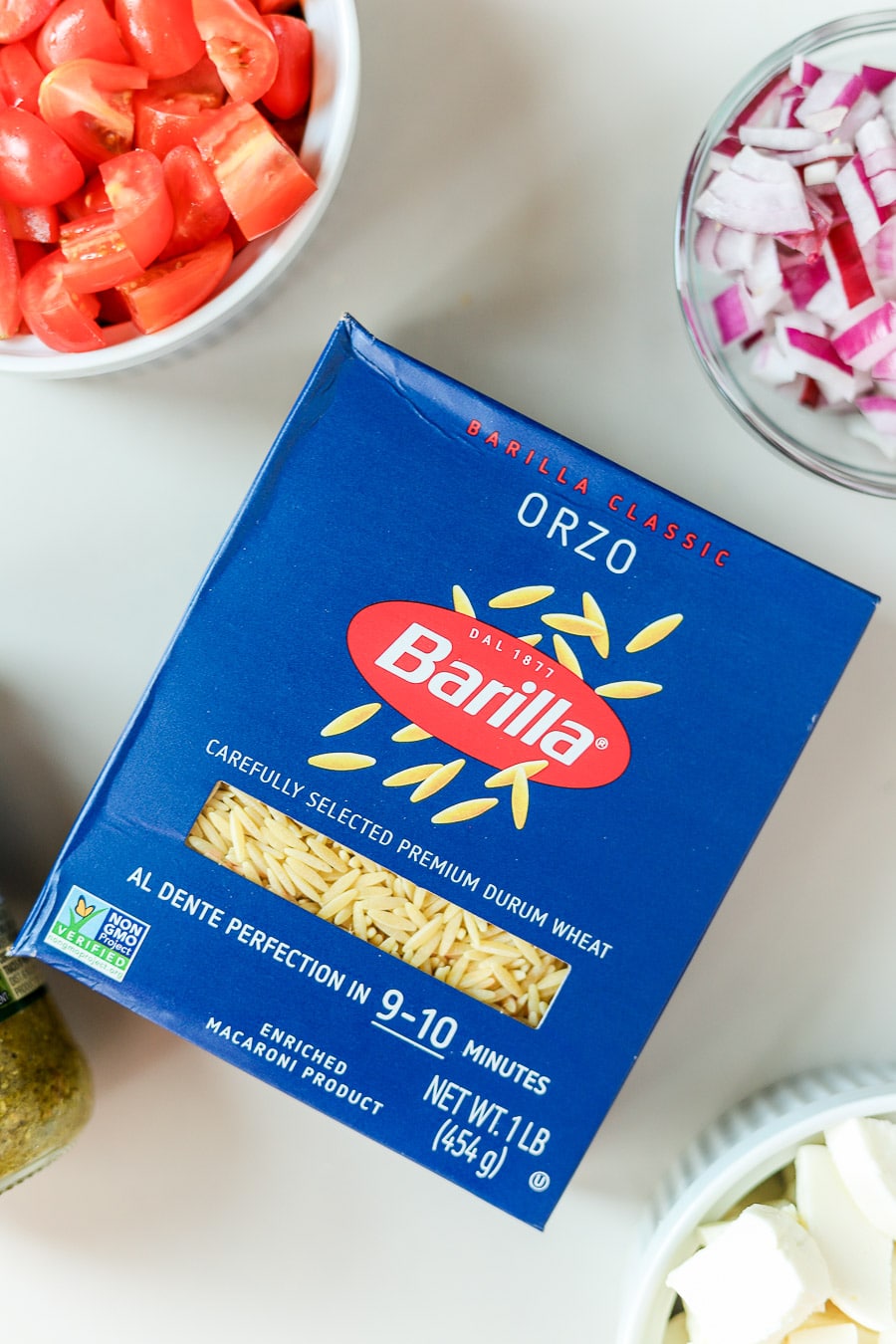 Is Orzo gluten-free
If you consume a gluten-free diet, Orzo is not gluten-free. Because it's a type of pasta made with flour, there is gluten in this. However, if you are looking for a gluten-free option, I have included some of the best alternatives below.
How to use Orzo
You can use Orzo in a variety of ways. Cold salads like pasta salads (try this caprese orzo pasta salad), side dishes, soups (like this chicken pastina soup), risottos, hot pasta dishes, or casseroles.
How to cook Orzo
I prefer to cook Orzo as you would all types of pasta. I fill a pot with water, salt it, bring it to a boil over medium heat, and then cook the Orzo until al dente. If you are using traditional Orzo in recipes like soups, pasta bakes, or casseroles, you'll want to use extra liquid or both. Be sure to use the same ratio you would with rice, 1 cup of orzo to 2 cups of liquid. If you want a delicious nutty flavor, you can toast it in olive oil or butter in a frying pan until golden brown. This adds such a nice flavor to all your favorite recipes.
Best orzo substitutes
If you're looking for the best substitutes for orzo, here is a list ranging from different kinds of pasta to types of rice to other options. Let's start with other pastina options you could use.
Ditalini Pasta
Ditalini, which is an Italian word meaning "little thimbles," is an excellent substitute. It's another small pasta shape that is a tube rather than the rice shape of an orzo. It's great in light soups and cold salads. It has a similar texture and cook time as well.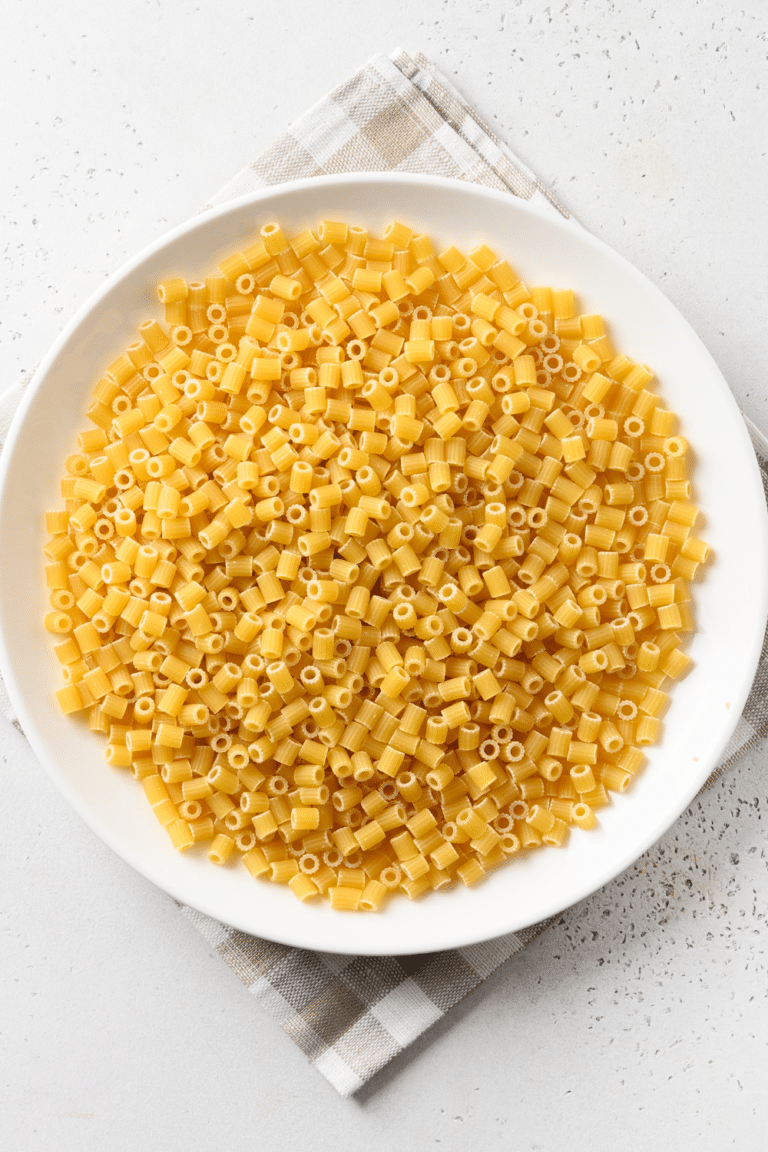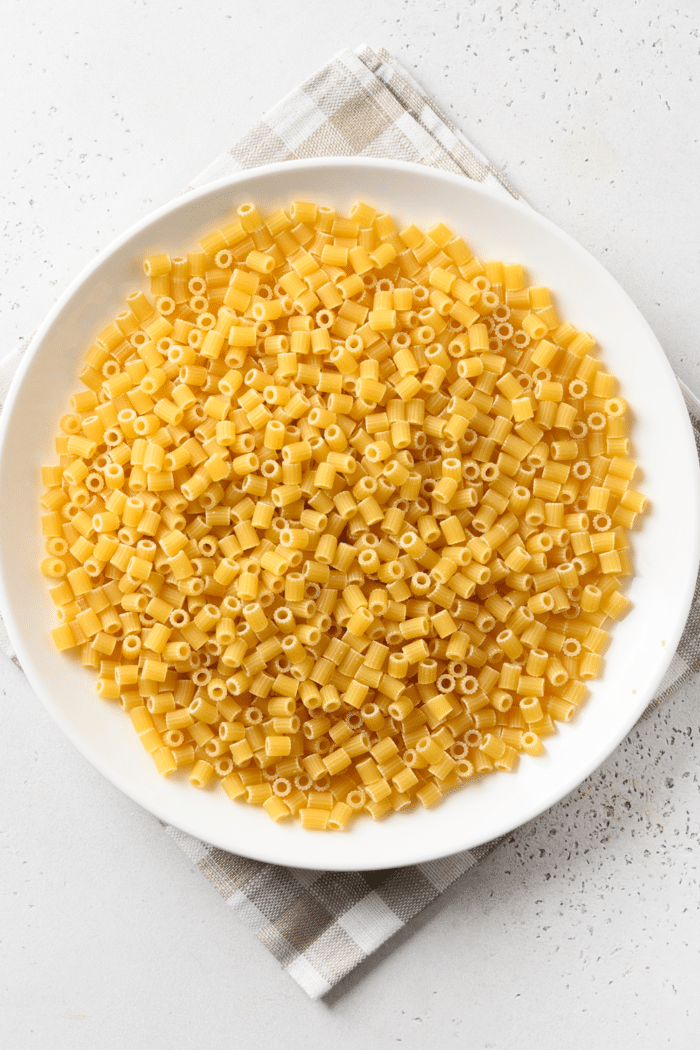 Broken Spaghetti
Ok, ok, technically not a pastina, but broken spaghetti is such a great substitute because it's so easy! I'm going to bet that you have spaghetti in your cabinet, and you can break the spaghetti up into small pieces to use in any recipe that calls for orzo. Plus, this is an easy substitute to make if you have celiac disease and are looking for a gluten-free alternative. Grab your favorite gluten-free spaghetti and break it into little pieces.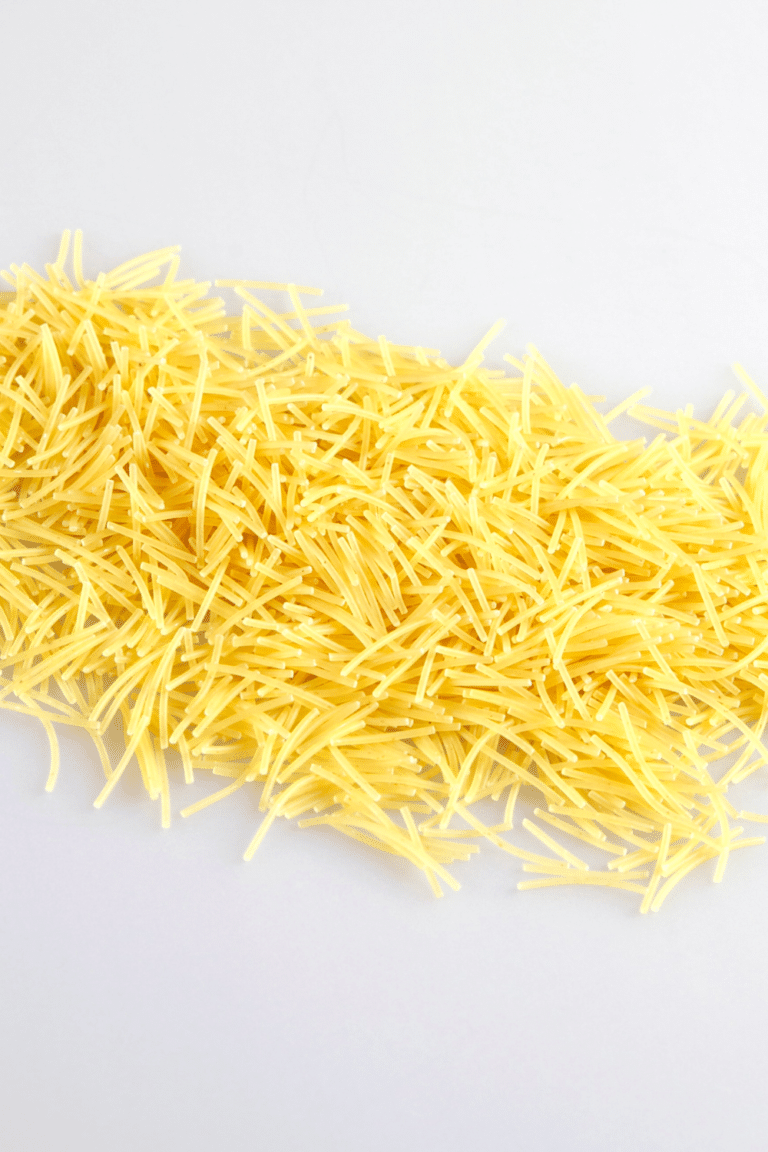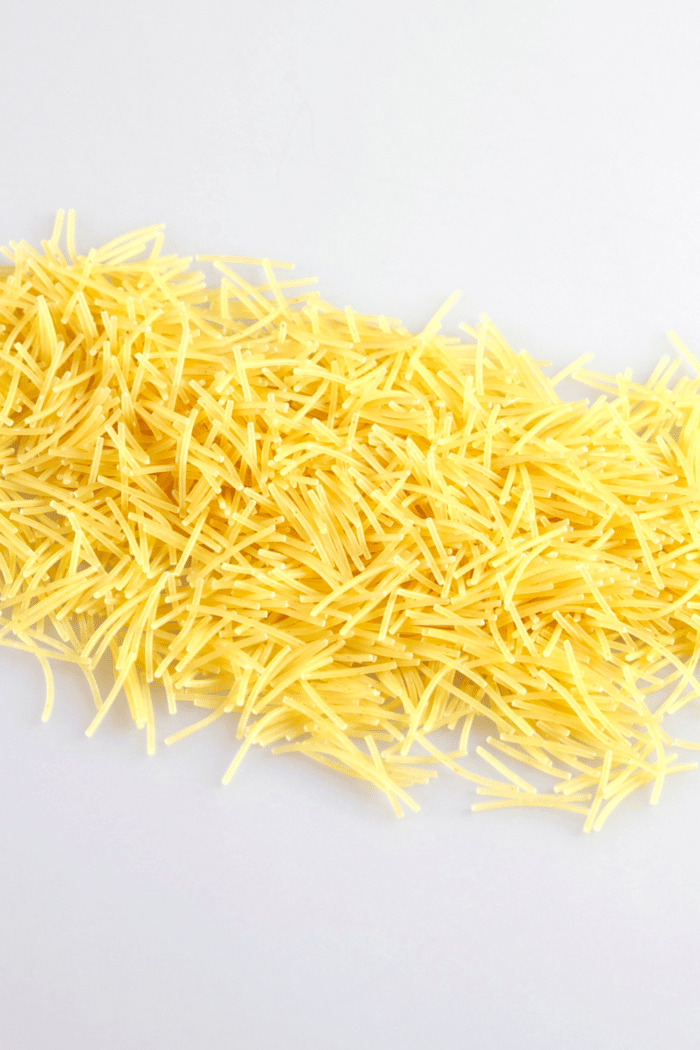 Stelline
Stelline is an Italian pasta that's small and in the shape of stars! This is one of my favorite orzo alternatives when I'm making soup. I love this chicken and pastina soup in the winter or if I'm feeling sick... it's the best! This is also great in creamy orzo dishes.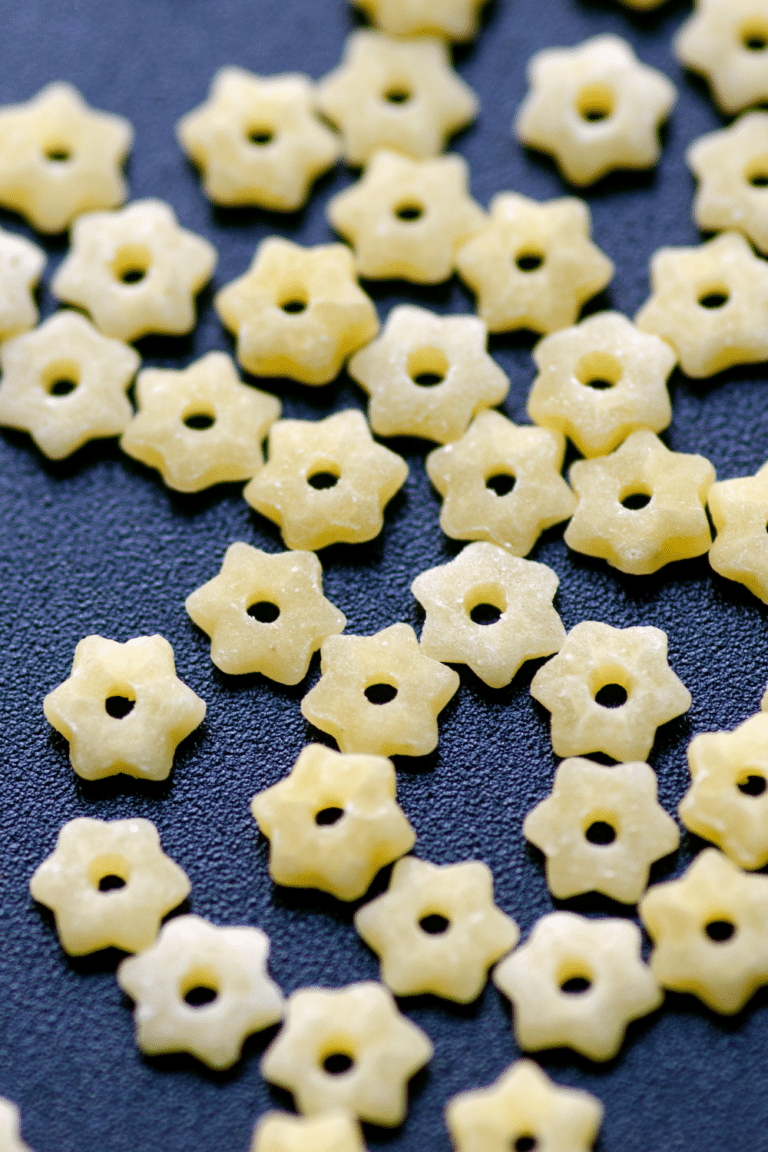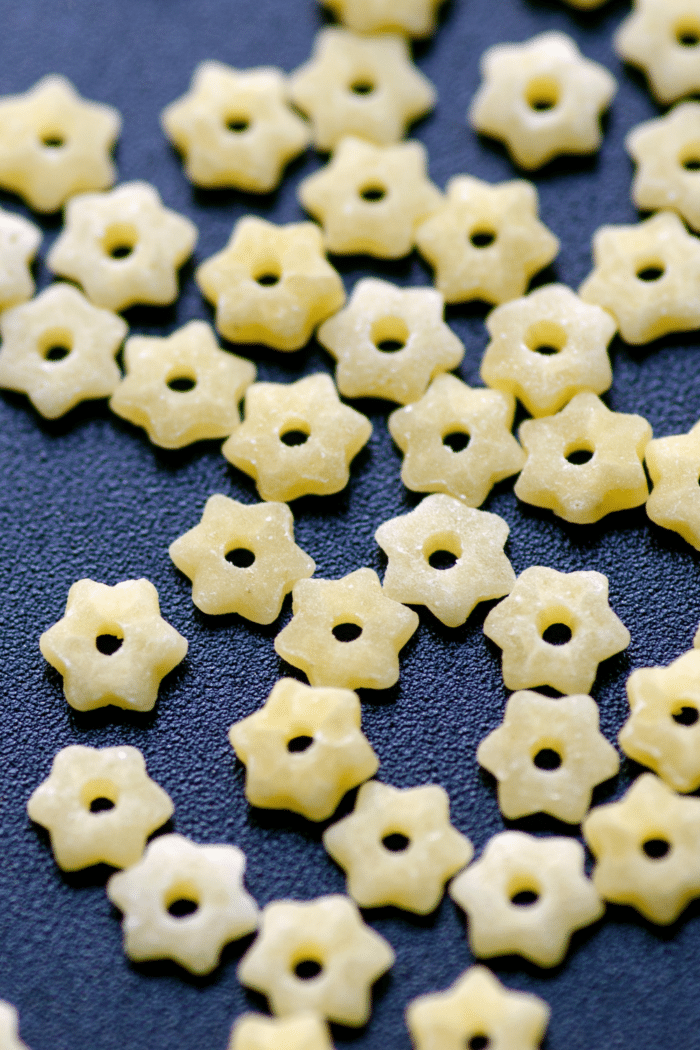 Acini de Pepe
Similar to Ditalini or stelline pasta, Acini de Pepe is a small pasta, but smaller than orzo. It's a round pasta and similar to Israeli couscous in size and shape, and if you've ever had Italian wedding soup, you've had Acini de Pepe. This is a perfect substitute for any orzo salads like pasta salad recipes or soups.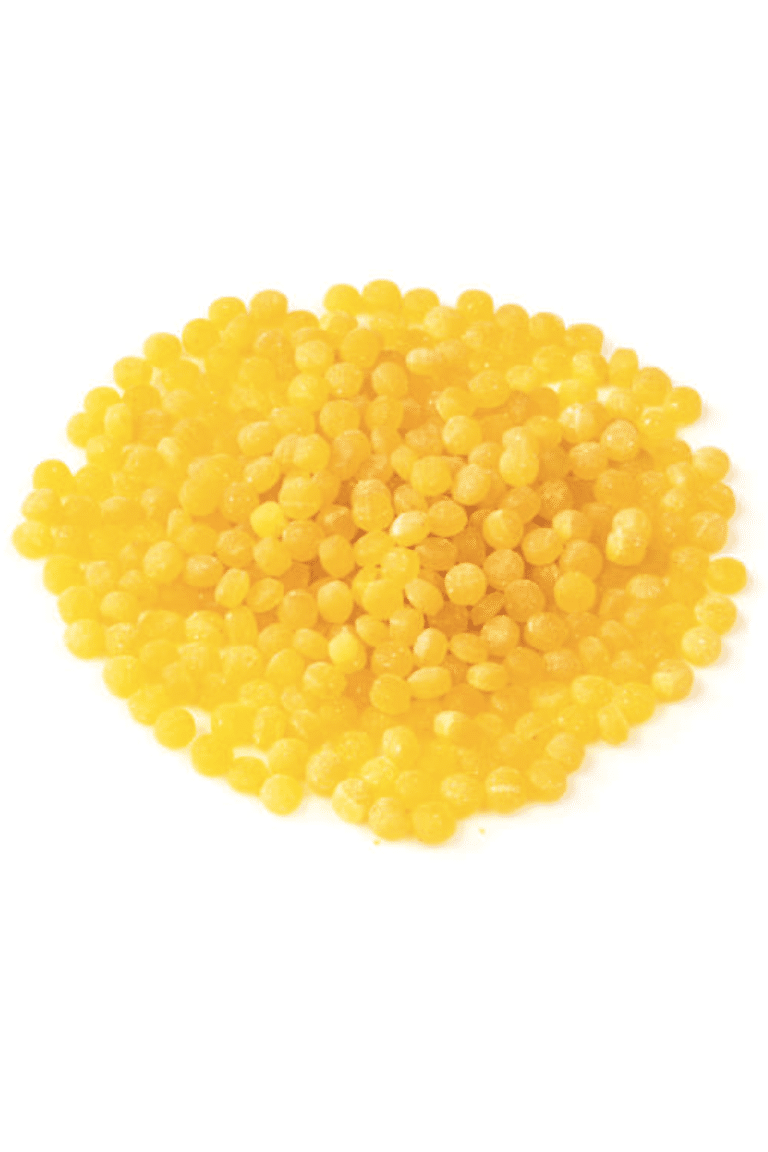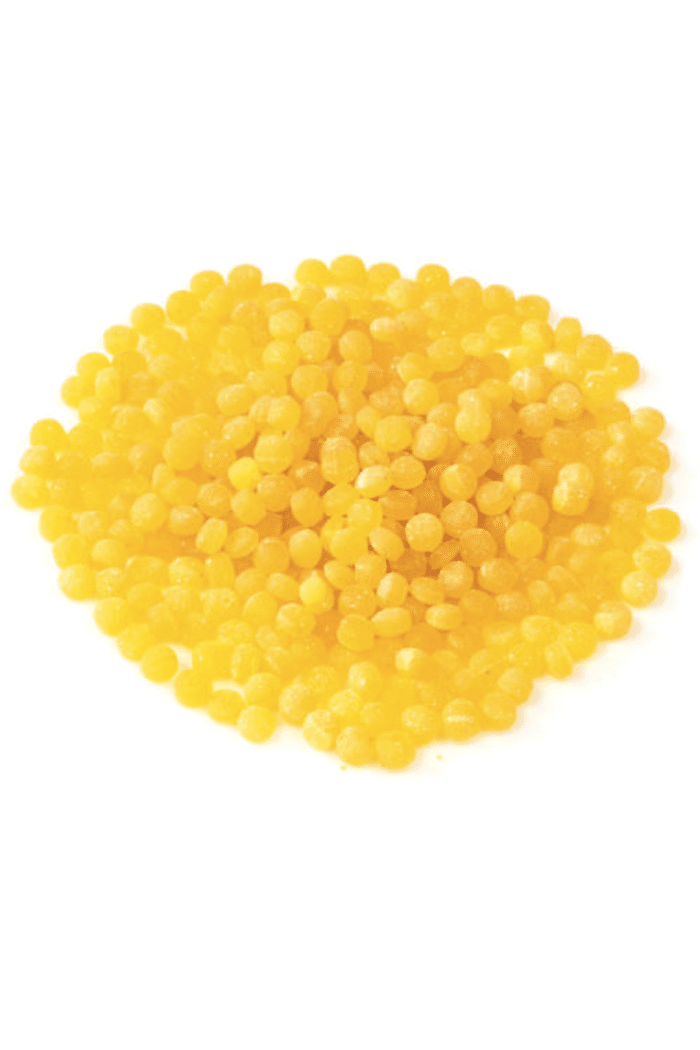 Small Elbow Macaroni
If you are totally in a crunch and need a good option for a soup or pasta salad recipe, you can always turn to small elbow macaroni. Technically, it isn't considered "pastina," but it is a traditional Italian pasta shape that you can find at any store, even at your local convenience store!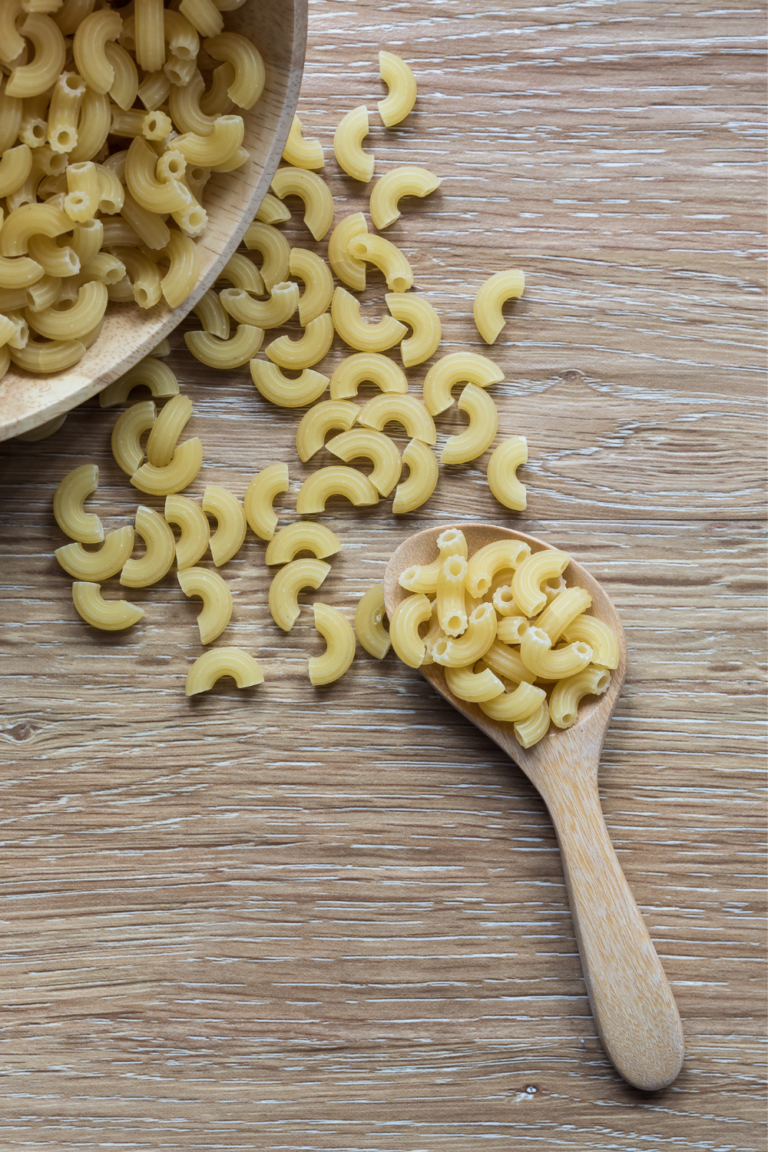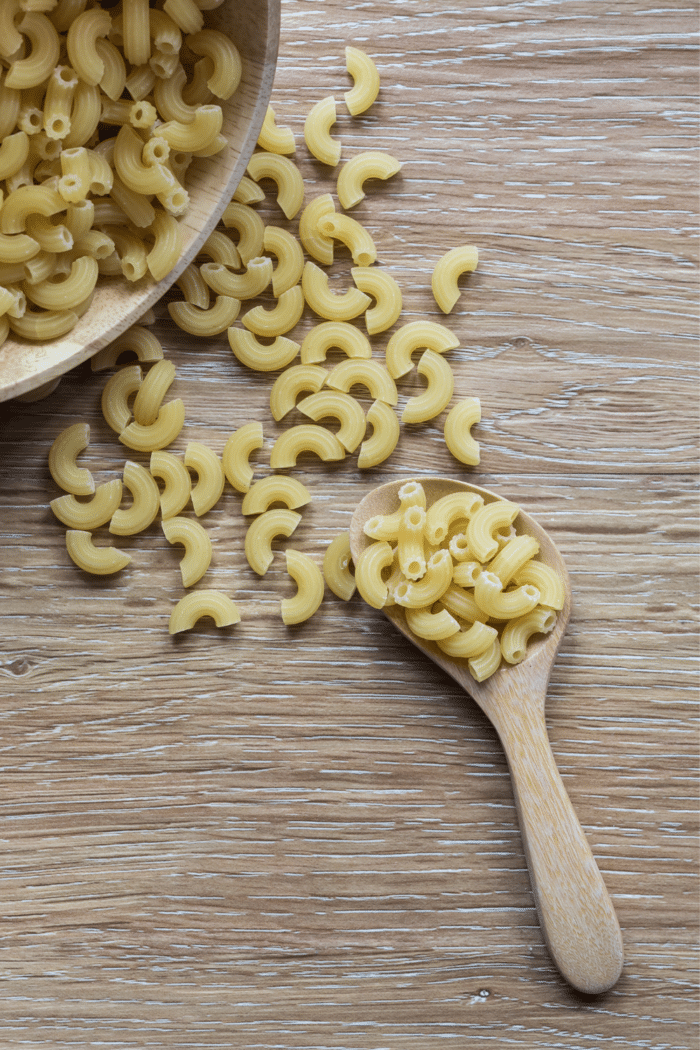 Arborio Rice
Arborio rice is what you use to make traditional risotto, and this is the most similar texture, plus it's a small size like Orzo. Because of the starchiness, it adds a great creamy texture to recipes like risotto recipes, casseroles, and other hot dishes and sides. You can also find arborio rice in the majority of grocery stores.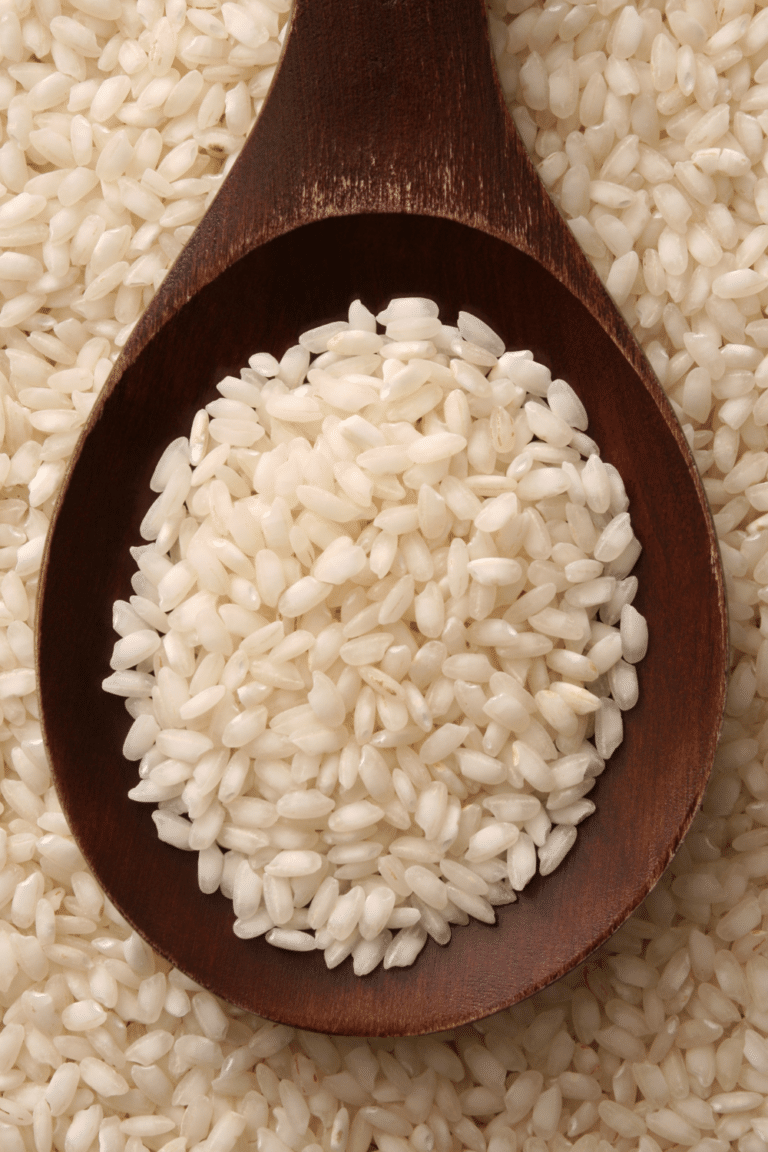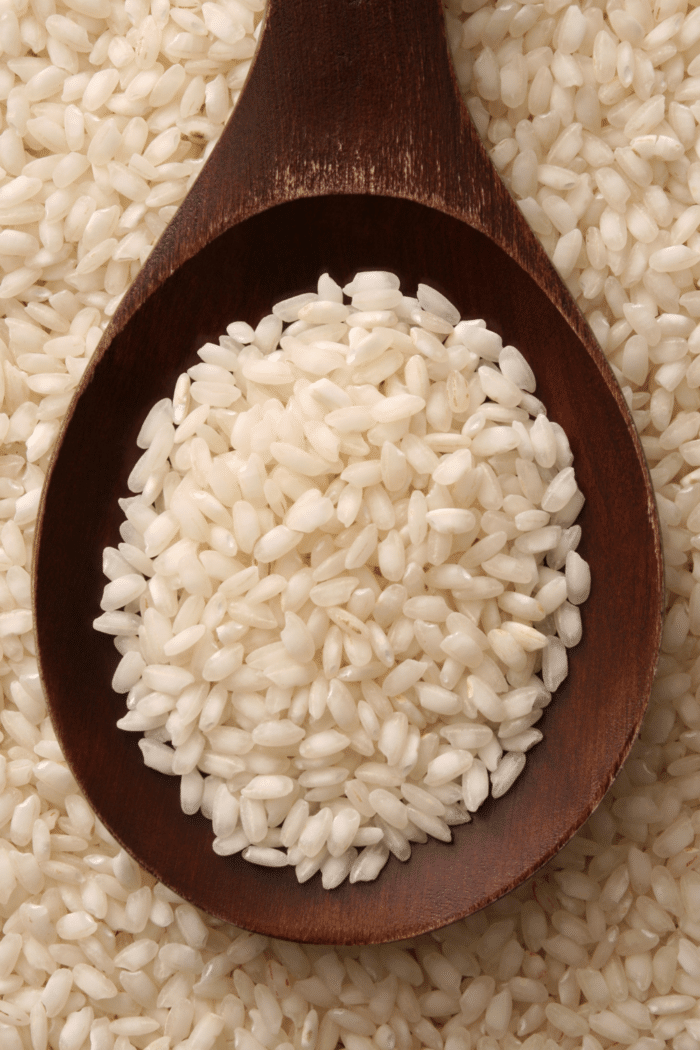 Pearl Barley
Pearl barley is an ancient grain and isn't a gluten-free grain but it's a low-gluten grain. So, if you're trying to keep your gluten consumption on the lower side, but aren't completely gluten-free, this is a very suitable substitute. This is a great opinion for stews or hearty soups, and it adds a great nutty taste to recipes. Just be mindful that the cooking time for pearl barley versus orzo is longer, so be sure to account for that while cooking.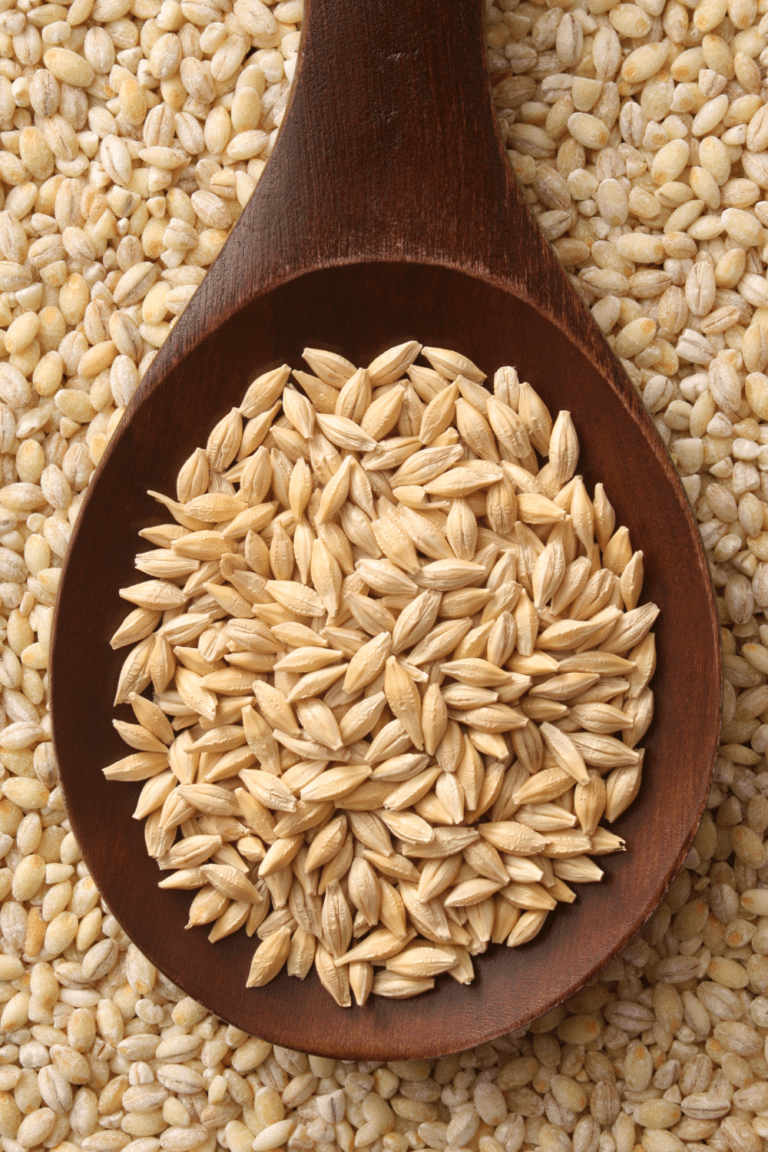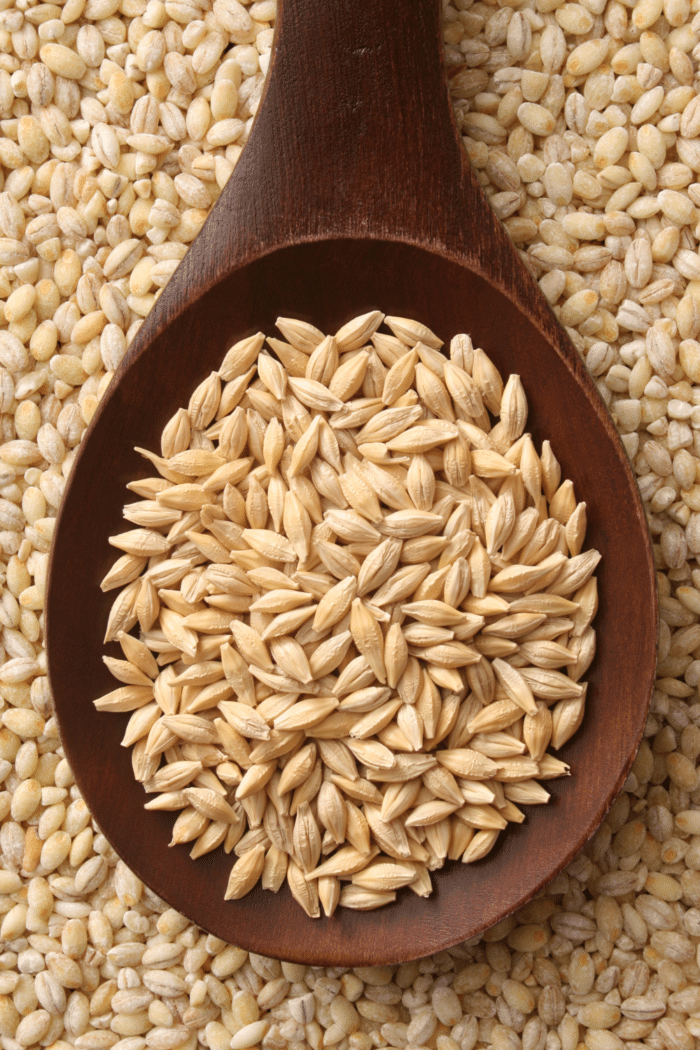 Couscous
Pearl couscous is going to be your best option if you're looking for a good orzo substitute. It's made with durum wheat semolina flour, just like orzo pasta. You can certainly use other types of couscous, but the shape will be smaller compared to pearl couscous or orzo itself.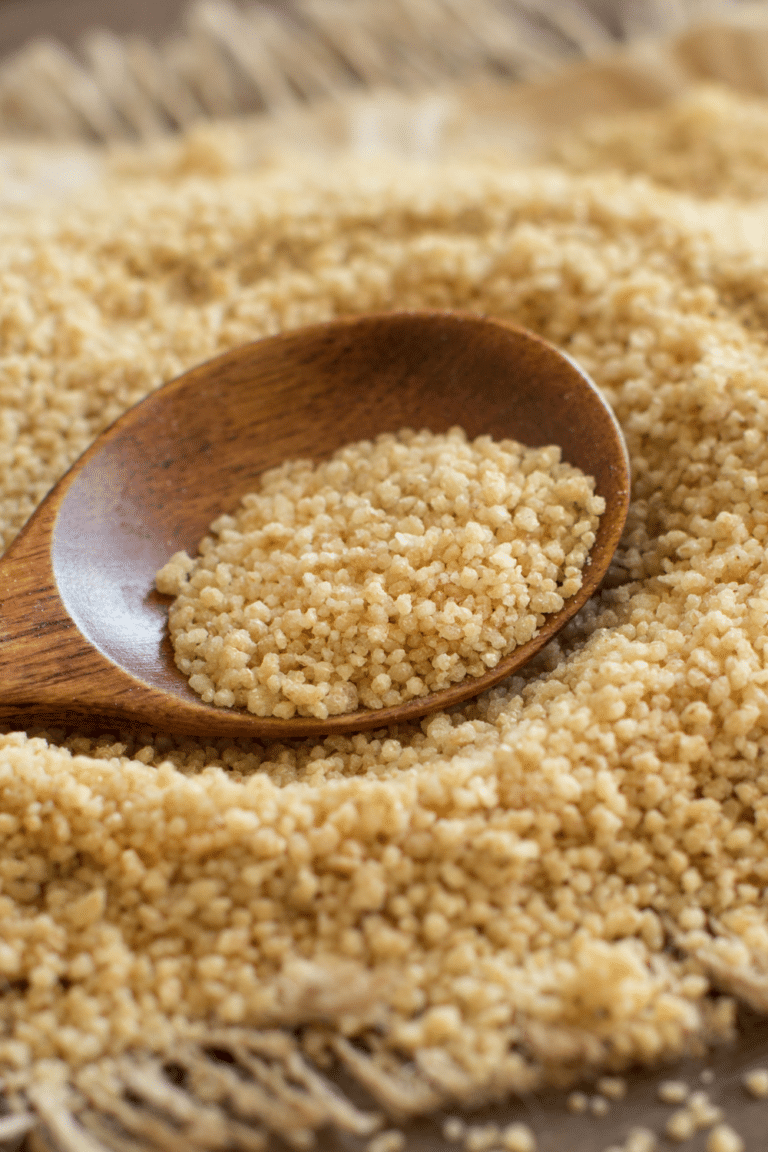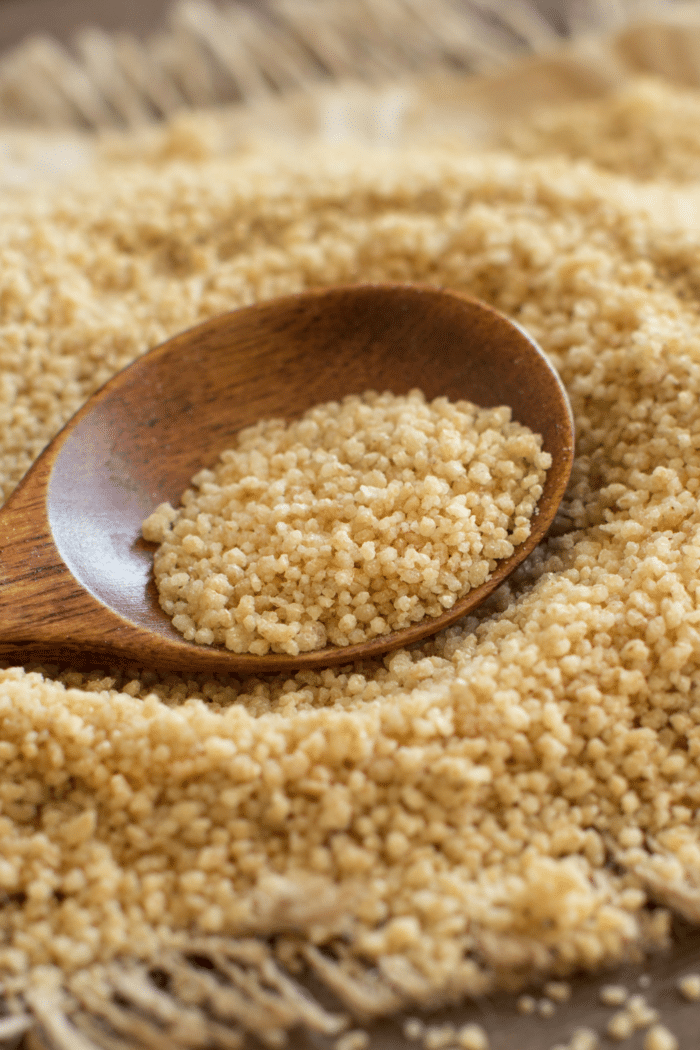 Farro
This is another ancient grain that makes for a great healthy substitute if you're looking to swap out orzo in your recipe. It's similar in shape and texture to short-grain rice, and has a bit of a nutty flavor. This is not a gluten-free orzo substitute, you can find a better choice for that below.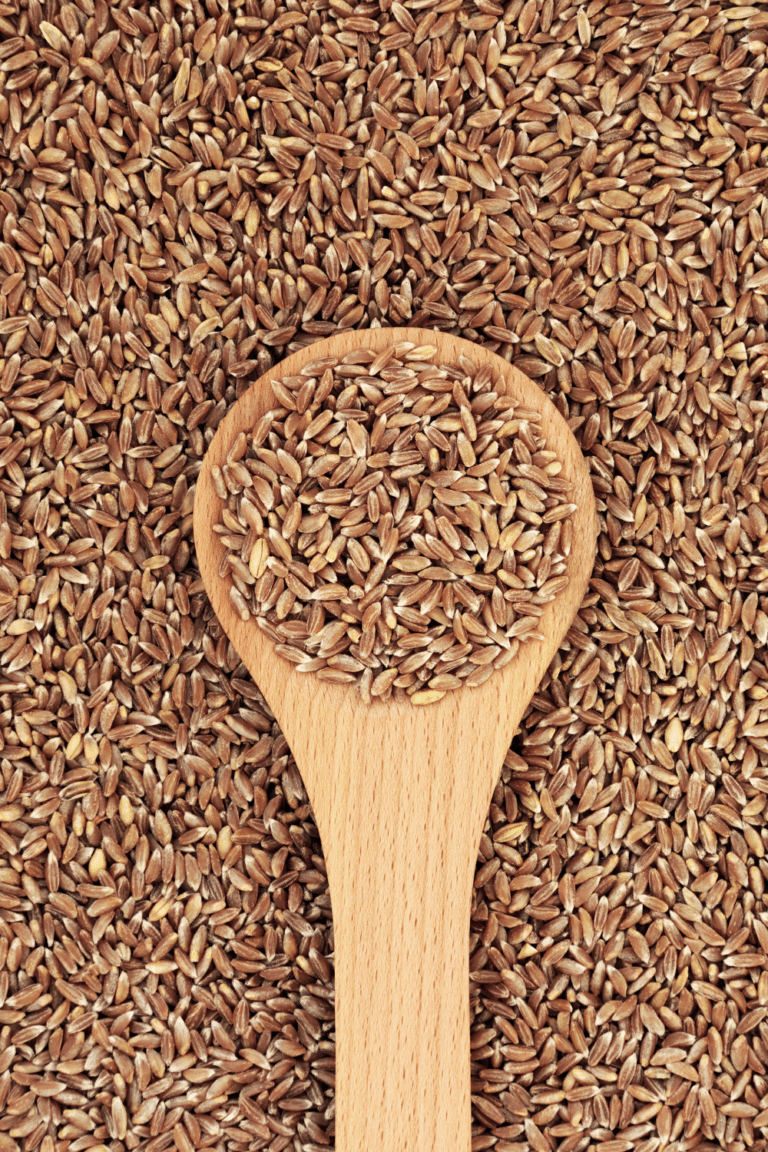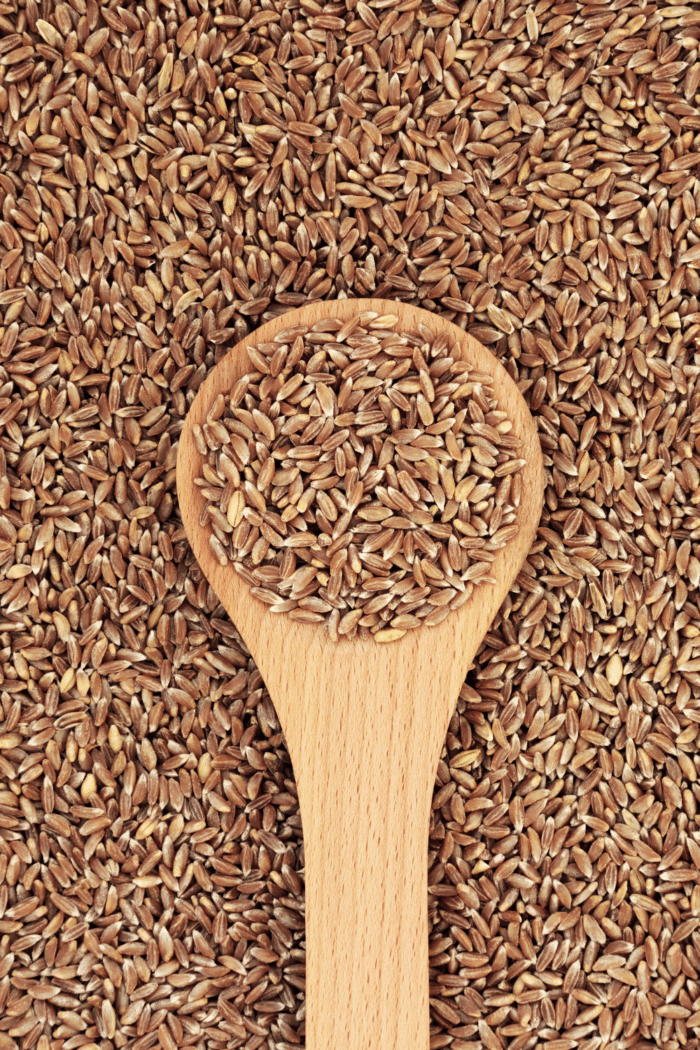 Fregola
Fregola, like orzo, is made from semolina flour, but it's shape and texture is more similar to couscous. They are round, pearl-like balls, and are a great orzo substitute for recipes like soups, pasta bakes, or casseroles.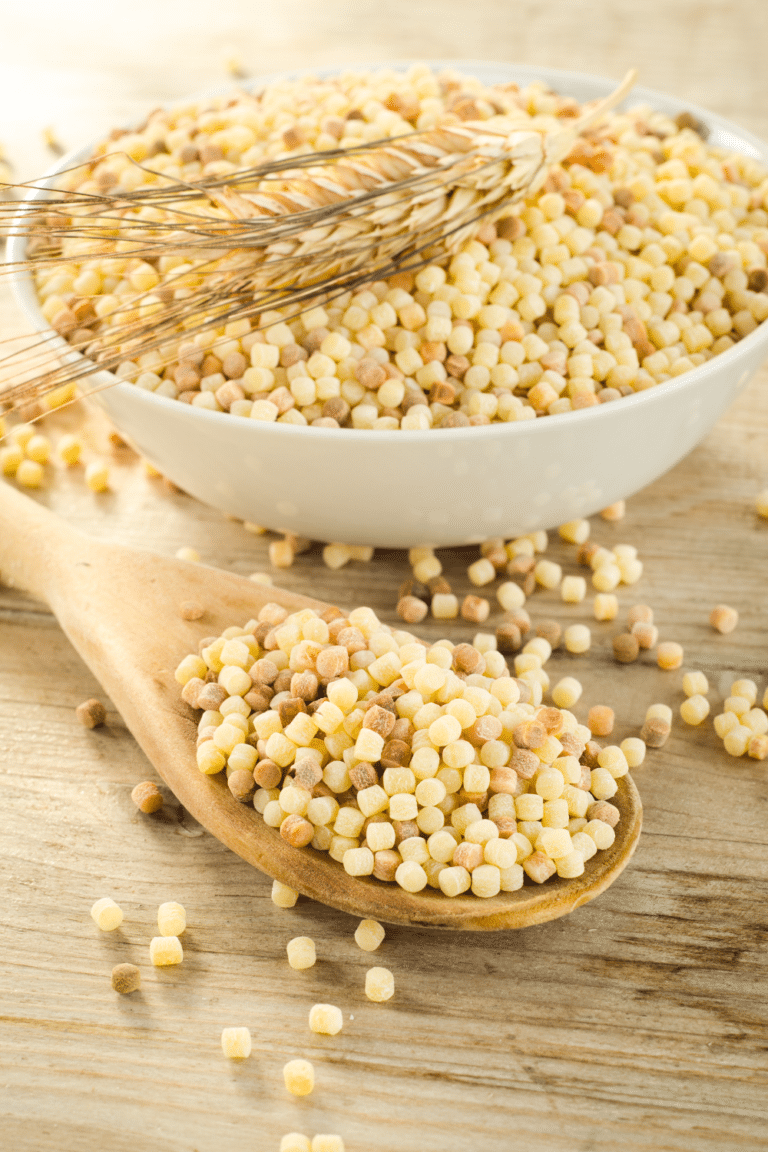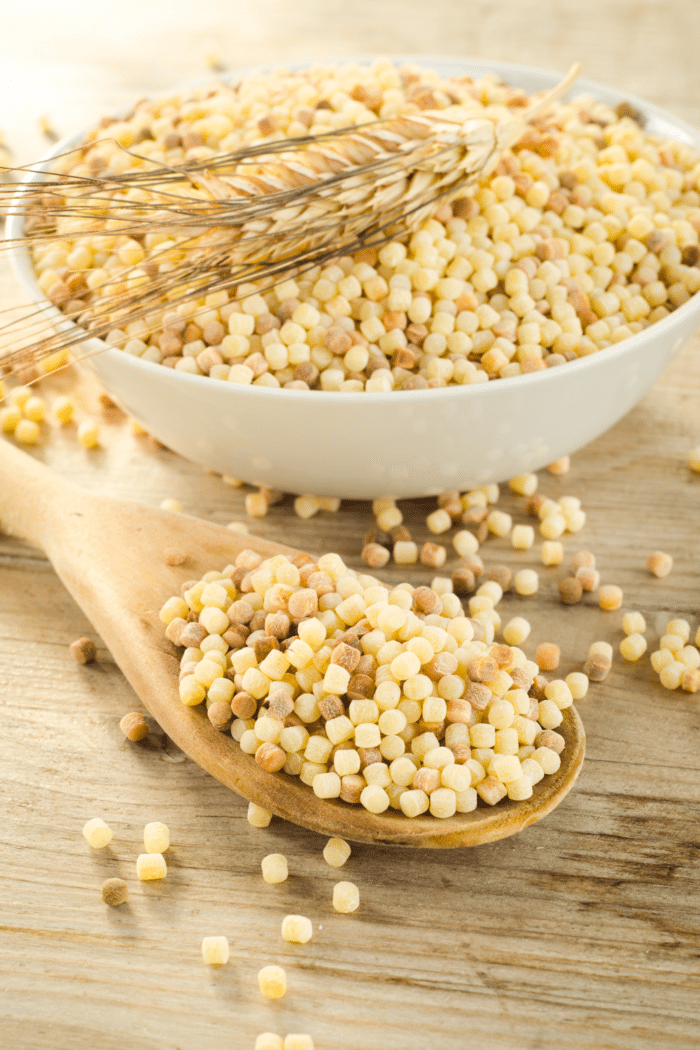 White Rice
White rice, like jasmine, which is a long grain of rice, also makes for a great orzo substitute. I'm going to guess that this is a pantry staple, so you won't have to be running out to your local grocery store on the hunt for orzo, you can simply use rice instead of traditional pasta in any recipe. I recommend using rice in hot dishes like soups or casseroles.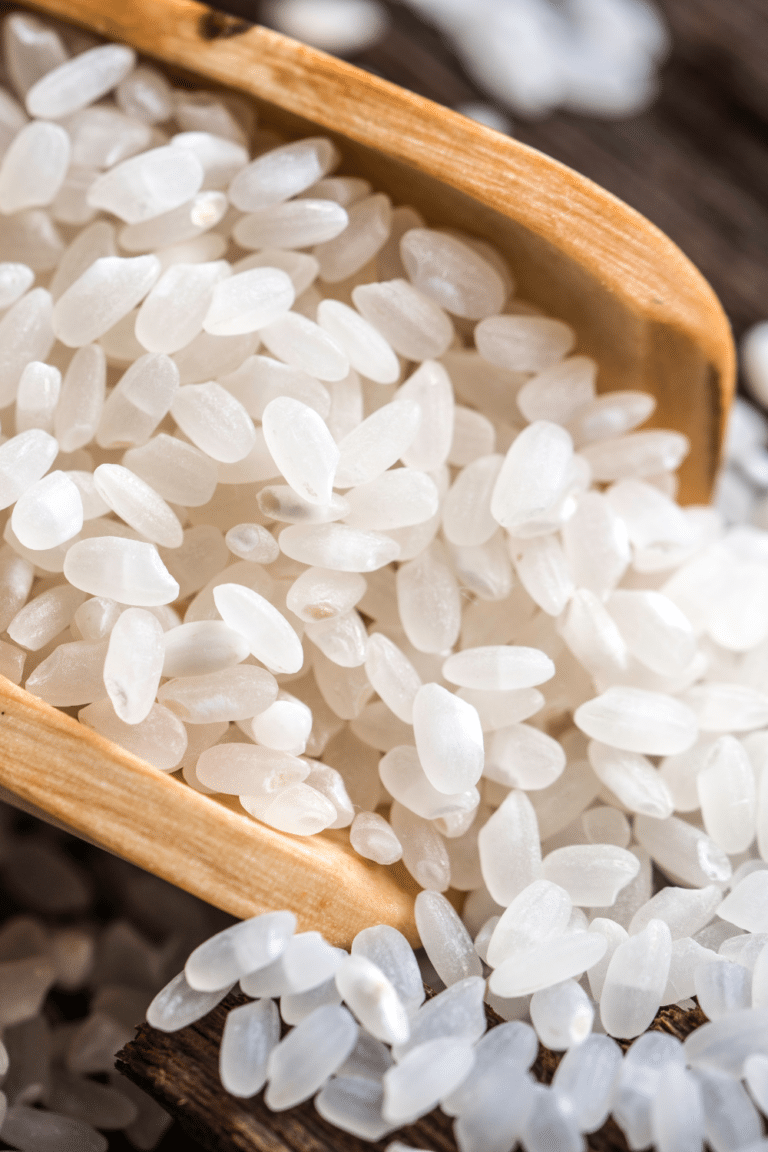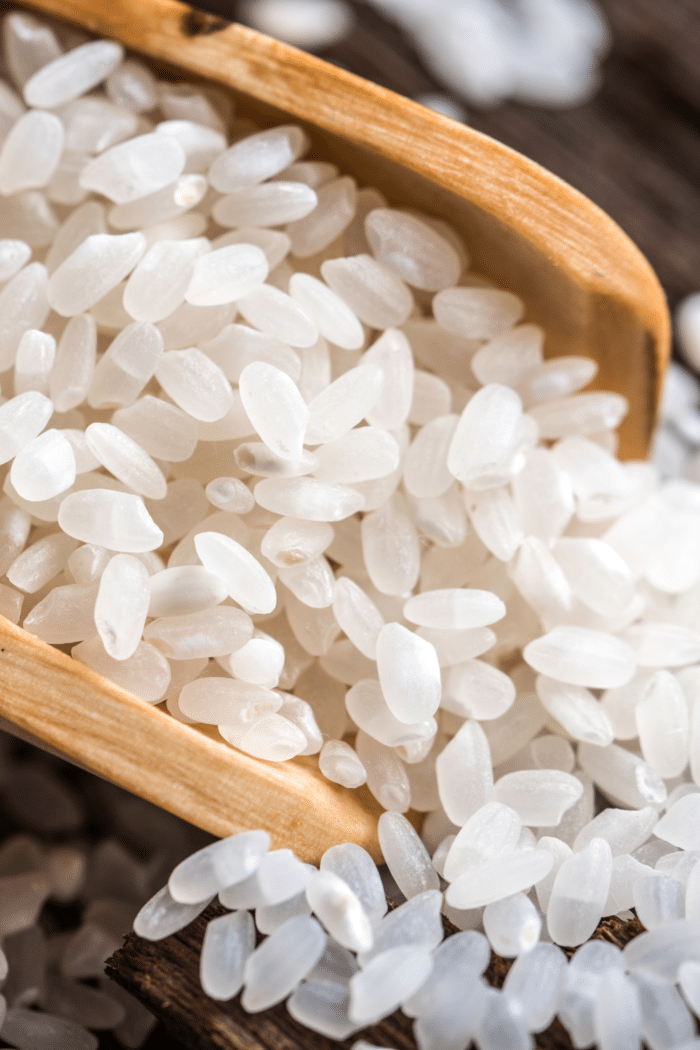 Best gluten-free substitutes for orzo
If you have a gluten intolerance, there are still great alternative options for you to pick from so you can enjoy all your favorite recipes that call for orzo, while still living your gluten-free lifestyle.
Quinoa
Quinoa is a great gluten-free substitute for orzo. It's perfect for all different dishes, hot or cold, if you've never tried quinoa in your salad, you totally should!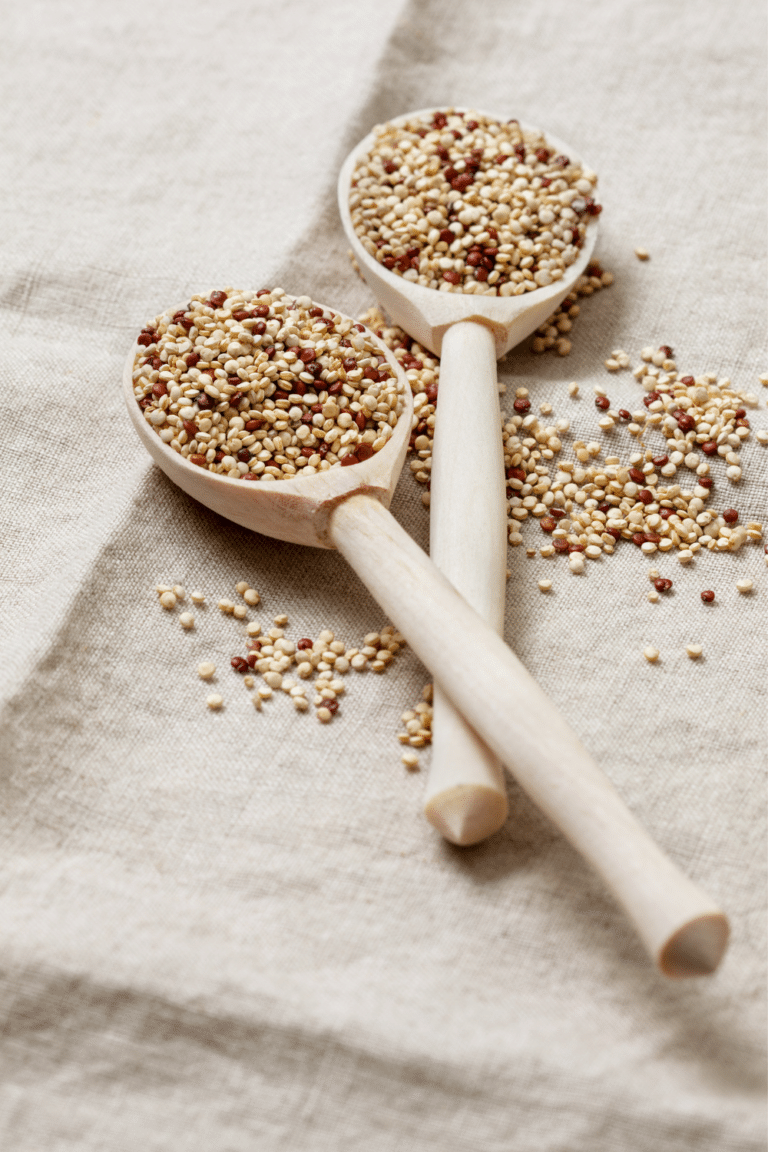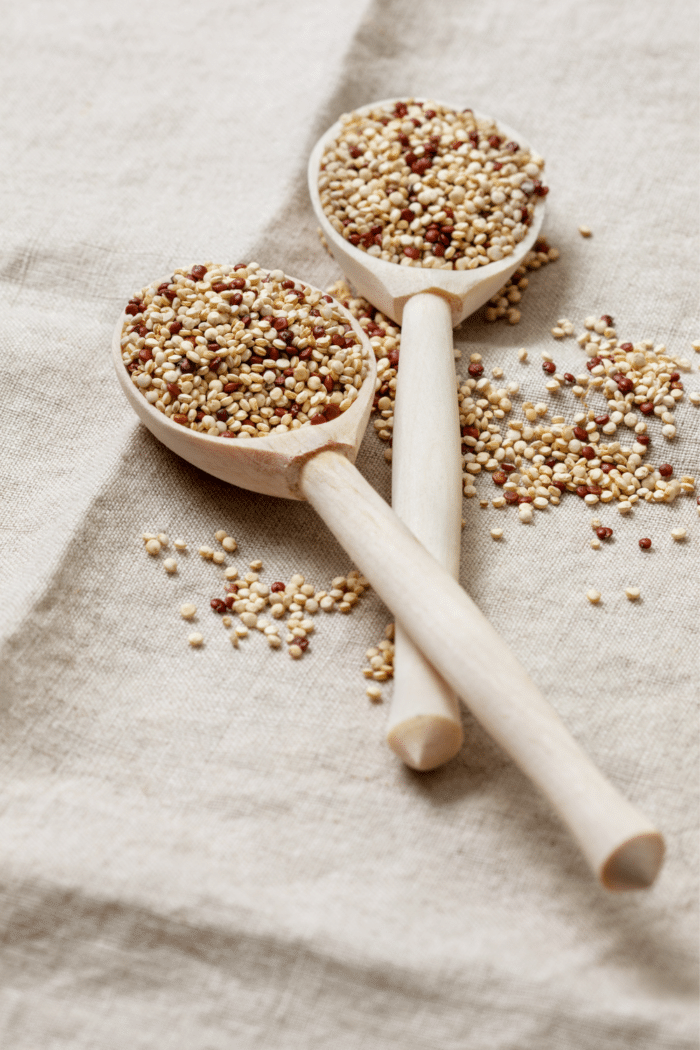 Brown Rice
Short grain rice is a great option if you're looking for a gluten-free substitute that is similar shape to Orzo. Plus, short-grain brown rice is so easy to cook and incredibly affordable. It has a bit of a chewy texture compared to orzo, but still a good substitute.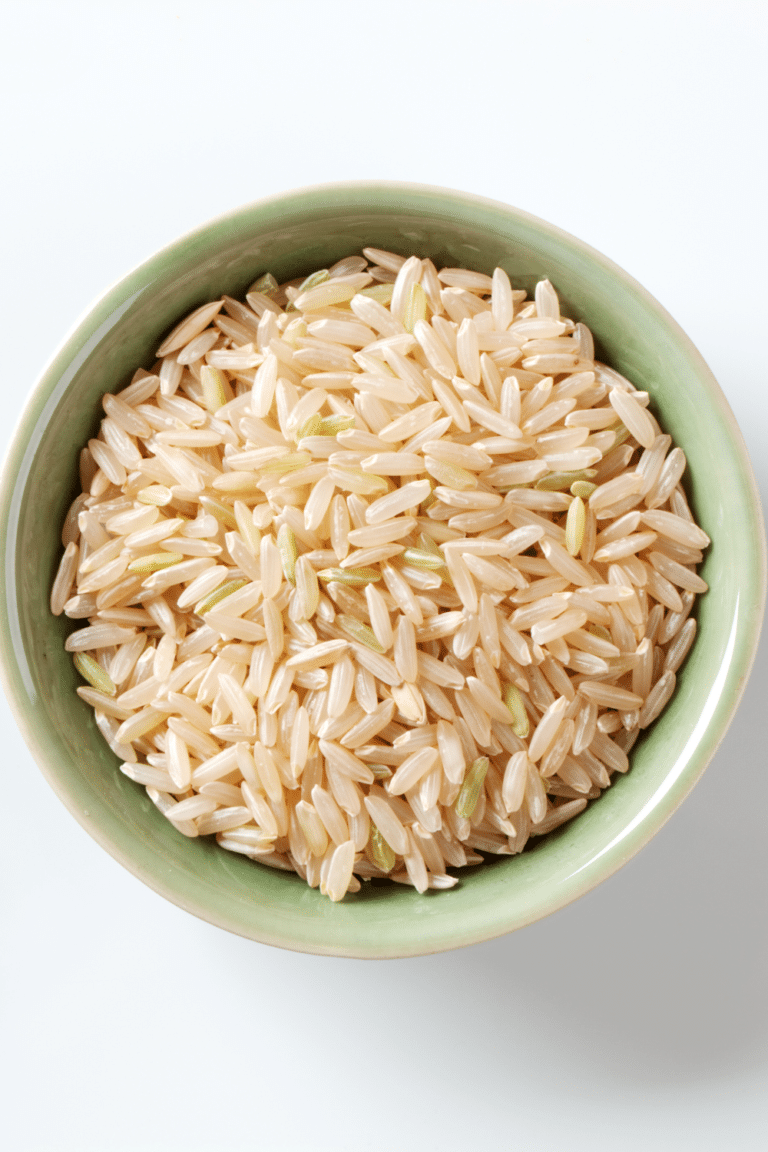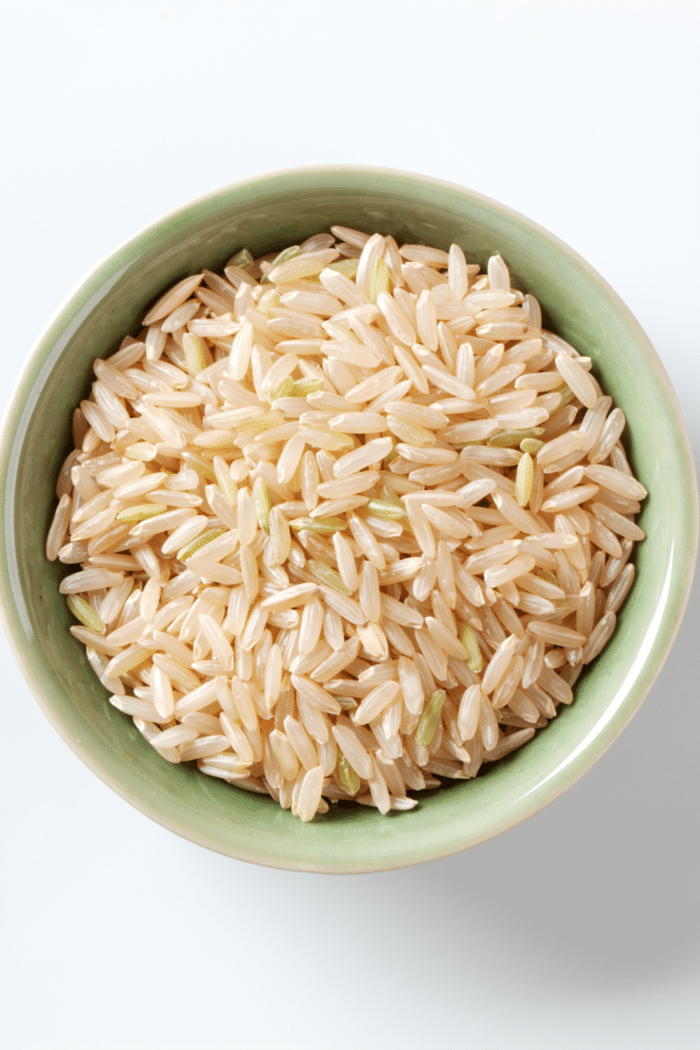 Cauliflower Rice
During the winter, I always like having a bag of frozen cauliflower rice in my freezer. It is so easy to add to recipes like chili or vegetable soup. You can absolutely use cauliflower rice as an orzo substitute in hot dishes like soups.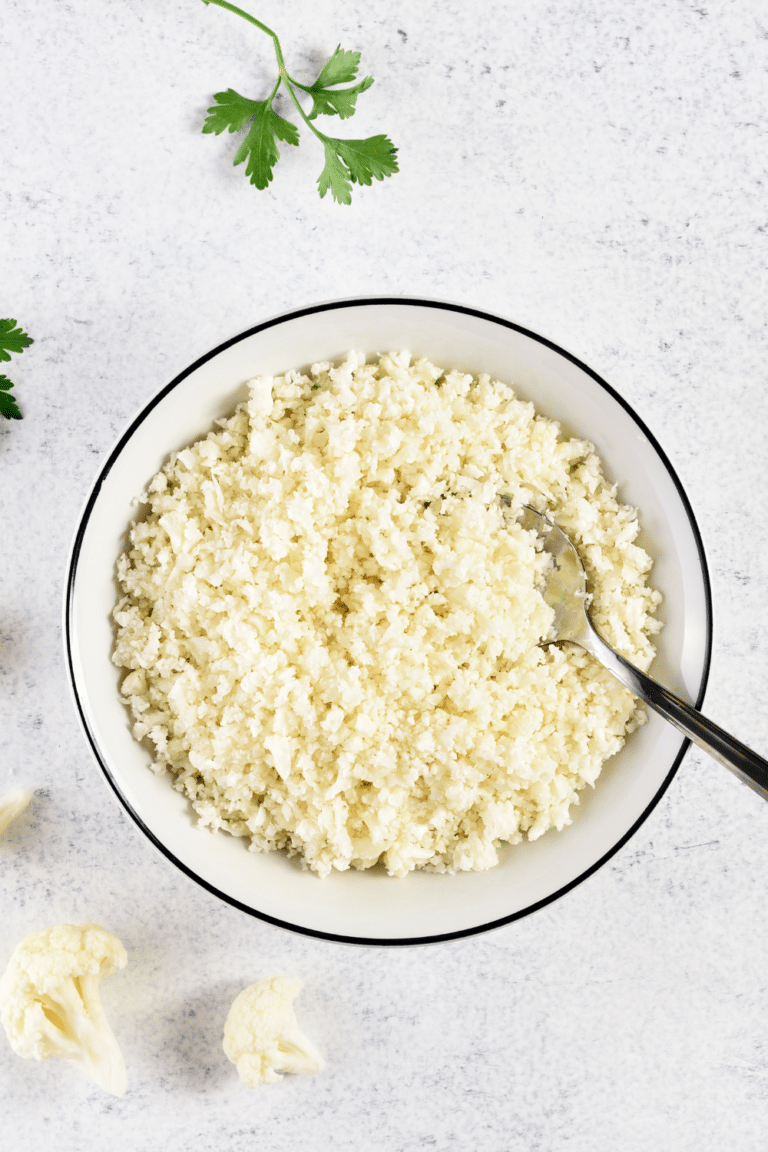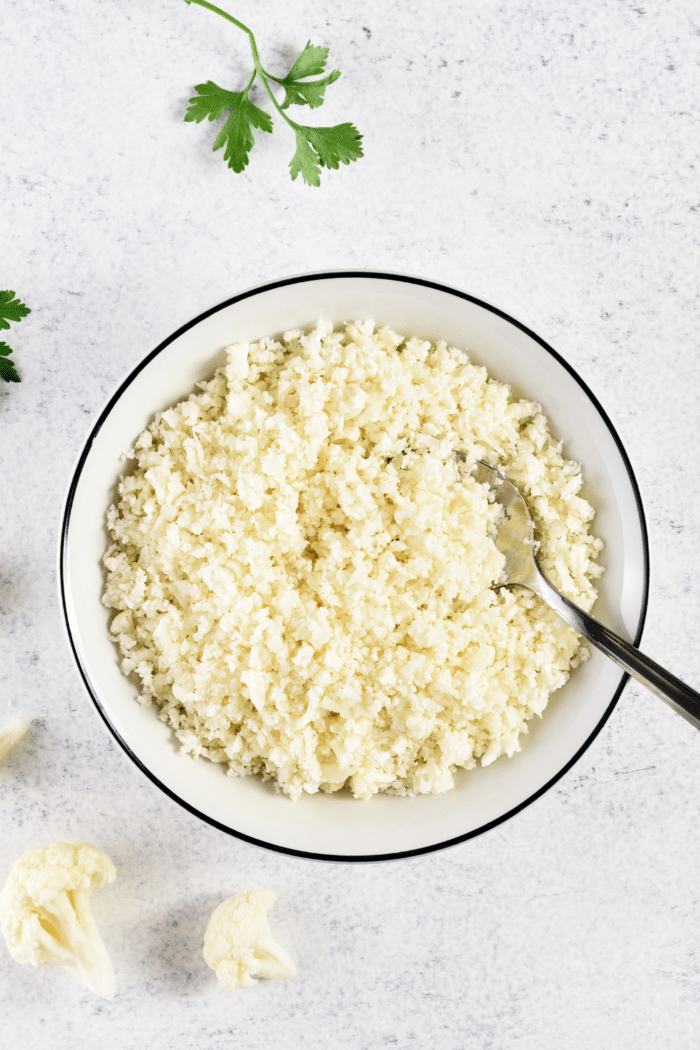 Lentils
If you are truly looking for a grain-free substitute, outside of cauliflower rice, lentils will be next in line. They are a great, super affordable orzo substitute for hot or cold dishes.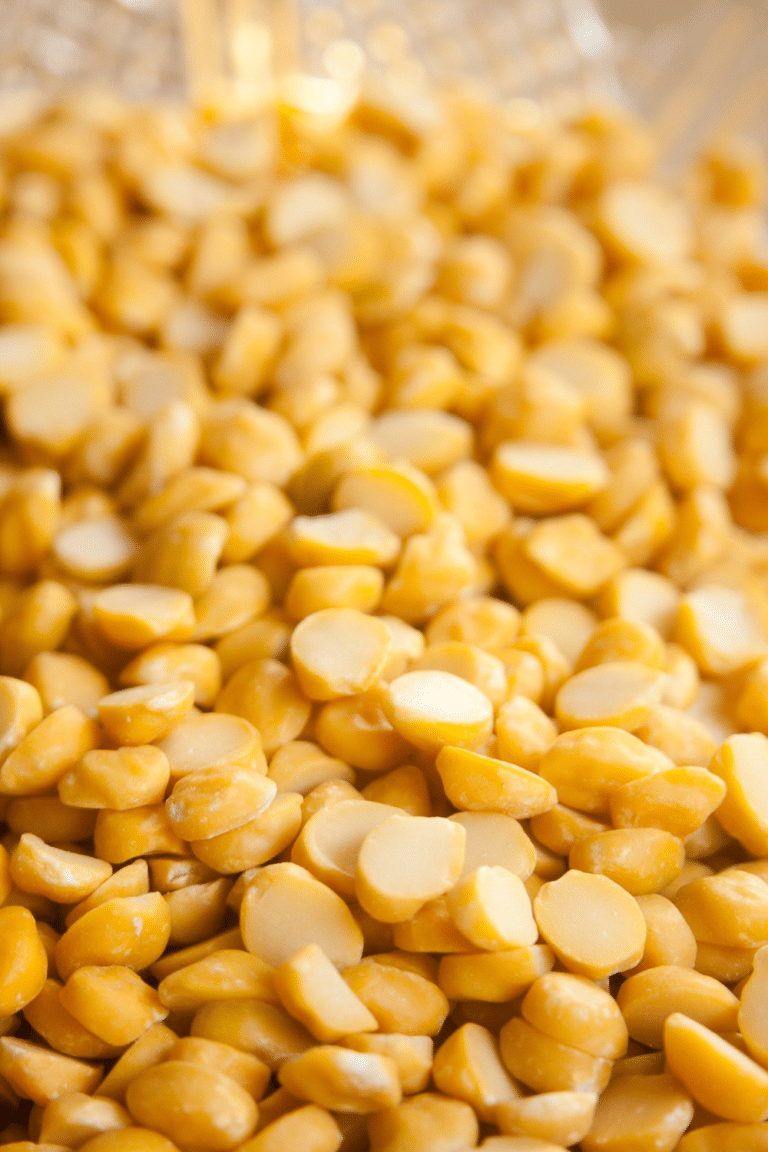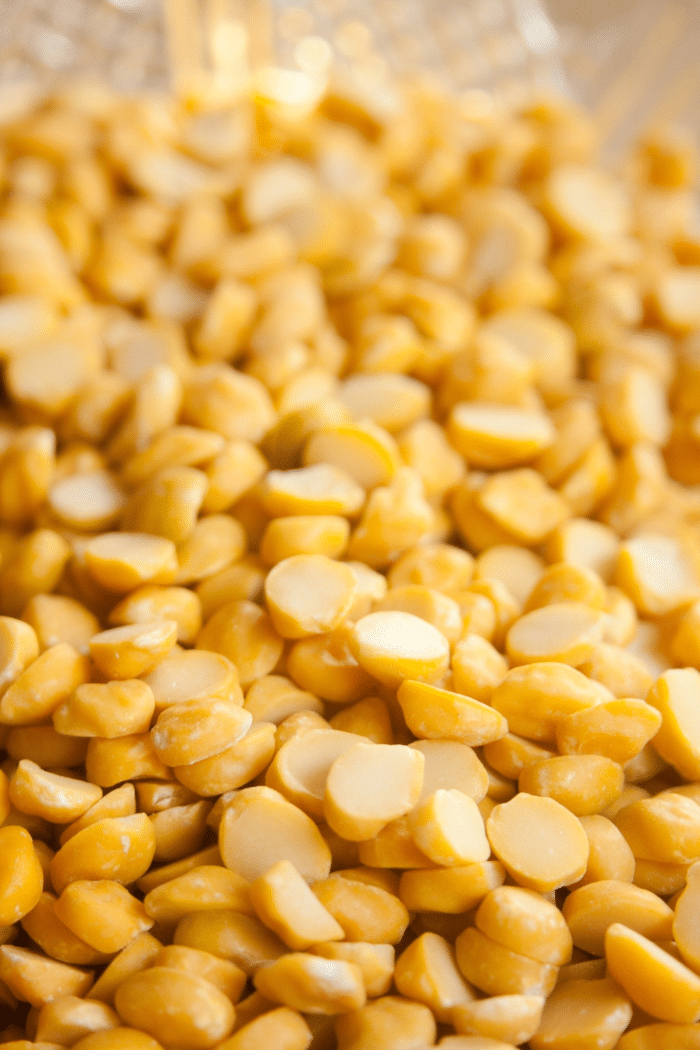 How to choose the best orzo substitute
Choosing the right orzo substitute for your recipe depends on what you are cooking! Here's a list of the best alternatives based on what you're cooking.
Soups
You'll want a replacement that'll cook well and pair well in soup. Although, arguably, I think all of these substitutes in the list are suitable, here are the ones I would pick out of the bunch.
Ditalini Pasta
Broken Spaghetti
Stelline
Acini de Pepe
Small Elbow Macaroni
Quinoa
Lentils
Main Course Dishes (Pasta Bakes, Casseroles, etc.)
​For any hot dish, you'll want to pick a substitute that can withstand the heat and long cooking times. Not all substitutes are created equal, so here are my picks for any hot dish orzo alternative.
Ditalini Pasta
Broken Spaghetti
Acini de Pepe
Small Elbow Macaroni
Fregola
Couscous
Pearl Barley
Farro
Quinoa
Cold Salads
Similar to hot dishes, not all replacements fair well in cold recipes, either. Cold cauliflower rice? No, thank you. Here are what I would recommend if you are making any cold recipe, like a pasta salad.
Ditalini Pasta
Broken Spaghetti
Stelline
Acini de Pepe
Small Elbow Macaroni
Couscous
Farro
Fregola
Quinoa
Lentils
FAQs
Can I substitute regular pasta for orzo?
You can substitute any small pasta, or "pastina" for orzo. I recommend ditalini, stelline or acini de pepe.
Can I substitute orzo for rice?
You can absolutely substitute orzo for rice, and vice versa.
What's a gluten-free substitute for orzo?
Brown rice, quinoa, cauliflower rice, or lentils are all great gluten-free substitutes for orzo.
Amazon home kitchen finds
If you're cooking any pastina, you'll want to make sure you have a stock pot and a fine mesh strainer. You don't want your noodles falling through the holes of any colander you may have!
I also love these shallow pasta bowls for so much more than pasta! From salads to dinner serving bowls, you'll love having these in your kitchen.
Here are some recipes to try with orzo