This post is sponsored by Ello, but all thoughts + opinions are my own
I love cooking and I love baking, especially when the holidays roll around, but the one thing I do not like doing… is dishes. Give me all the one pan/pot/serveware meals you've got to lessen the amount of dishes I am going to have to wash. I'm giving you this super easy, Garlic Butter Sweet Potato Au Gratin that calls for 1 frying/sautee pan and Ello's new Duraglass Bake + Store set. These bake + store sets are awesome, because you can cook your favorite Thanksgiving dish, put the lid on your Ello DuraGlass Bakeware and take it to your friend or family's party. EASY AS THAT. For this recipe in particular, I am using the 8x8 dish, but they also come in the 9x13 size as well!
All four sides snap on so you don't have to worry about spillage… whether you're taking public transportation, driving yourself or via a rideshare app (god forbid you spill in someone else's car), some say they're perfectly portable. Gotta love it. Where can you find these amaaaazing DuraGlass bakeware sets? At Target… where you can find ALL THE WONDERFUL THINGS.
Not only are these sets great for the holidays, but they'll also make for great meal-prep containers, freezer/make-ahead meals, or even just easy weeknight dinner when you don't feel like making a mess in your kitchen. You can just make dinner in the DuraGlass bakeware set, put the lid on it and put it in the fridge for leftovers.
Aside from all that, Ello is on a mission to make reusable glass products practical and stylish too. With the fun colors, their amazing water bottles + to-go mugs and even reusable produce bags (ps I love mine), they're making it super easy to reduce single-use food and beverage containers. Plus, you guessed it, you can shop their products on their website or find certain items at your local Target.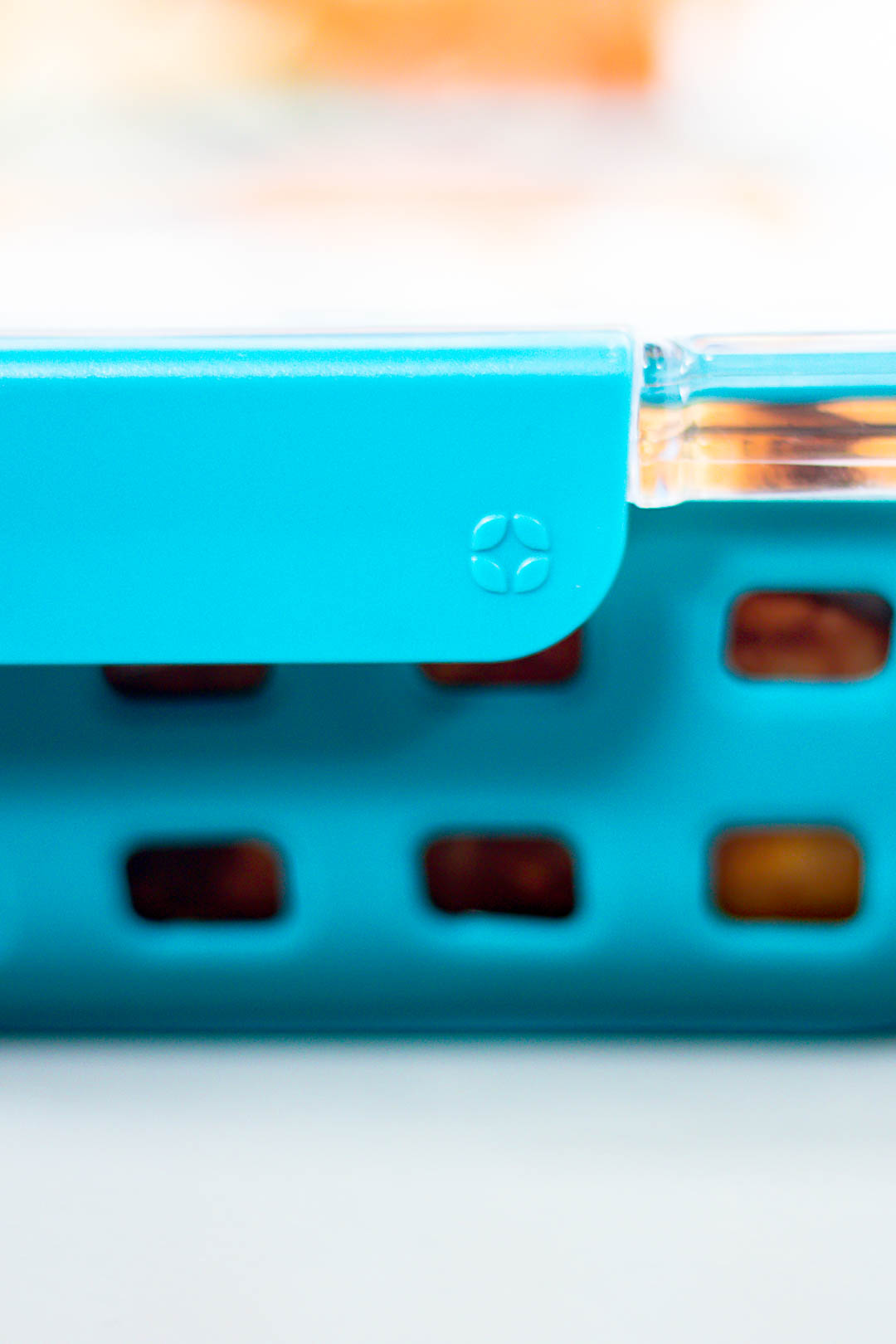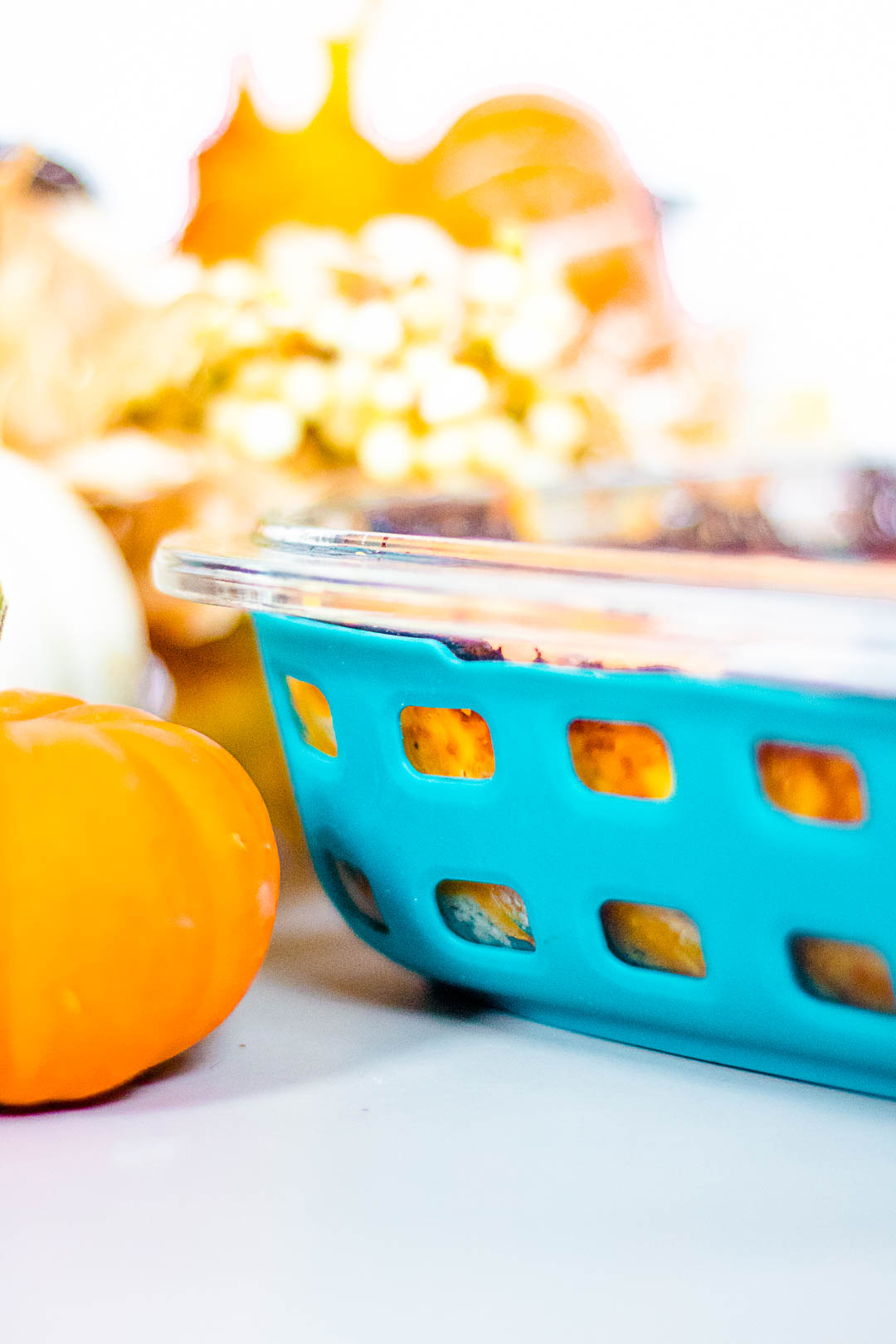 So this Garlic Butter Sweet Potato Au Gratin will honestly steal the show at your next holiday get together. And it is a bit delicate, so you need something like the Ello DuraGlass Bakeware that will hold everything in place while in transit. Let's talk potatoes, shall we?

These are made with a mixture of sharp cheddar and gruyere cheeses. I'm no au gratin expert, but I will say, gruyere is absolutely necessary when making these. It's so rich and takes the flavor of your garlic butter + sweet potatoes/onions to the next level. Also, garlic butter. Yes. You read that right. I've noticed before that sometimes au gratin or even other potato dishes tend to not include garlic. Should that be illegal? We'll let the courts decide (just kidding)... but I feel like with sweet potatoes, the stark flavor of gruyere and the sharpness of the cheddar, you needed a flavor to round out the butter-rich goodness. In comes garlic. You sautee the garlic in the butter and let it cook to get a bit brown so the flavor is just out of control good.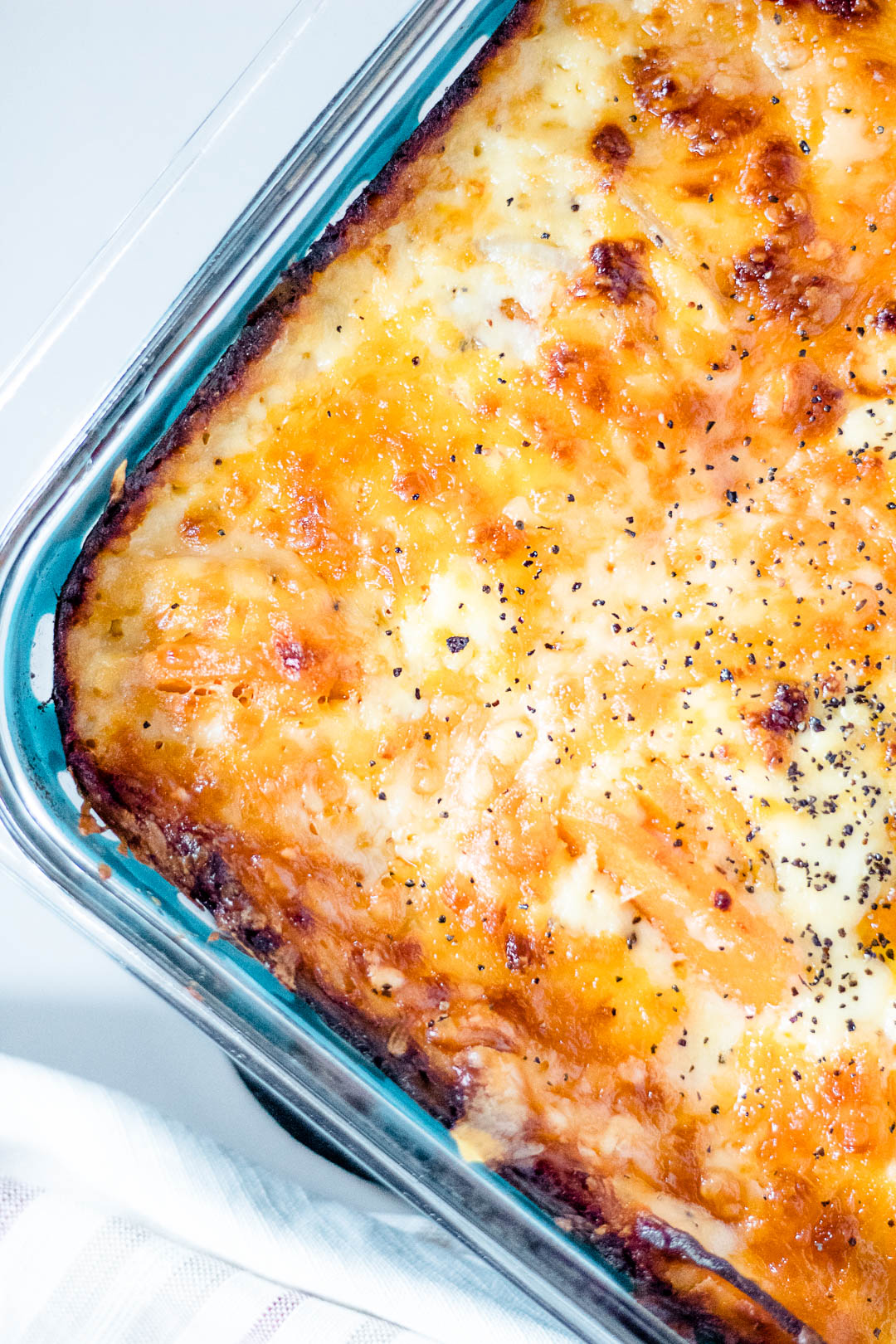 Another key to this dish? Letting your potatoes broil, uncovered for 7-10 minutes, or until the top is golden brown. You need that little bit of crunch and flavor that the top layer gives to the dish. Trust me, it's necessary. If possible, I would bring your Garlic Butter Sweet Potato Au Gratin to wherever you're headed to and broil there.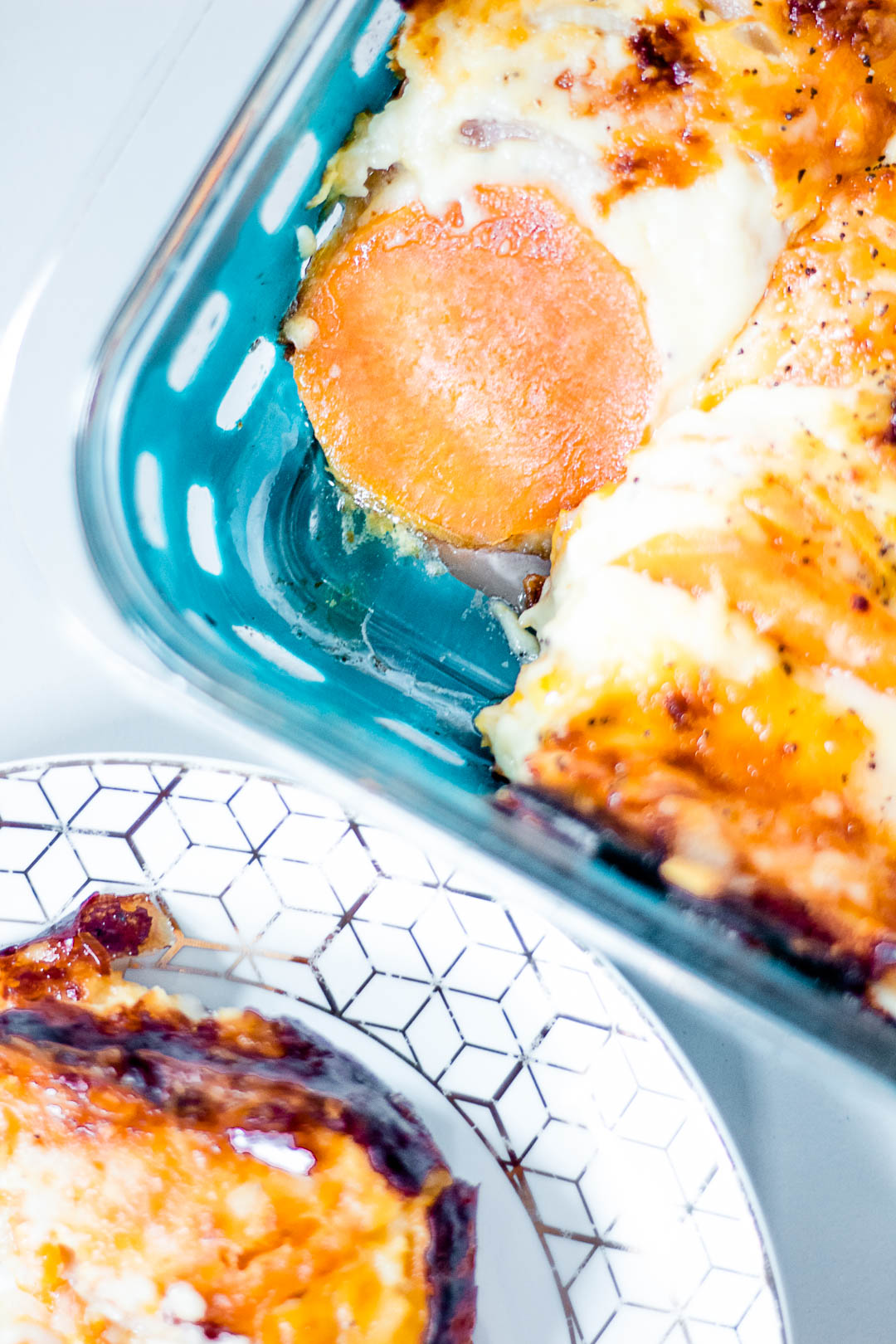 I'll stop talking and leave you to the full recipe for these Garlic Butter Sweet Potato Au Gratin + instructions below!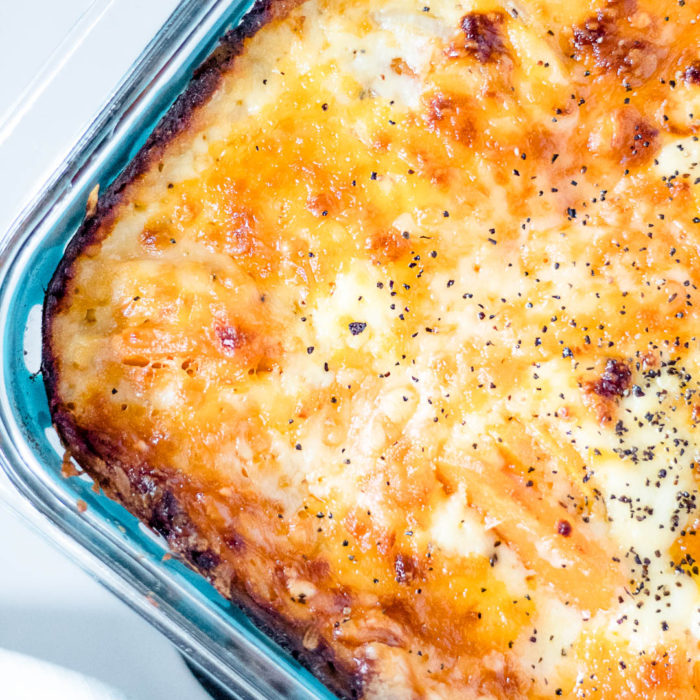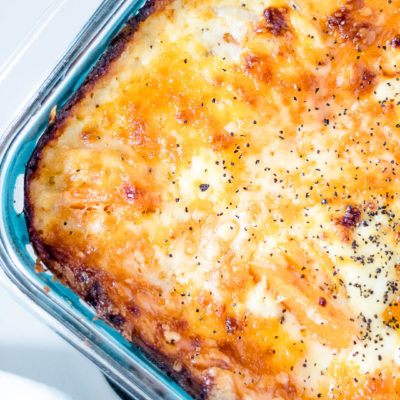 Garlic Butter Sweet Potato Au Gratin
Equipment
Ello DuraGlass Bakeware 8x8

Large Sautee Pan
Ingredients
3

tbsp

Butter

2

cloves

Garlic

minced

3

tbsp

All-Purpose Flour

1

tsp

Salt

1

tsp

Ground Black Pepper

1

c.

Heavy Cream

1

c.

2% Milk

1

c.

Shredded Sharp Cheddar Cheese

1

c.

Shredded Gruyere Cheese

2-3

Sweet Potatoes

thinly sliced

1

Sweet Onion

thinly sliced into rings
Instructions
Preheat your oven to 400 degrees

Skin + thinly slice your sweet potatoes and onions

Place in your Ello DuraGlass 8x8 Bakeware Set, alternating between potato slices and onion slices (2 potato slices | 1 onion slice ) & set aside.

In a medium - large frying pan, melt your 3 tbsp of butter with your 2 cloves of garlic (minced), once the butter is melted and the garlic starts to brown, add in your 3 tbsp flour + salt and pepper. 

Then slowly add both your heavy cream and 2% milk; I added them in 4 ½ c. increments. Stir your mixture and make sure your milk is fully incorporated before pouring more.

Once all your milk is mixed in, continue to stir and bring the mixture to a boil. Once boiling, stir and let cook for 1 minute. 

Remove from the heat and add in ¾ c. cheddar + ¾ c. gruyere (save the remainder of the cheese to top). 

Once the cheese is fully melted into the mix, pour over your sweet potatoes + onions. Spread the mixture to make sure it evenly covers the 8x8 pan. 

Take the rest of your cheese and sprinkle it on top. Cover with aluminum foil and allow to bake for 1 hour.

Once the hour is up, take your bakeware out of the oven, uncover it and set your oven to Broil. Broil, uncovered, on high for 7-10 minutes. 

Allow your potatoes to cool for 15 - 20 minutes after broiling.