This post is sponsored by ALDI, but all thoughts and opinions are my own.
From my previous posts, like this summer charcuterie, you know I looooooove me the cheese section at ALDI. You can find your local ALDI here. There are so many selections of award-winning cheeses - from imported cheeses to your everyday sandwich slices, the range and options are unreal. Not to mention the prices won't break the bank. Instead of doing a traditional cheese board to celebrate today, I'm bringing you three different flatbread recipes with suggested drink pairings that can all be found exclusively at ALDI. Yup. Flatbreads, 3-ways. Breakfast, lunch and/or dinner and dessert. PS: you can cook with me over on my Instagram Stories! I'm taking you through all three with step-by-step stories.
The first flatbread is a brunch flatbread and my take on BAE, bacon and egg. It's a BBAE. Brie, bacon and egg. I use the Emporium Selection Double Crème Brie Cheese and OH MY GOD. It is so good, so creamy and has a great flavor that pairs with the bacon and onion. For the bacon, I cooked it slightly, over medium-high heat for about 5 minutes. Then, I left about 2 tbsp of the bacon fat, turned the heat to low and caramelized the onions for about 10 minutes. Using the Specially Selected Artisan Flatbread found in the bread section at ALDI, I spread 1 tbsp of Simply Nature Organic Extra Virgin Olive Oil on the flatbread. Then, sprinkle your bacon, onion, slice ½ of your brie wheel, and then crack 3-4 eggs right on top. Bake at 400 for 12-15 minutes, depending on how you like your eggs. If you're having brunch or breakfast for dinner, pour yourself a glass of Exquisite Collection Chardonnay, and cheers! This wine is buttery and pairs great with aged cheeses and the pungent and fatty flavors of this BBAE flatbread.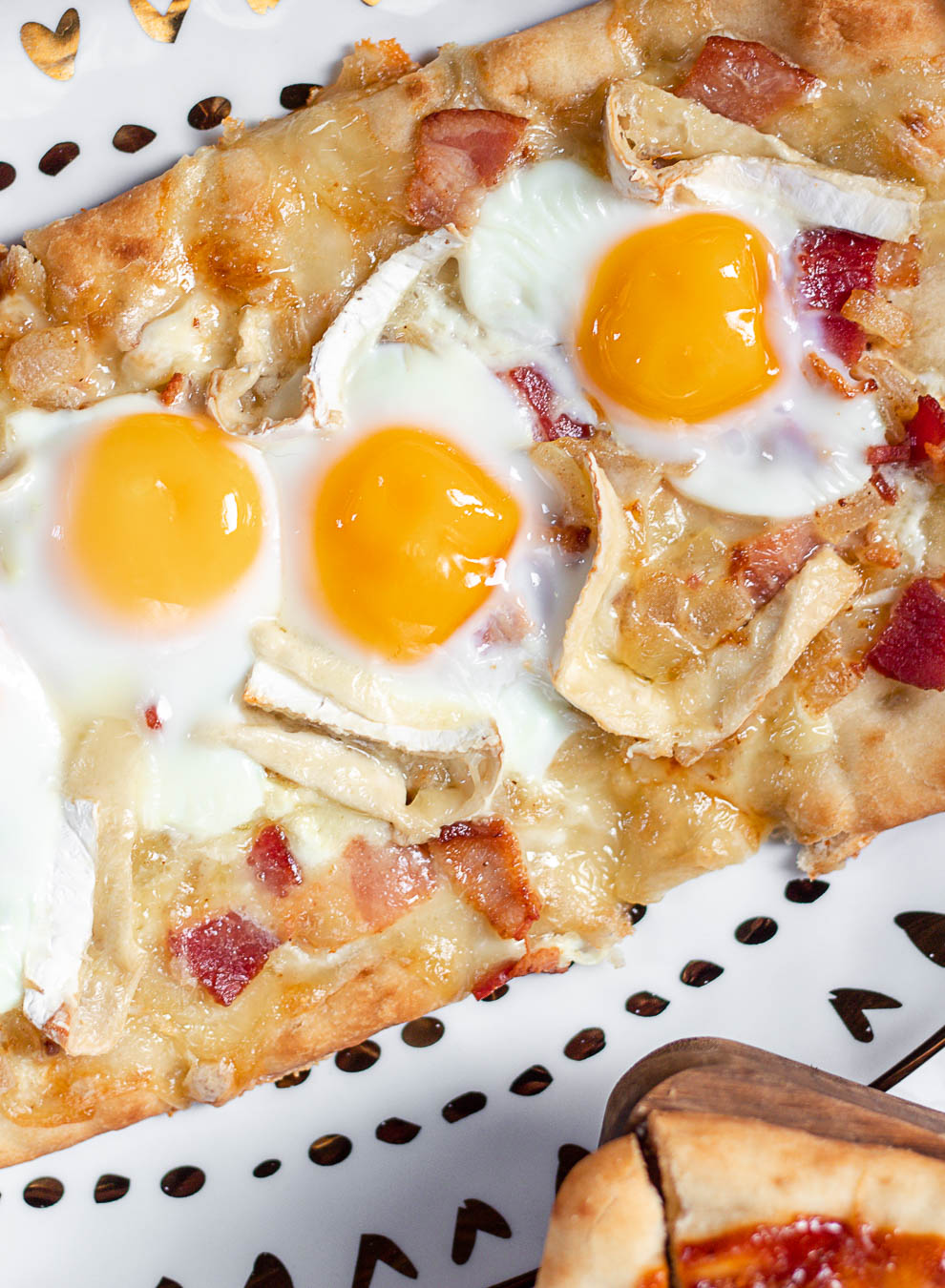 Next, we're moving onto our BBQ flatbread. I made this strictly veggie, but if you want to include cooked shredded or diced chicken, then you absolutely can. On your flatbread crust, spread about 2-3 tbsp of BBQ sauce. ALDI has some great options of different BBQ sauces this summer from Texas style to Carolina style, you can really have some fun with this sauce. I used a combination of freshly shredded Specially Selected Aged Reserve White Cheddar and Emporium Selection Shredded Swiss & Gruyere cheese- about 1 cup of each. I then topped with thinly sliced red onion and baked at 400 degrees for 10 minutes. When you have BBQ, you NEED a beer. No doubt about it. I am pairing this BBQ flatbread with Wernesgruner Pilsner. It's a light-bodied beer, yet it still has flavor and it just tastes like summer.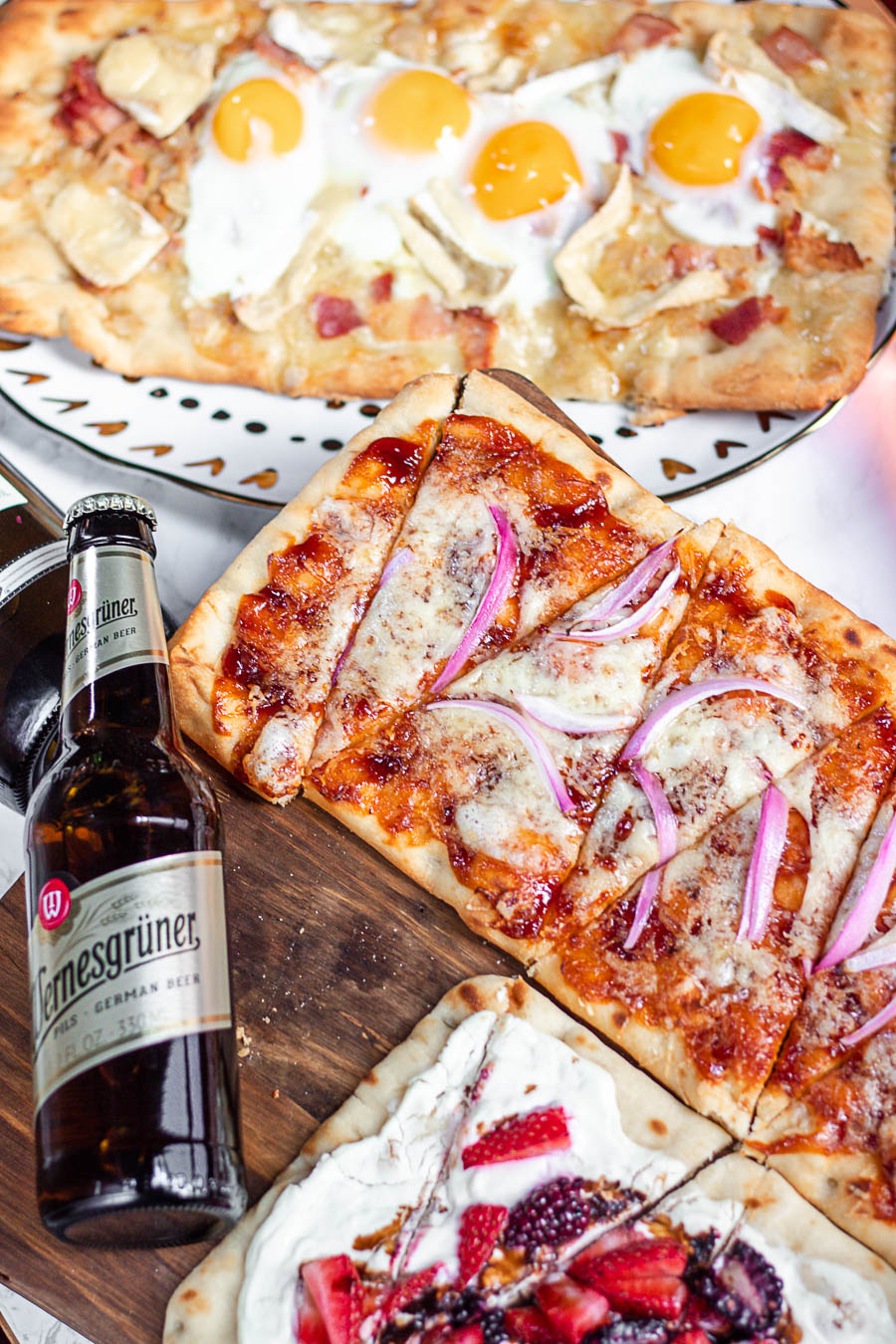 Now, moving onto dessert. I love the combination of goat cheese and berries, and I love this goat cheese whip. I used the Emporium Selection Honey Goat Cheese Log, ¼ cup of non-fat plain Greek yogurt and 2 tbsp of fresh lemon juice. You whip it on high for a few minutes and it's ready! I spread the whipped goat cheese on the flatbread crust, top with your berries and you'll bake for 5-10 minutes. You want your flatbread crispy, and the warmth of the berries is going to be soooooooooo good. Top with a balsamic reduction and you've got yourself a dessert flatbread! Obviously, we need to pair our dessert flatbread with a drink! I'm giving you two options depending on what you're feeling. If you want to go the wine route, pair it with Trestoria Rosé (P.S. this is available in 2-pack cans now!) or if you're feeling cider, you can pair this dessert flatbread with Wicked Grove Hard Cider.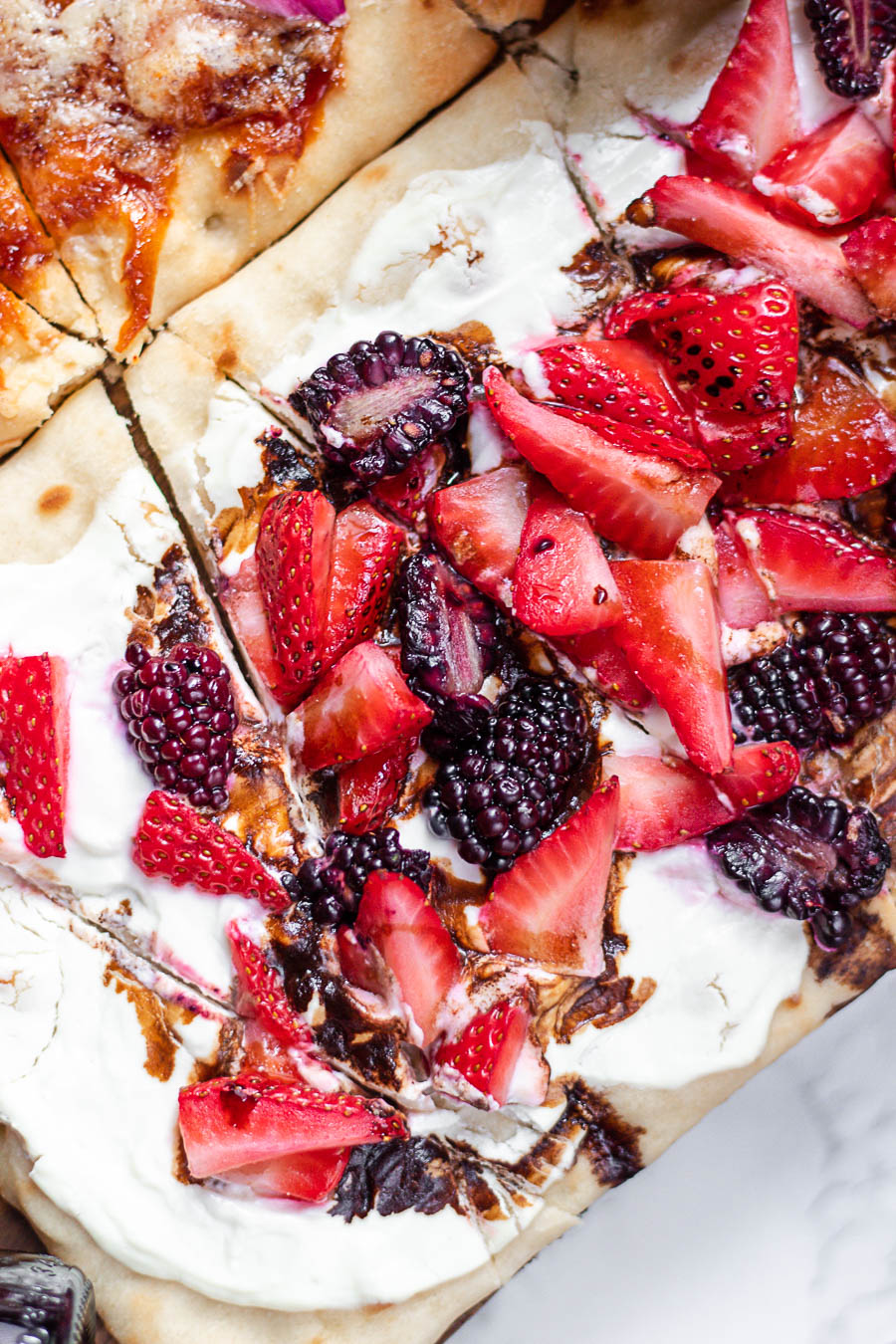 So, open a bottle of wine, crack open a bottle of beer or cider and enjoy yourselves with some flatbreads!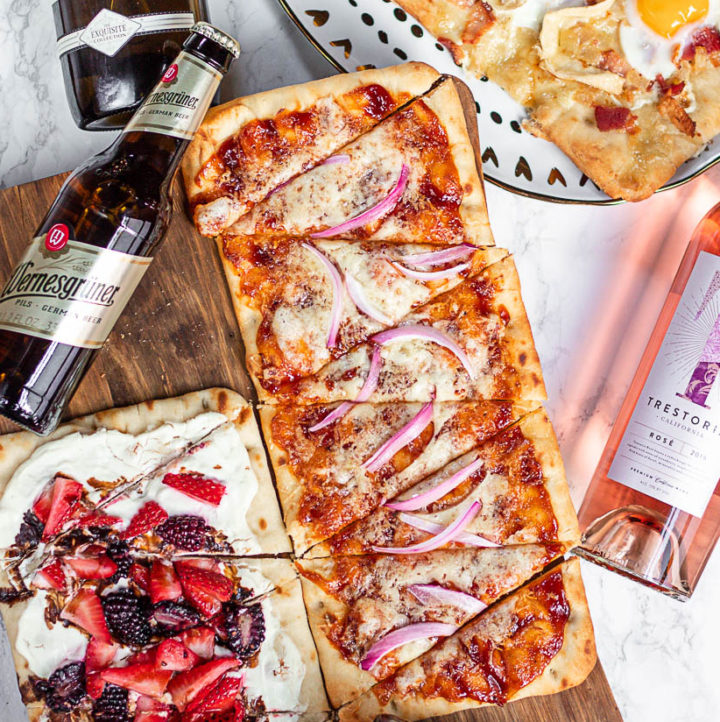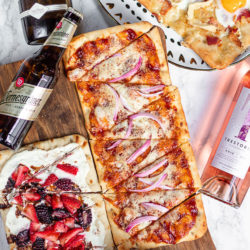 Flatbread 3-Ways ft. ALDI
each flatbread makes 8 triangle slices
Instructions
BBAE - Brie Bacon and Egg
Preheat your oven to 400 degrees Fahrenheit.

Slice 3 strips of bacon, cook in a frying pan over medium-high heat for 5 minutes. Place on a paper towel covered plate, set aside.

Dice ½ of a sweet or yellow onion and sauté in the same pan that you cooked your bacon in. Cook over low heat for 10 minutes.

Once your onions are done cooking, remove from heat.

Take your flatbread crust and spread 1 tbsp of extra virgin olive oil. Sprinkle your bacon and your onions.

Place slices of brie, and then crack 3-4 eggs on top.

Pair with Exquisite Collection Chardonnay and enjoy!
Veggie BBQ
Preheat your oven to 400 degrees Fahrenheit.

On your flatbread crust, spread 2-3 tbsp of BBQ sauce.

Shred 1 cup of white cheddar cheese and 1 cup of gruyere cheese, and sprinkle on top of your flatbread.

Thinly slice ¼ of a red onion and sprinkle that on top of your cheese.

Top with ½ tbsp of garlic powder and bake for 10 minutes.

Pair with Wernesgruner Pilsner and enjoy!
Dessert
Preheat your oven to 400 degrees Fahrenheit.

In a stand mixer or large bowl with a hand mixer, whip together your goat cheese log, ¼ cup Greek yogurt and 2 tbsp of lemon juice.

Spread your whipped goat cheese onto your flatbread crust. Top with 1-2 cups of fresh chopped berries and bake for 10 minutes.

Top with a balsamic reduction, pair with Trestoria Rosé or Wicked Grove Hard Cider.