Patio season is the best time of year in Chicago. Here are my 10 must-visit outdoor patios in Chicago so you can soak in all the summer sun with a side of some great food and drink.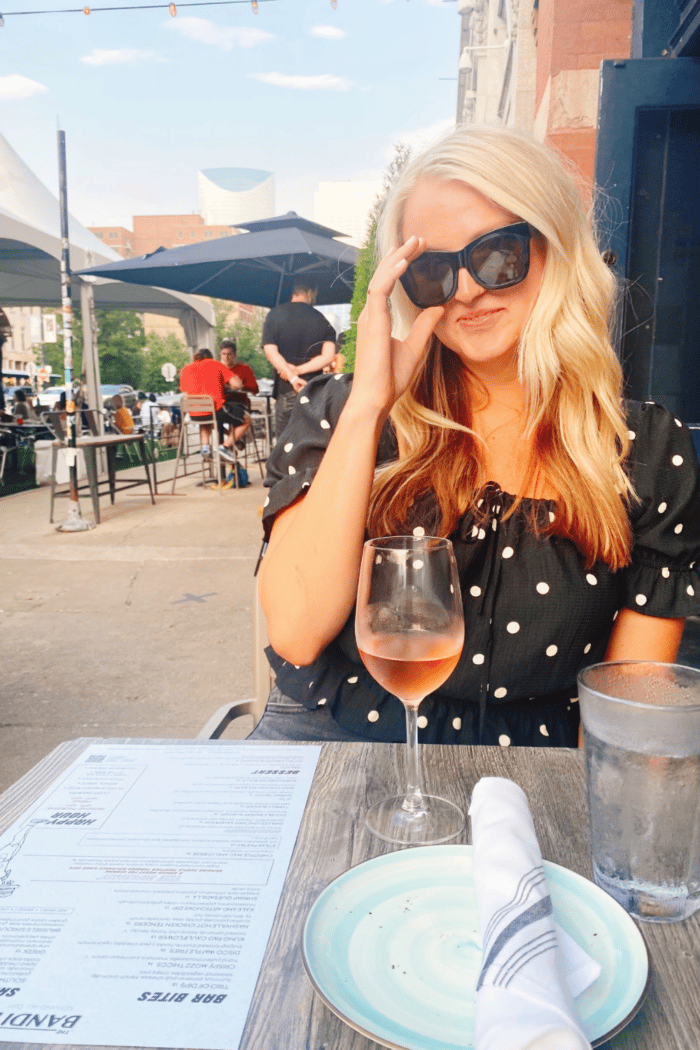 Parson's Chicken & Fish
Parson's has four locations around Chicago, and all of their patios are the absolute best. They are known for their chicken sandwiches and frozen drinks. If chicken sandwiches aren't your thing, don't worry, you can't go wrong with anything on their menu.
Locations: Logan Square, Lincoln Park, West Town, Andersonville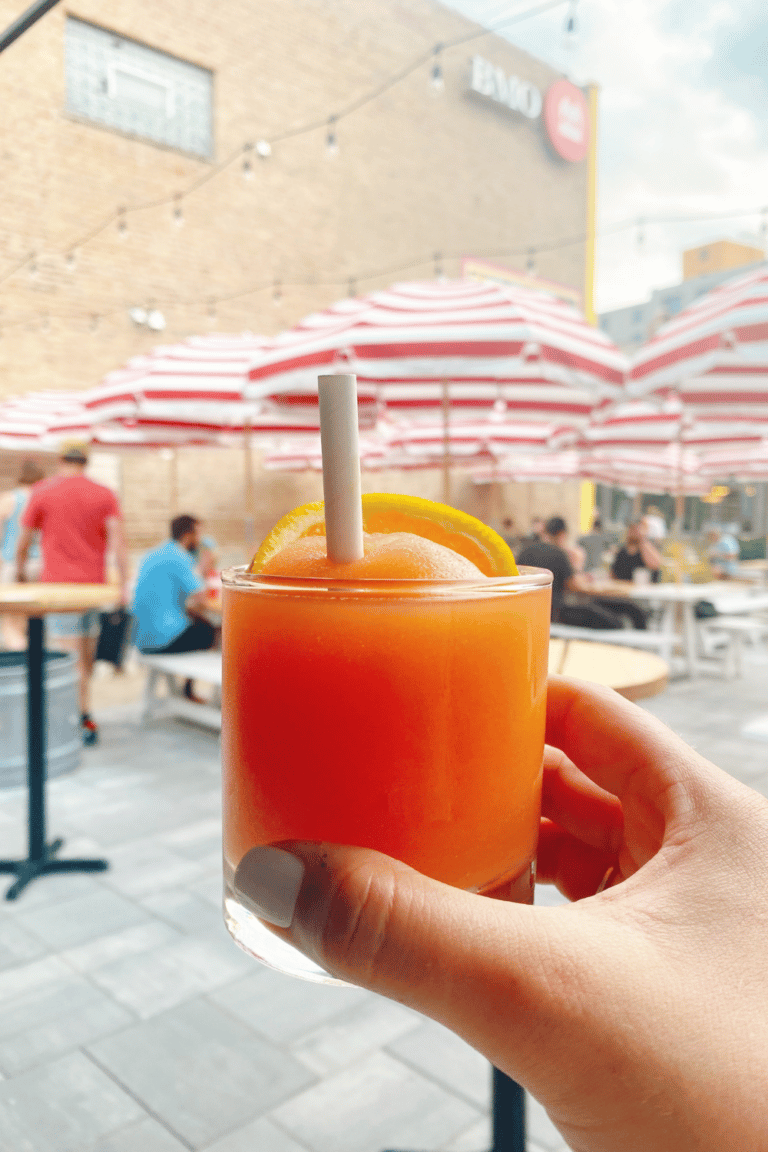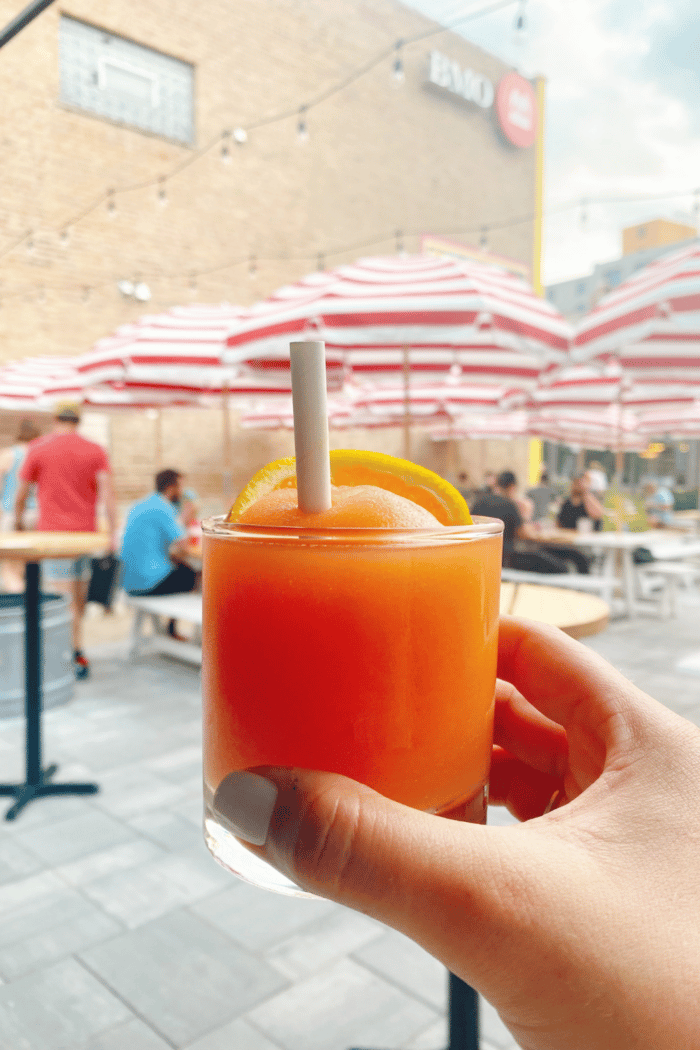 Lottie's
Inside or outside, Lottie's will forever be one of my favorite spots. If you're an avid Chicago Fire fan, this is the bar they use for Molly's on the show. If you are looking to sit, and enjoy a patio tucked away in a Chicago neighborhood, this totally gives you that vibe. Also, do not sleep on their food.
Location: Lottie's Pub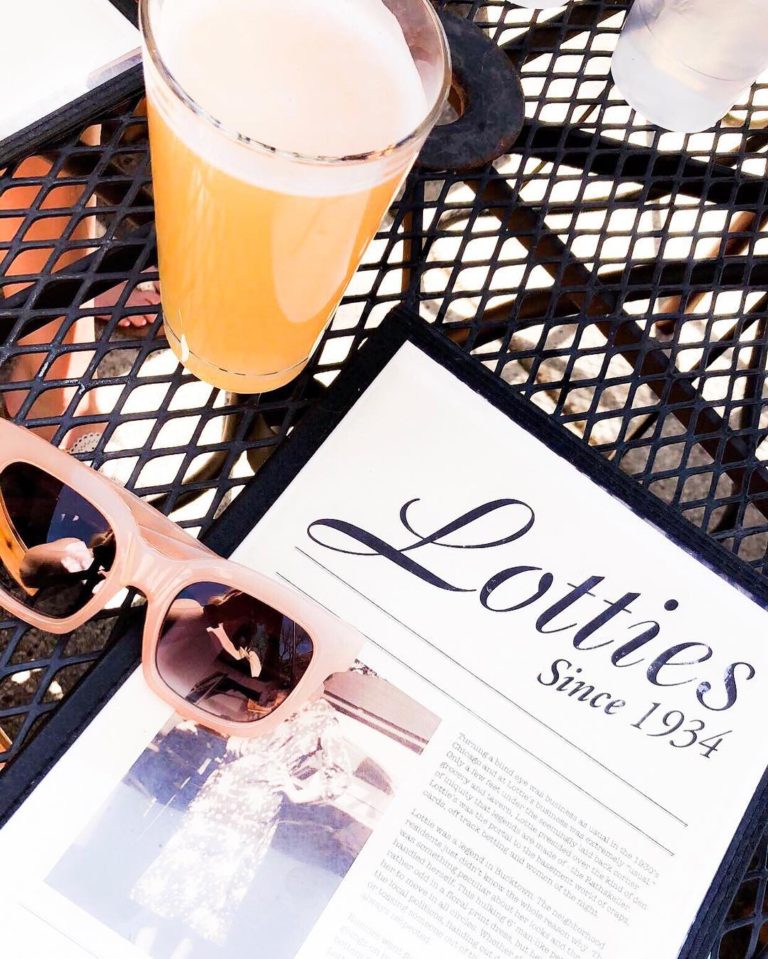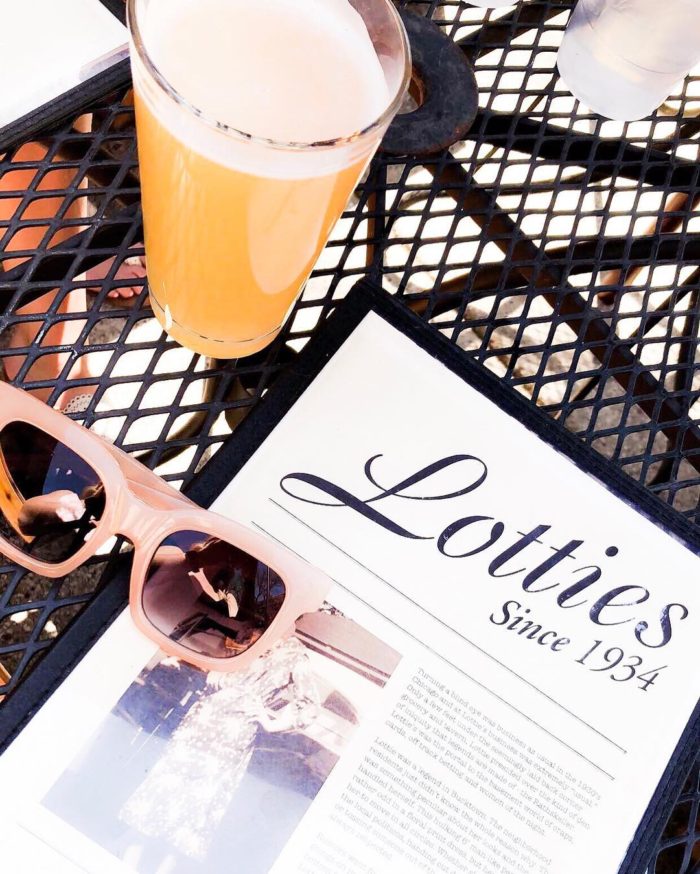 Jack & Ginger's
Jack & Ginger's is absolutely one of those places where you somehow end up at with a group of friends on a Saturday or Sunday afternoon after you said you weren't doing anything and you were going to be productive. A quintessential neighborhood bar in Bucktown, I absolutely love the chill ambiance and dog-friendly vibes of their patio. It's also a few blocks from Lottie's if you want to have yourself a little bar crawl.
Location: Jack & Ginger's
Antique Taco
Antique Tacos has two locations, one in Wicker Park and one in Bridgeport. I've only been to the Wicker Park location, and their patio was perfect for a casual weekday dinner to catch up with a friend. They're picnic tables set up on a little side street just of Milwaukee. From photos, their Bridgeport location's patio looks amazing!
Locations: Wicker Park, Bridgeport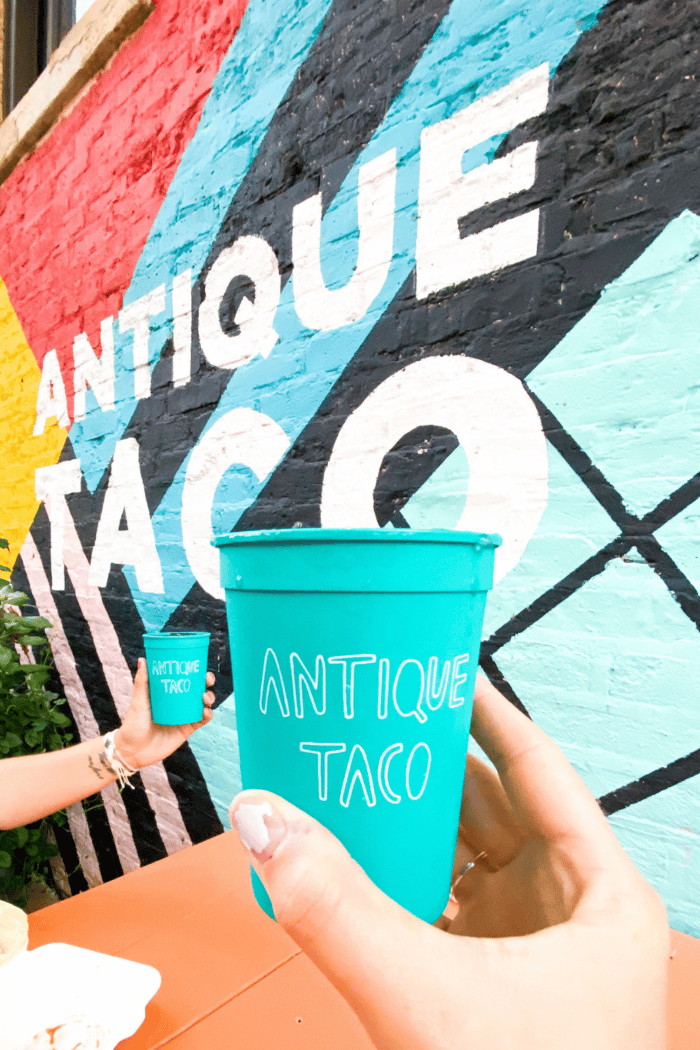 The Warbler
The Warbler is up in Lincoln Square and it has one of the cutest patios! You're surrounded by plants, while still being on Lincoln Avenue, so you have this feeling of seclusion in the city. Plus, their food is absolutely amazing and their cocktail menu is super fun. If you're looking for a spot for girls' night or date night, I totally recommend this spot.
Location: The Warbler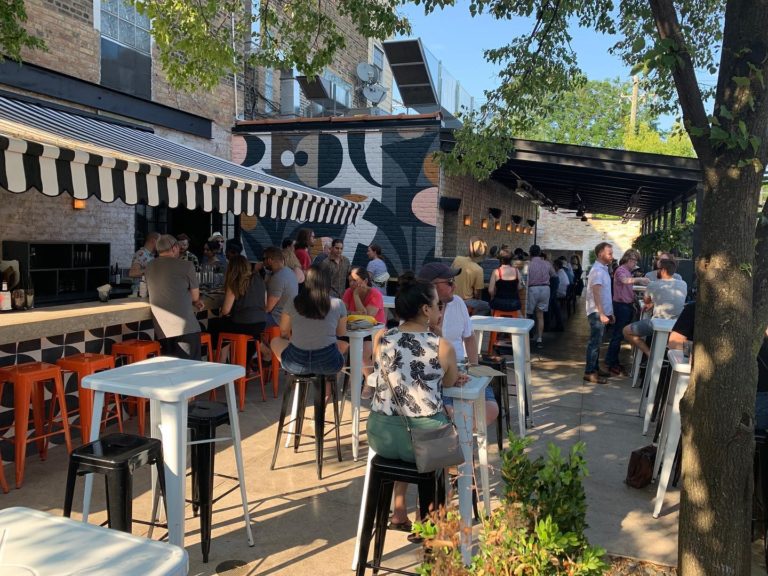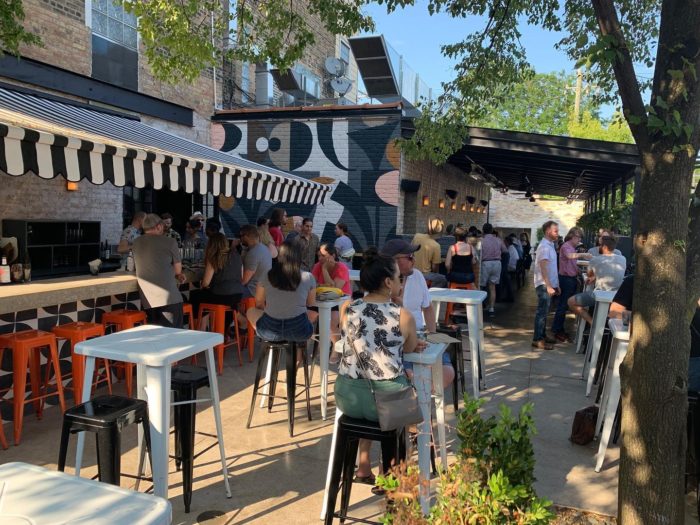 Hopleaf
Hopleaf is a Belgian bar located in the Andersonville neighborhood and has been a Chicago staple for many years. Their back patio is first come first serve, but if for some reason you can't enjoy the back patio, they have front windows that open. I even love the ambiance inside the restaurant.
Location: Hopleaf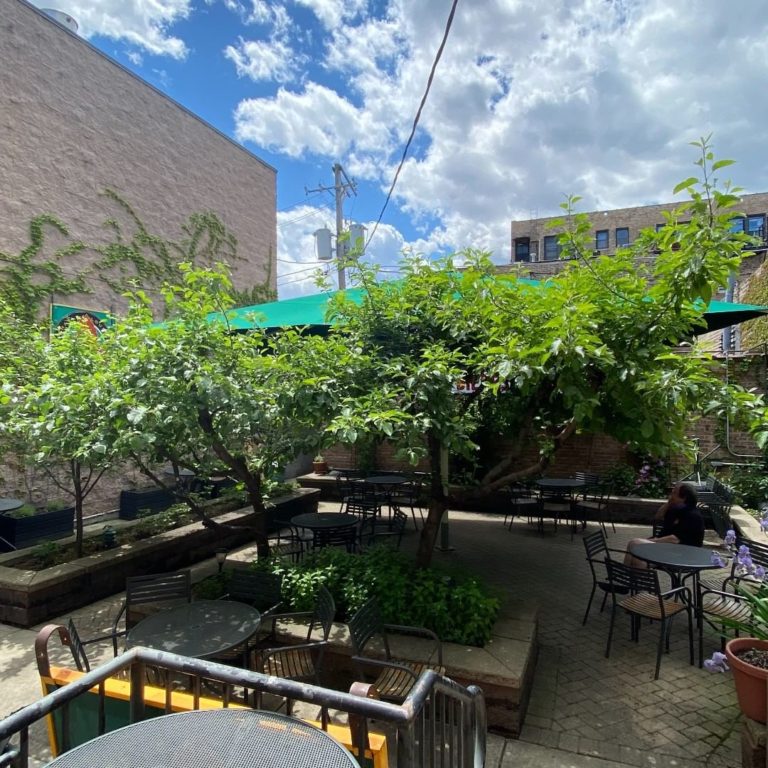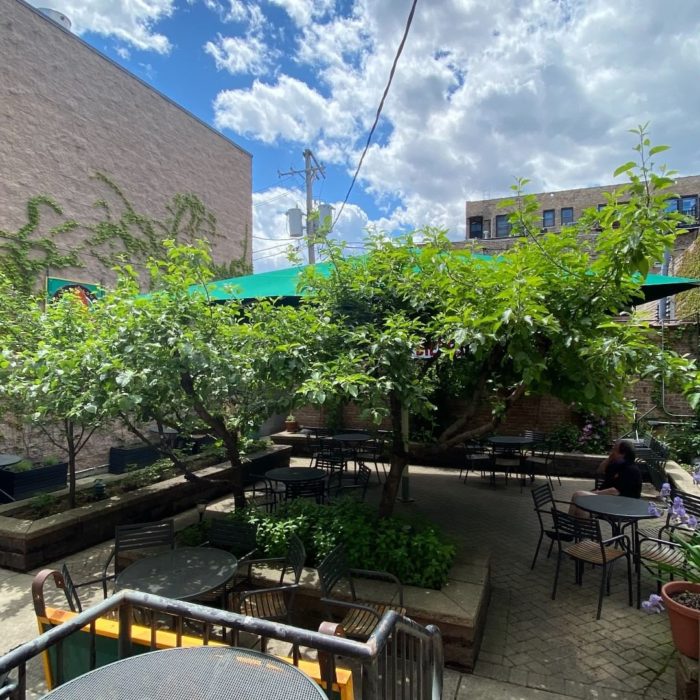 Big Star
Let's pop back down south a little bit and head to Big Star. They have two locations, one in Wicker Park and one in Wrigleyville. I will say I love the patio at the Wicker Park location better, but the Wrigleyville one has a rooftop that's right across from Wrigley which is also amazing. I normally am not one to love trendy Mexican restaurants but between their margaritas, tacos, taco salad, queso and so much more, I always recommend this spot.
Locations: Wrigleyville, Wicker Park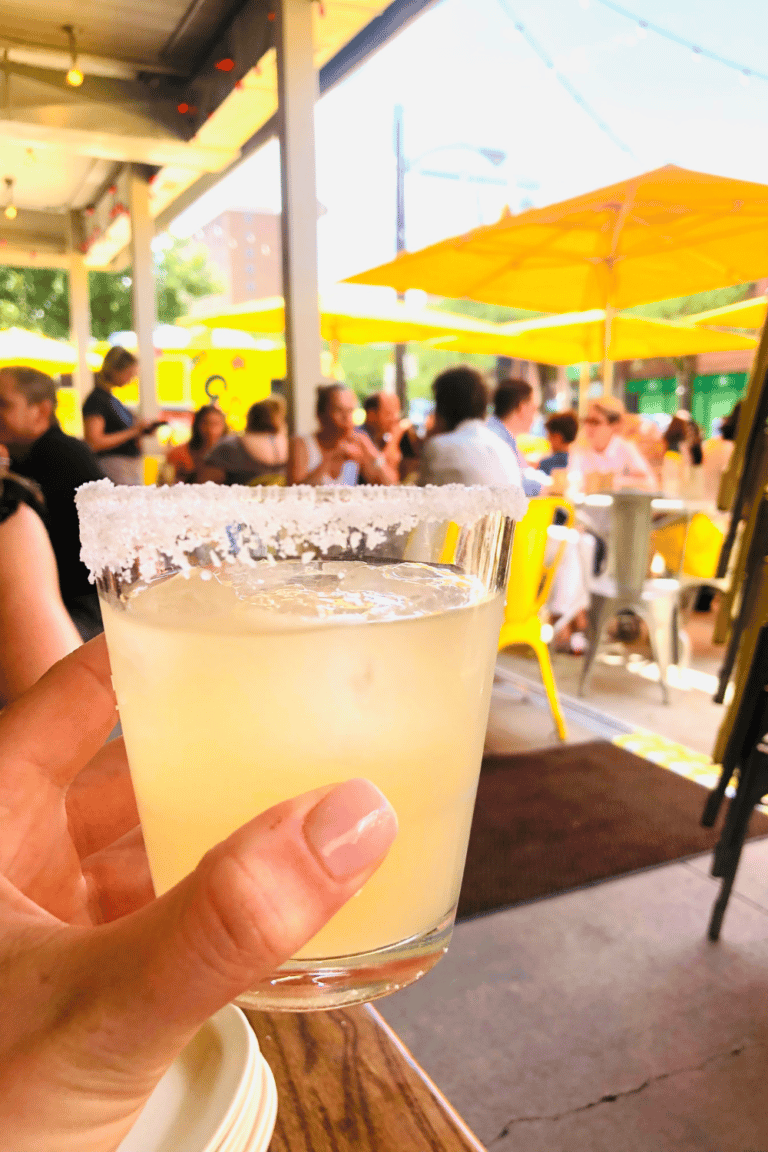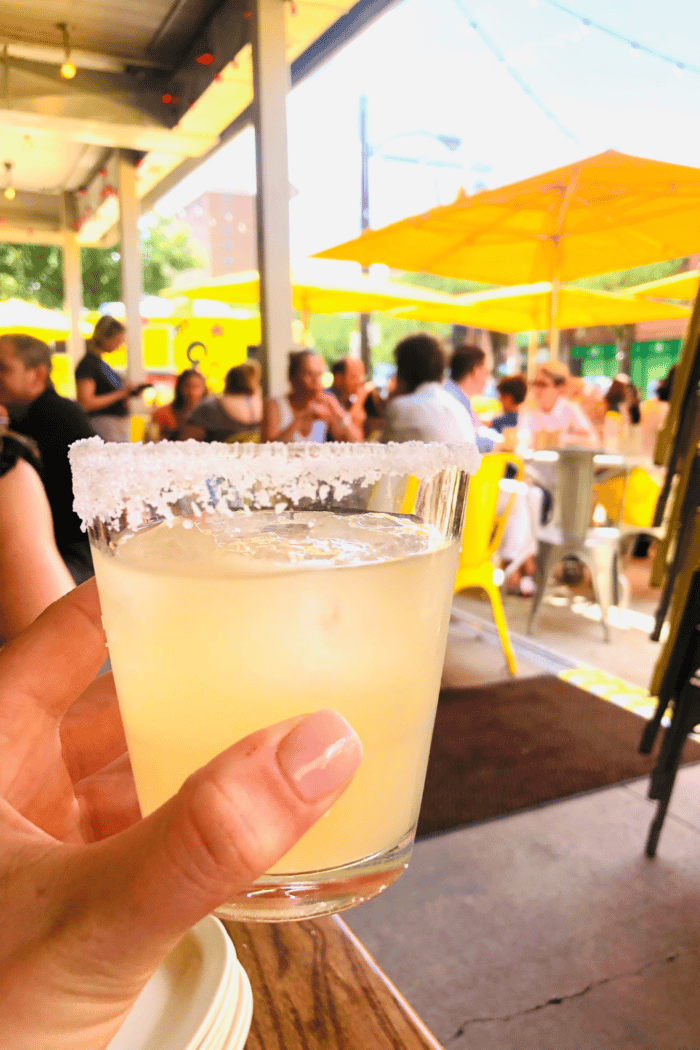 Broken Barrel Bar
Broken Barrel Bar is located in Lincoln Park/Lakeview, right on Southport. Their patio is perfect if you're wanting to watch sports, but not go to a super sports-centric bar, while still enjoying elevated bar food, and all your 21+ staples... beer, fun cocktails, and wine. Also, do not sleep on their wings. They are some of my favorite in the city.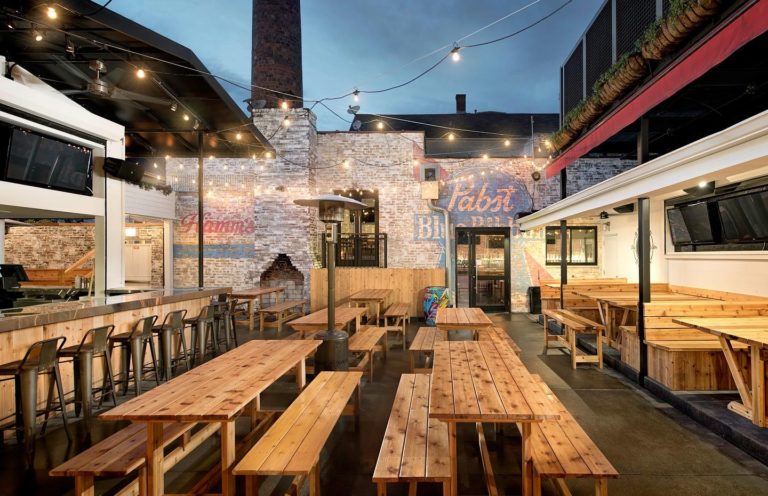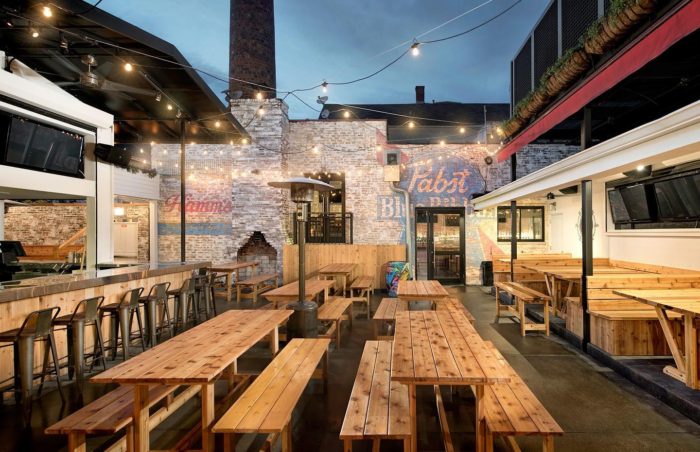 Recess
Recess in West Loop is basically one giant outdoor bar. They do have an inside, but when you go there, you're going to want to sit outside. It's such a vibrant, fun ambiance, you'll immediately be put in a good mood. They have games like giant Jenga and Connect Four making it a great bar to sit back, hang out with friends, play some games and enjoy some drinks. It's literally just one big playground for adults. What's not to love?
Location: Recess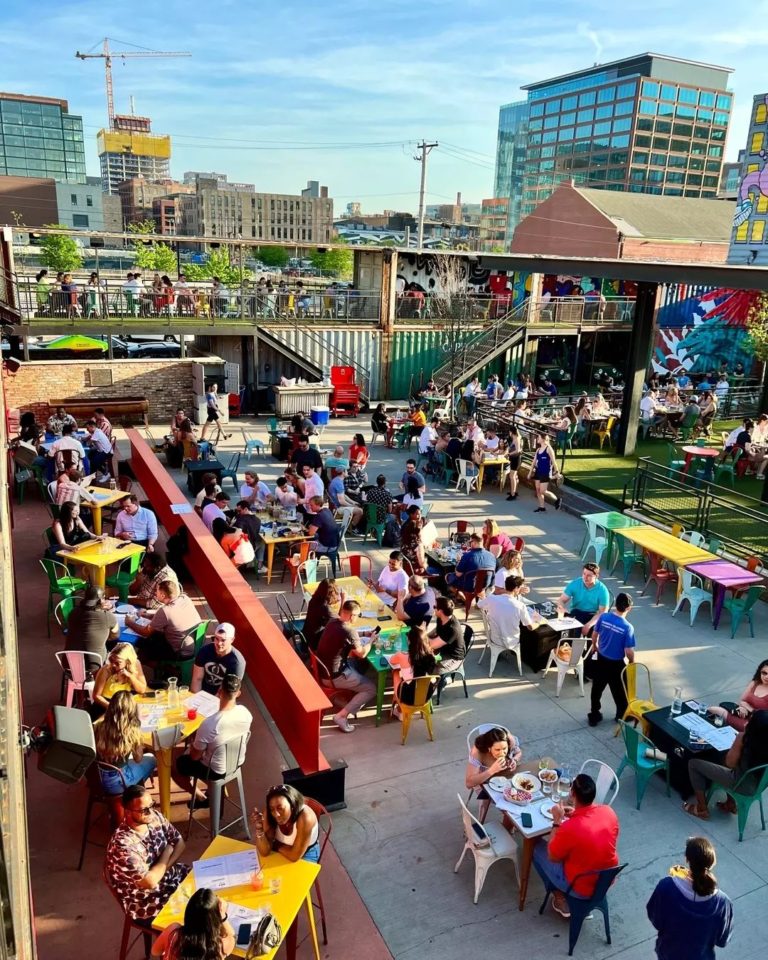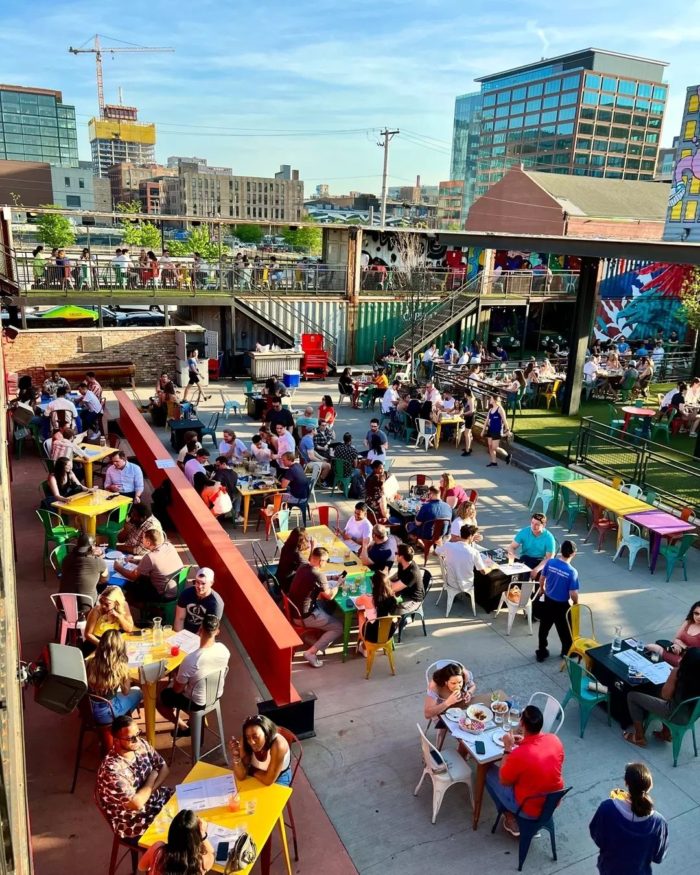 Bar Siena
Now, truthfully, you can't go wrong with almost any restaurant on Randolph or Fulton when they close the street off for al fresco dining. However, Bar Siena is definitely one of my favorites. I have never had a bad meal there from ravioli to pizza to salads and even their cocktails.
Location: Bar Siena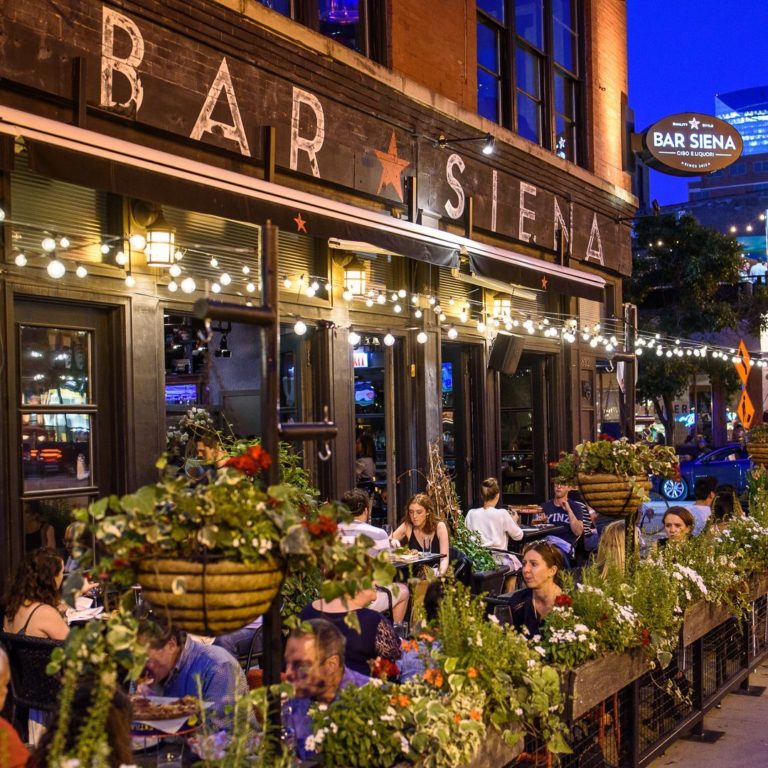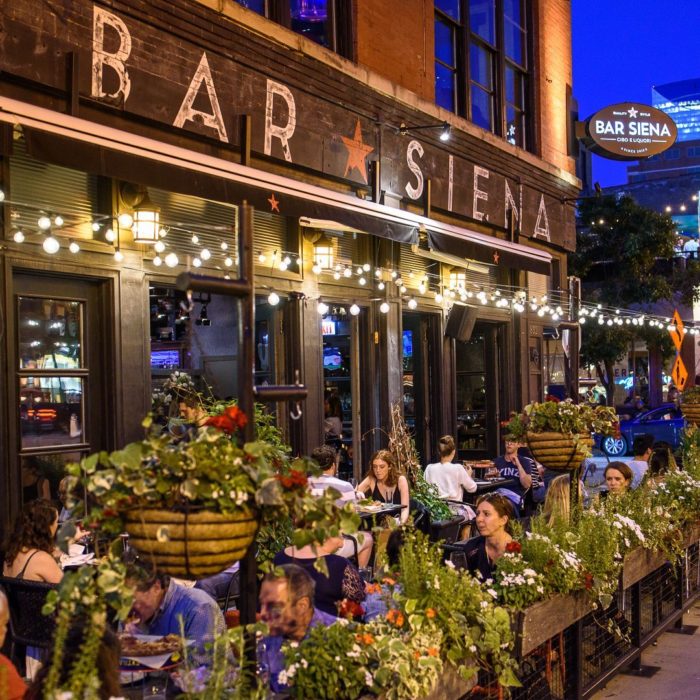 Pin it for Later!
Save this image on Pinterest to remember some of the best patios in Chicago.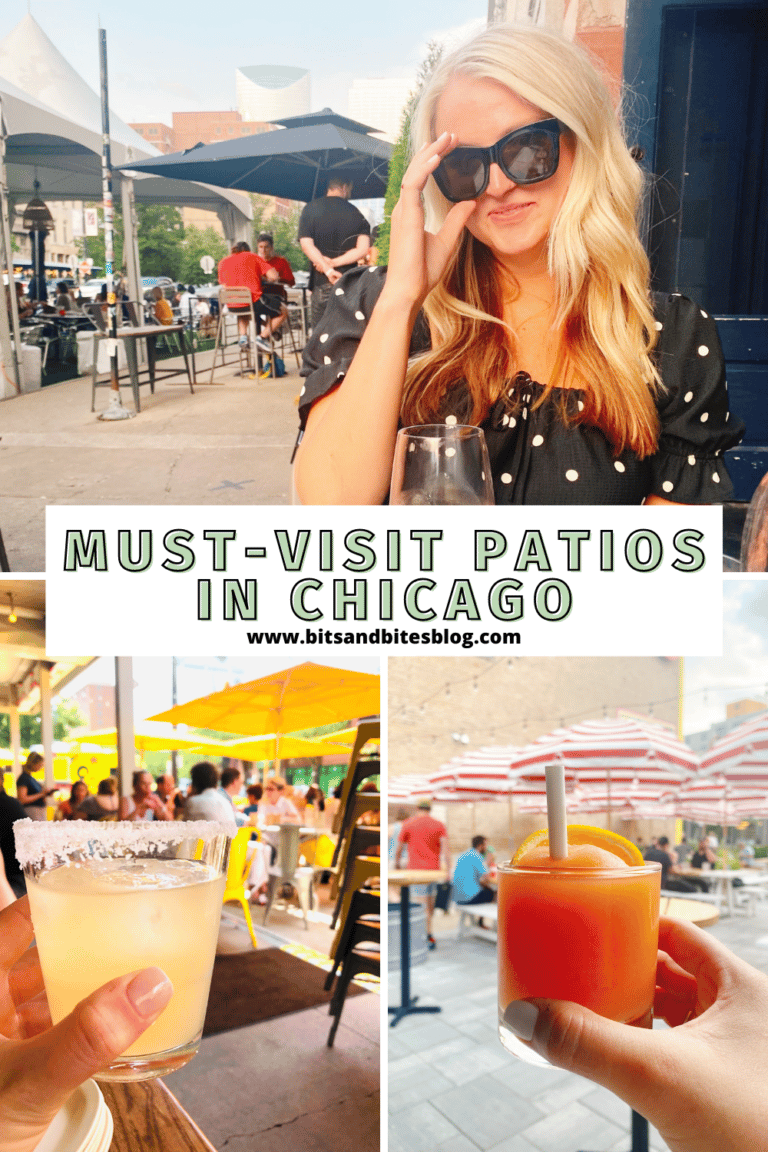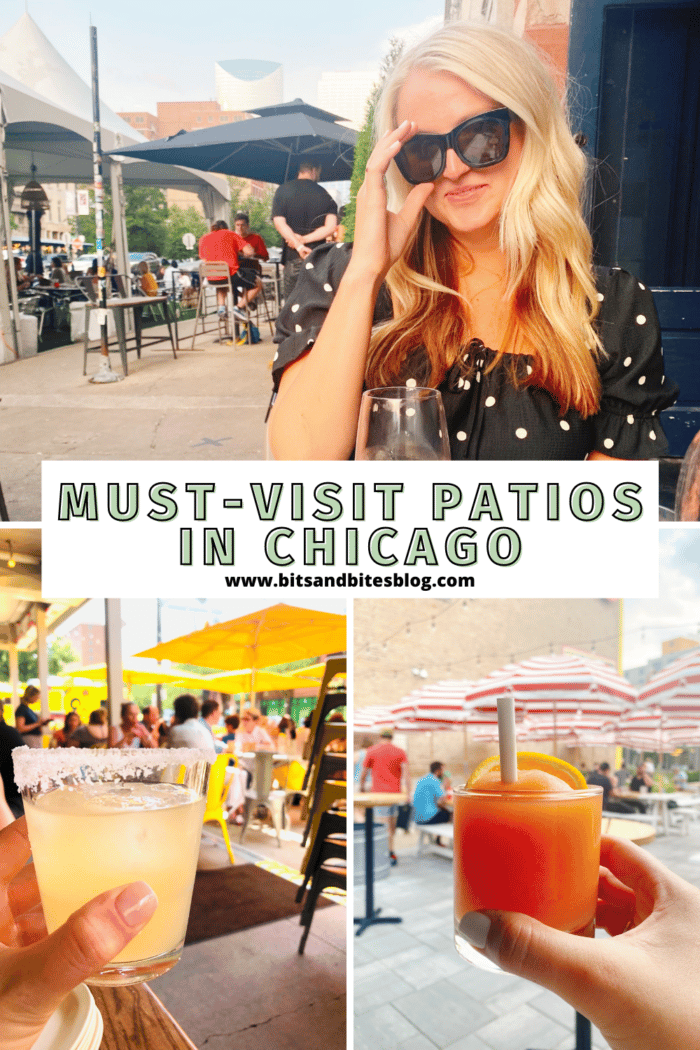 Want more Chicago content?