What better way to get in the holiday spirit than with great food and drinks? I'm bringing you the best Christmas bars and restaurants in Chicago that'll give you all the holiday feels.
Here's your guide to the best Christmas pop-up bars in Chicago for 2023.
Loop/River North Holiday Bars and Restaurants
Once you're done strolling down State Street, reading your way through Macy's annual holiday window display, head into the Walnut Room. Definitely make reservations in advance, or you can go during off hours such as weekday mornings. The closer to Christmas, the crazier this place will be. So if you don't get around to going this year, plan accordingly for next year.
Address: 111 N State St, Chicago, IL 60602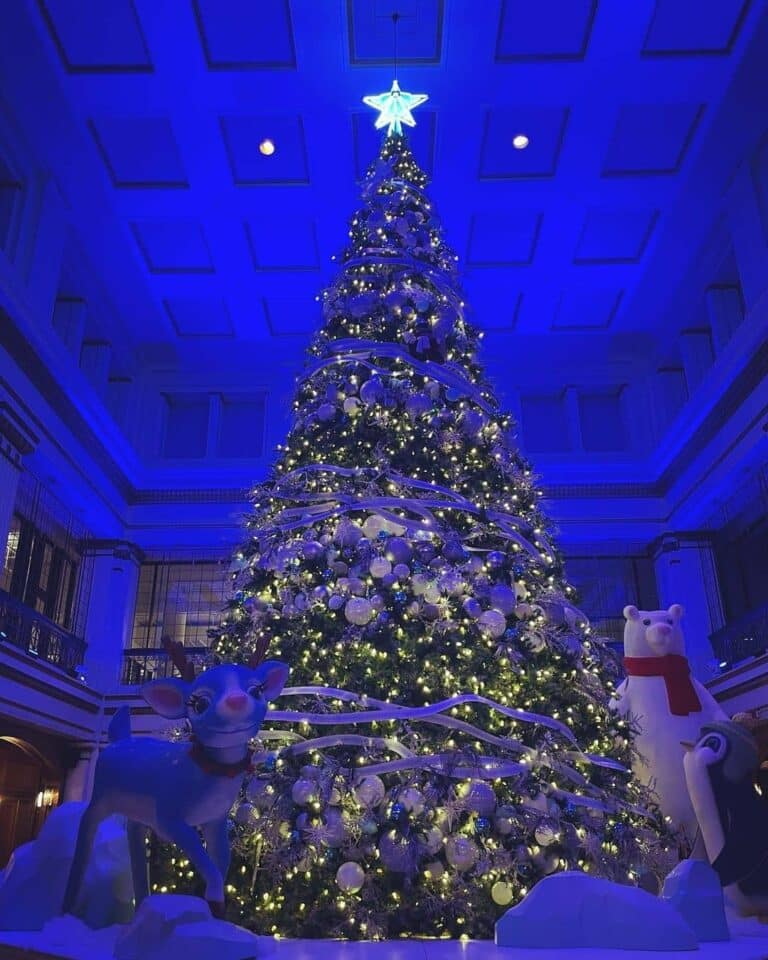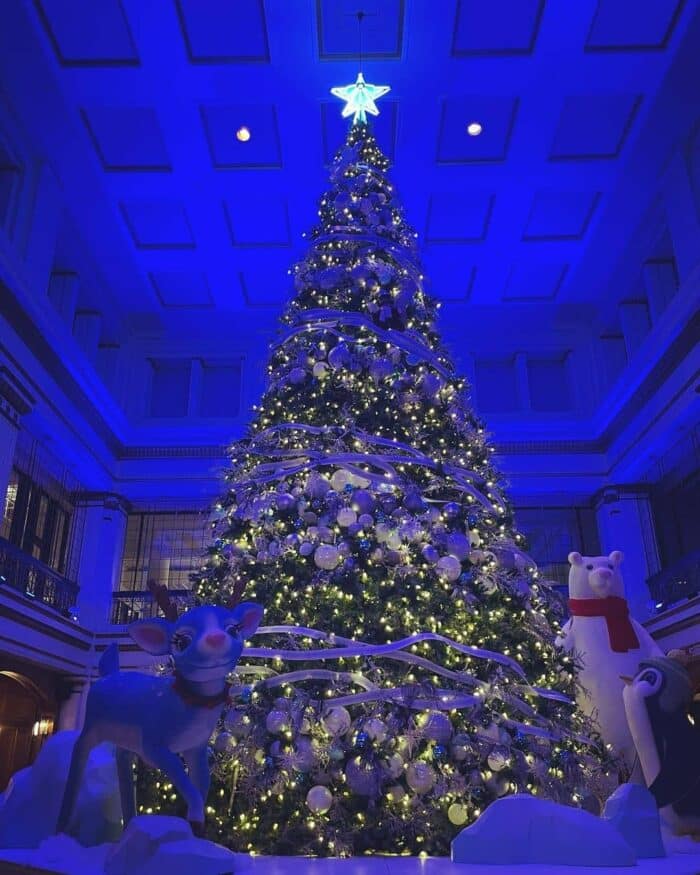 Whether you're heading to the market in the loop or in Wrigleyville or even Milwaukee (yes, MKE!) there are one million things at each market to get you in the Christmas spirit. If sipping on mulled wine or hot chocolate out of the festive mugs, or eating one of the handfuls of food options... this is a must-visit. Plus, you could get a little Christmas shopping done while you're at it.
Locations: Daly Plaza (Chicago Loop) or Wrigleyville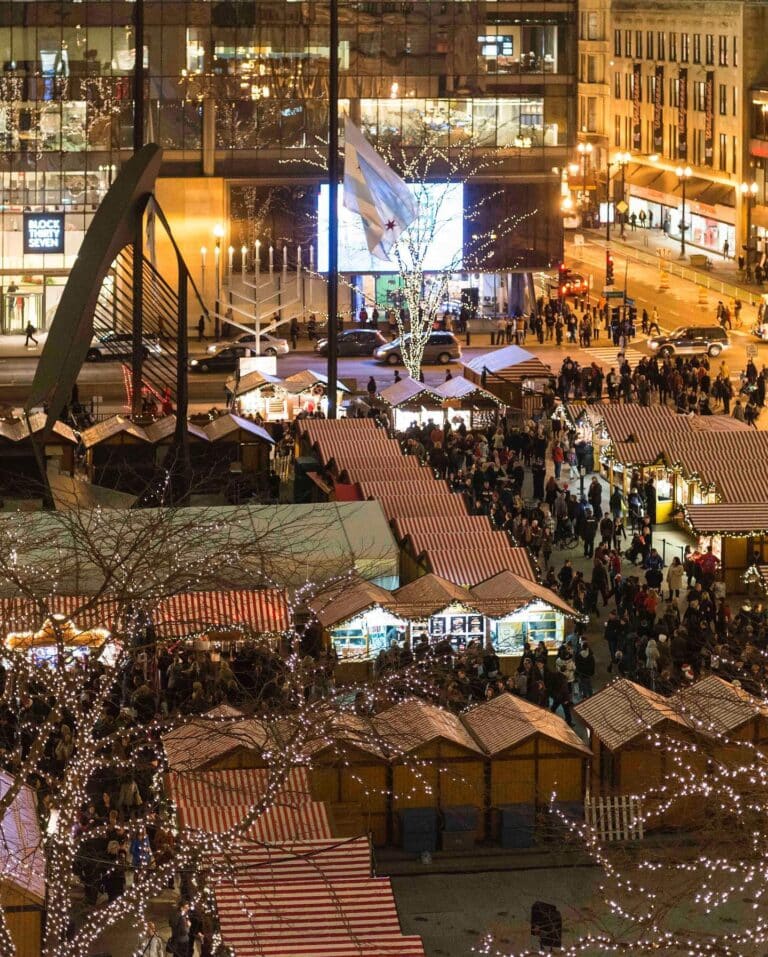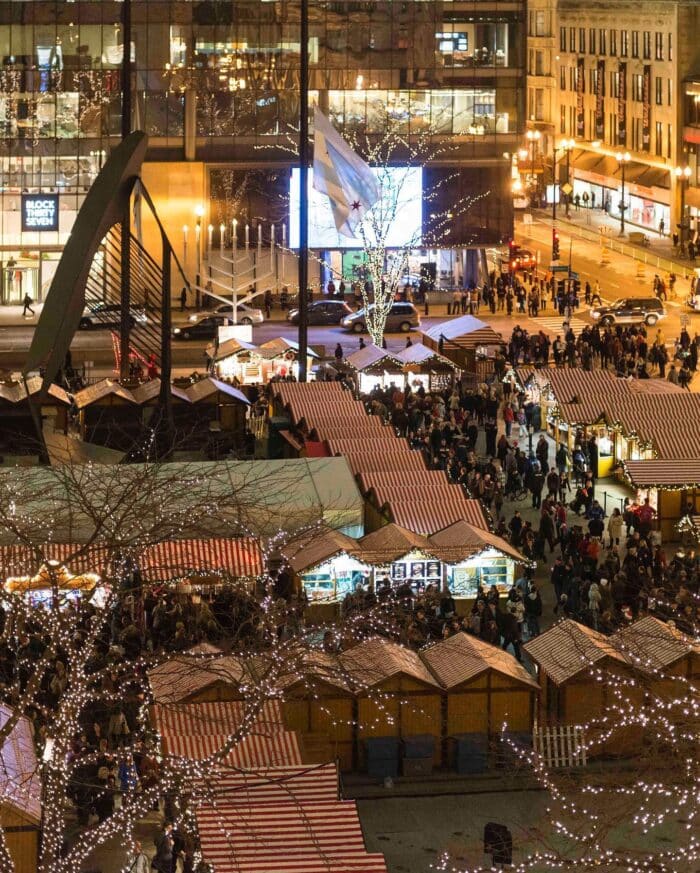 This is a rooftop bar that is open year-round in Chicago right across from Millennium Park. Cindy's Rooftop is on top of the Chicago Athletic Association hotel and offers breathtaking views of the park, where you'll find an ice rink, a Christmas tree, and the classic bean. This spot is perfect to take in the Lakefront, and Millennium Park dolled up for the holidays or to even stop in and warm up after a day of ice skating or walking around the city.
Address: 12 S Michigan Ave, Chicago, IL 60603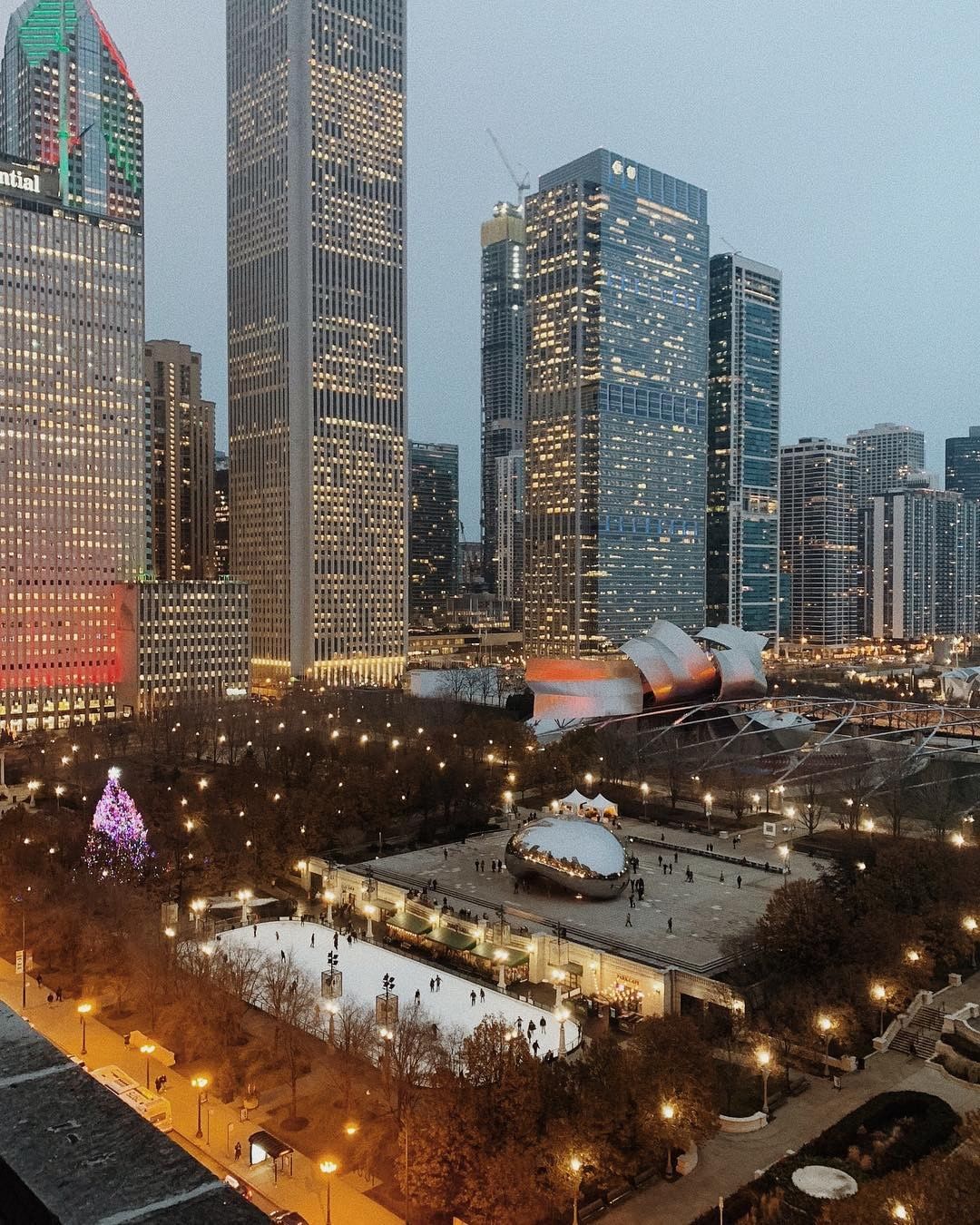 You can get a 2-for-1 deal at the Chicago Athletic Association Hotel! Their annual holiday bar, Happy's is back with festive drinks, a vintage old-timey holiday ambiance, and some bar bites.
Address: 12 S Michigan Ave, Chicago, IL 60603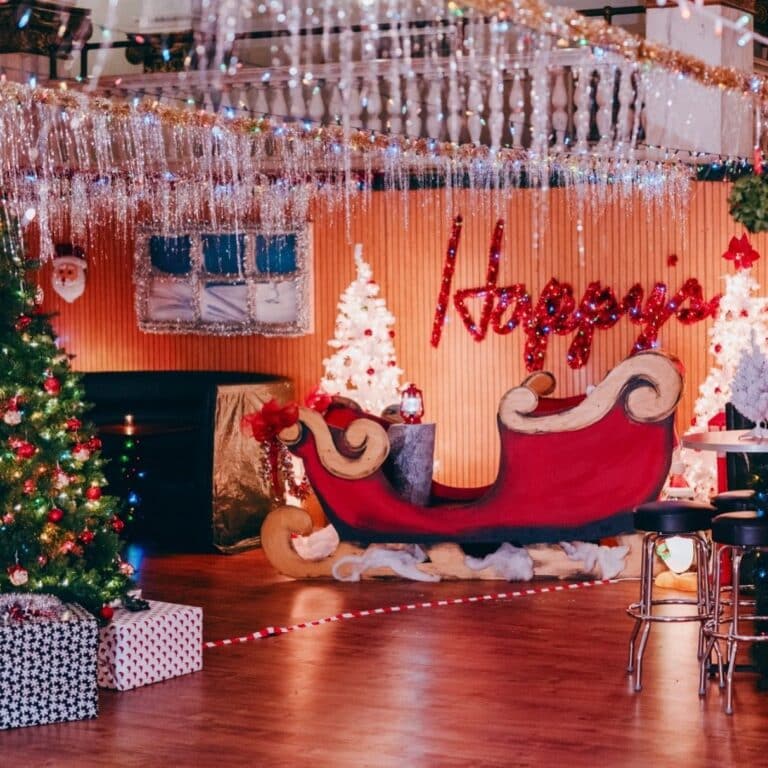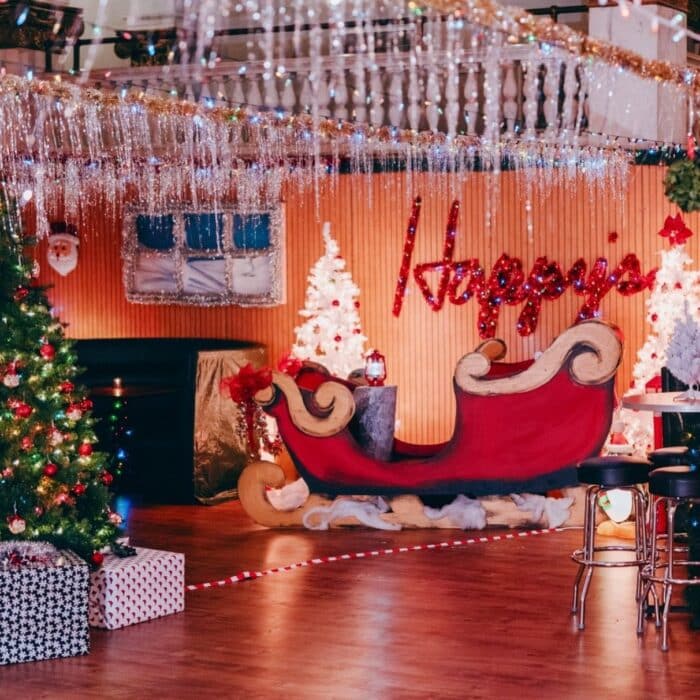 Fairmont Chicago is back with their version of a Lodge escape in the middle of a concrete jungle. Open to both the public and hotel guests, they have special food and drinks, indoor "fire pits," games and lots of photo ops. Unlike many of these spots on this list, The Lodge is actually open until February 2023! They're also donating a portion of this year's menu sales to the Wish Illinois Foundation.
Address: 200 N Columbus Dr, Chicago, IL 60601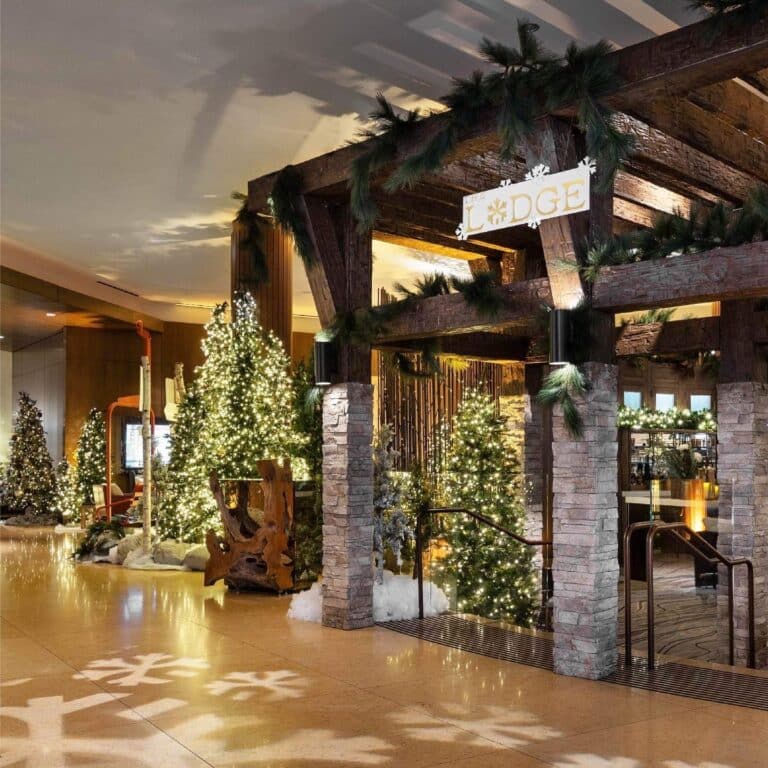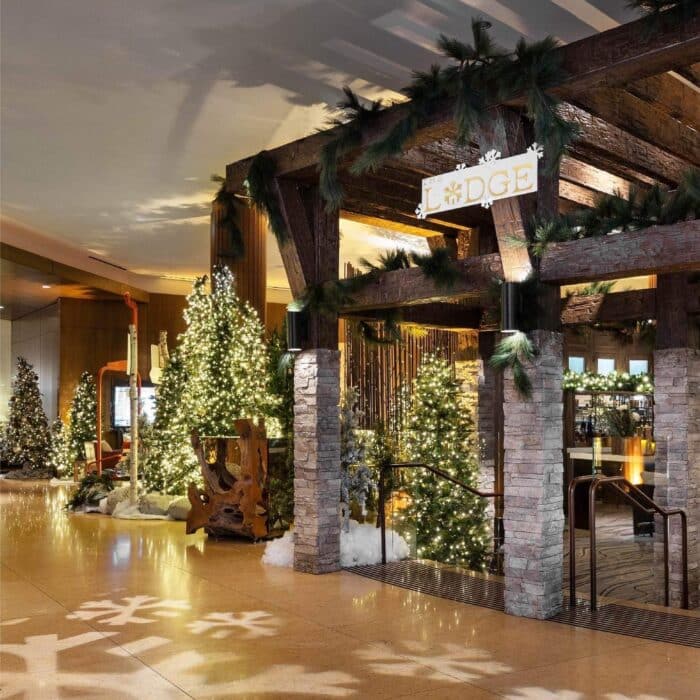 LondonHouse has one of the best rooftops in all of Chicago. It's on the eastern end of the Chicago River, and the view is absolutely stunning. From November 1 - January 3, the rooftop has been transformed into Rudolph's Rooftop. They have fun holiday cocktails, bar bites, igloos and even an Ice Bar!
Address: 85 E Wacker Dr, Chicago, IL 60601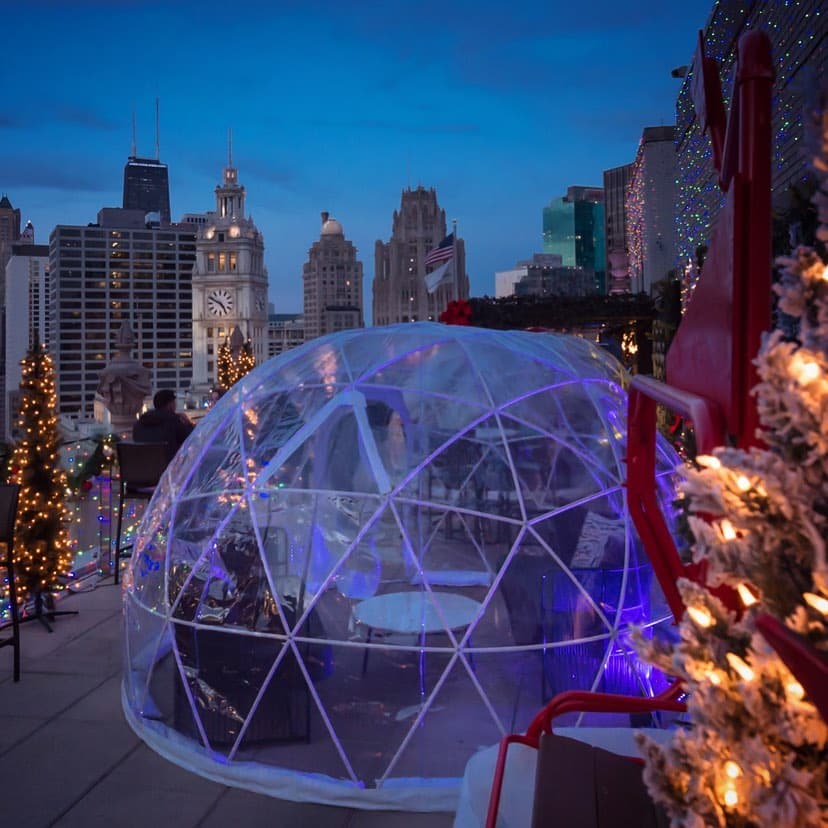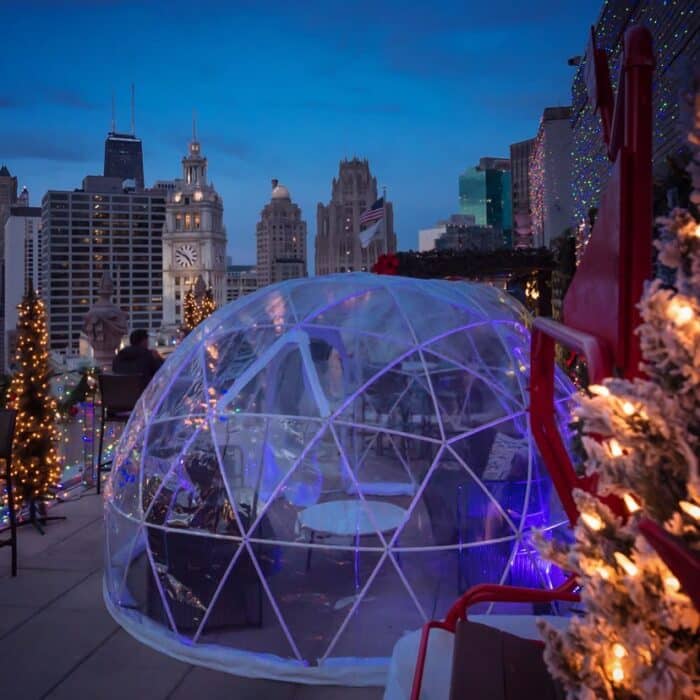 JoJo's Winter Wonderland is available at their River North and Naperville locations! If you're looking for decadent holiday desserts and food that you thought was only possible in your dreams, news flash, it's possible at JoJo's. Milkshakes, cocktails, sweet treats, and savory dishes plus plenty of photo-ops this is a very family-friendly option!
Locations: River North and Naperville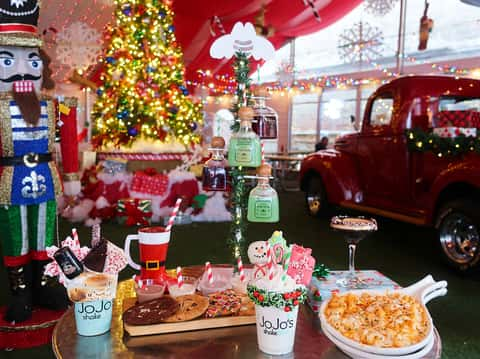 Headquarters Beercade is exactly what it sounds like, it's a huge arcade bar. They totally deck the halls with photo ops, a life-sized sleigh for pics, and a fun and festive holiday cocktail menu, all while being able to have a little friendly competition with all the arcade games you could ever think of.
Address: 213 W Institute Pl, Chicago, IL 60610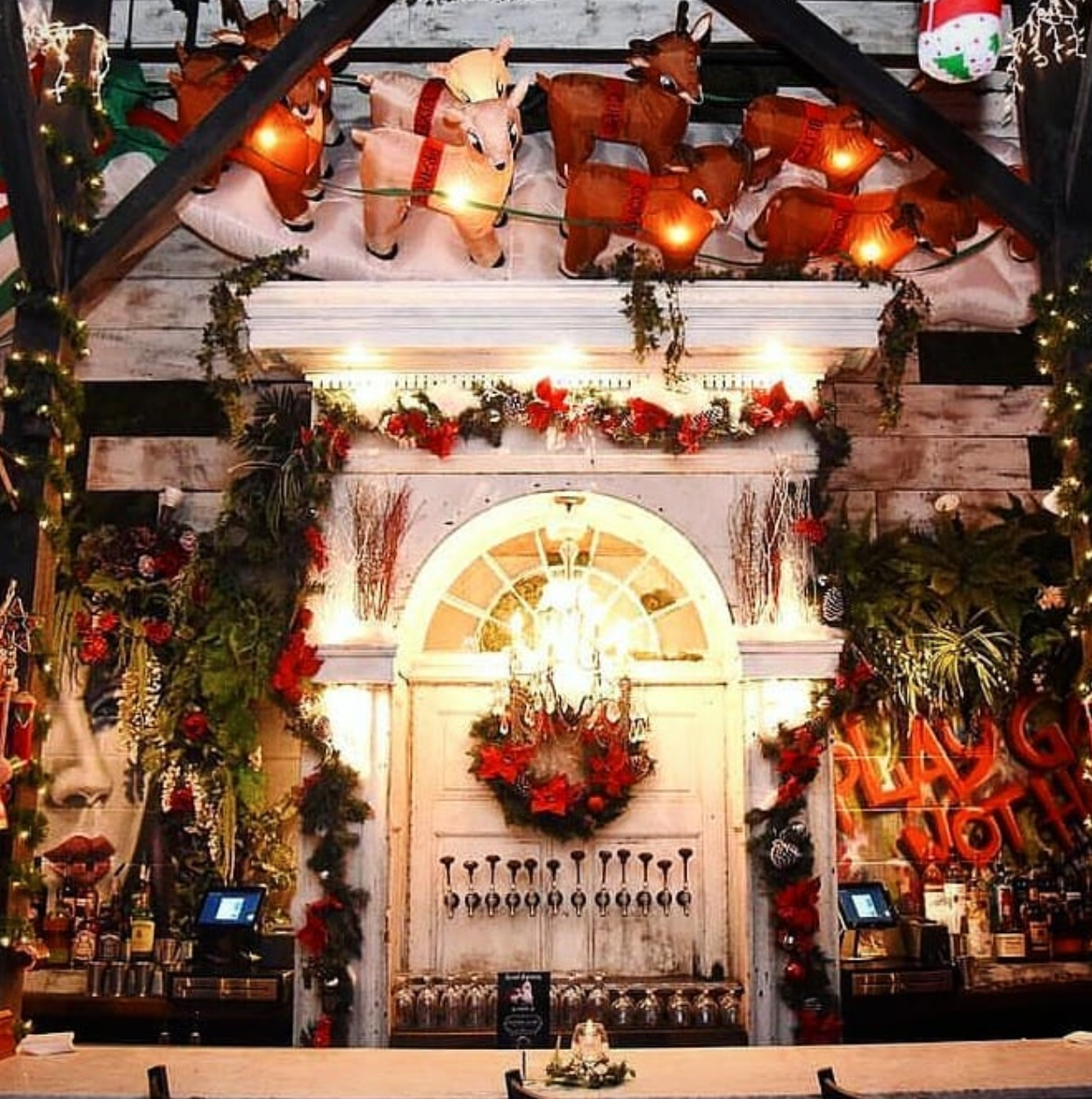 Pilsen Christmas Bars
Tack Room is the bar located in Thalia Hall. If you haven't been to a show at Thalia Hall, I highly recommend it. If you are also looking for a spot with great food and drinks, highly recommend Dusek's and Tack Room. The Reindeer Room, however, has nightly live music, festive cocktails and some eats. It's happening Thursdays - Saturdays from 7pm - 1am.
Address: 1807 S Allport St, Chicago, IL 60608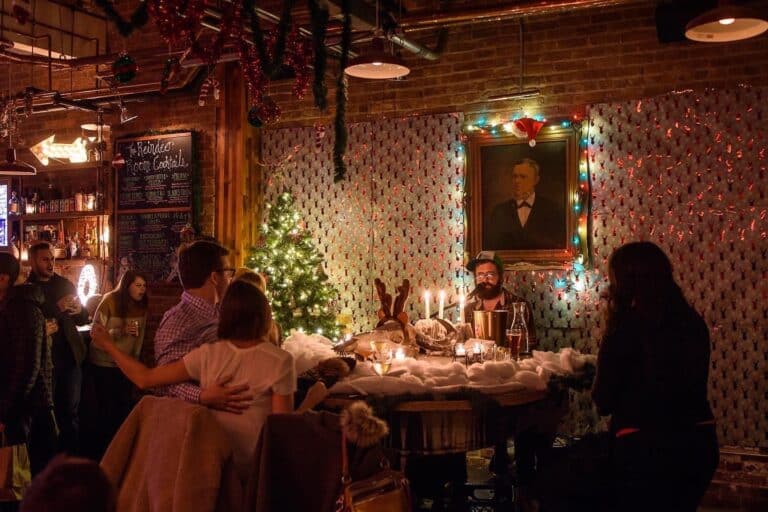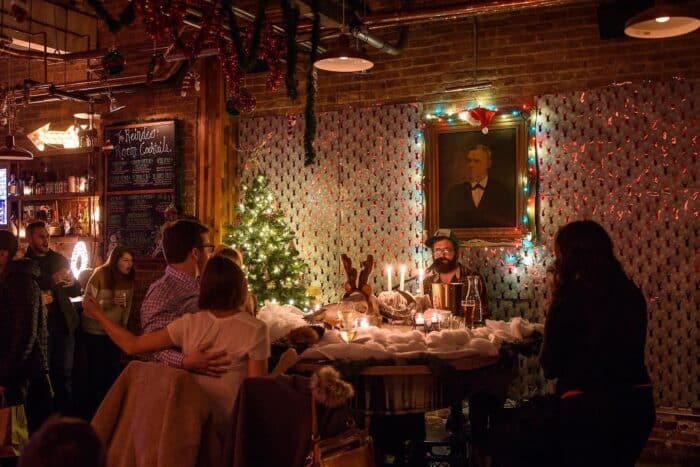 Gold Coast/Lincoln Park Christmas Pop-Up Bars
Surprise surprise this is the first one on my list. It's basically the first on any "Christmas bars in Chicago" lists. They go ALL OUT, and it is a blast. I love Butch McGuires any time of the year, but it'll always be extra special during the holiday season. It's the perfect holiday overload without being over-gimmicky. If you want basic drinks with all the holiday vibes, this is your spot.
Address: 20 W Division St, Chicago, IL 60610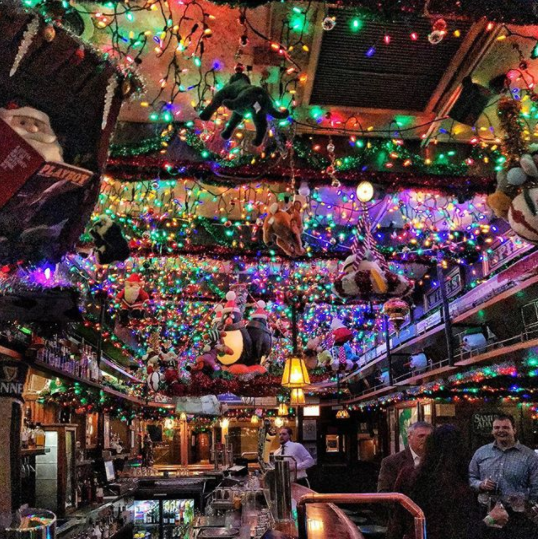 This is one of the few rooftop bars that are open during the winter in Chicago. On top of Hotel Lincoln right in the heart of Lincoln Park, you'll be able to see the Lincoln Park Zoo Lights from a birds-eye view. Whether you're content with seeing the lights from this rooftop or looking for a place to grab a drink and some grub before going to the zoo, this place offers one of the best views of the city, especially lit up for the holidays.
Address: 1816 N Clark St, Chicago, IL 60614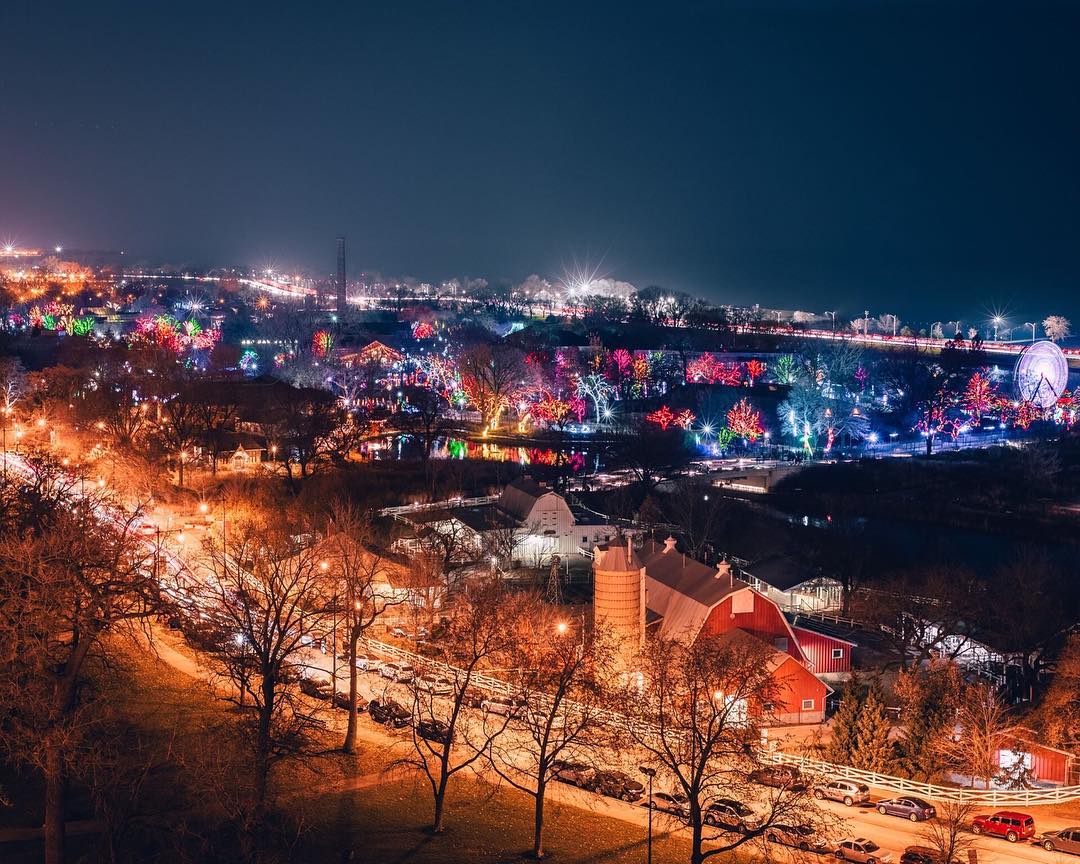 Cozy on up with pizza, Christmas lights galore, totally IG-worthy neon signs and not to mention drinks at Homeslice. Their back patio is heated in the winter, so that's a win. They have massive booths perfect for a large party, so if anyone has a birthday around Christmas, this is a great place to go. Plus, it's in a faaaaaantastic location within Lincoln Park, so it's perfect to walk around before or after and check out the houses' holiday decor.
Address: 938 W Webster Ave, Chicago, IL 60614
Start your day off on the right note and head to my favorite donut shop in Chicago, Firecakes. They have their own little Eggnog Donut and BELGIUM hot chocolate. I'll take both of those, right now, plz and ty.
Address: Lincoln Park, River North, or Oak Park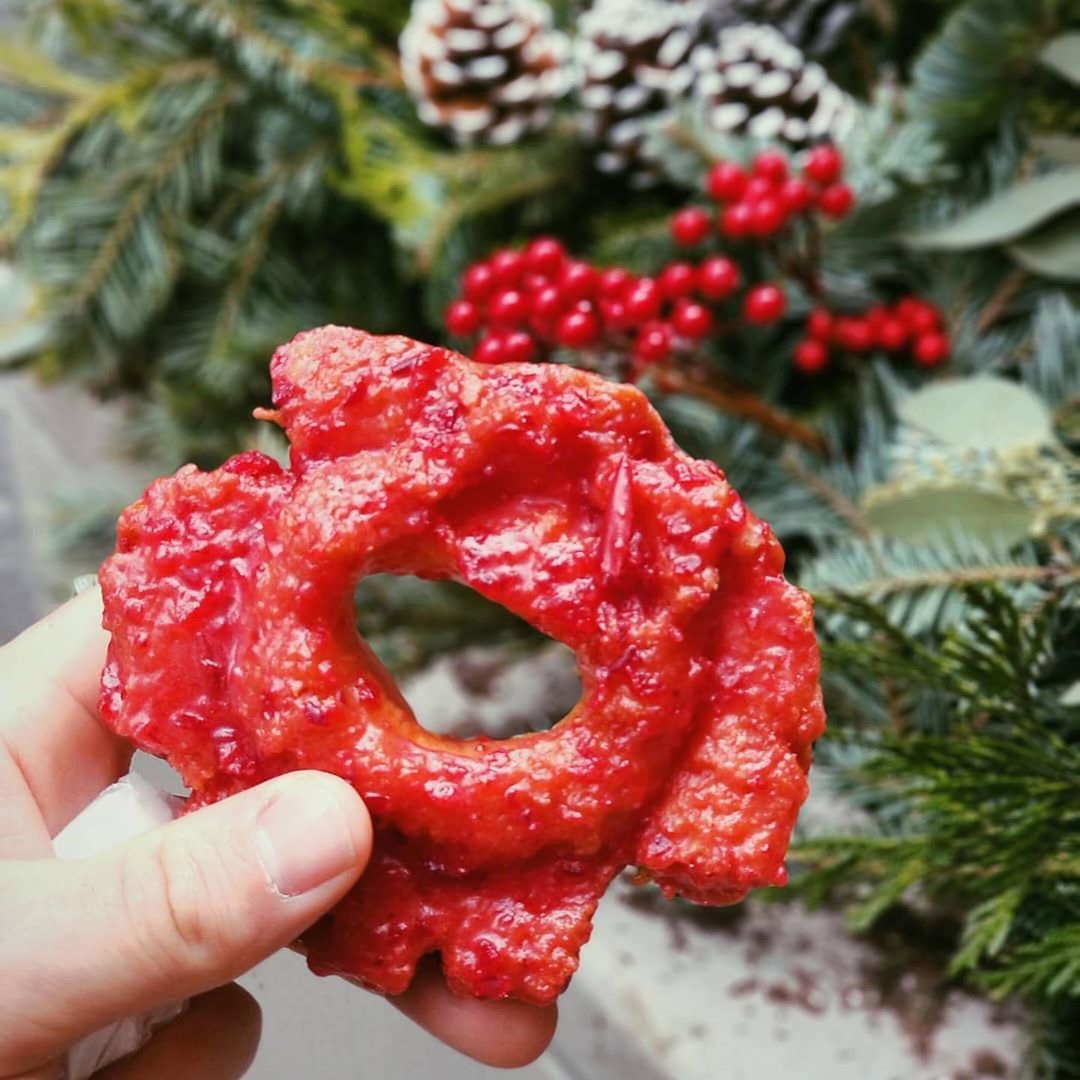 If you're looking for an outdoor holiday pop-up experience, Jack's is your place. This is right in west Lincoln Park, and every year they absolutely nail it with holiday fun. They have tubing, ice skating, bumper cars, full bars, food, and other games. Parking is pretty ample, especially along Elston, and this is totally family-friendly.
Address: 1467 N Elston Ave, Chicago, IL 60642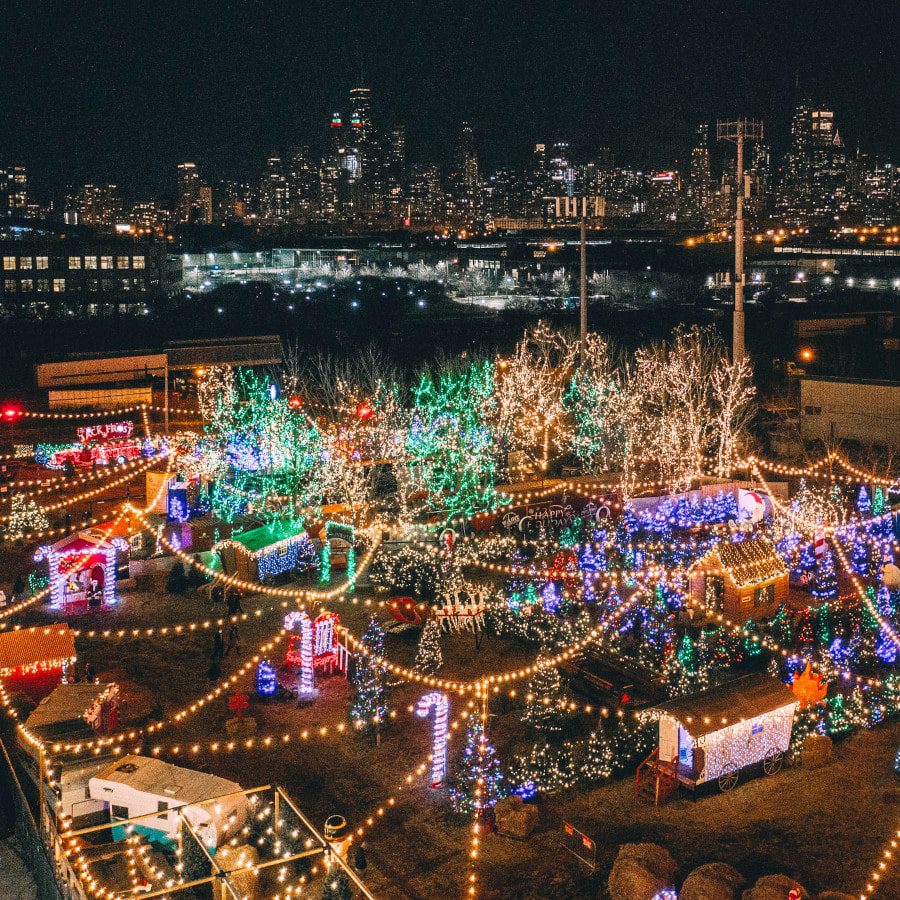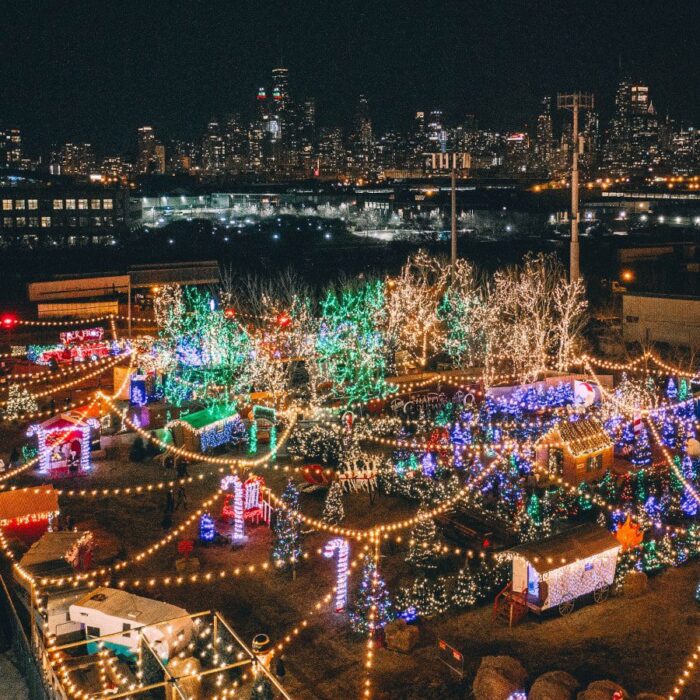 Frosty's is a Chicago Christmas pop-up bar staple, and it is back again. It's 3 levels with 4 bars, you have. to purchase tickets to gain access to the experience. Along with tickets, you can reserve a table for lunch or dinner.
Address: 809 W Evergreen Ave, Chicago, IL 60642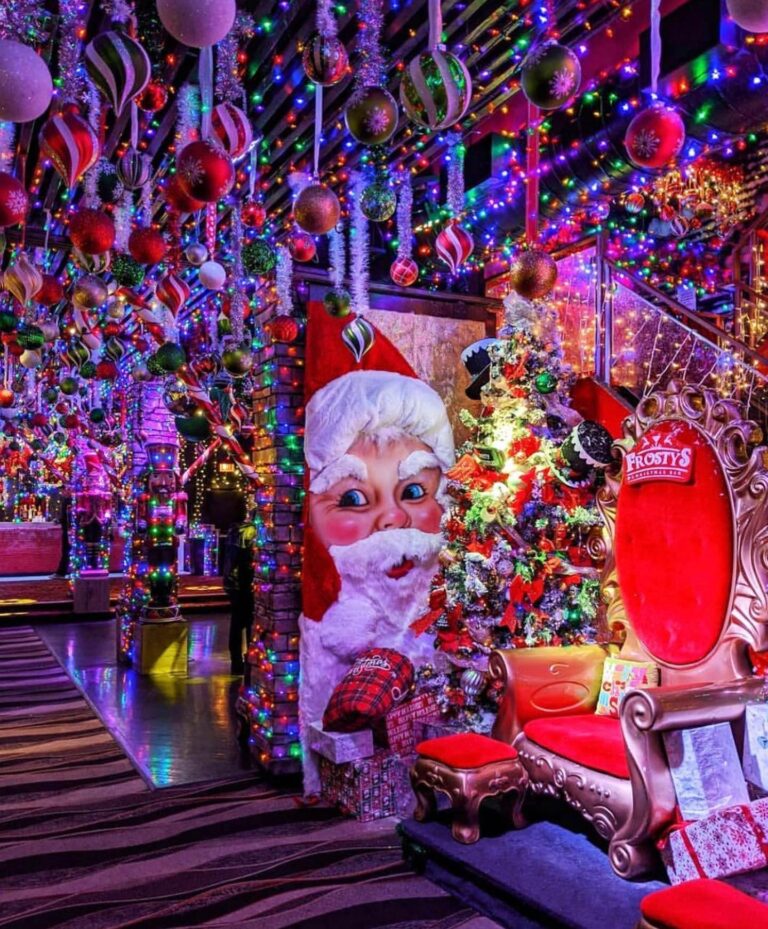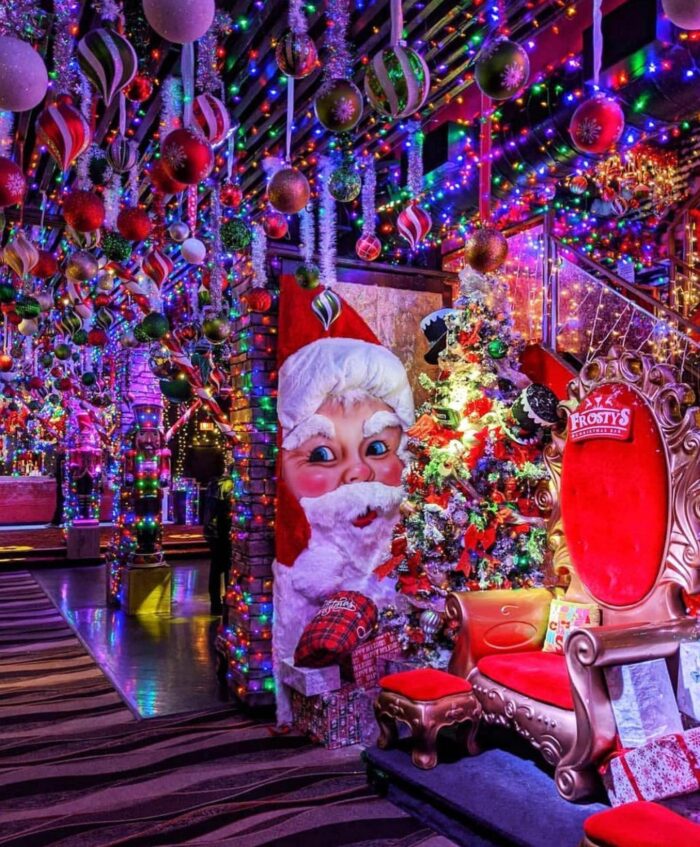 Chicago Christmas Bars - Wrigleyville
The Bamboo Club yet again went to TOWN for the holidays and totally redecorated for their (now annual) limited edition Santa Baby Bar. Not only has their decor gotten a holiday facelift, but their menu also has too. With festive cocktails and seasonal eats, this is a must-visit if you're on the northside.
Address: 3505 N Clark St, Chicago, IL 60657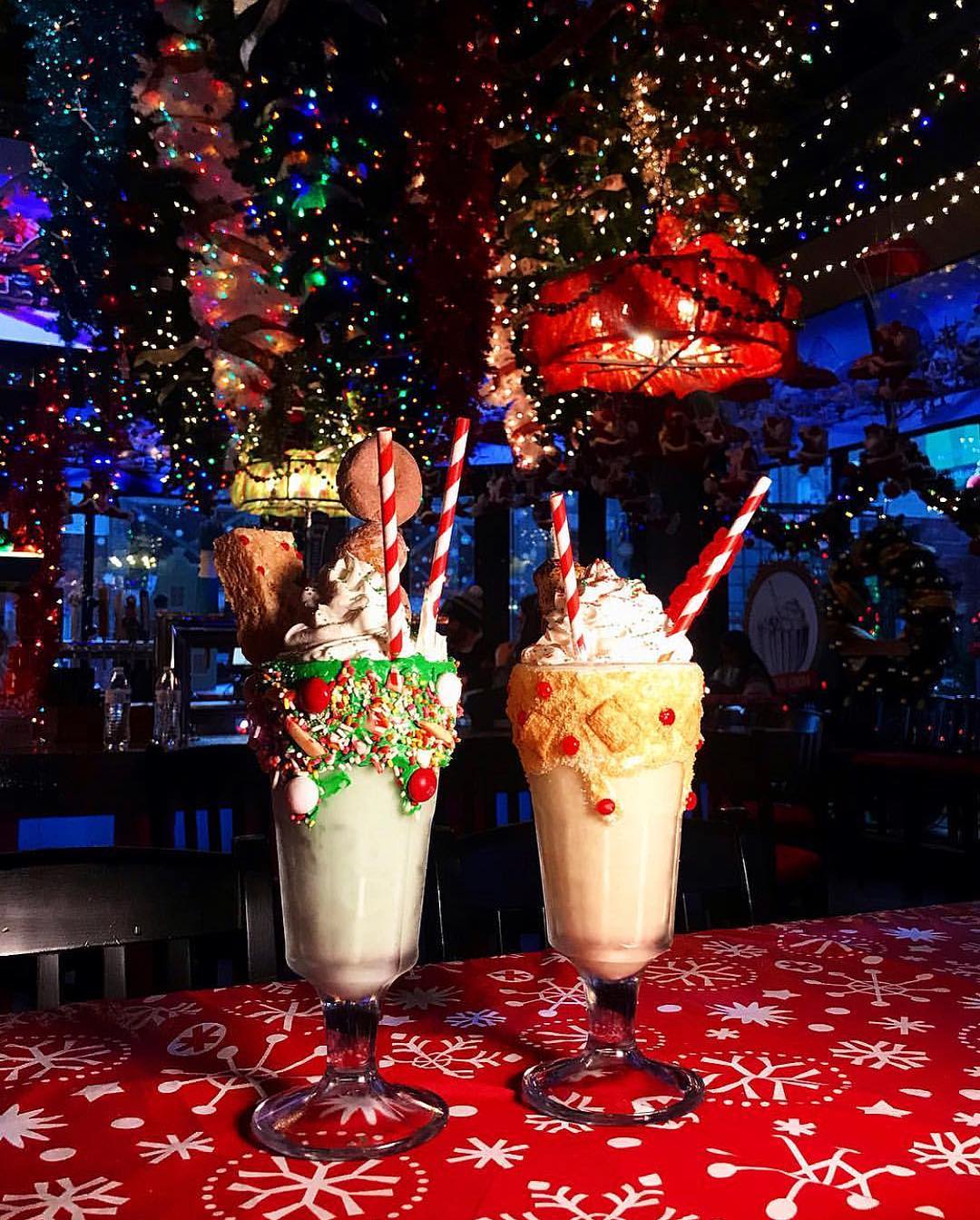 Right down the street after you've had enough Santa Baby, but not enough holiday, there's Elf'd Up. Stretch Bar transformed itself into the real-life movie Elf. Equipped with Buddy the Elf's signature pasta and all.
Address: 3485 N Clark St, Chicago, IL 60657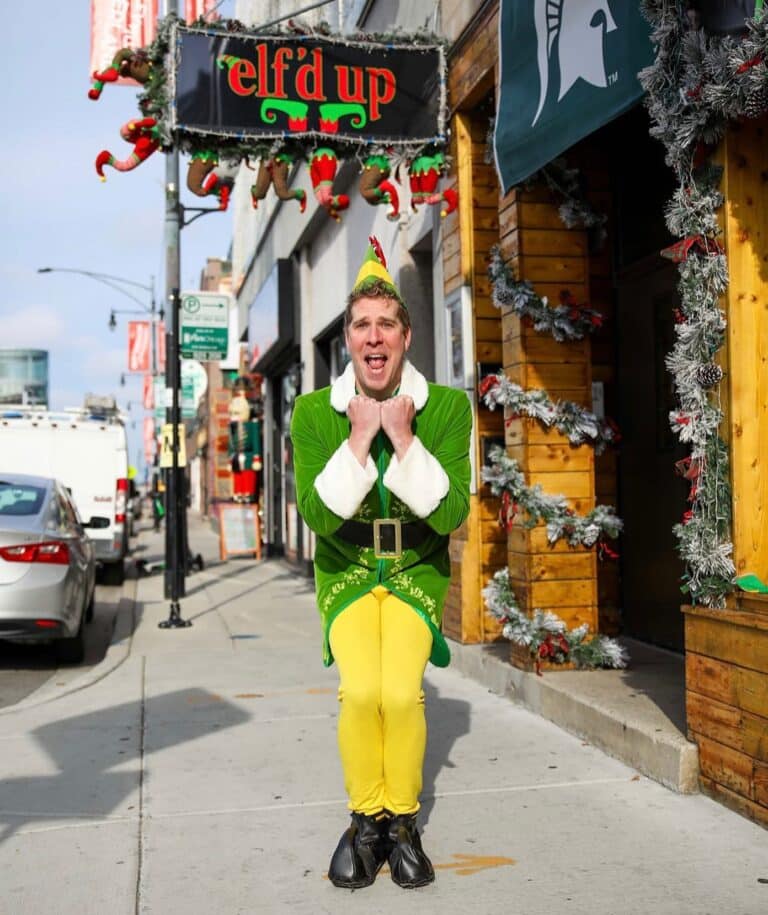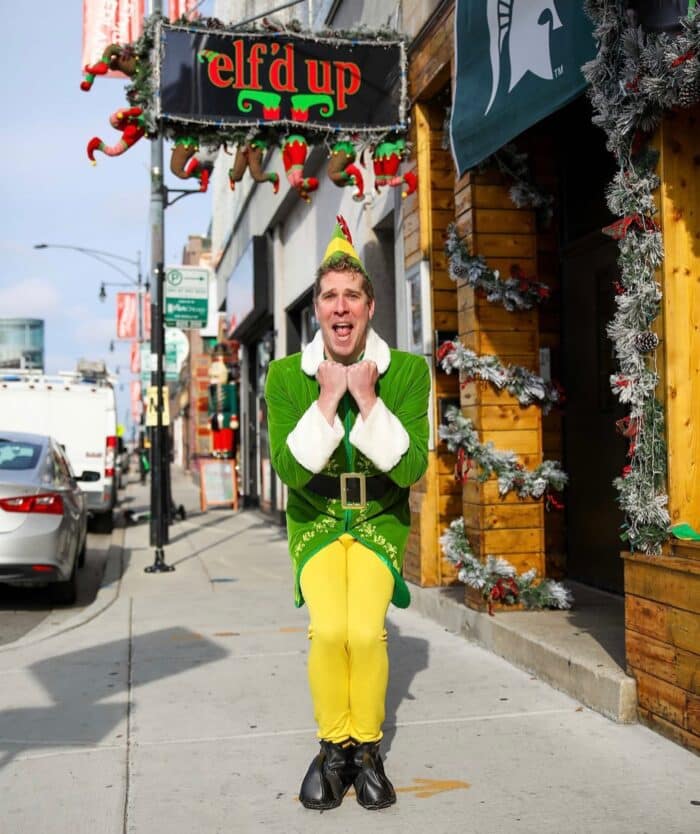 Throw Christmas Club (Country Club turned Christmas if you didn't know) onto your list of Christmas bars in Wrigleyville. The well-known country bar goes all out decking out its two floors with all things Christmas.
Address: 3462 N Clark St, Chicago, IL 60657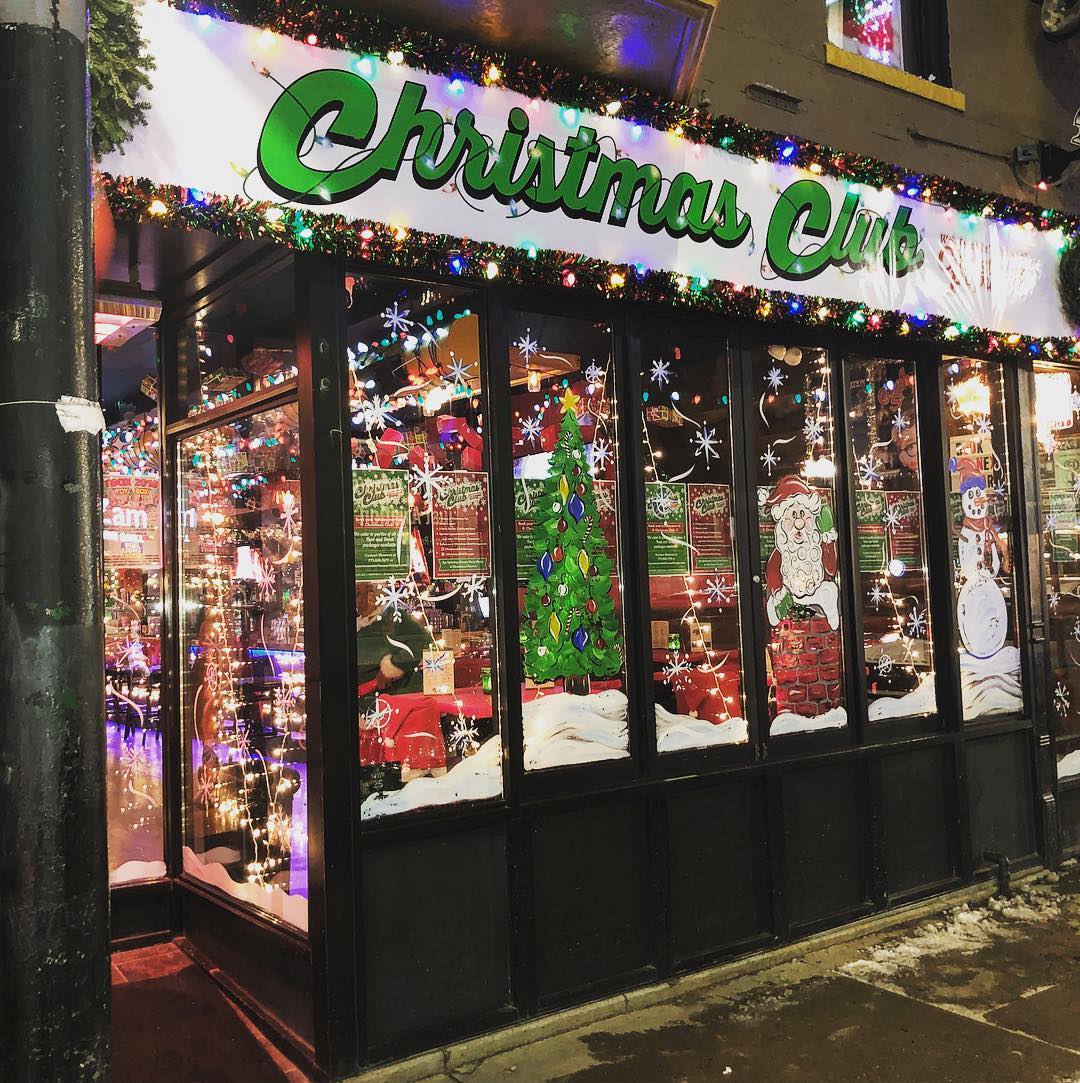 In a sea of sports bars, you will find a few higher-quality bars in Wrigleyville, like Mordecai. They have a cocktail menu that'll give you all the vintage feels, yet they still have a contemporary vibe. It closes on December 23rd, and you have to reserve time blocks.
Address: 3632 N Clark St, Chicago, IL 60613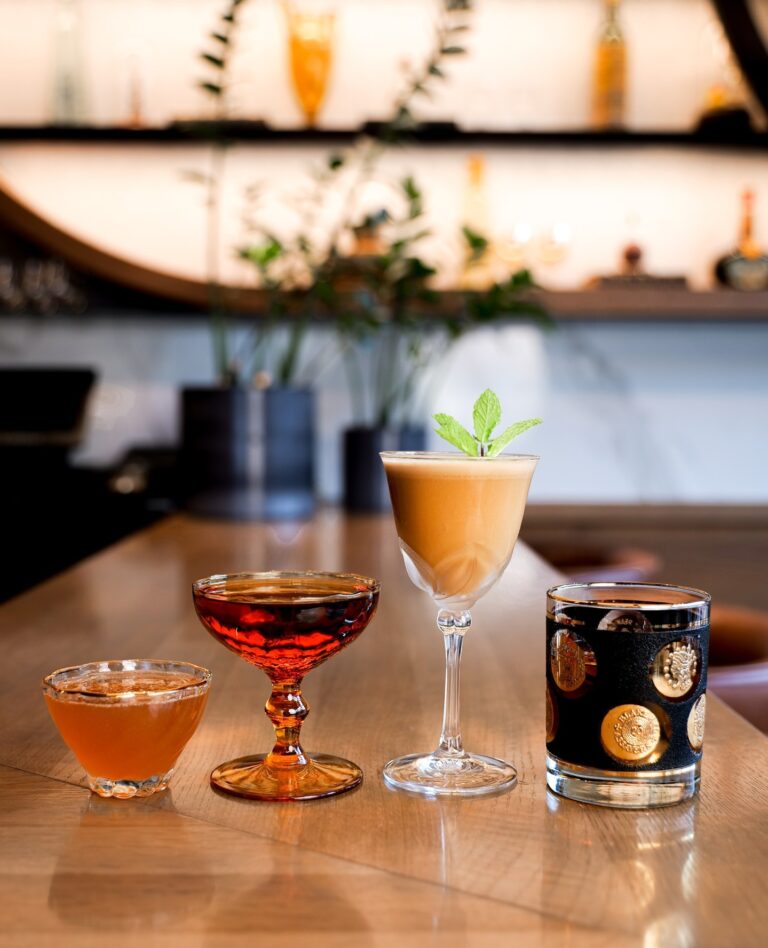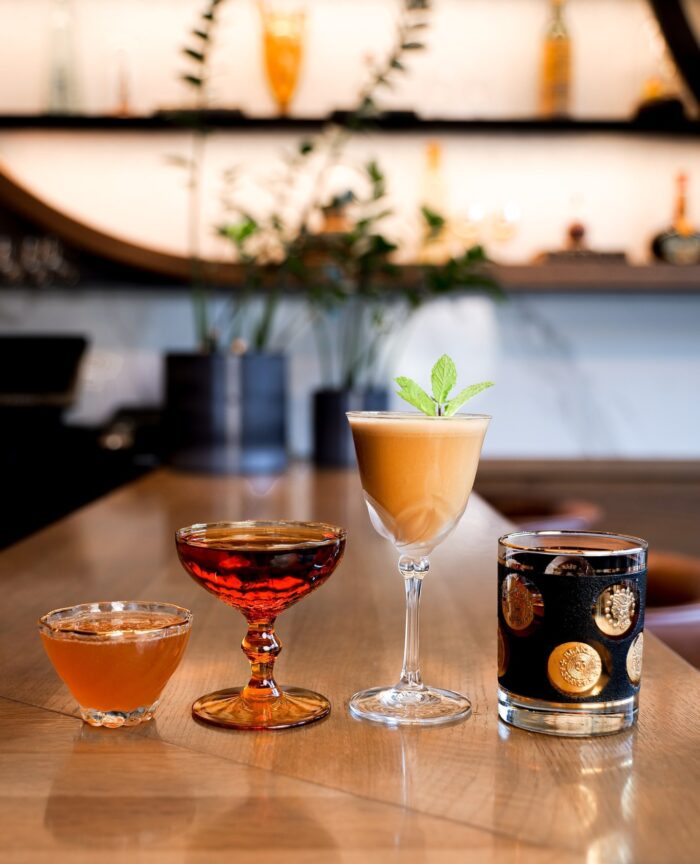 Guthrie's is on Addison, a few blocks east of Clark, and one of my favorite bars. For the first time this holiday season, they are transforming into Candy Land. It's a fitting theme since their bar is stocked with all your favorite board games.
Address: 1300 W Addison St, Chicago, IL 60613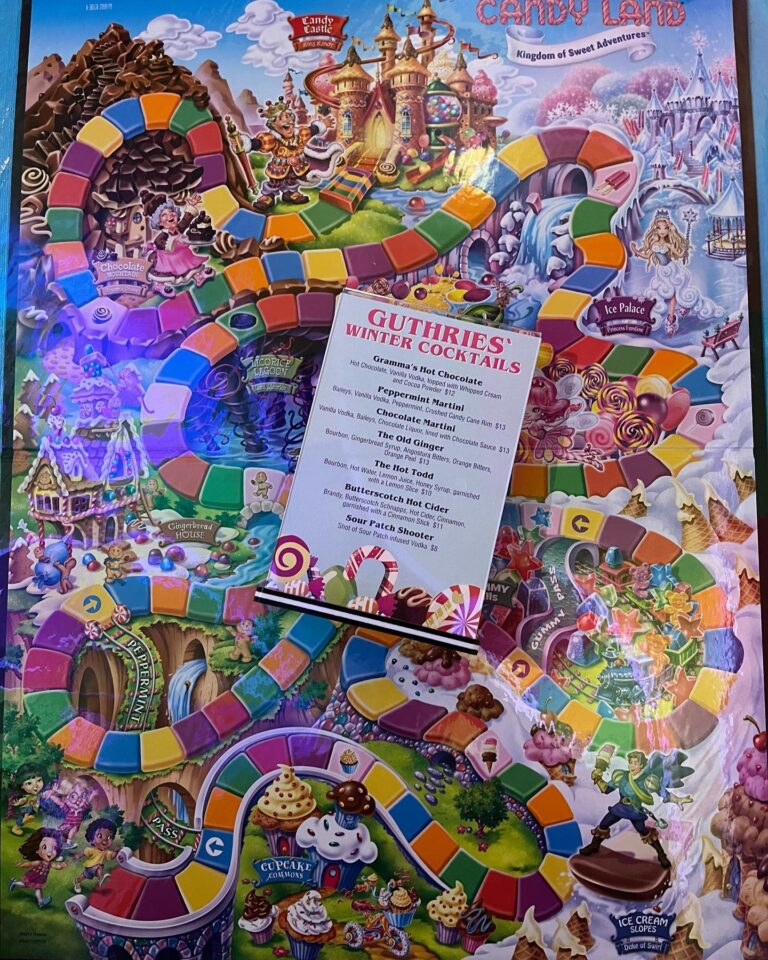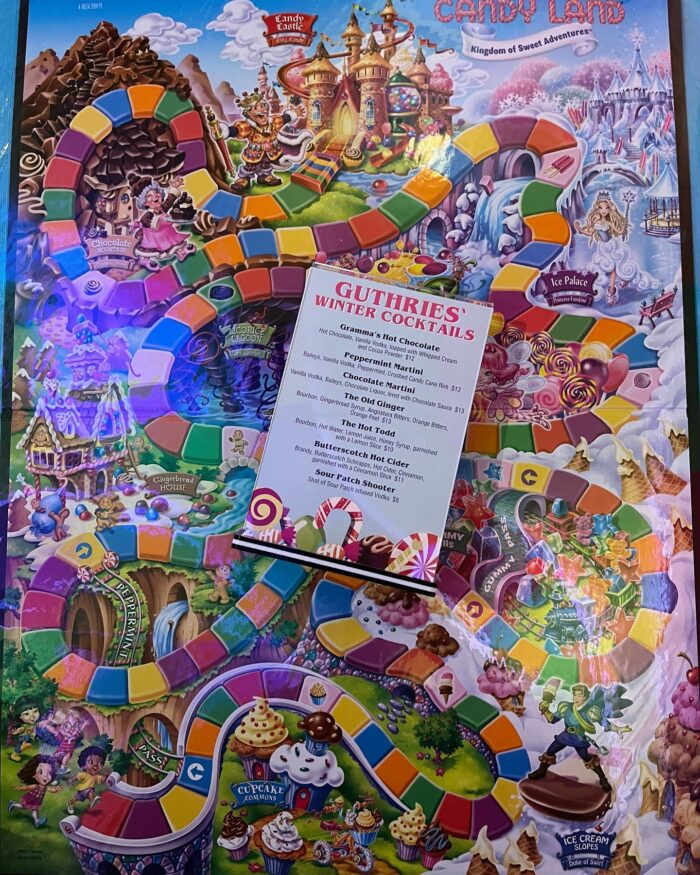 Graystone Tavern turns completely blue from November 25th - January 9th to celebrate all things Hannukah. They have fun Hannukah-themed food and drinks, and it's right off Clark Street in Wrigleyville! No tickets or reservations are necessary.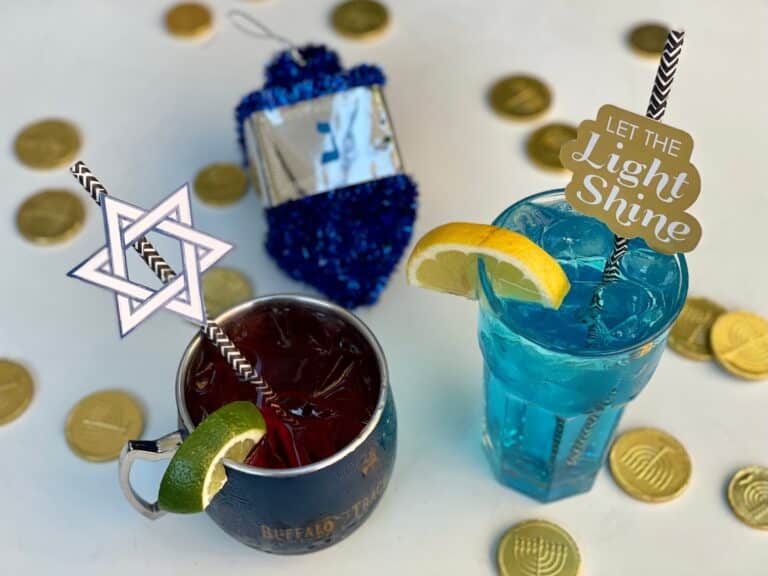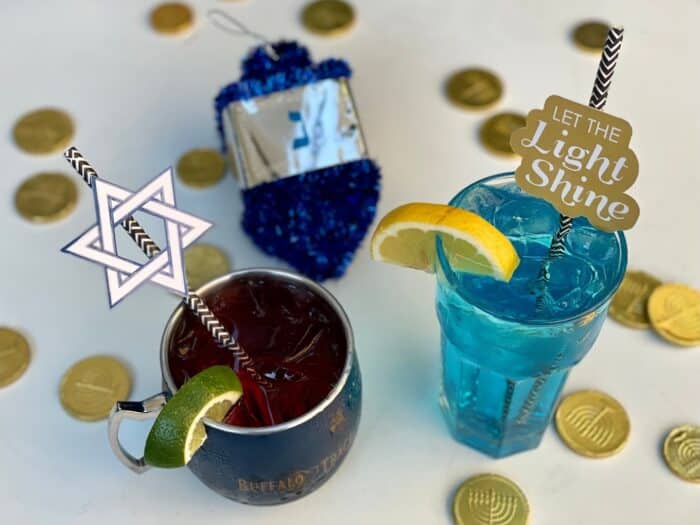 Logan Square, Wicker Park, and West Town
Pink Squirrel is a cozy, true Midwestern-feel cocktail bar in Logan Square that completely transforms into Tinseltown for the holiday season. It is so much fun, and they also have mini bowling and gingerbread house experiences available with reservations. They are 21+, so be sure to plan your Chicago Christmas fun around that!
Address: 2414 N Milwaukee Ave, Chicago, IL 60647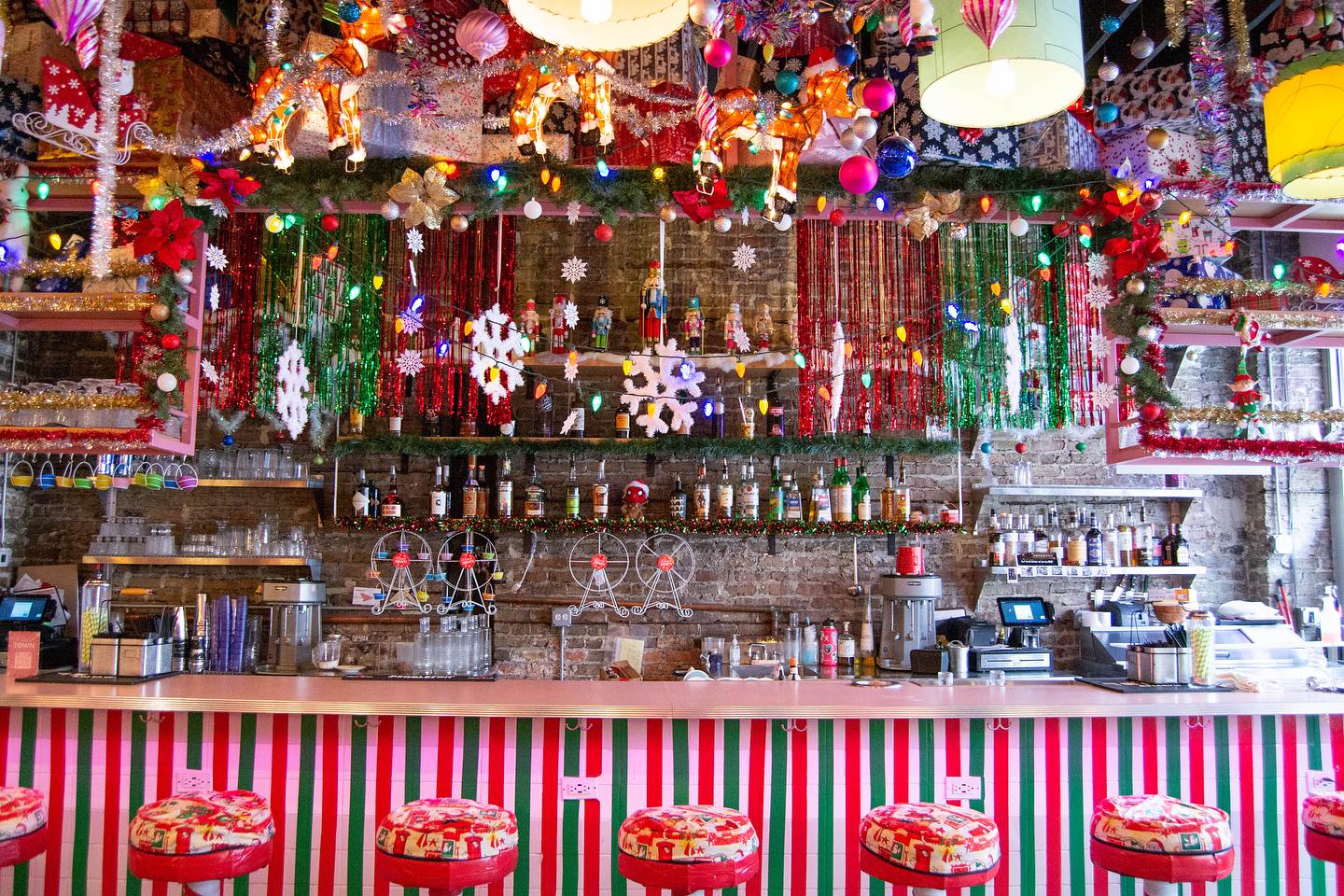 Dandy Crown is a cocktail bar in West Town with a stunning inside and beautiful patio that they completely transform for the month of December. They winterize their patio so you can have all your holiday cheer without the Chicago winter weather. They recommend reservations, but you can always try walking in.
Address: 694 N Milwaukee Ave, Chicago, IL 60642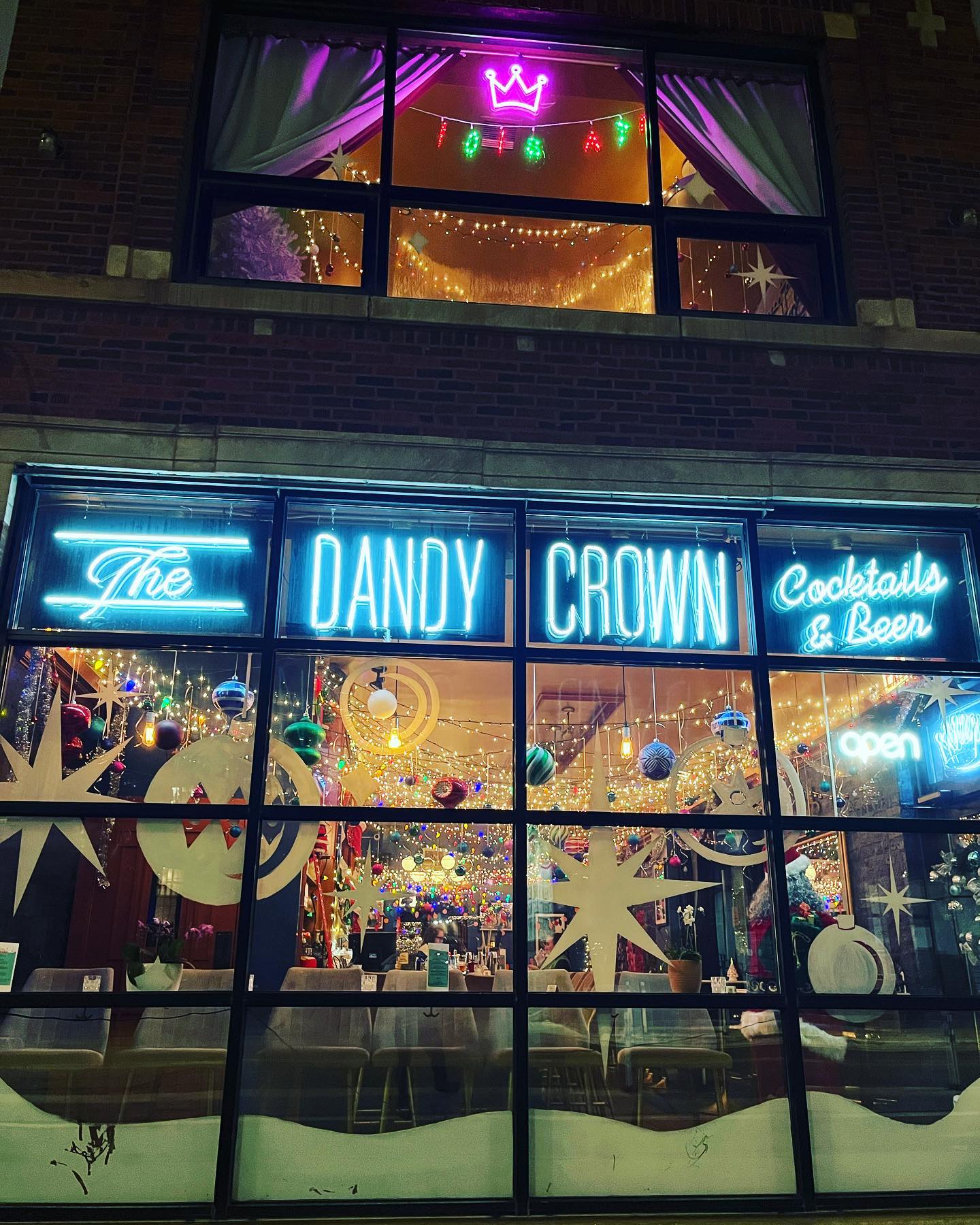 That's all for Chicago holiday bars! Have fun!