I love the change of season, the rise of new trends, and finding some new pieces to wear throughout the upcoming spring months. Here are all of my favorite affordable spring 2022 fashion finds.
This post may contain affiliate links which means I may earn a small commission when you click on the links and make a purchase. I will never recommend a product that I don't support 100%.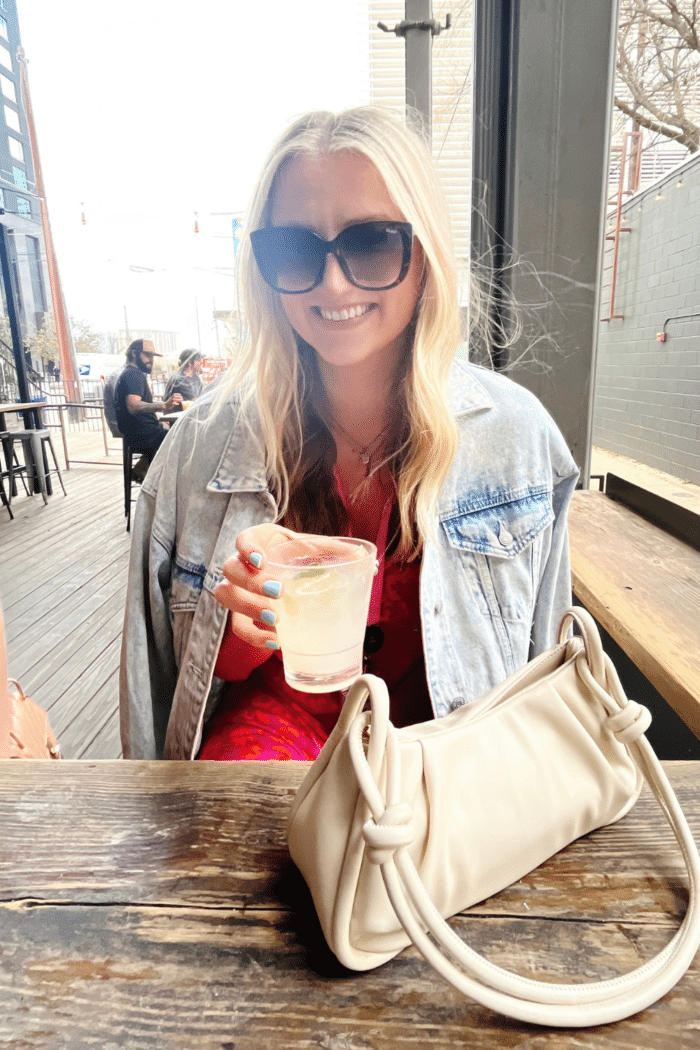 Outfit Details
Wild Fable Acid Wash Jean Jacket | A New Day Double Knotted Shoulder Bag | Walmart Scoop V-Neck Slip Midi Dress | Walmart Time and Tru Crossband Footbed Sandals | Quay Australia Ever After Sunglasses
Walmart Spring Fashion Finds 2022
If you're looking for affordable spring trends for 2022, do not sleep on Walmart online. I personally really like their app, I find it a more user-friendly experience, and you can find great stuff on there for SUCH good prices.
What are the best Walmart clothing brands?
Walmart is similar to Amazon, there are a lot of options if you search. Luckily, they have some Walmart brands that are high-quality, but still relatively inexpensive. Here are some of my favorite Walmart clothing brands for women.
Scoop: I will say this may be on the pricer end, but when I say that I mean like my slip dress was $30... which I think is absolutely reasonable and I will wear that slip dress for a while.
Time and Tru: This brand you can always find online and a lot of times you can find their products in store. They sell lots of basics, but I've been noticing their shoe game has been a 10/10 recently.
Eloquii Elements: This is the plus-size collab between beloved brand Eloquii and Walmart. Being 6ft tall and a mid-sized figure, I have the luxury of being able to shop in the plus-sized section, too! Thank god, because this brand has so many cute clothes.
Free Assembly: This brand is just a great go-to for anything you need clothing wise.
Here are some of my Walmart spring fashion finds for 2022...
Spring Dresses + Jumpsuits

Spring Shoes + Accessories

Spring Tops + Jeans

Target Spring Fashion Finds 2022
You know I naturally go to Target at the beginning of every season to see what new fashion finds they have. Here are some of my favorites.
Sunglasses + Bags

Spring Heels + Sandals

So many of these spring fashion finds can be carried into summer...
I love having a cute jacket to throw over one of those dresses or tops to make it a bit warmer for spring and then carrying the dresses and sandals over into summer.
What I'm really loving,, which is somewhat surprising for me, is the saturation of colors. I feel like when I step into Walmart, Target, H&M, I'm seeing so much color, which is a fun contrast to pastel colors that normally dominate new spring finds.
Want some more lifestyle bits?
Pin these affordable spring 2022 fashion finds for later!