If you follow me on Instagram or TikTok you know I am obsessed with Kiss imPRESS nails, they are truly the best at-home gel manicure. Plus, they are so affordable!
This post may contain affiliate links which means I may earn a small commission when you click on the links and make a purchase. I will never recommend a product that I don't support 100%.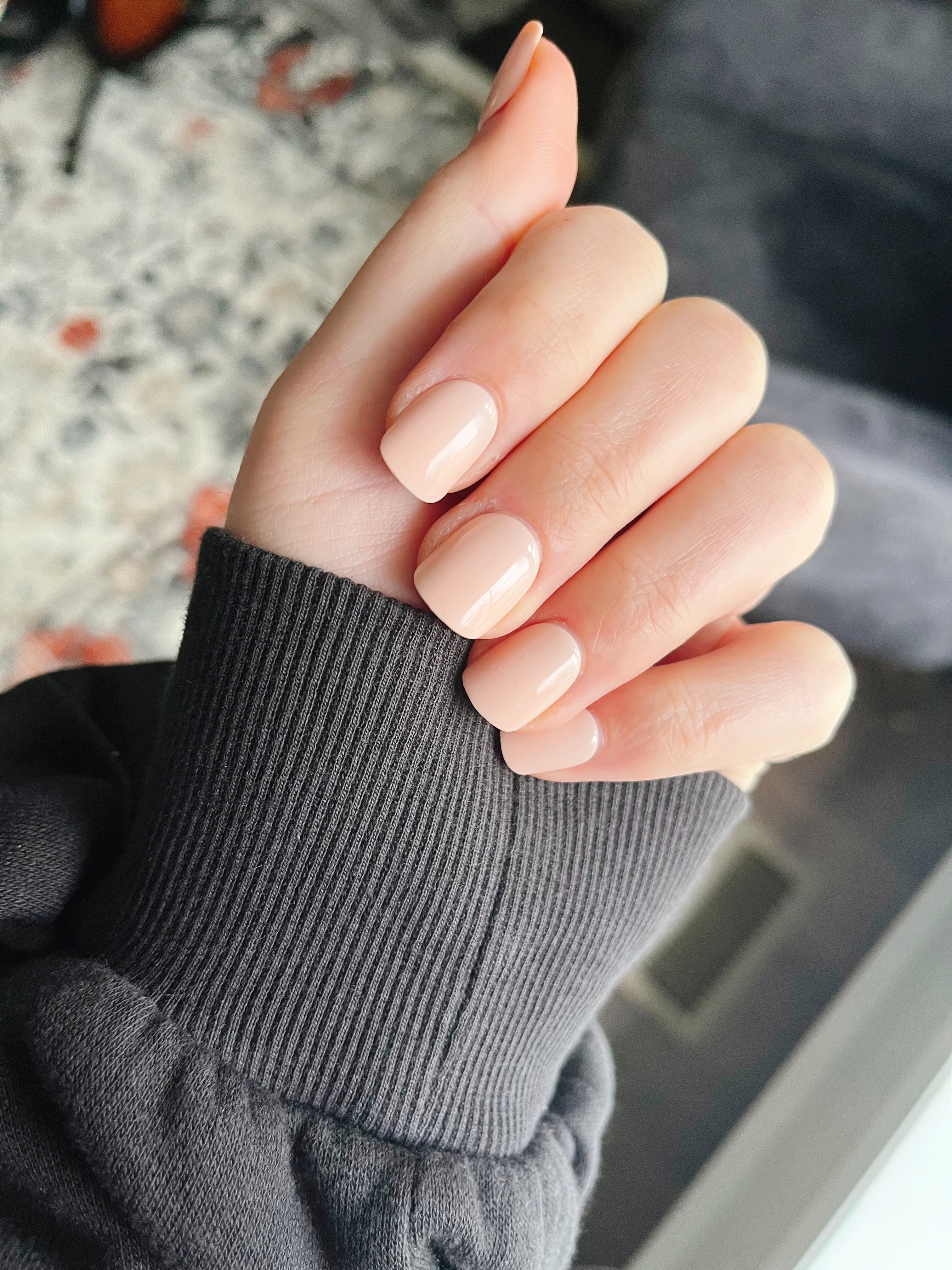 Kiss imPRESS Nails Review...
Here's my full Kiss imPRESS nails review and why I think you'll love this easy at-home gel manicure.
They are SO affordable!
I get them on Amazon and they are anywhere from $5.50 - $7. They come with 30 nails, so I tend to get two manicures out of each pack, so like hello $3 gel manicure that lasts a minimum of a week? Yes, PLEASE.
They are beyond easy to get on and off!
I will dive a little deeper into how I put them on and take them off below, but they are seriously so easy. If you never paint your own nails because you get paint all over your fingers, do not worry at all! These are made for you.
There is absolutely no glue required for these press-on nails!
That's right, they come with an adhesive on the back, so there is no need for glue. I have heard of people putting a small dot of glue onto their nails before applying the imPRESS nail for even longer-lasting nails, but I have never done that. I use strictly the adhesive and they last great.
They don't trash your nails!
Whenever I go to the salon for a no-chip or dip manicure, I feel like my nails are recovering for weeks. They are thin and flimsy and I was so sick of having such weak nails. Now, I do buff my nails before putting these on, so they aren't as thick as they can be, but they definitely are not trashed at all.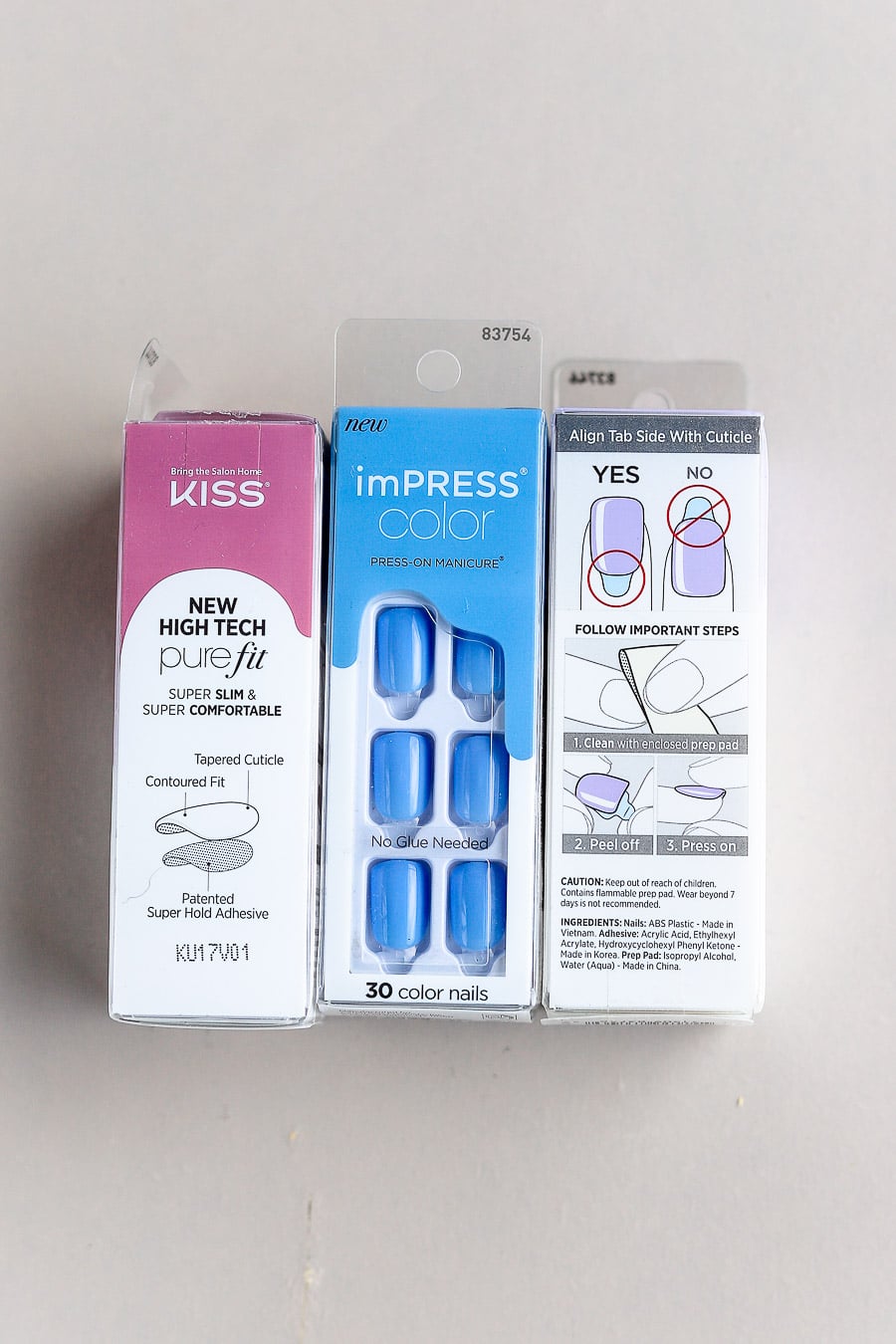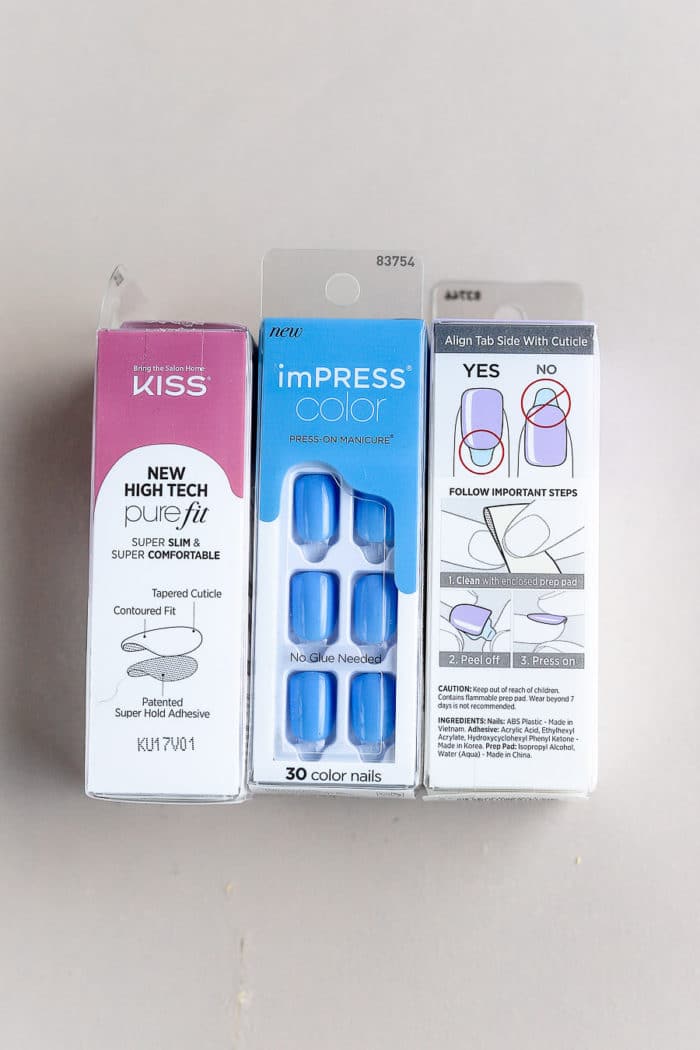 Are Kiss and imPRESS the same?
Yes, they are! Kiss is the brand that makes imPRESS nails. They make various nail products as well as eyelashes and so much more. You can also find them on Amazon so you don't even have to leave your house to shop for their products.
How to apply Kiss imPRESS nails…
So, you have your first pack of Kiss imPRESS nails and you're wondering how the heck you do this at-home gel manicure, here are the steps I take to make this manicure. last 7+ days.
First, I pair up the press-on nails with my own nails. There are 30 nails in the pack, and each size is a number. So, at this point, I know what numbers fit each nail. You can press the nail onto yours without sticking it on yet to ensure that it's the right fit for your nail.
Then, I clean up my nails. Trim my cuticles, file my nails down, and make them look nice and pretty.
Then, I buff my nails using a nail buffer block.
Lastly, I swipe each nail with an acetone-based nail polish remover to ensure that any dust or oil is off my nail.
After my nails are dried from the nail polish remover, I start applying the nail! Each nail has a sticker with a tab on it. That tab goes on the base of your nail, so peel off the sticker so the adhesive is exposed and stick it on your nail. Hold it down for 10 seconds and continue until you have all 10 on!
The directions say to avoid water for at least 60 minutes after you put them on to maximize the adhesive, so I always make sure to do that.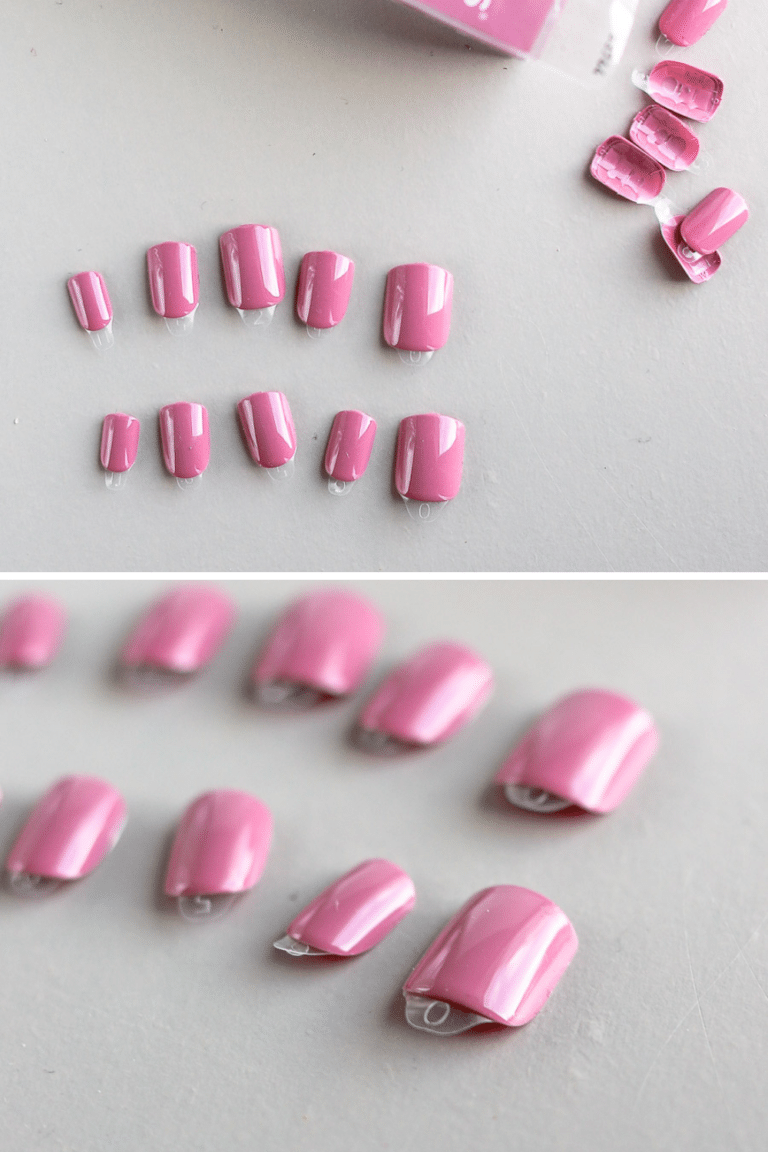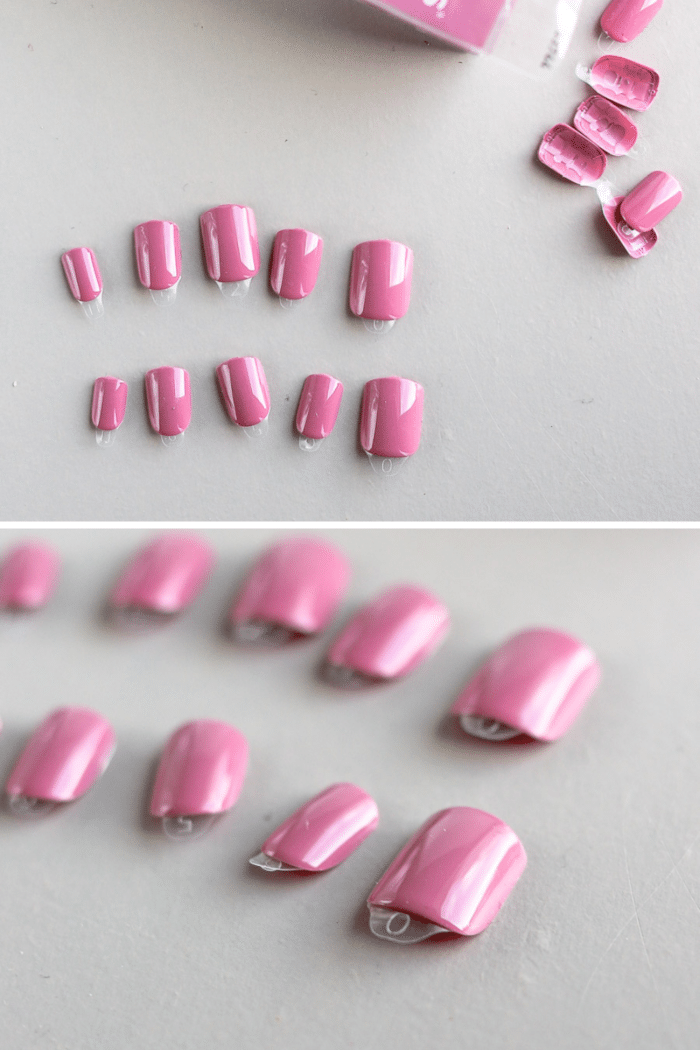 How to remove Kiss imPRESS nails…
There are three ways in which you can remove Kiss imPRESS press-on manicure...
They fall off. Sometimes the adhesive will lose its grip and they will just fall off. Happens to the best of us.
They can be gently peeled off. Sometimes the adhesive is losing its grip, but it is not quite at the point to where the nail will pop off. You can just gently peel back the nail to take it off. Remove any excess adhesive that's stuck to your nail by buffing your nail and taking a cotton ball of nail polish remover to it.
They can be removed with cuticle oil. Around your cuticles, put a dab of cuticle oil, and let that sit on your nails to loosen the adhesive. Then, gently peel back the nail, remove any excess adhesive by buffing that spot on your nail and take a cotton ball of nail polish remover to it.
Other commonly asked questions
Here are commonly asked questions about these press-on nails that I always get.
How long do Kiss imPRESS nails last?
Mine last for 7 days. They tend to gross me out being on for longer than 7 days, so I usually remove them after that time. However, I have had them last me 14 days when I had back-to-back events I wanted my nails done for.
Where can I buy imPRESS nails?
You can buy them at ULTA, or I get mine off Amazon.
Pin it for later!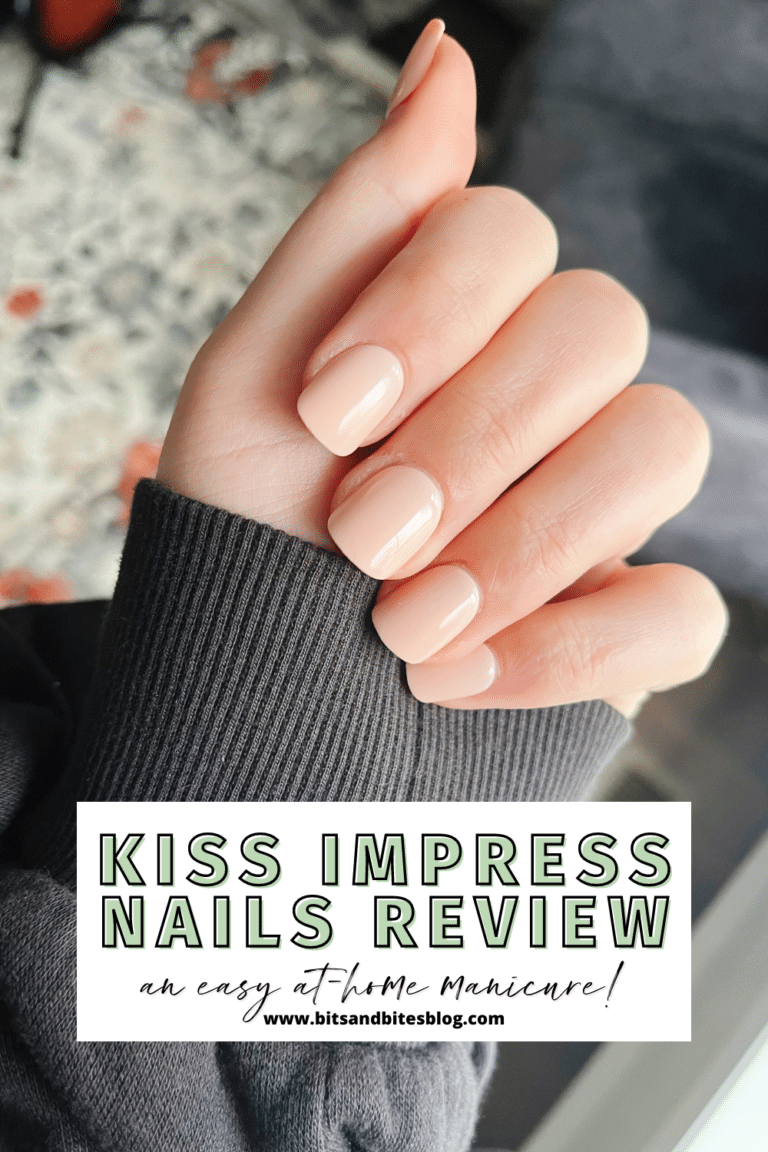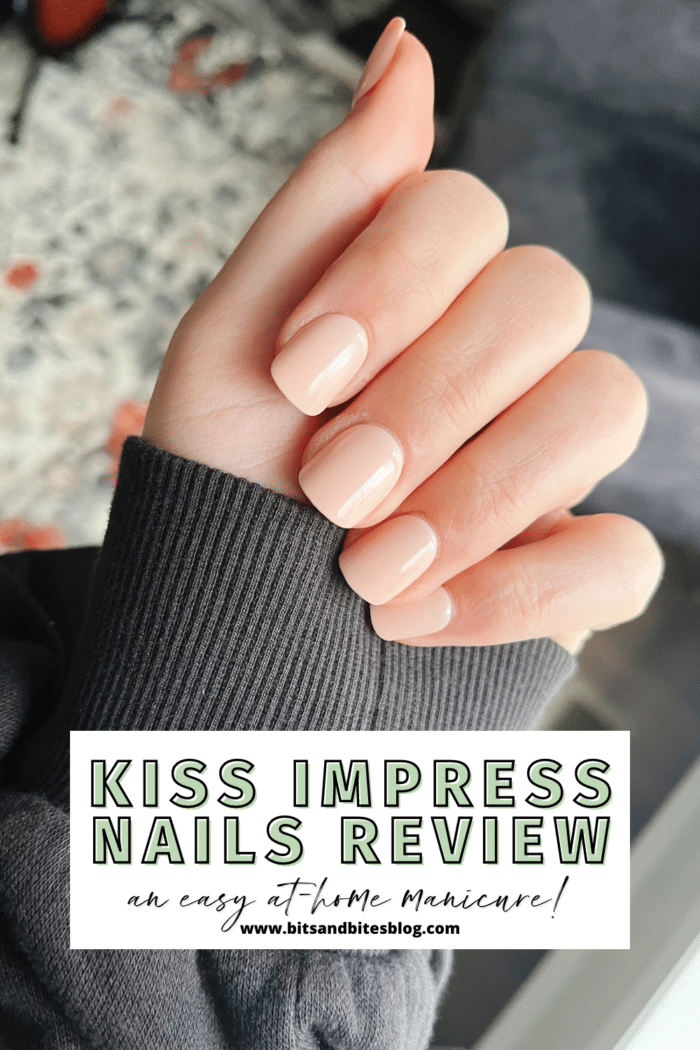 Want some more of my affordable beauty and style favorites?