Verity by Colleen Hoover is an amazing book, in my opinion. But, that doesn't mean that the plot is all sunshine and daisies. This thriller novel covers some very sensitive content, so if you are considering reading it, here are the Verity trigger warnings.
This post may contain affiliate links, meaning I may earn a small commission when you click on the links and make a purchase. I will never recommend a product that I don't support 100%.
Author Colleen Hoover is a bestselling author, and for good reason, Verity has had wonderful success as a New York Times bestseller, USA Today bestseller, and topped many more charts. Although loving it and I absolutely think it's a great book, it is a psychological thriller that definitely deserves some trigger warnings for those prior to reading it. Especially if you are suggesting it for a book club!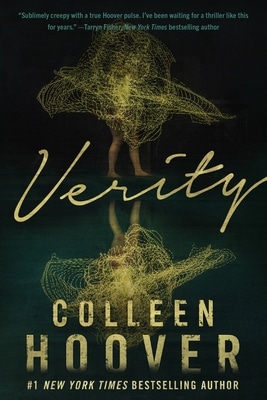 Verity Summary
Verity is told from two points of view. One being through Lowen's and the other being through Verity's unfinished autobiography.
Writer Lowen Ashleigh is a struggling writer when she receives the job offer of a lifetime. As she is on the brink of financial ruin, Jeremy Crawford, husband of author Verity Crawford, approaches Lowen to ghostwrite and complete the remaining books in Verity's successful series. Going from the liveliness of living in New York City, Lowen moves into the secluded and quiet Crawford house, per Jeremy's request, to finish the book series.
Lowen moves into the Crawford family house to live with Jeremy, Verity, his injured wife, and bestselling author, and their son Crew. As Lowen is going through Verity's office for the first time to sort through years of Verity notes and outlines, and although it's an incredibly chaotic office, she stumbles upon an unfinished autobiography Verity never intended on having anyone else see or read. Lowen decides to read through Verity's manuscript holds page after page of bone-chilling admissions but decides to keep Verity's autobiography from Jeremy knowing he's an already grieving father who has lost his twin daughters and now caring for his wife who sustained terrible, life-altering injuries.
All while Lowen is living under the same roof as Jeremy, they start to develop feelings for each other. Through their complicated relationship, Lowen is still secretly uncovering past secrets through Verity's recollection of her life, through the autobiography. There are so many plot twists and turns and plenty of jaw-dropping moments. There are also a handful of trigger warnings that I wrote about in detail if you care to take a deep dive into those before suggesting this book for your next book club.
You might also like: 30 Verity Book Club Questions to Spark Discussions
Verity Trigger Warnings
​As much as this is one of my favorite Coho books, there are some very disturbing themes woven throughout Verity. Here are some warnings in terms of the graphic content you will read. It's also recommended for those 21 and over due to the mature themes.
Car accident
Graphic child abuse/child death
Sexual assault
Sex scenes
Suicidal thoughts
Abortion
Infidelity
Drug use
Domestic violence
Gaslighting
The book Verity is one of the best Colleen Hoover books, in my opinion, but that doesn't go without saying that the plot tackles some difficult subjects, and said subject matter isn't for everyone. This book absolutely kept me on the edge of my seat, and I couldn't put this romantic thriller down. But, with that being said, it's up to you to determine if this is one of Colleen Hoover's books you'll choose to read.
Books like Verity
If you're looking for more thriller novels similar to Verity, here are some that I recommend.
Other Colleen Hoover Books I Recommend
If you're looking to expand your Colleen Hoover reads, here are some of my favorite Colleen Hoover books I've read so far.
FAQs
Is Verity being made into a film?
There were talks back in October 2021 that the project was currently in development with Amazon Studios, but I haven't heard anything as of right now (July 2023.)
Is Verity a series?
As of right now, it is not a series.
What age is appropriate for the book Verity?
I would recommend being 21 or over to read Verity.
Is Verity by Colleen Hoover easy to read?
Grammatically speaking, yes. However, some of the major themes in the book (like child abuse) could be difficult for some people to read.