I absolutely love Emily Henry and her books. They are some of my favorites, and they are so easy to read. If you're looking to get into her work, here are the Emily Henry books in order by publication date.
This post may contain affiliate links, meaning I may earn a small commission when you click on the links and make a purchase. I will never recommend a product that I don't support 100%.
Who is Emily Henry?
Emily Henry is an author best known for her books Beach Read, People We Meet on Vacation, Book Lovers, and Happy Place. She studied at Hope College on a creative writing scholarship. She made her debut with several young adult novels, and her first adult novel Beach Read was released in 2020 and was a huge success.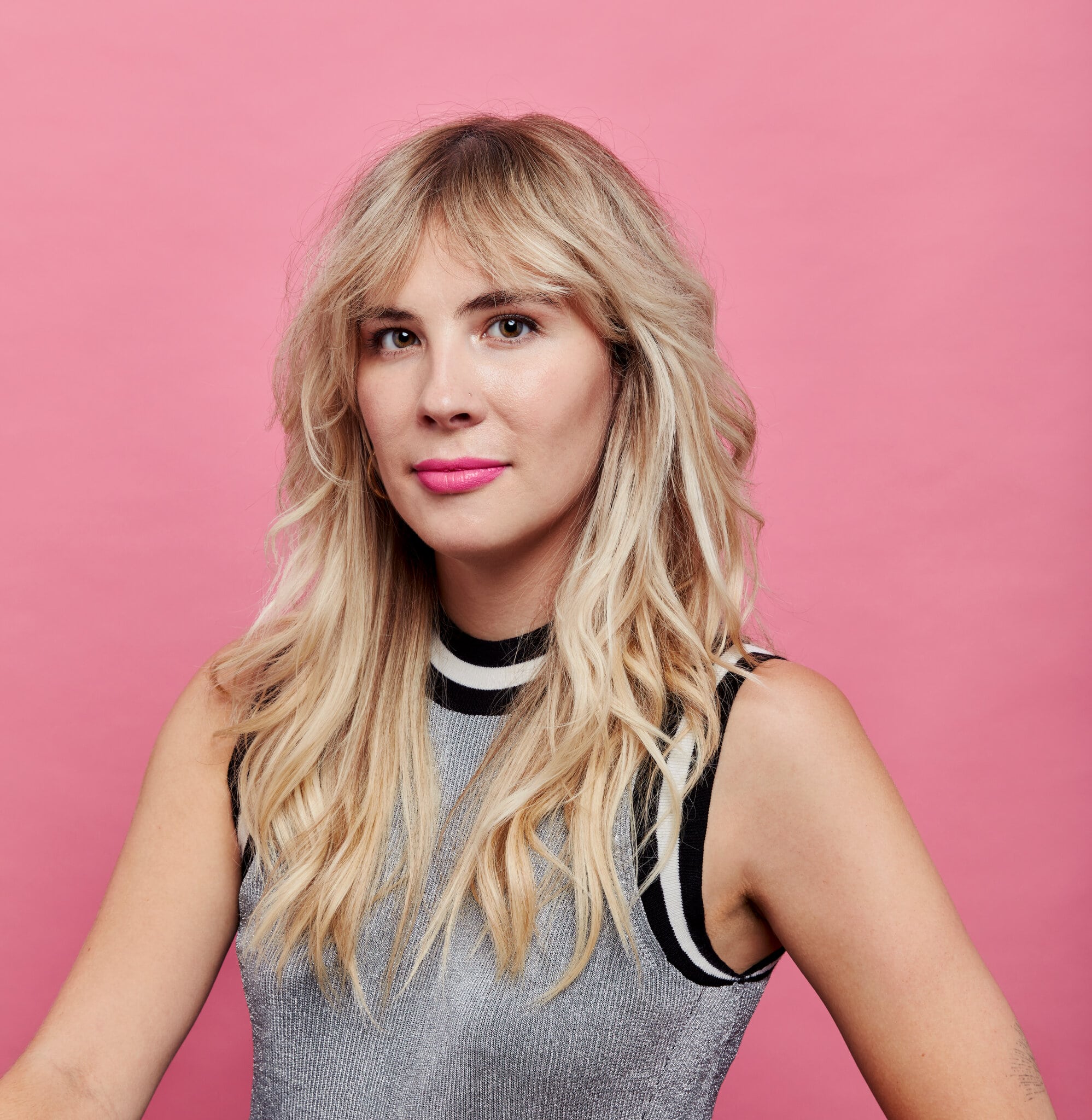 What kind of books does Emily Henry write?
Her first novels were young adult novels. Her last 4 publications, which are the ones she's most known for, are contemporary romance novels. These books are fueled with much more than romance, there's great banter, summer trips, and lots of emphasis on relationships outside of romantic ones.
Which Emily Henry book came first?
Emily Henry's first book was Love That Split the World, released in 2016. However, there is no real chronological order to all of her publications.
Emily Henry books in order by publication year
Here is the complete list of Emily Henry's books.
Young Adult Fiction
Her young adult fiction tends to be a fuse of romance, fantasy, and mystery written in a high-energy way that makes it easy to read. All of the descriptions for her young adult novels were taken from Amazon.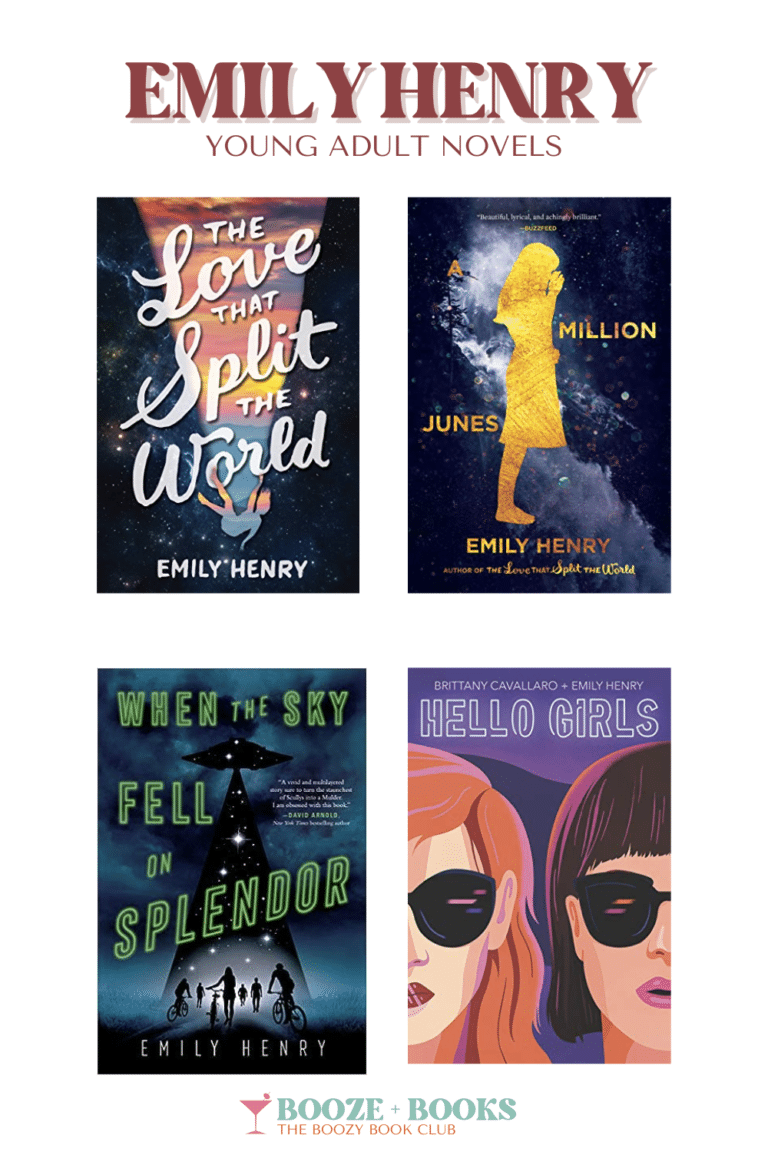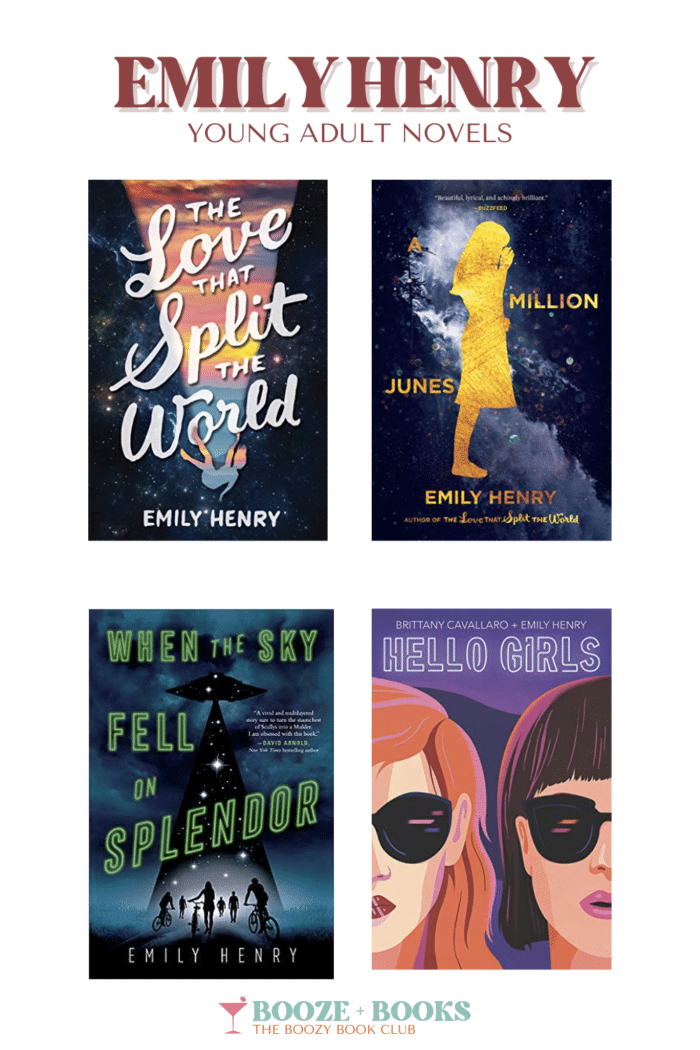 "Emily Henry's stunning debut novel is Friday Night Lights meets The Time Traveler's Wife and perfectly captures those bittersweet months after high school, when we dream not only of the future, but of all the roads and paths we've left untaken.

Natalie's last summer in her small Kentucky hometown is off to a magical start . . . until she starts seeing the "wrong things." They're just momentary glimpses at first—her front door is red instead of its usual green, there's a preschool where the garden store should be. But then her whole town disappears for hours, fading away into rolling hills and grazing buffalo, and Nat knows something isn't right.

Then there are the visits from the kind but mysterious apparition she calls "Grandmother," who tells her, "You have three months to save him." The next night, under the stadium lights of the high school football field, she meets a beautiful boy named Beau, and it's as if time just stops and nothing exists. Nothing, except Natalie and Beau."
"Romeo and Juliet meets One Hundred Years of Solitude in Emily Henry's brilliant follow-up to The Love That Split the World, about the daughter and son of two long-feuding families who fall in love while trying to uncover the truth about the strange magic and harrowing curse that has plagued their bloodlines for generations.
June O'Donnell - aka Junior, aka Jack, aka Jonathan O'Donnell IV, aka the first female O'Donnell firstborn - has always been haunted by her family's mythic but complicated legacy. As she prepares to begin her final year of high school, June is itching to leave behind her ghosts in Five Fingers, Michigan, and travel the world.
And then, just like it always happens to the O'Donnells, a painful glimmer from her past returns to mess everything up.
Enter Saul Angert, the eldest son of Eli Angert, aka June's late father's mortal enemy, back in town from a prestigious writing program to care for his ailing father. June can't seem to avoid Saul, whose very presence makes her ache with grief over her father, and soon the unthinkable happens: She finds she doesn't exactly hate the gruff, sarcastic, and strangely tender boy whom she was born to loathe.
When June and Saul accidentally stumble into a bit of the forest magic, they are allowed a glimpse into the past at the fateful, horrible moment that started all the trouble between their families. Now June doesn't know if this new discovery means she should hate the Angerts even more or if it's finally time for her - and all of the O'Donnells before her - to let go."
"The Serpent King meets Stranger Things in Emily Henry's gripping novel about a group of friends in a small town who find themselves dealing with unexpected powers after a cosmic event.
​
Almost everyone in the small town of Splendor, Ohio, was affected when the local steel mill exploded. If you weren't a casualty of the accident yourself, chances are a loved one was. That's the case for 17-year-old Franny, who, five years after the explosion, still has to stand by and do nothing as her brother lies in a coma.
In the wake of the tragedy, Franny found solace in a group of friends whose experiences mirrored her own. The group calls themselves The Ordinary, and they spend their free time investigating local ghost stories and legends, filming their exploits for their small following of YouTube fans. It's silly, it's fun, and it keeps them from dwelling on the sadness that surrounds them.
Until one evening, when the strange and dangerous thing they film isn't fiction - it's a bright light, something massive hurtling toward them from the sky. And when it crashes and the teens go to investigate...everything changes."
"Thelma and Louise gets remade in this powerful, darkly funny teen novel from acclaimed authors Brittany Cavallaro and Emily Henry. Two teenage girls who have had enough of the controlling men in their lives take their rage on the road to make a new life for themselves.
Winona has been starving for life in the seemingly perfect home that she shares with her seemingly perfect father, celebrity weatherman Stormy Olsen. No one knows that he locks the pantry door to control her eating and leaves bruises where no one can see them.
Lucille has been suffocating beneath the needs of her mother and her drug-dealing brother, wondering if there's more out there for her than disappearing waitress tips and a lifetime of barely getting by.
One harrowing night, Winona and Lucille realize they can't wait until graduation to start their new lives. They need out. Now. One hour later, they're armed with a plan that will take them from their small Michigan town to Chicago.
All they need is three grand, fast. And really, a stolen convertible can't hurt.
Chased by the oppression, toxicity, and powerlessness that has held them down, Winona and Lucille must reclaim their strength if they are going to make their daring escape - and get away with it."
Adult Fiction
You may better recognize Emily Henry's iconic covers of her four main adult fiction books, and she just announced a new book, Funny Story, set to be released in April 2024. Her adult romance books do contain open-door spicy scenes.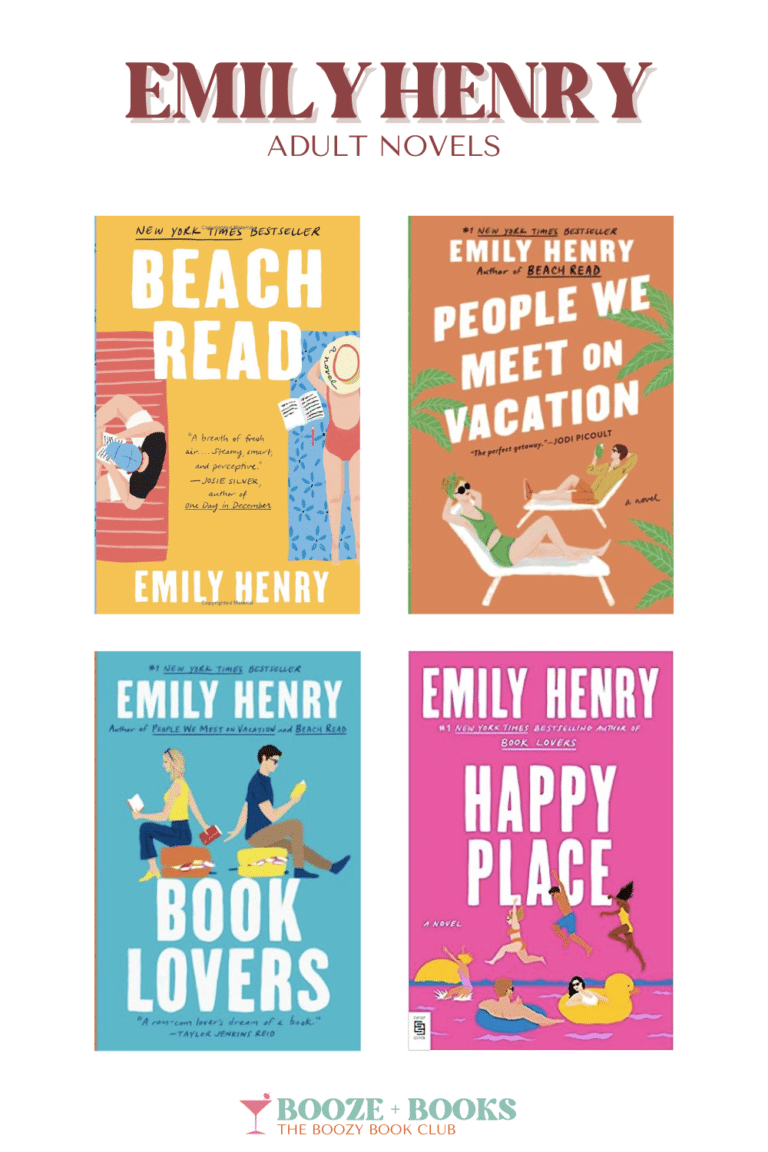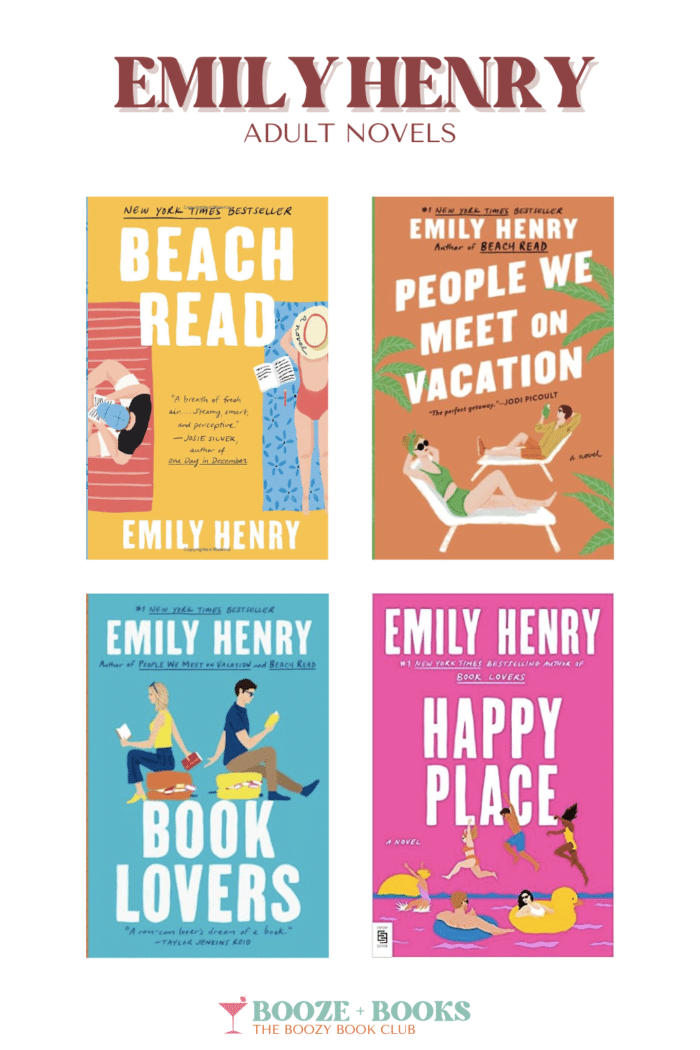 January Andrews is a romance writer struggling with not only writer's block but also attempting to cope with the death of her father. In an effort to escape and clear her mind, she heads to her late father's beach cottage on Lake Michigan. She quickly discovers her neighbor is her college rival and literary writer novelist Augustus Everett, or "Gus."
From their personality to the books they write, they couldn't be more polar opposites. Except, they realize the one thing they have in common is the writer's block they're both trying to get over. So, they strike a deal to write a book in the other one's genre. Gus has to write a happy ending, and January has to write "the next Great American Novel."
To help each other write, they take each other on field trips. She takes him on rom-com-worthy field trips, and he takes her on field trips that'll help her write a brooding and serious book. As they spend more and more time together, they discover their own personal challenges and their emotional connection grows stronger and stronger until secrets are revealed that could potentially tear them apart.
Best friends Alex and Poppy first met 12 years ago at college. Their clashing personalities form an unlikely friendship after being forced into a road trip. Poppy was an extrovert and bursting with energy while Alex was quiet and introverted.
They then make a pack to go on a friend's vacation every year until a moment ruined those vacations 2 years ago. However, Poppy decides to invite Alex on a trip to mend their friendship and get things back on track.
The story is told in a flashback format so in each chapter in the current day, you're left wondering what will happen on their vacation, and in each flashback chapter you're gaining insight into their old friendship and the moments leading up to the one that ruined it all.
Nora Stephens is a cut-throat literary agent who takes a trip to Sunshine Falls, North Carolina, per the suggestion of her younger sister, Libby. Nora is a workaholic who doesn't want to leave the hustle and bustle of New York City, but ultimately she does.
She has run-ins with Charlie Lastra, a book editor who also lives in New York. Nora is a planner and as her's and Charlie's relationship grows, she begins to question everything happening in her life. For once in Nora Stephens' life, she doesn't know where this story is headed and how it ends.
​Harriet and Wyn broke off their engagement months ago, but have yet to tell their friends. On their final trip to their friend's summer vacation home in Knott's Harbor, Maine, they find themselves assigned to the master bedroom.
They can't stand to break the news to their friends during this weekend since this yearly tradition is so special to everyone and it's their last trip. So, they plan to continue to lie to their friends and act as if they are still as madly in love and engaged as they were in previous years.
However, through faking their once-was romance, they dig up unresolved feelings towards each other. How much of their faking it is actually the truth?
Plus, this book so beautifully goes into the dynamics of friendships throughout the years. This group all became best friends in college, and now they all took different paths after those 4 years. It shines on the importance of still being there for each other, even if you're in a different phase of life and can't necessarily relate to what your friend is going through.
Funny Story (to be released in 2024)
Daphne was head over heels in love with her fiance, Peter, and loved how he told their love story. However, through the constant retellings, Peter realized he wasn't actually in love with Daphne, he was in love with his best friend, Petra.
​So, Daphne finds herself newly single and stranded in Waning Bay, Michigan. With no family or friends to lean on, at least she has her dream job going for her, right? Wrong. She's a children's librarian and that barely pays the bills, so she reaches out to the most unsuspecting roommate, Petra's ex Miles.
Do I have to read Emily Henry books in order?
No, you do not! They are all individual reads, so you can pick up whatever one sounds most interesting to you.
Want more from Booze + Books?