Verity by Colleen Hoover is a psychological thriller with a very polarizing ending, which makes it a great book club read. There is so much to unpack and talk about, so here are some Verity book club questions to help you guide your next book club discussion.
This post may contain affiliate links, meaning I may earn a small commission when you click on the links and make a purchase. I will never recommend a product that I don't support 100%.
Author Colleen Hoover is a bestselling author, and for good reason, Verity has had wonderful success as a New York Times bestseller, USA Today bestseller, and topped many more charts. It's an incredible thought-provoking, suspenseful thriller that makes for some great discussion.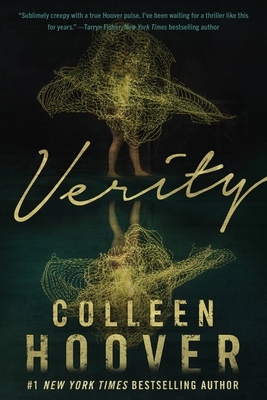 I've included 30 questions to serve as a discussion guide, but there is so much to unpack and so many feelings to be had about this book, so don't stifle the conversation by forcing your crew to move onto the next question. Move on when you feel as though it's the right time in the discussion.
Synopsis of Verity
Writer Lowen Ashleigh is struggling when she receives the job offer of a lifetime. As she is on the brink of financial ruin, Jeremy Crawford, husband of author Verity Crawford, approaches Lowen to ghostwrite and complete the remaining books in Verity's successful series. Going from the liveliness of living in New York City, Lowen moves into the secluded and quiet Crawford house, per Jeremy's request, to finish the book series.
Lowen moves into the Crawford family house to live with Jeremy, Verity, his injured wife, and bestselling author, and their son Crew. As Lowen is going through Verity's office for the first time to sort through years of Verity notes and outlines, and although it's an incredibly chaotic office, she stumbles upon an unfinished autobiography Verity never intended on having anyone else see or read. Lowen decides to read through Verity's manuscript holds page after page of bone-chilling admissions but decides to keep Verity's autobiography from Jeremy knowing he's an already grieving father who has lost his twin daughters and now caring for his wife who sustained terrible, life-altering injuries.
All while Lowen is living under the same roof as Jeremy, they start to develop feelings for each other. Through their complicated relationship, Lowen is still secretly uncovering past secrets through Verity's recollection of her life, through the autobiography. There are so many plot twists and turns and plenty of jaw-dropping moments. There are also a handful of trigger warnings that I wrote about in detail if you care to take a deep dive into those before suggesting this book for your next book club.
Verity Main Themes
Verity deals with very mature themes, so I would recommend this book for those 21+.
Child abuse
Death and grieving
Affairs, there are some steamy scenes in this book
Mother-daughter relationships
Themes of obsession
List of Verity Book Club Questions
Here's a list of some of the best book club questions you can ask during your next discussion!
​​Which do you believe? Verity's manuscript or Verity's letter? You have to start with this question! It's the biggest one!
What did you think of the opening scene where Jeremy helps Lowen? Do you think that was foreshadowing their relationship?
What do you think of Verity meaning "truth" when that name was given to that specific character?
Why do you think Jeremy wanted to hire Lowen to finish Verity's books?
Why do you think Lowen accepted Jeremy's offer?
Taking Lowen's feelings into consideration and putting yourself in her shoes, what do you think you would have done?
How do you think Vermont plays into the book's plot?
Do you think the contrast between a secluded home in Vermont vs. Lowen's busy life in New York City has anything to do with how her mental state develops?
How do you think the various mother-daughter relationships depicted in the book play a role in the character's storylines and developments?
Do you think if Verity married someone else and had a daughter, Verity's relationship with that daughter would have the same, sad outcome as her twins? Or do you think Jeremy played a role in Verity's raging jealousy and anger?
Thoughts on Jeremy Crawford? Depending on who believes the manuscript or the letter, that may impact what people think of Verity's husband, Jeremy.
Do you think she was so deep as a struggling writer that she only saw success? Or do you think she had other reasons?
Who do you think is the real villain?
Was Verity faking her injuries from the car accident?
What do you think of Lowen and Jeremy's relationship?
What do you think of Verity and Jeremy's relationship?
Do you think Lowen should have shown Jeremy Verity's manuscript or not?
What's one word you would use to describe this book?
Do you think the manuscript was the truth or a writing exercise?
If you could ask Colleen Hoover anything about Verity, what would it be?
Generic book club questions
Here are some generic, but still thought-provoking questions you can always ask at book club.
What did you think of the ending of the book?
Did you find you couldn't put this book down?
Would you recommend this book to a friend?
What was your favorite part of the book?
What was your least favorite part?
Did you reread any passages or chapters? If so, what ones?
How did your opinion of the book change as you read it?
Did this book remind you of any other book?
Would you ever consider re-reading this book?
Did this book come off as original to you?
​You'll find as you go through these discussion questions that Colleen Hoover's Verity gives you enough material to have hours long discussions!
Books like Verity
If you're looking for books that are similar to Verity, a horror book fused with a bit of romance and psychological thriller, here are some recommendations.
The Push by Ashley Audrain
Silent Patient by Alex Michaelides
The Perfect Stranger by Megan Miranda
The Perfect Marriage by
Gone Girl by Gillian Flynn
The Last Mrs. Parrish by Liv Constantine
Layla by Colleen Hoover
The Wife Upstairs by Rachel Hawkins
The Villa by Rachel Hawkins
Yellowface by R.F. Kuang
FAQs
Is Verity being made into a film?
There were talks back in October 2021 that the project was currently in development with Amazon Studios, but I haven't heard anything as of right now (July 2023.)
Is Verity a series?
As of right now, it is not a series.
What age is appropriate for the book Verity?
I would recommend being 21 or over to read Verity.
Is Verity by Colleen Hoover easy to read?
Grammatically speaking, yes. However, some of the major themes in the book (like child abuse) could be difficult for some people to read.