Gorgonzola vs. Blue Cheese, what is truly the difference between the two? Or are they one and the same? Let's get into all the blue cheese details!
This post may contain affiliate links, meaning I may earn a small commission when you click on the links and make a purchase. I will never recommend a product that I don't support 100%.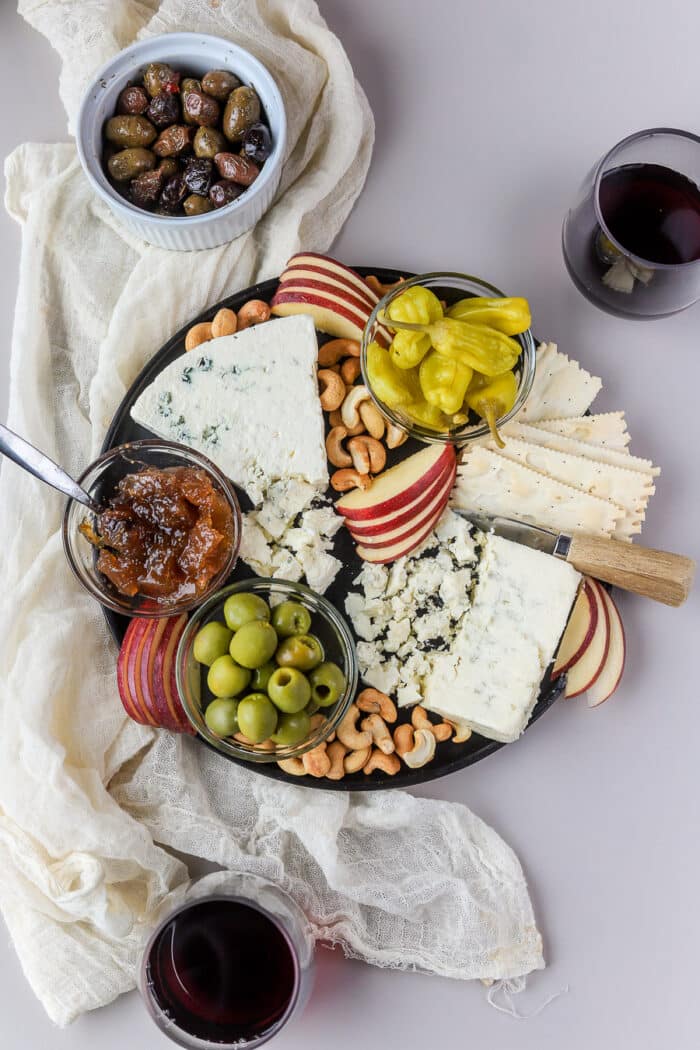 What is blue cheese?
Blue cheese, or bleu cheese, is a type of cheese similar to cheddar, it's an umbrella term for various kinds of cheese. Under the blue cheese "umbrella" there are various varieties, such as gorgonzola.
Blue cheese can be made with cow's milk, sheep's milk, or goat's milk. It's aged with Penicillium mold: Penicillium roqueforti, Penicillium camemberti, and/or Penicillium glaucum mold. Through the aging process, it develops blue veining and spots.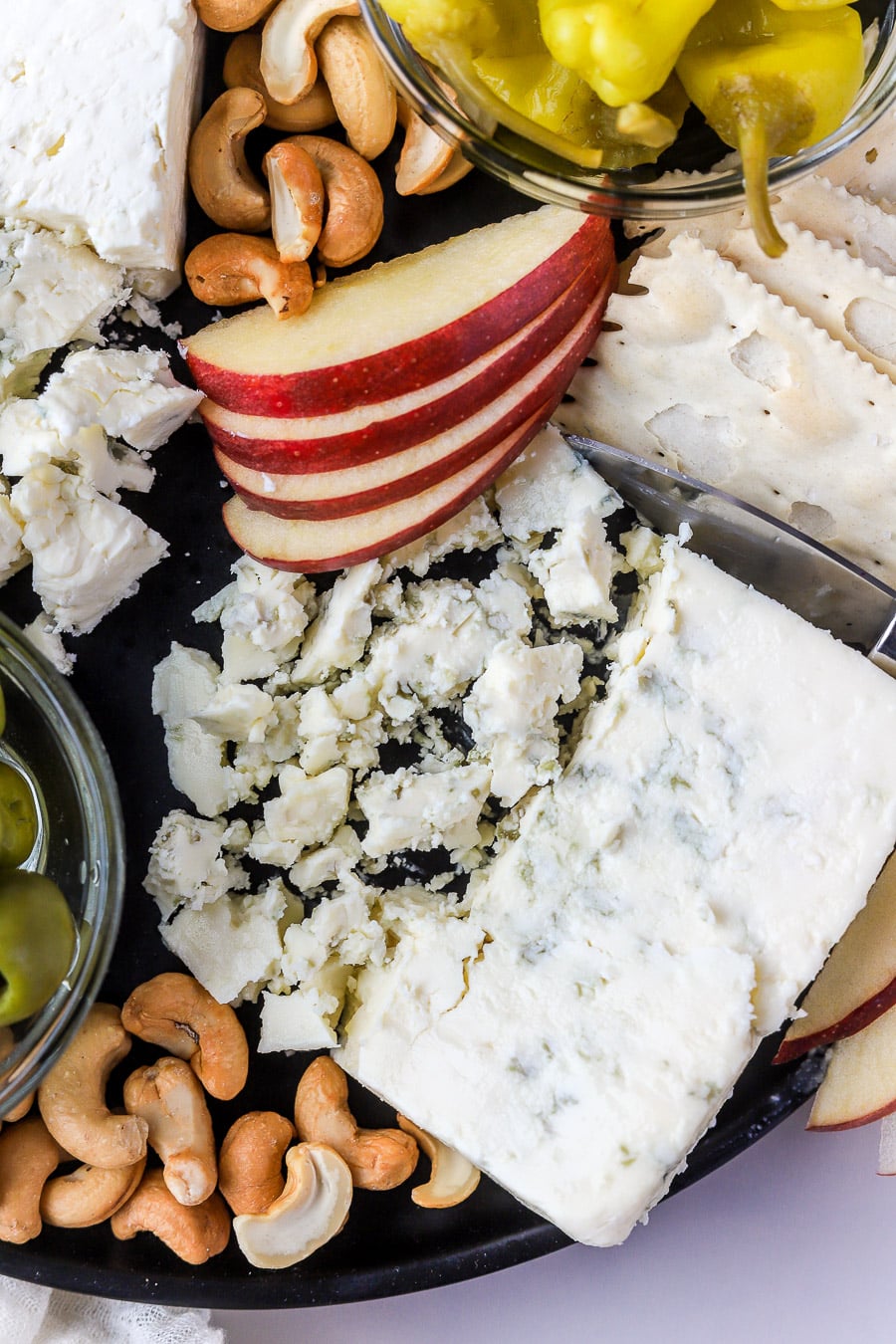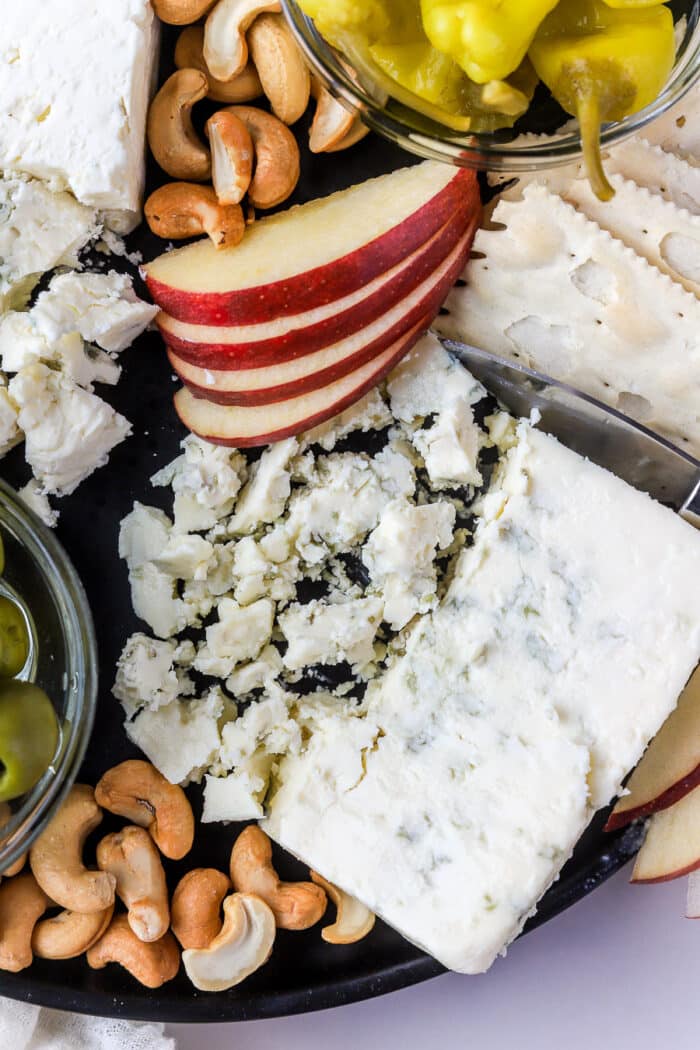 Blue cheese flavor profile
Blue cheese is salty with a very strong and distinctive flavor and pungent smell that accompanies it. It has a crumbly texture yet is still rich and creamy all in one bite. It's one of the best cheese options, in my opinion!
Type of blue cheese
There are a handful of different types of blue cheese that all have different flavors and characteristics, but here are the three main types in order of strongest to most mild in flavor.
Roquefort. Roquefort cheese may be the most famous variety and one of the oldest blue cheeses. it was said to be invented in 1070 AD. It's made with unpasteurized sheep's milk. This type of cheese is actually protected by the European Union. So, in order for blue cheese to be called and labeled Roquefort, it must be produced in the caves of Roquefort-Sur-Soulzon in the south of France. This will have a stronger flavor than other blue cheese varieties.
Stilton. There are technically two types of stilton cheese, Blue Stilton is aged with the Penicillium roqueforti as well. White stilton is an entirely different cheese and is not aged with mold. Stilton is produced in England with cow's milk. This will have a milder flavor.
Gorgonzola. Gorgonzola cheese is made with cow's milk and is named after Gorgonzola, Italy... the town in which it originated.
The main difference between the varieties of blue cheese?
Mold, milk, and location!
Does all blue cheese have penicillin?
Blue cheeses use the Penicillium mold, whereas medicine uses the penicillin extract. So, if you are allergic to penicillin, like me, you can still eat blue cheese.
Let's get into gorgonzola cheese!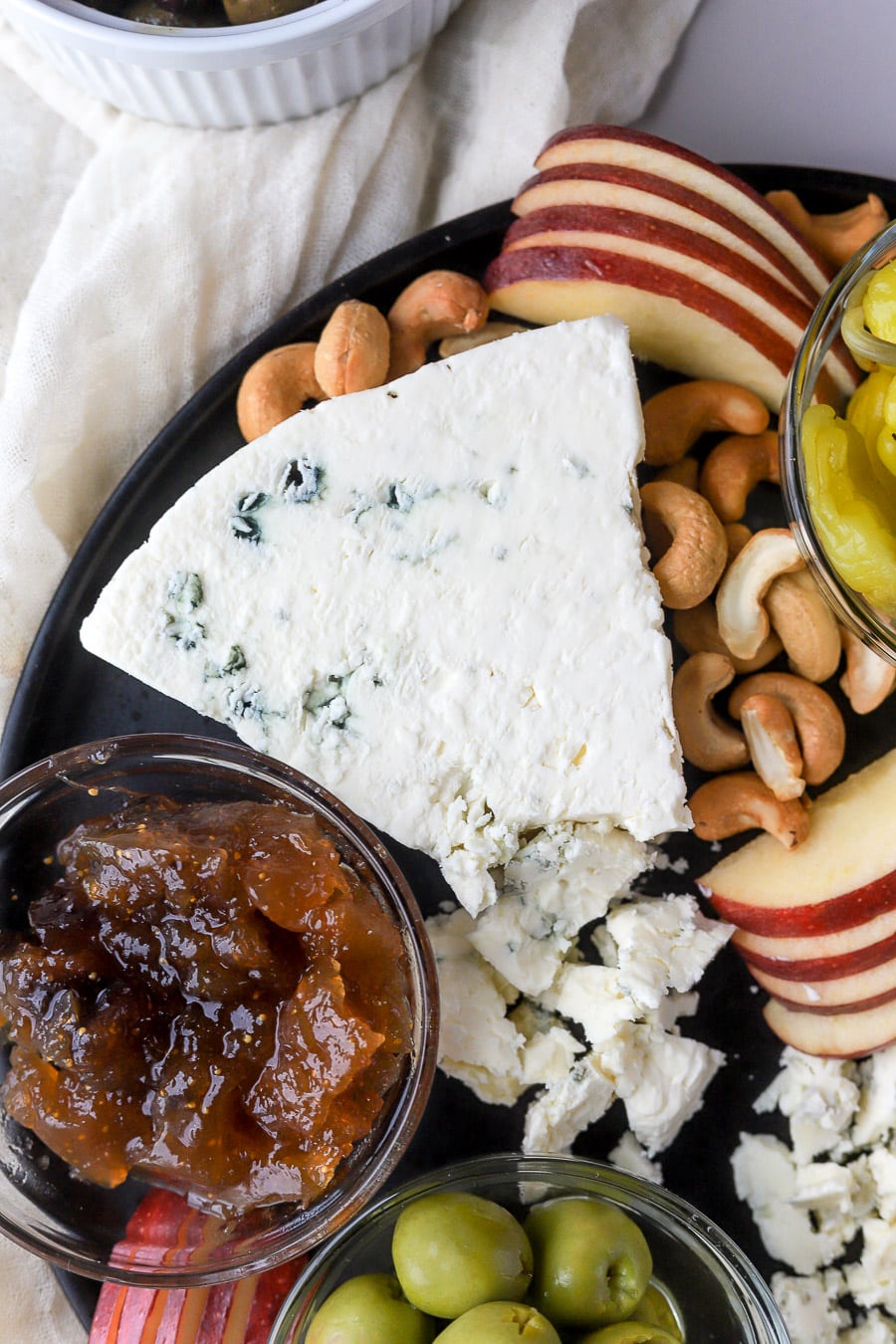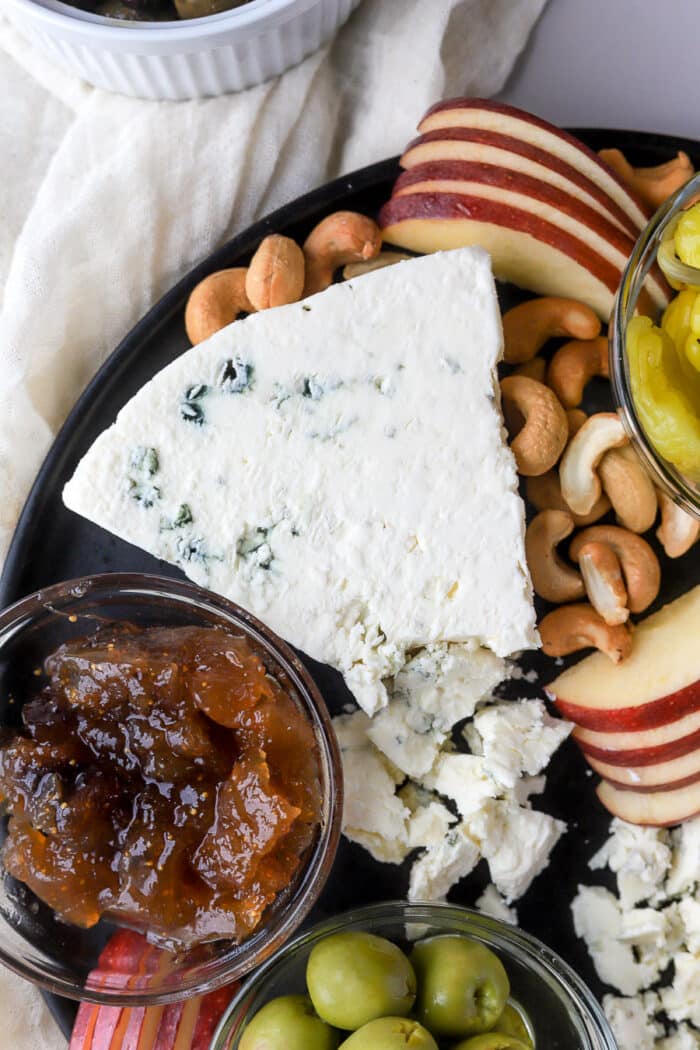 What is gorgonzola?
Gorgonzola is an Italian cheese and a type of blue cheese made with Penicillium glaucum mold. If it has the DOC official stamp that means it was made in the Italian town of Gorgonzola, just outside of Milan in northern Italy. However, you can have gorgonzola made in other parts of the world, like Wisconsin, too.
Gorgonzola flavor profile
Type of Milk: Unskimmed Cow's milk or goat's milk. More often than not, cow's milk is used.
Texture: Slightly softer, yet still a crumbly blue cheese.
Flavor: It does have a milder taste, while still carrying that blue cheese sharp flavor and pungent aroma.
Is gorgonzola sharper than blue cheese?
Young gorgonzola (otherwise known as gorgonzola dolce) has a mild flavor and softer texture whereas aged, or older, gorgonzola (otherwise known as gorgonzola piccante) has a saltier flavor and becomes firmer.
Is gorgonzola a healthy cheese?
It does have some health benefits, it's rich in calcium and protein along with vitamins B2, B6, and B12 which are vital for your immunities and the proper function of your nervous system.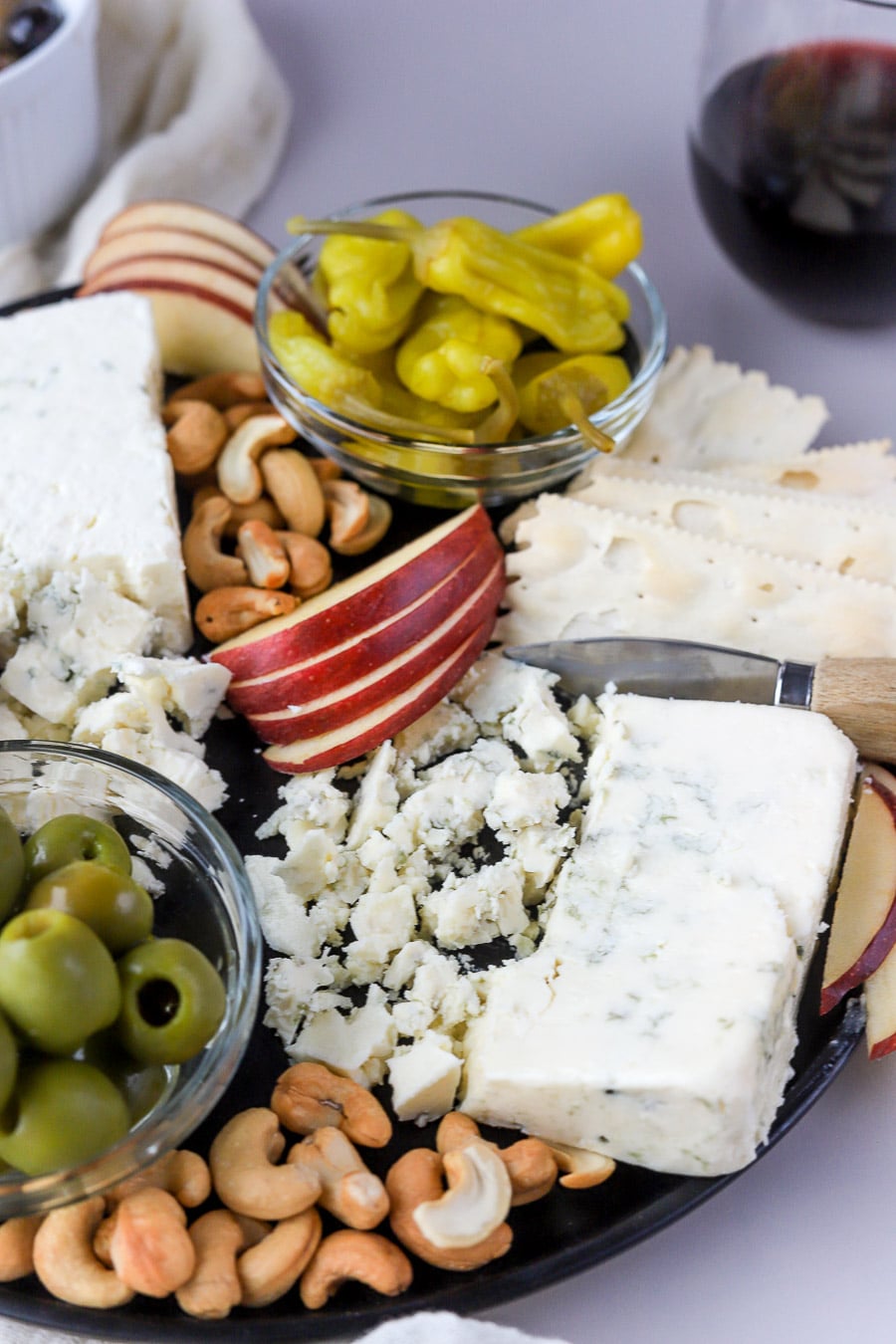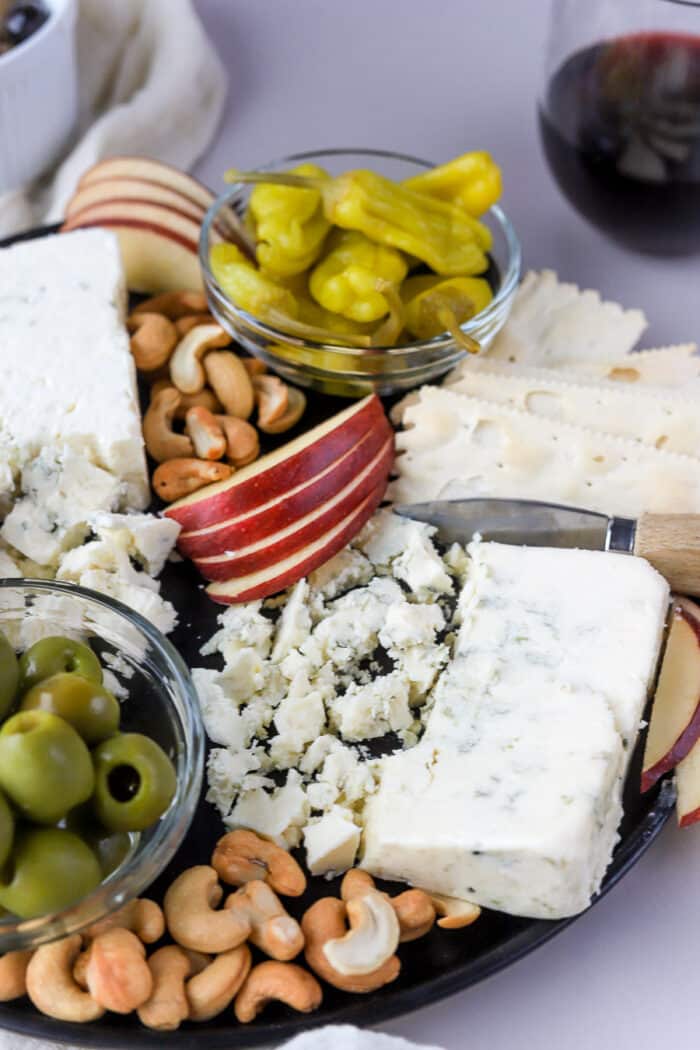 FAQ
Which is the strongest blue cheese?
The strongest blue cheese is a French Roquefort.
Can you substitute gorgonzola for blue cheese?
Gorgonzola is a type of blue cheese, so yes! It's Italian blue cheese.
How are you supposed to eat blue cheese?
The best ways to eat any kind of blue cheese? Here are some different ways.
Pin it for later!