This creamy espresso martini with Bailey's is the best espresso martini recipe! It's a twist between an Irish Coffee and a traditional Espresso Martini recipe and it's a perfect weekend cocktail. Whether you need a pick-me-up after a long Friday at work or you want a brunch cocktail recipe, this is your new go-to coffee cocktail recipe.
This post may contain affiliate links, meaning I may earn a small commission when you click on the links and make a purchase. I will never recommend a product that I don't support 100%.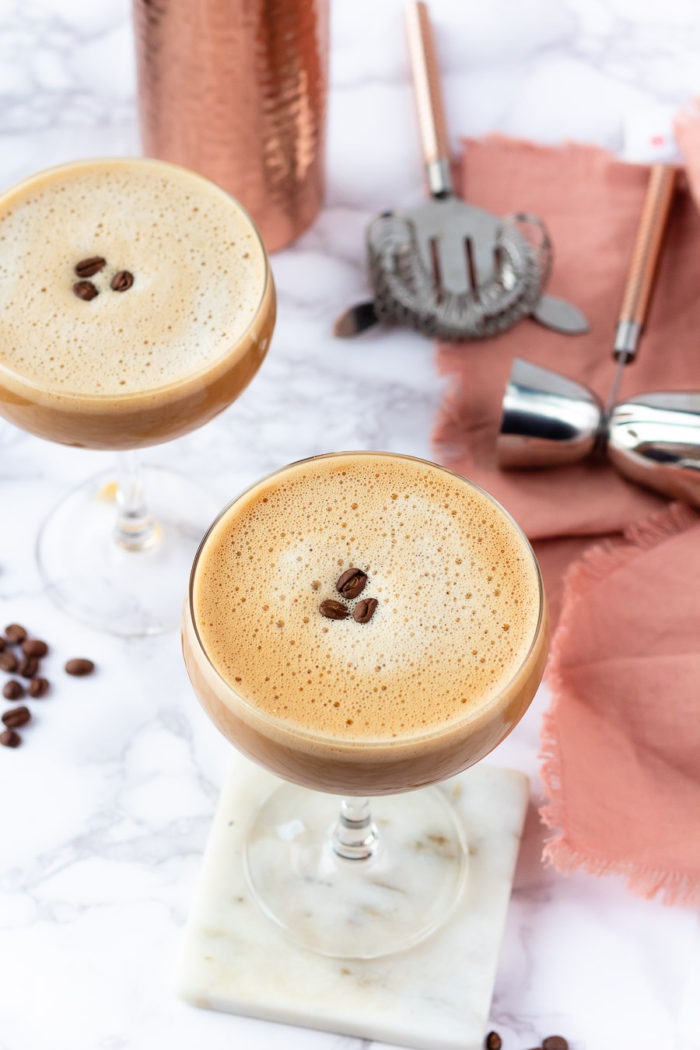 Jump to:
You'll love this espresso martini with Bailey's
It only requires a few ingredients. You only need 4 ingredients for this deliciously creamy twist on a classic espresso martini.
It's the perfect after-dinner dessert cocktail. I love ending a meal with an espresso martini. Whether it has freshly brewed espresso in it or not, it's the perfect drink to enjoy after a meal.
It's smooth. If you are more of a latte drinker and may not light the intense flavor of traditional espresso martinis, you will love the addition of Bailey's Irish Cream.
The espresso martini history
Unlike other well-known cocktails, the espresso martini history doesn't go back all that far. It is said to have originated in London during the early 1980s. British "bartending guru," Dick Bradsell is credited with first creating the cocktail.
Apparently, a young model came up to the bar and asked for a cocktail to "wake me up and f**k me up." The story goes that there was a coffee machine next to him, so he brewed coffee and combined it with vodka. The oldest version of the recipe is said to include coffee, vodka, simple syrup, and two types of coffee liqueur.
What's the traditional espresso martini recipe?
The traditional espresso martini recipe doesn't call for Bailey's. The Bailey's takes the place of the simple syrup and also adds a really nice creamy flavor and texture. It's like adding coffee creamer to your espresso martini recipe making it a delicious and creamy espresso martini recipe.
2 ounces vodka
½ ounce coffee liqueur (usually Kahlúa)
1 ounce espresso, freshly brewed (or cold brew concentrate)
½ ounce simple syrup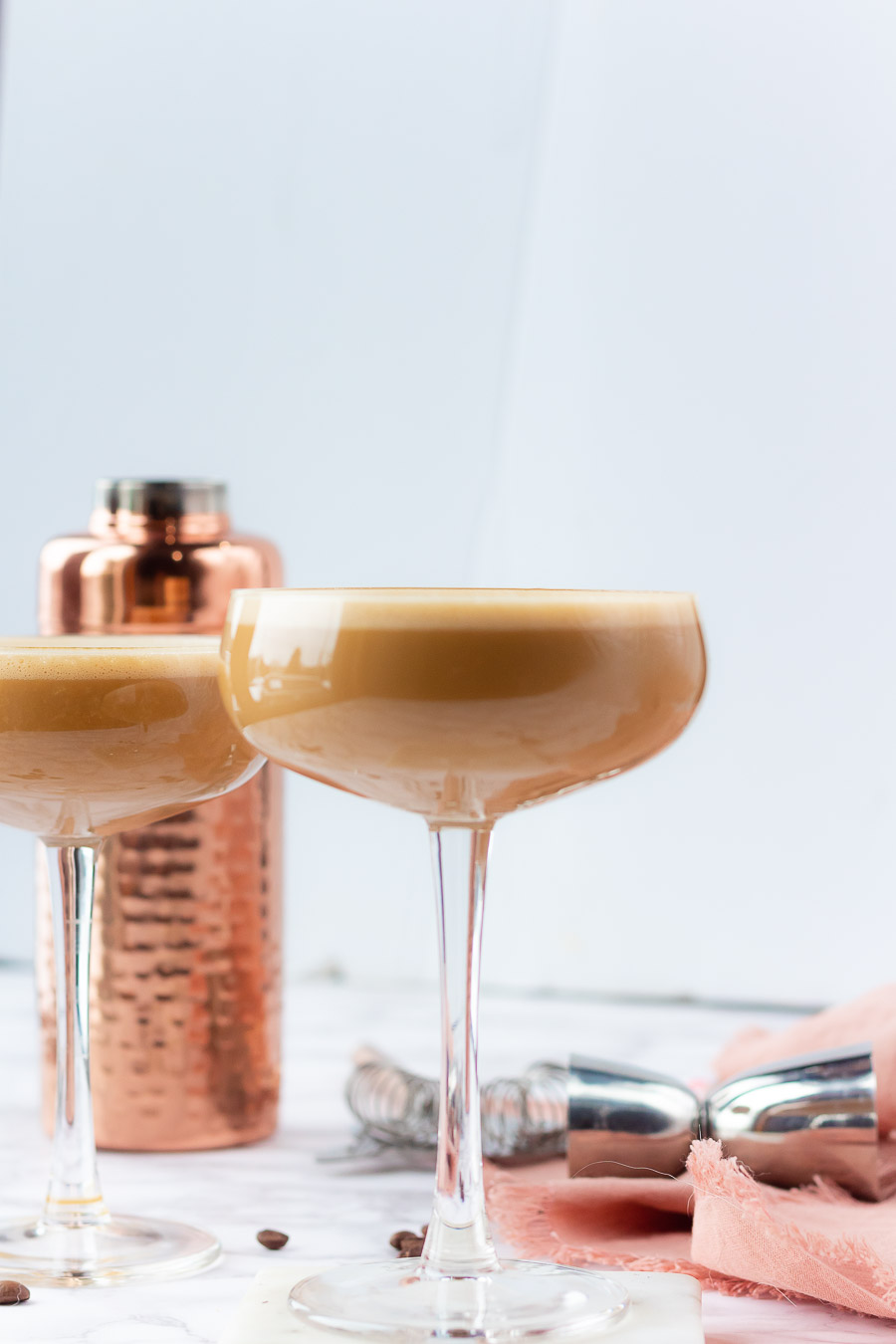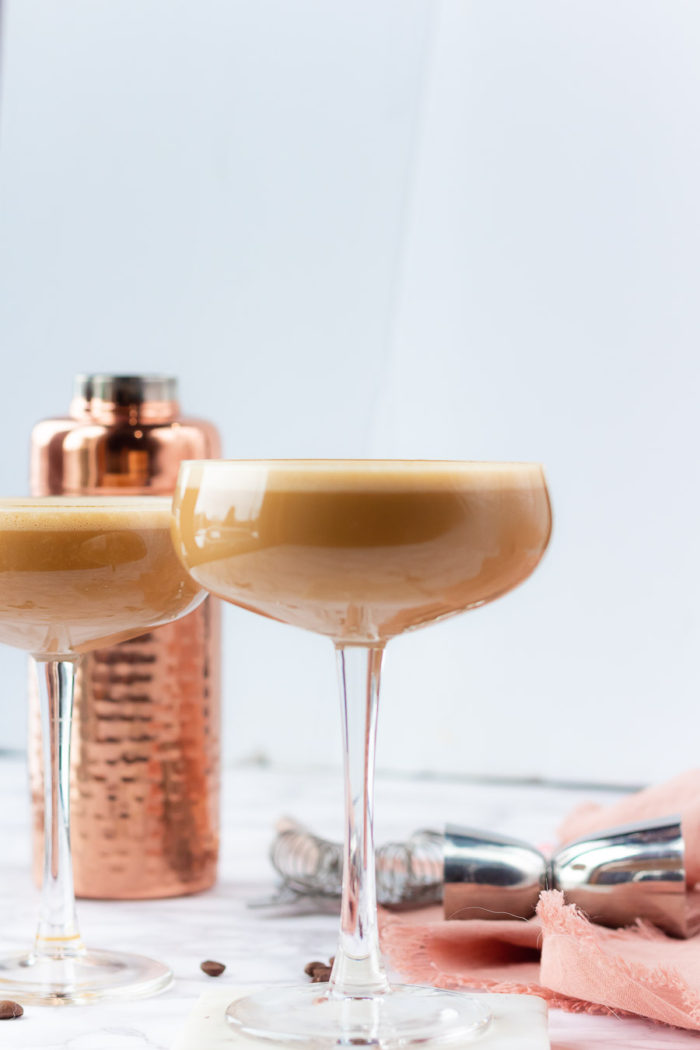 Ingredients in a Bailey's Espresso Martini
Bailey's Irish Cream. I prefer Bailey's, but you can use whatever Irish cream you like, or whatever is on sale at your local grocery or liquor store.
Vodka. I use plain vodka, but down below I share a few flavored vodkas that could make for a delicious twist on this creamy espresso martini.
Coffee Liqueur. Kahlua, or Mr. Black, is what's traditionally used in an espresso martini recipe.
Espresso. I like to add a bit of espresso to my espresso martini. Although it is in the name, some people and places do not add it!
How to make an espresso martini with Bailey's
Brew your espresso and place in the freezer to cool.
Add your espresso, vodka, coffee liqueur and Bailey's to a shaker. Add ice last.
Shake until your shaker is visibly frosted.
Strain the drink into a martini or coupe glass.
Cheers and enjoy your cocktail!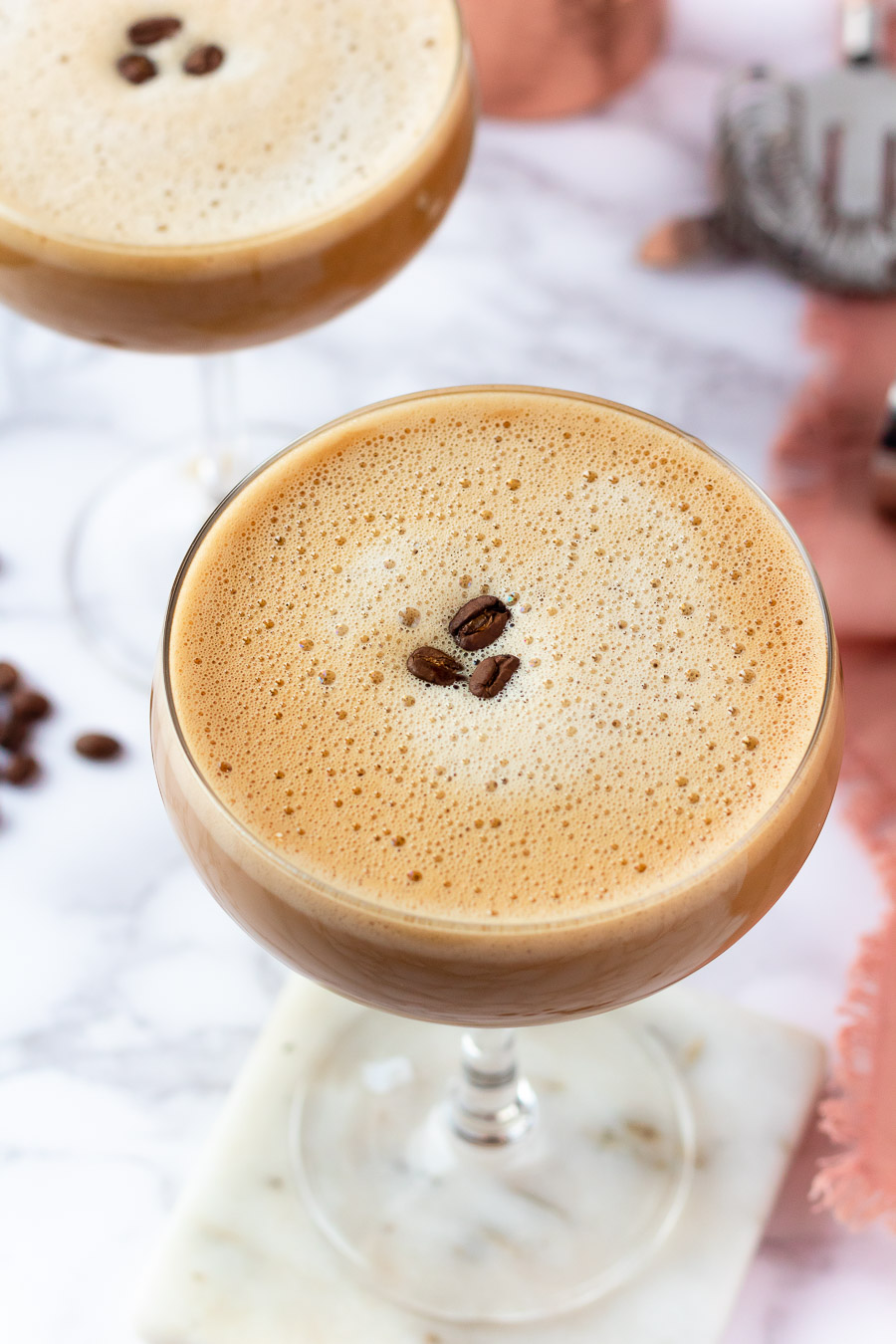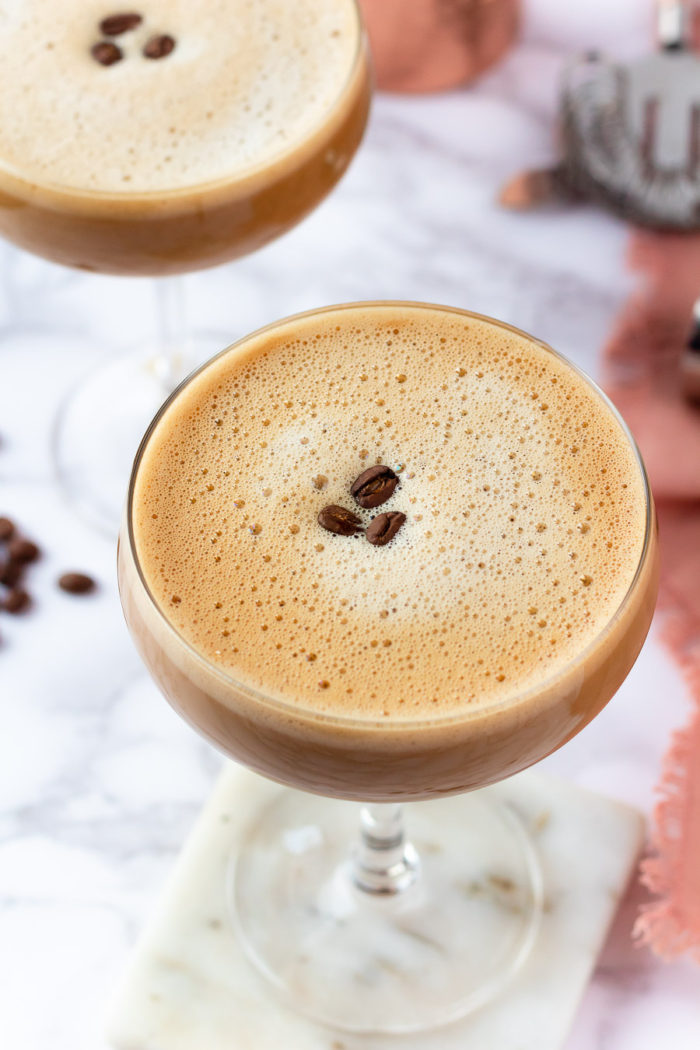 Tips and tricks
Don't forget to cool the espresso. The piping hot espresso will cause an explosion once you put the top on the cocktail shaker and start shaking.
Make this into a batch. You can make a batched version of this! For 8 cocktails simply add 2 cups of vodka, 1 cup of espresso, 1 cup of Bailey's, and ½ cup of Kahlua.
Substitutions and variations
Bailey's. Bailey's has so many different flavors, you can pick any off the shelf and make a delicious variation of this cocktail. A few I would love to try would be salted caramel, red velvet, or vanilla cinnamon.
Vodka. Similar to Bailey's, there are so many different flavored vodkas that would be great in this cocktail. Try espresso vodka, caramel vodka, or vanilla vodka.
Espresso. If you don't have an espresso maker, you can also use cold brew coffee or very strongly brewed regular coffee.
Is Baileys or Kahlua better for espresso martini?
Bailey's and Kahlua, although they both go with coffee cocktails, are two different liqueurs. Bailey's is creamy and has a slightly vanilla taste to it. Whereas Kahluah is a coffee liqueur and has that coffee taste.
You can absolutely use both in an espresso martini, but they are not substitutes for one another.
Why are there 3 coffee beans in an espresso martini?
The three coffee beans on the top of the espresso martini actually represent health, wealth and happiness! I always have a bag of espresso beans to make sure I can top every espresso martini I make.
FAQs
What liquor is best for an espresso martini?
Vodka is what's used in most espresso martini recipes, however, espresso martinis with tequila are very popular, too.
Can you use Baileys instead of coffee liqueur?
No. Bailey's is a cream liqueur, not a coffee liquer.
Does Bailey's need to be refrigerated?
Yes, after it is opened.
What is better with coffee Kahlua or Bailey's?
It depends on your preference! If you like creamy coffee, reach for the Bailey's. If you like strong and dark coffee, reach for the Kahlua.
Amazon home bar finds
You'll absolutely want some cute martini glasses to serve these in, I love these ones, these ones, or these ones.
You'll also want to make sure you have a cocktail shaker or else you won't get that delicious foam on top.
Pin it for later!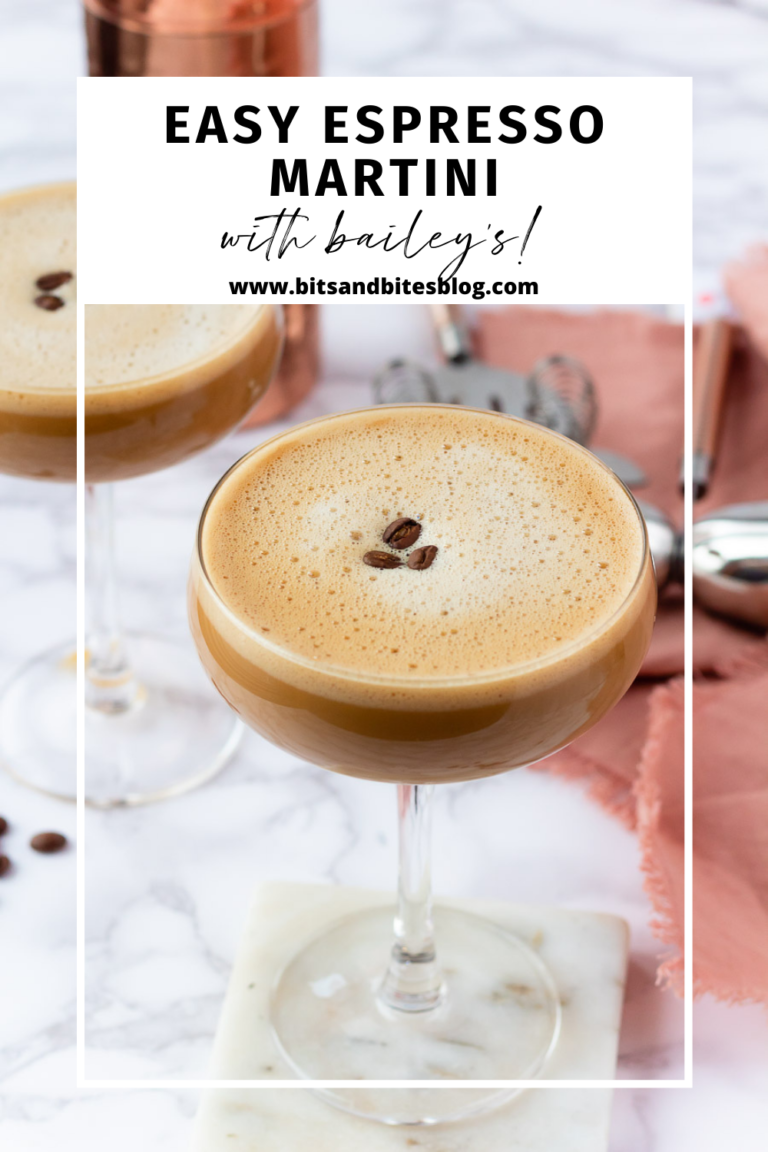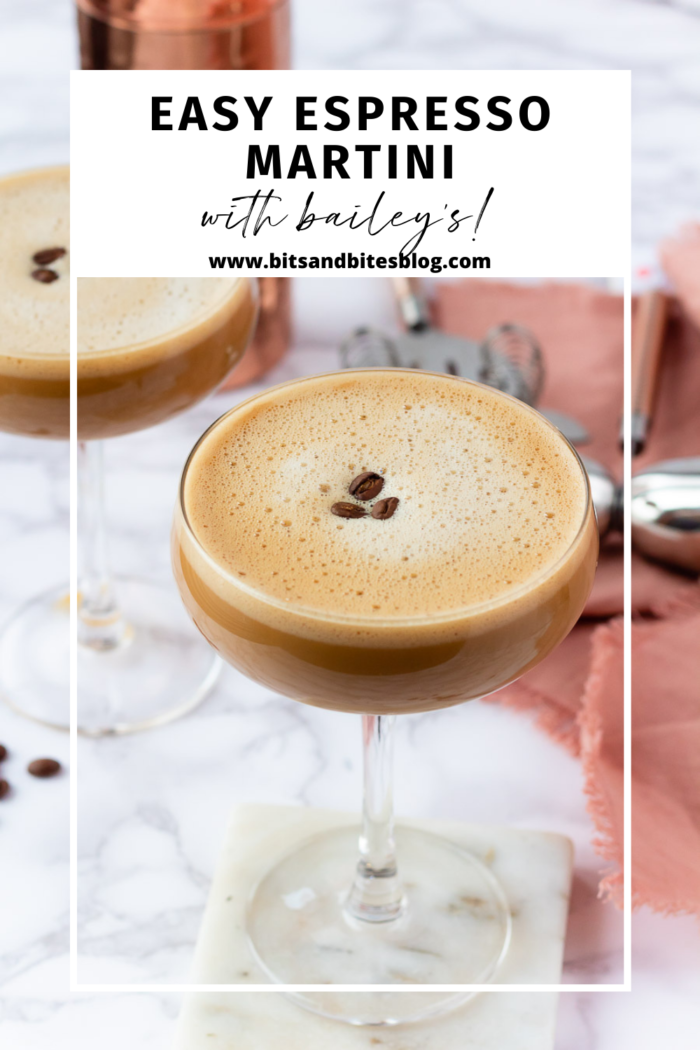 WANT MORE COCKTAIL RECIPES?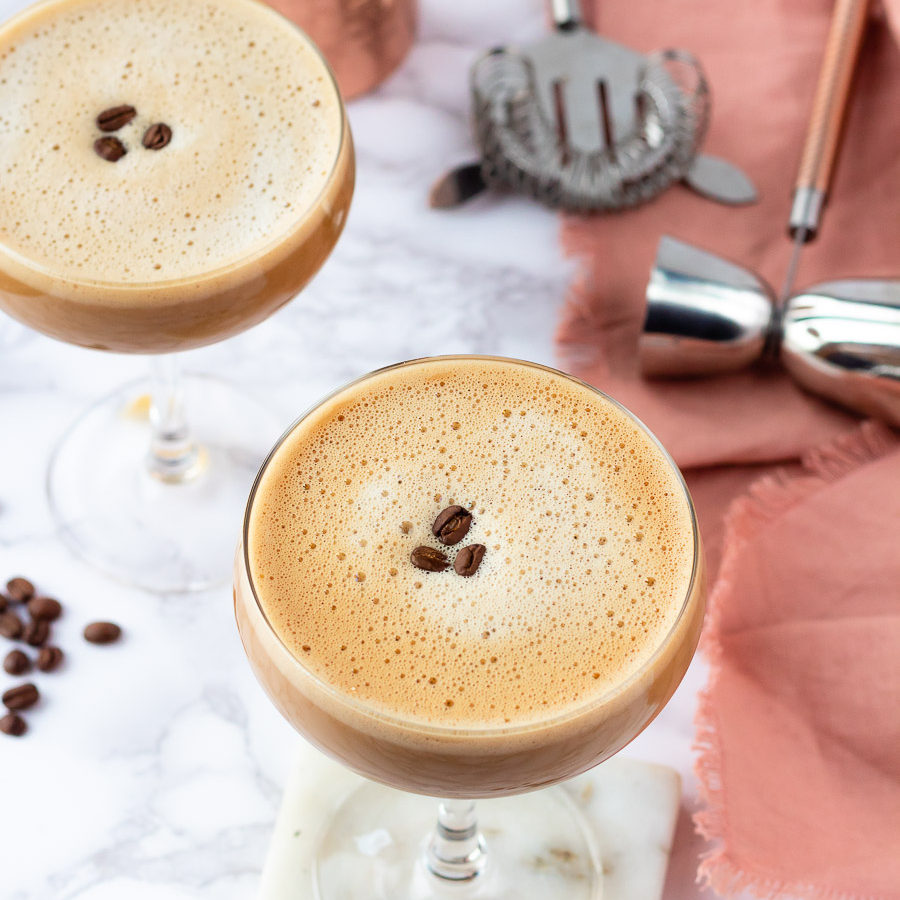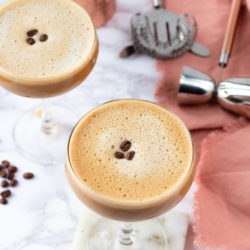 ESPRESSO MARTINI RECIPE WITH BAILEY'S
This easy espresso martini recipe with Bailey's is the perfect espresso martini recipe! If you love Bailey's cocktails, this is for you.
Ingredients
1.5

oz

vodka

.5

oz

coffee liquer

.5

oz

Bailey's Irish Cream

2

oz

espresso
Instructions
In a shaker, pour in your ingredients. Fill with ice and shake until shaker is frosty.

Strain into martini or coupe glass.