The Bee's Knees cocktail with Empress Gin is one of the prettiest gin cocktail recipes you can make. Not to mention, it's incredibly easy being a three-ingredient cocktail recipe, I guarantee you have everything you'll need to make this!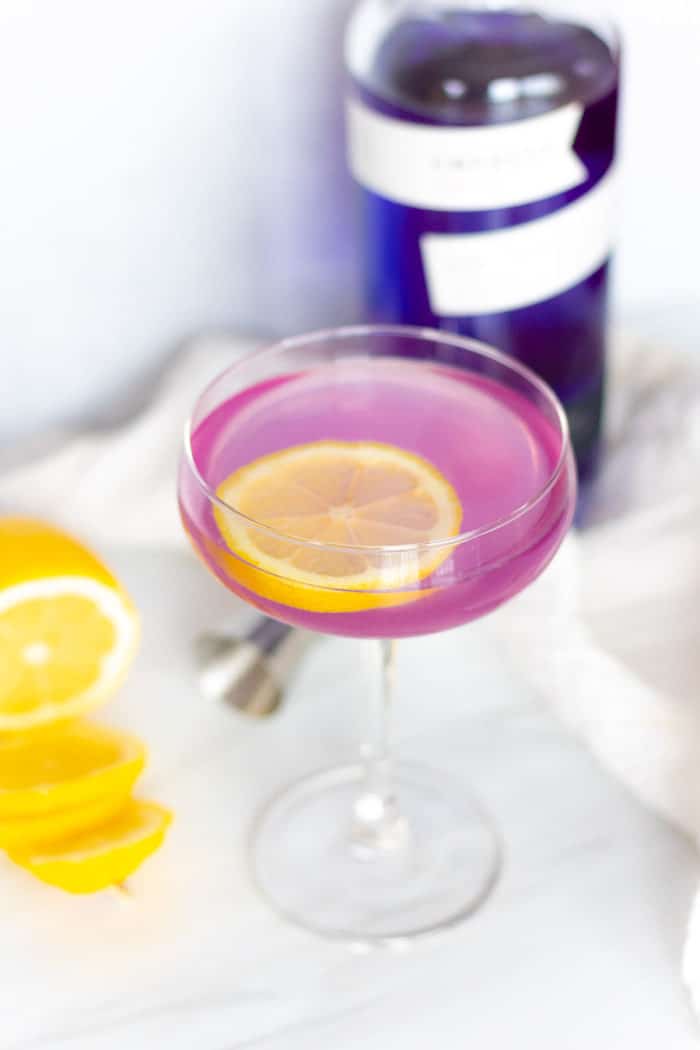 What's in the Bee's Knees cocktail?
The Bee's Knees cocktail recipe is actually super simple, which is one of the reasons why I love it. It's a great cocktail to make at home since you probably keep honey and lemon juice (if you don't have real lemons) around the house. This drink is simply gin, lemon juice and honey syrup. Some recipes, like the bee's knees cocktail recipe from Difford's Guide, gives the cocktail a bit more pizzazz by including orange juice. I like to keep my Bee's Knees cocktail recipe simple.
You may be wondering, "Is honey syrup the same thing as honey?"
No, it's not! Honey syrup, like simple syrup, is honey and water combined. You can make a big batch of honey syrup and keep it for any cocktails if you'd like. I like to make it as a single serving whenever I make this Empress Gin cocktail recipe at home for myself.
Take 2 tsp of honey and dissolve it into 2 tsp of warm water.
That's it! You have a single-serve homemade honey syrup for your cocktail.
Who invented the Bee's Knees Cocktail?
So, as I was doing research on what this cocktail was, I came across the history. It was actually one of the first Google suggested searches that popped up. This cocktail came to fruition during the prohibition era because the lemon and honey combo was a way to hide the scent and terrible flavor of bathtub gin. However, Frank Meier is the bartender who is credited with creating the Bee's Knees cocktail.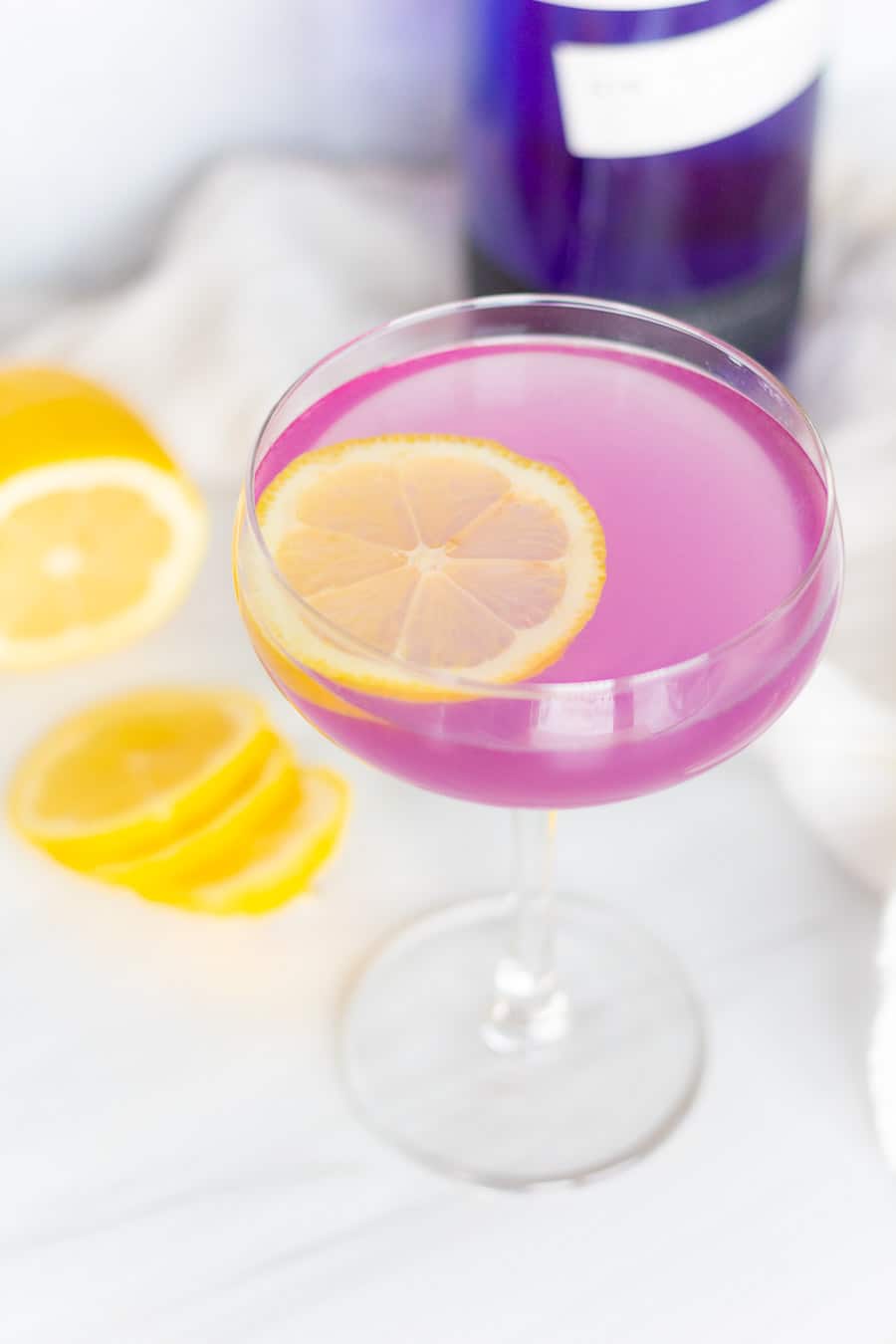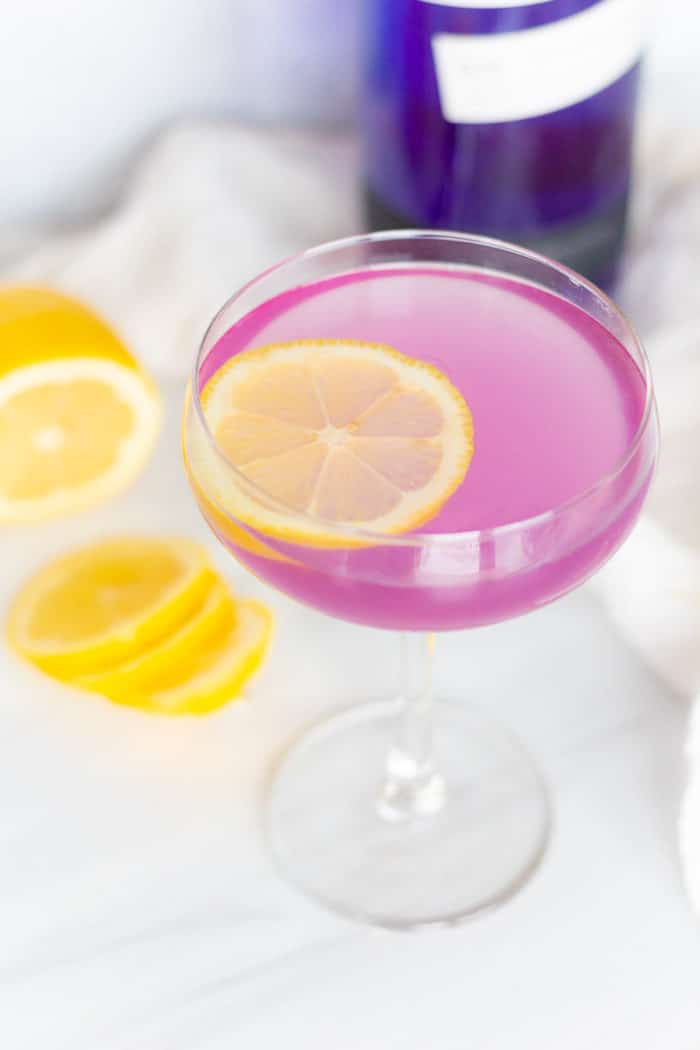 How to make this easy Empress Gin cocktail.
As I mentioned above, there are only three ingredients to make this cocktail. Gin, lemon and honey syrup. The reason why you don't use plain old honey for this gin cocktail recipe is that if you don't use runny honey (yes, that is a term I saw on the internet) then your honey could just freeze to ice, or stick to the bottom of your mixer and not totally incorporate.
You may be noticing the absolutely gorgeous purple gin that I made this cocktail with. This is Empress 1908 Gin. Taken from their website, here's a bit about the brand!
Handcrafted in small batch copper-pot stills, Empress 1908 Gin is a collaboration between Victoria Distillers and the legendary Fairmont Empress Hotel in Victoria, British Columbia. On top of traditional botanicals, we add a signature blend of black tea served at the Empress Hotel and butterfly pea blossom, an exotic herb that balances the traditional citrus notes of gin with a warm herbal earthiness, and gives the gin its natural indigo colour. Empress 1908's combination of exquisite taste, delicate aroma, soft texture, and remarkable presentation provide the perfect base for a new aesthetic of cocktail creation and enjoyment.

Read more here!
What are some of the best Bee's Knees cocktail variations?
As I started doing more research, I was finding lots of different Bee's Knees cocktail variations. I feel like there are so many cocktail variations that you can make with this. The combo of lemon and honey goes with so many fresh fruits... or frozen fruits like my Bee's Knee's cocktail recipe below!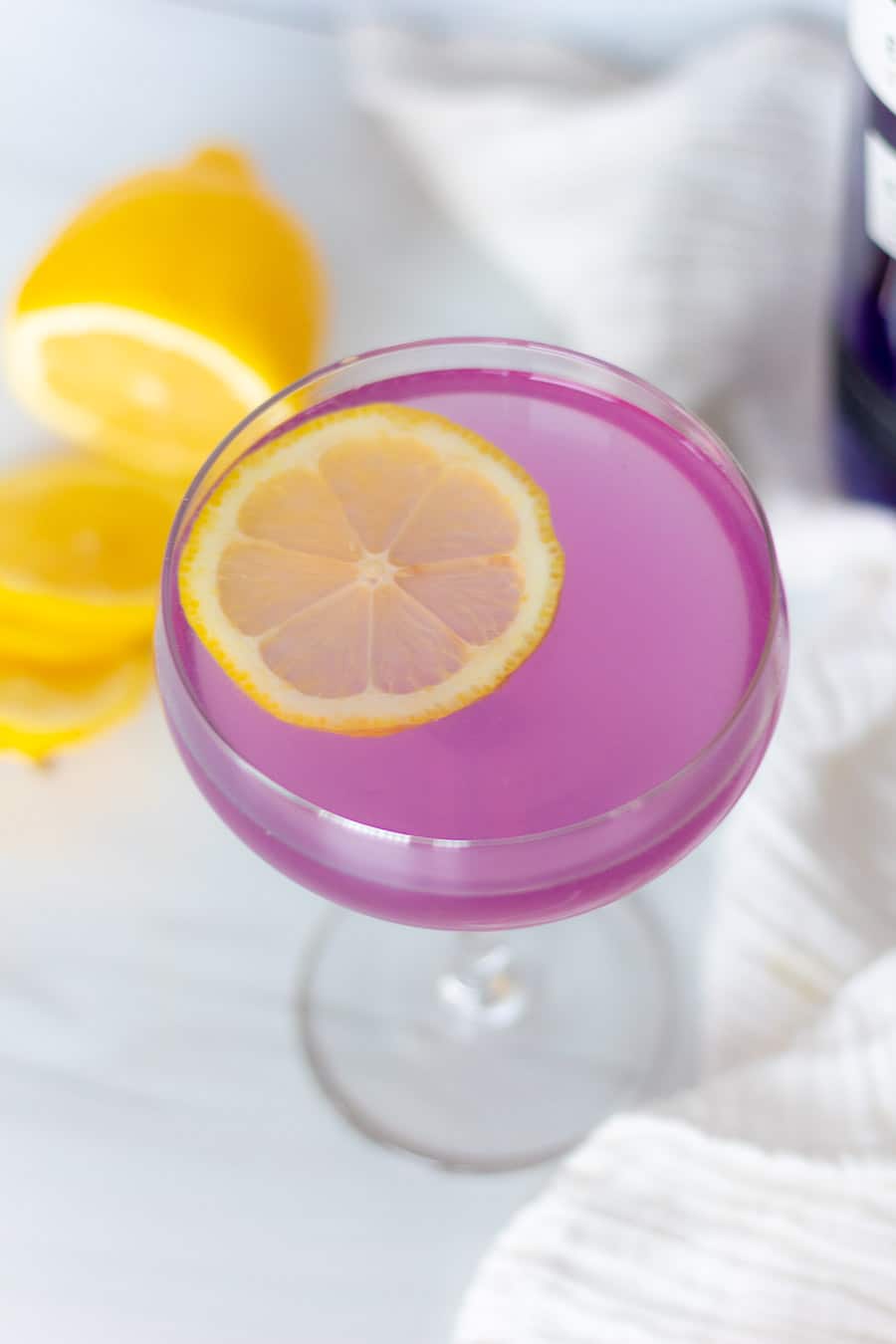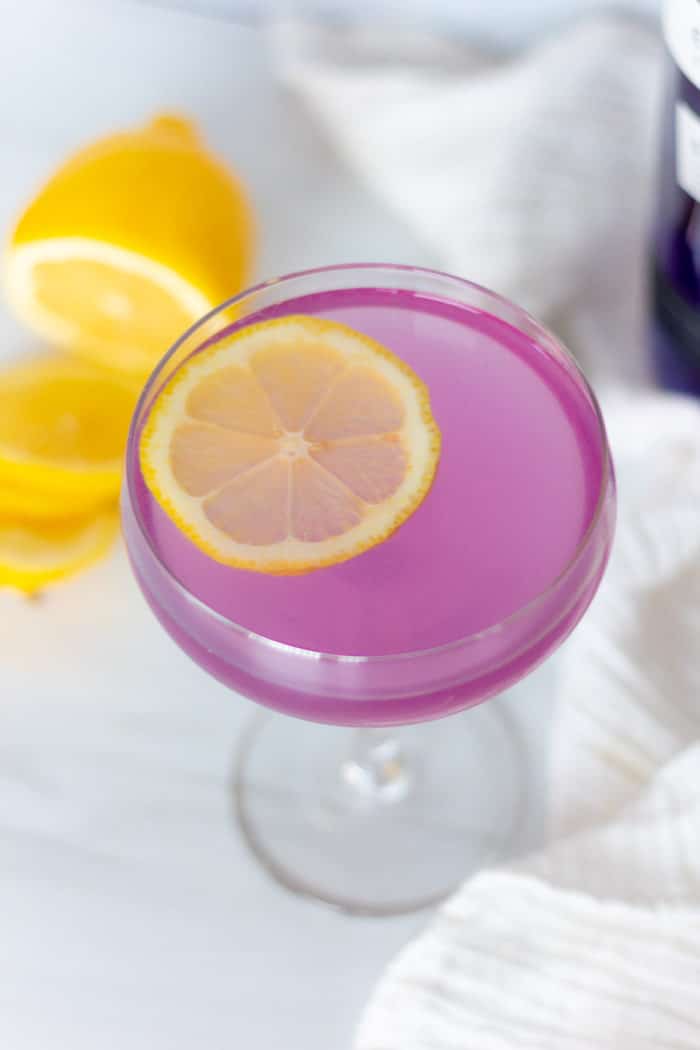 What more recipes to try with Empress Gin?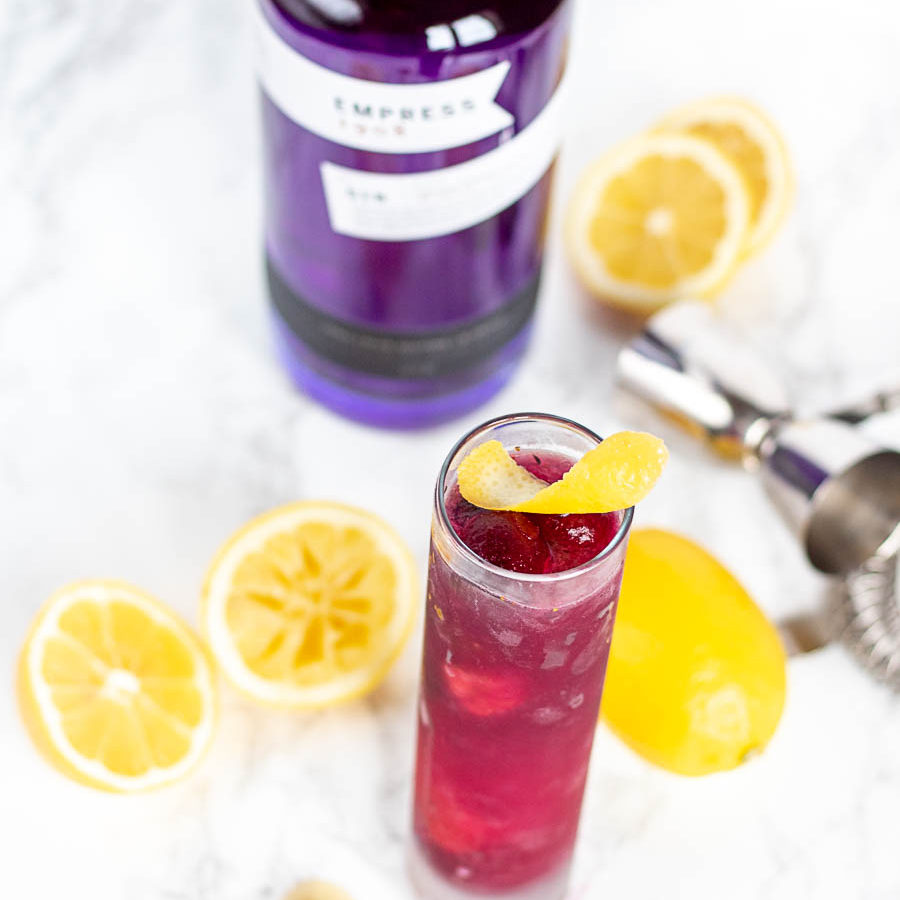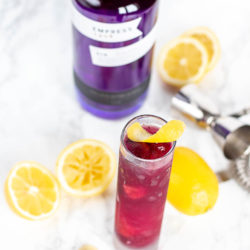 Bee's Knees Cocktail
Ingredients
2

oz.

Gin

½

lemon

juiced

1

tsp

honey

½

c.

frozen berries

optional
Instructions
In a mixer filled with ice, combine your gin, lemon and honey. If you opt for the frozen berries, microwave them for 15 seconds, add half to the mixer.

In a separate glass, fill with the rest of your frozen berries, strain your cocktail into your glass, garnish with lemon and enjoy!