These healthy air fryer carrot fries are one of the best healthy fries recipes. They are perfect for any weeknight dinner side dish recipe, and are one of the easiest ways to cook carrots!
This post may contain affiliate links, meaning I may earn a small commission when you click on the links and make a purchase. I will never recommend a product that I don't support 100%.
You'll love these air fryer carrot fries
They're so easy to make. These air fryer carrot fries are such an easy air fryer recipe, you will love making them!
They're delicious. These are so good and such a tasty twist on the traditional french fry recipe. Plus, they are so delicious with dips like this dill pickle ranch.
They're an easy, and healthy, side dish. Since it's made in the air fryer, there's no deep frying going on! So you're eating crispy, cooked carrots with just a dash of olive oil and spices.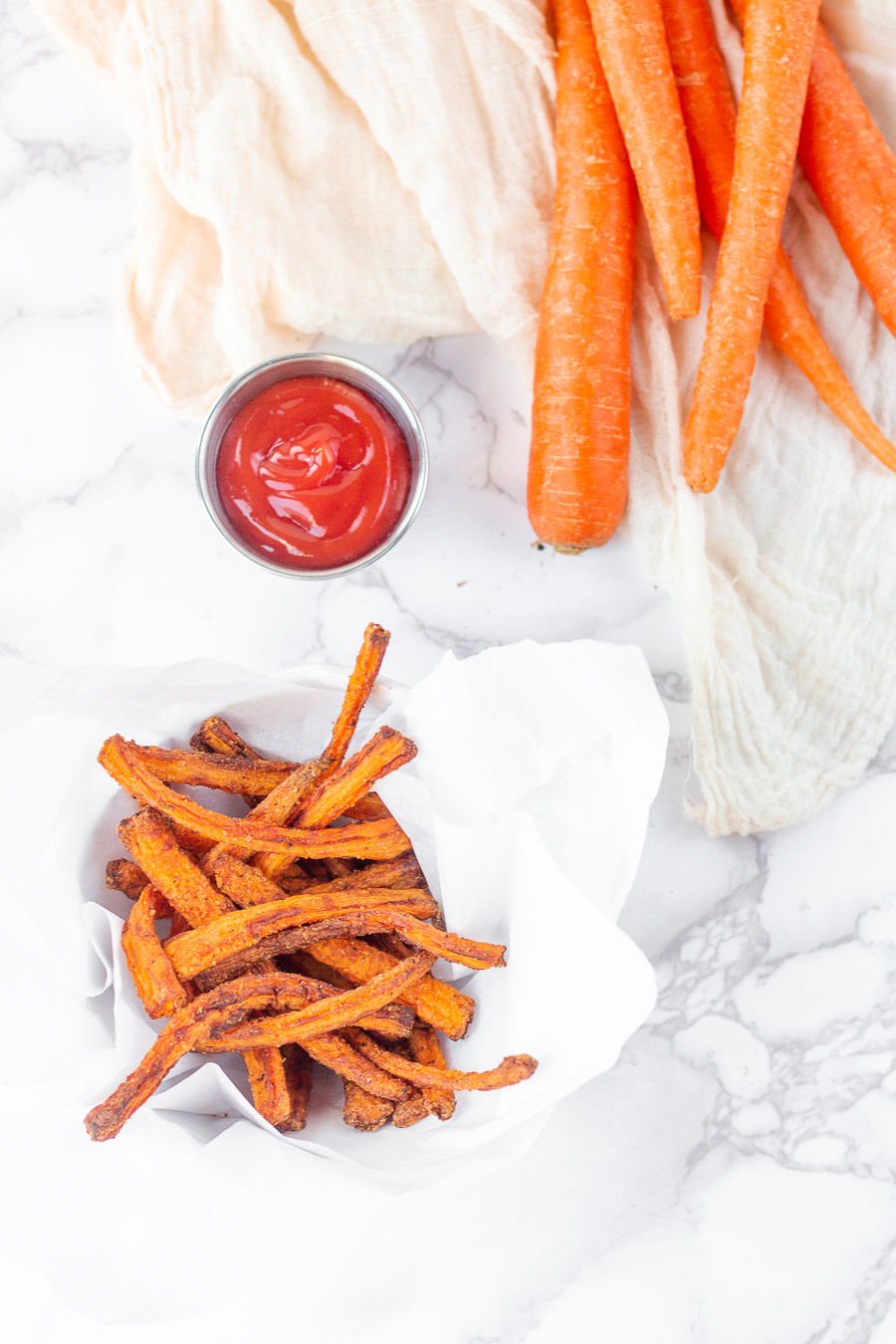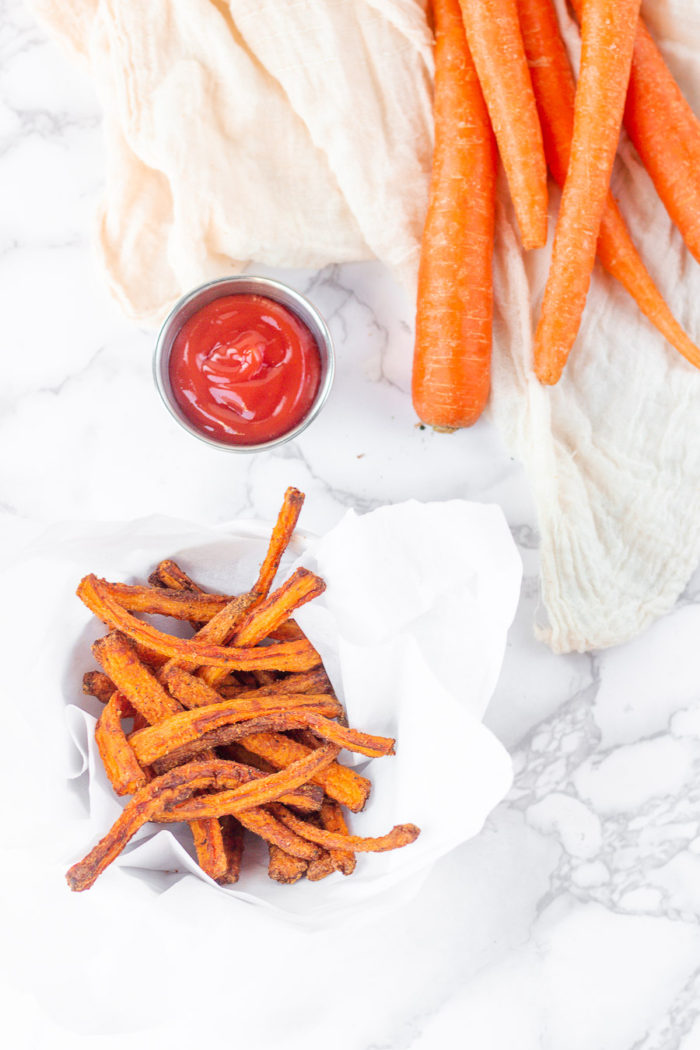 WHAT SEASONING CAN YOU USE FOR THESE CARROT FRIES?
I love the combination of chili + carrots. Whether I'm roasting chili carrots or making these carrot fries recipe, I keep my seasonings pretty simple with this recipe.
Chili Powder
Garlic Powder
Onion Powder
Salt
Pepper
WHAT'S THE TRICK TO GET CRISPY CARROT FRIES?
The trick to crispy air fryer carrot fries is corn starch. Yup. That's honestly the trick with any air fryer fries recipe... corn starch. Just a small spoonful for for about 4-5 large carrots, sliced, and it'll leave the outside crunchy and the inside cooked!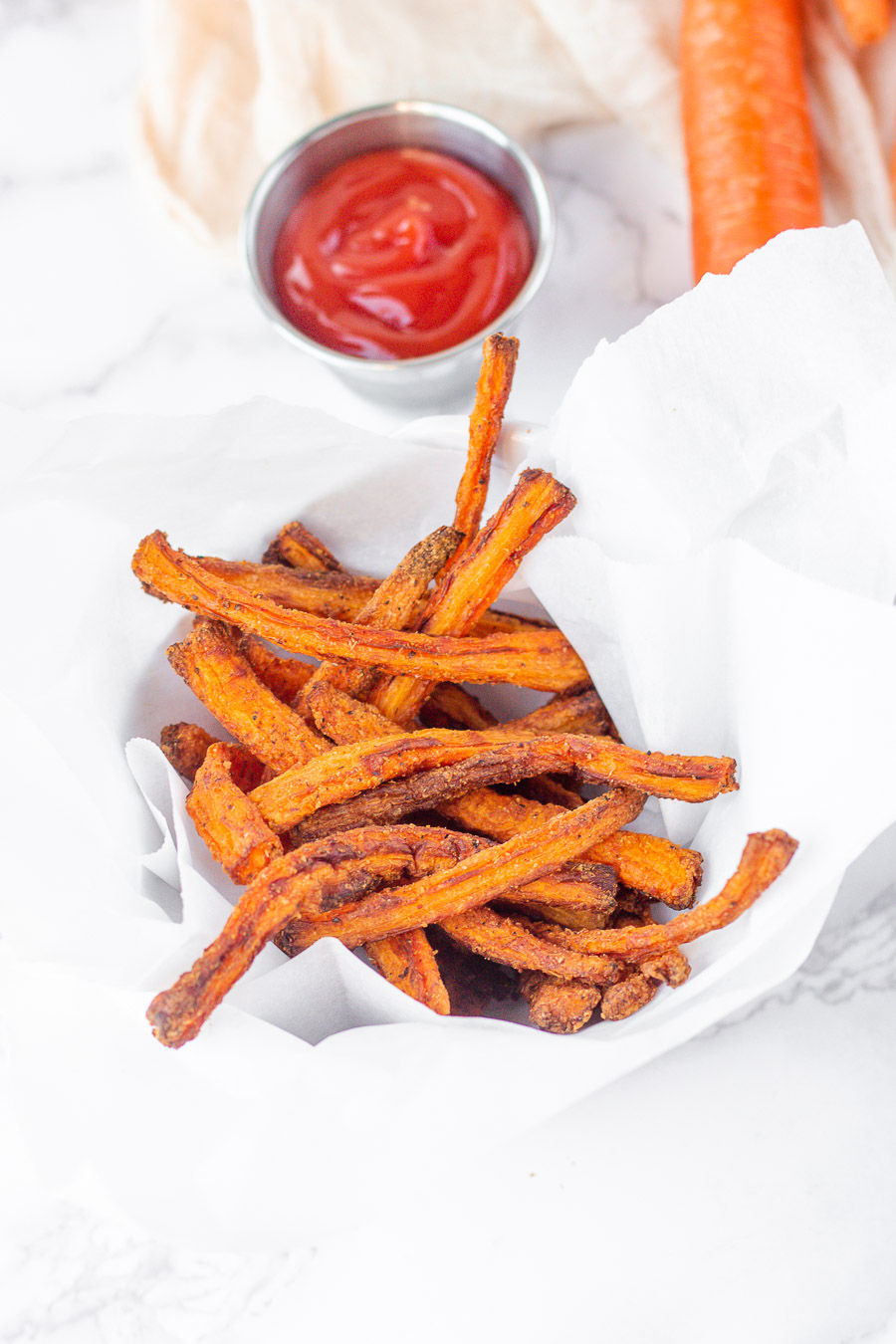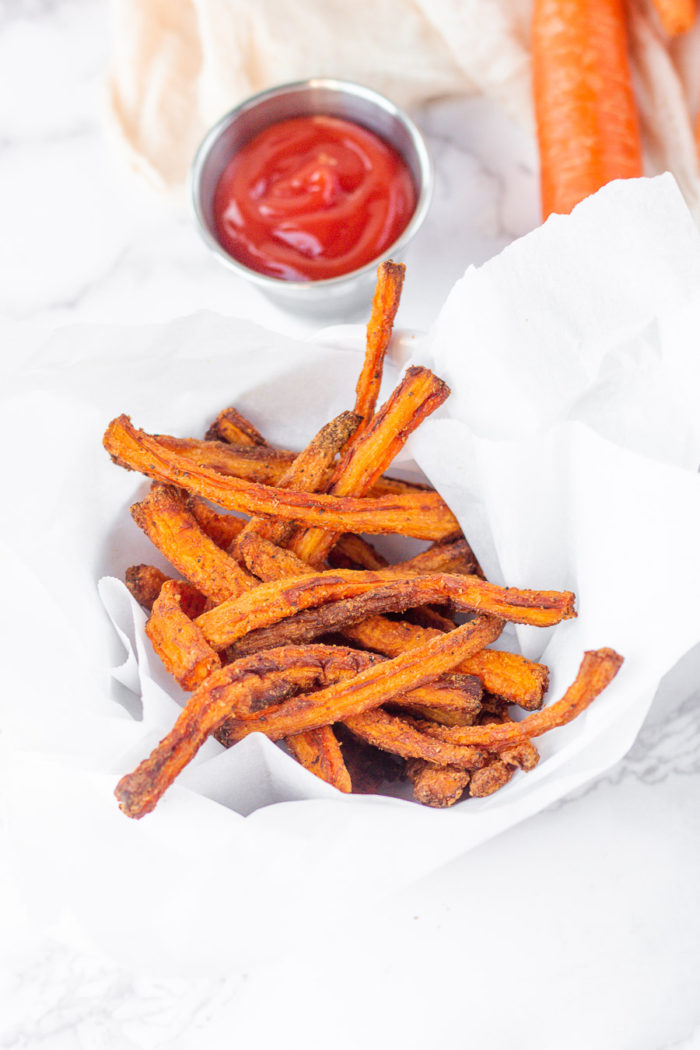 HOW DO YOU COOK CARROT FRIES IN THE AIR FRYER?
These couldn't be any simpler, the main portion is cooking the fries and giving them a shake. Other than that, here's what you need and how to cook these healthy carrot fries! PS if you're wondering what air fryer to buy, I love my Cosori Air Fryer!
Oil -- I used Olive Oil
Chili Powder
Garlic Powder
Onion Powder
Salt
Pepper
4-5 Large Carrots, peeled and sliced into "fries"
½ tbsp Corn Starch
Preheat your air fryer to 360°F. In a bowl, slice your carrots and toss in oil and seasoning. Air fry for 7 minutes, toss, and then air fry for 7 minutes more.
PIN IT LATER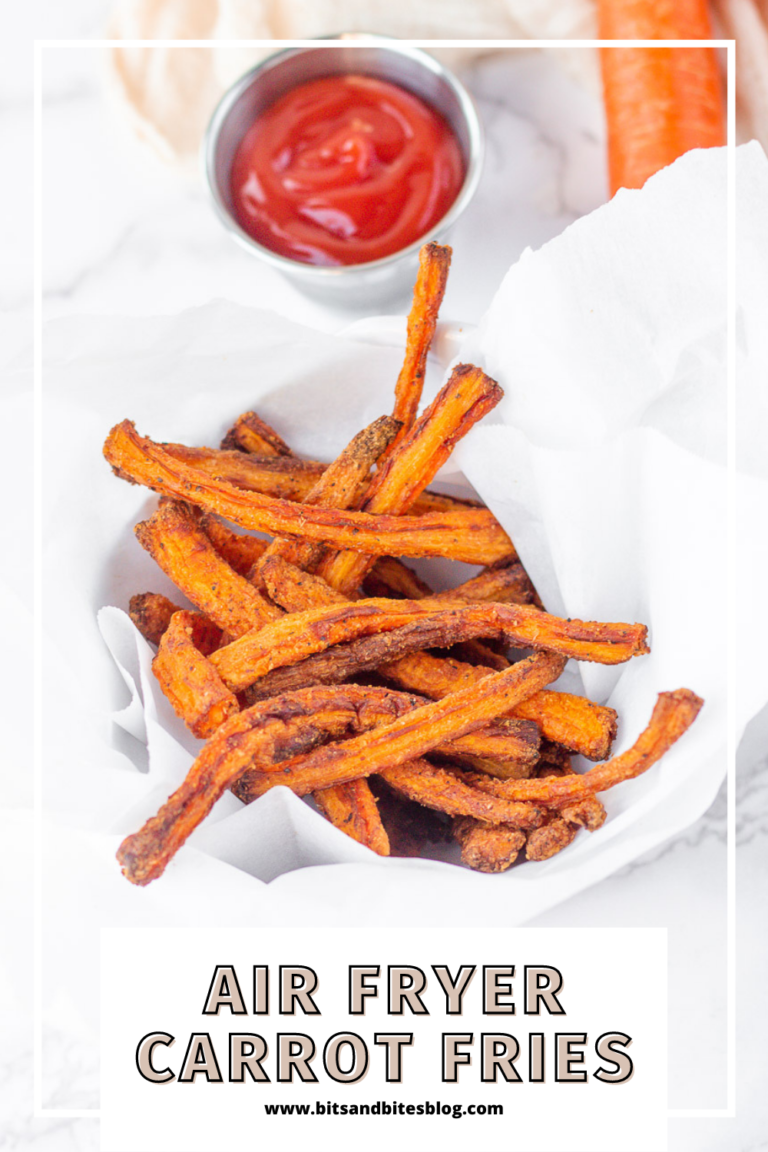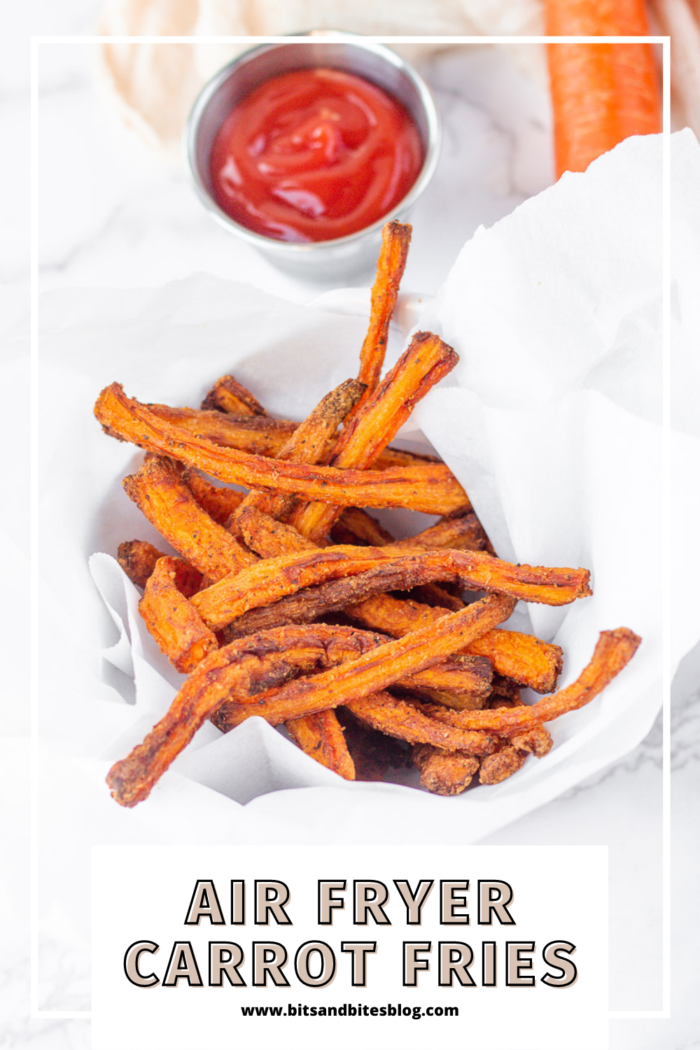 WANT MORE EASY AIR FRYER RECIPES?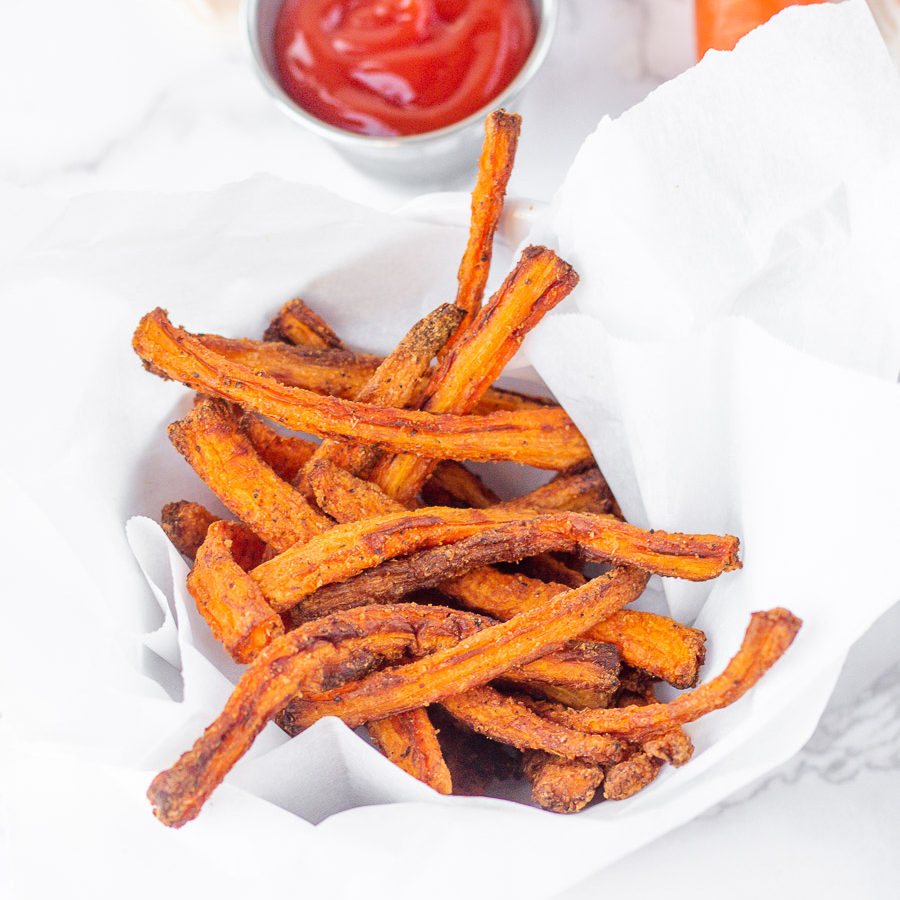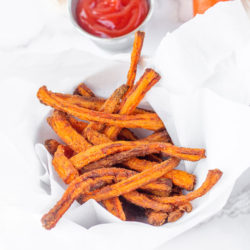 HEALTHY AIR FRYER CARROT FRIES
Ingredients
4-5

large carrots

peeled and sliced into sticks

1

tbsp

olive oil

½

tbsp

corn starch

1

tsp

garlic powder, chili powder and onion powder

1 tsp of each

½

tsp

salt and pepper
Instructions
Preheat your air fryer to 360°F

Peel and slice your carrots in to "sticks." Place them in a large bowl and toss them in oil, seasonings + corn starch.

Add to air fryer, once preheated, and cook for 7 minutes. Shake. Cook for 7 minutes again.