These roasted Brussel sprouts and carrots are made with Sriracha honey and they are the perfect savory, sweet with a teeny tiny bit of spice. You don't have to only include Brussel sprouts and carrots, you can throw broccoli or cauliflower in there, or really whatever veggies you like to roast.
A THANKSGIVING VEGETABLE SIDE DISH YOU'LL ACTUALLY LIKE
I mean, no disrespect to the other dishes, and I love me a good green bean casserole, but these roasted Brussel sprouts and carrots are so good! Sometimes you don't need to do anything fancy for your veggies, just toss them in some seasoning and roast them and you have the perfect vegetable Thanksgiving side dish recipe.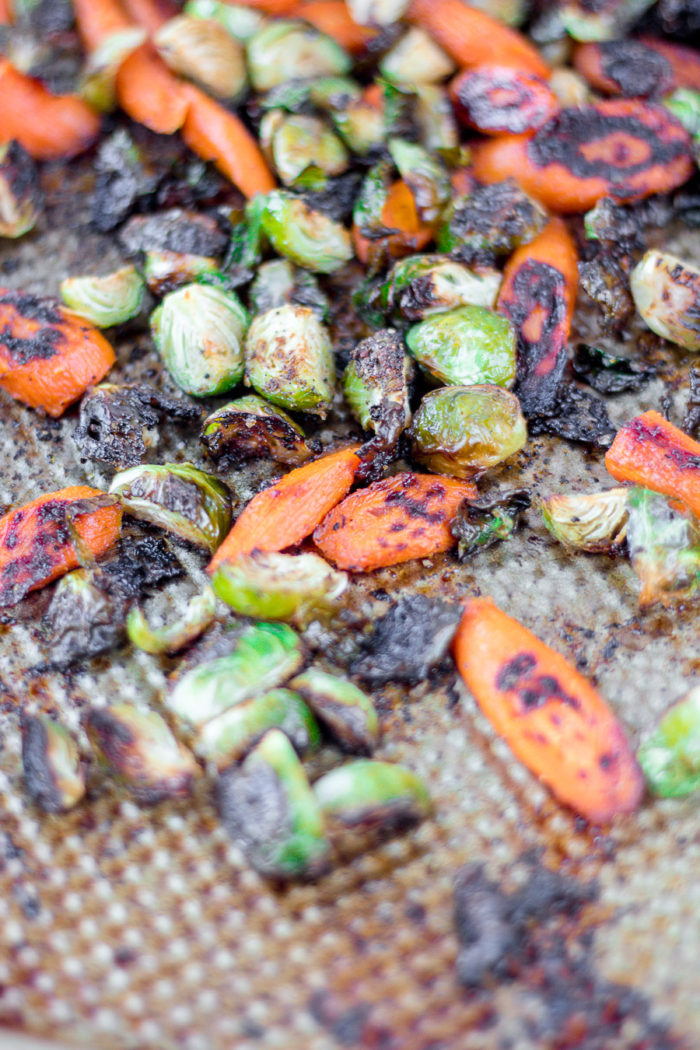 CAN I AIR FRY THESE ROASTED BRUSSEL SPROUTS AND CARROTS?
Absolutely! If you already have way too much happening in your oven, you can absolutely air fry these veggies. You'll want to follow the steps below.
Pre-heat your air fryer to 390
Once preheated, spray the basket and place your brussel sprouts and carrots inside
Set your timer for 15 minutes and shake every 5. If you want to set your timer to 5 minutes, three times, you can do that, too.
If they still aren't as crispy as you'd like, air fry every two minutes until they are done to your liking.
You may also like: Crack Green Bean Recipe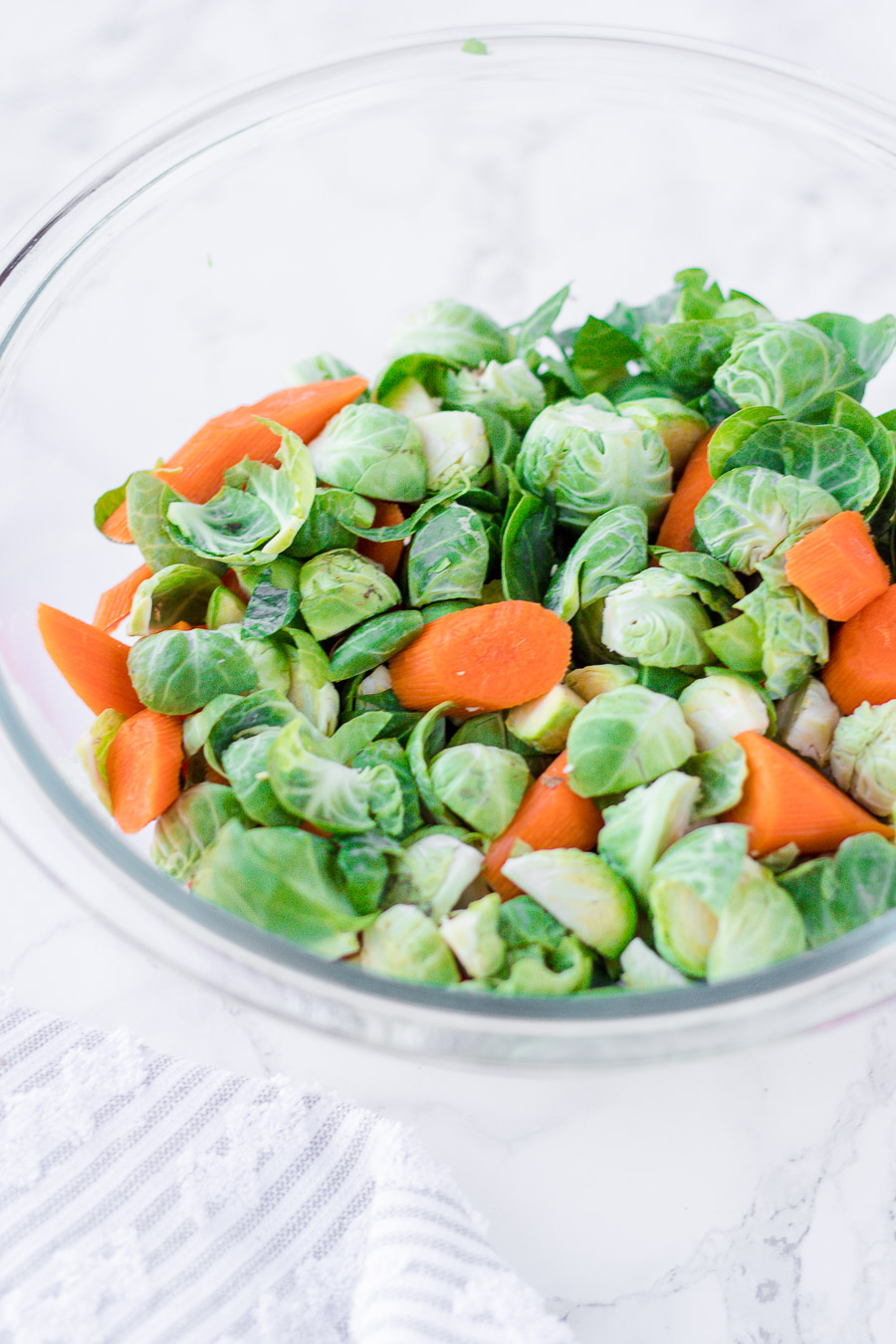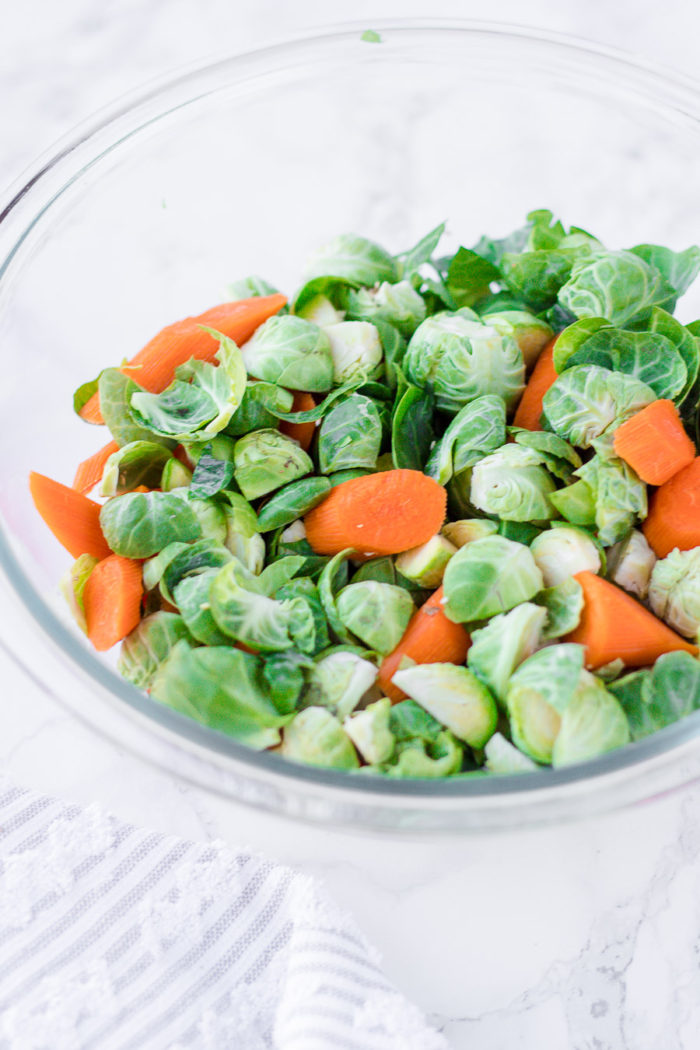 OK, LET'S GET INTO THE INGREDIENTS
These are pretty simple when it comes to using cabinet staples. The only thing you may not have is hot honey. I found this sriracha honey from ALDI a few months back. If you don't have honey - Sweet Cayenne has a great recipe.
Olive Oil - or whatever oil you prefer to use
Granulated Garlic
Onion Powder
Salt
Pepper
Hot Honey
Like I said, a lot of these ingredients are pantry staples, so that's just less stuff you have to buy at the grocery store! And if you're wondering if these roasted vegetables are spicy, no. They truly aren't. The "hot" honey adds just the most subtle hint of spice, so if you have sensitive to spice people at your Thanksgiving table, they'll be fine.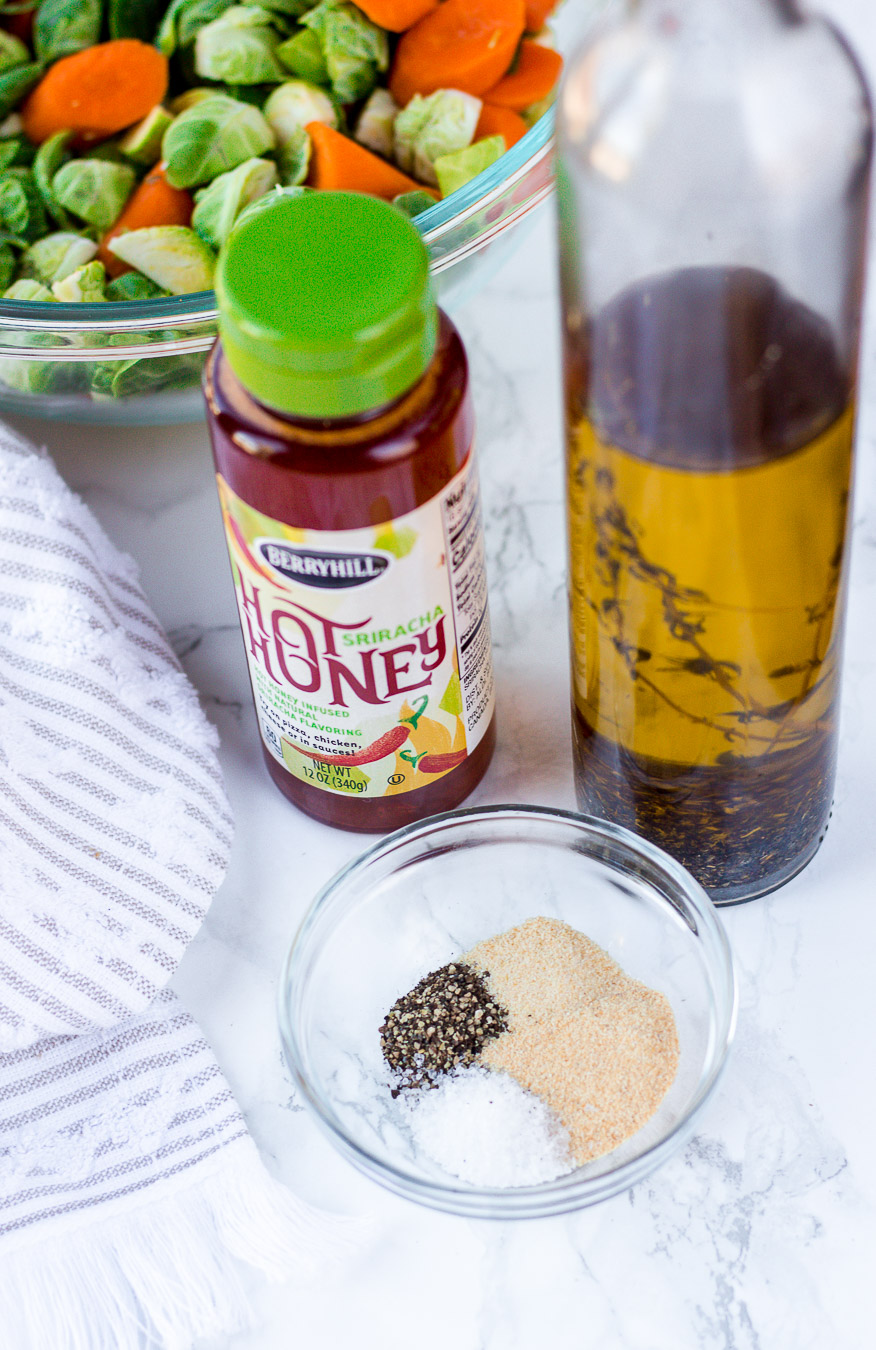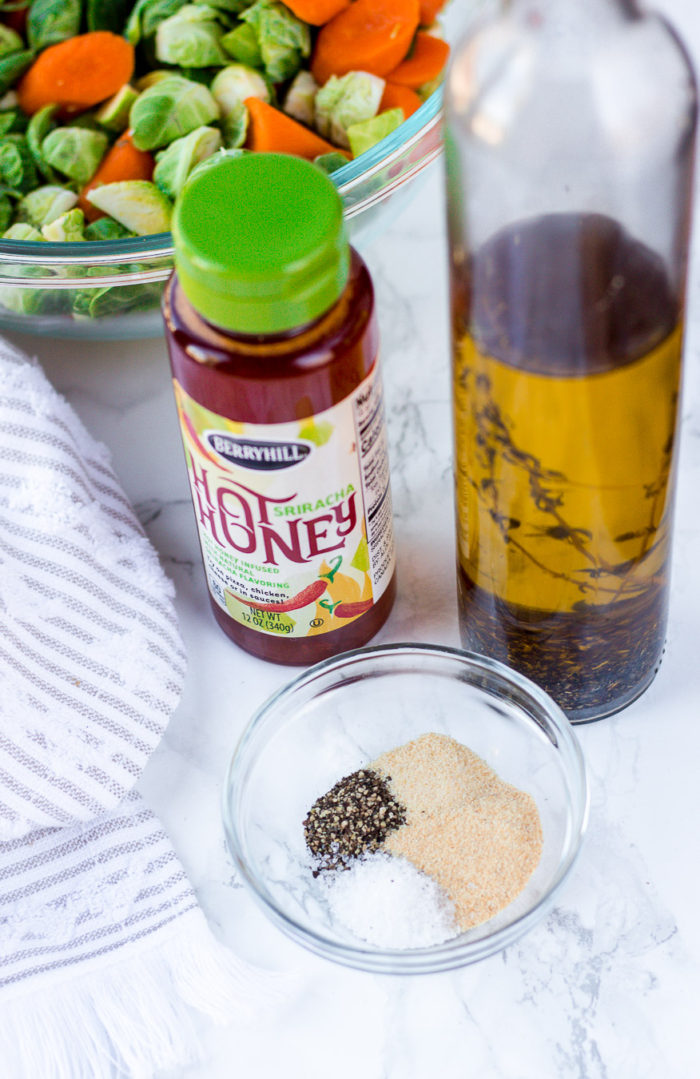 HOW LONG DO YOU ROAST VEGETABLES FOR IN THE OVEN?
I roast vegetables at 400 for around 20-25 minutes. Potatoes, however, are a totally different story. I normally check around 15 minutes, see how things are progressing and then set myself reminder every 5 minutes.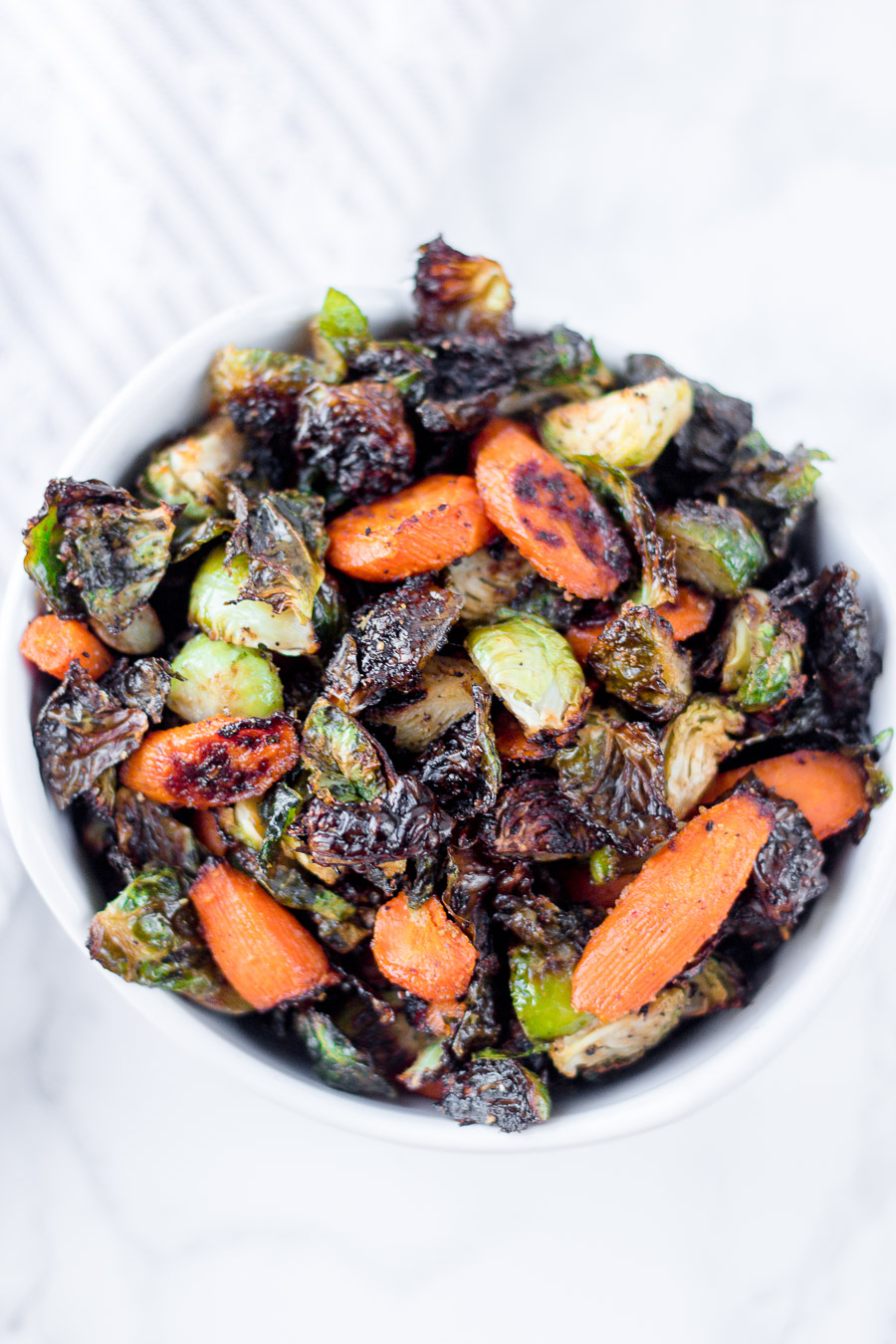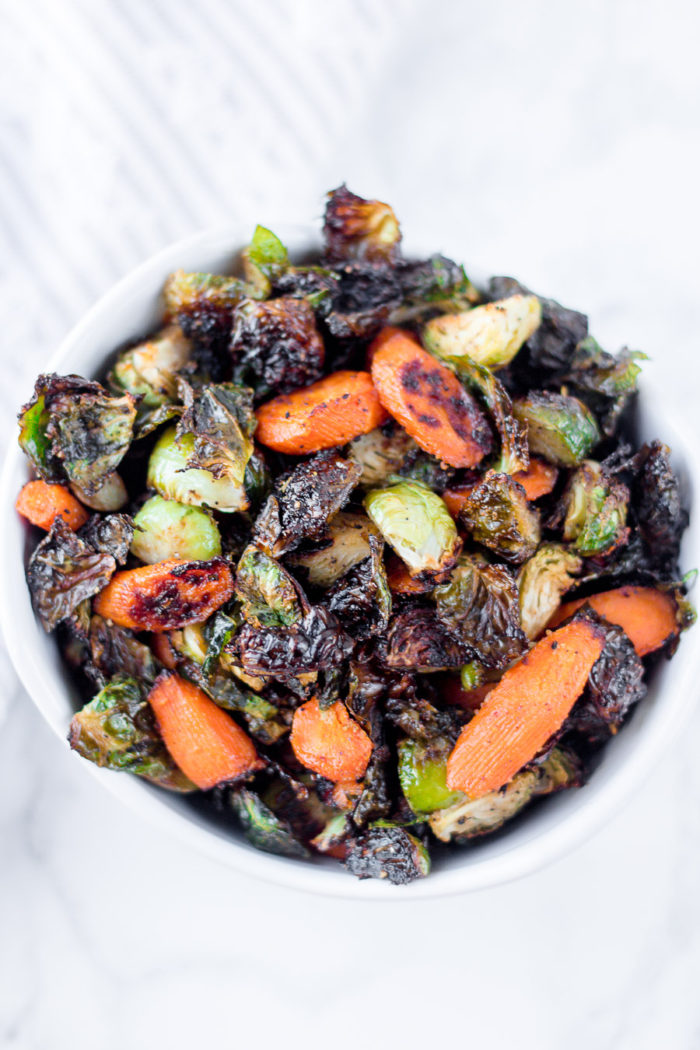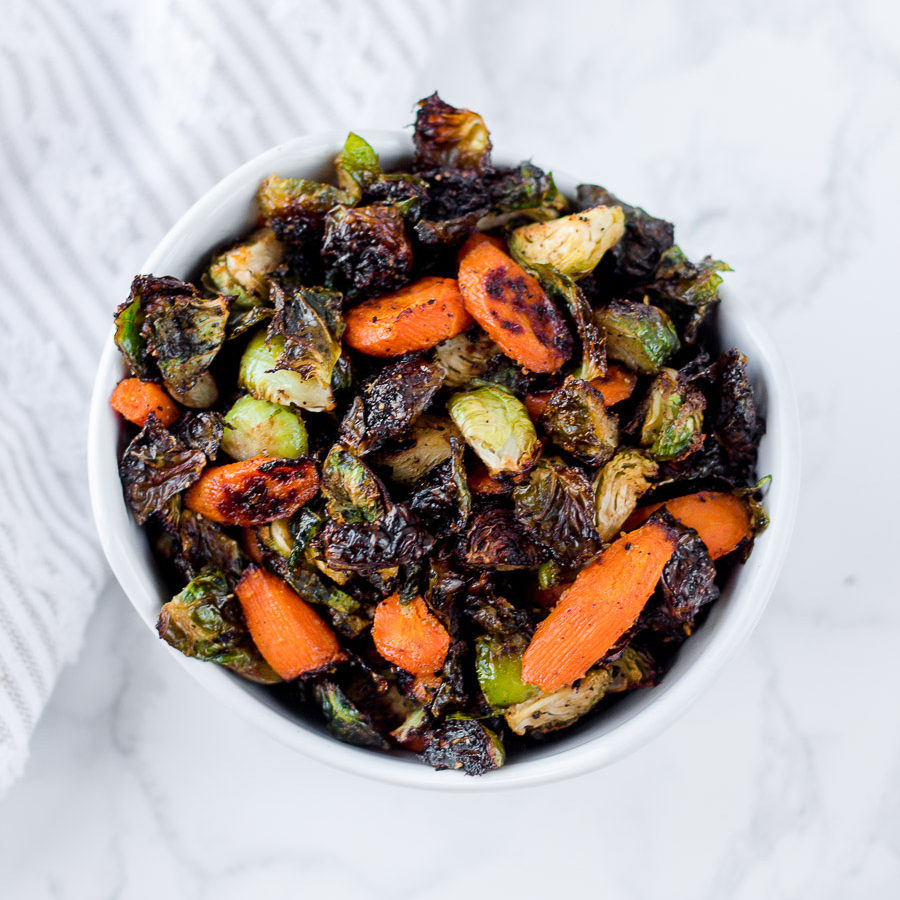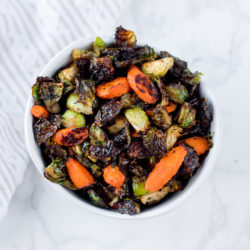 ROASTED BRUSSEL SPROUTS AND CARROTS
These roasted brussel sprouts and carrots are a Thanksgiving vegetable side dish you'll love, and they are so easy to prep! They use mainly pantry staples, so you don't need to be buying a whole new batch of ingredients for this recipe.
Ingredients
12

oz.

Bag of Brussel Sprouts

washed, dried + cut into quarters

4-5

Large Carrots

peeled and sliced

2

tbsp

Oil

1

tsp

Granulated Garlic

¾

tsp

Onion Powder

½

tsp

Black Pepper

½

tsp

Salt

2

tbsp

Hot Honey
Instructions
Preheat your oven to 400°F. Wash and prep your carrots and brussel sprouts. Place them in a large bowl.

Drizzle your oil, seasonings and honey over the brussel sprouts and carrots. Mix well.

Spread your veggies evenly on a baking sheet, bake for 20-25 minutes.

Once done, remove from oven. Allow to cool slightly, and serve.