If you've never tried Skrewball whiskey, you must! Its nutty flavor is deliciously sweet but it still keeps that whiskey bite. Here are 10 peanut butter whiskey drinks you should make with that bottle on your bar cart.
This post may contain affiliate links, meaning I may earn a small commission when you click on the links and make a purchase. I will never recommend a product that I don't support 100%.
Jump to: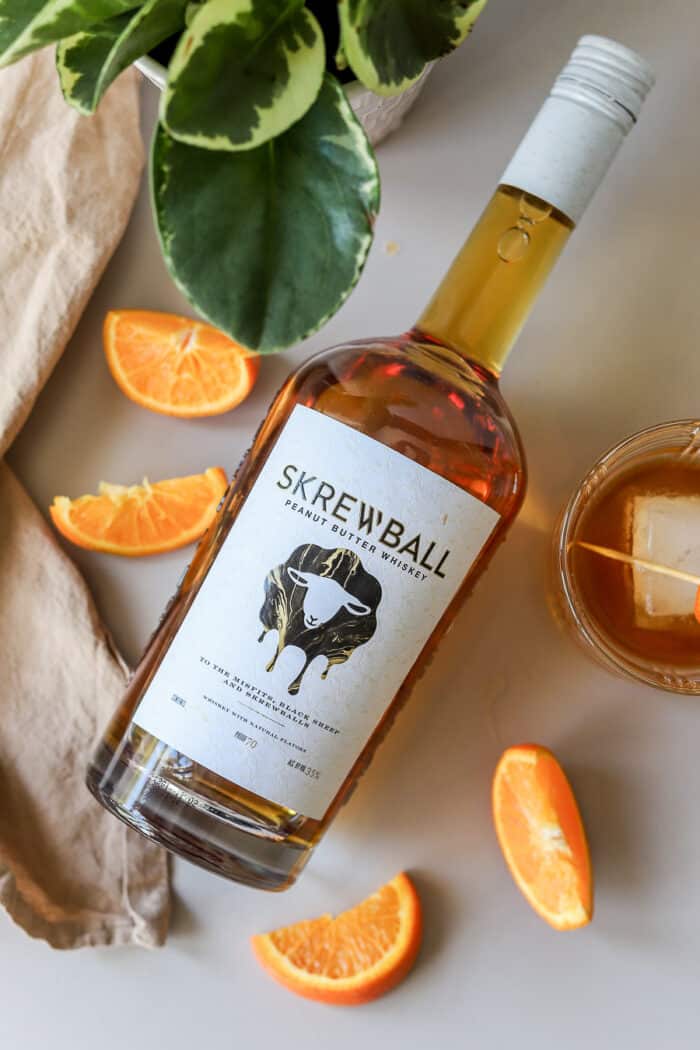 What is peanut butter whiskey?
Peanut butter whiskey is a sweetened whiskey made with real peanuts. It has a sweet, yet spicy natural peanut butter flavor. If you have a bottle of Skrewball, the best peanut butter whiskey in my opinion, sitting in your home bar, you've come to the right place for delicious peanut butter whiskey drink recipes.
What does peanut butter whiskey go well with?
Peanut butter can make many delicious cocktails. Think of what the taste of peanut butter goes with! So many options! It pairs nicely with chocolate liqueur, banana liqueur, coffee liqueur, black raspberry liqueur, the list goes on! Here are 10 peanut butter whiskey recipes.
Easy Peanut Butter Whiskey Cocktails
You don't have to be a mixologist or have a whole lot of cocktail creation experience to whip up simple, fun, and incredibly flavorful cocktails. With a few extra ingredients, some of which you may already have in your home, you can make a super yummy drink. These are a mix of sweet dessert recipes and cocktail recipes that use ingredients to offset the sweetness of the Skrewball. There's a little something for everyone's preference on this list!
This is so simple to make! Unlike a traditional, old-fashioned recipe, I recommend omitting the simple syrup or sugar cube. Skrewball is pretty sweet already so all you have to do is combine the whiskey with some Angostura bitters, or chocolate bitters for a fun dessert old fashioned, to turn this classic cocktail into a nutty delight. This recipe from Burrata and Bubbles is perfection!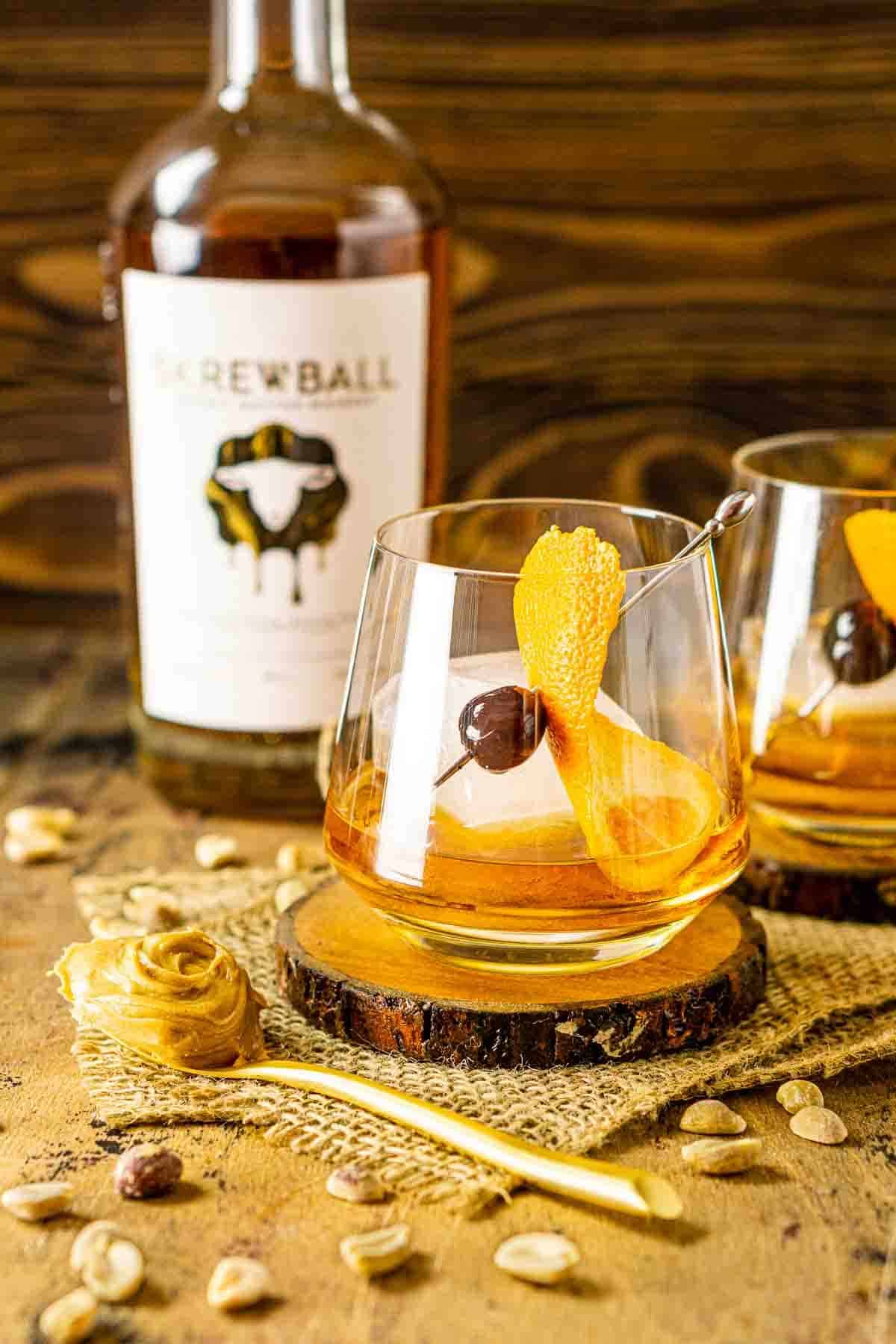 If you are a fan of Reese's peanut butter cups or just the peanut butter and chocolate combination, you have to try this Reese's Peanut Butter Cup cocktail. Now this recipe calls for 1-2 ounces of milk or heavy cream, but I recommend subbing that out for an Irish cream. This is absolutely on the sweeter side if you are looking for a fun dessert cocktail. I love making this drink around Halloween!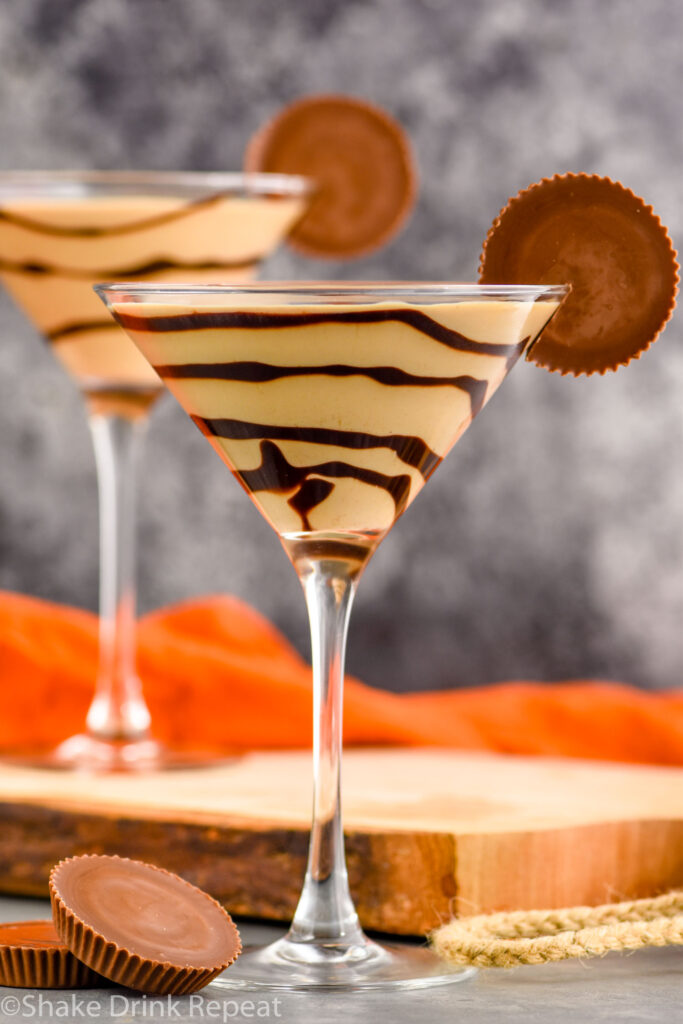 I mean, come on. Need I say more? Yes, you do need this peanut butter whiskey milkshake in your life. With some vanilla ice cream or even chocolate, you have this delicious dessert cocktail. Highly recommend lining the glass with some chocolate syrup for a little extra flavor and topping it with whipped cream, crushed peanuts, and a cherry on top for a milkshake that gives all the 50's diner vibes but with the touch of whiskey.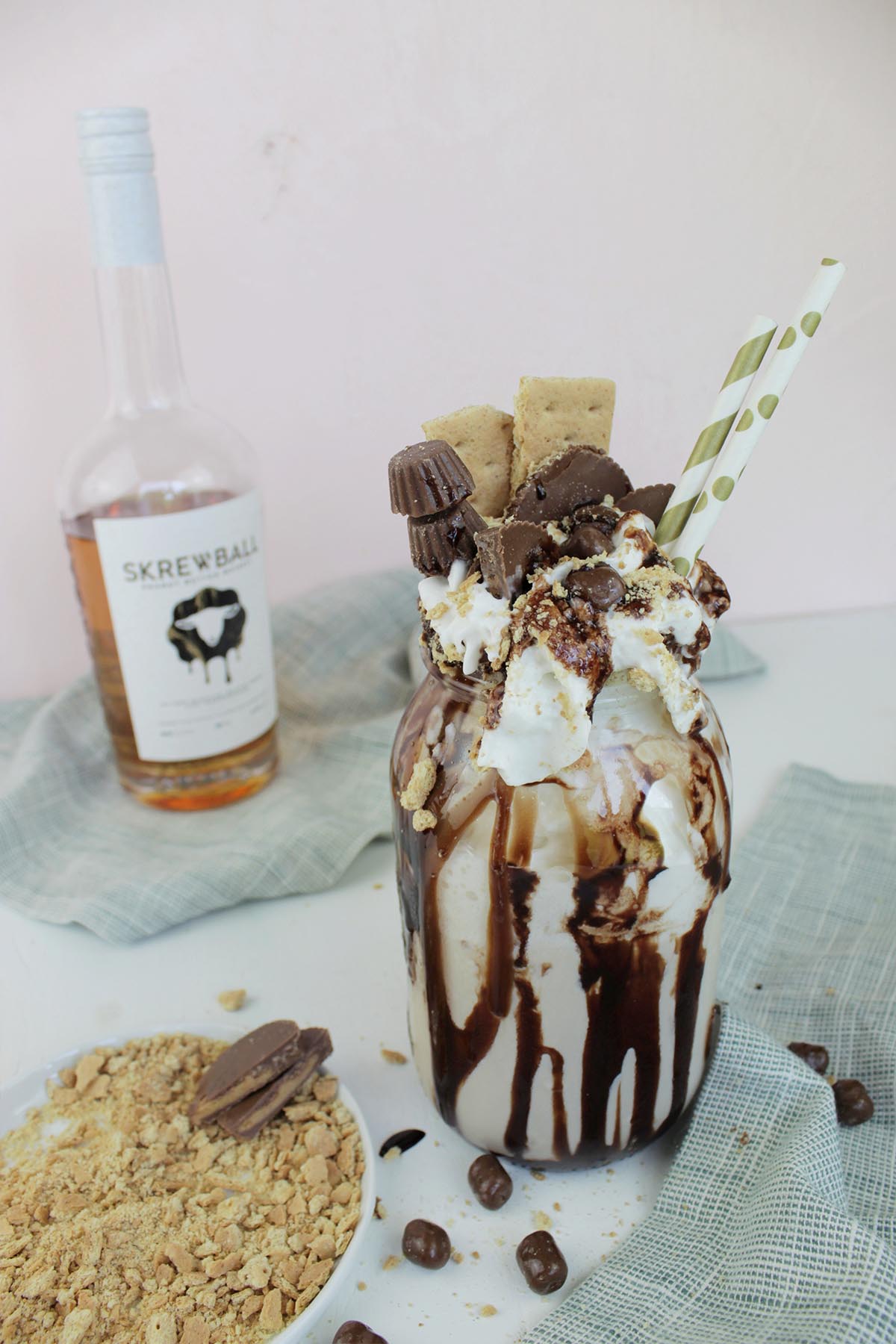 Yes, again, the peanut butter chocolate flavor combination. This decadent drink is perfect for the colder months, and even the holiday season! This is a great idea if you are doing a holiday party with a hot chocolate bar, add a bottle of Skrewball right next to the Irish Cream, peppermint schnapps, and chocolate liqueur to have your guests create their own boozy hot chocolate. Top it with some whipped cream, crushed peanuts, and a cherry and it's a hug in a mug.
This PB&J cocktail is so delicious and truly tastes like your childhood favorite, a peanut butter and jelly sandwich! It's so easy to make and you can even keep it as a batched cocktail, that's what I do! I'll serve it to guests as a drink, or a shot. I will say just a pinch of salt is essential to really have this taste like that nostalgic childhood lunch staple. You can also make it in a shot form, too.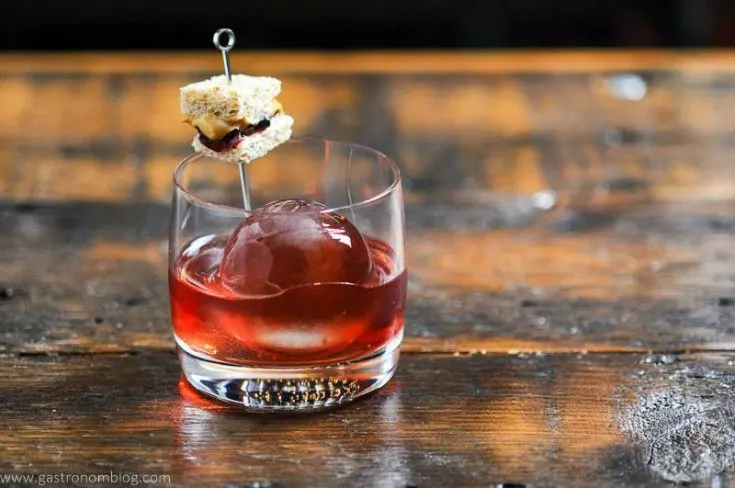 We all know espresso martinis are all the rage right now, so why not add a creamy peanut butter twist? Sub out the vodka for Skrewball for this delicious coffee and peanut butter cocktail.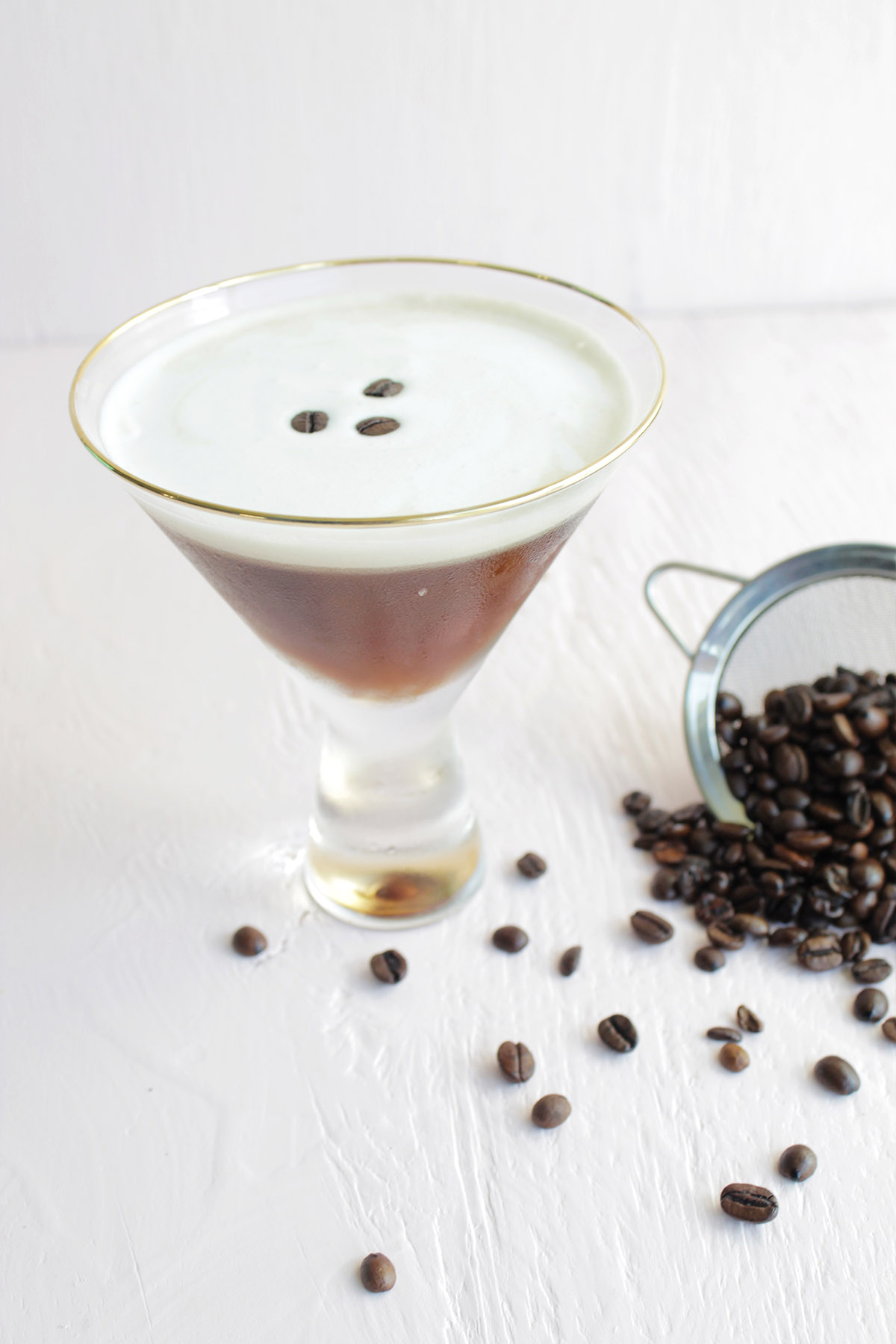 If you're looking for another cocktail on the sweet side, this fluffernutter peanut butter whiskey cocktail is delicious! Combining Skrewball with marshmallow simple syrup and Bailey's Irish cream, this is such a fun and unique cocktail. This is like a fun twist on white Russians!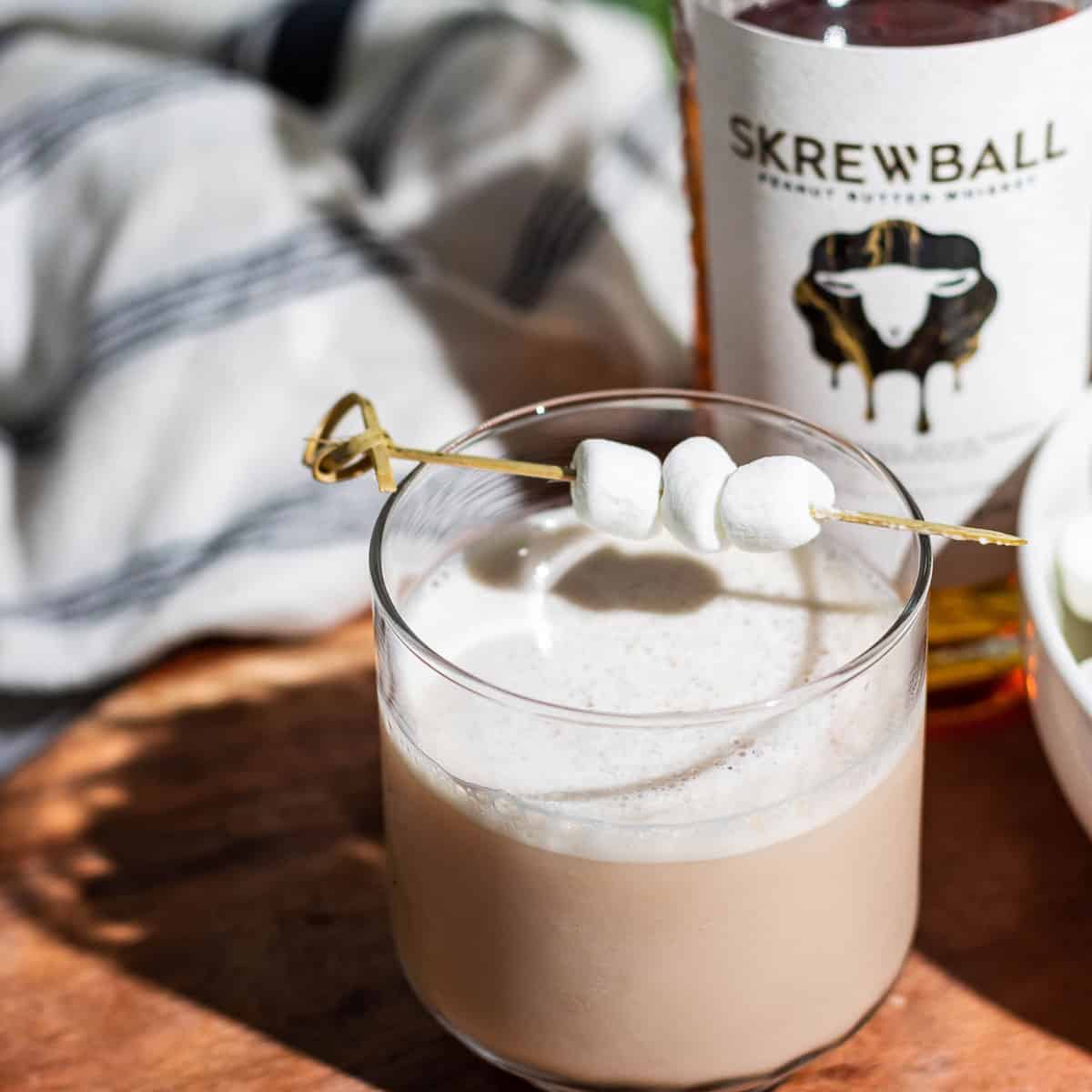 This is similar to the espresso martini, but instead of shaking it over ice, you drink this hot! I love the combination of Skrewball and Irish cream and this Irish coffee recipe does not disappoint. Especially for those who want an Irish coffee but don't love Irish whiskey, this is a great option!
You can't have a list of peanut butter whiskey cocktails and not include a variation on the "whiskey and coke" signature cocktail. If you've ever heard of the old-school southern drink of Coke and peanuts, this is like a modern-day, boozy variation.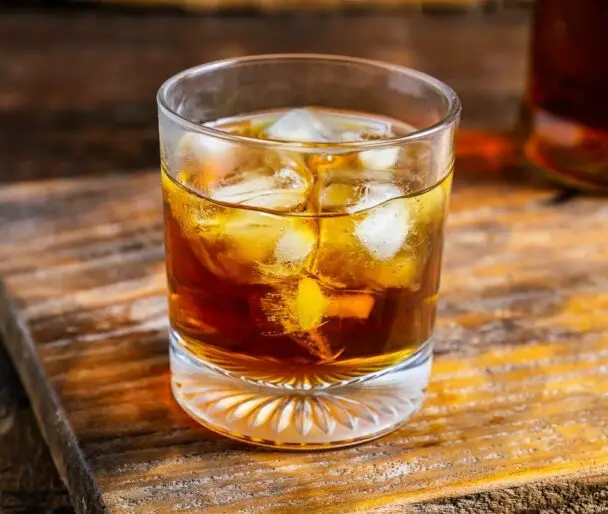 If you're looking for a creative cocktail for the holiday season, you can put this peanut butter-flavored whiskey twist on the classic boozy eggnog cocktail. This is especially perfect if you're like me and you're not a fan of spiced rum.
Amazon home bar finds
You'll absolutely want a cocktail shaker and a cocktail mixing glass for your home bar.
Along with the proper tools, you'll want fun cocktail glasses to enjoy your peanut butter whiskey cocktail recipes out of! I love these rocks glasses, these martini glasses, or these highball glasses.
Pin it for later!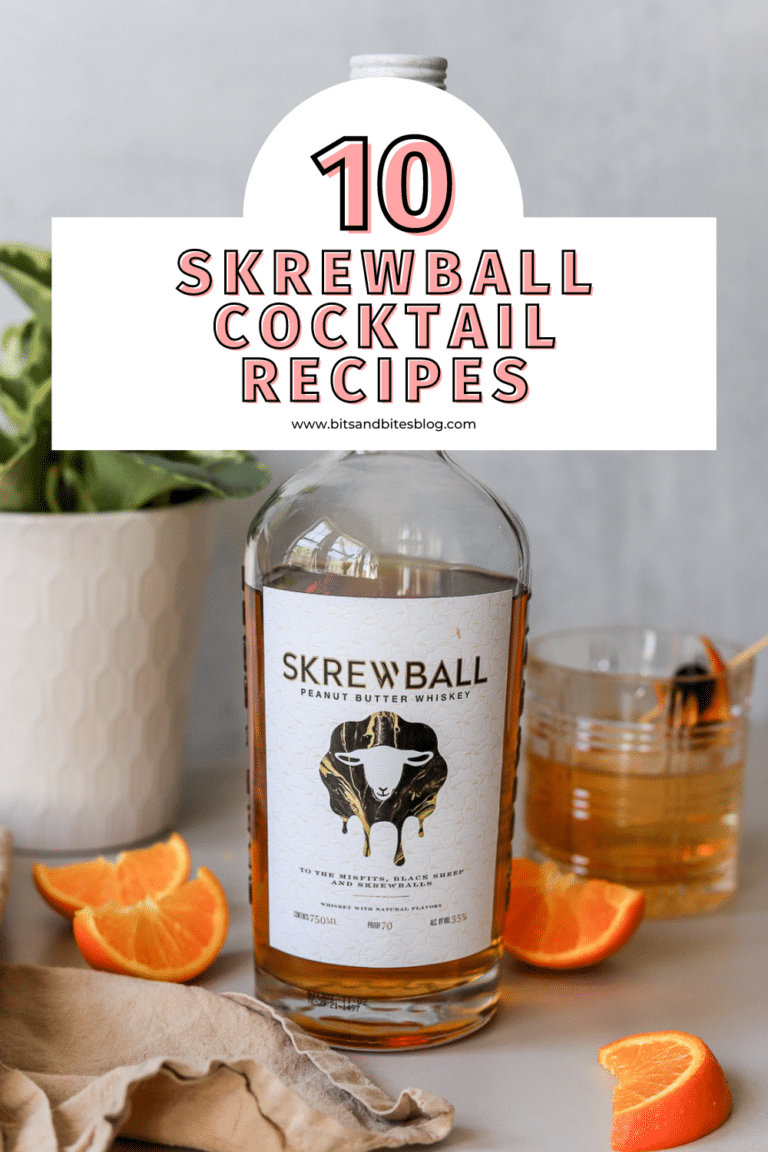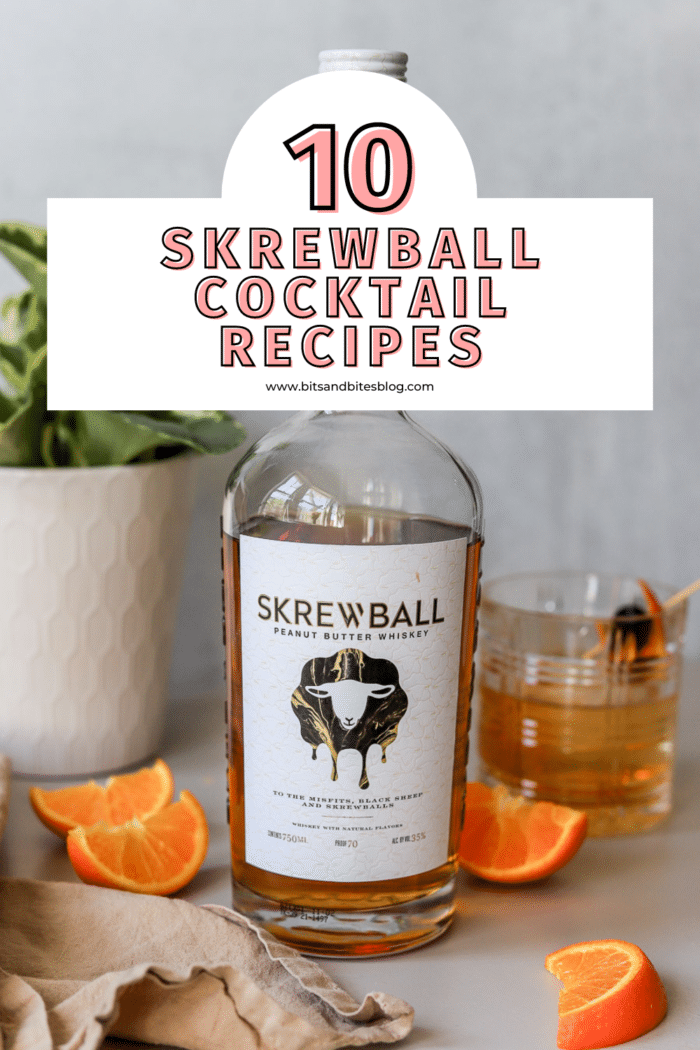 FAQ
Here are some commonly asked questions about peanut butter whiskey!
Is peanut butter whiskey any good?
Yes! I love peanut butter whiskey. It's much sweeter tan traditional whiskey, so I would recommend this spirit to non-whiskey drinkers, too.
Should peanut butter whiskey be refrigerated?
It doesn't have to be, but I highly recommend it if you have the space!
Is Skrewball a sipping whiskey?
​You can absolutely pour it over ice and sip it!