Sometimes you absolutely impress yourself with a homecooked meal and you have to post it on social media. But, you need a creative way to show off your new recipes, here are some of the best cooking captions for Instagram and beyond.
This post may contain affiliate links, meaning I may earn a small commission when you click on the links and make a purchase. I will never recommend a product that I don't support 100%.
Jump to:
Best Cooking Captions for Instagram
If you're looking for the perfect caption for your cooking pictures, you're in the right place.
Cooking is at once child's play and adult joy.
Cooking doesn't have to be complicated if you make it fun.
Every recipe has a personal taste. An intelligent cook can execute it with variations.
Nothing is impossible. So, you can also learn good cooking if you want.
Cooking is my passion, and sharing food is a form of my expression.
Looking at my browsing history, you may find the only thing is' cooking.'
Food is my Fuel; Food is my Energy.
Every recipe is a story.
Good flavors, good food, good day.
The kitchen is the heart of the home.
Dinner is best when we do it together.
Food is always better when the chef is happy. So don't upset me.
The secret ingredient is always "cheese."
Take food with enjoyment, not by force.
Isn't it great when friends share recipes?
Spending time in the kitchen is the best time of the day.
Keep calm and cook up some magic.
Quick, easy, and delicious.
The smell of cooking tells the recipe.
Cooking requires only confident guesswork. It deals with failure and uncertainty in a creative way.
The only thing I like better than cooking is eating.
Food is what I do. Cooking is who I am.
I only cook with fresh ingredients.
Sometimes street food acts as my cooking inspiration.
I make food so good you'll never do takeout again.
Eat real food.
Cooking is the nourishment of the soul and the flavor of life.
You might like: 100+ Wine Captions and Quotes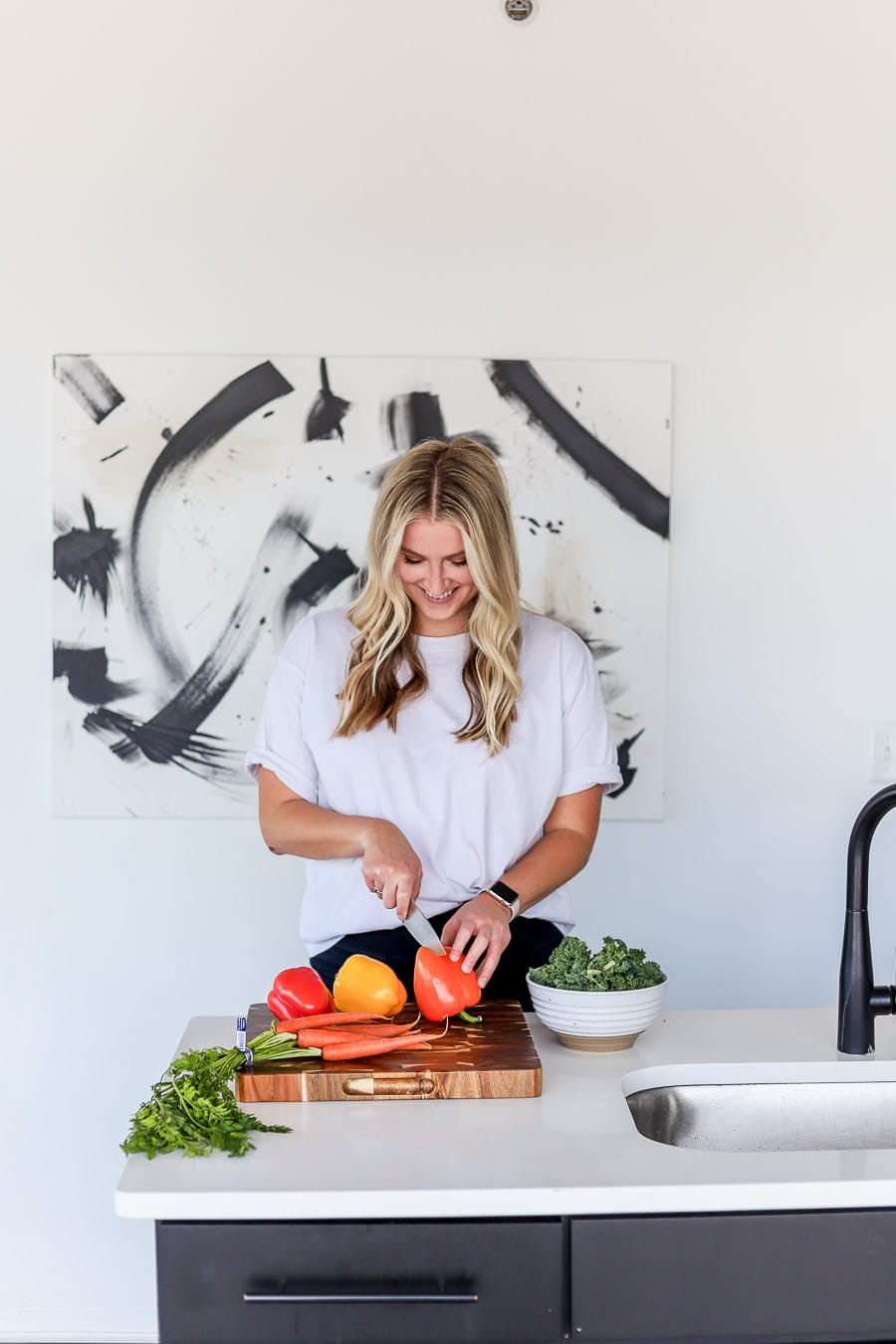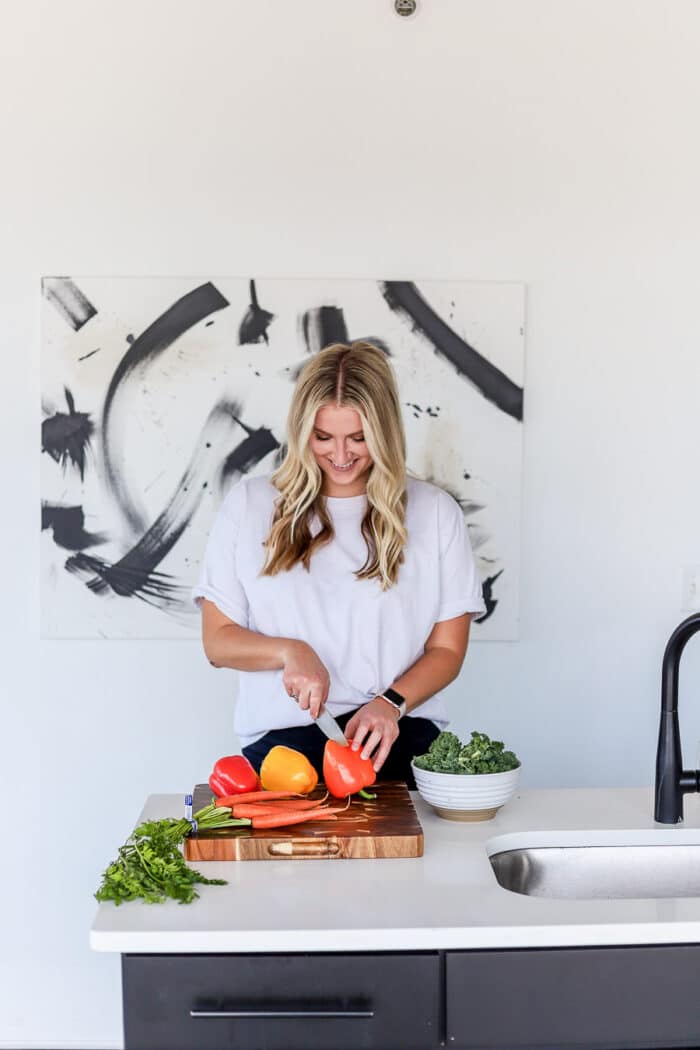 Best Cooking Quotes for Instagram
Quotes always make for a good caption, here are some of my favorites.
"Instead of going out to dinner, buy good food. Cooking at home shows such affection. In a bad economy, it's more important to make yourself feel good." - Ina Garten
"I cook with wine, sometimes I even add it to the food." ― W.C. Fields
"The only real stumbling block is fear of failure. In cooking you've got to have a what-the-hell attitude."― Julia Child
"Always start out with a larger pot than what you think you need."― Julia Child
"...no one is born a great cook, one learns by doing."― Julia Child
"Until I discovered cooking, I was never really interested in anything."― Julia Child
"Cooking with kids is not just about ingredients, recipes, and cooking. It's about harnessing imagination, empowerment, and creativity."― Guy Fieri
"I'm just someone who likes cooking and for whom sharing food is a form of expression." - Maya Angelou
"Cooking is like painting or writing a song. Just as there are only so many notes or colors, there are only so many flavors - it's how you combine them that sets you apart." - Wolfgang Puck
"Once you understand the foundations of cooking—whatever kind you like, whether it's French or Italian or Japanese—you really don't need a cookbook anymore." — Thomas Keller
​"Cooking is all about people. Food is maybe the only universal thing that really has the power to bring everyone together. No matter what culture, everywhere around the world, people get together to eat." — Guy Fieri
​"Cooking is about passion, so it may look slightly temperamental in a way that it's too assertive to the naked eye." — Gordon Ramsay
​"Cooking and baking is both physical and mental therapy." — Mary Berry
"Cooking well doesn't mean cooking fancy." — Julia Child
​"Cooking is love made visible." — Unknown
​"Cooking with love provides food for the soul." — Valerie McKeehan
"The secret of good cooking is, first, having a love of it." — James Beard
​"Food, to me, is always about cooking and eating with those you love and care for." — David Chang
​"If you're not the one cooking, stay out of the way and compliment the chef." — Michael Straham
​"Cooking is an observation-based process that you can't do if you're so completely focused on a recipe." – Alton Brown
​"Cooking is about creating something delicious for someone else." — Ayumi Komura
​"Cooking may be as much a means of self-expression as any of the arts." ― Fannie Farmer
​"I like being at home and cooking." ― Shania Twain
​"Cooking and eating are a feast of colors, smells, and tastes." — Remez Sasson
​"One of the most meditative times of my day is when I'm cooking." — Gabrielle Bernstein
"No one who cooks, cooks alone. Even at her most solitary, a cook in the kitchen is surrounded by generations of cooks past, the advice and menus of cooks present, the wisdom of cookbook writers." - Laurie Colwin
You might like: 100+ Cool Ice Cream Captions
Short Cooking Captions
Short, sweet, and to the point. If you want the best captions under a 140-character limit, here are some great options for your Instagram posts.
Good food = good mood.
Cooking is an art. Cooking with love.
Cooking is an act of love.
Cooking is my passion.
Food is my medicine.
Homemade food is the best.
Cooking is my Meditation.
Born to eat.
I'm the guy (or girl) who can't wait to get food.
I'm not a chef, but I'm a food freak.
Mom cooking is the best cooking.
Kiss the cook.
Cooking is my escape from reality.
Cooking is my therapy.
Full belly = full life.
Cooking is the art of adjustment.
My kitchen, my rules.
Homemade cooking is love.
Cooking my stresses away.
When they say you eat with your eyes first.
You might also like: 100+ Cocktail Captions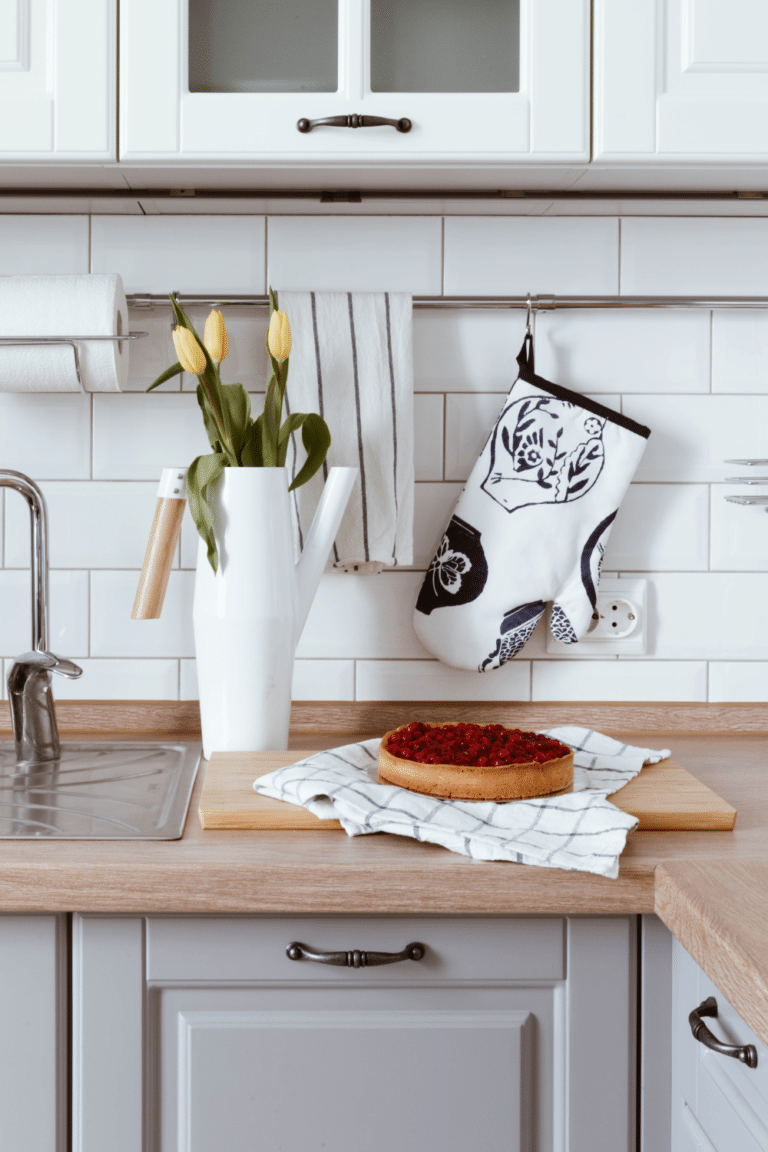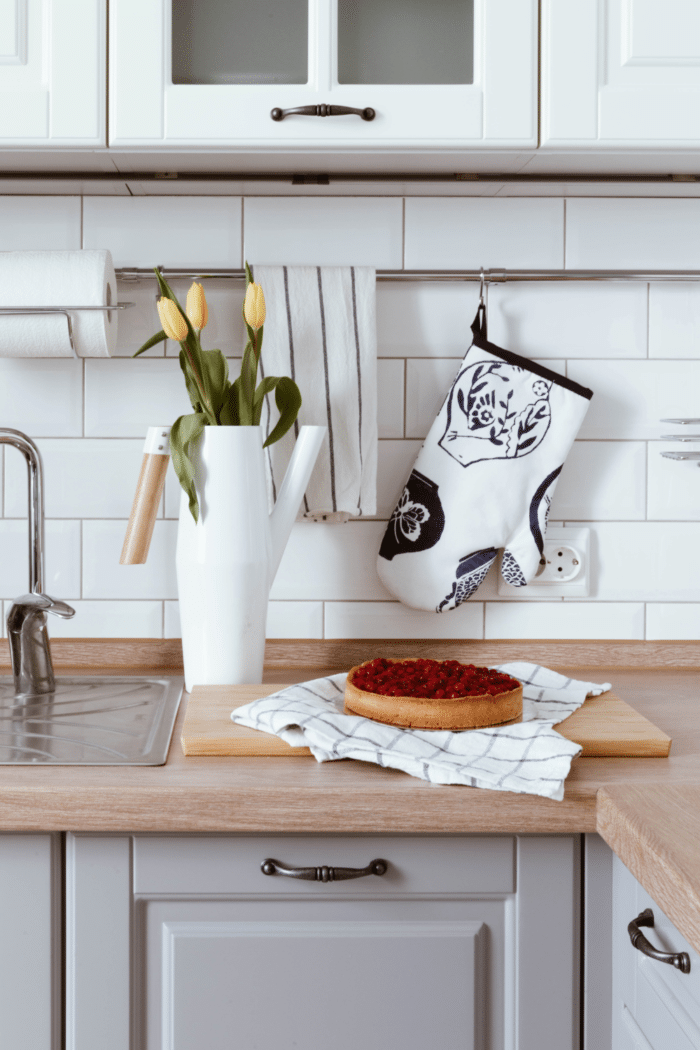 Funny Cooking Captions for Instagram
Who doesn't love to crack a joke? Here are some funny and clever captions that you can use to show off all those gourmet cooking skills.
A kitchen is a heaven or hell. And it depends on the Chef.
My favorite people are the ones who love my cooking.
Seasons change but my love for french fries does not.
Your opinion wasn't in my recipe.
A messy kitchen is a sign of happiness.
Cooking takes like 3 hours' work, while eating takes about 3 seconds and washing up takes 7 days.
I cook as good as I look.
The chef is always right.
Today's menu = eat it or starve.
A clean kitchen is a sign of a wasted life.
I'm just a girl, standing in front of a salad, asking it to be a doughnut.
Fish, to taste right, must swim three times: in water, in butter and in wine.
DIET (did I eat that?)
I'm on a seafood diet. I see food and I eat it.
A watched pot never boils.
My kitchen = my rules.
Happiness is homemade.
Leftoevers are for quitters.
The cook is always right.
I eat cake because it's somebody's birthday somewhere.
I won't be impressed with technology until I can download food.
I tried cooking with wine, but after three glasses I forgot why I was in the kitchen.
If we're not meant to have midnight snacks, why is there a light in the fridge?
WARNING: annoying the cook will result in starvation.
I enjoy long walks to the fridge.
The kitchen is my happy place.
Sugar, spice, and everything nice.
Who's up for some cooking tonight?
Lovely Cooking Instagram Captions
When you're in good company, maybe you're in your feels and you want to show that off! Here are some lovey-dovey cooking caption ideas for you.
Once you understand the foundations of cooking, discovering a new recipe is nothing for you.
Homemade food is always my weakness.
My dinners with you are always well done.
A recipe has no soul, but as a cook, you have to bring soul to the recipe.
Caring and attention are the first ingredients of cooking.
My favorite meal is one spent with you.
Sometimes when I repeat an old recipe, it tastes just like magic.
There are a lot of people who love delicious food, but there are a few people who know how to cook delicious food.
My mom is my cooking instructor. I have no words to describe the taste of her cooking.
Good cooking makes good food. And good food puts you in a good mood.
Cooking is a philosophy, and I wanna be the master of it.
I followed my heart, and it led me to dinner with you.
This kitchen is seasoned with love.
The secret ingredient is always love.
The only thing I like better than anything is 'Cooking.'
Cooking is my form of worship.
Sprinkle deliciousness on your next meal.
There is no love more sincere than the love of food
Ways to my heart: Buy me food, Make me food, Be food.
Dinner is better when we eat together.
​If we've got wine and dinner, technically, we're winners.
Spread the love to your loved ones because food is the greatest love of all.
Life is a combination of magic and pasta.
Cooking is a way to express emotions, share cultures, and connect with people.
Nothing beats a home-cooked meal.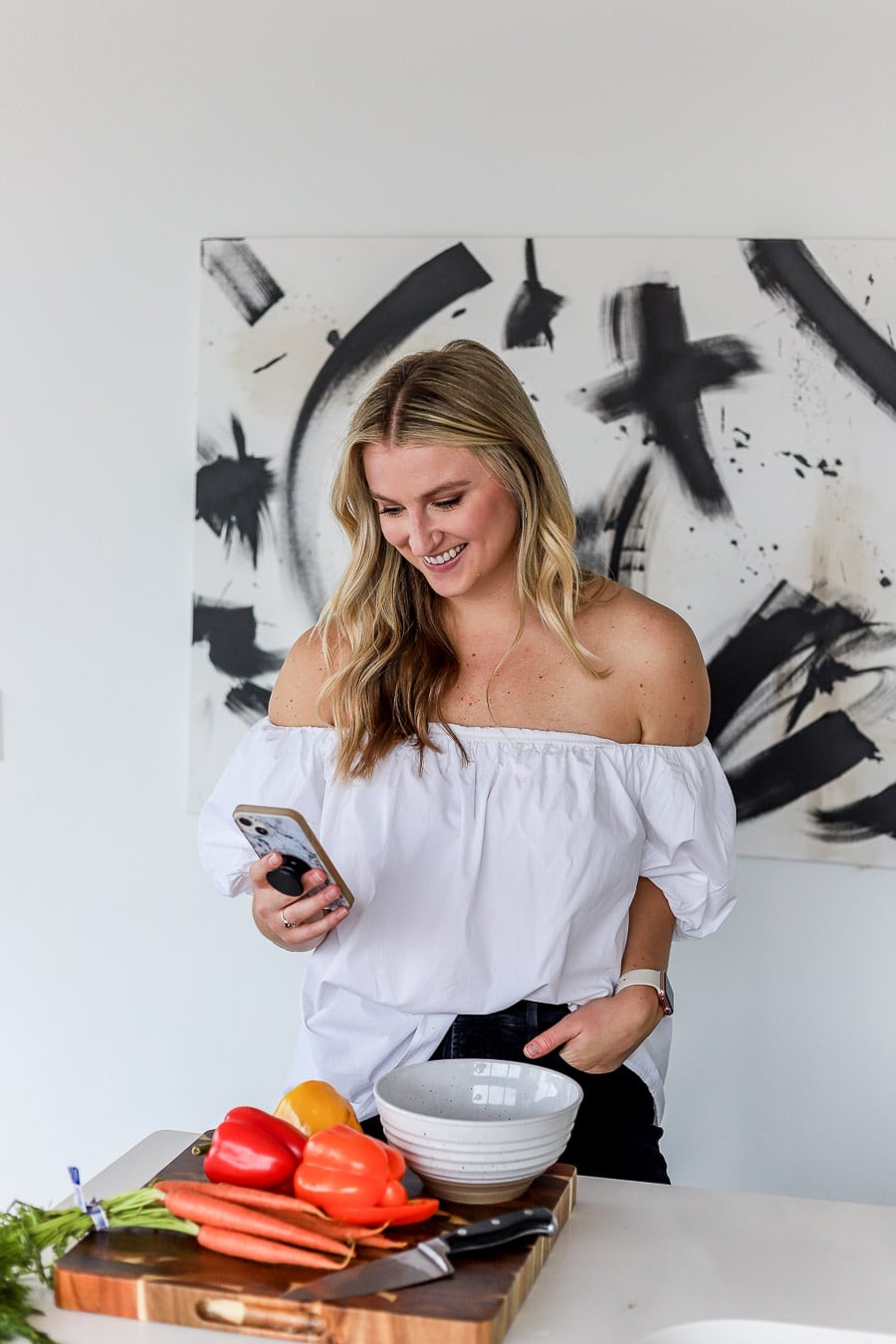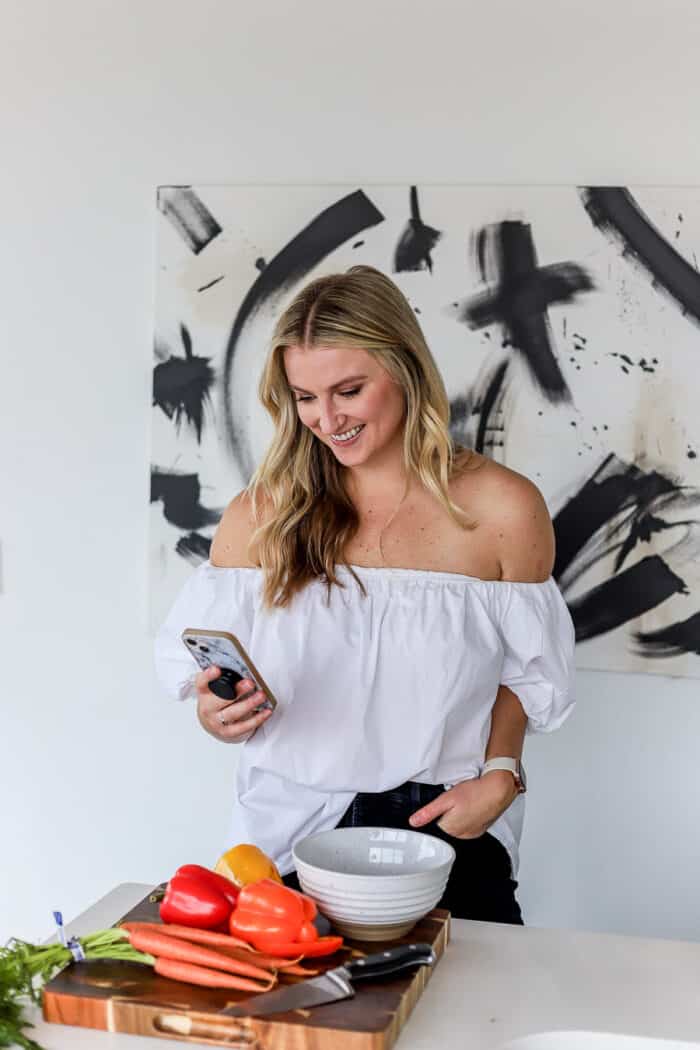 Cooking Puns
Who doesn't love a good pun? Here's a list of some of the best cooking puns you can use.
Cook it like it's hot.
Cooking with a recipe is whisky business.
Bake the world a better place.
Here's my number, so Kale me maybe?
You butter believe it.
Chill today, hot tamale.
Nice to meat you.
Lime yours.
Pasta la vista, baby!
We make a beautiful pear.
The s'more I know you, the s'more I love you.
Penne for your thoughts.
I'm so egg-cited and I just can't hide it.
Please. Romaine calm.
Let's give 'em something to taco 'bout!
It's nacho your problem.
I only have fries for you.
I'm a weirddough.
What the fork is for dinner?
Another one beats the crust.
Pickle for your thoughts.
Don't go bacon my heart.
I'm the wurst.
If there's a problem, lettuce know.
Thyme is money.
Want to take your content up a notch?
You'll want something to hold your phone like this tripod with a wireless remote, or this overhead arm stand.
Food backdrops are always great, and these are easy to store!