​I love making homemade fajitas for a quick and easy weeknight dinner that is packed with flavor. But, is there one onion that's better than another? What are the best onions for fajitas? Let's dig into it.
This post may contain affiliate links, meaning I may earn a small commission when you click on the links and make a purchase. I will never recommend a product that I don't support 100%.
What are fajitas made of
Fajitas are a Tex-Mex dish made up of a protein, typically chicken breast or skirt steak sliced into thin strips, and fajita veggies which include a melody of green bell peppers, red bell peppers, orange peppers, and yellow bell peppers, and onions. Seasoned with fajita seasoning which is typically a combination of chili powder, garlic powder, onion powder, cayenne pepper, cumin, salt, and pepper. It's so easy to make your own homemade fajita spice mixture to keep in your cabinets to make this meal even easier to whip together on those busy weeknights.
Traditional fajitas are made on a grill and served on a piping hot skillet with a side of sour cream, pico de Gallo, guacamole, and tortillas (flour tortillas or corn.) One of my favorite ways to cook fajitas is in the air fryer, though! It's so easy to throw everything into the air fryer basket it cooks perfectly every time.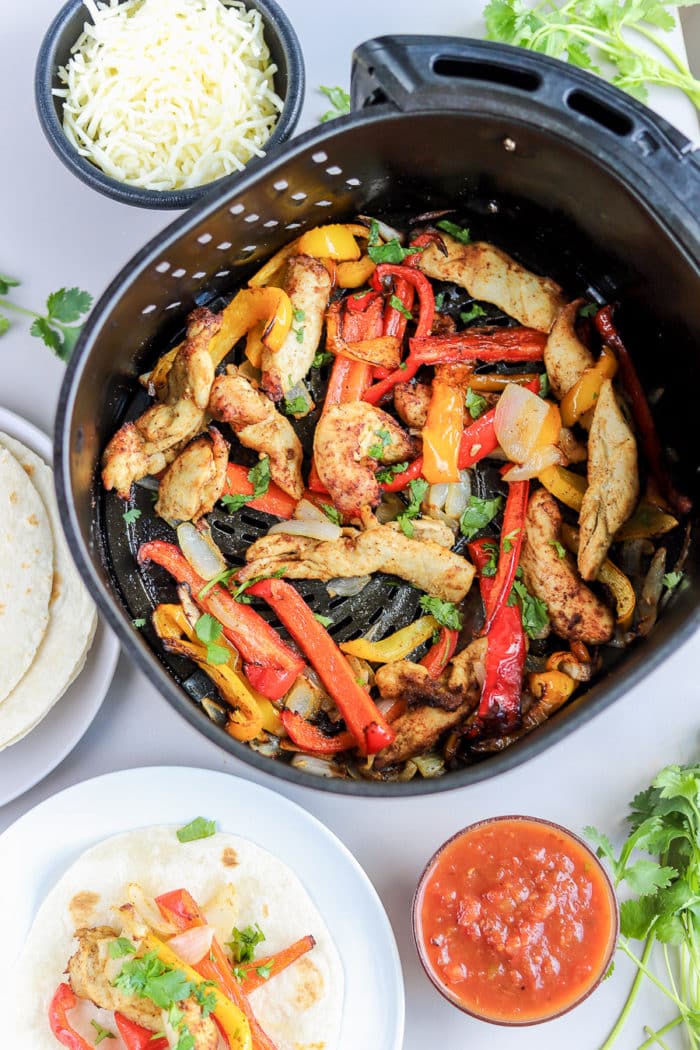 What are the best onions for fajitas?
The short answer? Any! It all depends on your personal preference. Each type of onion brings a different flavor to the dishes, so let's dive into the different types of onions so you can make the perfect fajita dinner.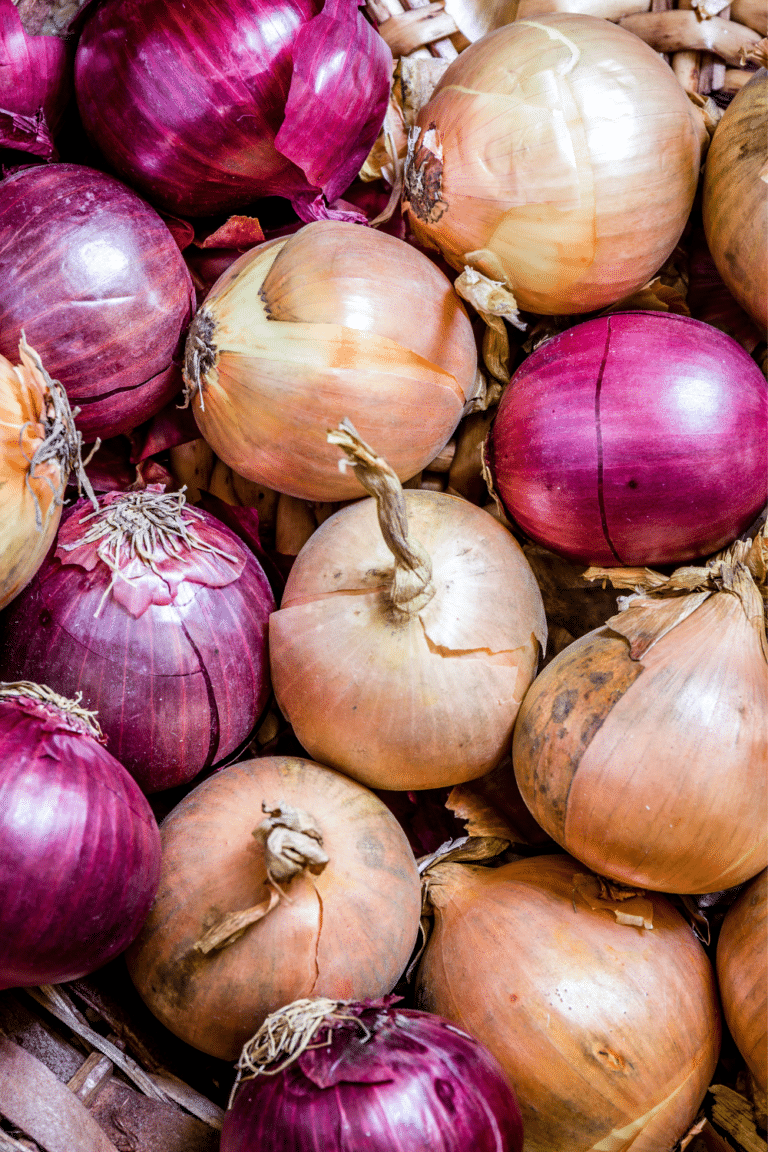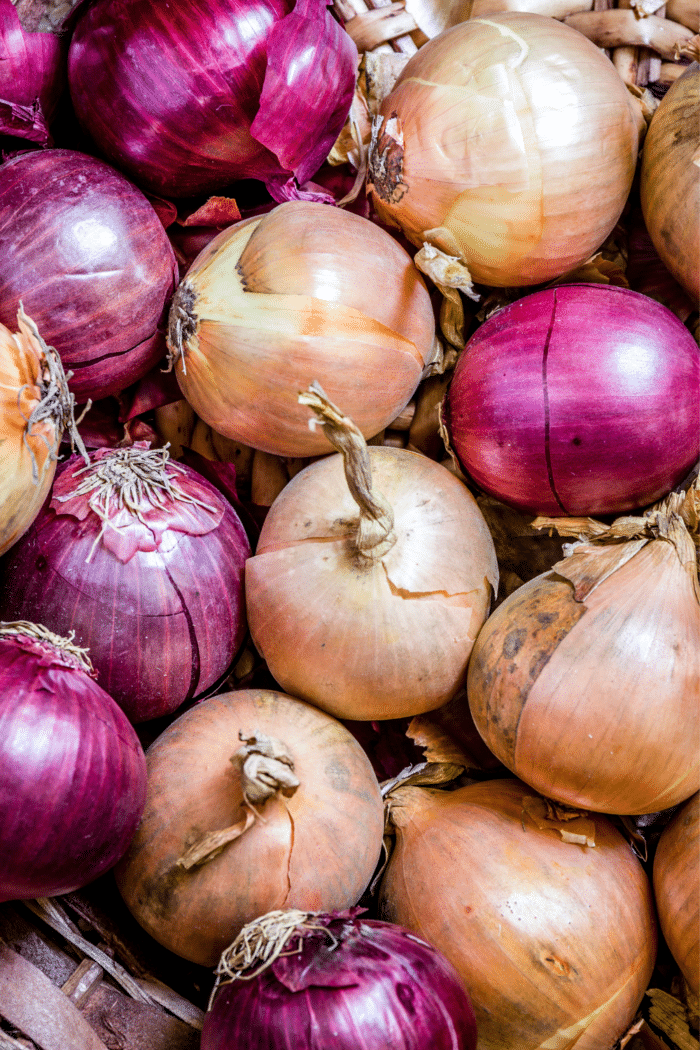 Yellow Onions
Yellow onions are the mildest onion of the bunch. Yellow onions have a sweet flavor and they get sweeter as they cook. They can absolutely be used in place of white onions in recipes like fresh salsas, taco toppings, or steak fajitas. I love the combination of a slightly sweet onion flavor paired with marinated and grilled flank steak fajitas.
Sweet Onions
Sweet onions are, as the name suggests, high in sugar and great for caramelizing and sauteeing. It has a natural sweetness that makes it a perfect onion to add to your fajita vegetables. Popular varietals of sweet onions include Walla Walla, Texas Sweet, and Vidalia onions.
White Onions
White onions are high in sugar, low in sulfur, and sharper in taste compared to yellow onions but have a milder flavor compared to red. Think of white onions as the middle-of-the-road onion. Because of this white onions do have a short shelf life, but on the other hand, they are also the most commonly used onion in Mexican dishes. If you order fajitas at your favorite Mexican restaurants, they'll most likely come with white onions.
Red Onions
Red onions have a strong flavor and beautiful color. If you're looking to add some color and a more robust flavor to your Mexican recipes, especially fajitas, opt for red onions. However, if you don't love just how strong they are, but you still want to use them, you can rinse your sliced red onion under cold water to mute the flavor a bit.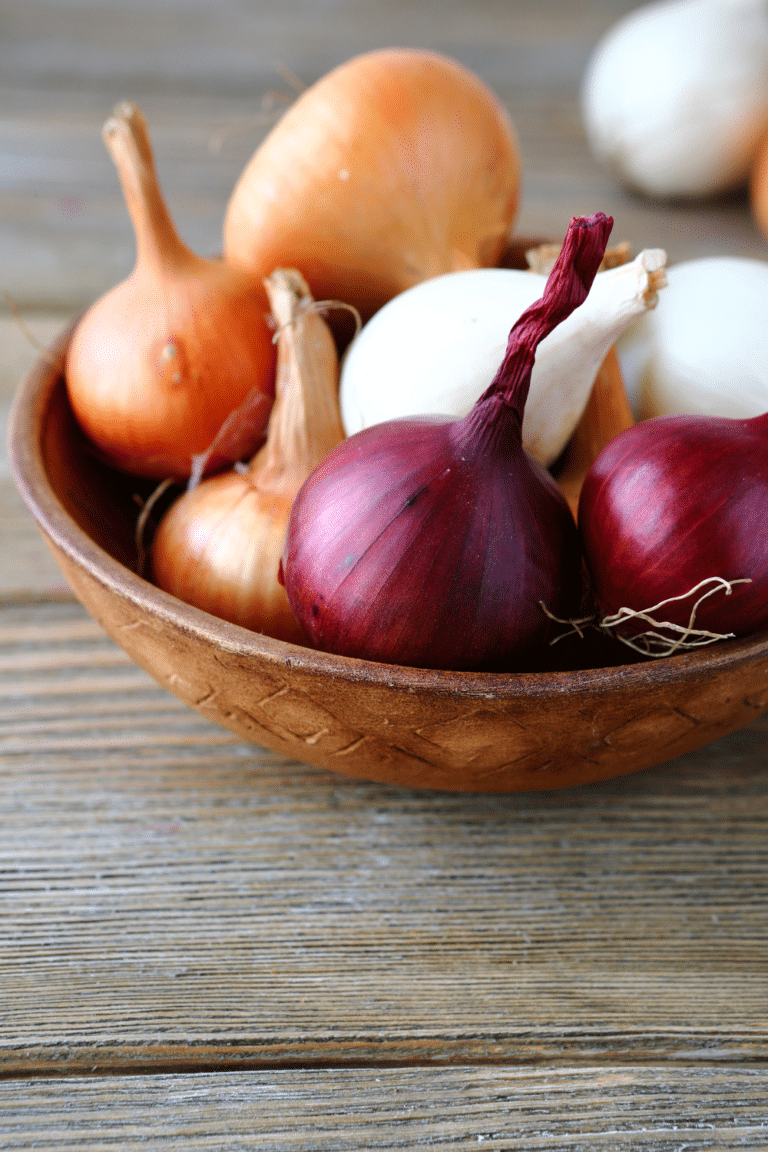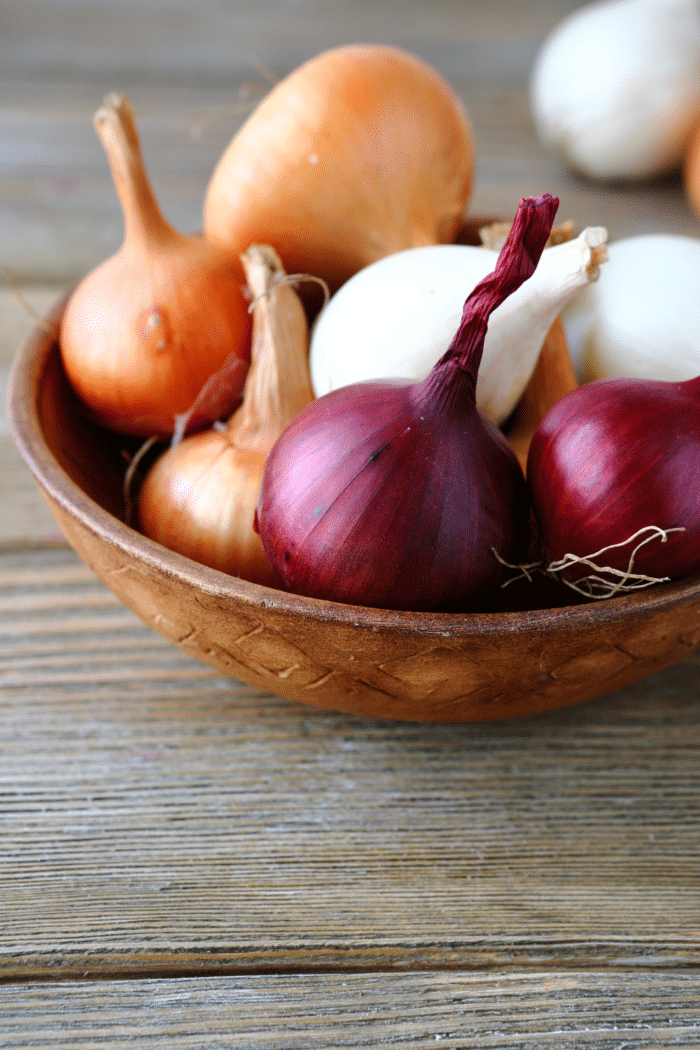 Do you use white or red onions for fajitas?
Both are a good choice! If you want a mild onion flavor, opt for white onions, if you want a more pungent, spicier, onion taste, I would opt for red onions. There is no "right onion" and that's the great thing about making homemade fajitas! I would opt for white, or even sweet onions, for beef fajitas and red onions for chicken fajitas.
How do you cut up onions for fajitas?
On a large cutting board, you are going to take your onion and slice it in half from the root end of the onion (the hair end) to the stem end. Place the sliced half of the onion onto the cutting board and slice off the stem and peel off the outer layer. Slicing parallel to the root, and using a sharp knife, cut into thin slices. Then, you have perfectly cut onions for fajitas!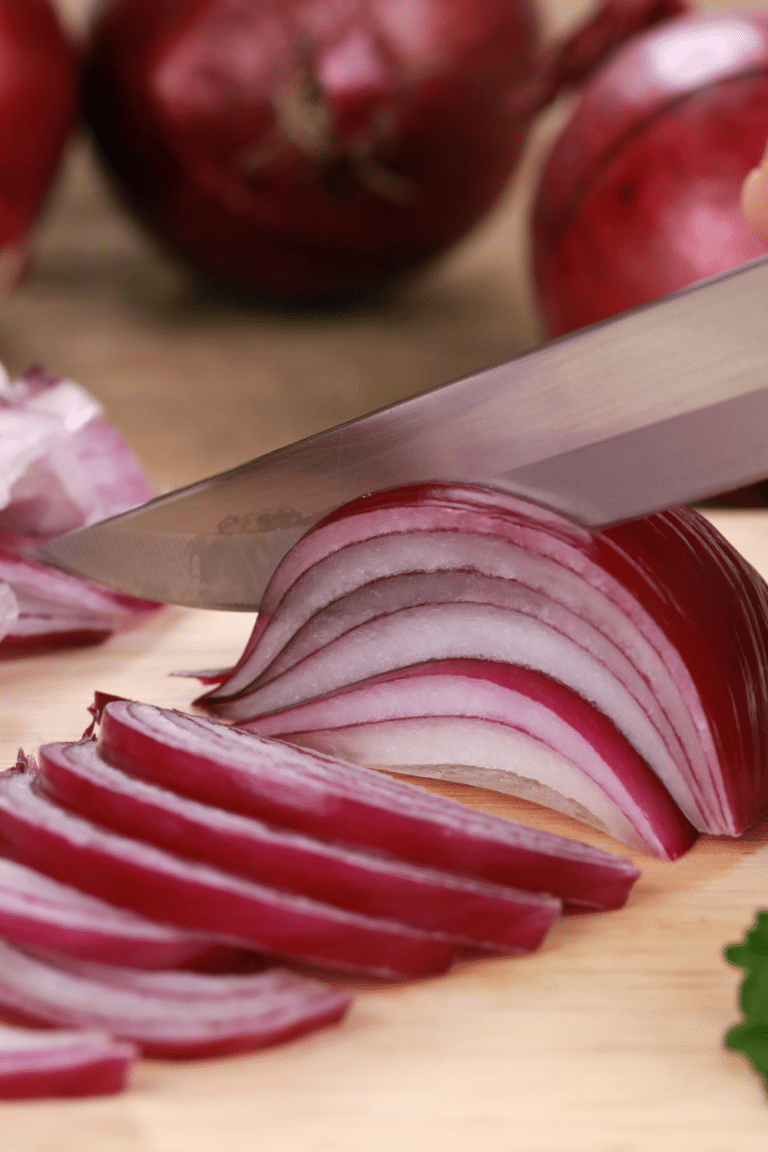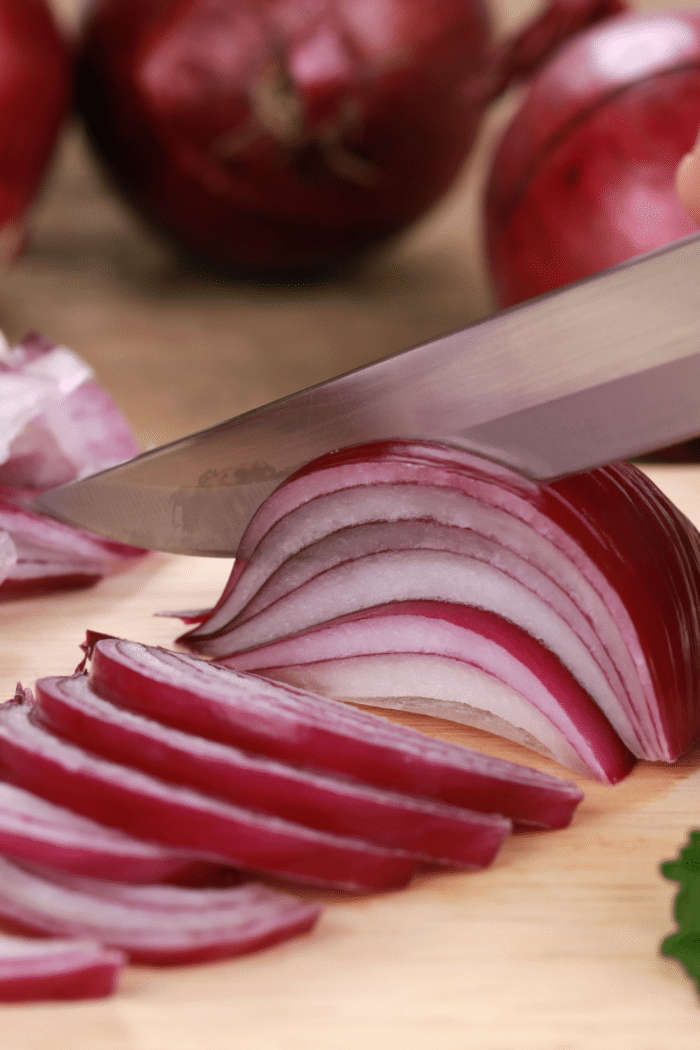 How to cook onions for fajitas?
Drizzle a large cast iron skillet with olive oil, canola oil, or any other neutral oil, and turn your stove onto medium-high heat. Allow for your pan to heat up, and then add the raw onions and other fajita veggies to the large skillet. Add your fajita seasoning, and stir well until everything is coated and evenly seasoned. Turn your heat to low and cook until your onions are translucent. Then, turn the heat up again to get that delicious char, and add some fresh lime juice to really elevate and bring together all of the flavors.
What you need to make fajitas
You'll need a protein of choice. I typically opt for chicken breast or skirt steak.
You'll need fajita veggies. Onions, whatever kind of onions you'd like, and peppers (green peppers, red peppers, yellow peppers, or orange peppers) are what you'll want for a fajita recipe.
You'll need fajita seasoning. You can get a recipe for that here.
To serve with your fajitas you'll need tortillas, salsa, guacamole, sour cream, and all your favorite toppings. You can also serve Mexican rice and refried beans as a side dish.
Best way to store onions
If you haven't sliced into your onions yet, store them in a cool, dry place. If you have sliced into your onions, store the cut onion in an airtight container like this food storage container or reusable baggies.
Amazon kitchen finds
For this recipe, you'll want to make sure you have a cast iron skillet or at the very minimum a non-stick large skillet.
You'll also want to make sure you have a cutting board and sharp knife, homemade fajitas call for a lot of slicing! But it's so worth it for such a delicious meal.
Pin it for later!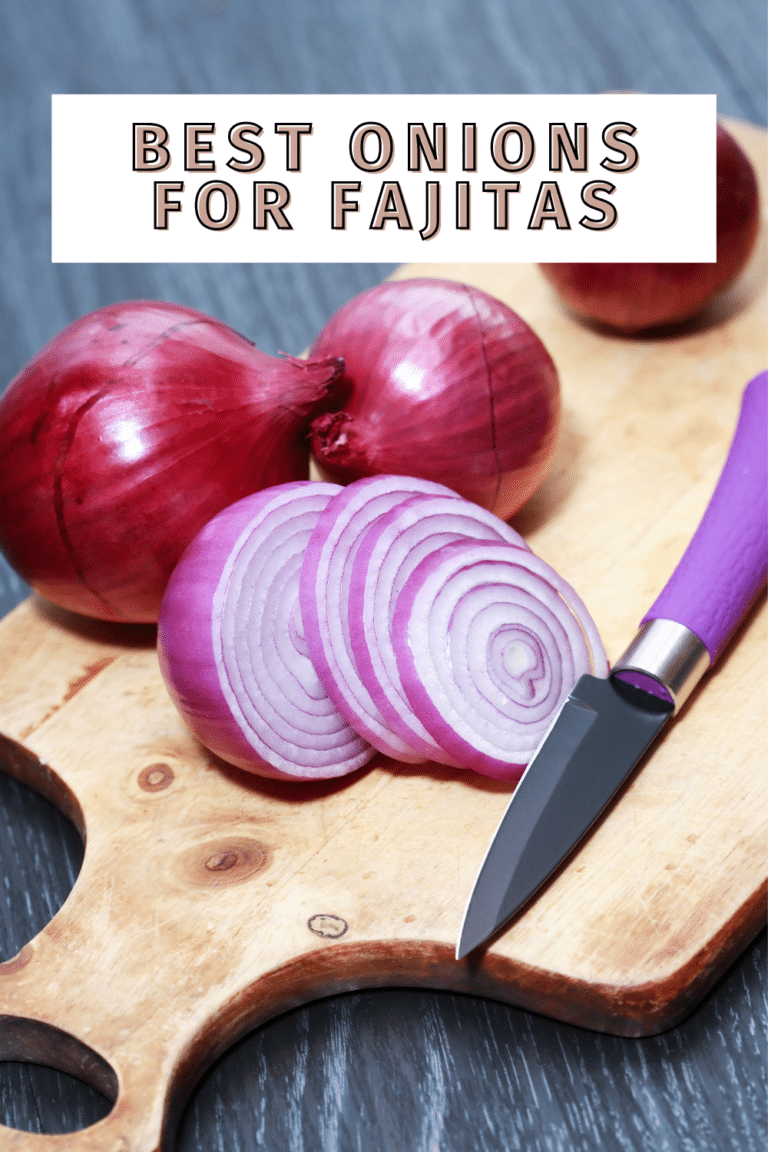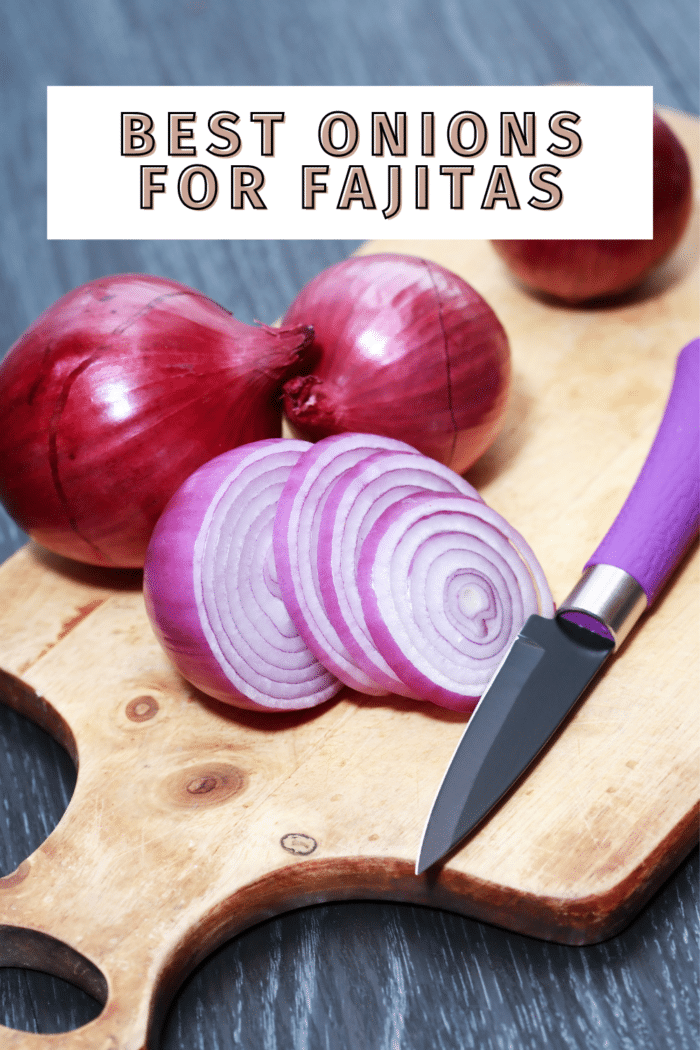 Want some recipe inspiration?