Mashed potatoes are such a classic comfort food. They go with some of the coziest and best main dishes. From Thanksgiving dinner to a hearty meal of roast beef, they are the perfect side dish! Here's a list of what to serve with mashed potatoes.
This post may contain affiliate links, meaning I may earn a small commission when you click on the links and make a purchase. I will never recommend a product that I don't support 100%.
What to eat with mashed potatoes
Mashed potatoes are a classic side dish that goes with so many meals. No matter your preferences, you can figure out what to serve with mashed potatoes that'll please the whole family.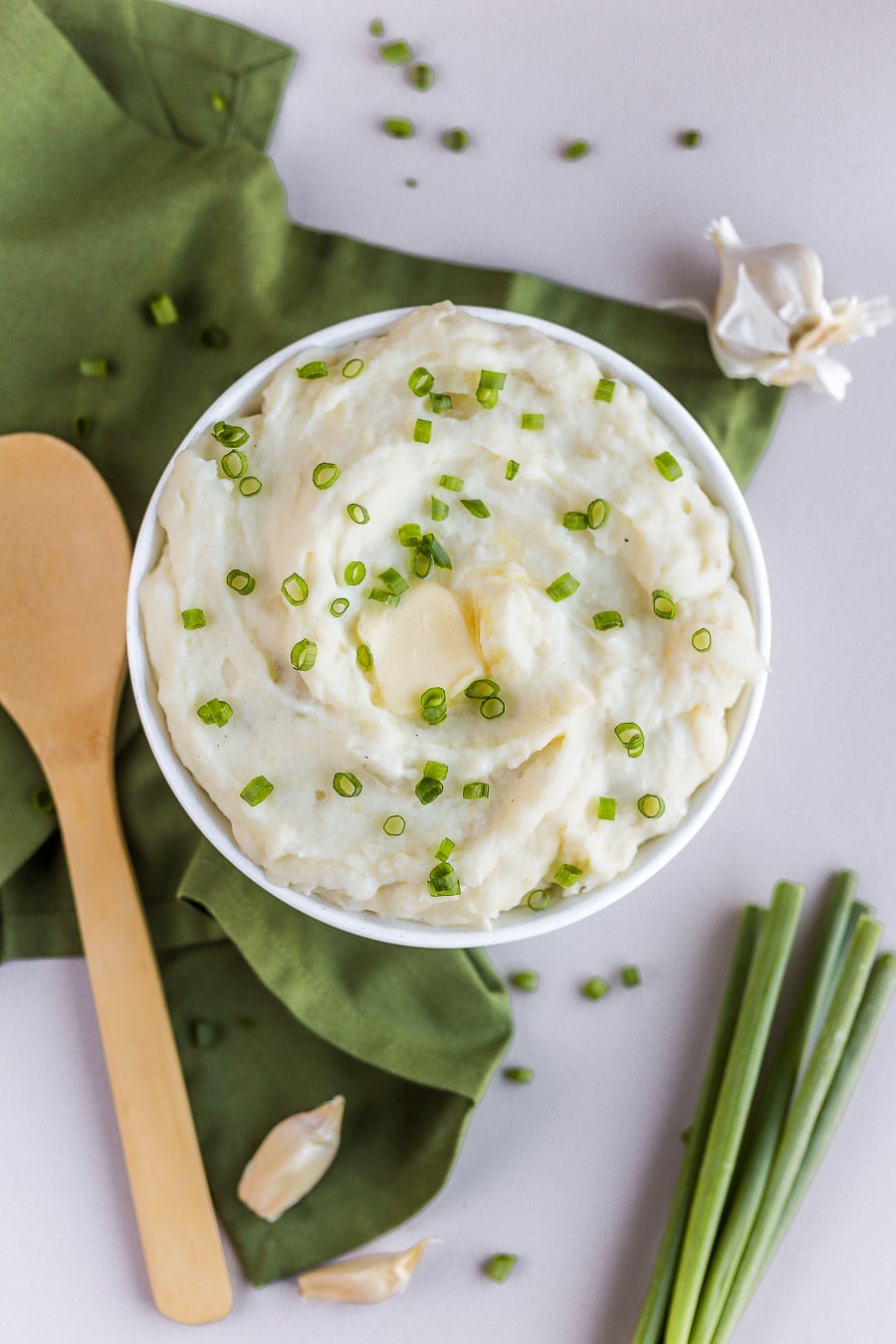 Pesto Crusted Salmon
Pesto-crusted salmon is one of my favorite easy dinner recipes. It's so flavorful and is ready in under 30 minutes! Serve Pesto-crusted salmon with mashed potatoes and a sauteed vegetable, like asparagus or brussels sprouts, for a delicious meal perfect for an easy weeknight dinner or at-home date night.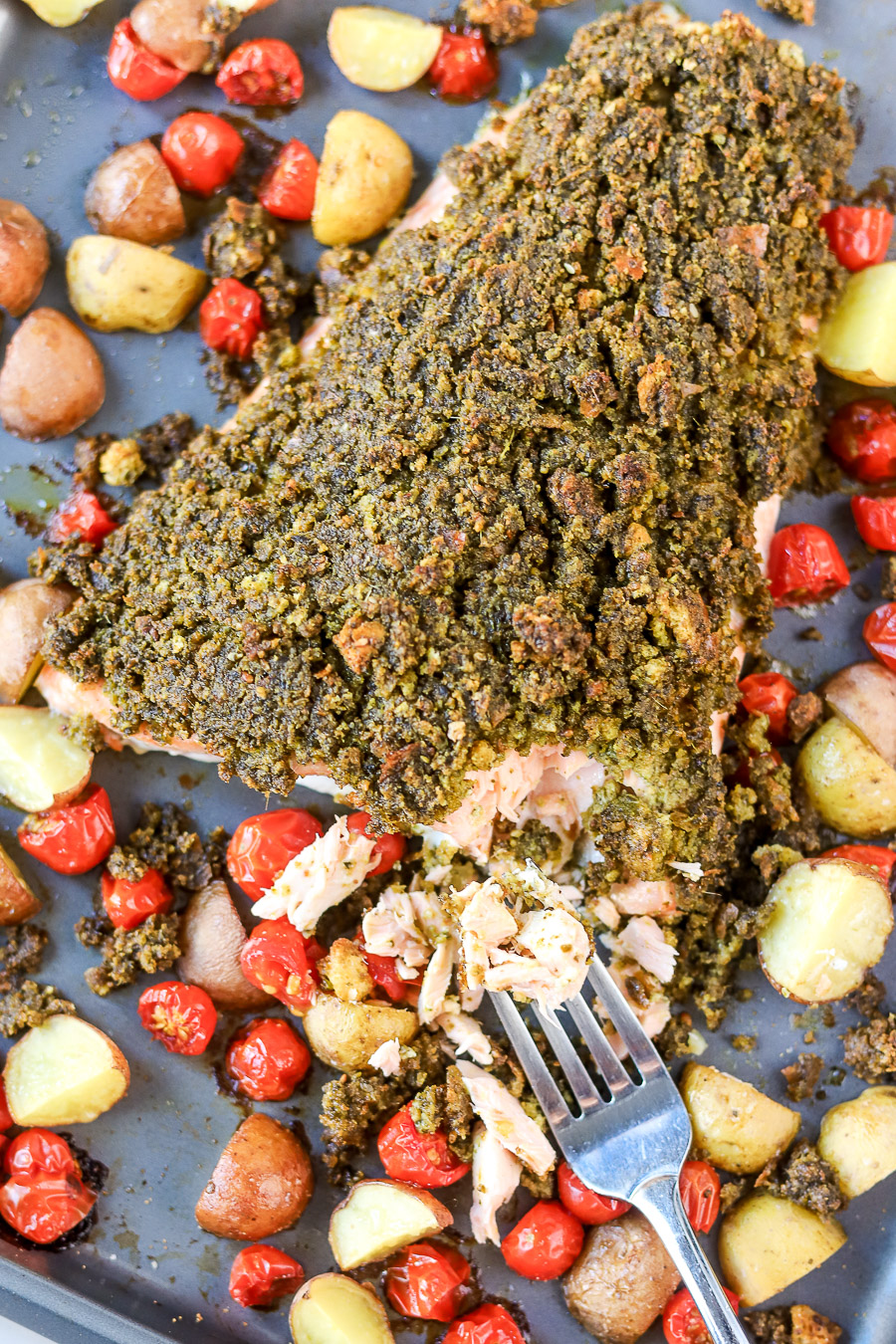 Instant Pot Swedish Meatballs
Typically, Swedish meatballs are served with egg noodles. However, if you are looking for a delicious side dish to pair with Swedish meatballs, try buttery mashed potatoes! The creamy sauce poured over the mashed potatoes makes for such a delicious comfort dinner. If you don't have an instant pot, don't worry! Follow this Swedish meatball recipe instead. e
Slow Cooker Pork Chops
Slow cooker pork chops come out perfectly every single time and are the perfect dish to pair with mashed creamy potatoes. It's such an easy way to make the juiciest pork chops of your life. With a few simple ingredients, who doesn't love a "set it and let the slow cooker work it's magic" type of meal?!
Air Fryer BBQ Chicken
Air fryer BBQ chicken is a perfect dinner if you're looking for a quick, easy, and flavorful chicken recipe that can be ready in 30 minutes. It's the perfect easy weeknight meal! Plus, it pairs perfectly with creamy mashed potatoes and a side of veggies like corn or roasted broccoli. Cooking chicken in the air fryer makes for the most juicy and tender chicken! It's the best way to cook chicken. This is great for a meal prep recipe, too!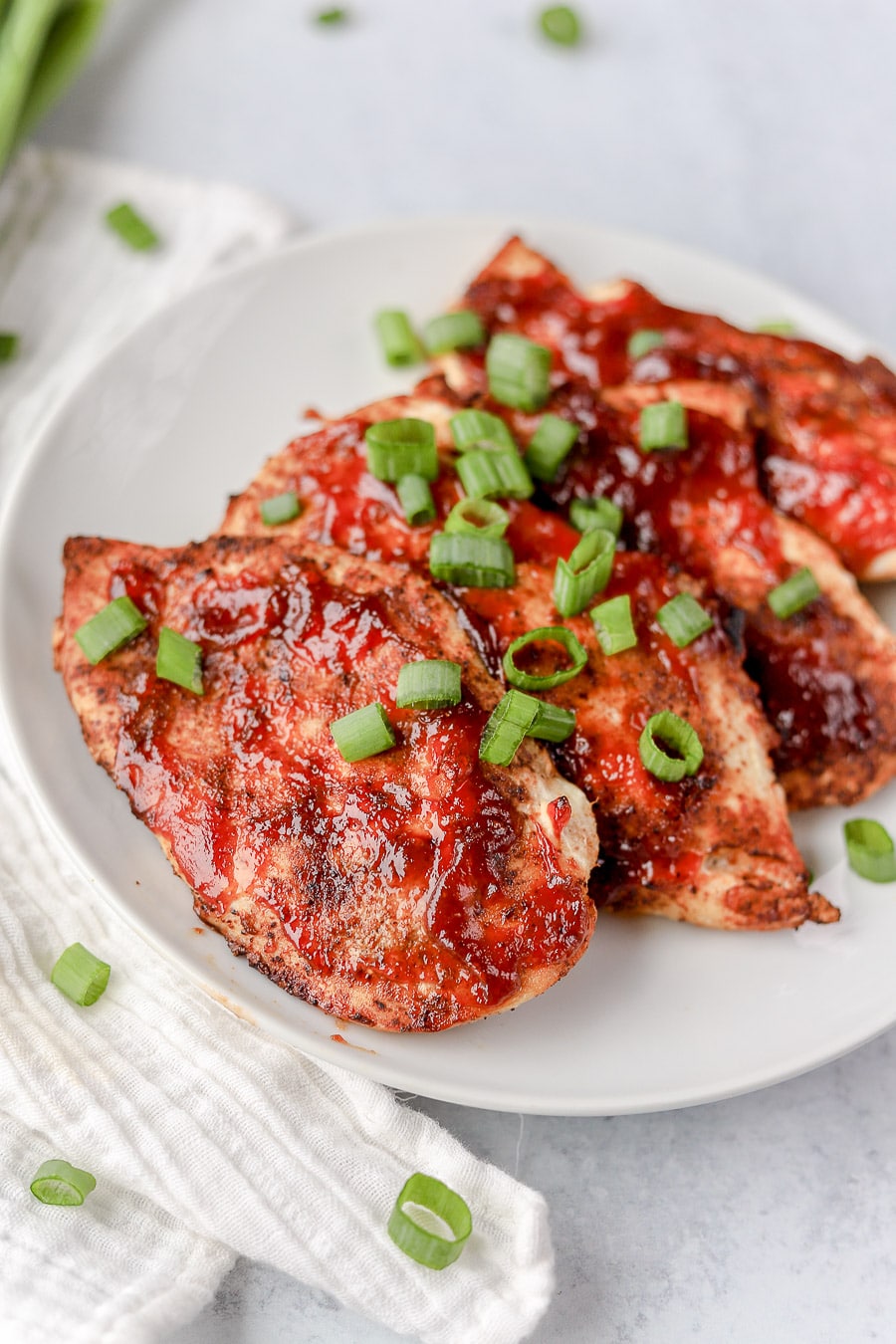 Roasted Turkey Breast
Of course, this is essentially Thanksgiving dinner! Roasted turkey breast can be prepared in so many different ways: try smoking it, air frying it, or roasting it! Mashed potatoes and turkey are such a classic pairing especially this time of year. Pair it with some roasted Brussels sprouts and you have the perfect mini Thanksgiving dinner. 
Braised Short Ribs
If you are looking for a cozy Friday night date-night dinner or a Sunday night dinner recipe, braised short ribs are a classic dish that just warms the soul come wintertime. Red wine braised short ribs and fluffy mashed potatoes are a classic combination. You could pair this combination with a roasted vegetable like broccoli or Brussels sprouts, or you can enjoy this perfect dish just as it is.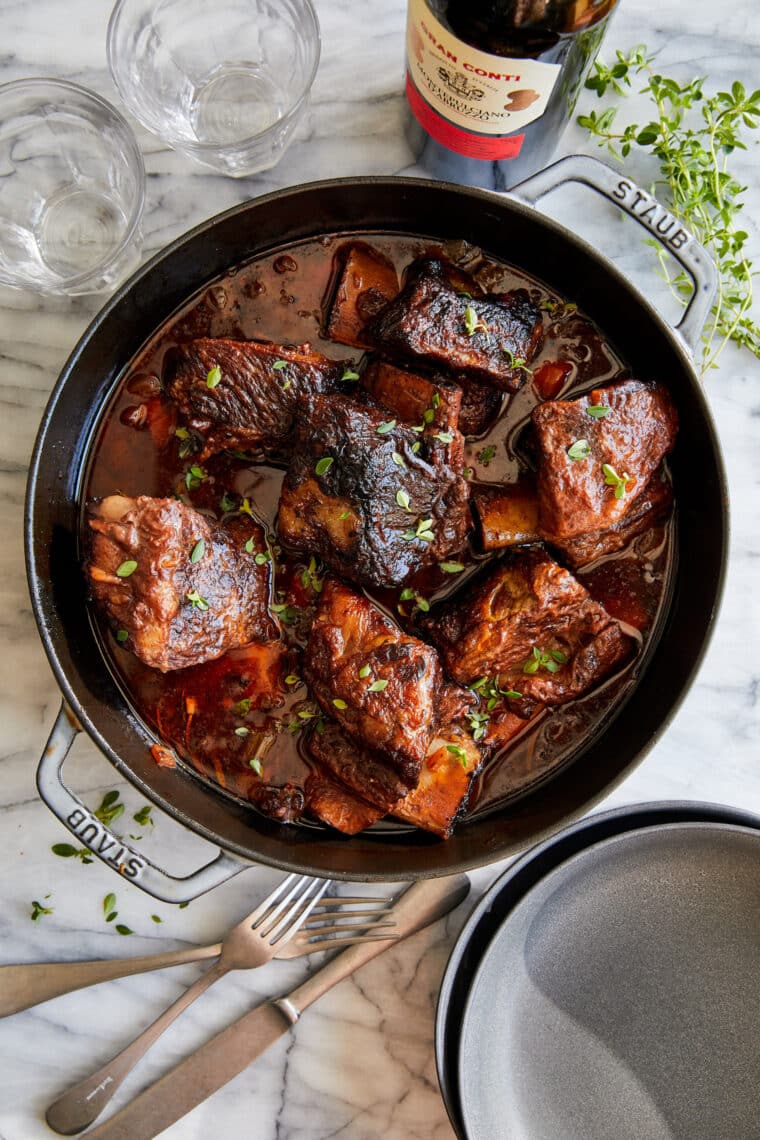 Beef Wellington
If you have a special occasion, like a dinner party, try making a Beef Wellington with a side of velvety potatoes. Beef Wellington has such a depth of flavor, it is so delicious. It's beef tenderloin wrapped in some sort of pate, mushrooms, and ham product (like proscuitto) all wrapped together in a pastry puff. It sounds difficult, but I am confident you can perfect this recipe in no time! Gordan Ramsey who?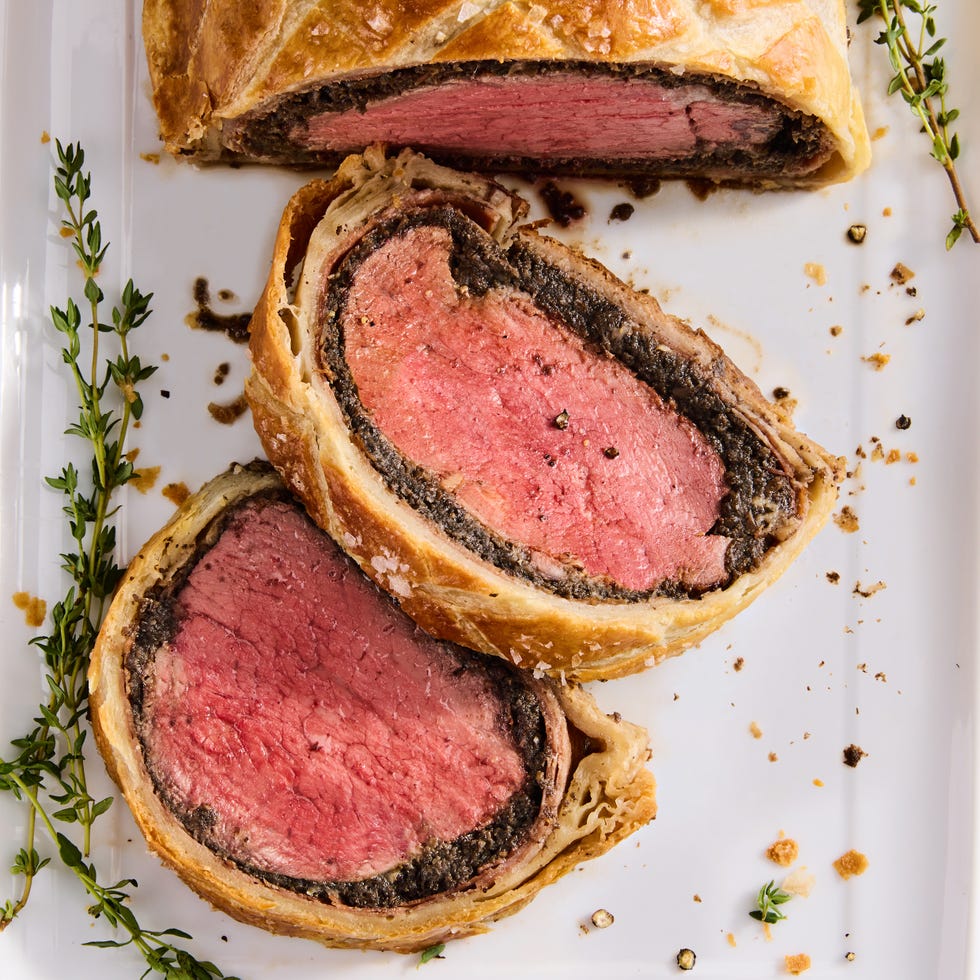 Greek Lamb Chops
Greek roasted lamb chops with mashed potatoes made with red potatoes is such a flavorful recipe! A great way to include some more savory flavors into the mashed potatoes recipe is to make some oregano and rosemary-infused melted butter. That'll take the flavor of the mashed potatoes to the next level and it would pair so perfectly with Greek-style lamb chops. Simply melt some butter in a small saucepan and add in a few sprigs of rosemary, fresh oregano, and garlic. Once you can smell the aromatics of the herb-infused melted butter, strain and then use that butter in your mashed potatoes. 
Beef Stroganoff
Beef Stroganoff is a combination of tender beef cooked in a creamy mushroom sauce. It's typically served with noodles, but if you have leftover mashed potatoes and you're looking for an easy recipe to go with them, try making beef stroganoff next time! A bonus of beef stroganoff is that it's done in under 30 minutes! 
Shepherd's Pie
Shepherd's Pie doesn't require mashed potatoes as a side dish, which is a nice contrast to the rest of these recipes! It requires the dish to be topped with mashed potatoes. It's a classic recipe from the UK and Ireland and is a combination of ground beef, carrots, onions, and peas with a delicious sauce and topped with buttery potatoes. It's so great and such a cozy comfort meal.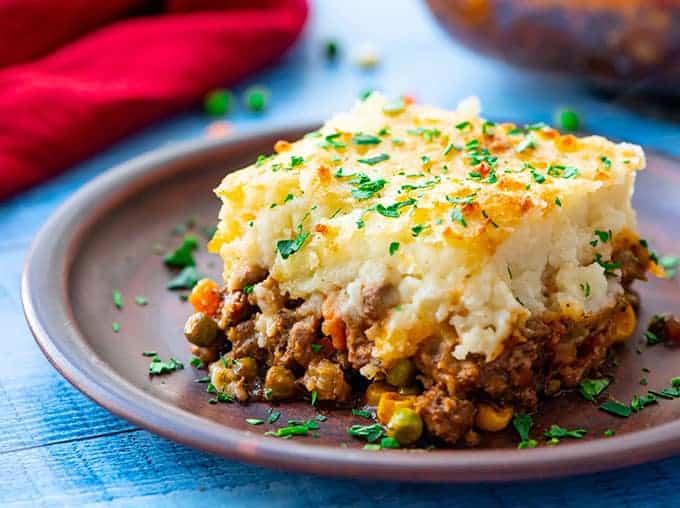 Fish Cakes
If you are looking for yet another recipe to use up some leftover mashed potatoes, you should try these fish cakes with mashed potatoes. They're easy to make, you can use a variety of fish like salmon or cod to make these cakes to your liking. This is a great leftover mashed potato recipe that isn't just reheating the side dish and serving it with a main course. 
French Onion Chicken Breasts
If you are looking for a cozy family dinner that's easy to make and everyone will love, try French onion chicken breasts. Juicy chicken smothered in caramelized onions and gruyere cheese, is such a delicious main course that'll pair perfectly with mashed potatoes. Serve with a side of green beans and you are bringing some serious flavor to the dinner table. 
Mushroom Bourguignon or Beef Bourguignon
Bourguignon is like a stew, but unlike a stew, a bourguignon includes wine. It's so cozy and perfect to make for a Sunday night dinner. If you want your home to smell heavenly, I highly recommend making a batch of mushroom or beef bourguignon!
Meatloaf
This is a classic recipe and for a good reason! It's like one of America's favorite recipes. Whip up a meatloaf and then serve it with a side of mashed potatoes and some veggies for a perfect meal. If you don't want to make an entire loaf, you can make cute little cupcakes, too! 
Pork Roast
Pork roast is also such a classic main dish recipe to pair with mashed potatoes. It is so easy to make and there are so many different pork roast recipes out there!
Best potatoes for mashed potatoes
You'll want to stick with starchy potato varieties, which include russet potatoes, Yukon gold potatoes, or Idaho potatoes. Starchy potatoes are low in sugar and moisture so they have a fluffy texture that breaks down easily giving you creamy, buttery delicious homemade mashed potatoes.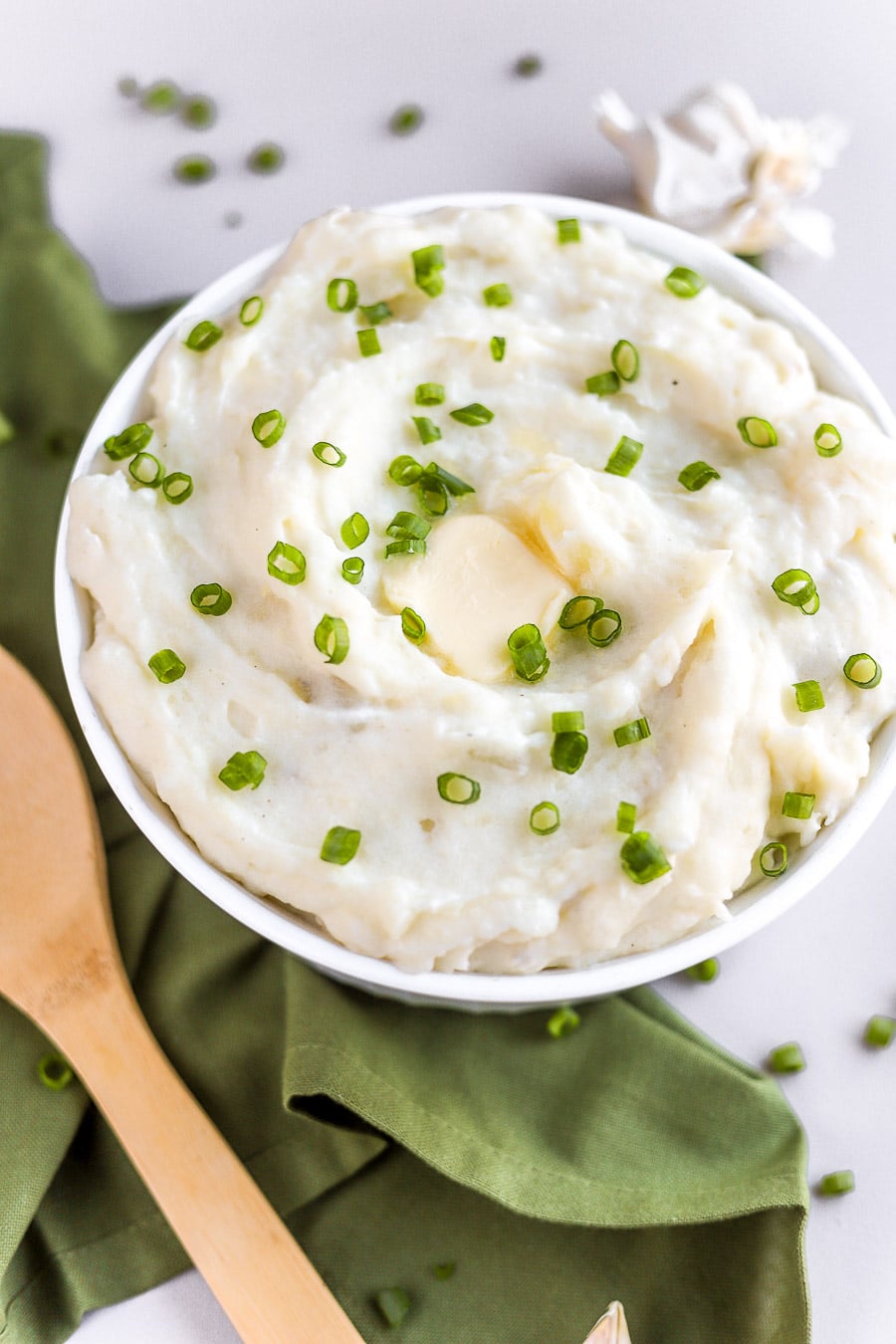 How long are mashed potatoes good for?
Mashed potatoes are good for 3-4 days in the fridge for up to a year in the freezer.
How to reheat mashed potatoes?
Stovetop.​ Add potatoes to a small saucepan and add a splash of cream, stir, and cover. Cook over low heat until smooth and creamy again.
Microwave. Add potatoes to a microwave-safe bowl and add a splash of cream. Stir and cover. Microwave for 30-second increments until heated through, stirring in between.
Can you freeze mashed potatoes?
Yes, you can! Be sure to store them in a freezer-safe airtight container and then place in the freezer to store. To thaw, simply place them on your counter to allow them to thaw then follow the reheating directions above.
How to add flavor to mashed potatoes
Mashed potatoes alone are not really the most flavorful side dish recipe out there. Here are some of the best ways to add some flavor to your homemade mashed potatoes.
Cheese.​ Cheddar cheese, gruyere cheese, or parmesan cheese are some of my favorite cheeses to add to mashed potatoes.
Bacon.​ Who doesn't love crispy bacon? Add some chopped-up bacon and maybe some bacon grease to your mashed potatoes to give them a ton of flavor.
Heavy Cream.​ Using heavy cream instead of milk will give you that rich, creamy, velvety flavor that everyone loves about mashed potatoes.
Sour Cream.​ To that note, you can also add a little sour cream to your mashed potatoes to give them an extra boost of flavor.
Seasonings.​ Onion powder, garlic powder, salt, and pepper are a must!
Green Onions.​ Fold in some diced green onions to give that bite without too much overpowering onion flavor.
Amazon home finds
To make creamy whipped mashed potatoes, you'll want a potato ricer and hand mixer. To make chunky mashed potatoes, you'll want a potato masher.
Pin it for later!
What to serve with mashed potatoes? Save this for later!