This rum mule is such a refreshing twist on the classic Moscow mule. Depending on the type of rum you use, you may also know this drink as the classic cocktail, the Dark and Stormy! It's such an easy drink that you'll love making.
This post may contain affiliate links, meaning I may earn a small commission when you click on the links and make a purchase. I will never recommend a product that I don't support 100%.
You'll love this rum mule
It's so easy to make. This rum mule recipe requires just a few simple ingredients and the prep time is next to none. It is so easy to whip up whether you want a casual at home happy hour drink or you want an easy drink to make for guests at your next party.
It's perfect for any season. Whether you're looking for a refreshing drink for the summer, fall, winter, or spring, this is the perfect cocktail for you.
It's customizable. You can use the different types of rum in this rum mule to make this how you love it! Between dark rum, white rum, or spiced rum, they all make for a delicious cocktail.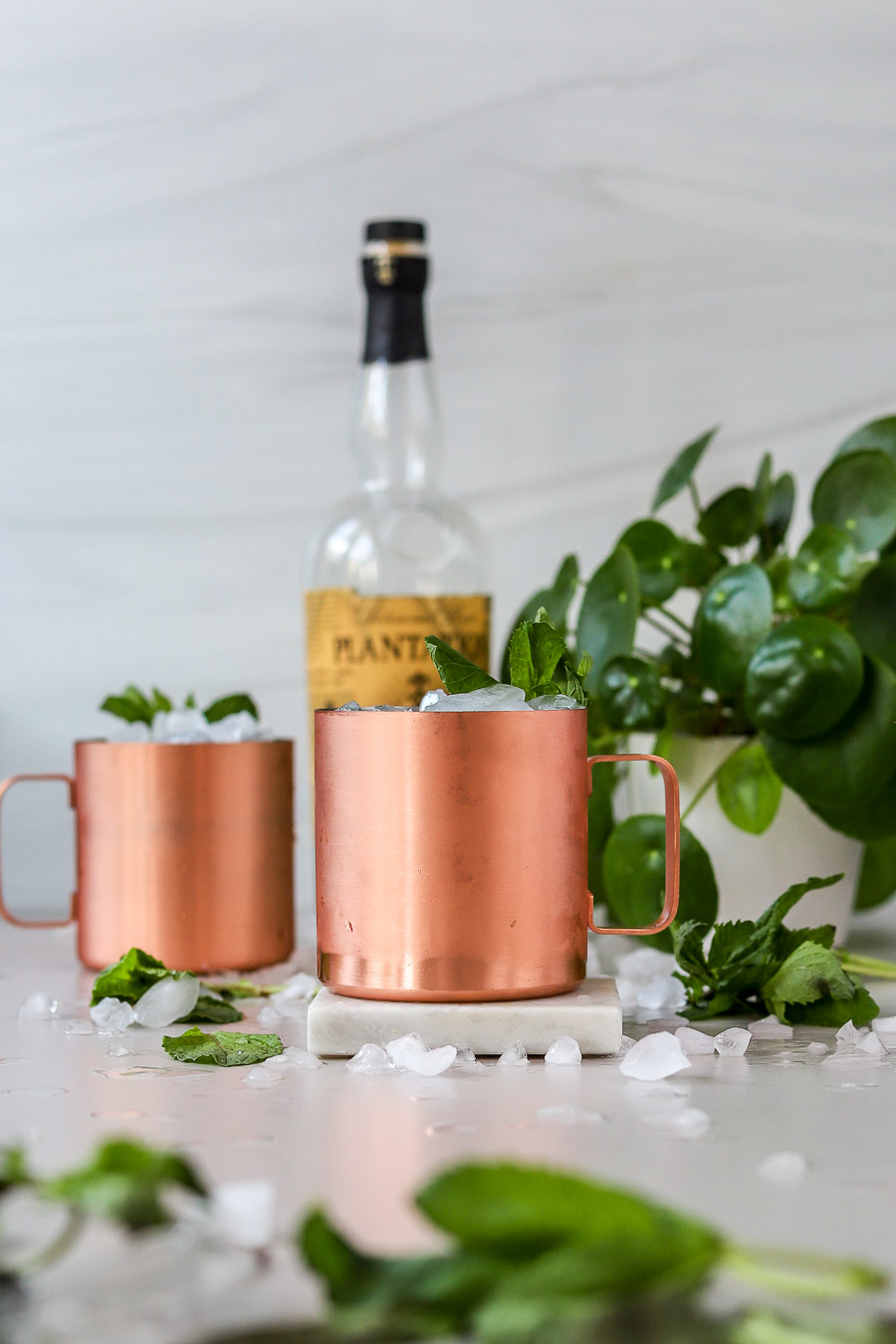 Is a dark and stormy a mule?
If you use dark rum, then a dark and stormy is technically a rum Moscow mule. The only difference is the addition of mint. However, a true Moscow mule cocktail versus a traditional Dark and Stormy are different cocktails due to the different spirits used in both recipes.
Dark and stormy cocktails are also traditionally served in a highball glass whereas Moscow mules are served in a copper mug.
Ingredients
Ginger Beer. Ginger beer is an essential ingredient for all Moscow mule recipes. Whether you're making a Mexican mule, a Kentucky mule, or this Rum mule, ginger beer is essential! It's very common and you can find ginger beer at your local grocery store. Most ginger beer is non-alcoholic, however, there are a few alcoholic ginger beer brands that you can use if you wish. When it comes to specific brands of ginger beer, I prefer Goslings or Fever Tree for that perfect sweet yet spicy flavor.
Fresh Lime Juice. Similar to ginger beer, fresh lime juice is essential for any and all Moscow mule drink recipes. If you want, save a lime wedge or lime wheel to garnish your drink.
Fresh Mint. You'll muddle a few mint leaves with fresh lime juice to release the perfect balance of flavors. Be sure to save the prettiest sprig of mint for a gorgeous garnish. Your drink will look like it came straight from the bar of a professional mixologist.
Rum. Unlike the classic mule recipe, we are using rum for this rum mule, makes sense, right? If you use dark rum, it is considered a dark and stormy cocktail. You can also use white rum or spiced rum as well. If you make a mule with spiced rum, that is called a Caribbean mule, or a Jamaican mule if you use Jamaican rum.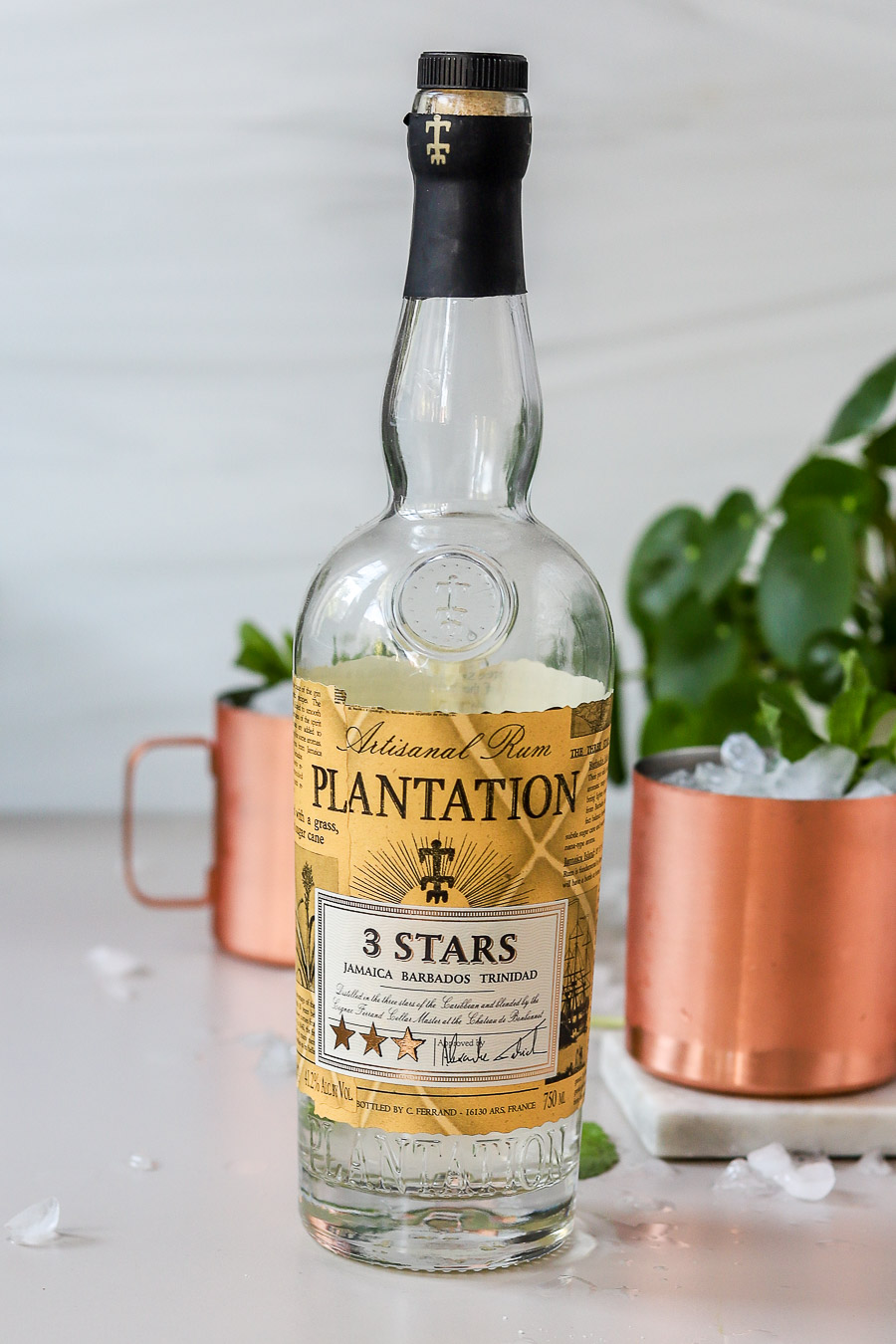 How to make a rum mule
This is seriously one of the easiest homemade cocktails to make!
In a copper mug, muddle your lime juice and fresh mint.
Add ice, pour in the rum, and top with ginger beer.
Using a bar spoon, give the cocktail a stir.
Garnish with mint and lime.
Cheers!
Best rum for a Moscow mule
If you're wondering if there's the best rum to use for this rum mule recipe, here are some recommendations.
White Rum
Bacardi Superior
Plantation 3 Stars Silver Rum
Ten to One White Rum
Dark Rum
Plantation Original Dark Rum
Cruzan Aged Dark Rum
Goslings Black Seal Rum
Spiced Rum
Captain Morgan
Boukamn Boukman Botanical Rhum
Sailor Jerry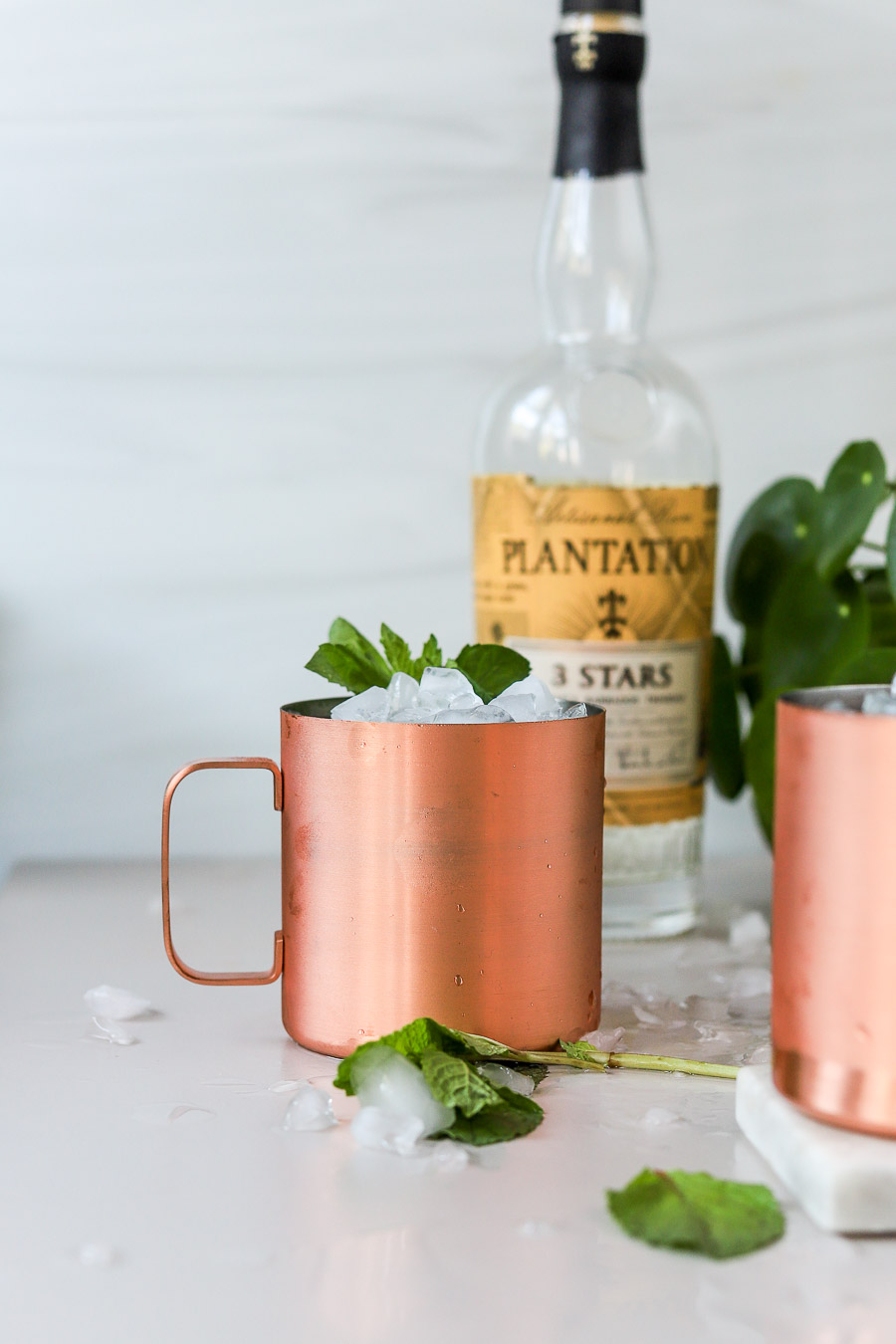 Substitutions and Variations
Lime Juice. If you don't have lime juice you can use lemon juice or orange juice even! The hint of citrus is essential for balancing all the flavors.
Rum. If you're not a rum fan, there are other Moscow mule variations you can create, I listed them below!
Ginger Beer. If you need your drink a bit sweeter, you can use ginger ale, or you can add some simple syrup. Simple syrup is so easy to make homemade, simply heat up a 1:1 ratio of sugar and water (if you want a fun twist, try brown sugar) or you can use store-bought simple syrup.
How to make this into a batched cocktail?
You can kind of make this into a batched cocktail. I think the most efficient way to do so, especially if you're hosting a party, is to set up a mule bar! Simply set up the below list wherever is most convenient for you.
Copper mugs or disposable cups
Pitcher of fresh lime juice
Bottles of rum
Cans of ginger beer
Fresh mint sprigs
Bowl of lime wheels
FAQ
What are the three types of mules?
There are many types of Moscow mule variations. There is the Kentucky mule, a Mexican mule, an Irish mule, a Moscow Mule, and many more!
What alcohol goes in Moscow mules?
Vodka is the alcohol that goes into a traditional Moscow mule recipe.
What is the best ginger beer for Moscow mules?
I like Goslings, Fever Tree, or Q. Q has a very spicy ginger beer if you like that!
Amazon home bar finds
If you don't already, copper mugs are a must for any Moscow mule recipe.
Pin it for later!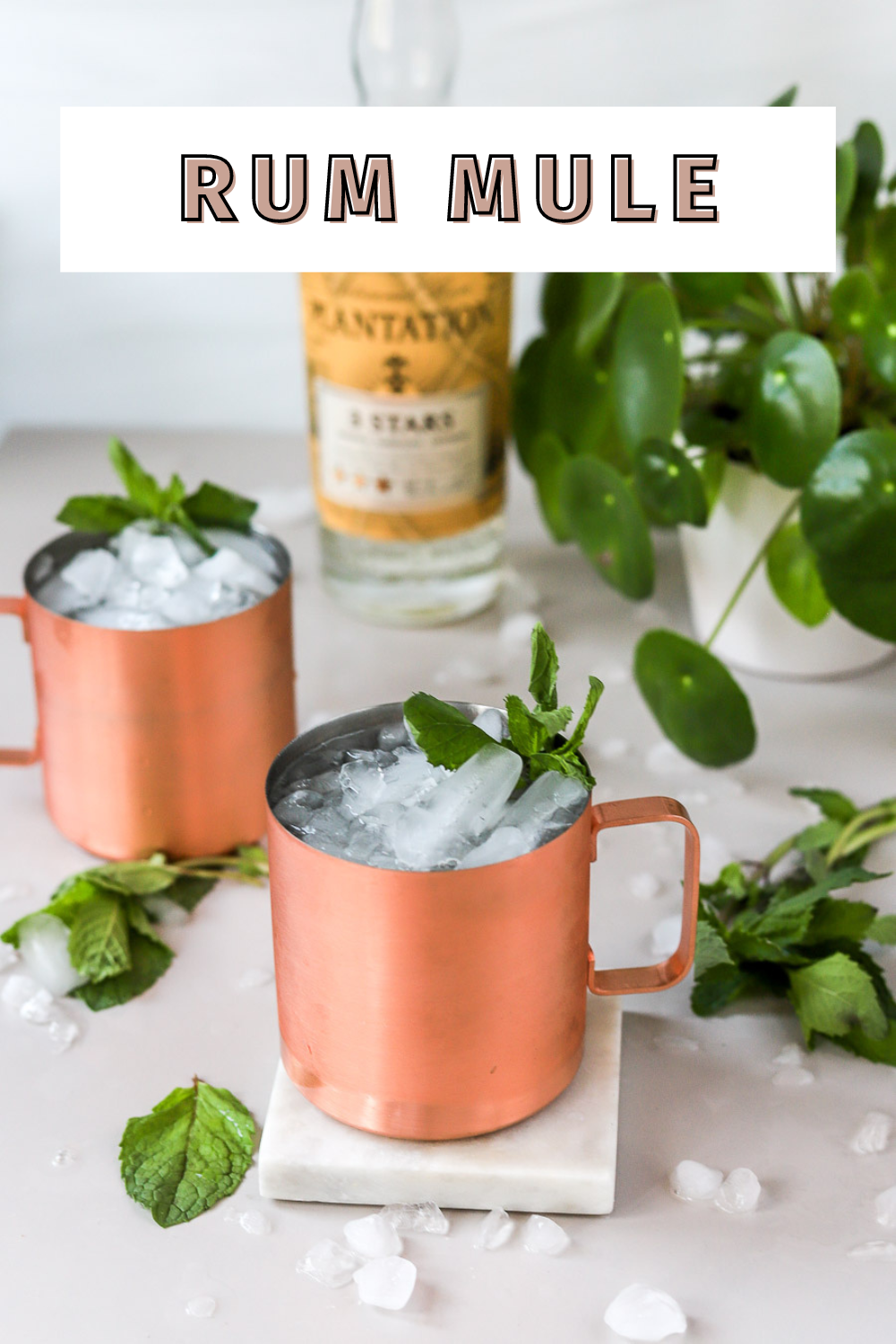 Want more mule recipes?