This easy lasagna recipe with oven-ready lasagna noodles will soon be a favorite cozy dinner recipe! It's so easy to make and is one of my favorite comfort foods.
This post may contain affiliate links which means I may earn a small commission when you click on the links and make a purchase. I will never recommend a product that I don't support 100%.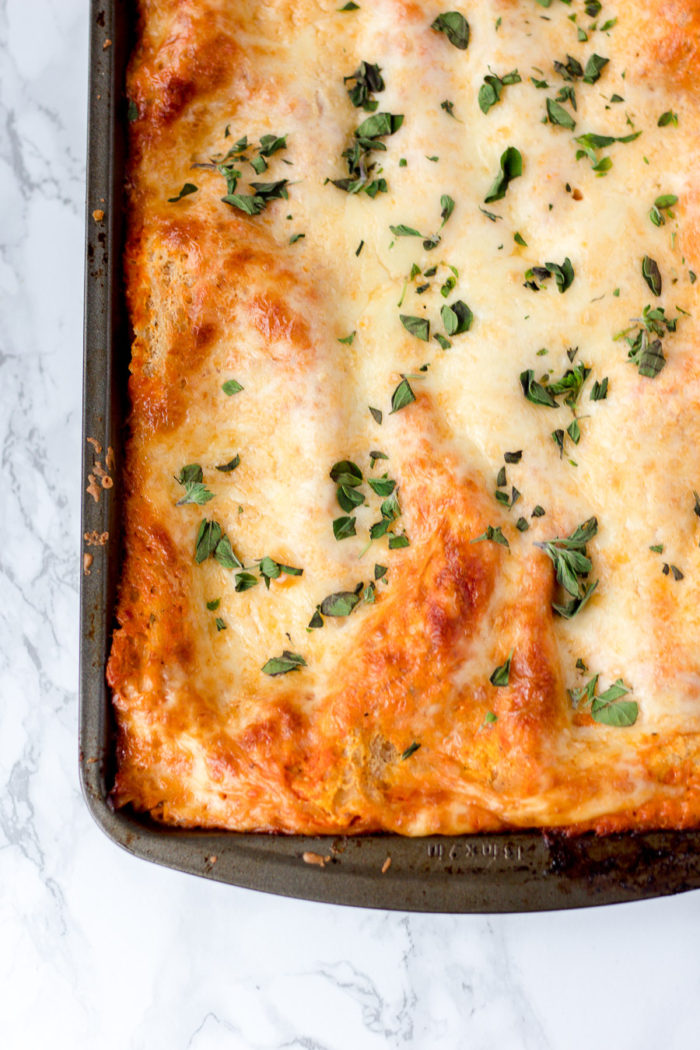 You'll love this easy no boil lasagna recipe
There is just something different about homemade lasagna. It is way cozier, you can use your own sauce, and the leftovers? I always say leftover lasagna is better than fresh out of the oven. When all the flavors have time to sit together and then reheat it? Ugh, SO good! If you've never made lasagna before, don't fret and don't be intimidated. This is a fool-proof lasagna recipe that you can perfect in no time.
Do you cook oven ready lasagna noodles? 
Nope! That is the beauty of oven-ready lasagna noodles, no cooking required! You will have to use a bit more sauce and/or water (depending on the thickness of the sauce) but more on that below.
Ingredients 
Here's what you'll need to make this easy homemade lasagna recipe.
Ricotta Cheese Mixture for Lasagna
15 oz. Ricotta Cheese
2 Eggs whisked
¼ c. Parmesan Cheese
1-2 tbsp Italian Herb Mix
No Boil Lasagna Ingredients
2 24 oz. Jars Pasta Sauce of choice
4 c. Shredded Mozzarella
2 12 oz. Boxes Oven-Ready Lasanga Noodles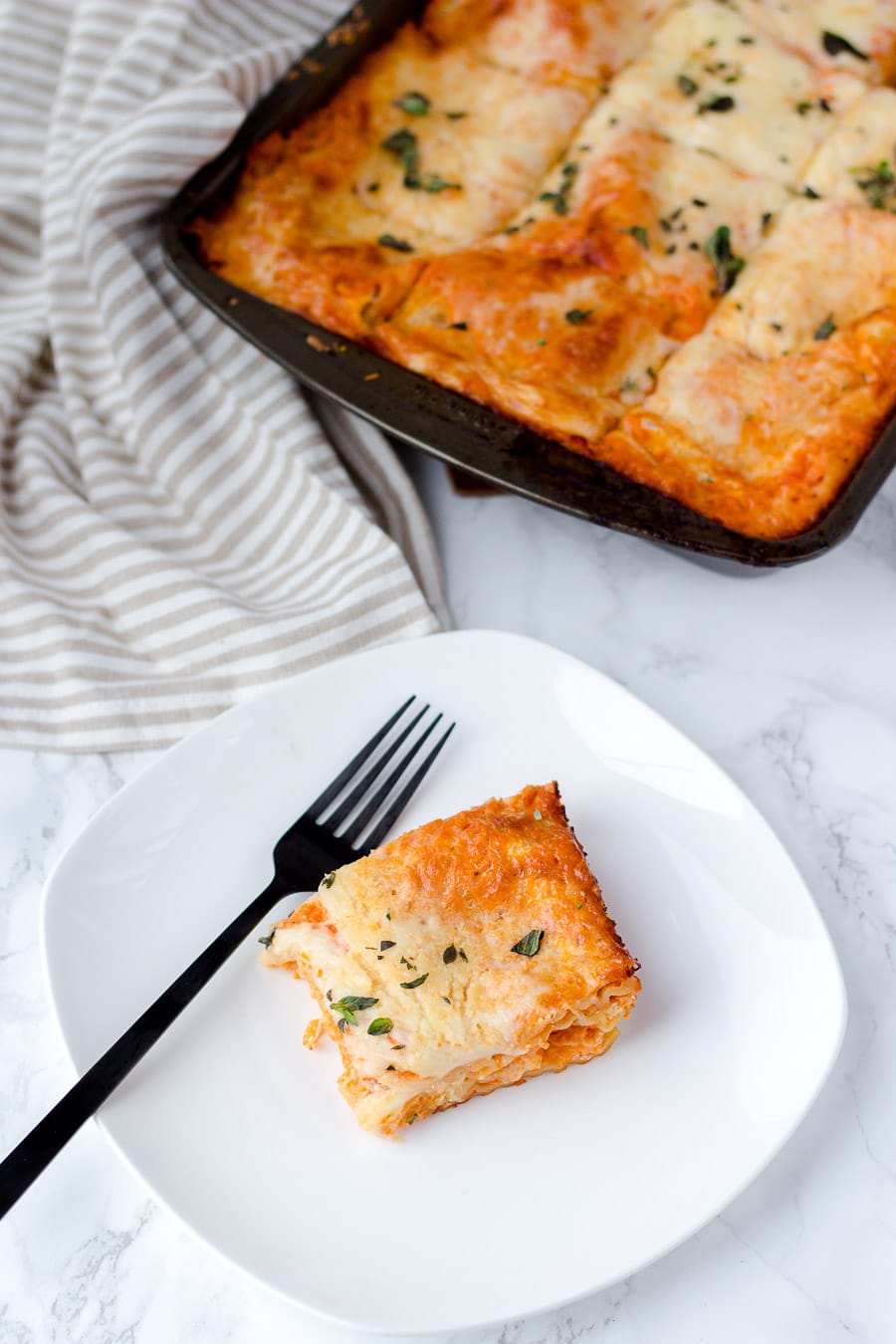 Remember how I said you may need water for your oven-ready lasagna noodles?
Well, the recipe calls for 2 24 oz. jars of pasta sauce. However, if you use a thicker sauce, like a bolognese, then add ½ cup of water around the edges. The beauty of no-boil lasagna noodles is in the name, there's no cooking required. However, that means that a bit more liquid is required when assembling the lasagna.
How do I replace lasagna with oven ready noodles?
You can replace lasagna noodles with oven-ready noodles, just make sure you have 24 oz. of sauce, and water, depending on your sauce's thickness. Additionally, cover your lasagna with aluminum foil to allow the noodles to steam and cook through.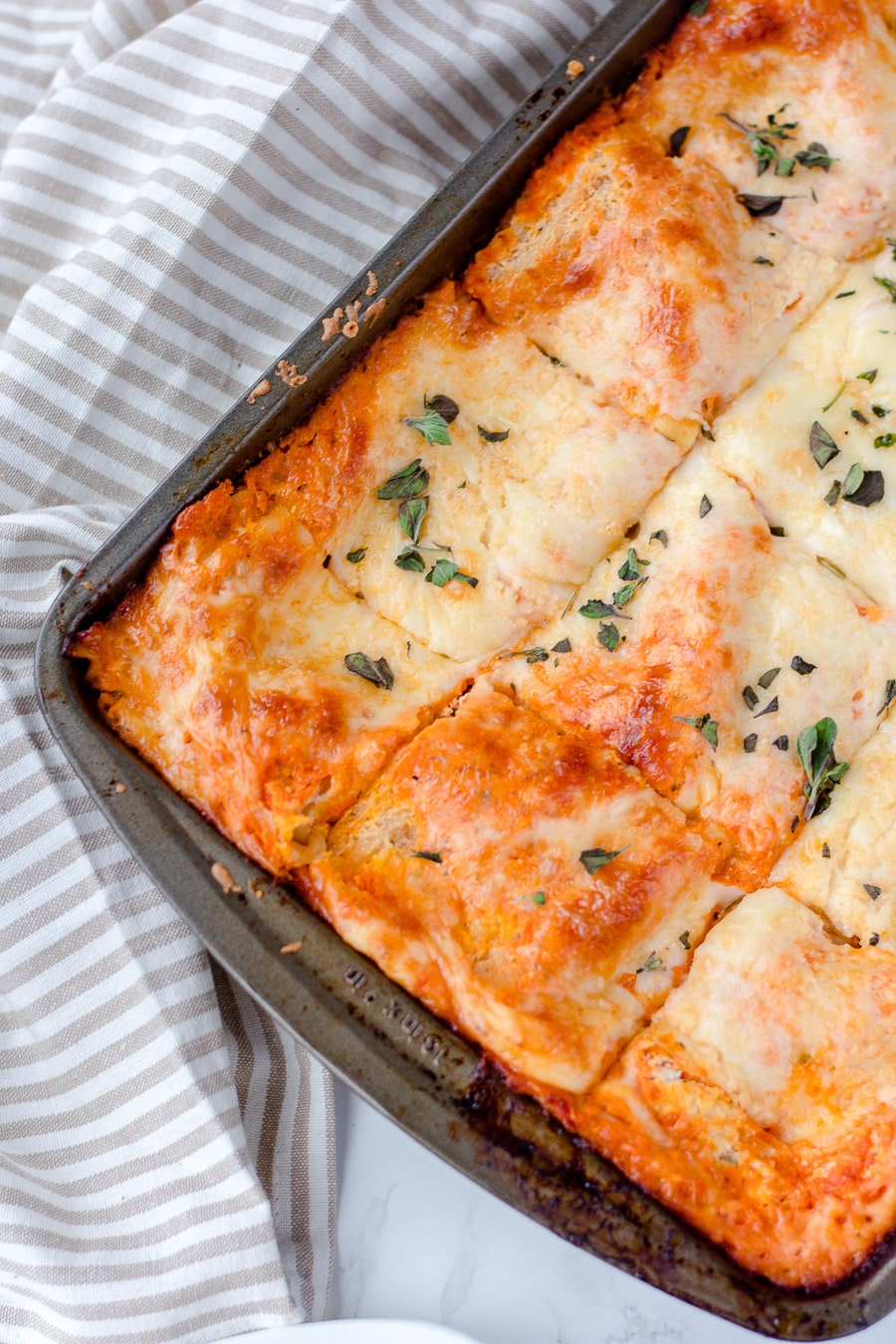 What sauce should you pair with this homemade lasagna recipe? 
I love making lasagna with homemade vodka sauce, but that's simply because I love vodka sauce. I love that the cream in the vodka sauce just adds that extra bit of creamy, rich flavor on top of the ricotta and mozzarella. You could also make this with traditional homemade marinara sauce, too. Both sauces are easier than you think to make!
If you don't feel like making homemade sauce on top of homemade lasagna, I get it... use a jarred sauce! Rao's is my favorite go-to jarred sauce.
How to make easy lasagna with oven-ready noodles
It seems so simple, but the first time I made lasagna, all of a sudden I was like "ok what am I doing?" Here's a step-by-step process into how to make lasagna with ricotta cheese.
To break it down super simple, it'll be 4 layers of sauce, noodles, ricotta mixture, shredded mozzarella. Then, the top layer will be noodles, sauce, shredded mozzarella.
Make your ricotta mixture - whisk together 2 eggs, 15 oz. ricotta, ¼ c. parmesan and 1-2 tbsp Italian herb mix.
Start to layer

Pour about 1 cup of sauce on the bottom of your 9x13 pan
Place around 4 noodles, or however many fit on the bottom
Spread 2-3 spoonfuls of your ricotta mixture around
Sprinkle shredded mozzarella
Pour about 1 cup of sauce
Repeat 3 times
For the top layer, it'll be noodles, the rest of your sauce, shredded mozzarella
Then, I always like to add some granulated garlic and extra Italian seasoning

Cover with foil, bake at 350 for 45 minutes, then uncover it and bake for another 15 minutes.
If you like the top extra crispy, don't be afraid to throw it under the broiler, on high for 2-4 minutes. BUT, if you do this, keep an eye on it
This may seem like a lot of sauce while you're assembling your lasagna, but don't worry. Since these are oven-ready noodles, they soak up a lot of moisture while baking. So, you want to use more than enough sauce rather than not enough. I always like to have extra sauce on the side so everyone has their perfect lasagna to sauce ratio.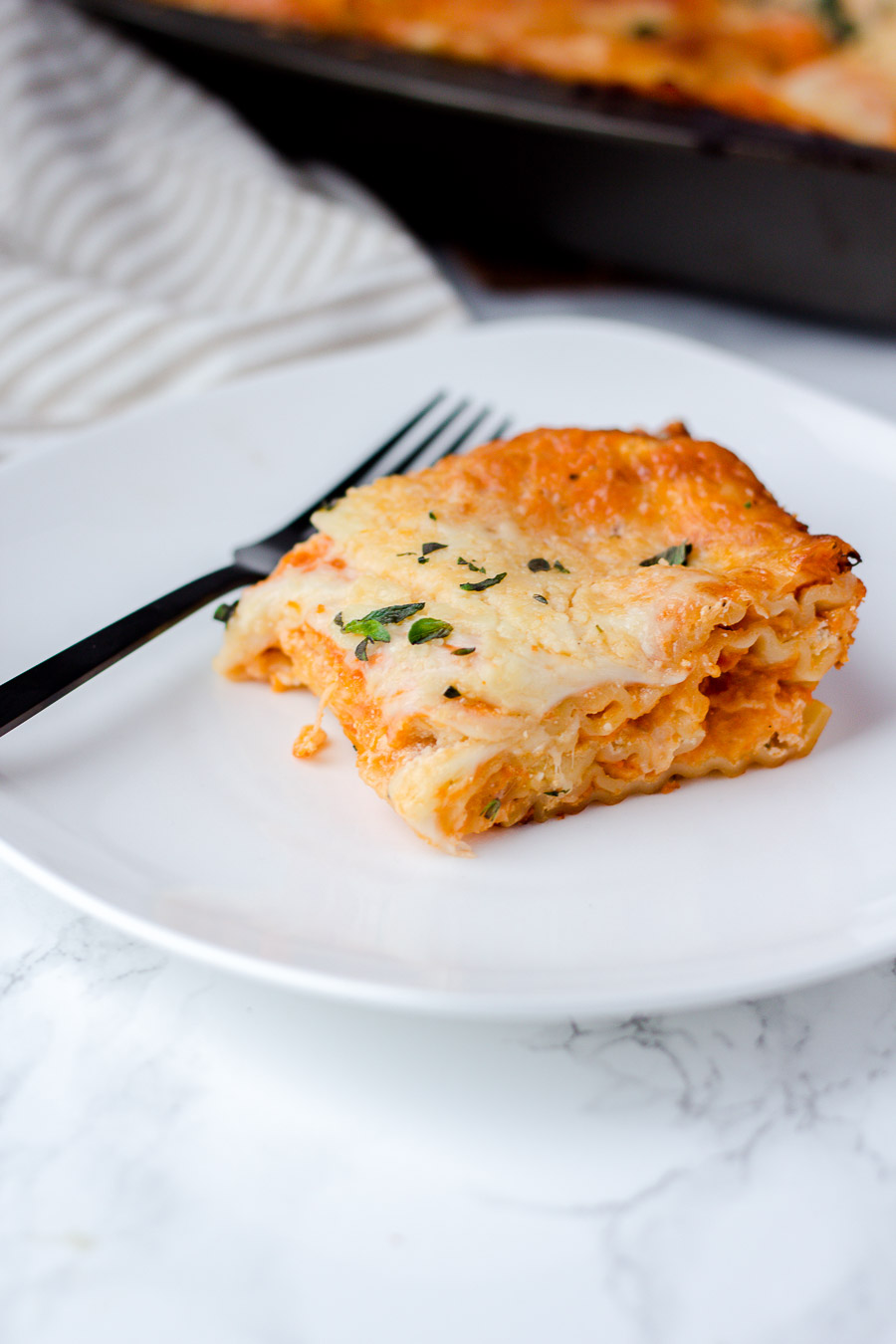 Can I add meat to this lasagna recipe?
I make this homemade lasagna meatless, but you could very well swap the sauce for your favorite bolognese. Alternatively, you can incorporate some sauteed spinach, onions, peppers to make it more of a veggie lasagna.
To do that, saute your veggies and then pour your sauce (albeit 1 cup for the base of your lasagna) into the large frying pan with your veggies. Incorporate everything and use that as your "sauce" layer.
Here are some more tips to make the best homemade lasagna!
Have your assembly line established. It goes much more smoothly having an assembly line set up before begin.
Make homemade sauce, too! Homemade sauce, similar to homemade lasagna, is much less intimidating after making it for the first time. This is the easy homemade marinara sauce my family swears by!
Stick with shredded mozz, not fresh mozzarella slices. Fresh mozzarella slices, although SO delicious, are too thick. You want to ensure that you are adding a thin layer of mozzarella and it's easier to do with shredded mozzarella.
Add in Italian Sausage or veggies. Like I said earlier, if you want to beef up this recipe, add some Italian sausage, spinach
Helpful kitchen finds
I love this Ello 9x13 Baking Dish from Amazon. It's super convinient for baking and storing leftovers with that clip-on lid. The lid cannot go in the oven, but it's great for easily storing leftovers!
Pin this recipe to save it for later!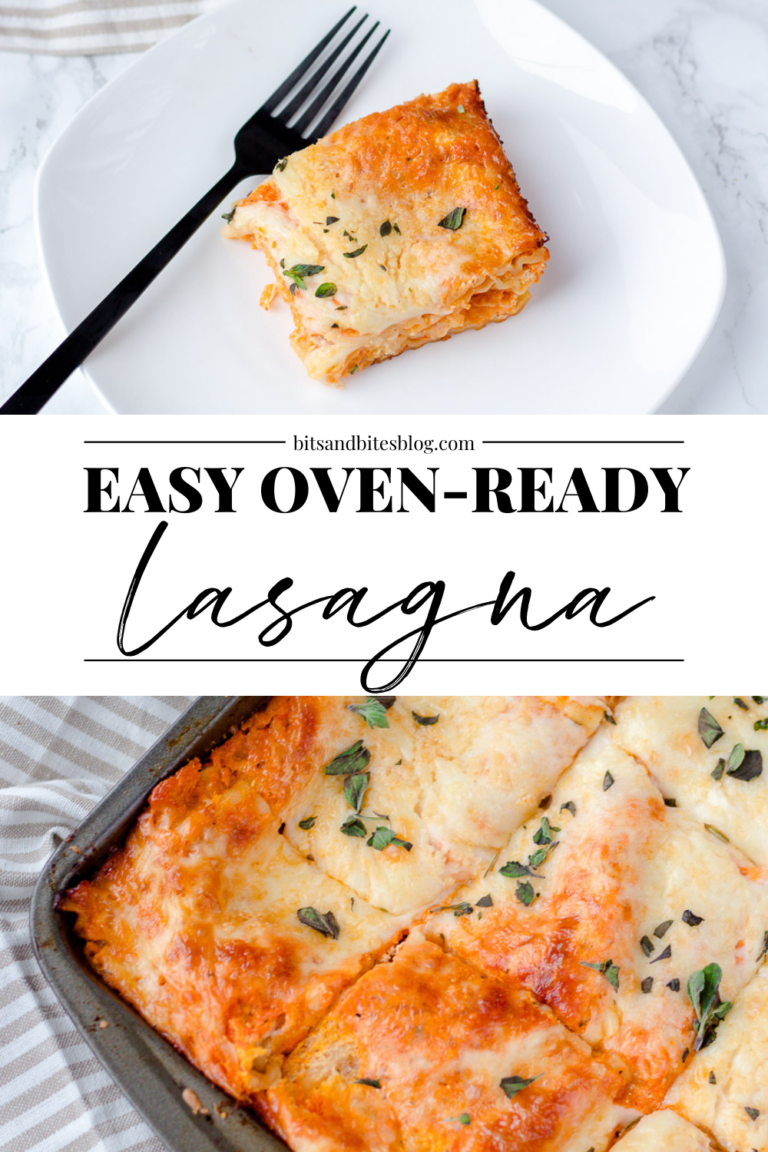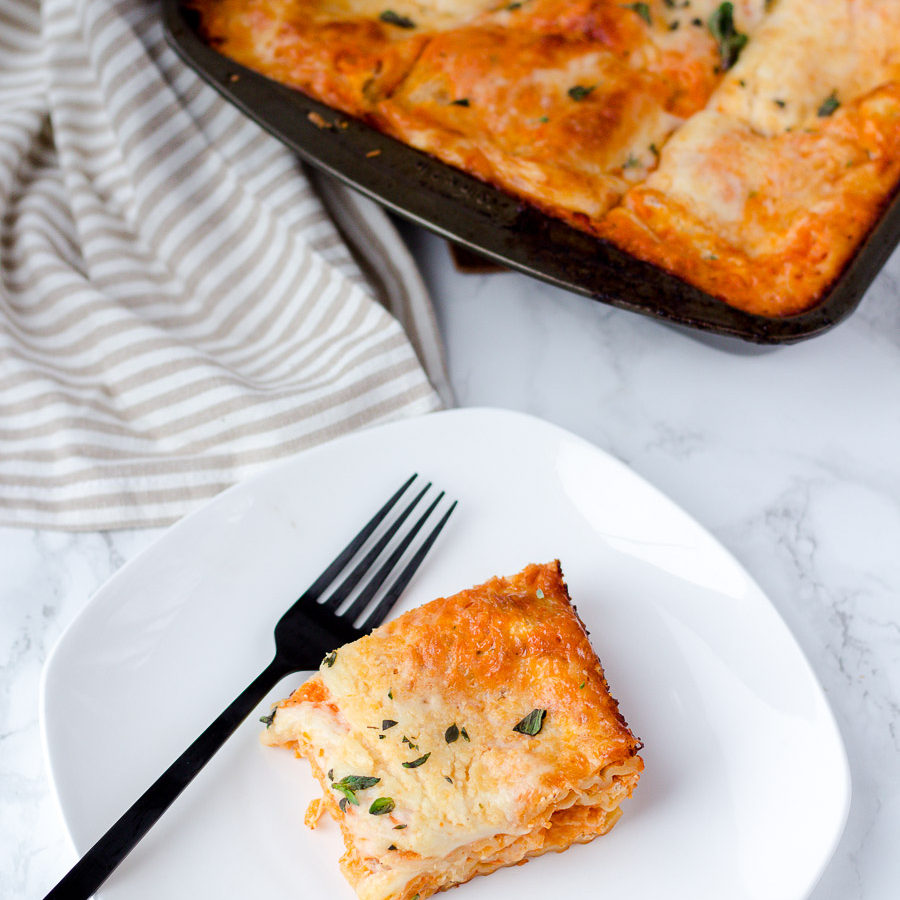 EASY OVEN-READY LASAGNA
This easy oven-ready lasagna is one of my favorite comfort food recipes. I make this homemade lasagna with ricotta cheese and it's also a meatless lasagna recipe. It's perfect for an at-home date night or a cozy Sunday night dinner.
Equipment
9x13 Baking Pan

1 medium sized mixing bowl

Fork or whisk

Cheese grater, if you're freshly shredding your mozzarella
Ingredients
Ricotta Cheese Mixture
15

oz.

Ricotta Cheese

2

Eggs

whisked

¼

c.

Parmesan Cheese

1-2

tbsp

Italian Herb Mix
Lasagna
2

24 oz. Jars

Pasta Sauce

of choice

4

c.

Shredded Mozzarella

2

12 oz. Boxes

Oven-Ready Lasanga Noodles
Instructions
Preheat your oven to 350°F and spray a 9x13 baking pan with non-stick spray.

In a medium-sized bowl, whisk together your eggs, ricotta, parmesan cheese and italian herbs.

Pour 1 cup of sauce onto the bottom of your 9x13 pan. Place 4 - 5 lasagna noodles.

Spread 2-3 spoonfuls of your ricotta mixture evenly across the noodles. Sprinkle 1 cup of mozzarella cheese.

Repeat the above two steps two more times. 1 cup sauce + noodles + ricotta mixture + mozzarella.

After you pour your sauce on top of your mozzarella for the third time, place your noodles, the rest of your sauce, and then the remainder of your mozzarella cheese.

I like to sprinkle my lasanga with garlic powder and more Italian herbs.

Cover with foil, and bake for 45 minutes.

Once the 45 minutes is up, uncover and cook for an additional 15.

If you'd like it a bit more brown, you can broil it on high, uncovered for 2-4 minutes. But, do keep an eye on it. You can easily burn it if you don't monitor it.

Let the lasagna rest for 15-20 minutes, then slice and enjoy!