Iced latte vs iced coffee, what is truly the difference? Both can be delicious and refreshing coffee beverages, but let's figure out the main difference between the two to help you figure out which one you will like best.
This post may contain affiliate links, meaning I may earn a small commission when you click on the links and make a purchase. I will never recommend a product that I don't support 100%.
Iced Coffee vs Iced Latte What's the Difference
It comes down to the brewing method. Iced coffee uses brewed coffee whereas an iced latte uses espresso shots. Because they are brewed differently, that affects the amount of milk that you will want in your coffee. An iced latte is made with shots of espresso which makes for a stronger coffee, so in turn, you may want more milk. Iced coffee is made with brewed coffee, so it has a weaker coffee taste than espresso. With that, you may want just a splash of milk to not dilute the drink too much.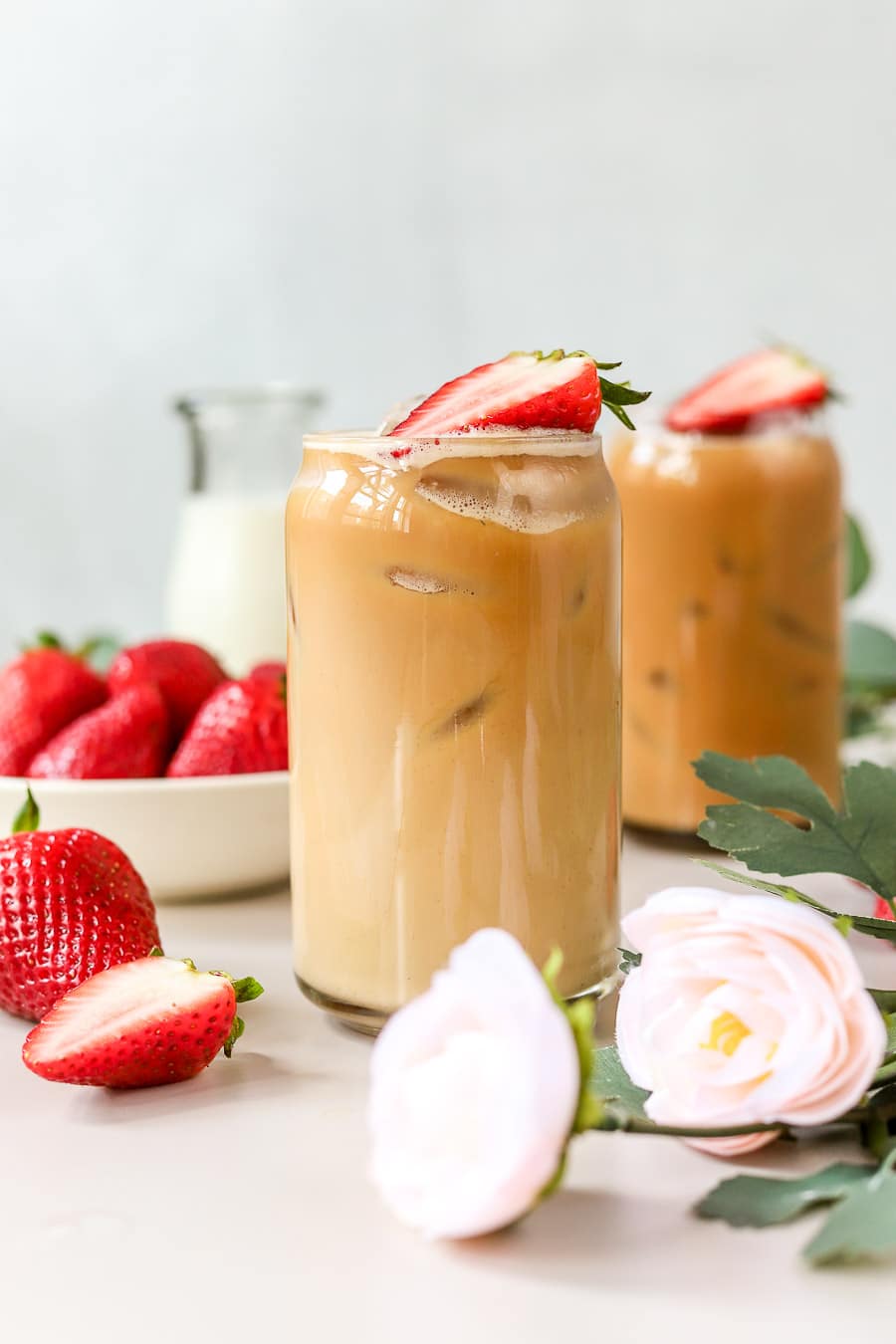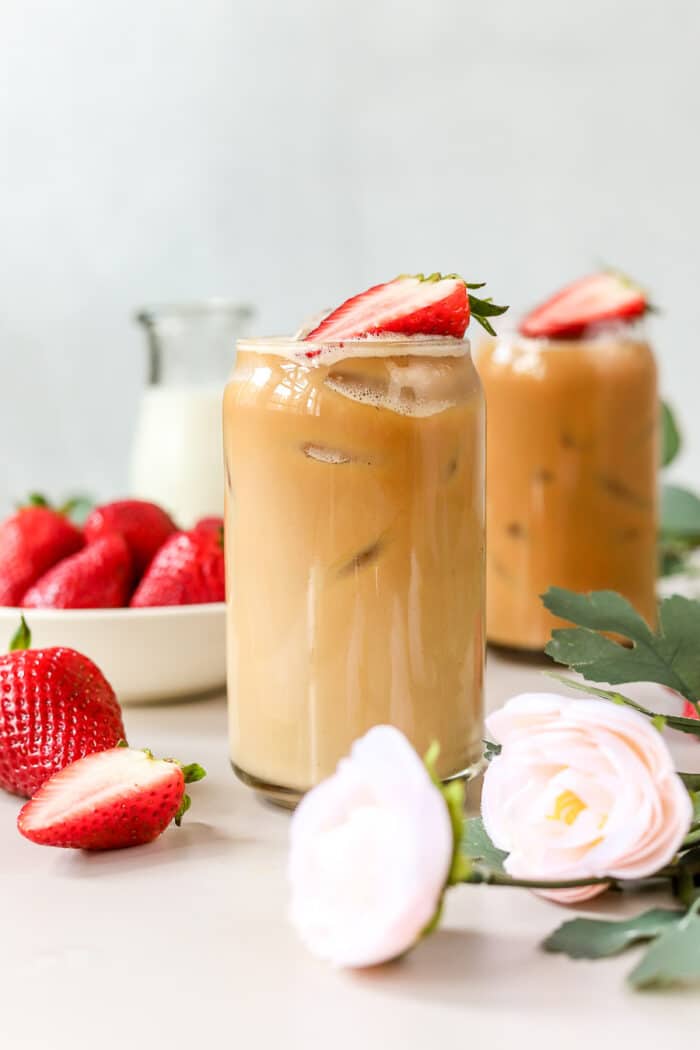 What is an Iced Latte
An iced latte is the chilled version of a regular hot latte. It's made by pouring espresso coffee over ice and topping it with cold milk foam. You'll definitely want an espresso machine if you want to make the perfect iced latte.
How to Make Iced Latte
Brew 2 espresso shots and set aside.
Fill a tall glass with ice cubes and pour your double shot of espresso on top.
From there add in your cold milk. You can use whatever type of milk you prefer.
And now you have the iced version of a classic coffee drink!
The fun thing about iced latte recipes is that you can add all these different flavors and really have some fun! I love an iced vanilla latte, or you can try this strawberry iced latte for a fun drink that's perfect for a hot summer day.
Does an iced latte taste like coffee?
Yes, it does! One of the major differences between an iced latte vs iced coffee is the coffee taste. Since an iced latte is an espresso drink, it does taste very strong and coffee-like. Iced lattes are my personal preference because I love espresso and a good, strong coffee. 
What is an Iced Coffee
Iced coffee is exactly as it sounds. It's a regular brewed coffee served over ice. You can make your coffee via a French press or just serve regular old drip coffee over ice. You can add however much or little milk you'd like. But unlike an iced latte, you don't need to have milk to have it be considered an iced coffee. All you need is coffee poured over ice.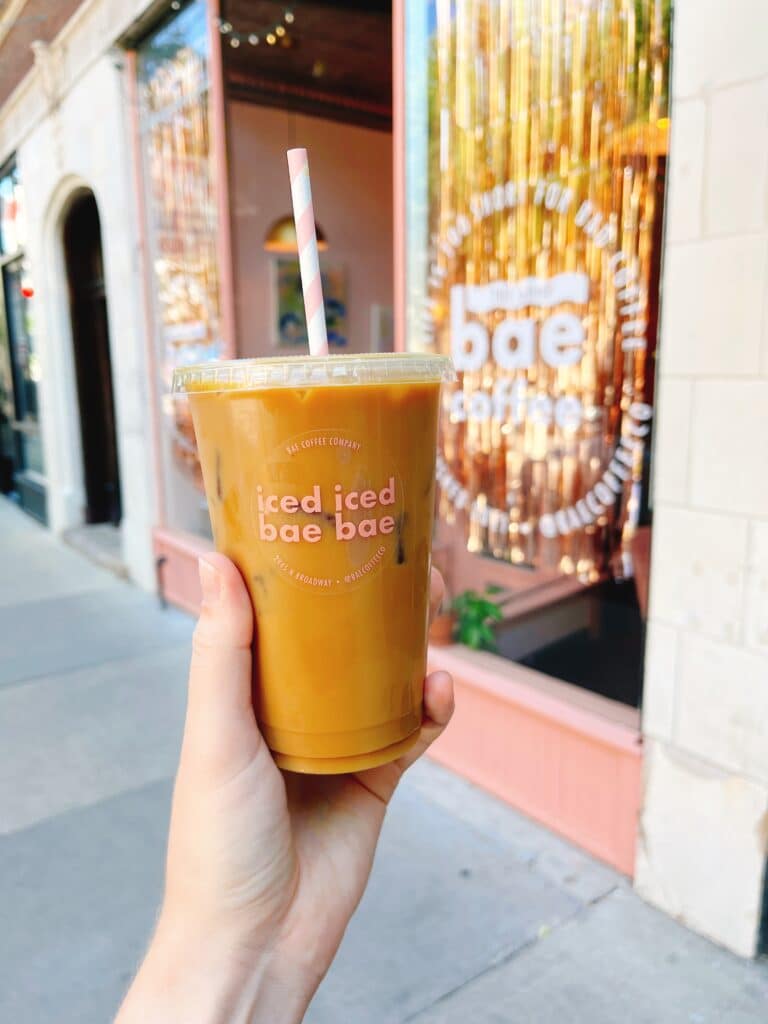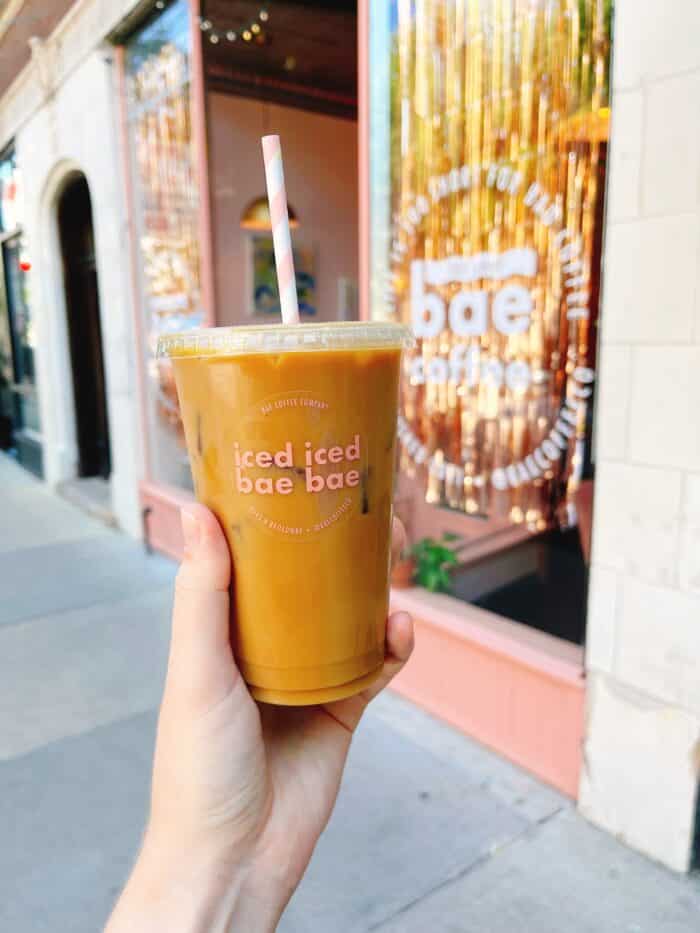 How to Make Iced Coffee
Brew your coffee however you prefer.
Pour over ice.
Add milk, if you'd like.
Other types of iced coffee drinks
If you're looking for all the iced drinks for a hot day, don't worry there are plenty!
Iced Macchiato. This has the same ingredients as an iced latte, except the order in how you pour them in makes an iced macchiato. Take cold milk foam, pour it over ice, and then top it with two shots of espresso.
Iced Cappuccino. An iced cappuccino is a combination of espresso, a splash of milk, and cold foam over ice.
Iced Americano. An iced americano is cold water poured over ice with shots of espresso added on top.
Cold Brew. Cold brew coffee is made by grinding coffee beans and soaking them in room-temperature water for a designated amount of time. Depending on the strength of the cold brew you prefer, that'll determine the time you allow it to steep.
I really like having fun making these cold coffee drinks at home, you can play around with milk ratios and really perfect your coffee-making skills. However, I know that's not for everyone so luckily you can get all these delicious iced coffee recipes at your local coffee shop.
What are the Differences Between Iced Coffee and Iced Lattes
It's all in the brewing method! An iced coffee is just regular coffee poured over ice and an iced latte is shots of espresso and milk poured over ice. There are other key differences, but the brewing method is by far the biggest difference.
Type of Coffee. Iced coffee is just black coffee poured over ice and you can always add as much milk as you want into your drink. If you don't request milk in your drink then you will get a plain, black iced coffee. An iced latte is part espresso and part milk, poured over ice. The amount of coffee is drastically different when comparing the two drinks.
Milk. The ratio of coffee to milk is also a big difference. Iced coffee is really customizable in terms of how much milk you'd like. A latte is typically 2 shots of espresso and then milk. For both drinks, however, you totally choose whatever milk you prefer. I tend to order iced lattes with skim milk, but whole milk, oat milk, almond milk, or any milk you prefer is possible!
Flavoring. ​I love adding fun flavor syrups to my iced latte or coffee! Vanilla, hazelnut, chocolate sauce, lavender, coconut, you name it you can probably make it or order it!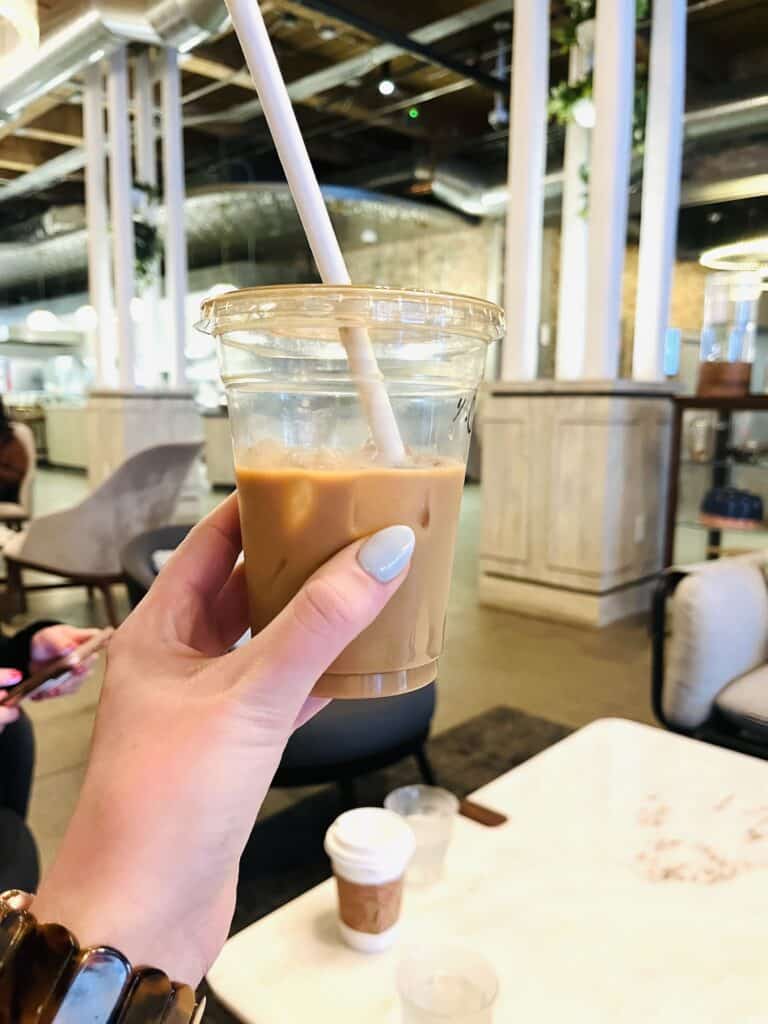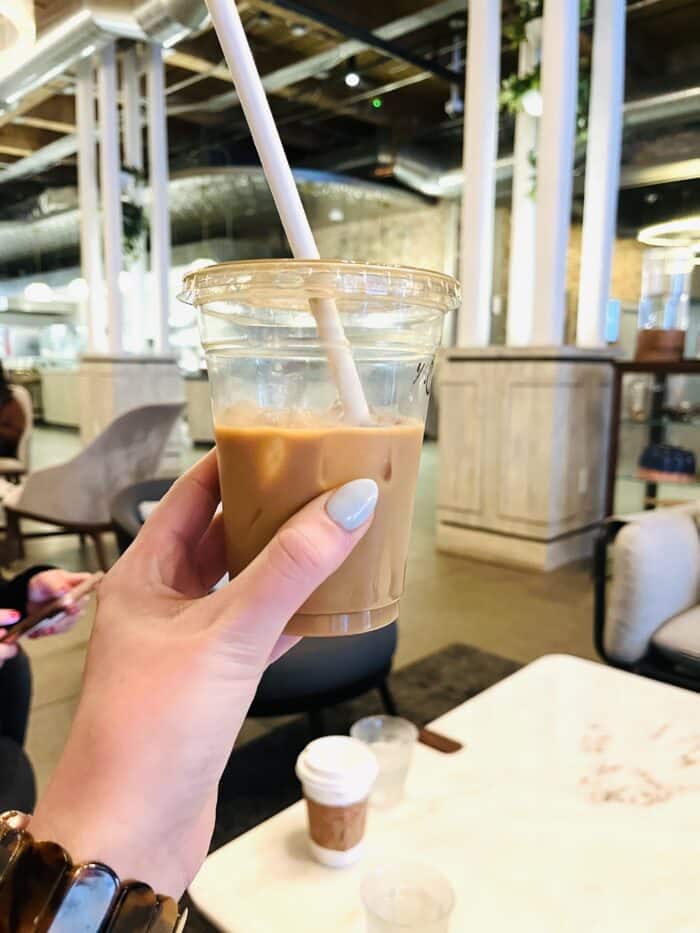 Is iced latte stronger than iced coffee?
The caffeine content is about equal. It all depends on the roast of coffee used. Espresso is typically made with dark roast coffee and has around 64 mg of caffeine. An iced latte is typically made with two shots, so the amount of caffeine in a drink is 130mg. On average, iced coffee has around 130 mg of caffeine, too. If you don't like that much caffeine, you can always have a single shot iced latte or a smaller amount of iced coffee.
What Do Iced Coffee vs Iced Lattes Have in Common?
Iced coffee and iced lattes are both iced coffee drinks and that is the only thing they have in common. Other than that, they are pretty different but both great options and easy to make at home or order at your favorite coffee shop.
Amazon coffee bar finds
If you want to make an amazing iced latte, you'll definitely want an espresso machine for your kitchen, or you can also buy iced coffee makers!
You'll also love having these tumblers to bring your iced beverage to go.
Pin it for later!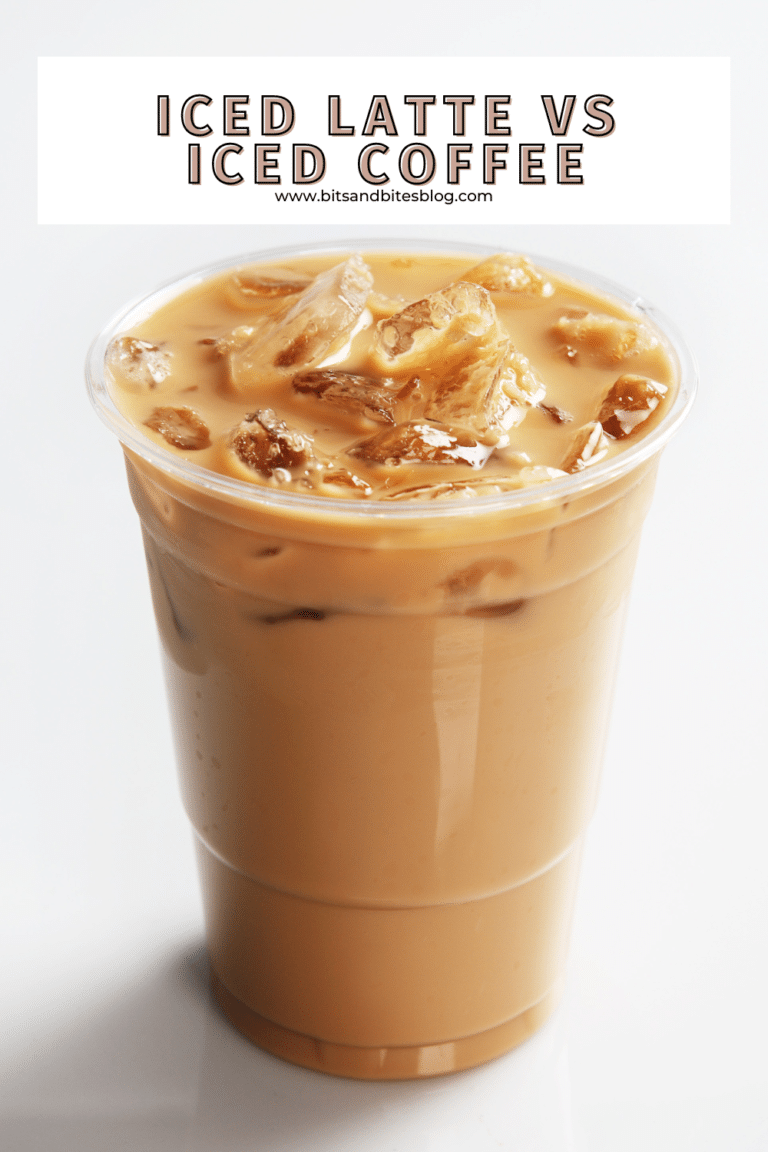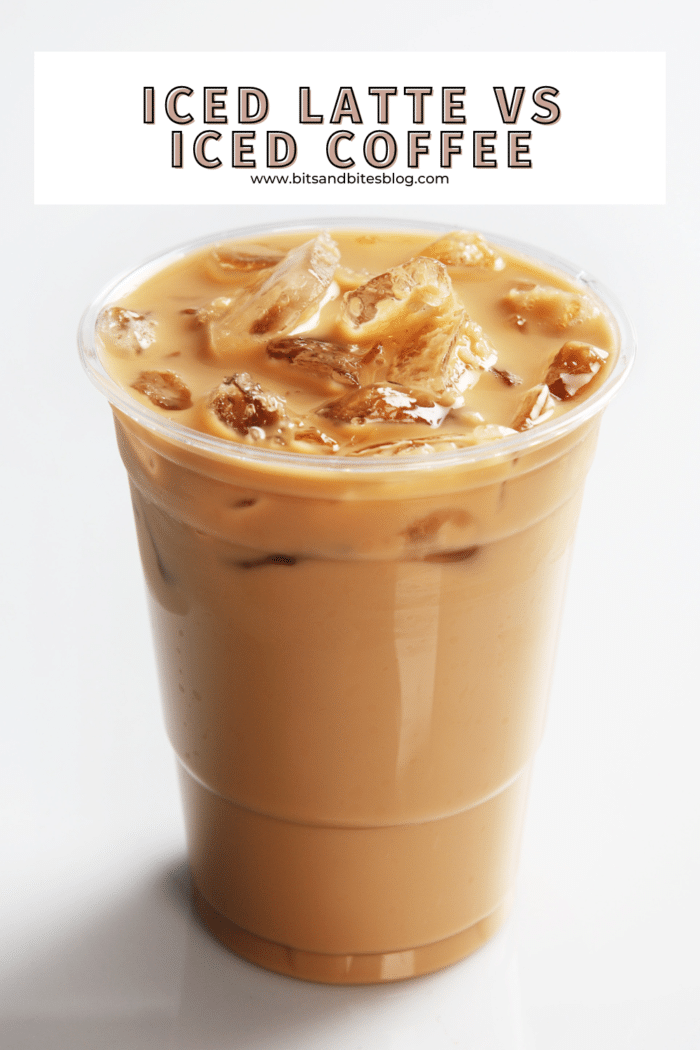 Here are some coffee recipes to try!