If you're looking to stay cozy, have an at-home date night, what's better than popping on your most recent binge watch or favorite movie? I love having a charcuterie board for two or a grazing board to snack on while cozied up on the couch. Here are some charcuterie board for two ideas!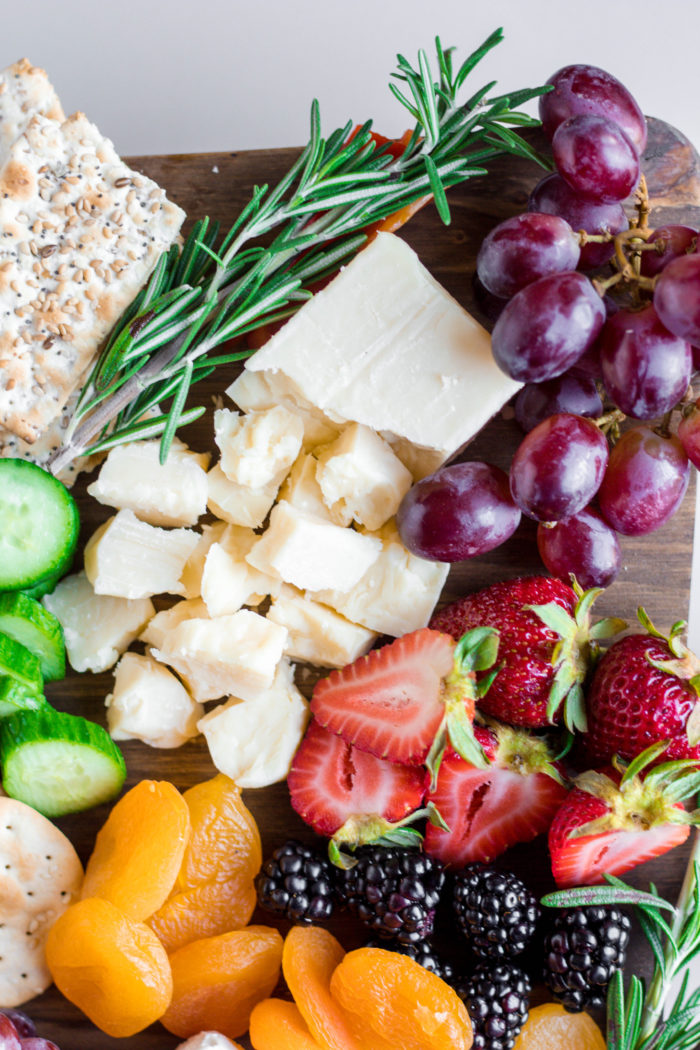 CLASSIC CHARCUTERIE BOARD FOR TWO
You can never go wrong with a classic charcuterie board for two. By "classic" I mean pairing your favorite cheeses with some sliced prosciutto, or another favorite, to have yourself a wine and cheese date night at home.
Here's your charcuterie board for two outline...
Pick 2-3 of your favorite cheeses. Normally, with larger charcuterie boards, I recommend picking 1 soft, 1 sweet and 1 pungent, etc. However, when making a date night charcuterie board, you and your significant other can just pick your favorite cheeses! I have always found 2-3 to be perfect.
Pick 1-2 of your favorite meats. Again, normally I suggest picking something spicy, something a little more mild... like a black pepper salami and a prosciutto. But, similar to the cheese selection, pick your 1-2 favorites!
Pick 1 cracker. You don't need an assortment, just pick a basic cracker.
Pick 1-2 fruits and/or veggies. Again, pick what's in season or what's your favorite!
Pick 1 pickled and/or salty thing. This could mean olives, pickles (duh) or even pepperoncini. Alternatively if pickled stuff isn't your style, pick something salty like a nut mix.
Pick 1 spread. This could mean a jelly, pepper jelly, hummus, guac, anything spreadable... add your favorite.
Some of my go-to options when I'm making a charcuterie board for two?
Cheeses: goat cheese, brie cheese, white cheddar, marinated mozzarella pearls or a havarti.
Meats: prosciutto or a mild salami are always my go-to.
Cracker: I get your basic cracker, like a Ritz or something similar.
Fruits + Veggies: I like to keep it in season! So, whatever is in season (is also normally on sale) so I'll pick up 1-2 options.
Pickled + Salty: I looooove olive and pickles. So, I'm opting for a marinated olive bunch (ALDI has a really good selection!) or cornichons (the mini pickles)
Spread: I'm a sucker for pepper jelly, or just regular strawberry jelly. Strawberry jelly goes great with brie, goat cheese and white cheddar.
YOU CAN FIND SOME CHARCUTERIE BOARD INSPIRATION HERE
GRAZING BOARD FOR TWO IDEAS
So, you want something a little more than a charcuterie board? My recommendation is adding a few more dips to make it more of an appetizer board. Here's a breakdown.
1-2 Cheeses: Again, pick your favorites or I find it so easy to structure grazing boards when they have a theme. I love making Mediterranean boards, so I may opt for a Feta and Kasseri.
1 Meat: Get cut throat and pick your favorite.
1-2 Crackers: You're going to have a bit more dips, so you may want more than 1 cracker option.
2-3 Dips: Again, I love having "themed" boards, so if I'm going Mediterranean, I may have something like a Hummus and a Tzatziki.
1 Pickled or Salty: Again, olive, mixed nuts, etc.
We'll forgo the spread since you'll have a few dips that'll serve as a "spread."
DESSERT CHARCUTERIE BOARD FOR TWO IDEAS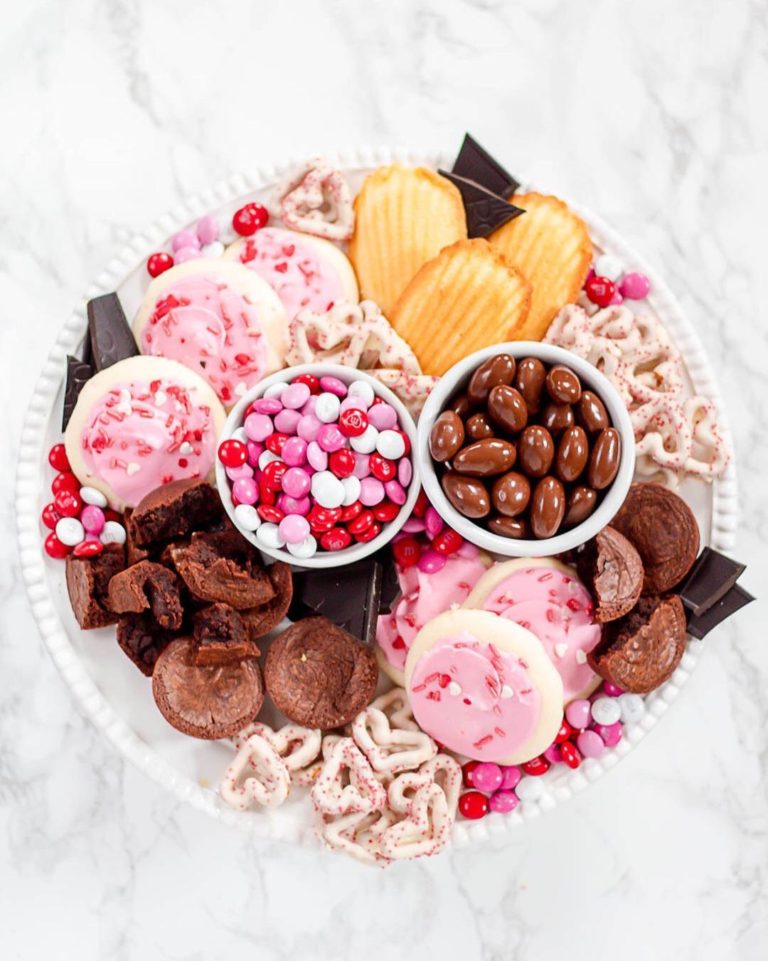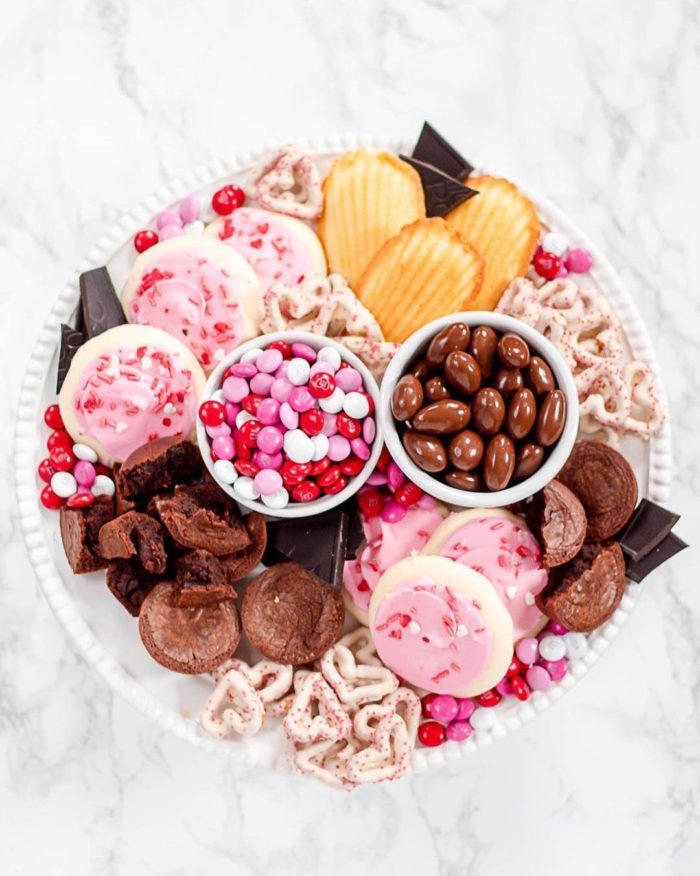 Sometimes, you just gotta have dessert for dinner. A dessert board for two is the perfect way to do just that! Combining all your favorite sweets on one board? Yes, please.
Here's an outline to follow for making a dessert charcuterie board.
1-2 Cookies: pick your favorite! This is a highly debated topic, but I LOVE those sugar cookies with the frosting (in the picture above), so I will always pick those!
2-3 Candies: this could be chocolate, it could be fruity candy like gummy bears or it could be chocolate-covered peanuts. You've got some creative freedom with this one.
1 Cracker: No, not like Ritz crackers. Think pretzels (not dipped in anything) or graham crackers or even Nilla Wafers (which may be deemed a cookie, but the lines are a little blurred right now.) You're going to want something to dip.
1 Dip: So I've recently discovered dessert hummus, and this would be a great option. You could also do something like a homemade cookie dough dip or just plain old Nutella.
2-3 Fruits: Strawberries, raspberries, even apples if you're having a caramel dip, bananas especially if you're having Nutella.
PIN THIS FOR LATER WHEN YOU'RE LOOKING FOR CHARCUTERIE BOARD FOR TWO IDEAS!