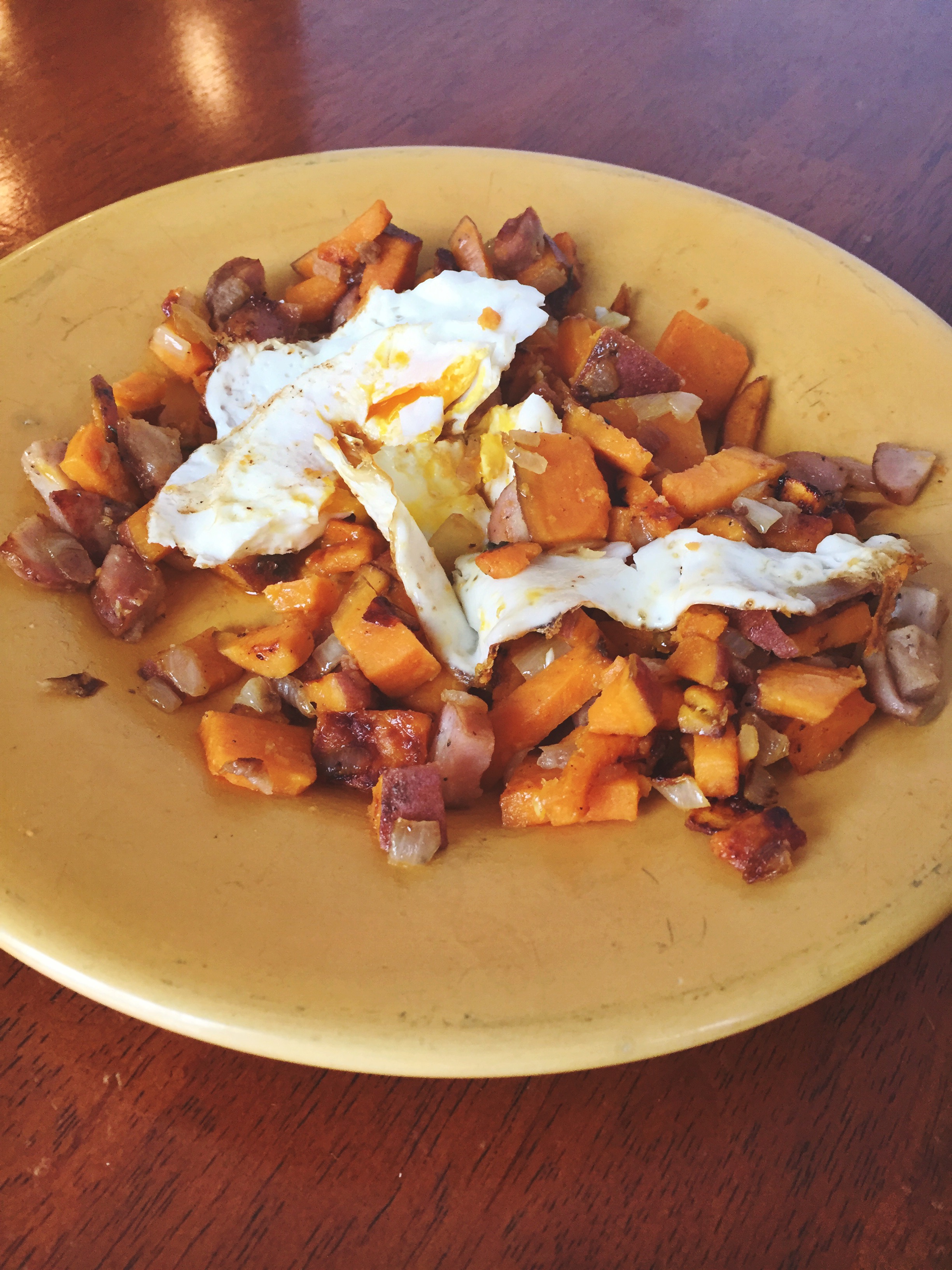 I have posted some skillet recipes before, and this one is similar- except somewhat healthy. I love making skillets on a Saturday morning if we have left over brats or Italian sausage. I pretty much throw whatever leftovers together and put some over easy eggs on top.
This, is not like my thrown together skillets. Trader Joe's had $0.99 sweet potatoes- each!!! Yes, each!!!! So, naturally, I grabbed the biggest sweet potatoes my eyes could see. I've got some sweet potato recipes that I'm brain storming, but I can't have a week of sweet potatoes. That would be overkill.
Last week I tried chicken apple breakfast sausage in a scrambled egg spinach mixture topped with melted Gouda (yes, it was heaven on a plate to answer your question)- the chicken apple sausage was so good!! So now I'm all addicted to the idea of putting chicken apple sausage in a breakfast egg dish… I threw some into this hash. Phenomenal!!!!
You can omit the chicken apple smoked gouda sausage if that just sounds too freaky for you, or you could substitute it with another breakfast sausage. Do you!
I didn't include any greens, but I've seen other hashes with Kale or spinach- which would be a nice addition. Personally, I like the simplicity of the sweet potatoes, onions, and chicken apple smoked gouda sausage (it doesn't seem that simple when I actually type it out), but you can add in whatever veggies you would prefer! Regular potatoes would work just fine too if you aren't a sweet potato fan.
For the Chicken Apple Smoked Gouda Sausage (it was so good), I bought the brand Sausages by AmyLu. They are all natural and gluten free (I'm not gluten free, but for those folks who are). There is a wide array of various different products out for you to choose from! I definitely want to go back to the store and try some more. Here is the link that will take you to the Sausages by AmyLu!
As you can see in that big frying pan, this batch makes a lot! I put the leftovers in a Tupperware container and I plan on reheating them in a frying pan tomorrow morning for breakfast.
Below you'll find the printable recipe for this sweet potato hash. Enjoy!
[amd-zlrecipe-recipe:54]