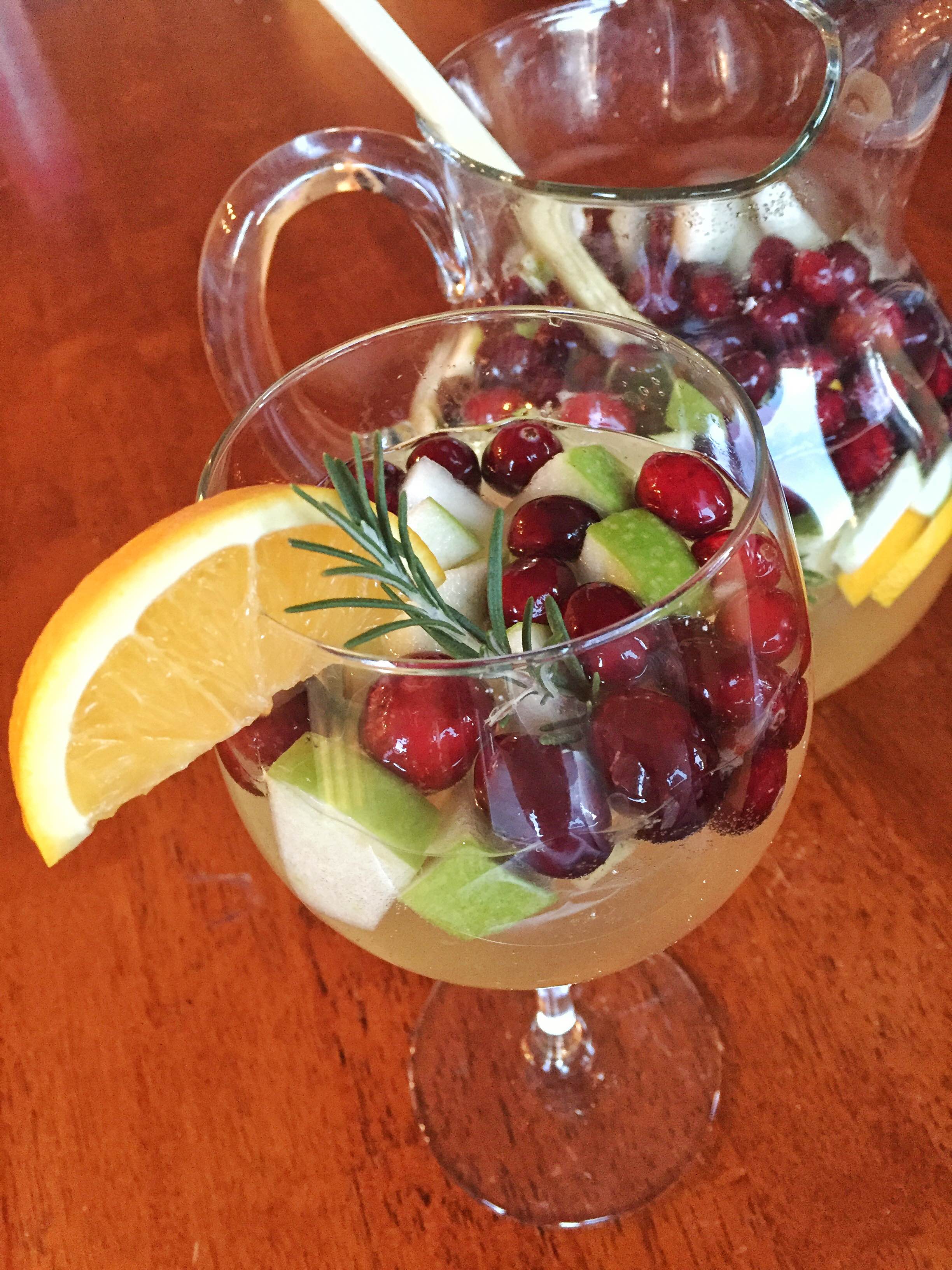 I made champagne cupcakes, you'll see the recipe posted a little later, and had almost an entire bottle of champagne left. You cannot waste champagne, that should just be flat out illegal. I searched Pinterest and the internet for champagne sangria's, and found some decent recipes. What better to make than a festive holiday sangria?!
I decided that I would ultimately combine my almost full bottle of champagne with a bottle of Pinot Grigio (my favorite white wine), cut up an orange, a granny smith apple, rosemary, and throw in some cranberries (for look).
I had done just that, tasted it, it was very very good. But nottttt quite good enough, so I added in 2 shots of Triple Sec. That really brought out the orange flavor, along with the freshly sliced orange. I had also realized "Holy sh*t, this is deadly, I need something non-alcoholic to diffuse it." So, I added in roughly 2-3 cups of diet tonic water. I didn't want anything with flavor, and I didn't want anything non-carbonated. I was worried if I put something non-carbonated, then the texture of the drink would just be as if it were supposed to be carbonated, but someone left the cap off for a week. Nobody likes that texture in a drink- who likes flat pop?? I mean, really.
I brought this to a holiday party, and people were liking it. I suggest however, that you should double this recipe if you are making it for a large party. Myself and a few other girls were drinking it, and the pitcher ran out quickly. If you want to make this for larger holiday parties, I highly suggest doubling this. If you have left over sangria, who cares?!
Garnish with an orange slice and a sprig of Rosemary, and enjoy!!
Below is the printable recipe! P.S The fruit is yummy to snack on once the sangria is gone
[amd-zlrecipe-recipe:39]
I just started watching Grey's Anatomy last night for the very first time…. EVER. I'm addicted to it. I wish I had started…