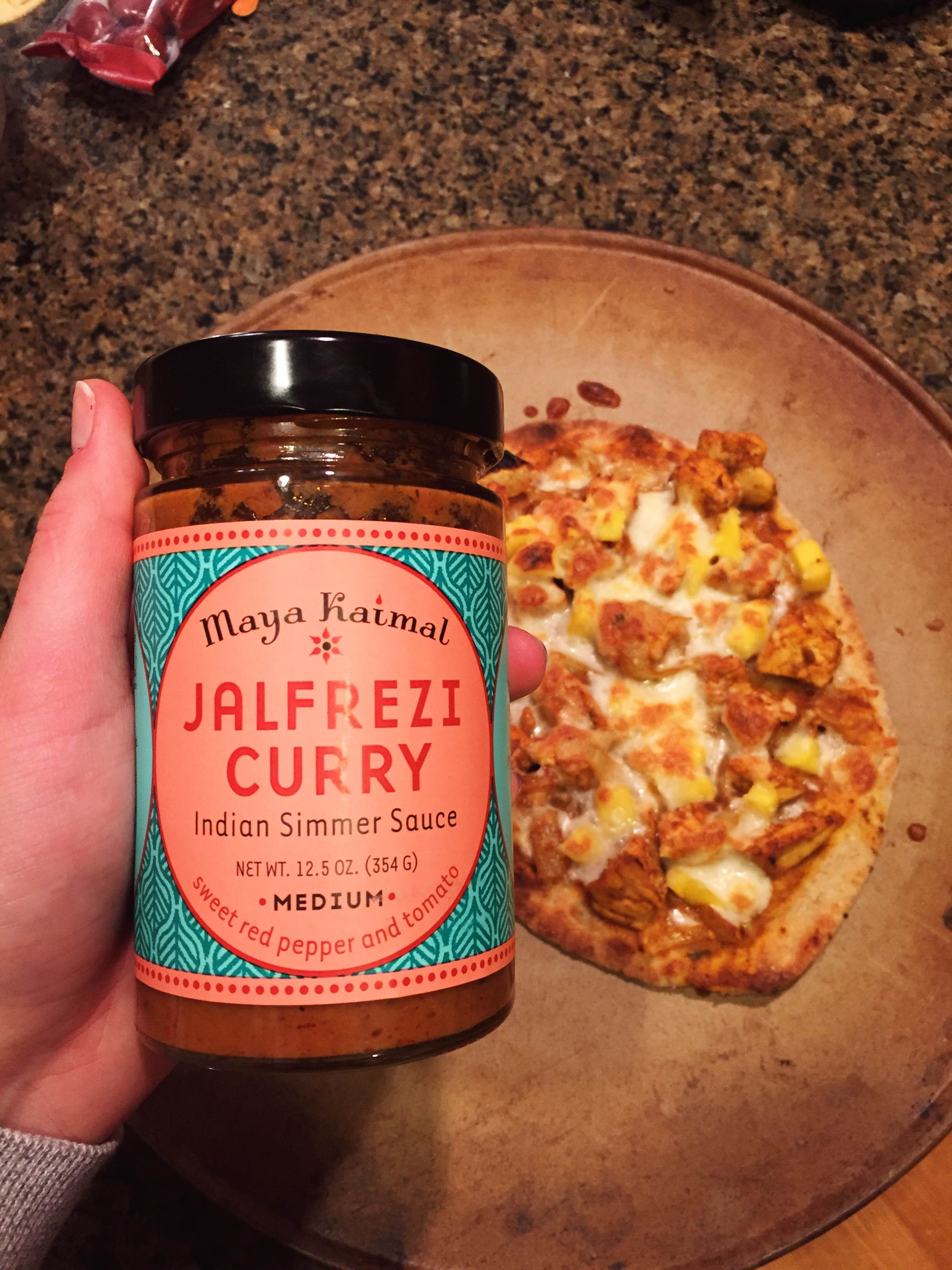 I love love love Indian food. The combinations of flavors are so delicious. I have tried to re-create Indian flavored/themed dishes and they have turned out terribly. The staff over at Maya Kaimal were nice enough to send me a box of their simmer sauces, along with some recipe cards. I have tried three of the six sauces, but I couldn't wait to tell you all about the three I've tried! Keep an eye out for further recipes with the rest of the three sauces.
For two of the three sauces I tried, I used recipes off of the recipe cards I was given. First was a Roasted Cauliflower and Peas with the Butter Masala sauce. This was good, but this sauce wasn't my favorite- butttt that doesn't mean I didn't enjoy it! I did enjoy the sauce. It was sweet, not as spicy. It is a good sauce for those who prefer sweets over spicy. I served it over a bed of brown rice.
The second recipe I tried was their Chicken Tikka Masala. This sauce was very good (still not my favorite- the last one is my favorite thus far!!!).. This had a bit more of a kick to it. The flavor combination was delicious, and I really enjoyed the chicken. If I were to re-do these recipes, I would combine these two dishes and pick a sauce. I do like the combination of veggies and chicken.
The third recipe is an Indian twist on a Hawaiian pizza… When I first received the simmer sauces I knew I wanted to make some sort of pizza. I love putting twists on pizzas. For this pizza I used the Jalfrezi Curry. The recipe card below will detail how I made this pizza. It was a combination of the simmer sauce, sauteed onions, chicken, mangoes and mozzarella cheese… It. Was. Delish. This was by far my favorite sauce. I have left-over chicken in the fridge and I can't wait to make a pita/wrap/sandwich with it. 

Ingredients
1 chicken breast, cooked and cubed
1 c. Onion, sliced
3/4 c. Simmer Sauce
1/4 c. Mangoes, diced
1/2 c. Mozzarella Cheese
1 Naan bread
Instructions
In a frying pan, put in your cubed chicken and onion slices. Over medium-low heat, pour in 1/2 c. simmer sauce.
Simmer your chicken and onions in the sauce until the onions are just about translucent. Roughly 7-10 minutes.
While your chicken and onions are simmering, pre-heat your oven to 400. Take your Naan Bread, pita or whatever you are using for crust and spread 1/4 c. simmer sauce on the crust.
Spread the chicken and onion over the crust, distribute the mangoes, and top with mozzarella cheese.
Bake at 400 for 7 minutes and then broil on high for 3. Enjoy!
http://bitsandbitesblog.com/maya-kaimal-indian-simmer-sauces/
Now that the 12 Cupcakes of Christmas are long gone, I have been dying to make another cupcake. Originally, I wanted to do…
Is there anything peanut butter cannot pair well with? I am starting to think the answer is no. Ok, I guess I'm not…
Let's all face it- drinking water could get flat out boring. Sometimes you crave that Diet Pepsi (or whatever pop you drink) or…
Spaghetti Squash in a Mexican dish? Believe it. I used to make this while I was at school. This is one of my… Avocado in a smoothie? If you haven't heard of it, or if you haven't tried it- don't pass judgement just yet! I was…
Sriracha. Avocado. Goat Cheese. Plus some turkey and tomato slices. Talk about switching up your grilled cheeses! This could be made as a…
I have posted some skillet recipes before, and this one is similar- except somewhat healthy. I love making skillets on a Saturday morning…
Banana nut bread is great. Such a great breakfast, snack, lunch, whatever- it is so yummy. I've had this bag of Trader Joe's…