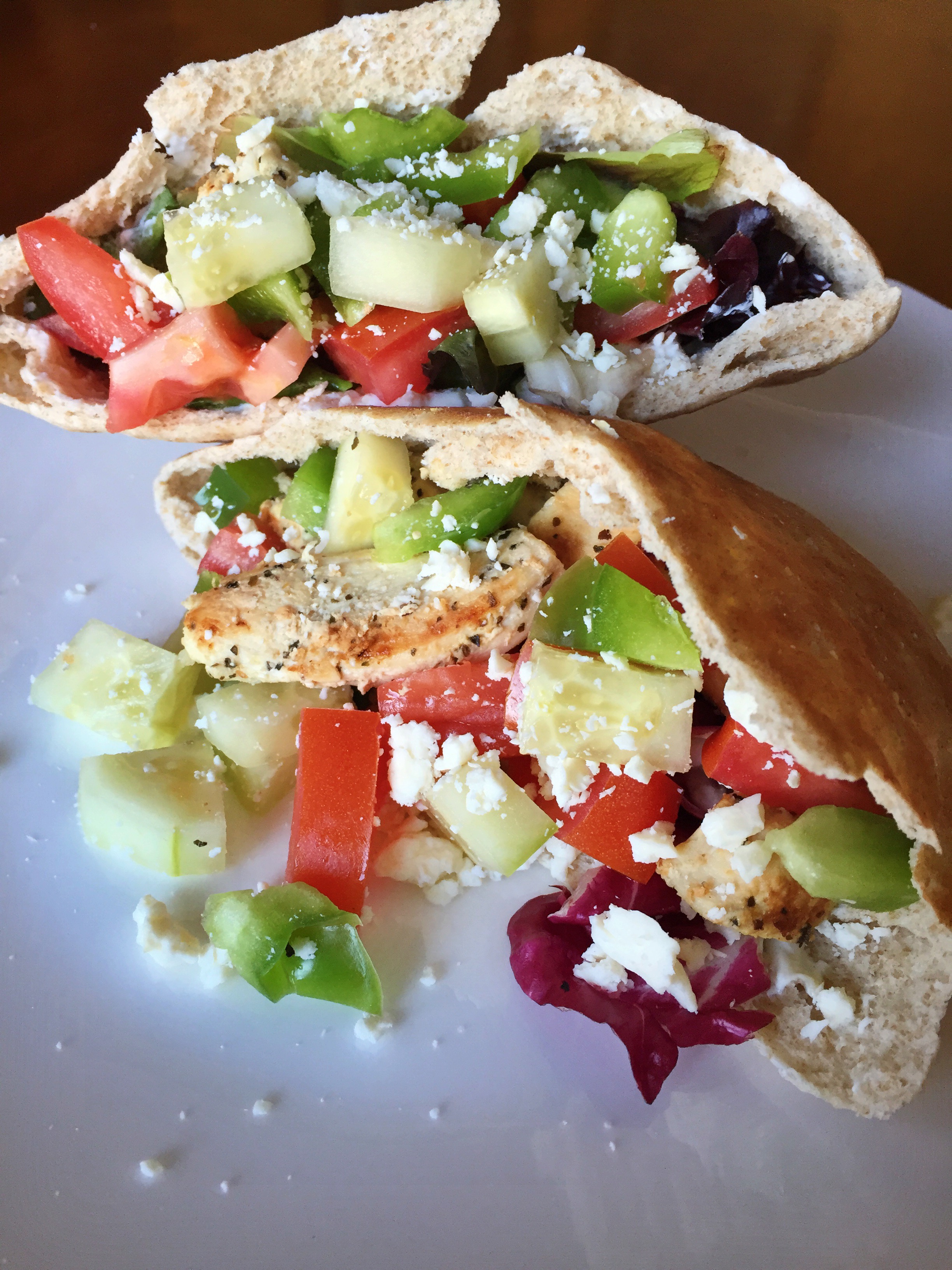 Let's start off this post with the homemade tzatziki. This is a great appetizer any time of the year, not to mention it is a healthy appetizer as well. With Greek yogurt, olive oil, lemon, raw garlic and cucumber this is such a refreshing dip. This is particularly a great dip for the summer. In the Kelly house, we frequently make this and/or bruschetta to enjoy while sitting out on the back patio.
Here's what you'll need to make this tzatziki. 1 cup Greek Yogurt, 1/2 cup diced cucumber, 1/8th lemon (juiced), 1 tbsp Olive Oil, 1-2 cloves of minced garlic, salt & pepper to taste. You simply combine all ingredients in a bowl, stir and enjoy!
Moving onto this Greek Chicken Pita. The chicken is seasoned with lemon pepper, salt, garlic and oregano. This is the perfect combination of spices for this pita. The pita I used was these 100% Whole Wheat Pocket Thins. They were great. Tasted great and were super easy to stuff with all the goodies of the pita.
You can include any veggies you want in the pita. I diced tomatoes, cucumbers and green peppers. I topped it with feta cheese, of course.
Here is the recipe for these Greek Chicken Pitas!
Ingredients
1 chicken breast, diced
1 pita
1/2 c. tzatziki
Vegetables of your choice to top
Instructions
Dice your uncooked chicken breast. Place in a pan and season with lemon pepper, garlic, salt and oregano. Cook until brown.
On the inside of each half of your pita, spread your tzatziki and stuff with your greens/lettuce.
Once chicken is cooked, place the cooked chicken in your pita. Top with veggies and feta cheese. Enjoy!
http://bitsandbitesblog.com/greek-chicken-pita-with-homemade-tzatziki/ I was lucky enough to have the staff over at ATK Foods send me over their line of chicken sausages. It is called…